The updated 2022 Royal Enfield Classic 350 has just rolled onto showroom floors in Australia. Zane headed out to the Aussie launch in Mickleham to check it out!.. Words: Zane Dobie Photos: RE ANZ
The new Royal Enfield Classic 350 promised to be an easy ride with plenty of soul on paper and it sure lived up to that expectation. After a 300km test through rural Victoria on the updated model, I jumped off the bike grinning ear to ear. It's comfortable, relaxed and fun.
Royal Enfield Australia and New Zealand recently held a launch for the Classic 350 at a winery north of Melbourne in a rural town called Mickleham. After a night of dinner and drinks, it was an early wakeup to check out the new Classic 350s for the first time. Royal Enfield had seven of the nine different colour schemes there for us to choose from, each with slightly different accessories bolted on, however, they were all the same bike at the core. It was a nice lineup to wake up to… 
---
---
After spending some time checking over the updated styling I noticed each angle of the 2022 model had some sort of intricate detail that you wouldn't normally notice, with small RE and Classic 350 logos stamped throughout. Taking a step back, Royal Enfield have done a wonderful job designing the bike. Each colour scheme looked like it could be its own model, I can see the styling doing well to appeal to a crowd that wants a cool looking, retro bike without all the upkeep of a true classic or vintage bike.
---
Check out Jeff's Meteor 350 review here…
---
The updated Classic 350 features Royal Enfield's new 350cc single-cylinder powerplant seen first in their all-new Meteor 350. Mal Jarrett, who looks after the media side of Royal Enfield Australia, gave us a fair warning that the little 350 singles weren't designed for the long, high speed limit roads of rural Victoria but we soon found out that they were more than capable of sitting on 100km/h.
---
---
Jumping on the bike for the first time, I instantly noticed the slightly awkward positioning of the footpegs. They sit in between a cruiser and normal road bike style setup, meaning when I was pushing the bike back and forth, they kept catching on my shins! Once you're up and running, the change in position from standard isn't noticeable and if it's your first bike you'll have no issues warming up to it.
The clutch action is incredibly easy, you would really have to try to get the 350 to stall. This is thanks to the seven-plate wet clutch system, which Royal Enfield purposely engineered to be easy to use, a great perk for people looking to buy/ride their first ever bike! Plus the heavy flywheel effect. 
Once we got moving, I was instantly taken back to my own first bike, a 1992 Yamaha SRV250S Renaissa. Everything from the comfortable, spongy seat to the low 'bars and no windshield, it rode almost the same. Great memories and an enjoyable start to the ride.
---
---
Attributing to its easy rideability, you could just keep the little air-cooled 350 pinned without going over the speed limit, the 20.2hp@6100rpm it makes is just enough to keep up with Aussie roads. You won't be breaking any land speed records though as the best we could get was about 120km/h with a tailwind and a slipstream line with all the other journalists.
---
Being taken back to all the great memories I had zipping around on that little 250 made me enjoy the Classic 350 as we snaked through the country roads and I reminisced riding to school everyday with the throttle at either 100 per cent or closed.
The gearbox worked well to have a linear speed increase all the way up to 100km/h until you flick into fifth gear where the Classic 350 seemed to die down. If they had gone with a shorter fifth gear, the bike could've easily done over 110km/h without running out of power. But most owners won't be too interested in touring on these, they're the perfect bike to just get around in town on…
I was disappointed when it came to the brakes. If you've ever done a bad job of bleeding your system you'll know exactly how the Classic 350's felt. I believe if you're going to make a bike for first time riders then safety should be a high priority, the single 300mm disc with twin piston ­floating caliper needed to be improved to efficiently bring the heavy 195kg machine to a halt.
---
The easy rideability and comfort of the Classic 350 flooded Zane with memories of his first bike, enjoying the notion if just kicking the stand up and pinning the throttle…
---
The strange part was that each of the bikes felt different to ride, especially when it came to the brakes. Riding them back to back and feeling the differences gave a hand built sense to them. But, across all of them, the brakes were spongy and vague. However, the dual channel ABS system worked well when slamming on the front and rear brakes while testing emergency stops, no lock-ups at all!
---
---
The suspension did a great job of keeping me comfortable throughout the day. The 41mm telescopic forks at the front weren't anything special but did their job well, making the bike easy to ride and predictable. Keeping with the wonderful aesthetic design of the bike, the front suspension setup has been beautifully integrated into the headlight surround.
The twin tube emulsion shocks were quite soft, when we were making passes over a bridge with a bump in the middle of the corner for photos, you'd feel the rear end compress super low and then shoot you back up as it tried to launch you off the seat. But, the bike wasn't made to hit the track on and the entire suspension system made a comfortable change from the sportsbikes I've been riding.
Despite my earlier complaints of the footpegs being in an awkward spot, the ergonomics are spot on for a learner bike. Sitting upright in a controlled position makes it easy to do plenty of slow turns and keep the bike balanced. Having attacked the M.O.S.T course a few times for a previous feature, I can see the Classic 350 having no issues with the tight turns needed for a pass, which is something I often look out for when riding a LAMs bike.
The wide and soft seat meant I could have ridden the bike back to Sydney and still be comfortable by the time I arrived at home, which was almost an option over the crowded flight home if I hadn't left my warmer jacket at home. With the optional screen, it'd be a slow but enjoyable 12-hour ride.
The rest of the bike is basic, there is a single analogue dial for your speed and a small LCD screen for all the trip info you'll need. Besides the optional turn by turn navigation pod seen on the Meteor (available as an accessory) you won't really need anything more than a simple setup, the whole idea of the Classic 350 being an easy to ride, cool looking bike has been successful in my books, I can see casual riders falling in love with the ride.
---
---
Starting from $7,990 ride away, it's battling with other capable 300cc LAMs bikes like the Yamaha MT-03, CFMOTO 300NK, Kawasaki Z400 and Honda CB300R which all besides the Z400 you can ride away on cheaper than the Royal Enfield. But none have that classic styling. 
The 2022 Royal Enfield Classic 350 is a bike that I would enjoy riding everyday but there is a lot around for $7,990, so I would have to really be going for this style of motorcycle. I can see the appeal of the Classic 350, it's cool, simple, stylish and easy to ride. If you're keen on one, make sure you set a good portion of time to decide what colour scheme you want though, you have plenty to choose from and they all look amazing…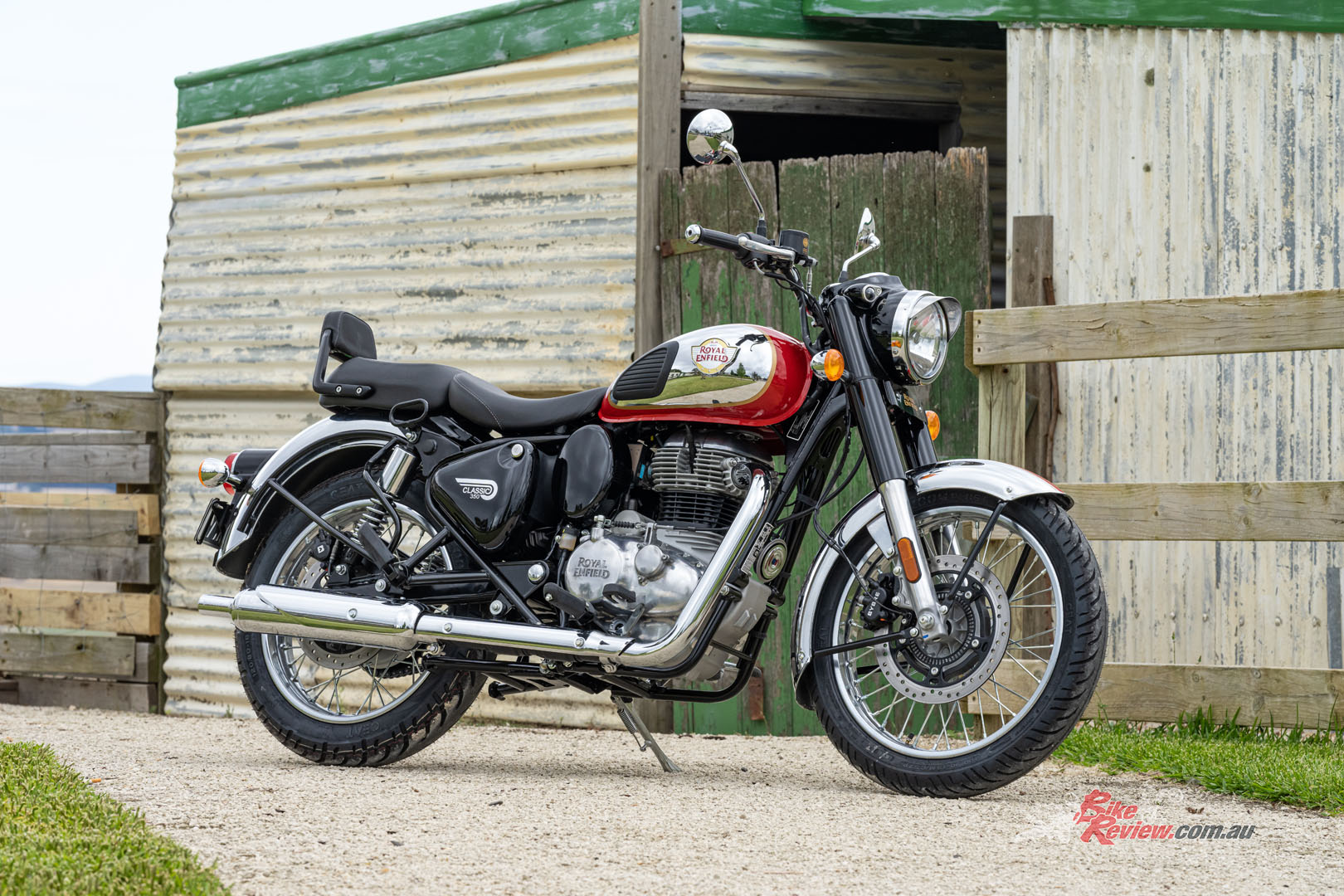 Tech Talk
The Classic 350 returns in 2022 with an all new ground-up design. Everything from the frame to the styling is brand new. The forefront of the new Classic 350 is the 349cc air-oil cooled single-cylinder engine. The new single cylinder was launched recently on the Meteor and generates 20.2hp@6100rpm and 27Nm@4000rpm.
---
---
A heap of development has gone into making the new engine easy on the wallet and easy on new riders. Thanks to its EFI system, the throttle response has been optimized for a "linear acceleration" as Royal Enfield describes it. The new engine also has a five-speed gearbox, with fifth gear being an overdrive, taking stress off the engine while highway cruising, and a seven-plate clutch for easy gear changes in built-up traffic and a nice and smooth clutch release, another perk for new riders!
The Classic 350 has received an all new chassis for 2022. The brakes, suspension and frame have all been upgraded with rideability in mind. Royal Enfield said they aimed for the frame itself to be stiffer allowing for a more planted feeling when taking corners at high and low speeds. The front end sees conventional 41mm telescopic forks with 130mm travel and the rear has received a pair of twin tube emulsion shock absorbers with six-step adjustable preload. Both the front and rear have been adapted to make the bike easier to ride.
---
---
Continuing with the rideability theme are the ergonomics. Riders have a choice between multiple different seats, with low cut and premium patterns available through their genuine accessories. The seats as a whole have been slightly reshaped to cradle the rider better while also being widened and redone with softer foam for comfort, while the kickstarter has been removed to de-clutter the footpeg area. With brand new handlebars, the riding position has been tweaked to further improve comfort.
Riders have a choice between wire spoke and alloy wheels, both options are wrapped in 100/90 – 19in hoops at the front and 140/70 – 18in at the rear with the big wheels allowing for more comfort on Australia's pot-hole riddled roads. The braking is handled by a 300mm disc with twin piston ­floating caliper at the front and a 270mm disc and single piston ­floating caliper at the rear. Despite its simple design, the new Classic 350 has a hefty kerb weight of 195kg.
Styling has been revisited for 2022 as well, the Classic 350 sees four new variants and a total of nine colourways! Each variant comes with a different price point and a complete makeover that makes the 350 look like a completely different model. The updated model still bears the signature Royal Enfield teardrop shaped tank but the casquette houses a new headlamp with new pilot lamps, while subtle changes have been made throughout to compact the whole design. See all the variants/pricing below:
---
---
Classic Chrome – Available in dual-tone colour tanks in two colours – Chrome Red and Chrome Bronze – $8,790 ride away.
The Classic Dark Available in Stealth Black and Gunmetal Grey colours. These motorcycles come fitted with alloy wheels and tubeless tyres – $8,690 ride away.
The Classic Signals Available in Marsh Grey and Desert Sand, each has a unique number that will be stenciled on the tank – $8,290 ride away.
The Halcyon series Available in Green, Grey and Black colours – $7,990 ride away
---
---
As the name suggests, the Classic 350 is bare bones when it comes to electronics. A single analogue dial shows your speed while the small LCD screen shows trip distance, time and service warnings. A USB charging point is mounted below the handlebar for the convenience of quick phone charging on the go. A turn-by-turn Tripper navigation pod is available as a Make It Yours accessory – MiY – on the Chrome variant.
---
---
The new Classic 350 starts from $7,990 ride away, and comes with a 3 year warranty, and 3 years roadside assistance package. The new Classic 350 is available to order now! Click here.
---
2022 Royal Enfield Classic 350 Specifications
Price: From $7,990 R/A
Warranty: Three Years.
Colours: Chrome Red, Chrome Bronze, Dark Stealth Black, Dark Gunmetal Grey, Signals Sandstorm, Signals Marsh Grey, Halcyon Green, Halcyon Grey and Halcyon Black
Claimed Power: 20.2hp@6100rpm
Claimed Torque: 27Nm@4000rpm
---
ENGINE
Single-cylinder, four-stroke, air-oil cooled, 349cc, bore x stroke 72mm x 85.8mm, compression ratio 9.5:1, Electronic Fuel Injection(EFI), wet, multi-plate clutch, five-speed constant mesh gearbox.
---
CHASSIS
Frame Type; Twin Downtube Spine Frame
Front suspension: Telescopic, 41mm forks, 130mm travel, Rear suspension: Twin tube Emulsion shock absorbers with six-step adjustable preload
Wheels & Tyres: Alloy Wheel – 100/90 – 19in – 57P (Tubeless Type), Alloy Wheel – 140/70 – 18in – 62P (Tubeless Type).
Brakes: Front 300mm disc with twin piston ­floating caliper, rear 270mm disc, single piston ­floating caliper, ABS Dual Channel
---
DIMENSIONS
Wheelbase: 1389mm
Ground Clearance: 170mm
Overall Length: 2145mm
Width: 785mm
Height: 1090mm
Seat Height: 805mm
Kerb Weight: 195kg
Fuel Capacity: 13L
---
Dash: Analogue and LCD display with navigation and smart phone connectivity.
---
The Verdict | Australian Launch: 2022 Royal Enfield Classic 350