The crazy Dragster 200 has revived the Italjet name. Jeff took one for a week to see how the unconventional set-up handled and hasn't shut up since! Yes, it's a four-stroke but it's still cool!
Bikes, for me, are anything with two or three wheels and a motor. I've always wanted a hot scooter, like an Italjet Dragster. It stems from my early racing days before wild unregistered scooters were banned from Aussie paddocks, plus my stint living in scooter mad Tokyo!
My first few years of racing was done in the NSW Club scene, then the Shell Australian Road Racing Championship (now ASBK). Back then, many riders that could afford it had a hot pit bike or scooter. Wild PW50s, Monkey Bikes, and plenty of two-stroke scooters with pipes.
---
---
That, plus pictures of Italian GP stars like Rossi doing scooter wheelies, really got me keen on a hot scoot. Heather and I had a few scooters, like a Yamaha Zuma and I had a hot Yamaha 100 in Japan, but we never got the new trick scoot we always wanted…
---
---
But if, like us, you were a boy or girl racer of the 1990s, you too would have lusted and drooled after a Dragster to park alongside your RGV, NSR, TZR or KR-1S. I still remember seeing them in the city when I was using a Yamaha Zuma 50 for transport. Oh how we had scooter envy. We lusted after a 180! Damn, what a machine…
---
But even in my junior staff journo days at Two Wheels, editor Jeremy Bowdler (RIP JB) hogged all cool scooters, including the Dragster, Peugeot Speedfight and Gilera Runner! So when we got the offer to test the new Dragster, we were pumped!
The Italjet Dragster was relaunched a few years ago and is now being imported into Australia by Italjet Australia, headed up by Fredy Arnet of Ace Scooters & Motorcycles, WA. Check out all of the tech info on the new Dragster in the breakout below, and for some interesting history on Italjet, click here.
My time on the Dragster was unfortunately very wet, with my test taking place in the March 2022 flood period, however, I still managed a good 100km of dry time along with the wet riding, mostly on local winding roads near my hometown and around the shopping centres. In the end, I was sad to see the Dragster go and could only imagine how cool it would be with a pipe on it parked in my shed!
---
---
After spending time chatting to Andrew Close at Close Motorcycles, where I picked the Dragster up, I was pretty enthusiastic about the test. Andrew likes the Dragster and after hearing about his RD LC, many other two-strokes, awesome 1980s and 1990s bikes and his own wild 180 I knew that I'd like the Dragster, as I fit into that same bike puzzle as Mr Close. There are two types of rider that will like this scooter – those from the mad two-stroke era and those with an appreciation for Italian motorcycles.
I'm given a comprehensive rundown on the bike when I pick it up, which really helps when the testing starts. The guys at Close MC had taken the time to put some miles on it and even to do some suspension set-up, which turns out good in the end as I don't touch a thing at all. I initially feel the set-up is overly stiff but it made sense once I had confidence in the front-end and the Pirelli tyres.
---
---
I love the look of the bike and spend time admiring it before I ride. I do take note of a few spots of rust here and there on some of the chrome fasteners, along with some corrosion on a few aluminium parts.  I later ensure that I thoroughly dry the bike with my leaf blower each wet ride, as I notice the water gets trapped in some of the fastener heads around the footboards and many other areas, a negative side of having minimal bodywork and something to keep in mind long term. A coat of WD40 would help, too. Cleaning is easy up on the centre-stand. There is no side-stand standard but it could do with one.
---
---
Onboard the Dragster, at 187cm tall, I only just fit on. The footwells are tight for my size 11 shoes and my knees brush on the ignition key, which I fold over (it is a flick knife style). The seat is firm and small, with an odd forward slope. At only 770mm the seat height is low and it is easy to place either or both feet flat on the ground. The forward view is cool, with the alloy top triple-clamp, compact LCD display and the exposed red trellis frame, with the front shock right there between my feet…
The engine is a 181cc, liquid-cooled, fuel-injected, four-valve, Euro5 compliant four-stroke single-cylinder unit producing 19.8hp (14.6kW) and 17Nm. It's a reliable engine that has been around for a good while. It is super quiet and not the most engaging engine but it gets the job done and there is a cool Akrapovic option available for it in the accessories list. 
---
It's all about the radical chassis. Not only is it a work of art, it's a working art…
---
It doesn't excite but it does nothing wrong, comfortably zippy from a standstill to 70 – 80km/h on flat roads, easily enough to beat the traffic, and I hit 95km/h on the flat, which falls away to 70km/h on a gentle incline, but reached an impressive top speed of 120km/h on a down slope, where the engine is vibe free and the Dragster still nice and stable. I'd predict with more miles, as it frees up, it will be quicker on the flat road, perhaps 100km/h. The 120km/h downhill is absolute peak engine rpm limit.
The engine starts very easily every time with the push of a button, is relatively vibration free, generates minimal heat to the rider and although I have the throttle at either 100 per cent or closed for most of my riding, it is still zippy enough to make me smile once up and going off the very bottom end. It will never be a 180 two-stroke, those days are gone, so think of it as a YZF-R3 rather than an RZ350! Handles better than the original, stops better, is built better but hasn't got that fear factor in the engine!
---
---
Enough about the engine. With the Dragster, it's all about the radical chassis. Not only is it a work of art, it's a working art. The rider triangle, although tight, is comfortable. The 'bars well placed, levers and switches (these are a little basic looking) all easily at hand, the dash easy to read (some internal fogging after days of heavy rain).
---
These traits remind me of one thing – the quirks of a pure bred Italian sportsbike on the streets… at scooter level!
---
There are reasonable mirrors that do need an elbow tuck, a tiny pillion seat and the rider seat slopes downwards at the front, so decent bumps cause a shift forward. These traits remind me of one thing – the quirks of a pure bred Italian sportsbike on the streets… at scooter level!
For those cruising around town, whether commuting or for a coffee, the Dragster is easy and fun. It is stable, with great brakes either front or rear at town speeds, and it is super slim for lane splitting. The steering lock is wide, though, so I found low speed feet-up U-turns and so forth a little tricky at times.
---
For those wanting a bit more, prepared to push the Dragster away from the city streets, you will be rewarded by the sporty chassis, suspension and brakes, which just gets better the harder you push through the corners. I have an absolute blast one day, riding the same 12km set of twisties for a full two hours and enjoy every second of it.
---
---
On a road still damp in spots, I am unable to say I truly pushed the Dragster at full lean, but I find out more than enough about the chassis in my adventure. The suspension, which feels overly firm at low speed on sharp bumps, really comes into its own with a push and some grip coming through the Pirelli Angel Scooter tyres, which are fabulous in both the wet and dry conditions.
---
The front and rear brakes are Brembo and used as a pair pull the Dragster and my 90kg up with performance beyond most scooters on the market. With no front dive but still suspension action on braking, it is possible to really use them but be warned, washing off the Dragster's impressive corner speed will only mean having to build it back up again and there is no fun in that!
There is a lot to say about the design and style of the Dragster. It's just so out there. So different. So cool. I could not believe how many times I was stopped for a chat on the streets while out testing the Italjet, and more often than not by non riders who were just curious and could see it was something special. Sure, it has no storage, no USB charging point, a poor turning circle and is tight for pillions, but this is not meant to be a convenient and cheap way to get from A to B. This is an enthusiasts scooter.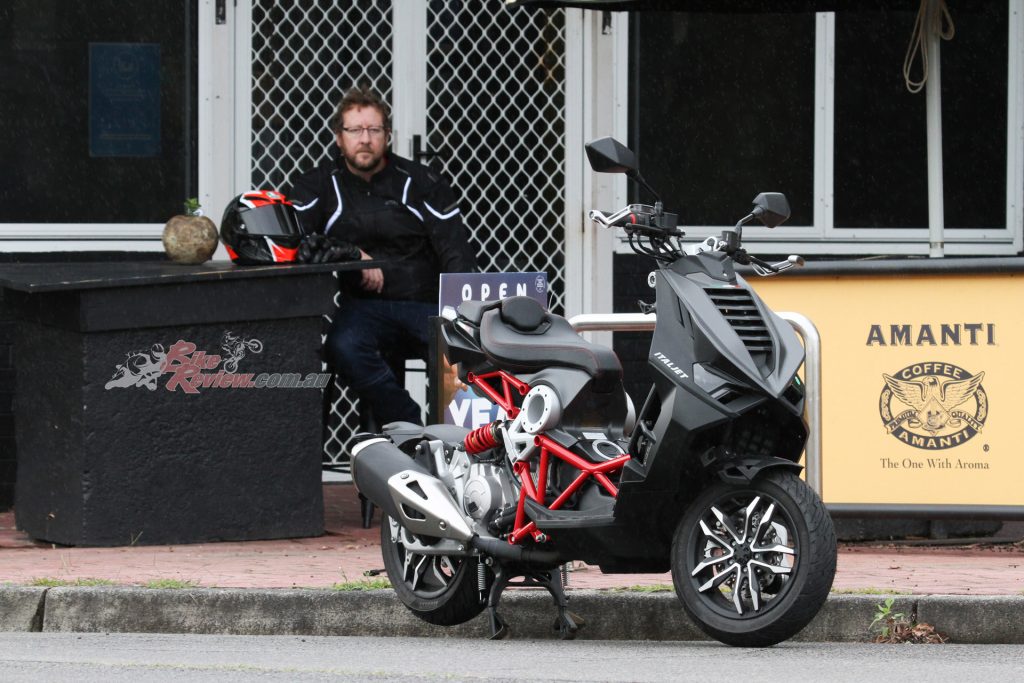 This is a scooter for those that can afford to spend ten grand on an impractical scooter that looks cool and will most definitely end up a collectable just like the original has… I for one would love a Dragster 200 in my shed, complete with lots from the official accessories list – Akrapovic system, Ohlins shocks, Brembo racing brake kit, Malossi clutch kit and all of the carbon-fibre accessories too. All up, I'd be looking at twenty grand but to me it would be worth every cent… If only!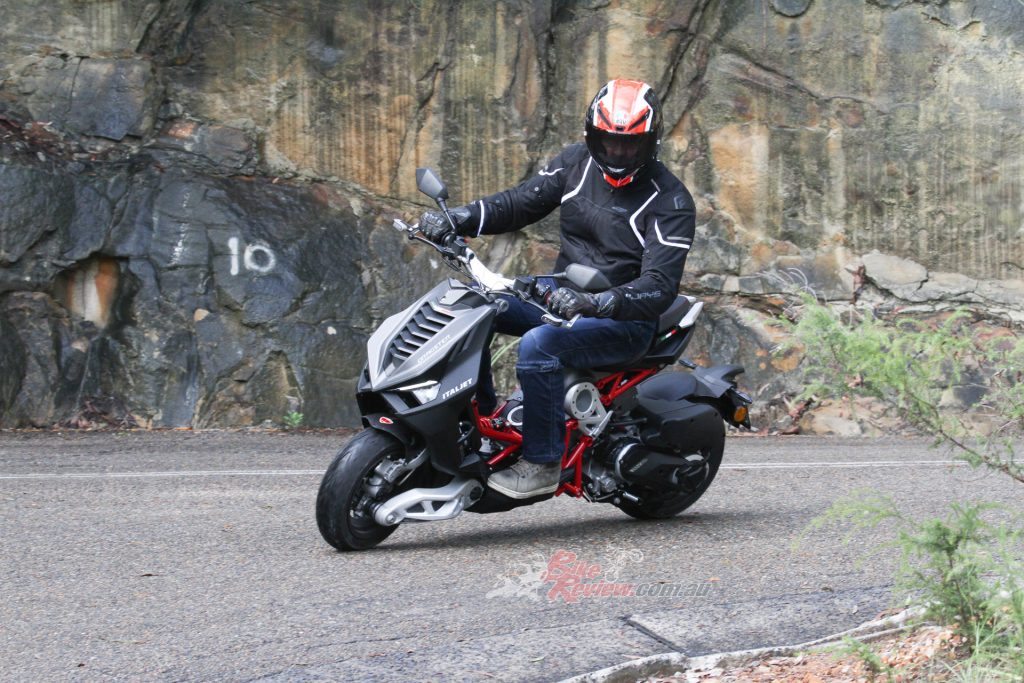 Tech Talk
Italjet was founded in 1959 by Leopoldo Tartarini, who was an integral part of the Ducati racing and business family before embarking on his own two-wheeled adventure. The Dragster 200 marks a new chapter for the company as they dive into the scooter market with this quirky creation.
The Italjet Dragster 200 is powered by a 181cc, liquid-cooled, fuel-injected, four-valve, Euro5 four-stroke single-cylinder engine producing 19.8hp (14.6kW) and 17Nm, embedded in package that weighs just 112kg (dry).
---
---
The Dragster 200 features a molybdenum-chrome frame reinforced with die-cast aluminium plates, while the signature trellis frame – as well as providing a strong, lightweight structure that simplifies placement of engine and components – connects the steering head to the swingarm pivot and provides a unique rigidity due to its interwoven structure.
---
---
The unique centre-hub steering, in the same mould as the famous Bimota Tesi 3D, separates the steering, braking, and suspension functions, providing unique stability. The system helps filters roughness, without transmitting vibrations to the handlebar.
There's a Paioli monoshock at the front and rear with preload adjustability while, remaining true to its Italian heritage, the Italjet is fitted with Brembo brakes and Pirelli tyres. The package is completed by an aluminium front swingarm, MotoGP-style hand/lever guards, passenger seating and a standard scooter centre-stand for convenience.
---
---
The 2022 Dragster 200 is available in three liveries – grey/white/red, grey/yellow and black/grey – and comes with a two-year unlimited-kilometre factory warranty.
---
2022 Italjet Dragster 200 Specifications 
Price: From $9,990 rideaway
Warranty: two-years unlimited km
Colours: grey/white/red, grey/yellow and black/grey
Claimed Power: 14.6kW@8250rpm
Claimed Torque: 17Nm@6250rpm
Dry Weight: 112kg
Fuel capacity: 9L
Fuel Consumption (tested: 19.6km/l))
---
Engine: Single-cylinder four-stroke, four-valve, 181cc, 63 x 58mm bore x stroke, EFI.
Gearbox: Automatic, C.V.T. with automatic centrifugal multiplate wet clutch, belt driven.
---
Chassis: Mild steel tubular frame
Rake: 30° Trail: 148mm
Suspension: S.I.S. with Single Hydropneumatic Absorber (Adjustable) (F) Single Hydropneumatic Absorber (Adjustable) (R)
Brakes: 175mm single disc, ABS (F) 240mm single disc (R)
Wheels & Tyres: Pirelli Angel Scooter 120/70 – 12 (f) 150/70 – 13 (r)
---
Dimensions:
Seat height: 770mm
Overall width: 680mm
Wheelbase: 1335mm
Overall Length: 1870mm
---
Instruments & Electronics: ABS, LED Lights, LCD Screen
---

2022 Italjet Dragster 200 Gallery
The Verdict | Review: Italjet Dragster 200