The 2022 Suzuki GSX-S1000 is a heavily revised bike, receiving its first major update since it was released in 2015. Nick spent a few weeks putting it to the test... Photography: HMC Photography
The 2022 GSX-S1000 boasts the first major updates to the platform since its initial release in 2015. Suzuki say they've enhanced the balance between rideability and performance, delivering more power, control and excitement. We put one to the test to find out…
I spent just over two weeks on the GSX-S1000 and paid close attention to the improvements, there's still a few little problems that the die-hard's will be all too familiar with but, overall, you're getting a serious bike for your cash that is brilliant to live with. 
Compared to the rest of the class, Suzuki have always come in quite aggressively on pricing with the GSX-S1000 range and the 2022 model is no different. The level of performance acquired from such a comparatively low price is very competitive within this class of nakedbike.
---
"The level of performance acquired from such a comparatively low price is very competitive within this class of nakedbike"…
---
While it doesn't have the same up spec'd tech as the Euro models, you get what you pay for, plus a fair bit more in my opinion. For the price, it's a little easier to forgive some of the more small issues and lack of common tech we've seen over the last seven years in the GSX-R sister platform.
---
---
Starting with the main attraction, the 999cc DOHC liquid-cooled motor is a powerhouse. The engine is still centred on the long-stroke K5 GSX-R1000, but we see some serious refinements for 2022 (See below for the tech breakout and details). The new ride-by-wire throttle and revised three ride modes are not the greatest, in my opinion, but seem to have improved the throttle sensitivity issues we've seen in the past a little off initial opening from fully closed, but not solved it.
For the average street ride, A Mode felt too aggressive and overly sensitive at low rpm. There is a distinct lack of smoothness in the throttle and can best be described as a switch, either on or off, for me, anyway. B Mode is much more suitable for the daily ride and the power came on quite nicely. C Mode, or rain mode, as most manufacturers would refer to it as, is underwhelming as expected, yet perfect in the wet and I spent a lot of time in the rain. The bike is smoother, yet far slower.
---
---
The mapping and initial throttle opening issue still needs to be addressed. It's been an obvious issue over the lifespan of the GSX-S range and while better here in 2022, it still hasn't been taken care of. The issues in throttle response are somewhat alleviated when you pushed harder, at about 50 per cent the bike is quite difficult to ride and did not inspire much confidence. It felt touchy and overly sensitive. At about 70 per cent, things started to get a little better. At 80 per cent and above, it is magic. It likes to be pushed and with commitment, I guess it's the GSX-R heritage coming through. 
In A Mode, at full noise and using high lean angle, throwing the bike at the turns, the GSX-S made sense and came alive. The tune, while street-orientated, is clearly suited to a serious, very fast street ride. The harder you push it, the better and smoother it gets. I spent much of the time in B Mode. It is smoother and just easier to ride. There didn't seem to be any obvious power-loss in the higher rpm but it flattens out the harshness experienced of A Mode.
In terms of getting this power to the rear wheel, the revised clutch system (Suzuki Clutch Assist System) is a subtle yet appreciated improvement. The clutch is light, not that it got much use anyway. The quick-shifter system is absolutely faultless. The six-speed box is geared appropriately for the intended riding and final gearing is not something I would personally look at altering. Again, this really depends on where and how you'll be riding.
---
---
Braking performance is fantastic, the 310mm discs and four-piston Brembo calipers made short work of what I had to offer. They were capable when required and predictable in the meantime. If you are looking for a more aggressive and 'bitey' set-up, you could consider swapping out the pads, but for what I need, I wouldn't change a thing. 
The bike is not equipped with cornering ABS, which is a loss when compared to many other bikes in the market, but with no IMU you miss cornering ABS and cornering TC. Then again, you can't expect too much for the price point. The 2022 GSX-S1000 does come with basic adjustable traction control, which got put to serious use during the severe weather we've had here. There are five levels and off, which for me, is more than enough adjustment for any scenario.
The forks are KYB and fully adjustable. The bike came to us here too stiff up front, but with a reduction in compression and preload it is far more forgiving on the bumpier street surfaces. The rear boasts a single rear adjustable KYB shock (with preload and rebound) that is okay, it is what I had expected given the price. At regular speeds it did its job, only when pushing quite hard did I start to think about some possible upgrade options. It really depends the type of riding you plan on doing most.
---
---
The GSX-S handles incredibly well when pushing it past 70-80 per cent. The aluminium chassis provides significant feedback and a great sense of control when leant over. For me, I felt more confident on the bike the faster I was going. Cornering feels fantastic and akin to the GSX-R experience and the Dunlop Sportmax Roadsmart 2 tyres are quite good. The bike feels more than capable of handling anything I could possibly throw at it on the street. Straight line stability is solid, aside from the wind buffeting issue standard on most nakedbikes, it is great.
---
"Cornering felt fantastic and akin to the GSX-R experience. The bike felt more than capable of handling anything I could possibly throw at it on the street."
---
Riding position on most nakedbikes is always a favourite of mine, and the 2022 GSX-S1000 is no exception. For me, a taller a rider at 197cm, I had no issues with comfort and body angle. The 'bars are fantastic in my opinion, sitting high enough for my liking.
The bike feels nimble when filtering through tight traffic and side-streets. Leg and foot positioning is no worse than any other naked I've ridden, it's never particularly comfortable for my longer legs on anything other than a big cruiser, yet the brake and gear-selector are within easy reach and angle, I didn't have to struggle. We didn't get around to a pillion ride, so I can't comment there. 
---
I can't understand why cruise-control is not included on the naked model; it really is something I missed on the longer freeway commutes. Given it is included on the GT model, it really should have carried over the naked. The GSX-S wasn't particularly great on fuel, averaging (5.9L – 6.1L/100km). While not ideal, the slightly larger 19L fuel tank meant less time worrying about where you're going to fill up. While I wasn't riding conservatively, I was hoping for a little more in this department.
---
---
Design-wise, I'm impressed with the aggressive styling. I like the look. The headlights are aggressive yet subtle at the same time, I'm not a fan of the digital camouflage patterns scattered across the fairings, it tends to remind me of peeling clear coat, but to each their own. Numerous others have said they loved it while I was out and about. In terms of overall size and weight, at 214kg, it's more or less equal to similarly priced bikes and is distributed nicely. The seat height is also quite low and the smaller rider should manage with relative ease.
I wasn't a fan of the dash, especially haven ridden some of the newer bikes with BIG bright, clear, and bold TFT displays. The screen isn't the easiest to read in full sun and could do with a design overhaul in 2023. While it is a personal preference, you might prefer the small and minimalist design, I like to see all the info.
---
---
The 2022 GSX-S1000 is an interesting beast. While it misses the technology and components we've come to expect in this decade of high-end sports nakedbikes, it makes up for all that in value and performance for buck. If you're prepared to push this thing and ride it hard, you'll be rewarded with a fantastic GSX-R-like experience.
---
"If you're prepared to push this thing and ride it hard, you'll be rewarded with a fantastic GSX-R-like experience."
---
The harder you ride it, the better it gets. If you're not prepared to do this, or you think these rides will be few and far between, it might be worth looking into something with less sporting heritage as a platform, as no matter how naked Suzuki make the GSX-S, there is no hiding from the sports heritage and fundamental geometry that comes from the GSX-R.
The amount of machine you get for the amount of money you pay is really second to none. I can't honestly say Suzuki have fixed the few negatives, but they're certainly better. If they consider the points and critique, I have seriously high hopes for the next instalment in the GSX-S1000 line-up.
---
---
With these issues sorted, it'd be unmatched in performance and value. I'm looking forward to the future of the GSX-S1000. Regardless, I doubt you'd be disappointed in 2022, especially after opening it up a little in the local twisties. You'll understand what I mean… It's a beast crammed into a street machine, eager for you to get on and let it loose. If you don't, it won't be too happy. If you do, you'll be rewarded. I guess you'll just have to choose…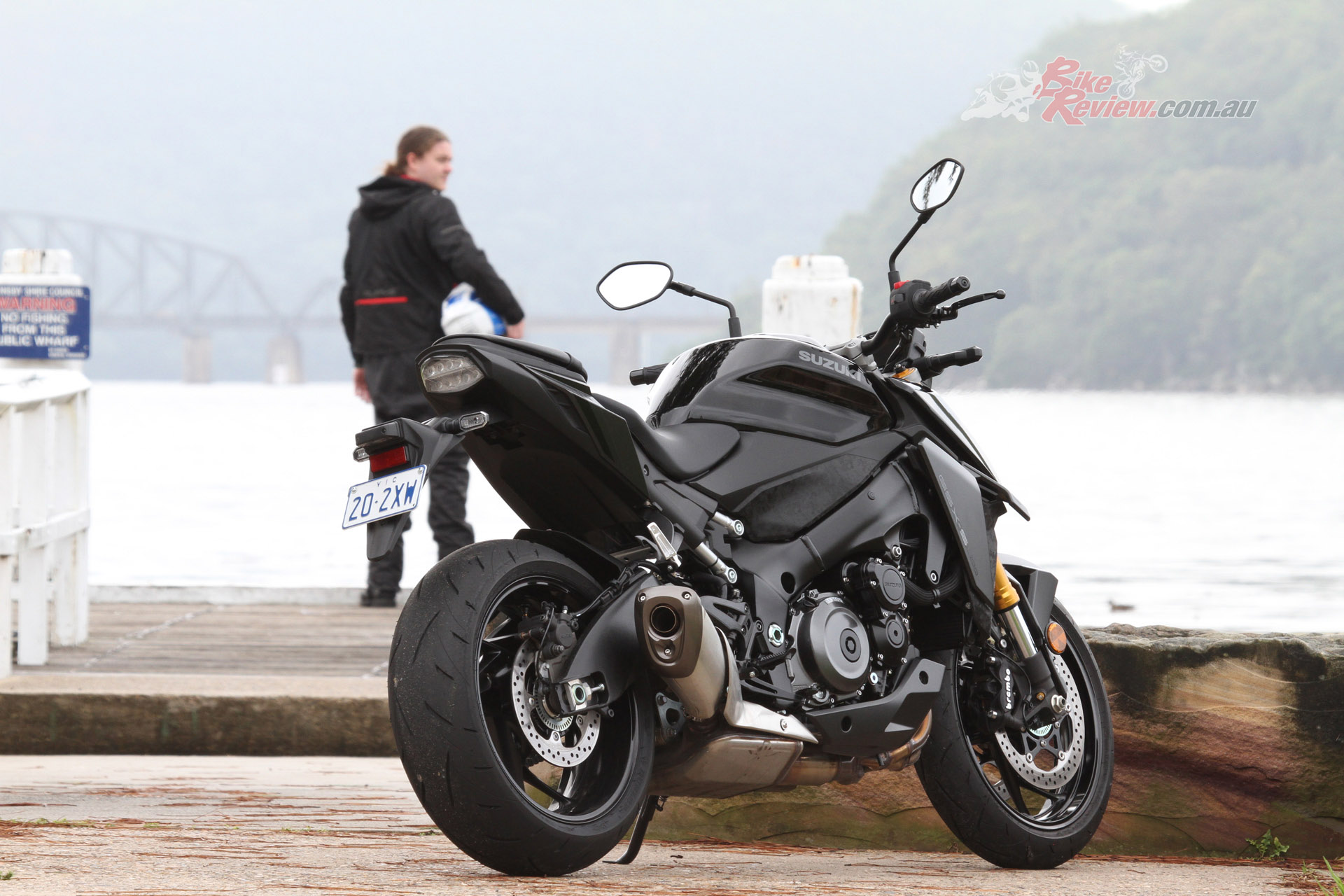 ---

SECOND OPINION – JEFF
When it comes to the GSX-S1000, I have to admit, I do have a soft spot. Memories of the world launch in Spain back in 2015 still bring a smile to my dial, I had many great rides on my own BikeReview GSX-S1000 Long Termer and aside from that, the GSX-R lineage is in my veins…
---
Read about our 2015 GSX-S1000 long termer here…
---
I've owned or had as long termers just about every GSX-R1000 since the K5. In fact, we even had a K3 long termer back in my Streetbike Magazine days. I've had modern GSX-R750s and I'm on my third 1985 GSX-R750 resto. I do love the Gixer family, but a test is a test… I could not wait to ride the new GSX-S1000 and although it's not perfect, it's bloody good.
---
---
I had three or four rides on the GSX-S, around town, my local coastal roads and mountains and a fang up on the Old Road. Firstly, and disappointingly the throttle is still a little snatchy on very first opening but not as bad as it was, however, the instant power available from just under 4000rpm is instant – it makes it difficult to ride at a constant throttle on the speed limit, particularly in the 80-100km/h range.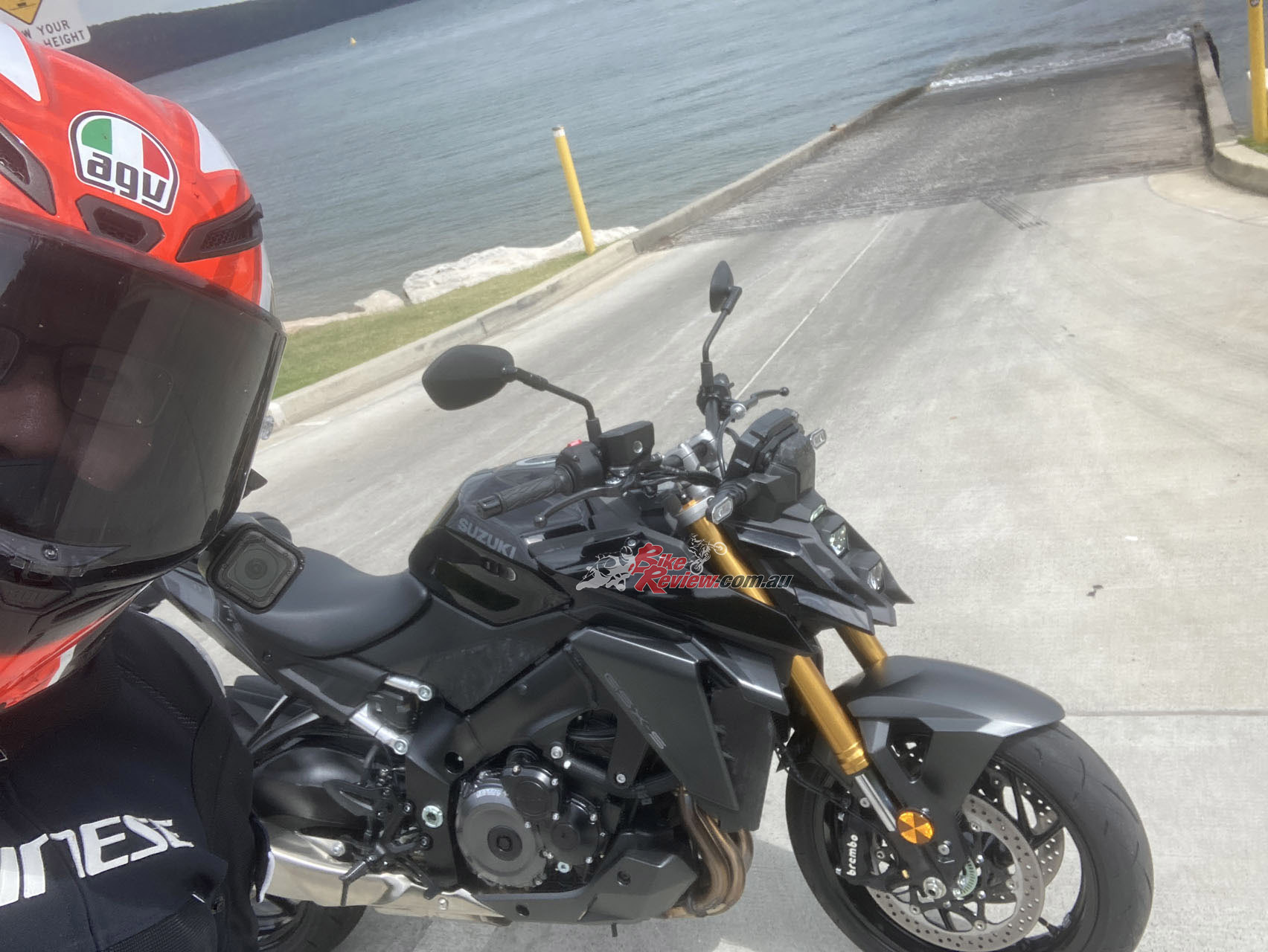 On the freeway at 110km/h it is hard to ride smoothly, every bump moves the throttle. I wish it had cruise control, it seriously needs it and the GT has it. It is desperate for cruise control – seriously needs it. A Mode gives strong power, some throttle issues below 5000rpm but when punting hard through the twisties, the engine becomes smooth – linear and fast, although outright pickup off turns is flat, particularly 3rd and 4th gears – could be the TC deadening the throttle.
---
---
I had it on full throttle off corners and was wanting more at times compared to say the S 1000 R or Tuono, or even the Z900. Don't get me wrong, it's fast, and a silky smooth motor, but when pushing the limits it has a softened edge to the power compared to before. The quick-shifter is sensational, perfect in fact. Handling is fantastic if you use sportsbike body language, hanging off and weighting the front – it gives good feedback and confidence, with stable but quick enough turn-in and good line holding, with decent lean angle (toes/boots touch first).
---
---
The front brakes are strong, without being amazing. They feel more like a touring bike brakes than a performance naked set-up but pads could fix that. The rear is reasonably strong and useful with decent feel, I used it to dampen the power delivery at low rpm. Front and rear suspension is stiff in stock settings – we removed two lines of front preload, to make it four, and we took out three clicks of front comp. Much better. At the rear we left it – it was on second from softer preload. Would go back up on the forks for sports riding but stock was harsh on bumps. The tyres were great, Dunlops.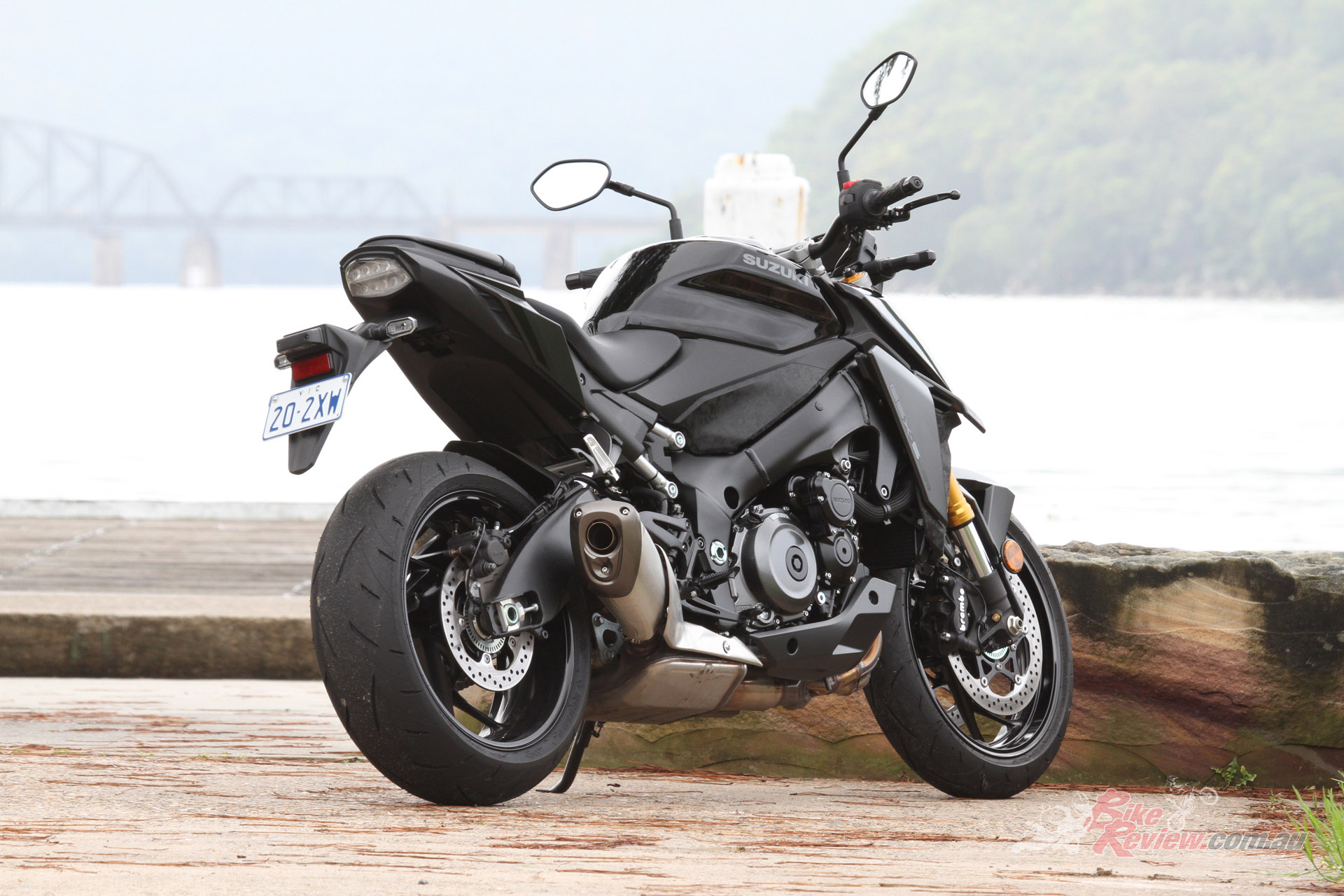 Switches, levers, all stock Suzuki stuff and almost 10-years old now for some of it. Mirrors basic, a little small. Wide seat, wide tank, long peg to seat distance, handlebars a little awkward in stock position, could be rolled back 10mm. I found the dash impossible to read, I really didn't like it. I loved the exhaust note and intake howl, the styling is on point for me aside from the weird matte black plastic panels that look like clear coat is peeling off and cracking…
It chewed 6.1L/100km while I had it, a little thirsty. In the end, I spent a lot of time in B Mode (C is just for rain) and enjoyed the bike. For the price, I really am amazed and just how much motorcycle Suzuki are offering. You could fit a slip-on or full system, which would improve throttle control, and still have change from twenty grand. Amazing… 8.5/10
---

Tech Talk
Six years on, the first major update to the GSX-S1000 has delivered some impressive technology, an amazing powerplant which complies with Euro5 emissions standards and some awesome styling to match the completely refreshed GSX-S1000…
Suzuki say the high-performance 999cc four-stroke DOHC liquid-cooled inline-four engine that powers the GSX-S1000 uses years of MotoGP racing knowledge to create the perfect sport bike powerplant. Changes from the previous model include a new camshaft profile, new valve springs, a new clutch and new exhaust system increase power output and achieve an overall better balance of performance, all while satisfying Euro5 emissions standards.
---
---
The new engine incorporates a rich variety of new electronic control technologies that make the GSX-S1000 more controllable, more predictable, and less tiring to operate. This includes giving the rider fine control over power output characteristics, enabling them to match the way torque comes on when opening the throttle to the type of ride or their riding style at any given time. This in turn multiplies the pleasure of riding in different ways on even the same section of road.
The 4-2-1 exhaust system for the new GSX-S1000 was completely redesigned and tuned. Suzuki say their goal was to maximise overall performance while satisfying Euro5 emission standards. A change to the bore size of the new electronic throttle-bodies were made to help achieve a better balance between control over idling speed and power output characteristics. One benefit of the new system is more controllable when the rider opens the throttle to accelerate out of a corner.
---

The GSX-S1000 adopts the Suzuki Clutch Assist System (SCAS), which introduces an assist function to complement the slipper clutch from the previous generation. The slipper clutch partially disengages to reduce negative engine torque and mitigate the effect of engine braking when downshifting from high rpm. This helps prevent the rear tyre from locking up or hopping and provides smoother deceleration.
The new GSX-S1000 has gained a collection of the advanced electronic systems that comprise of the Suzuki Intelligent Ride System (S.I.R.S.). Included are the Suzuki Drive Mode Selector (SDMS), Suzuki Traction Control, Ride-by-Wire Electronic Throttle, Bi-directional Quick Shift, Suzuki Easy Start, and Low RPM Assist systems.
SDMS is designed to offer the rider a choice between three different modes that change output characteristics to match riding conditions. The settings for each of the three modes (Active, Basic and Comfort) were custom-tuned and thoroughly tested, while at the same time building in the flexibility to better adapt to changing weather, road and riding conditions.
The 2022 GSX-S1000 features an updated version of STCS with a wider selection of five mode settings (+ OFF), as opposed to the three modes (+ OFF) of the previous generation. The finer incremental control over settings allows the new five mode traction control system to better fit a more diverse variety of riding conditions and styles. The higher number the mode, the faster the control takes effect and the more proactive the system is in limiting wheel spin. The system continuously monitors front and rear wheel speed, engine RPM (as calculated using data from the crank position sensor), throttle position and gear position.
---
---
The Bi-directional Quick Shift System enables the rider to shift up or down without operating the clutch lever. When activated, the system automatically interrupts power delivery when accelerating just long enough to unload the transmission gear dogs. When decelerating, the system automatically opens the throttle valves just enough to increase rpm and match engine speed to the next-lower gear ratio. The result of this hands-free automatic blipping function combines seamlessly with engine braking to create a highly satisfying experience when the rider downshifts.
---
---
The Suzuki Easy Start System lets the rider start the motorcycle with one quick press of the starter button. There is no need to pull in the clutch lever when the transmission is in neutral, and the starter motor automatically disengages the instant the engine fires up.
The low RPM assist system employs TI-ISC (Throttle-body Integrated Idle Speed Control) to boost engine speed when releasing the clutch lever to launch from a standing start or riding at low speeds, suppressing engine stalls, helping ensure better control and operation in stop-and-go traffic. The system is updated for the new GSX-S1000 and works in harmony with the Suzuki Clutch Assist System (SCAS) to make pulling away form a standing start even smoother.
---
---
The twin-spar aluminium frame helps to ensure nimble handling and great road holding ability. The main tubes are straight from the steering head to the swingarm pivot, which is ideal for achieving high rigidity and light weight. The sturdy aluminium-alloy swingarm comes straight from the GSX-R1000. It is ruggedly braced and helps to ensure great road holding ability together with superbike looks.
---
---
New tapered handlebars are roughly 23mm wider than the previous model, Suzuki say they made they change after testing to best match the length and positioning to the output characteristics of the updated engine. This new design brings the grips 20mm closer to the rider and contributes to a more upright riding position.
The 43mm KYB inverted forks have fully adjustable damping, rebound, compression and spring preload, while the link-type rear suspension is adjustable for rebound damping and spring preload. Various settings were thoroughly tested in relation to changes made to the internal structure of the tyres before the optimum settings were applied to give nimbler handling and improved steering.
---
---
Dunlop's new Roadsport 2 radial tyres (120/70ZR17 at the front; 190/50ZR17 at the rear) are custom-engineered to for the GSX-S1000. The updated internal construction, which differs from the commercially available version, features a carcass and Ultra Flex Steel Jointless Belt layer tuned to deliver the right level of rigidity to match the weight, performance characteristics and riding conditions for the GSX-S1000.
The full LCD brightness-adjustable instrument cluster packs a wide range of useful information into a relatively compact form factor (sadly no TFT). It is also designed to make the readouts from its multiple functions easy to recognise. LCD readouts include: Speedometer, tachometer, odometer, dual trip meter (A, B), gear position, water temperature, riding range, lap time mode, average fuel consumption, battery voltage, instant fuel consumption, RPM indicator, service reminder, SDMS mode and a fuel.
---
---
LED indicators flanking the display include those for the turn signals, high beam, neutral, malfunction, master warning, ABS, traction control system, low voltage warning, coolant temperature and oil pressure. They are designed for easy recognition.
Pricing starts from $17,290 ride away, the 2022 Suzuki GSX-S1000 is available in Metallic Triton Blue, Glass Mat Mechanical Gray and Glass Sparkle Black…

2022 Suzuki GSX-S1000 Specifications
Price: From $17,290 ride away
Colours: Metallic Triton Blue, Glass Mat Mechanical Gray and Glass Sparkle Black
Claimed power: 112kW@11,000rpm
Claimed torque: 106Nm@9,250rpm
Curb weight: 214kg
Fuel capacity: 19L
---
Engine: four-stroke, four-cylinder, liquid-cooled, DOHC, 999cc
Bore x Stroke: 73.4 x 59mm
Compression Ratio: 12.2:1
Gearbox: Six speed Clutch: Wet multiplate
---
Chassis: Twin-spar aluminium
Rake: 25 degrees, Trail: 100mm
Suspension: Fully adjustable 43mm KYB USD forks, Adjustable link-type rear suspension
Brakes: four-piston Brembo monoblock front brake calipers 310mm floating-mount dual rotors, single rear rotor Tyres: 17in six spoke cast aluminium wheels, 120/70-17 – 190/50-17 tyres.
---
DIMENSIONS:
Wheelbase: 1460mm
Seat height: 810mm
Overall length: 2115mm
Height: 1080mm
Width: 810mm
---
Instruments & Electronics: Vertically stacked LED headlights in hexagonal housings topped by an LED position light LED front and rear turn signals, full-LCD instrument panel features a custom display.
---
The Verdict | Review: 2022 Suzuki GSX-S1000 Supernaked