Video: The Sherco EB16 electric balance bike has been one of the best things to join our family bike fleet for years, keeping the kids happy and their skills sharp during lockdown... Review: Jeff Ware
Back in June we took delivery of a Sherco EB16 electric balance bike. With over 90 charge cycles and 50-plus hours of riding completed, the EB16 is going strong and keeping our kids entertained plus maintaining their riding skills while racing is on hold during lockdown… 
---
---
ABOUT THE SHERCO ELECTRIC BALANCE BIKE RANGE
Electric balance bikes are the ideal way for juniors to begin their powered two-wheel journey – and Sherco Australia has the bases covered with the EB12 and EB16 line-up. The silent electric balance bikes have been a hit since they were released onto the Aussie market.
On sale from all Sherco dealers for $649 (EB12) and $749 (EB16) respectively, ($999 for the Factory Edition), the machines have height-adjustable seats, simple twist-and-go throttles, selectable power modes, and there's even a non-powered mode for riders to gain extra confidence before motors are introduced to the kids.
Sherco say the EB12, with its 12-inch wheels, is suitable for children between the ages of two and six, or weighing up to 34kg, with little or no experience on a balance bike. Children should have an inseam of more than 35cm to adequately touch the ground with a slight bend in the knees for optimum sizing, while the 16-inch wheeled EB16 is suitable for children between five and six years of age, or weighing up to 40kg, with some experience on a balance bike or who are taller and need a larger platform.
The EB12 is powered by a 100W brush motor and a 2.6Ah lithium-ion battery, which gives approximate top speeds of 7.5km/h and 15km/h (low/full power modes). The EB16 is paired with a larger 170W brush motor and a 5.2Ah lithium-ion battery for top speeds of 10km/h and 21km/h (low/full power modes).
Sherco say that the running time for both models is up to 60 minutes of constant use, however battery range will vary depending on speed setting, rider weight and riding conditions. Recharge time is up to three hours via an external charge port for convenient recharging.
There is a fully enclosed chain cover, and a power cut-off switch built into the brake lever which automatically cuts power if the rider pulls in the lever – preventing a panic throttle twist.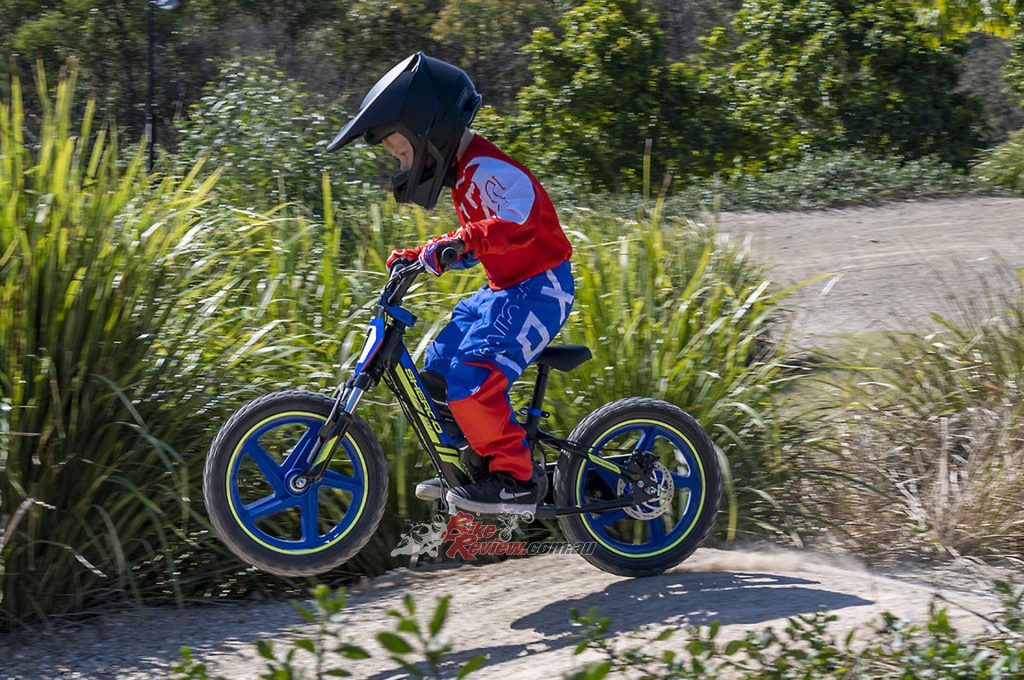 SHERCO EB16 FACTORY
As an alternative to the standard EB16, there is also a new EB16 Factory edition. EB16 Factory provides a higher-spec alternative with a more powerful brushless motor, a rear disc brake, front suspension, and styling updates.
Of course, the EB16 Factory continues the fun, silent and environmentally friendly profile of its siblings, as well as a simple twist-and-go throttle, a running time of up to 60 minutes and the option of a non-powered mode for kids to push, balance and coast before activating the brushless motor.
---
The EB16 Factory is supplied with an Australian 240V household charger, owner's manual, and toolkit. It has a 12-month parts-only warranty.
---
Sherco EB16 Factory Features
A 24V 250W brushless motor (EB16: 170W brush motor)
24km/h top speed (EB16: 21km/h top speed)
Better acceleration than EB16
Suspension: front fork
Three speed modes (EB16: two modes)
Higher handlebar
Rear disc brake
Anodised blue handlebar and seat clamp (quick-release seat clamp)
Blue rims with a more aggressive tread pattern
New grips and brake lever
Sherco Factory decals
---
For more information on the Sherco EB12, EB16 and EB16 Factory electric balance bike range contact your nearest Sherco dealer here.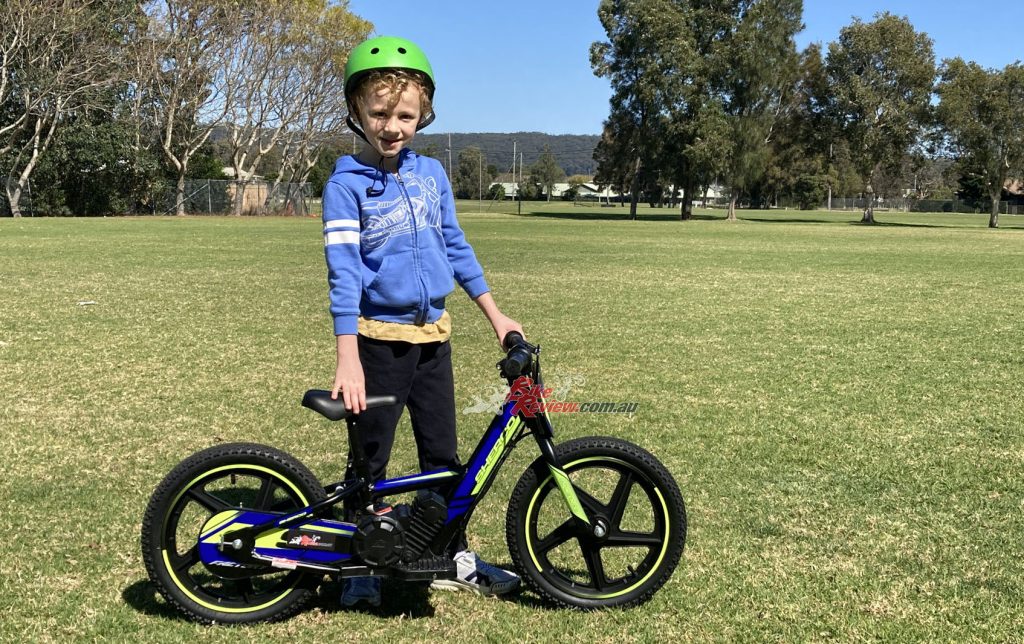 2021 SHERCO EB16 SPECIFICATIONS (as tested)
ENGINE 24V 170w brushed motor, 24V, 5.2ah removeable battery, 24.9V1a charger, 9.5Nm of torque, running time up to 60min, 2 modes slow (10km/h) and fast (21km/h)
---
CHASSIS Powder coated alloy frame, alloy steering stem and head, alloy seat pole, handlebars and clamp, steel forks, Nylon 16in wheels, off-road tube tyres, chain drive, drum rear brake, 790mm wheelbase, 62cm max height, 420.5 – 520mm seat height, 11kg weight, 40kg payload
---
The Verdict | Review: Sherco EB16 Electric Balance Bike