We ride the MT-03, MT-07LA, MT-07HO, MT-09, MT-09SP, MT-10 and MT-10SP all in one day! Here's an overview, with links to the tech data and full reviews. Pics: iKapture & Colin Chan
The Yamaha MT-03 had cosmetic upgrades last year (MT-03 review here), while the MT-07 HO & LA have had styling, engine, tyres, ergonomics and brake changes. The big boss MT-10 & MT-10SP models remain the same, while the MT-09 duo are all new from the wheels up.
MT-10 and MT-10SP
My first ride of the day was on the mighty big banger, the King of Maximum Torque, the stonking MT-10. It hasn't changed at all this year but it doesn't need to. It is an awesome bike, with 118kW and 111Nm on tap (and on the SP a quickshifter, Ohlins electronic suspension) and powerful brakes. The 210kg ready to ride MT-10SP is one of the most rewarding and fun motorcycles on the market.
The MT-10 and MT-10SP remain brilliant bikes and the SP is a sensational track weapon, with fantastic suspension, brakes and handling characteristics. It also has a decent electronics suite and currently comes in at $25,199 R/A for the SP and $21,949 R/A for the stocker.
---
Check out our full MT-10SP review & video here and our MT-10 review & video here…
---
---
MT-03
The mighty junior of the Maximum Torque family is the popular MT-03 and it is one hell of a fun motorcycle. In fact, after spending a few sessions on the 03 I was eager for even more and sneaked in a third session before the end of the day. I had more fun on the MT-03 than any other bike on the day!
The MT-03 comes in at $7,599 R/A and is a premium LAMS motorcycle that is extremely popular. The little 321cc twin punches out 30kW and 30Nm and at 168kg ready to ride is a quick bike that not only shares the styling of the bigger siblings in the MT range but also handles and stops just as well.
---
Check out our Yamaha MT-03 review here and the MT-03 update tech info here…
---
---
MT-07 HO & LA
Motorcycles are fun, all of them in some way, but there are definitely standouts and the Yamaha MT-07 LA (LAMS) and HO (Full Power or High Output) are very high up on my hooning list of bikes that make you laugh out loud. The two bikes are identical aside from power output and capacity, with the $13,199 R/A HO version of the CP2 engine 689cc and 54kW/67Nm, while the $12,399 R/A LA is 655cc and 38kW/55Nm. Both bikes weight 184kg ready to ride and have identical 805mm seat heights.
Both versions scored updates for the year, with revised styling to the bodywork to bring the 07 more inline with the other MT members. The big cc version of the CP2 has had revisions to the intake and electronics, now meeting Euro5 emissions, the front rotors are bigger and the tyres are sportier Michelin PR5s. The dash is also new and the handlebar bend.
---
---
I could not believe how good both versions are on track. Obviously the HO is faster and therefore more fun to ride but the LA version can still cut a damn good lap time. It feels very close to the HO off turns and only flattens out from the mid-range. The new brakes are fantastic, repeated very hard braking failed to cause any fade and the Michelins were well up to the job.
---
Check out our Yamaha MT-07 HO & LA review here and read the 2021 MT-07 upgrade info here…
---
---
MT-09 & MT-09SP
The MT-09 models are all-new for this year and were my main focus on the day. They both feature an all-new chassis, major engine changes, completely revised styling and a state of the art electronics suite. The new models are a massive improvement over the previous ones and now the chassis finally matches the brilliant engine. I could not stop smiling after riding the SP, which might be the ultimate nakedbike now that it is so fast and smooth yet handles like it is on rails…
---
Read our full track test on the MT-09 here and our road test on the MT-09 here…
---
---
SPECIFICATIONS


Yamaha MT-10 & SP
Price: $25,199 R/A for the SP and $21,949 R/A for std
Warranty: Two-year/unlimited kilometre
Colours: Icon Performance (SP), Ice Fluo or Tech Black (std version)
Claimed power: 118kW[160hp]@11500rpm
Claimed torque: 111Nm[81ft-lbs]@9000rpm
Wet weight: 210kg
---
Engine: Liquid-cooled, four-stroke, crossplane forward-inclined parallel four-cylinder, four-valve per cylinder, DOHC, 79 x 50.8mm bore x stroke, 998cc, 12.0:1 compression, D-Mode, TCS, QSS, PWR power modes,  YCC-T, four-into-two-into-one exhaust. Gearbox: Constant mesh, six-speed
Clutch: Assist and Slipper clutch, wet, multiple-disc
---
Chassis: Aluminium Deltabox frame, aluminium upward-truss swingarm, steel sub-frame, Rake: 24, Trail: 102mm
Suspension: (SP) Öhlins electronically adjustable telescopic fork, 120mm travel, Öhlins electronically adjustable shock, manual preload adjustability, 120mm travel, (Std Version), standard manually adjustable forks and shock, 120mm travel each end.
Brakes: ABS, dual 320mm front rotors, dual monobloc four-piston calipers, 220mm rear rotor, single-piston pin-slide caliper
Wheels & Tyres: Cast alloy wheels, 120/70 – 17 (f), 190/55 – 17 (r)
---
Dimensions:
Seat height: 825mm
Overall height: 1110mm
Overall length: 2095mm
Width: 800mm
Ground clearance: 130mm
Wheelbase: 1400mm
---
Instruments: TFT display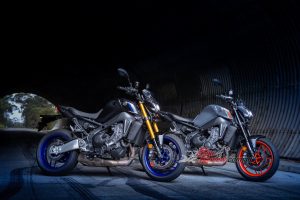 Yamaha MT-09 & SP
Price: MT-09 – $15,249.00, MT-09SP $17,299.00 (rideaway)
Warranty: Two-years unlimited km
Colours: Icon Blue, Storm Fluo, Tech Black. (Only Icon Performance for SP)
Claimed Power: 87.5kW@10,000rpm
Claimed Torque: 93Nm@7000rpm
Kerb Weight: 189kg
Fuel capacity: 14L
---
Engine: Liquid-cooled, four-stroke, DOHC, Cross plane triple, 78.0mm x 62.1mm bore x stroke, 889cc, 11.5:1 compression, three-into-one exhaust Gearbox: Six speed Clutch: Wet, multiple disc
---
Chassis: Aluminium Deltabox frame
Rake: 25° Trail: 108mm
Front Suspension: USD 41mm telescopic KYB fork, fully adjustable (SP features USD 41mm KYB fork, fully adjustable with high/low-speed compression damping)
Rear Suspension: KYB monoshock, adjustable for preload and rebound (SP features an Öhlins monoshock, fully adjustable)
Brakes: Twin 289mm discs with four-piston calipers, Brembo master-cylinder, cornering ABS(f), Single 245mm disc with single-piston caliper, cornering ABS (r)
Wheels & Tyres: 10-spoke cast alloy wheels, 120/70 – 17 and 180/55 – 17 Bridgestone S22 tyres.
---
Dimensions:
Wheelbase: 1430 mm
Seat height: 825mm
Ground clearance: 140mm
Overall width: 795mm
Overall Length: 2090mm
Overall height: 1191mm
---
Instruments: Full-colour TFT dash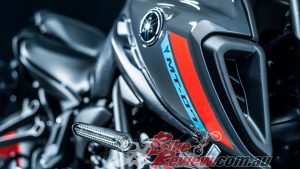 Yamaha MT-07 HO & LA

Price: $12,399 R/A (LA), $13,199 R/A (HO)
Warranty: Two-year/unlimited kilometre
Colours: Storm Fluo, Tech Black, Icon Blue (LA), Tech Black (HO)
Claimed Power:  LA 38.3Kw[52.1hp]@8000rpm (HO) 54kW[74.8hp]@9000rpm
Claimed Torque:  LA 57.5Nm[42.5ft-lbs]@4000rpm (HO) 67Nm[50ft-lbs]@6500rpm
Claimed Weight: 179kg wet ready to ride
Fuel Capacity: 14L
---
Engine: Liquid-cooled, DOHC, inline-twin, four-stroke, four-valve, 80 (78 LA) x 68.6mm bore x stroke, 689cc (655cc LA), 11.5 (11 LA):1 compression, lightweight one-piece two-into-one exhaust Gearbox: Six speed Clutch: Wet, multiple disc
---
Chassis: High tensile steel tubing backbone-type frame, asymmetrical steel swingarm
Suspension: 41mm front forks, 130mm travel, adjustable link-type Monocross rear shock, 130mm travel
Brakes: Dual 298mm front wave rotors, four-piston calipers, single 245mm rear wave rotor, single-piston Nissin caliper, ABS
Wheels & Tyres: Lightweight cast aluminium 10-spoke, Bridgestone BT023R 120/70-ZR17, 180/55-ZR17, Michelin PR5 tyres
---
Dimensions:
Seat height: 805mm
Overall width: 745mm
Overall height: 1090mm
Overall length: 2085mm
Wheelbase: 1400mm
Fuel Cap: 14L
---
Instruments: LED display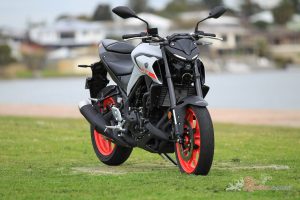 Yamaha MT-03

Price: $7,599 R/A
Colours: Icon Blue, Ice Fluo, Tech Black
Claimed power: 30.9kW [41.4hp]@10000rpm
Claimed torque: 29.6Nm [21.8ft-lbs]@9000rpm
Wet weight: 168kg
Fuel capacity: 14L
---
Engine: Liquid-cooled, DOHC, inline twin-cylinder, eight-valve four stroke, 68 x 44.1mm bore x stroke, 321cc, 11.2:1 compression, TCI ignition,
Gearbox: Six speed, constant mesh
Clutch: Wet multi-disc
---
Chassis: Steel diamond-type tubular frame, long steel asymmetric swingarm
Rake: 25° Trail: 95mm
Suspension: 37mm KYB USD forks, 130mm travel, Monocross shock, preload adjustable, 125mm travel
Brakes: ABS, single 298mm floating rotor, two-piston caliper (f), single 220mm rear rotor, single-piston caliper (r)
Wheels & Tyres: Cast aluminium 10-spoke, Dunlop Sportmax GPR-300 , 110/70–17in (f), 140/70–17in (r)
---
Dimensions:
Wheelbase: 1380mm
Ground clearance: 160mm
Seat height: 780mm
Overall height: 1070mm
Overall length: 2090mm
Overall width: 755mm
---
Instruments: Full digital multi-function display
---