Nick has been out in some tough terrain on his CFMOTO 650MT, as well as doing big tarmac daily miles on the ultra reliable LAMS Adventure Sports machine. Here's his Xmas update...
With lockdowns and restrictions lifted across the NSW I've had plenty of time to get out and about on the bike over this last few months. In that time I've compiled a small list of things to look out for before getting a 650MT in your garage..
As stated in last months update, I managed to squeeze in a day's ride out through Ourimbah State Forest and St Albans again with a good mate on his new KTM 350EXC. The loop is usually around 200km out and back, but after exploring every inch of the State Forest and each fire trail leading off the main path – I'd say we were up much closer to 300km mark.
---
Keep up to date with all of Nick's updates on the 650MT here…
---
Spending this long on a bike in some rather harsh terrain you really come to understand what it is capable of and what it isn't. I mentioned in last months update that the suspension was not as forgiving off-road as I'd have hoped for, and lines and routes had to be picked intelligently and far in advance. While this hadn't changed since the last ride – with some adjustments to the suspension over the course of the ride I really managed to dial it in a fair amount.
While it couldn't compare to the full suspension setup on the 350EXC, with a little more compression up front and preload out back the bike was soaking up a lot more and bottoming out a lot less. Luckily, my mate on the 350EXC hadn't ridden for nearly 6 years so I was finally faster than him (yes, that 15-year-old rivalry was still strong), and he had no issues with me putting around behind and playing with the suspension every few hundred meters! 
As I had expected, the 650 held strong across the ride and was fantastic on fuel. On the gravel roads the suspension adjustments had done wonders. With the Avon Trail Riders and a solid suspension set-up the thing absolutely rips! Between 2nd and 3rd gear is where I sat the entire time and it end up being a power slide competition for much of the trip out.
---
---
In terms of actual performance – the bike has always been and was faultless. I did, however, lose the rear mudguard, seat, fuel level sensor and braking performance. Yes, I know, but it's not as bad as it sounds and more than likely comes down to me not checking torque specs before heading out on a day's trail ride. The seat managed to work itself loose on a rather straight stretch of gravel rode while standing so it wasn't the biggest issue. Remember, this is a road bike really, not an adventure bike!
The mounting points under the tank held strong so it didn't go anywhere, however, the rear locking mechanism had worked itself loose and the buckle was still in the lock but not attached to the seat anymore. The rear mudguard suffered a similar fate, the two hex bolts had worked themselves loose. These are not faults, it's just bad prep on my behalf and I was talking the bike beyond its limits, but just a heads-up for owners out there, carry some Loctite or pre Loctite those fasteners.
The ride back was through some of the heaviest rain I've ever ridden in. The front moving up from the south battered us hard and I realised a few things: My mate needs to invest in some wet weather gear, my wet weather gear is fantastic, but I really need a Pinlock for the Shoei adventure helmet (sorted now – Ed), my fuel gauge was flashing empty and the front brakes had faded.
---
---
After stopping and reassuring myself that I do in fact have at least half a tank of fuel to get home, I attended to the braking issue. Nothing seemed out of the ordinary, but I really didn't have much stopping power at all. Now, this wasn't a huge issue again as the rain had us travelling well under 50km/h but it was worrying. All I can attribute it to was just the immense amount of water and muddy clay caught up in the pads and encasing both front rotors. I still had ABS as it worked tirelessly to keep the rear wheel from locking up as it was my only source of stopping power.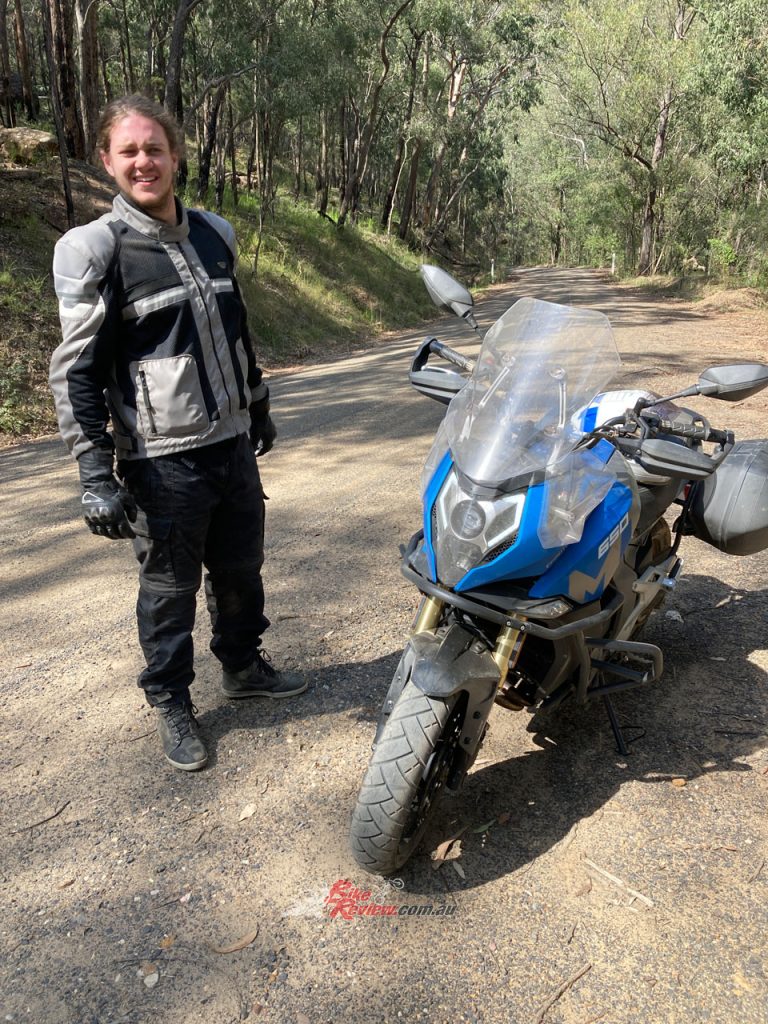 I dumped the remainder of my water canteen on the calipers and pads and held them on at a constant pace for about a hundred meters. It seemed to do the trick. As the rains eased braking performance slowly returned and we got home without issue. Just something worth considering if you're taking a 650MT out in some serious weather and terrain. 
The fuel level sensor has either died or is stuck at its lowest point within the tank. I presume the former as I've physically moved the float sensor up and down with a hook I fashioned out of an old coat-hanger. I assume something has come loose inside the tank or some water/mud as shorted a connection in something below the tank. I've been hitting the bumps too hard… 
While annoying, it now just requires a visual inspection before each ride and gives me something to do over the Christmas/New Year break! The brakes have also been faultless since the incident and again, I can only attribute that to the masses of mud and clay jammed up inside the calipers.
Out on the open road where the bike belongs, I really can't fault it. I've got it comfy and use it to ride 200km return to Uni, plus do the occasional early morning run up the local twisties and really enjoy the bike. Having had it for 9 months now and it has not let me down once. In the next few months I will be upgrading to the new CFMOTO 800MT as I am fully licensed, but I will miss the 650.
Check back soon for an update on the 650MT long-termer!
---
CFMOTO 650MT WISH LIST:
Billet Levers
Engine Covers
Heated Grips
Mechanical Cruise
Aftermarket Exhaust
Suspension Tuning
Spotlights
Custom Seat (Taller)
---
2021 CFMOTO PROJECT 650MT ABS Specifications
Price: $7490 Ride-Away
Warranty: Two years/unlimited kilometre (currently extended to three years)
Colours: Athens Blue or Nebula White
Claimed power: 41.5kw [55.6hp]@9,500rpm (LAMS Restricted)
Claimed torque: 62Nm [45.72ftlb]@7,000rpm
Dry weight: 213kg
Fuel capacity: 18L
---
Engine: Liquid-cooled, DOHC, eight-valve, parallel-twin four-stroke, 180-degree crankshaft, 649.3cc, Bosch Fuel injection, dual 38mm throttles bodies, Unifilter airfiler, Castrol oil Gearbox: Six speed
Clutch: Multiplate wet Final drive: Sealed chain
---
Chassis: Tubular steel diamond frame employing engine as fully-stressed member, extruded steel swingarm with tubular steel bracing, handlebar riders, SHAD luggage system
Suspension: USD fork, semi adjustable, travel 140mm, cantilever monoshock, preload and rebound adjustable, travel 145mm
Brakes: Continental ABS, dual 300mm steel rotors, twin-piston calipers, 240mm rear rotor, single-piston caliper
Wheels & Tyres: 120/70ZR17, 3.5 x 17 MT alloy (f) and 160/60ZR17, 4.5 x 17 MT alloy (r) Avon Trailrider
---
DIMENSIONS:
Wheelbase: 1415mm
Seat height: 840mm
Length: 2150mm
Width: 835mm
Height: 1332mm
---
Instruments: LCD display
---