We are all shocked to hear about Chris Pfeiffer passing away, so have published this small tribute to the legend... Interview: Matt Mingay Images: Mark Peterson, Lou Martin, Heather Ware, BMW
It was with great shock and heavy hearts that riders and sports fans the world over read the sad news of the weekend's passing of a legend, an icon, a hero of our two wheeled generation. In November 2006, Matt Mingay interviewed Chris Pfeiffer. We thought it a fitting tribute.
Chris Pfieffer left Matt Mingay, Lukey Luke (and the rest of us) speechless with his performance at the Australian Motorcycle Expo in November 2006. Never in a million years did we think the news would arrive that the four times World and four time European stunt riding champion, four times Red Bull Scramble winner and multiple Guiness World Record Holder would pass away at only 51-year-old, sadly, a victim of the terrible disease, depression…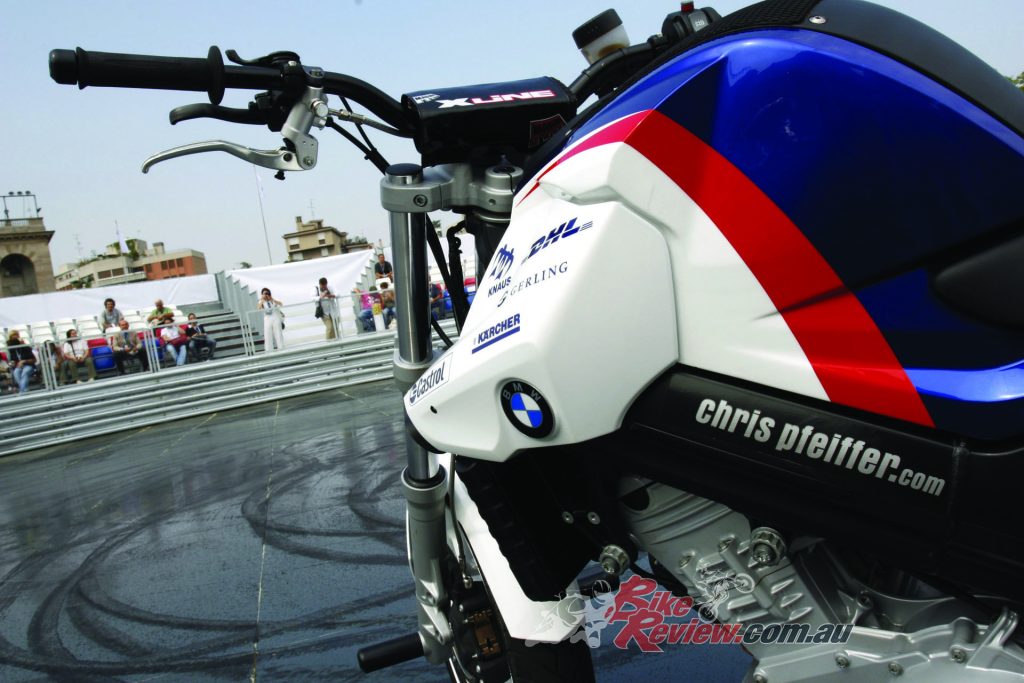 We thought that we should rerun a fantastic interview from many moons ago, done by none other than Matt Mingay, a legend in his own right who has fought and beaten more mental and physical setbacks than just about any sportsperson on the planet…
We hope to talk with Lukey Luke soon, too, as we know he was close to Chris.

We were all blessed in November last year with the visit from the World Champion stunt rider Christian Pfeiffer. Chris was in Brisbane for the Bike Expo. After watching his inspiring and awesome show on his tricked out BMW F 800 S I left feeling kinda, well, inadequate! No thanks to a certain Ed elbowing me in the ribs every few minutes of the show! Chris certainly sets the benchmark in the world of freestyle and stunt riding that's for sure. I got the opportunity to sit down and quiz him on a few things that I and no doubt other stunters would love to know.
---
MM: We had a poster of you in Rapid a few issues back [Rapid Bikes November 2006 – Ed] and it proved quite popular.
CF: Yeah. I actually signed quite a few at a show I did last night. I was very surprised!
MM: It's a shame you're not here for a bit longer, we could do some riding.
CF: Oh yeah. 24 hours flying is too long for only one week ¬– you're right! But we're off to New Zealand then on to Italy after that.
MM: Have you been here before?
CF: No. I've never been to this side of the world – it is fantastic!
---
---
MM: So Chris, who would you rate as your toughest competitor right now? Is it AC?
CF: Ah. Which rider? Not AC now. The young guy from Hungary, Angyal Zoltán. He is technically very good but needs to work on style a little bit. But I am sure he will be close to me soon!
MM: Are the American riders coming good on the world stage?
CF: Darrius is fuc$ing great. But he was a little bit nervous at Stunt Wars. But I have big respect for his riding. Also Chris "Teach" McNeil and a few others. Also in Europe Jonh den Ouden, we train together and he is very motivated.
MM: What's the hardest trick you've had to learn?
CF: Um. It took me a long time to make no hands circle wheelies. They are really hard!
---
---
MM: I noticed you didn't do sit down no hand circles.
CF: Ah. That I am still working on! I need to lower my gearing. It is too fast.
MM: What gearing do you run?
CF: I run eight teeth more on the rear and eight less on the front.
MM: It's not too snappy?
CF: No. That is the advantage of my two-cylinder bike. It is very, very smooth.
MM: All sponsorship aside, do you prefer the BMW to the Ducati?
CF: Yeah – without marketing talk, sure, I do. The Ducati was fun but very aggressive. I went for the BMW because I tested the bike and immediately knew I could take a big step up by using it. The BMW is smooth and easy to ride, particularly the smooth action of the belt and the frame and suspension.
MM: Are you working any new tricks at the moment?
CF: Yes. 360 endo is next. I can do 270 but I am working hard to get 360.
MM: Do you test and practice much?
CF: Yes but I am traveling a lot so it is difficult. When I am at home I ride every day.
---
---
MM: Where do you practice?
CF: Just 10 minutes from my house there is a motorsports park. They have a 60 x 60 meter slab that I can use.
MM: That is our biggest problem here in Australia. We have no place to practice.
CF: Yeah. Before this motorsports park I was also riding in the parking lot like many riders have to. It is not a good situation.
MM: I have to ask the age-old question, what rear tyre pressure do you run?
CF: Ah. rear pressure. I run between 30 and 38psi depending on the conditions. It is easy to make a circle wheelie with low pressure but I want to go fast.
MM: Do you find the low pressure tightens the circle too much?
CF: Yes. This is why I like high pressure. I like to be able to vary the speed and the circumference of the circle wheelie and also I like to make figure eight if I want to.
MM: Do you run a routine?
CF: No. I hate that. I like to be completely flexible. Sure, if I'm in a comp I might plan the first and last trick, but in between I am flexible and I just go with it.
MM: You're not getting nay younger – how old are you?
CF: Haha… Hey, I'm only 36! Like a good wine I am maturing with age.
---
---
MM: When will you stop?
CF: Well the young guys from Europe are pushing hard but we'll see how we go… AC is 43 you know, and he is still getting better!
MM: AC was a huge inspiration for me when I performed with him here a few years back.
CF: Me too. He was a big motivator in my life. A big inspiration. When he did that first bloody no hands wheelie I just wanted to do that! And the circles, and everything!
MM: When did you change over from Trials to the street bikes?
CF: I started on road bikes in 2000 on a Bandit 1200, Gary Rothwell style!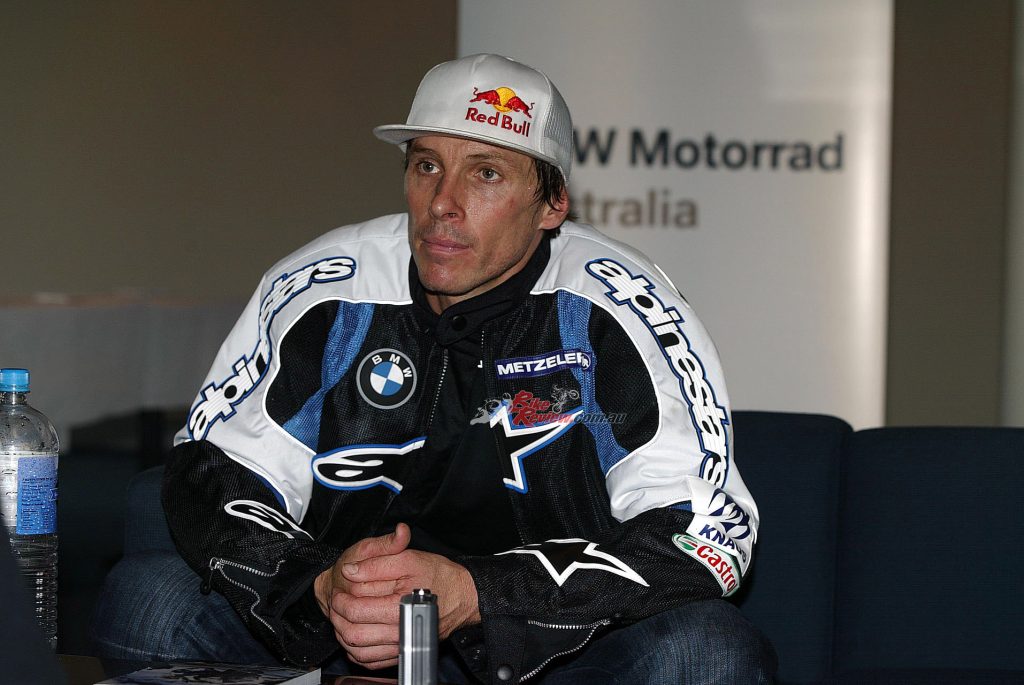 MM: I rode a Bandit for years!
CF: Oh no!
MM: Then what?
CF: I got an SV650 and that was fun. Then I got the offer from Ducati and rode for them on Monsters until this year.
MM: I noticed today you are using a hand rear brake…
CF: Yes. I have just started this year. I always said I wanted to ride standard bikes but the level of freestyle now requires a hand brake. To be competitive I need it.
---
MM: Your rear brake feels very soft…
CF: Yes. I have fitted a smaller diameter piston master-cylinder for increased power but I think I will fit a second caliper. I am working on 1 O'clock and sometimes the rear brake is not strong enough.
MM: What else have you done?
CF: Removed the fairing (it is the S model), fitted 'bars, hand brake, gearing, muffler, and re-mapped the fuelling. I also run lots of extra oil because the engine is always vertical!
MM: What do you think of street stunters riding on freeways with T Shirts on?
CF: It is crazy but it is their style. If they want to attract sponsors they need to be professional. In Europe we are considered professional athletes, but in the USA for example, we are just considered gangs of guys and girls on bikes. But I hope in a few years things will change around the world. We are already a sport of course, but the next step we need is to be accepted into the X Games. That would be a turning point for freestyle.
---
---
MM: Now that BMW have a stunt rider, will more accountants, lawyers and doctors start pulling stand up wheelies?
CF: I think so ¬– and maybe dentists too!
MM: Thanks Chris, you certainly give me something to aim for in the future, and I can't wait to perform alongside of you one day!
CHRIS PFIEFFER BIO (BMW Motorrad Australia)
Chris Pfeiffer discovered his passion for Motorbikes as a young kid. Already at 5 years of age, he was ready to take over the handlebars from his motorcycle-enthusiast father. After his first attempts at motorbike riding in his parent's garden with a lowered Sachs 100, the Zuendapp with a side car became his favourite motorbike in the following years. All spare change went straight into the gas tank.
As he turned ten, Pfeiffer tried his first Trials bike, participated in his first competition and was immediately infected by Trial Sport. In the following years, he toured competitions successfully with his father. Soon Chris became German Trial Champion in the Junior division and later competed successfully in the German Championships and the World Championships.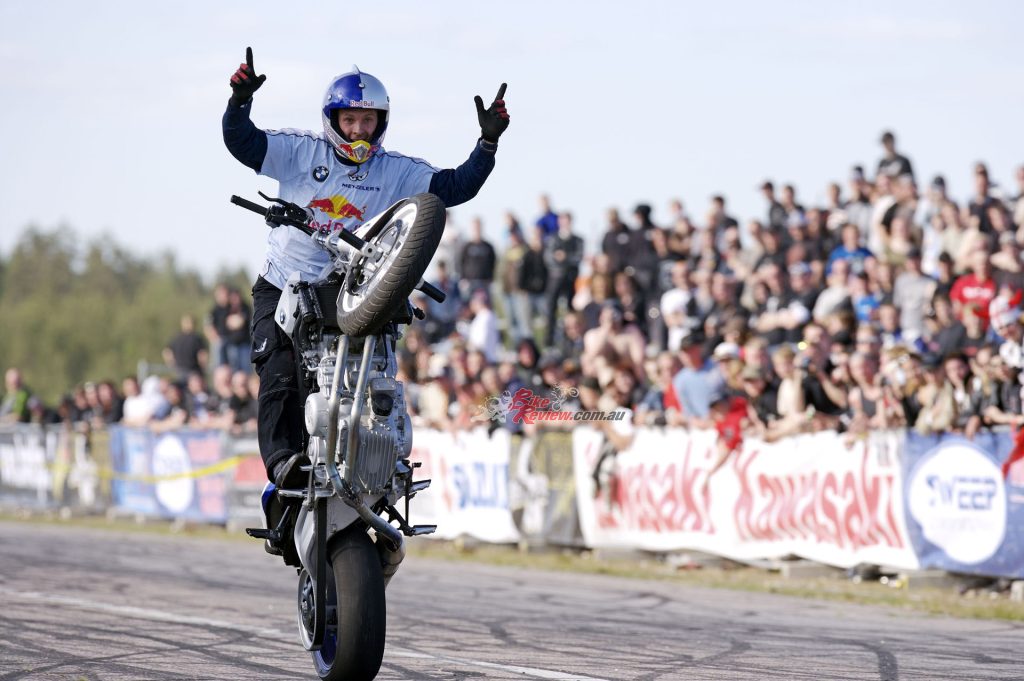 He graduated from high school at which time he decided to study Sport and Biology at the university in Munich. With few Trial and training possibilities in Munich, Chris decided to end his Trial career path and focus on with always gave him that adrenaline kick: Extreme Riding, Tricks on the physical borders.
Parking lots in Munich provided more than enough space for this kind of training. Only a short time later he had his first big performance as Show Rider in the largest indoor venue in Munich, Olympiahalle. He began to make a name for himself and soon after became a professional in 1996.
In the same year, along with the shows, Pfeiffer decided to take a shot at the Gilles-Lalay-Classic and the Erzberg Rodeo, the hardest off road races in the world. He finished GLC and won Erzberg for the first time. Soon after he became the first person to climb the 'Via Tina', a level 3 difficulty climbing route in Arco/Italy on a motorbike. Even today Chris is the only person to have ever accomplished this.
---
---
In the following years he went on to set several more records, like the longest jump over 33 people lying next to each other without a ramp or any other special help on the home stretch at the Motorcycle Grand Prix 1997 on Nurburgring.
During an attempt to break his own record on a German televised version of the Guinness Book of World Records show, Chris ran into technical difficulties and crashed, resulting in multiple compound broken bones and the first time in his professional sports career, a trip to the hospital.
The next months brought several operations, rehabilitation training, hope, setbacks, and poor prognoses from doctors. But after 13 months, his body was well enough to begin extreme motor biking again. Chris trained like crazy and won the 'Erzberg 2000'.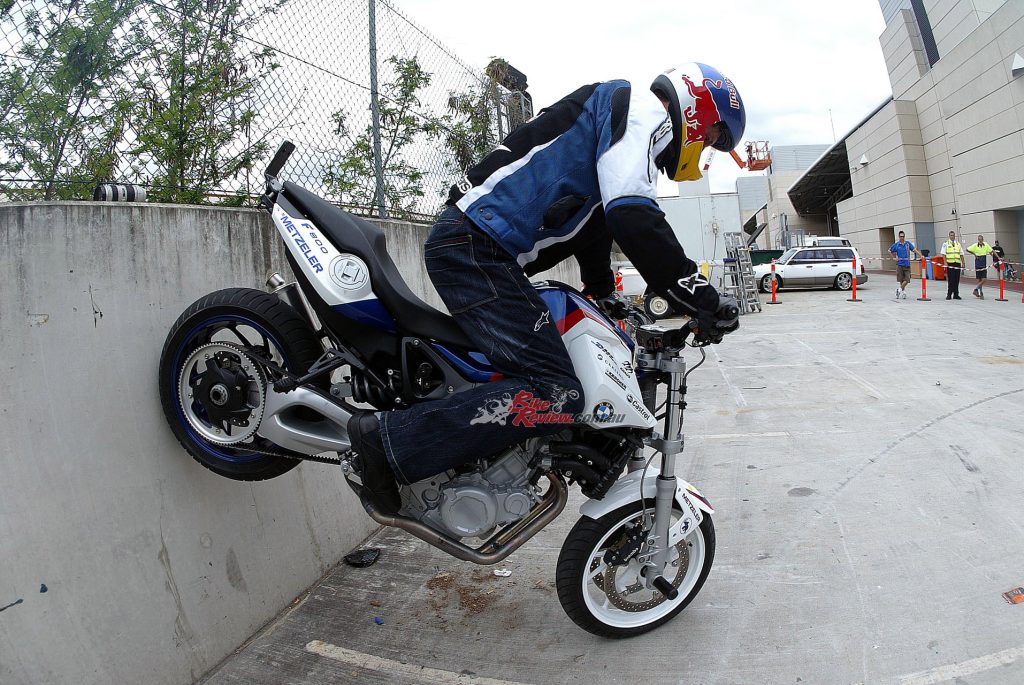 For the first time in the summer of 2000, he intensively concentrated his attention on Street Bike Freestyle. The inspiration of the ability of some Brazilian Stunt Professionals would not let him go and developed into a passion and main occupation.
He had not forgotten about Trials bikes either – some tricks are only possible with a Trials bike and the combination of both the Street and Trials bikes allows many different stunts. And exactly this wide repertoire makes Chris's show what it is and brings his show up close and personal to the audience.
---
After a massive career, Chris Pfeiffer retired from competition in 2010. Below are his major results. He toured and performed shows in over 90 countries, an amazing feat. He leaves behind his wife Renate and three children, Pia, Amelie and Hannes.
---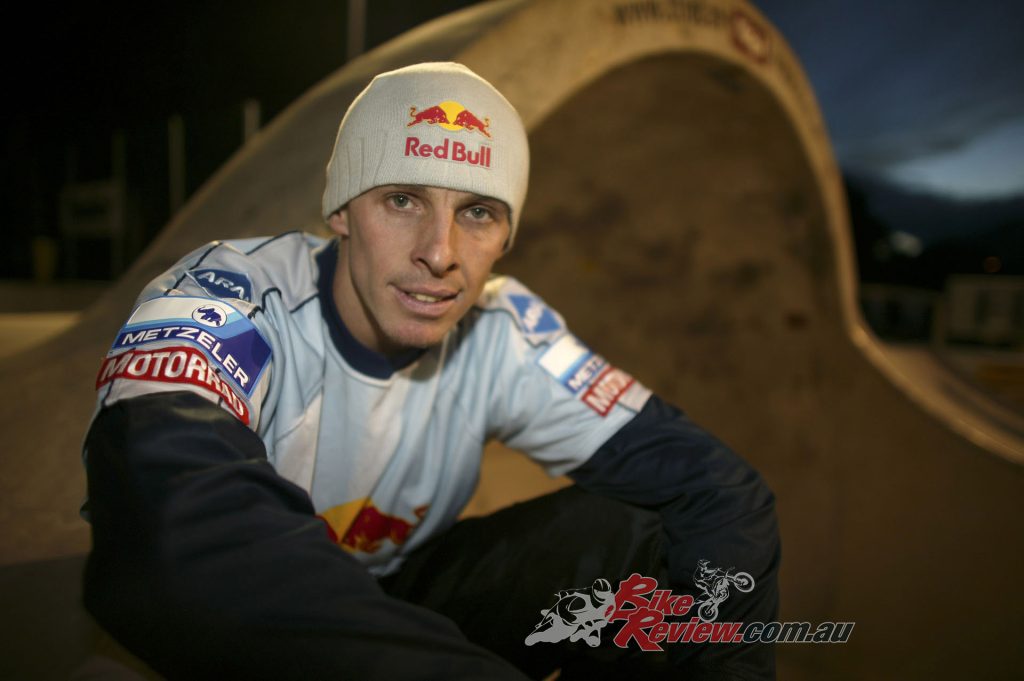 Name: Chris "CP" Pfeiffer
Home: Halblech / Bayern / Germany
Date of Birth: 04/20/1970 in Schongau/Germany
First Motorcycle: 5 years old
Profession: Professional rider 1996 – 2015.
Speciality: Street freestyle shows, extreme riding, stunts
Education: College with a dual major in sports and biology
Family: Married to Renate, three children, Pia, Amelie, Hannes.
Hobbies: Freeriding on ski, mountainbike, motocross- and trialbike; listening to music
Career Development: Amateur (trial) from 1980-1992, since 1993 freestyle shows on trialbikes, since 1996 professional, since 2000 shows on streetbikes.
Titles: 
– Stuntwars Champion, Florida 2006,
– European Stunt Riding Champion 2003, 2004, 2006, 2007, 2008
– Stunt Riding World Champion 2003, 2007, 2008, 2009
– German Stuntriding Champion 2009, 2010,
– Champion Redbull Harescramble, Erzberg 1996, 1997, 2000, 2004
– Champion Int. Offroad Challenge 1996
– German Trial-Pokal-Champion 1988
– German Trial-Junior-Champion 1985
Records: 2004: 115 degree-overhanging-wheelie
– 2000: 15 wheelie-circles in 30 seconds
– 1997: long jump (bunny hop) without a ramp over 33 people lying next to each other
Signature stunts:  
– One o´clock wheelie (overhanging wheelie)
– Fast wheelie circles
– Three sixty ground
Bikes:   Streetbike Freestyle: BMW F800S
Offroad: BMW HP2, GasGas 280 Trial Pro, GasGas EC 250
Philosophy of Life: The more you sleep, the more tired you are!
---
CHRIS PFEIFFER GALLERY
---