Murray gives us a full run down on his Triumph Tiger XC after two years and a trip around Oz. Here's his Triumph Tiger 800XC review. Test & Photography by Murray Nettheim
With plans to travel around Australia, including the aim to encounter a lot more dirt, the time came for me to trade in my Kawasaki Versys 650 and upgrade to a more suitable Adventure Tourer form of motorcycle… My choice after careful reading, speaking to mates and discussion with a long term rider and sales rep, was made and I collected my Triumph Tiger 800XC.
The bike was everything I was looking for – tall, upright, great suspension, good power in all gears, economical and sexy to look at.
I rode the bike home and made plans to get the bike run in as soon as possible. This meant planning a good ride up to Port Macquarie and back on back roads through Seaham, Booral, and Bulahdelah.
The first service was done in a bit over a week and everything was looking great!
A mate in Gunnedah was impressed by my new Tiger 800 and wanted to have a closer look, so some dirt riding was in order, covering 1000km on tar and at least 500km on gravel, dirt and bush tracks in a three-day period. The Tiger did not miss a beat or have any issues, with the first 2000km flashing by.
With the standard spoked rims suitable for both off-road and tar riding, the original tyres – a set of Pirelli Scorpions lasted well, giving 14,800km from both the front and rear, before being replaced by a set of Michelin Anakee 3s.
The trip around Australia was planned and leading up to the ride I had only one issue with the Tiger – a faulty stator motor. It would cause the bike to either not start, (turn over but no ignition) or start and run like it was on full choke mode for about two minutes, or would cut out when going down gears – usually into a corner.
The guys at Triumph and Ric Andrews Motorcycles, West Gosford were excellent and had the issue fixed under warranty, including a full retune of the bike and I was back riding in under two days.
A day at The Farm – a local invite only venue – followed and allowed me to test the Tiger at high speeds all day. Weather remained hot, with an equally hot wind blowing, giving a good test to the bike's cooling abilities, which where sure to be put to the test across Australia's many varied conditions. The bike did not overheat, nor feel unstable while doing higher speeds than are legal on our public roads, with a set of 50/50 tyres.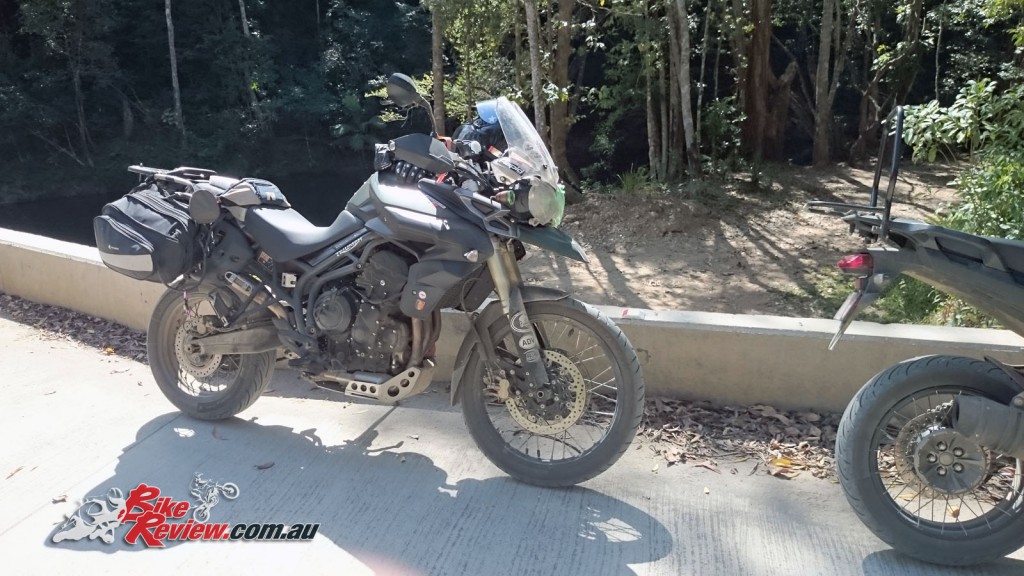 Around Australia we went, covering over 14,000kms in 26 days, enduring three cyclonic weather patterns, plenty of heat and various types of tar. One oil change was done in Broome, along with chain slack adjustment, with the chain adjusted at Margaret River as well. That was all I needed to do.
On the Michelin Anakie 3s I got 25,000kms from the front and almost 11,000km from the rear, which I had to replace in Katherine, Northern Territory. My only replacement option was a Michellin Road Pilot 3, which got me home easily and eventually managed a total of 14,000km.
Fuel consumption for the trip was very consistent and within expectations, apart from a few areas where the "pink and green" fuels, in outback WA and NT, caused issues. There, the fuel economy was terrible, dropping down to 14-18km/L whereas it was normally between 20-25km/L on Premium.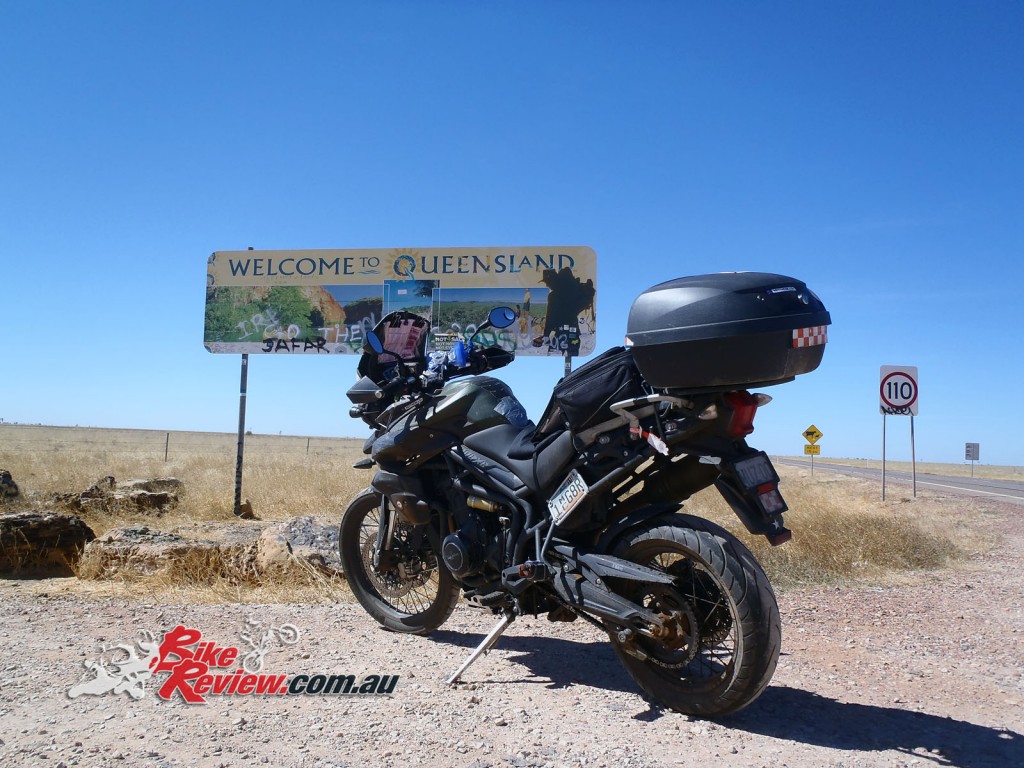 Over two years after purchasing the Tiger 800XC I'm still riding it and loving the motorcycle. I've just done over 8000kms around Queensland, did the Bloomfield Track at Cooktown, out to the Gulf of Carpentaria and back via Longreach and Moree… and have also been down to Phillip Island for the MotoGP.
I changed my chain and sprockets at 49,000km and added a smaller, sportier windscreen which is as good as the standard high screen in regards to buffering – there is none! I've also since raised my front mudguard by five centimeters for future dirt riding where the additional clearance especially on wet/muddy roads is really appreciated, and the bike still handles great!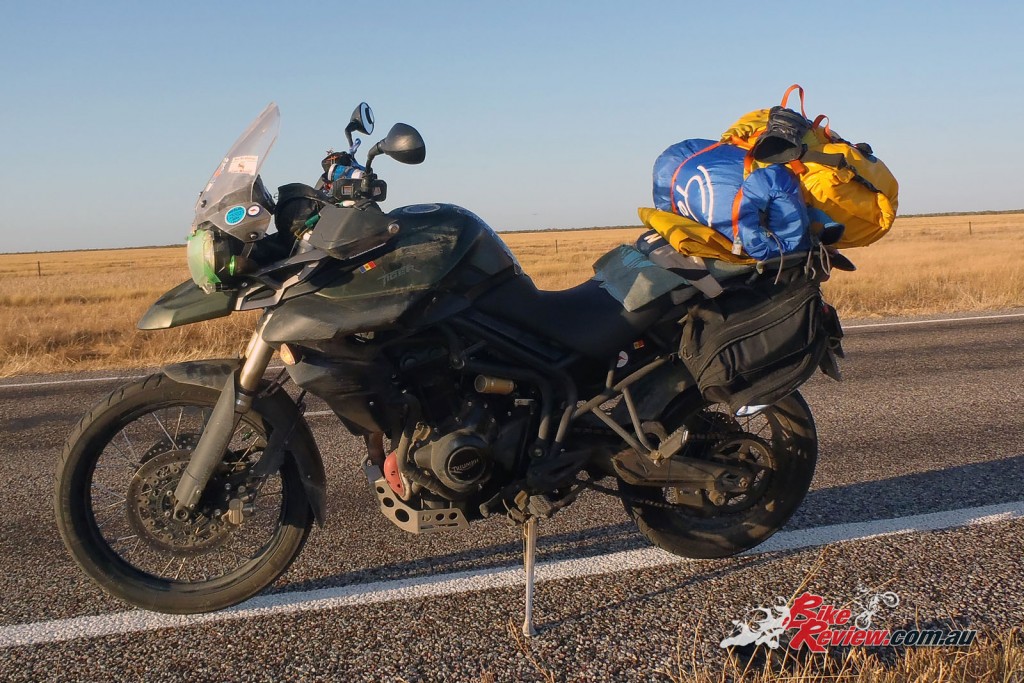 Accessories/Mods I've fitted to my Triumph Tiger 800XC:
Small LED driving lights hard wired to the high beam.

Replaced exhaust with an IXL System from WA.

Bash plate and brake fluid cover.

Oil filter cover – made from an old cricket groin protector. I had read of a guy travelling the Nullabor and seizing an engine, the culprit a small stone flicked from front wheel into the oil filter creating a pin size hole and leaking over a day… I've also seen an old baked bean tin used as well as this is the perfect size!

Rear hugger.

Top box big enough to hold two helmets, or a carton of beer with ice. Don't ask me how I know that!

I covered the standard hand grips with some foam "Pussy Grips", for a more comfortable long distance grip.

Triumph Tiger 800XC Pros & Cons
The Good: 
The Tiger 800XC is perfect for my riding posture, I can give it plenty or be sedate, and it fits me perfectly.

Rubber insulated footpegs take a lot of the impact out on rougher roads.

Access to the battery is great, just lift both seats and it's right there.

A auxillary power socket-next to ignition, but you do need to purchase a Merit plug adapter.

You sit tall in traffic and see over everyone in a car. This means you are nice and visible, with exceptional vision yourself as a rider.

It looks the business, in my opinion!

The seat is extremely comfortable.

All controls are easy to use and on hand.

Plenty of power in all gears, rode through the city and would easily pull away in second gear and comfortably ride in fifth in stop-start traffic.

Great highway riding, easily sits at the speed limit with room for more if needed.

On the dirt, the Tiger sits well and as long as you stay loose the bike will take you where you point it.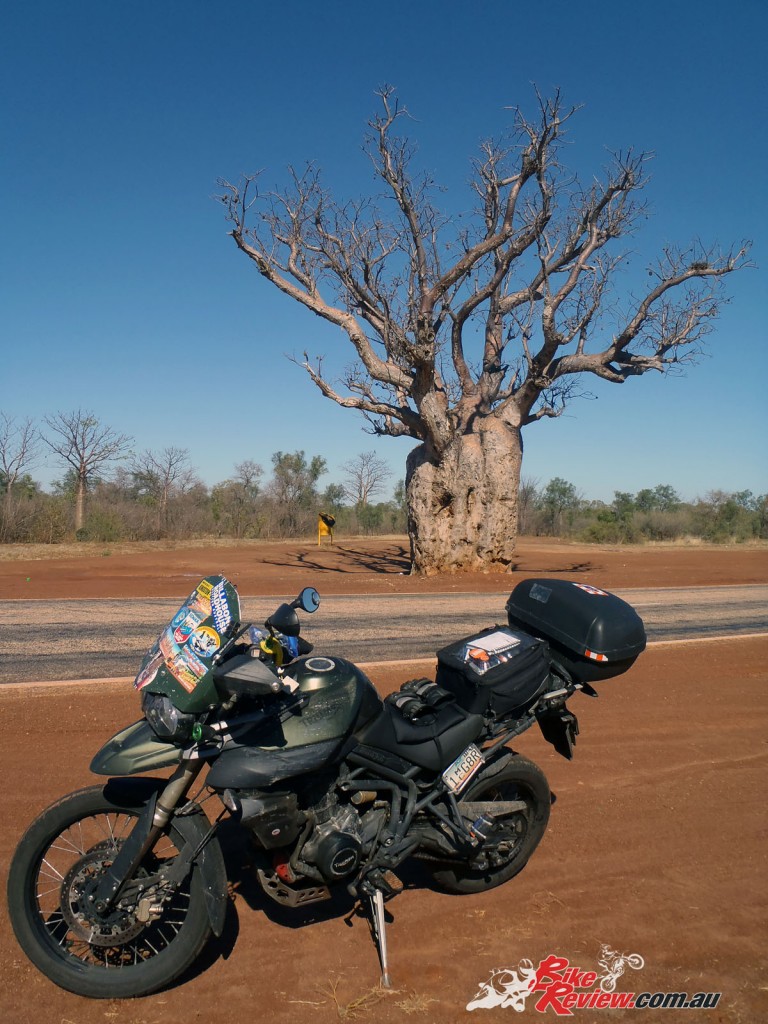 Cons/Wish list:
Seat setting. It has two settings, low or standard, but I wish it had one more setting, super low!

Headlights reach/brightness. I've added better globes and will probably upgrade the stock lights to something better soon.

Costs of accessories. Genuine Triumph accessories are not exactly cheap.

Replacing the parking light in headlight. You have to remove the front beak (six screws) to get to the bulb which you can just pull out and replace.

Getting under/into the airbox and removing the fuel tank is a trial. There's lots to remove, including the seats, beak, radiator surrounds, panelling next to tank, then you'll need someone or something to hold tank up while you undo the fuel pump, and it's hard to see what you are pulling off.

The Tiger could also do with a second auxillary power plug. I added my own direct from the battery and it sits under the rider seat.

Switching off ABS for dirt riding can only be done when turning on the bike. You have to go into setup and turn the ABS off from there. Once you stop the engine, the ABS turns back on and the alternative is to pull the fuse from ABS, which isn't ideal if you're doing mixed riding.

The oil filter is exposed to being hit by loose debris, a filter cover as standard would be great for Australian conditions.

SPECIFICATIONS: 2013 TRIUMPH Tiger 800XC (Standard)
WARRANTY: Two years unlimited
CLAIMED POWER: 69.3kW[95hp]@9300rpm
CLAIMED TORQUE: 79Nm[58.3ft-lbs]@7850rpm
WET WEIGHT: 215kg
FUEL CAPACITY: 19L
ENGINE: Liquid-cooled, DOHC, 12 valve, in-line three-cylinder, 74 x 61.9mm, 799cc, 12:1 compression, EFI, wet multi-plate clutch, stainless steel three-into-one exhaust
CHASSIS: Tubular steel trellis frame, twin-sided swingarm
WHEELBASE: 1545mm RAKE: 23.9 TRAIL: 92.4mm
SUSPENSION: Showa 45mm upside down forks, 220mm travel, Showa monoshock, remote oil reservoir, preload and rebound adjustable, 215mm travel
BRAKES: Switchable ABS, dual Nissin two-piston calipers, Nissin 14mm master-cylinder, 308mm front rotors, Nissin single-piston caliper, 255mm rear rotor
WHEELS & TYRES: Cast aluminium rim,  21in 36-spoke front, 17in 32-spoke rear, 2.50 x 21in, 4.25 x 17in, 90/90 ZR 21, 150/70 ZR17
DIMENSIONS:
Seat height: 810/830mm adjustable,
Overall height: 1350mm,
Overall length: 2215mm
INSTRUMENTS: Digital multifunction LCD display, analogue tachometer