Paul Edwards' Suzuki RGB500 may have been built in homage to one of the best motorcycle riders ever, but the build holds an even more special part in his heart... Words: Picko & Paul Edwards.
This RGB500 might have been built partly to pay homage to one of the most popular Grand Prix stars but it will not be sitting in silence for evermore. Paul Edwards doesn't like his pride and joy gather dust in the garage, you can catch it ripping up SMSP.
Many racers over the years have been paid homage by fans who built replicas of the machines raced by these heroes back in the day. Whether they be actual race bikes or road going replicas, the passion is the same. Countless hours and more money than the builders wish to acknowledge go into these mechanical marvels. An admirable example of such a bike that we saw at the 2016 Barry Sheene Festival of Speed was Paul Edwards' RGB500.
---
Check out The Festival Of Speed features here
---
'Woody' as he is known to most people, is no stranger to race tracks, having campaigned a Kawasaki 400 for many years. More importantly, he was the man who helped kickstart the careers of numerous current road racing stars, including Mike Jones, Matt Walters, Josh Hook and Jack Miller. All these young riders, and many more, started their road racing career in the Motorcycle Road Race Development Association (MRRDA) series, and the MRRDA series would not have got off the ground in the first place had it not be for the efforts of Paul. 
We thought we'd let Paul tell you about his RGB500, and how it became a tribute to one of the most popular GP riders the world has ever seen.
---
"I saw Barry many times when I was a youngster in the UK at circuits like Brands Hatch, Donnington and Silverstone," said Paul. "I was actually there at Donnington for his last professional ride in 1984. I also travelled to Assen and Spa regularly to cheer for Number 7. I've been thinking about this bike for some years now, but around 2012 I had an opportunity to swap one of my Kawasaki 400 race bikes for a Suzuki RG500 Gamma. The Gamma was crash damaged but I didn't really care as I wanted to turn it into a Sheene tribute."
---
---
"Of course I couldn't afford a 'proper' Sheene bike but I also realised after looking at the project long and hard, that the road based RG500 just looked like my dream, which was to have a replica of Sheene's bike, the very 1984 Mk9 that he rode for the last time at Donnington." 
"We decided the engine from the Gamma was good but the frame was too short. After a lot of hunting around, I found Steve Wheatman in the UK who ended up selling me a frame and swingarm that Barry used in 1984 from Padgetts in the UK. My friend Mick Burgess had found me some Dymag wheels and other bits and bobs, so we had a bike coming together. Steve Wheatman then got in my ear about putting a Gamma engine in that chassis and put me onto a bloke called Tony Skinner, who knew a Roger Morgan who might have an engine."
---
---
"We went to see him and there in his garage was this 1982/3 RGB500 Mk7 complete and very original. I told Roger I couldn't afford the whole bike and it would be criminal to take the engine out of that bike. Roger then made me an offer I couldn't refuse. I think he wanted to see it running on the track more than money, so now I had a bike that had been sitting in a garage for 15 years and needed restoring… So here I was with an ex-Sheene chassis and a pile of Mk9 bits minus an engine, and a complete and very original Mk7 RGB500."
VIDEO: The Sound of the Two-Strokes at the Festival Of Speed
---
---
"This bike is 100 per cent original," said Paul. "I've still got a road RG motor sitting at home in the garage with a dry clutch, close ratio gearbox and ported to 32mm carb intake sitting next to the ex-Sheene chassis. The ex-Sheene chassis included a set of forks, triple-clamps and brake calipers made by Nigel Everett from the UK. Nigel made them to the same design from which he made them for Barry in 1984. He is also sending me across the 32mm carbs which he made for Barry as well. Fingers crossed at the Barry Sheene Festival of Speed I will have both Mk7 and Mk9 Sheene bikes together." 
"The factory race motor is actually way simpler than the road motor. It really is two-stroke simplicity at its best," continued Paul. "No fancy stuff to mix 2-stroke oil and petrol, wet clutches or airbox! The major visual difference though is the gearbox is mounted high with the gear selector shaft exiting above the final drive shaft. This of course means that you can't change the gear selection pattern. It's race shift or race shift… that made life interesting for both myself and Chris Vermeulen; we both prefer to use road pattern. Mind you I think Kevin Schwantz does as well… best we leave that one alone."
---
---
"With the genuine '83 bike, the only thing we had troubles with were the water pump housing, which was too corroded, and part of the gear lever which was cracked. Stu Avant found us a new water pump housing from Germany and Dudley Lister made up a new gear lever. With the Mk9 bike, the tank has been the most interesting part of the puzzle. If you look at Barry's bike which was owned by Randy Mamola before him, it has the Suzuki S and the gamma logo embossed into the sides of the tank. There were only three of these made and Steve Wheatman has them. There was no way he was going to part with the tank, but god bless him he sent me the only unpainted one to copy."
---
"Yep, we'd not met at that point but he sent me this priceless tank around the world on the basis that I am a fellow enthusiast and a promise that I would return it. "
---
"There is not a tank maker in the country who could duplicate it without cutting it up, so we've had it 3D scanned and returned the tank to Steve. Now we've just got to work out how to turn that 3D scan into the required item. I did look at buying a MK9 engine from a bloke called Theo in Holland, but that would have ended up costing me as much as the complete bike I bought from Roger. I think Theo still has the engine and Steve Wheatman is still trying to get Theo to see sense on the price."
---
---
"Dudley Lister and Craig Hallam from Dudley's Motorcycles Service and Performance did all the mechanics on the bike," said Paul. "Everything except the bodywork. The body went off to my good friend Mark Brigden of Brigden spray paints in Condobolin. It's a long way from Sydney, but I know that 'Briggo' would not settle for anything less than perfection.
VIDEO: Jeremy McWilliams Festival Of Speed
---
---
"He went to so much trouble to find the right blue, it's not funny. I asked Steve Wheatman if there was an official colour and he told me that I needed to speak to the bloke that painted all the Suzuki GP bikes… 'John the Paint'. Not being able to find 'John the Paint', we found a Suzuki blue that looked right only to find out that no one had it, so working with PPG, Briggo came up with a combination that is spot on. "
"Craig Hallam is an old friend from racing 400s. He had known Dudley Lister for a long time. He told me of Dudley's past as Stu Avant's mechanic when Stu was racing RG500s against Barry Sheene in the early '80s, so there was only one place I was going to go for the mechanics. I met Briggo through Jeremy Crowe, who I met through Broc Parkes.
---
Briggo did all the paint for Jeremy and when I helped Jeremy out a bit, Briggo offered to help me and he's been painting my bikes ever since. As for Greg, to be honest I can't remember how I met Greg, but he's been doing all the stickers on my bikes for as long as I can remember. All these guys you can count on to do a top-class job and that comes out in the finished article in the Mk7 restoration." 
"There was never really a point when I thought, 'this is all too much', especially the MK7 as I was rushed to get it restored in time for the BSFOS. Finances have been the biggest issue. I've effectively put a second mortgage on my house to do this. But I've had so many highs. Seeing the bodywork all painted up nearly brought me to tears. It made it all very real. Going up to Dudley's and seeing the bike run for the first time in 15 years certainly brought a tear to the eye. I still have to go into my garage to go and look at it, as it's still all very surreal."
---
"I've had so many highs. Seeing the body work all painted up nearly brought me to tears. It made it all very real."
---
"Both the Mk9 and MK7 projects have cost me about the same so far which is extraordinary and a huge thanks to Roger Morgan for selling me the bike in the first place and Dudley Lister who spent endless hours on the restoration and only charged me a fraction of what he should have."
"Everybody involved knows this is a labour of love and I don't have endless finances. I think to be fair to everyone I won't talk about finances, just that I've already been offered twice what it cost me by two people, but neither bike is for sale.
---
VIDEO: Steve Parish at the Festival Of Speed
---
Emotionally, there has been no cost, it's been just sheer joy in meeting some amazing people, sharing some amazing stories and an indescribable feeling riding out on the finished bike with no less than Steve Parish after he asked me to show him around Eastern Creek as he'd never ridden the track before, yes I was on a genuine RGB500 Mk7 in Sheene colours showing Steve Parish the lines around Eastern Creek…. well bugger me"
---
---
"The bike is unbelievable to ride," said Paul. "It is so tight and crisp. I was waiting for the bike to try and kick me off, but what I got was power and stability. You open the throttle and it just goes, front wheel wanting to lift and an awesome surge of power. Being a two-stroke there is no engine braking so I was a little worried about whether the simple brakes would provide enough stopping power, but there was no worry there as well."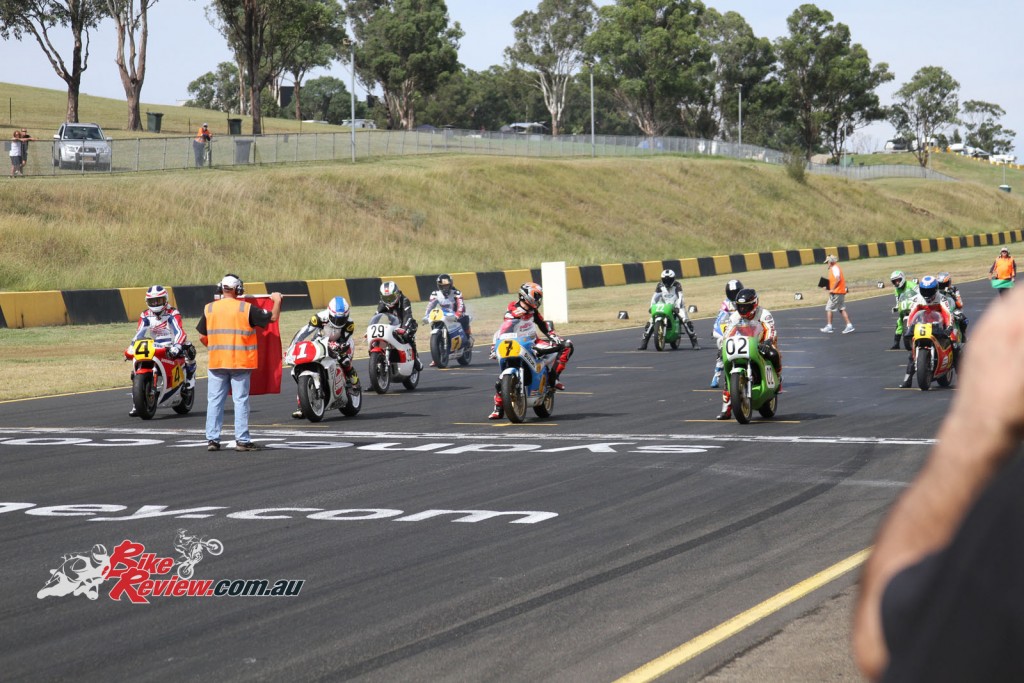 "I was very pensive at first, especially as it was race shift and I was racing my 400 that weekend as well which is road shift. I got to grid up for a Legends 'race'. Tipping into Turn 1 I found myself riding around the outside of Freddie Spencer, which was wild. Watching Jeremy McWilliams, Kevin Magee, Kevin Schwantz, Steve Parish and Freddie Spencer tip into Turn 2 right in front of me was so awe inspiring that I nearly gave Freddie Spencer an RGB enema as I was working off my 400 braking marker and not what was happening in front of me.
VIDEO: Freddie Spencer Interview, Festival Of Speed
---
---
I stuck with them through Turns 3 and 4, then nearly lost the front trying to go for a dash up the inside of Freddie between 4 and 5. At that point I remembered I was with legends and I am certainly not one. Those four corners on that bike will live with me forever. I backed off and was happy to just be riding the bike. "
"We did have a couple of issues with the bike over the weekend, but with Dudley flat out working on the Egli Vincent for Cam Donald, Stu Avant, Mike Sinclair and Paul Treacy stepped up and set about sorting everything out. Just read those names again. We are talking mechanic gods of 2-stroke racing. Stu is one of the nicest and funniest blokes you will meet. Sit him down and put a beer in his hand and I could listen to the stories all day. And with Mike and Paul it was well worth having problems with the bike, just to see these guys go to work and hear the banter."
---
VIDEO: Chris Vermeulen Interview, RG500 Ride
---
"Just the nicest blokes around and for them to put the effort in that they did, which included Stu lending me bits from his spares for his RGB, was simply awesome. I am so grateful for the whole experience. The major part that Stu had to lend me was an ECU. Mine was not the best. I've had to give Stu back the one he lent me and send mine off to my nephew in the UK to repair. Chris (my nephew) is a BMW mechanic in the UK and specialises in auto electrics and reckons that he can fix it. I think I might have found another one I can buy… still waiting." 
"The leathers were made for me by Andrew Smart of Ricondi Leathers. I've known Smarty for a while and when I told him what I was doing and that I really would like a set of Sheene replica leathers, Smarty come up trumps. We ran out of time to get the same badges on them that Barry had, but that is being sorted now. Greg Oxley helped out with a Sheene tribute helmet as well. Instead of Barry's 'Daffy Duck' we used the Woodpecker logo I've used since I was nicknamed Woody." 
The MK9 story continues, added Paul. "I spoke to a bloke recently that has an RGB500 motor that he might want to sell, which I may or may not use in the Mk9 depending on the price. If it's too expensive, we will shoe horn that Gamma engine into the Sheene frame… but that's another story. My leathers and helmet are all done as a sign of respect and admiration for a man that was more than a great bike rider. I know he did so much for others and was such a character that you could do nothing more than admire him. I feel truly blessed to be able to own the bike and through the process get to meet his very good friend Steve Parish and his son Freddie Sheene."
---
"I think the last word should go to my friend Chris Vermeulen, who honoured me by doing some laps on this bike. Here's what he thought of it."
---
"I had so much fun riding Paul's 500cc GP bike at Sydney Motorsports Park for the BSFOS," said Chris. "It's the oldest race bike I have ridden but have to say I was so impressed with the way the bike turned and how much feel it gave, it was also very nimble. I just had to add some seat foam so I could bend my dodgy knee enough to get on the peg! They are a little more-tricky in the power delivery to ride than modern 4-strokes with electronics so you have to keep your wits about you especially if you want to spin or slide it out of turns. But when you get it right it's so much fun and even better when you can do it with Spencer, Schwantz, Parish and McWilliams." Said Vermeulen.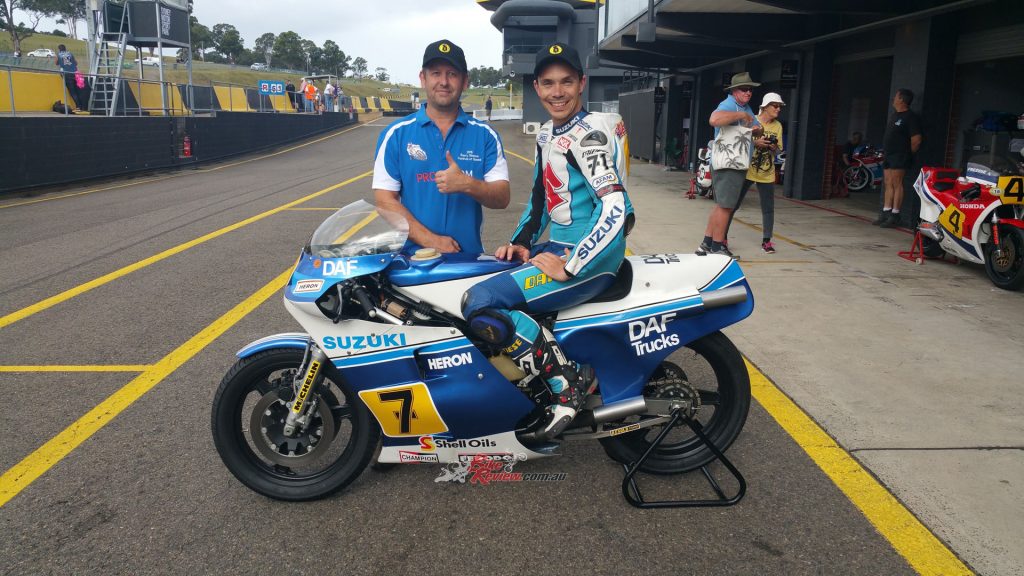 Woody's Suzuki RGB500 Specifications
ENGINE: 1983 Suzuki MK7 RGB500. Square four-cylinder 500cc two-stroke, with a 54 x 54mm bore and stroke. Standard RGB500 magnesium race carburettors, and standard RGB500 expansion chambers. Dry clutch.
---
CHASSIS: 1983 Suzuki RGB500 tubular steel chassis, standard square section and braced swingarm. Standard alloy RGB500 wheels. Standard RGB500 bodywork painted in Barry Sheene colours. All levers, footpegs, dash, electronics are all standard Suzuki RGB500.
---
PERFORMANCE: 110hp, weight unknown, Stock Suzuki RG500 top speed 241km/h.
---
OWNER: Paul Edwards.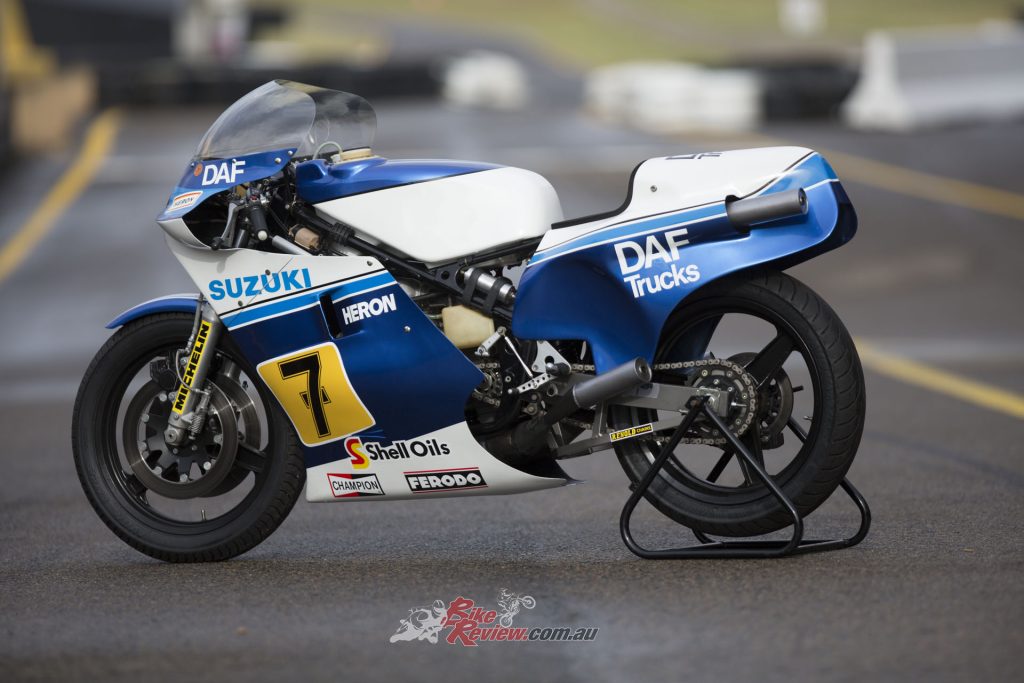 Woody's Suzuki RGB500 Gallery
---