Our resident tyre testing Guru spent the second half of last year, winter and summer, testing the Bridgestone BATTLAX T32 sports touring tyres. Check out his review...
It has taken us a while to get you this review, as Taka has had quite a few tyres to get through, but last winter through spring and summer, he tested a set of Bridgestone T32 Sport Touring tyres on his Yamaha MT-10, including a big road trip up to BikeReview HQ from Melbourne…
It's been 20-years since I moved from Japan to Australia, but I still can't get used to the weather, particularly the changing conditions in winter. Down here in Melbourne, it is almost impossible to predict the weather when planning a ride. Checking accurate weather apps, half the time it will be wrong.
The weather is so unpredictable, us riders often get caught on wet, slippery roads with different types of dirt and debris thrown in. Although I mainly sport ride on my MT-10, I realised last winter that I should compromise and try a tyre that will allow me to safely enjoy weekend rides even in poor conditions.
---
---
I had heard a lot of really positive feedback on the T32 tyres from my riding friends in Japan, so I was quite excited to have my MT-10 wear them. As I usually do, I changed the tyres myself at home with my home tyre changing set-up and balancer. They were of course a little firmer than the sports tyres that came off, but they were not too hard to fit and they balanced up with minimal problems.
I like my bike to wear new tyres more than I like new shoes (and I am one of those crazy Japanese that collects sneakers for a hobby). I also like the style of the tyre and how it looks is actually important to me, as I think everyone always looks at your tyres at the local bike stop. The T32 are unique, they are a square construction with very deep grooves, almost like wets, these grooves are called Pulse grooves.
According the Bridgestone, the water in standard straight grooves flows quickly in some places and slow in other, so these uniquely shaped 'Pulse' grooves are designed to equalise the flow of water, increasing water flow speed and improving water drainage significantly. Testing has show this to improve traction and to improve wet weather braking performance over the T31 tyre.
Contact patch area has also been increased over the T31, while a new silica-rich compound further enhances wet weather and dry weather grip, particularly at low temperatures such as Melbourne winter weather. There is also a special GT T32 version available for motorcycles that weigh 250kg + and that tyre is designed with even more abrasion resistance and stability built into the construction.
---
---
My first ride on the new T32s was a cold one, I left home and it was just 3ºC with a maximum estimated at only 12ºC, but it was a sunny day. I always start all of my tyre testing with standard OEM motorcycle manufacturer solo rider pressure, as I believe a tyre should be designed to work in these ranges so I set the T32 to 36psi front and 42psi rear, cold. Later, if I feel I can improve the tyre performance, I may modify the pressures. Scrub in was quick and no problems, within 100km I felt confident to push on.
Initial feeling on the road is great, a nice rolling feel and good grip feeling, exceptional straight line stability but the tyre does feel a bit harder than of course a sportier tyre and that is noticeable mainly in the feedback from the tyre. Over some sharper bumps, the rear bump absorption is quite hard but not too bad. After a few rides, I got used to it. I did not make any rear suspension changes.
To be honest, I didn't realise how much I could trust sports touring tyres. The handling surprised me. Although the profile is quite conservative, my MT-10 still leans into a corner nicely, progressively, and smoothly, more than I thought it would. The front tyre grip surprises me and gives good confidence in the front-end of the motorcycle. Like the back, I made no suspension changes to the forks.
---
---
To be honest, the amount I could push the tyres was beyond what I imagined possible on a sports touring tyre. The rear is grippier and softer than previous touring tyres I have tested, even if I open the throttle hard on my bike at the apex of a turn, the rear does not much, and feel is good off the corner. I was really pleased that I could enjoy riding at a fun pace, safely, on cold days now with the T32.
---
"I rode big fast sweepers, and tight twisty corners, in heavy rain and cold conditions, with no problems at all"…
---
I did two very big wet weather tests, both days I did 500km per day in rain through challenging roads. These tyres gave me performance right away for the trip, whereas sports tyres would have had me stressed all day and riding very carefully. I rode big fast sweepers, and tight twisty corners, in heavy rain and cold conditions, with no problems at all. I didn't feel like it was challenging, I had lots of grip.
Pushing hard in dry conditions is also possible. The handling is good, stable, smooth yet. fast enough with direction change, and the only real compromise over a full sports tyre is edge grip feeling. But, I felt trust in the T32 and had no sudden surprises, you just need to ride a little smoother and ease into full lean angle, like on any sports touring tyre. I would not use them on a track day, though.
With 3000 + KM clocked up, the Bridgestone T32 were not too bad for wear and tear considering the punishment I had given them to bring you a thorough test. And even though they were showing signs of wear, the performance drop off was very small, which is amazing. In fact, I really can't feel any drop off! These tyres are not biased in any area, they are true all-rounders, commuting, touring, sports, etc.
---
---
I continued to use the T32, and in the end I completed 5000km of testing before they were well and truly finished. You can see the photo above of the rear tyre, not too bad considering how hard I pushed them as we came out of winter and into the warmer periods on the hotter road surfaces, and the Yamaha MT-10 is a very torquey and powerful bike. I'm impressed with the wear. Good value.
I am always really surprised by the performance of all tyres these days, we have so much good development, ingredients and manufacturing processes to give us riders so many good options, not like in the 1990s when I was riding NSR250s around Tokyo trying not to highside! The Bridgestone T32 are yet another very impressive tyre that I am really surprised about and would definitely recommend.
---
There are a wide range of sizes available – check here. And talk to your local shop about your set.
---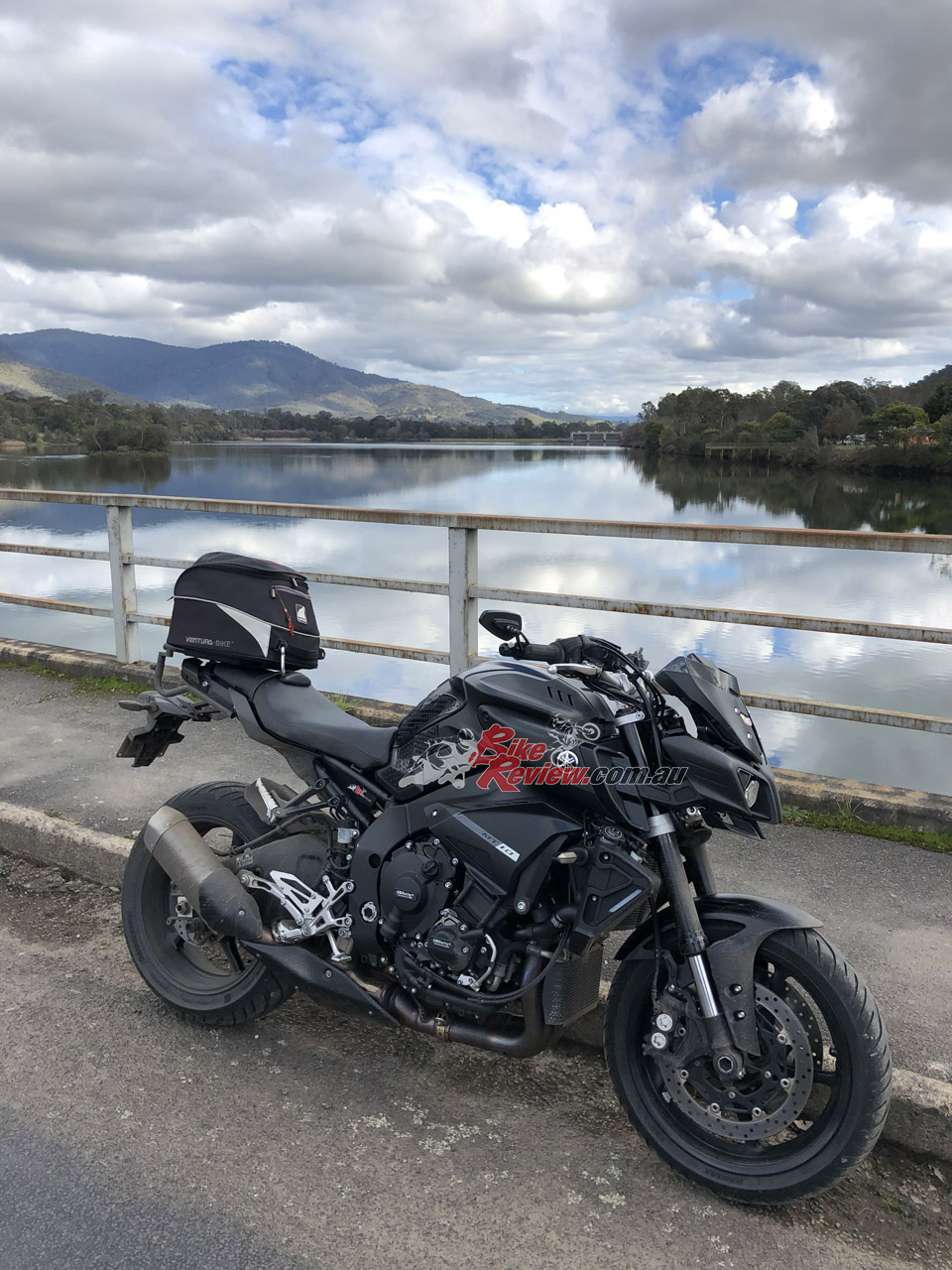 The Verdict | Tyre Test: Bridgestone Battlax T32 Sport Touring