We've been running a long term set of Pirelli Diablo Rosso Corsa II hoops on Taka's MT-09. Here's his long term test on the tyres... Review: Taka Nagata
Last year Kris attended the World Launch (read it here) of the all-new Pirelli Diablo Rosso Corsa II tyres at the amazing Kyalami Circuit in South Aftrica. The tyres were impressive but the big question is how do they go in our conditions over a long period of time?
We fitted a pair to contributor Taka Nagata's MT-09 and he spent six months using them in a wide range from commuting to sports and touring… Here's what he had to say after a long term test on his Yamaha.
I mainly use my MT-09 for twisty weekend rides, up through my local hills with my riding group, with the occasional sports touring type day or overnight trip, either with my riding mates or sometimes my wife, who rides a CB300R. The MT-09 is a perfect bike for me. I'm an ex-racer (125 GP and 400cc in Japan in the 1990s) and grew up street racing on NSR250s and other awesome two-strokes of the 1990s.
Now I'm in my later 40s and I decided last year to start riding again. After I moved to Australia permanently with my family in the early 2000s, I quit riding to focus on starting a new life here and bringing up my two children, as did my wife who didn't ride aside from a brief period owning a VTR250.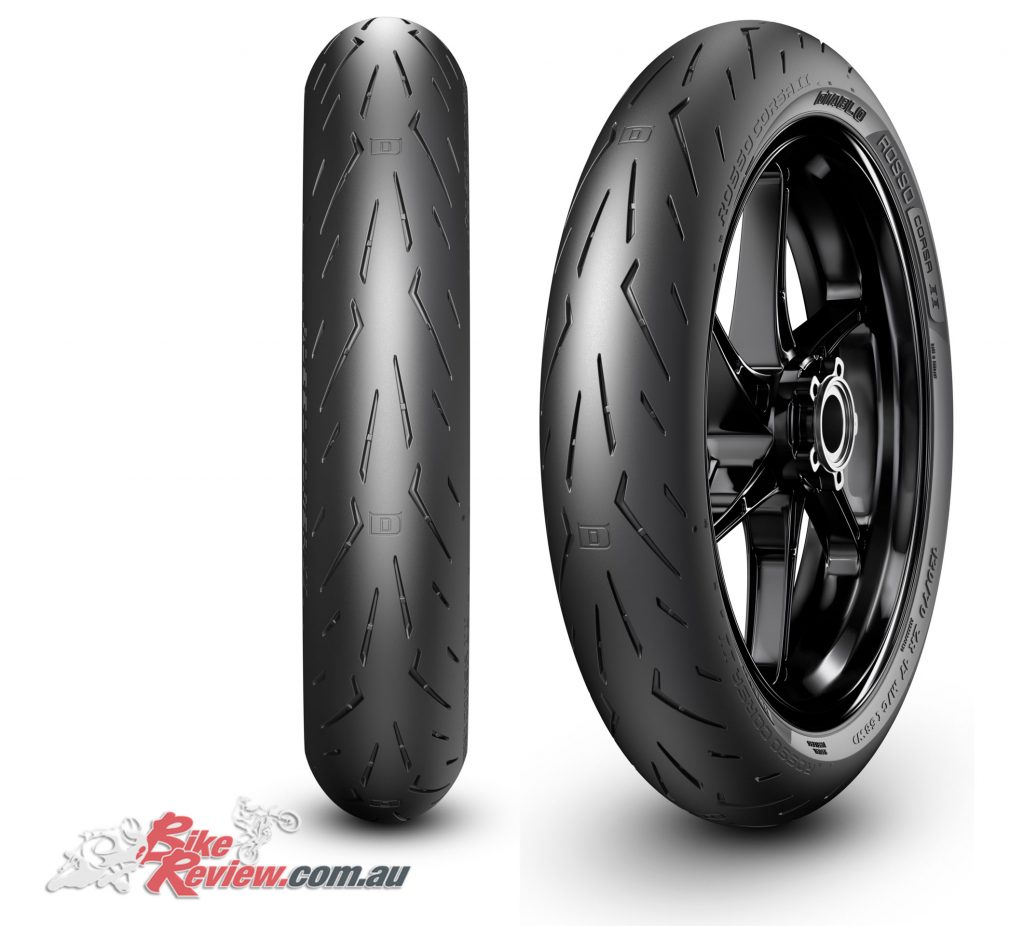 We've had the odd scooter and a CBR250RR project but nothing really. We always stay connected to MotoGP and SBK, with many friends in the paddock, but missed riding. As time went by I was really missing racing and track riding, particularly in a period when Kyoko (my wife) was working for Rapid Bikes magazine (we have known the Ware family since 1998 when Jeff lived with us in Japan).
I ride for work but it is not the same… Finally, I decided to road ride and bought the MT-09 with the encouragement of Kyoko getting me back on two wheels. It's been awesome and I ride a lot.
Being so excited to be back on the road on my bike and keen to improve it (see my Akrapovic article here) I was looking to try new tyres once the standard Bridgestone ones were worn out, and after some research, Jeff suggested the Pirelli Diablo Rosso Corsa II.
I started using the tyres at the end of January. First glance and I liked the look of the tyres. Styling is a very important thing to me, and lots of Japanese riders, so I appreciate the style of the DRC II, with a slick-like appearance and the Diablo 'Devil' logo on the surface of the tyre, along with the dot wear indicator and even the three compound sections were visible on the rear.
Initially I was a little nervous on the first ride, for the scrub in period. The tyre profiles are more triangulated in shape than the Bridgestone, which are a less sporty squarer construction.

This meant that there was an immediate quickening of the way the bike leans or tips on its side when banking into a corner. I need not have worried as the tyres scrubbed very quickly, with no slides, and then I began to feel intense grip and feel on the road that was fantastic. Just amazing. A combination of the high chemical grip from the silica content and the mechanical grip and feel from the tyre construction gave an immediate improvement to the handling of my bike and in my riding confidence.
A big change is at the apex, or clipping point, of the corner. The bike feels neutral and I definitely have more freedom to make changes to the direction or line even at full lean, after committing to the corner. This means I can make changes to my line, avoid a bump or hole, or oil spill or water, I can modify my corner quickly and easily even when leaned over. The DRC II has made my MT-09 more flexible in cornering.
There is very good feel and grip on the edge of the tyres, with lots of feedback to me on all types of road surface, from bumpy to smooth, there is a high level of communication for a road sports tyre.
When pushing very hard, accelerating at full power off turns, the rear DRC II will communicate well with gentle sliding at the very maximum limit and no sudden stepping out.
The front into turns, even under hard braking, is predictable and also offers good feedback, with no front end tucks experienced so far by me even when pushing hard. It remains stable even at high speed, or accelerating into turns, which gives me peace of mind. When the brakes are released, the tyre remains composed and tracks through the turn with no tyre distortion or bounce back, it is also supportive braking into turns, with no twist out of shape.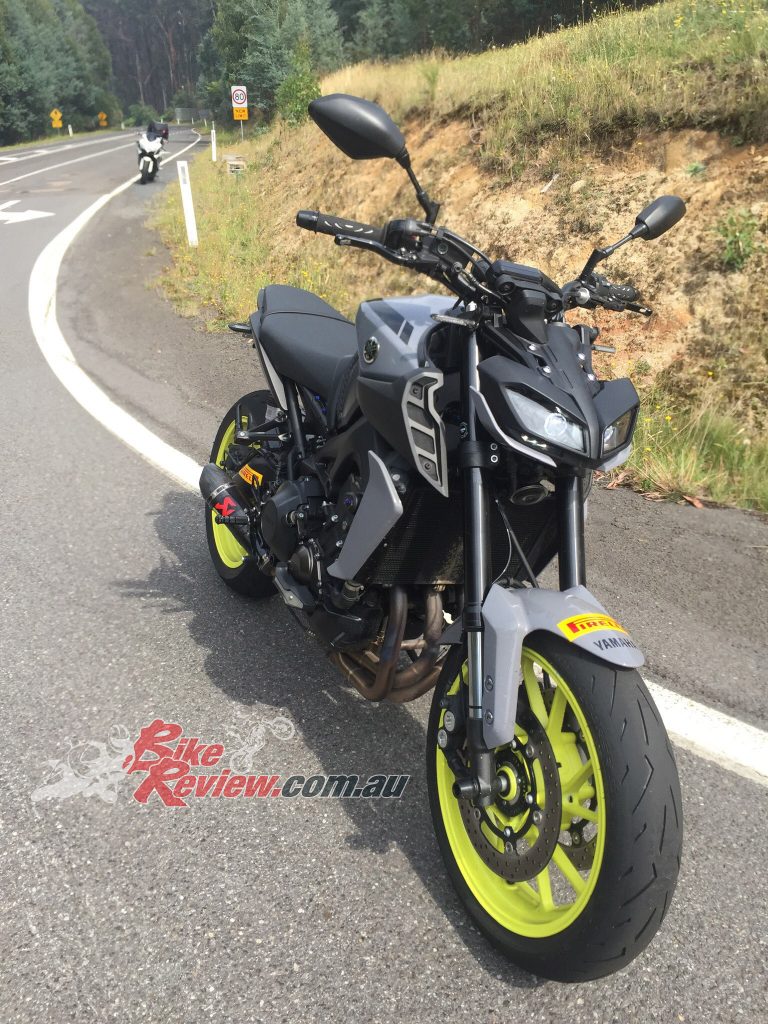 Warm up is impressive, the tyre works in a wide-range of temperatures. Even in very cold conditions the tyre is good very quickly, which is a relief at times. Unfortunately (but lucky I guess!) I have not ridden at all in the rain on the DRC II but as soon as I do, I will send the Ed an update.
I've done 4000km so far including a big touring trip out West and have been very impressed. They still have 30 per cent of tread left, which is impressive, as I really pushed them through summer, so the value is good and they will easily last through the rest of Winter.
I'm happy with the performance overall, the only negative is the tyre doesn't absorb road bumps very well, so comfort is compromised for the sporty performance. I hope to take them to the track before I replace them, to complete the test, so we will see how we go.
Diablo Rosso Corsa II Tech – Kris…
If you're not familiar, the original DRC offered a high performance road and track hybrid with a relatively balanced area of expertise. Essentially an option for those who didn't want to go as hardcore as the Supercorsa SC/SP, where you're trading off wet performance and the more road orientated properties, for race and track performance. Think ride to the circuit for track days for the more performance minded, and having a good crack on the weekends, with enough wet weather performance not to be deterred by a bit of cloud and the chance of rain.
The Diablo Rosso Corsa II continues this tradition and now features a dual compound (three zone) front, and tri-compound (five zone) rear with the shoulders of both tyres featuring the 'Full Carbon Black' compound, with the rear including race inspired wear indicators on the shoulders. That gives you an idea about how serious they are of track performance.

The centre of the rear is a 70 per cent silica compound which contributes to the DRC II's claim to better road mileage, for when you're cruising in a straight line, and between this and the Full Carbon Black compound on the shoulder is a full silica compound, which is also found on the centre of the front, offering strong wet weather performance and feel.
The carcass is essentially all new, while Pirelli's continuous compound process is used with the interrupted lightning tread, offering a six per cent void to fill ratio, where a road tyre would more commonly be around 10 per cent. The void (tread) is optimised notably where the compounds meet, which provides for flex and deformation through transitions of the contact patch, and ensures tread is maximised where it's needed most, while assisting in a quick warm up period.
Other features include dual radius technology, with what Pirelli describe as a sharp radius in the centre of the tyre and a wide radius on the shoulder, which benefits from profile harmonisation between the two tyres, ensuring the transition from upright to lean and visa versa is linear and smooth, rather than aggressive or unpredictable. Another boon is the improvement in lean angle to 52° from the original DRC's 48°, boosting cornering speed where ground clearance is available.
Pirelli offered us a look at a pretty nifty illustration to represent the Diablo Rosso Corsa II's performance in comparison to the original DRC and you'll note that while high speed stability and track wear haven't changed (with the latter particularly impressive considering their other claims), they are claiming a dramatic improvement in lap times, with two to three seconds gained compared to the DRC at Mugello by their test riders.
Also claimed as improved is performance consistency, which is perhaps an underrated metric for tyres, as we're all familiar with that sudden and dramatic improvement in performance from new tyres even if we're replacing like for like, with the drop off in performance at later stages of wear a subtle affair. So when someone's promising better performance for longer, the answer is always yes please!
Other areas of improvement include racetrack handling, as well as both dry and wet handling, and of course mileage. Now for a premium performance orientated tyre, boasting a three-second a lap improvement, the assertion that racetrack wear hasn't changed is pretty obviously a step forward.
A more expert approximation than mine suggested the rear tyres from our day at Kyalami were at about 50 per cent, which was with 30 crazy journalists riding flat out all day with most bikes out every session, while the fronts looked fresh. It's safe to say for a normal punter at a track day, with the more limited sessions, you'd be getting a good number of track days out of these tyres.
These tyres are available from $239.00 RRP front and the rear from $329.00 RRP.
Pirelli Diablo Rosso Corsa II Front Size
Pirelli Diablo Rosso Corsa II Rear Sizes

160/60 ZR 17 M/C (69W)
180/55 ZR 17 M/C (73W)
180/60 ZR 17 M/C (75W)
190/50 ZR 17 M/C (73W)
190/55 ZR 17 M/C (75W)
200/55 ZR 17 M/C (78W)
Link International is the official the Pirelli Motorcycle Tyre distributor for Australia. See your local Pirelli stockist to buy a pair!
The Verdict | Tyre Test: Pirelli Diablo Rosso Corsa II – Long Term Results