Legendary motorsports engineer and team manager, Peter Molloy, has passed away peacefully in Gosford, NSW, aged 84.
Peter, who was a long-time columnist and contributor of ours in Rapid Bikes, Knee Down and UCBE magazines prior to BikeReview.com.au, was, over a career that spanned 60-plus years, best known for his countless achievements in building winning racing cars. He also had immense successes in boat racing and, most interesting for us, motorcycle racing.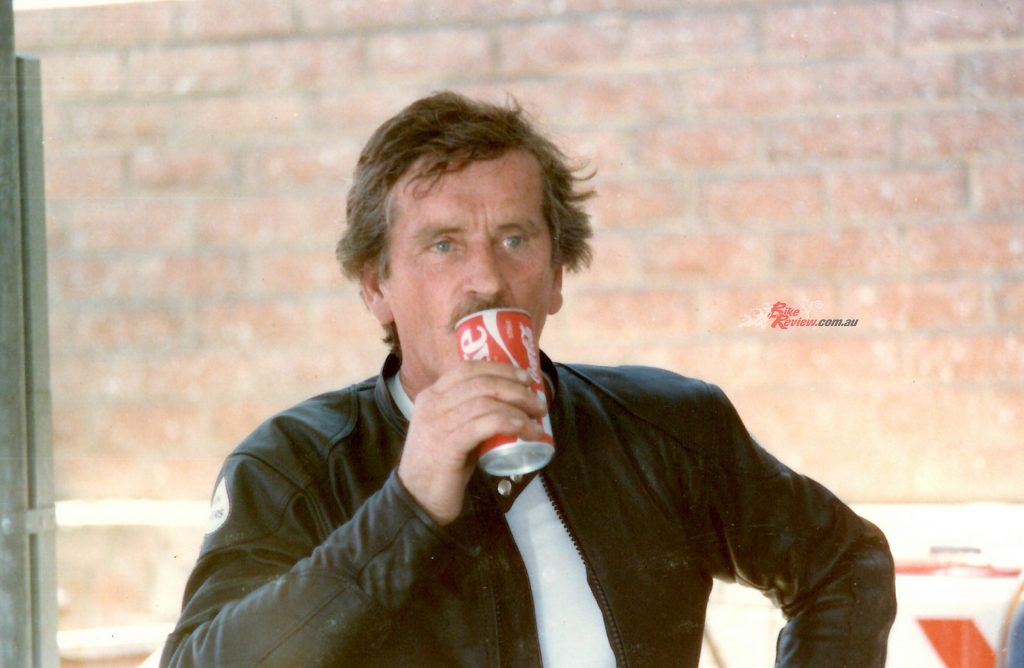 Born in 1934 in Randwick, NSW, Peter was child six in a family of eight kids. His early days were spent being educated at Marist Bros College and hanging around the horse stables near his house. In fact, his first passion and early ambitions focussed around being a jockey. However, he ended up too big and soon went off in pursuit of finding a new way to experience speed and thrills.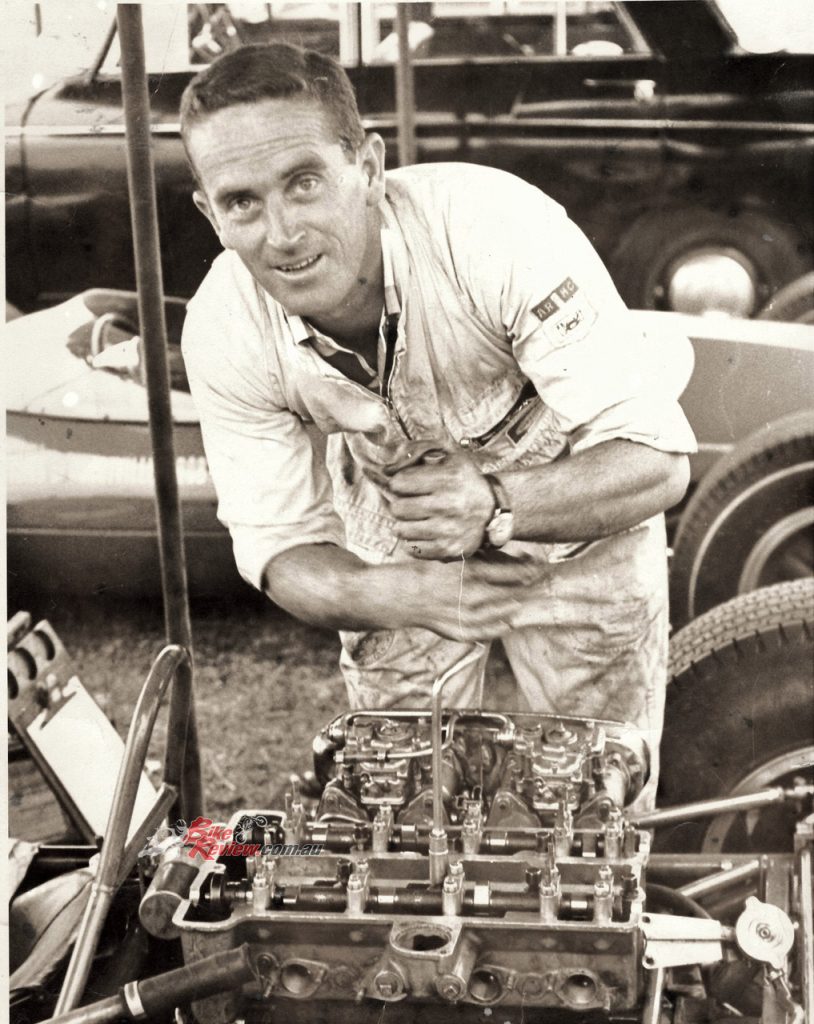 The answer came when Peter helped his father take his 1927 Chrysler Royal off storage bricks (it was stored during the War) and strip it down to get it running. Peter's father Tom was a top-grade Rugby League player for St George and then Easts, and a toolmaker by trade. He taught Peter how to clean parts and scrape white metal bearings, plus they built Peter's first billycart for the Ginger Megs Billycart Derby at Centennial Park. The seeds were sown and Pete would go on to become a legend of motorsport…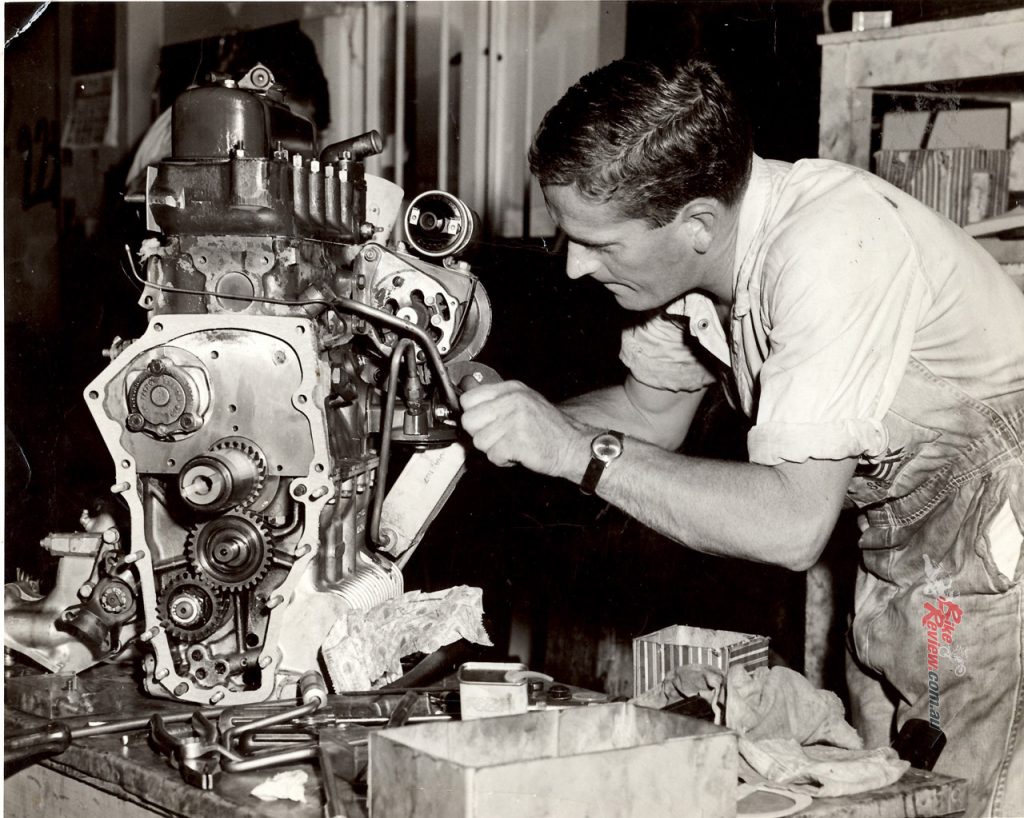 Pete's first year as a mechanic started in January 1949 at Chris and Vic Engineering, Sydney. He was 14 and struggled with strength, having suffered Polio as a child, but worked on his strength to continue forging a career and learning. At age 15, he started his first year as an apprentice, at Boyded Motors, working on Holden, Buick and Cadillac cars. Peter spent three years there and learned a lot. At the end of 1952 Pete transferred to Halifax Motors working on Skoda and Terraplane cars, however, he was soon bored so put in for a transfer to Bill Brambach Garage in Coogee, NSW, where he finished his apprenticeship with Bill, the knowledgeable Dutchman. Pete also purchased his Dad's Chrysler at this time, his first car…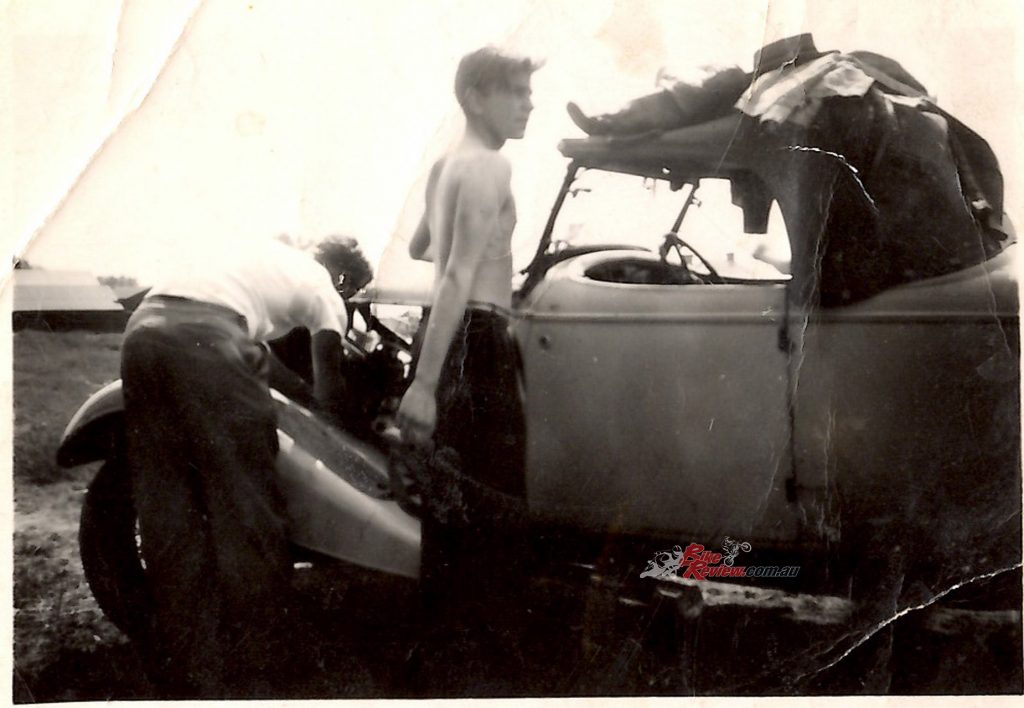 It was with Bill and the owners of the machine shops surrounding Coogee, that Peter was drawn into the circle of racing engines and fast cars, special engineering and tuning, plus attending Mt Druitt race circuit with Les Durham, helping run his Alvis Terraplane racing car… not to mention street racing in Bondi on a Friday night. Peter soon had a 1934 Ford V8 Convertible that he turned into a Hot Rod. He would often get chased by the Highway Patrol, always getting away! Molloy's first true job involving racing cars came when he moved to the Purchase Brothers service station, which was full of racing cars… In 1959 on January 10 Peter and Margaret were married, this year they celebrated 60 years marriage. They had a big family of six, with four kids – Patrick, Perry, Kerry and Adam, who gave him and Marg a total of seven lovely grandchildren whom he adored.
In the early 1960s Peter gained incredible knowledge and skills working on exotic, pure sports and racing cars at Capitol Motors (Porsche, Maserati, Ferrari, Jaguar, Aston Martin, MG) and working for Arnold Glass, who was heavily involved in motorsport. Molloy soon began forging a career and building a reputation as the guy to go to for chassis and engine setup. His career built from there, as he always said, he had an insatiable thirst for knowledge…
Molloy cars soon began to dominate the tracks, from the legendary Bathurst winning Brian Foley Mini to John Harvey's Austin Cooper S and Brabham BT14. He also ran the Repco V8 in the BT14.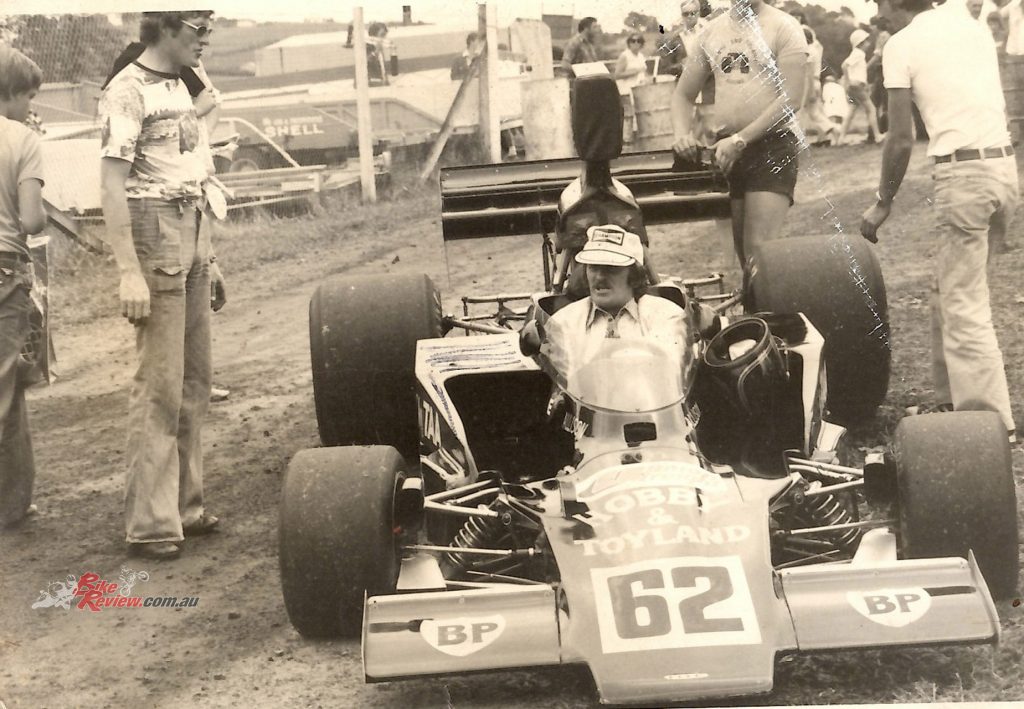 In 1968 Peter started work in Niel Allen's team running the Traco Sports Car / Elfin, a McLaren M4A, Ford Mustang and a 2.5 litre Cooper climax. When Niel suffered an enormous crash at Lakeside, Peter very nearly quit motorsport for good… Wow how we would have missed out on some champions had he chosen to stop… They would go on to be at the top of F5000.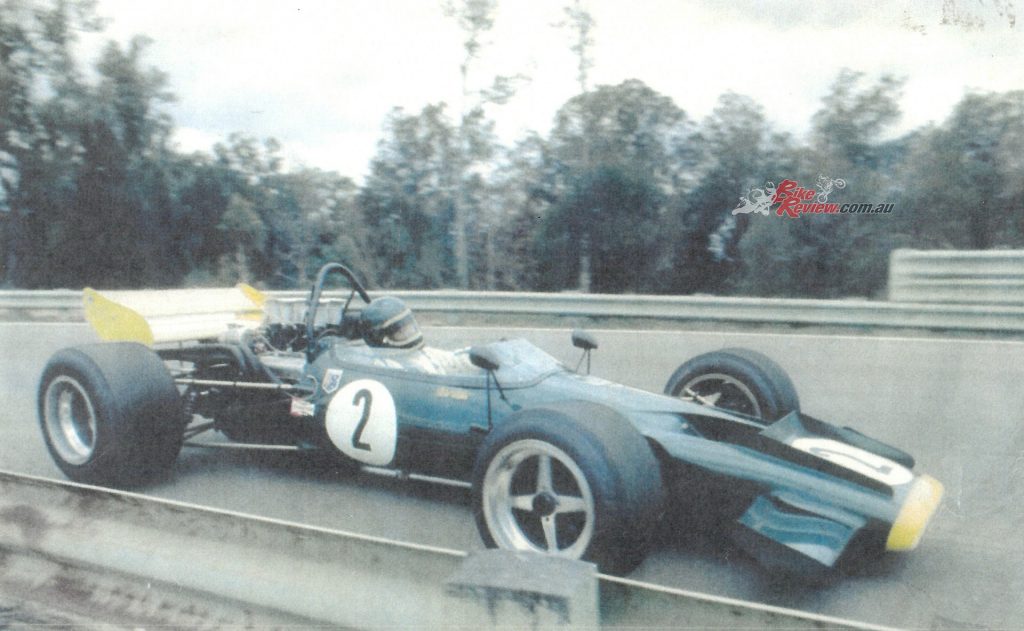 In 1971 Peter set up shop in a space rented from Kevin Bartlett and built his first Bathurst class winning V8, a Falcon GT automatic for David Seldon and Jerry Lester, which won the auto class in the Bathurst 1000. He also built a Torana XU1 engine for Graham Moore and a few F5000 engines for Frank Gardner.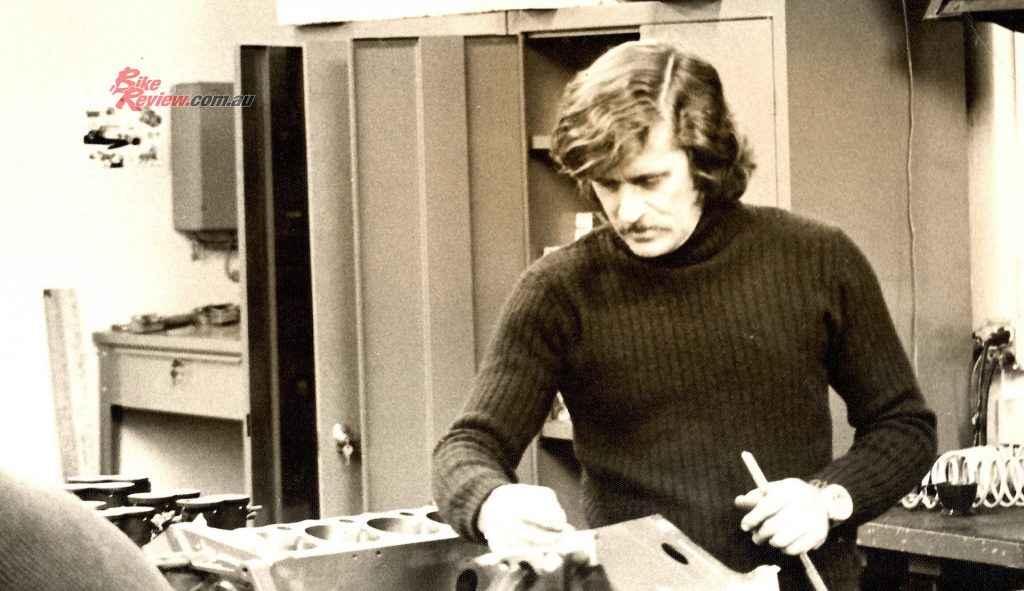 Peter soon set up shop on Canterbury Road, Belmore, for a decade or so building winning engines and cars, including the M10 B of Warwick Brown. In 1975, after returning from building F5000 engines for Warwick Brown and Chris Amon in the USA, Peter took a short break and started to build a Ducati race bike…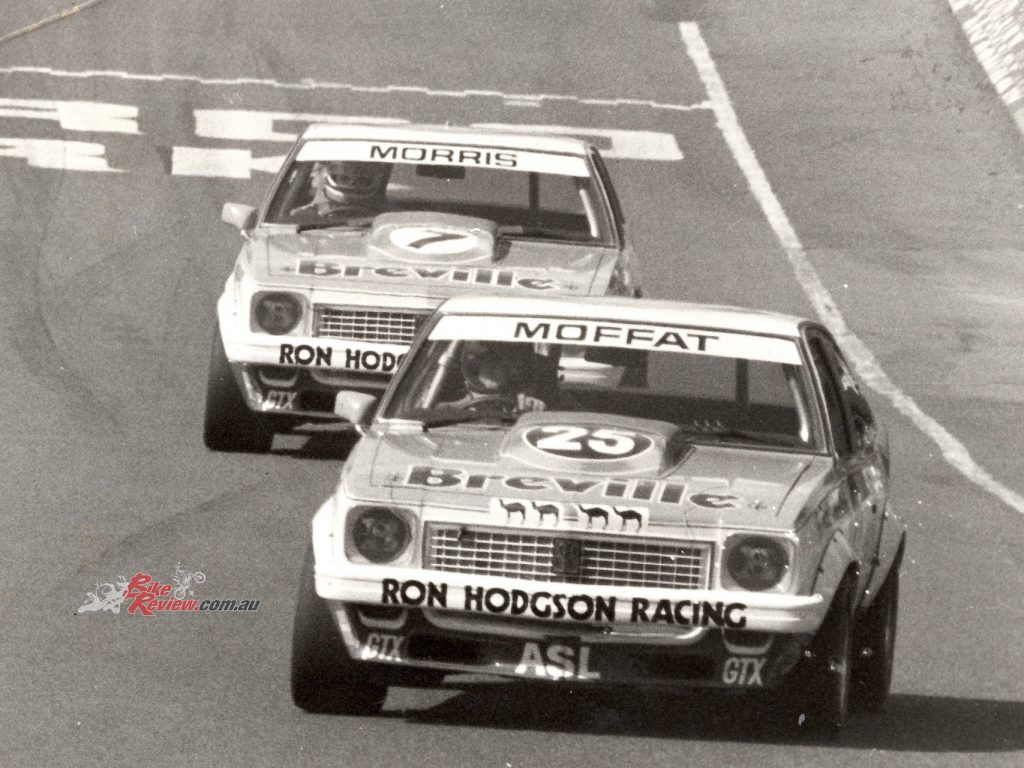 During the 1970s and 1980s Peter prepared and ran cars for many champion drivers such as Allan Moffat, Pete Geoghegan, Bill O'Brien, Bryan Byrt, Gary Wilmington, Bob Morris (winning in 1979), Bruce Allison, advising Sterling Moss when he was here and many more. He is famous in V8 circles for the Ford one-two Moffat/Bond 1977 finish at Bathurst and lots more…
His bike career started around 1976, building the Kawasaki Team Avon engines for Jim Budd and Roger Hayes to use in the Castrol 6-Hour in the Lindsay Walker run team, famously winning the race. The Ducati project was shelved after a test session with Phil O'Brien, Peter just didn't have time. In 1979, Peter bought a Honda CB900 and decided to build a superbike to put some young gun rider on, if he could find one…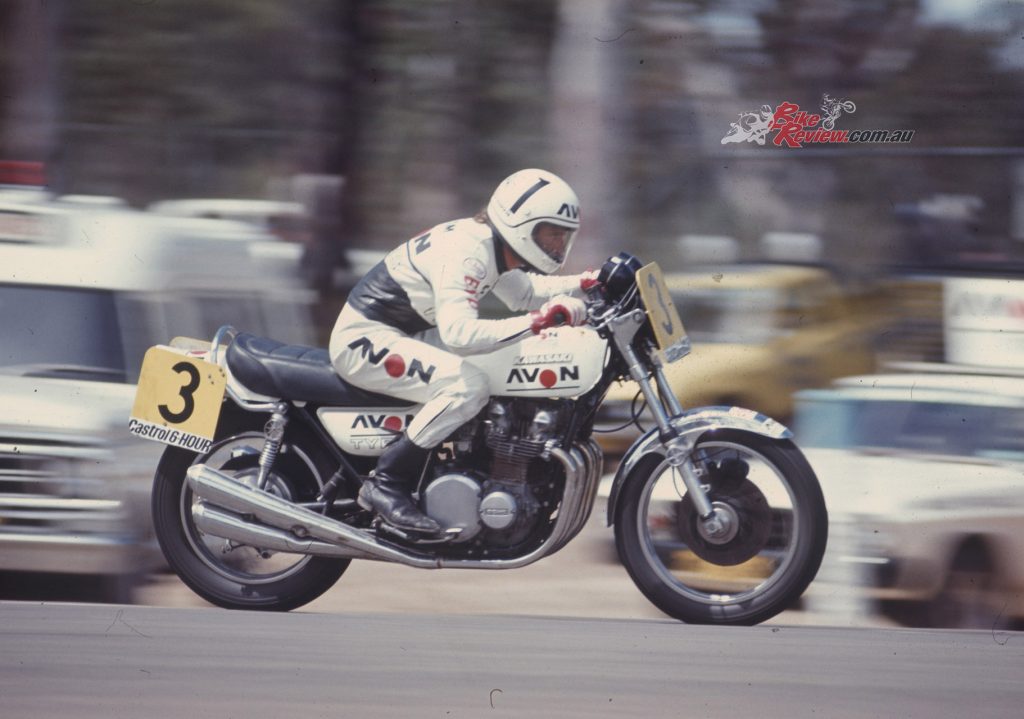 One day at Oran Park, he discovered Wayne Gardner, and the rest is history. They won many races together including the Castrol 6-Hour on an 1100R proddie with Andrew Johnston and again with Gardner and Wayne Clarke.
When the CB1100R came out, Honda and Mentors wanted publicity on it, but Pete fitted his superior 900 engine to one for the superbike and F1 class and Wayne raced it in disguise for Mentor Motorcycles. Molloy introduced Wayne to Mamoru Moriwaki at Winton and took him to Daytona for his first International race and trip overseas.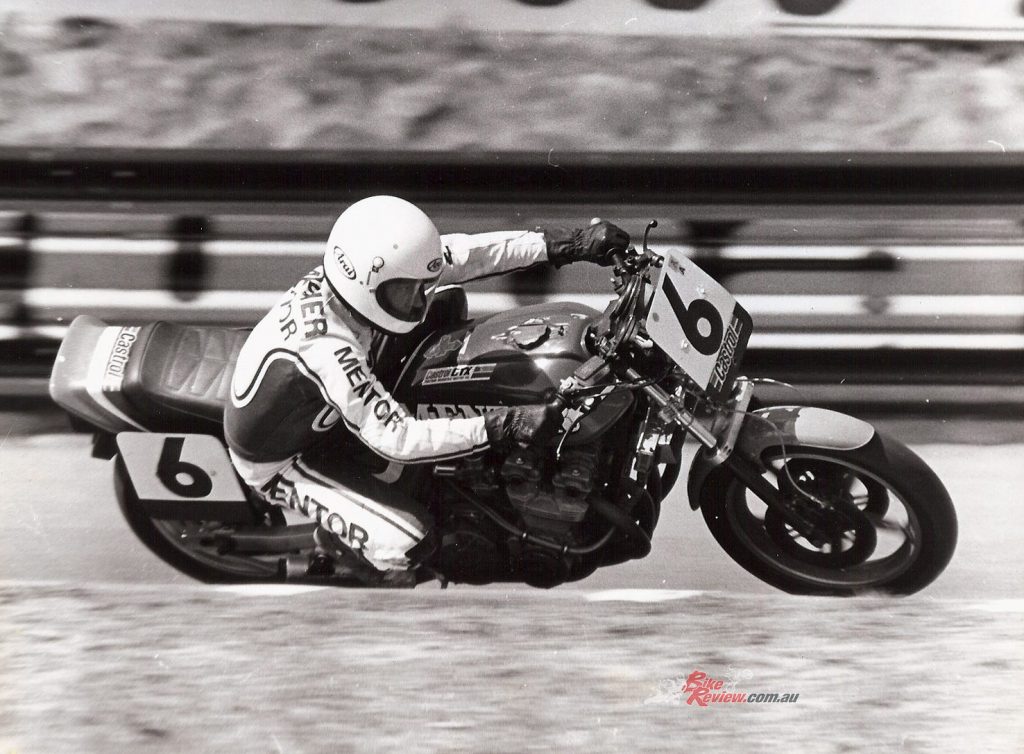 Peter also built winning superbikes ridden by John Pace, Ben Archibald and many more over the years. Even in his 80s, Peter was building a land speed CBR250RR that he took to the salt flats with his sons, plus was almost finished an ER650 engined 'Proto' CBR framed land speed bike that, at the last development was making 90-horsepower at the rear wheel with more to come. He also consulted for Patrick Godet on the Cam Donald ridden Egli Vincent 500 Comet single.
Peter consulted on the Benelli triple SBK engine, spending time in Italy helping Benelli engineers and working with Peter Goddard, and helped Warren Willing and Kenny Roberts with the KR Modenas engine to name but a few. We will be publishing a feature story as part of our Legends Series soon, outlining in detail the enormous achievements of Mr Peter Molloy, far too broad to outline here…
On a personal note, Peter lived just 100m from me and we were great mates. He was part of our Friday night 'Shed Beers' crew here and was a dear friend of my family and to many in the local area…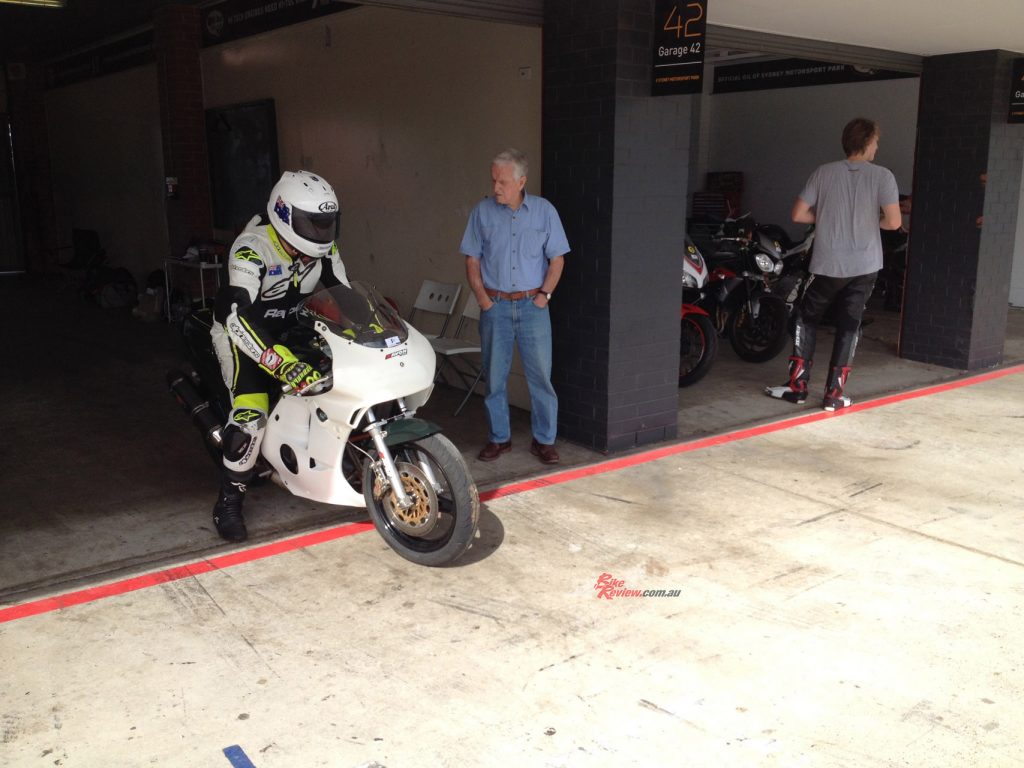 Peter Molloy's Funeral will be held at Greenway Chapel, 460 Avoca Drive, Green Point NSW on Thursday October 17 at Noon. Ph (02) 4369 2013 for floral deliveries or tributes.