As close to the real 1990 YZR500 as you will ever see... Words: Jeff Ware Photography: JPMedia PL
Any readers over the age of 35-should have fond memories of watching Wayne Rainey make his magic happen on the best looking 500cc Grand Prix bike ever built – the Marlboro Yamaha YZR500.
His first championship year, 1990, was one of the most memorable seasons I can remember. I was 15 and still remember those late nights staying up to watch the races… by the time I was 16 I had an old blown up RZ250FN that I had big plans to paint up in Marlboro Colours. I had the posters and the dreams to go with them!
So when Mick Costin, proprietor of Costin Engineering called to let me know there is an opportunity to ride his 'best' build yet – a 1990 YZR500 Rainey Replica, I jumped at the chance.
The same day I would ride the ex Alex Debon Aprilia RSW250. Heaven…
I arrived at Eastern Creek Raceway to find the bike being warmed up and I almost lost my mind. There was a large crowd building around the bike and as chance would have it, 500 GP legend and ex Wayne Rainey teammate Kevin Magee was one of the onlookers. We offered him a ride and he jumped at the chance… He also commented that the bike is exactly the same – perfect job… 125 GP legend Peter Galvin was also in line for a spin.
Unfortunately some tuning issues prevented any of us from riding the bike that day – it was just not worth risking damage to the motorcycle. However, we did get to strip it and shoot it… and have a chat to Mr Costin…
This was a customer build with a good budget that allowed Mick to truly replicate the 1990 machine. This meant a lot of time and effort on tooling to reproduce the frame, swingarm, engine mounts, fairings and to make an RZ500 engine look like a YZR500 engine.
"The dimensions are exactly the same as the 1990 bike," says Costin, "the only difference is the position of the engine mounts to accommodate the different crankcase shape and mounting positions on the RZ engine.
"The frame was a huge task. The tooling to press the indents on the side beams and into the swingarm alone was a big job. The three pressing tools had to be made of carbon steel and it was a mammoth task pressing those sections up".
The frame is made of 6061-T6 alloy sheet and billets, which is heat treated after welding, giving the material maximum strength. Once finished it was painted black by Moto Tech painting.
---
---
Costin Engineering triple-clamps squeeze ex Christian Sarron 1990 YZR500 Ohlins forks that are anodised black. The handlebars are original 1990 YZR500 and the Ohins shock remote preload adjuster is mounted on the top clamp as Rainey had.
The swingarm is identical to the 1990 YZR500 and has an original 1990s era YZR500 Ohlins shock controlling it. The wheels are original 1990 YZR500 as are the brakes…
"The wheels are so light," says Mick. "I have some 1990 era forged alloy wheels and the YZR500 ones are 30 per cent lighter again. No wonder they limited mileage. They weight the same as the brake rotors!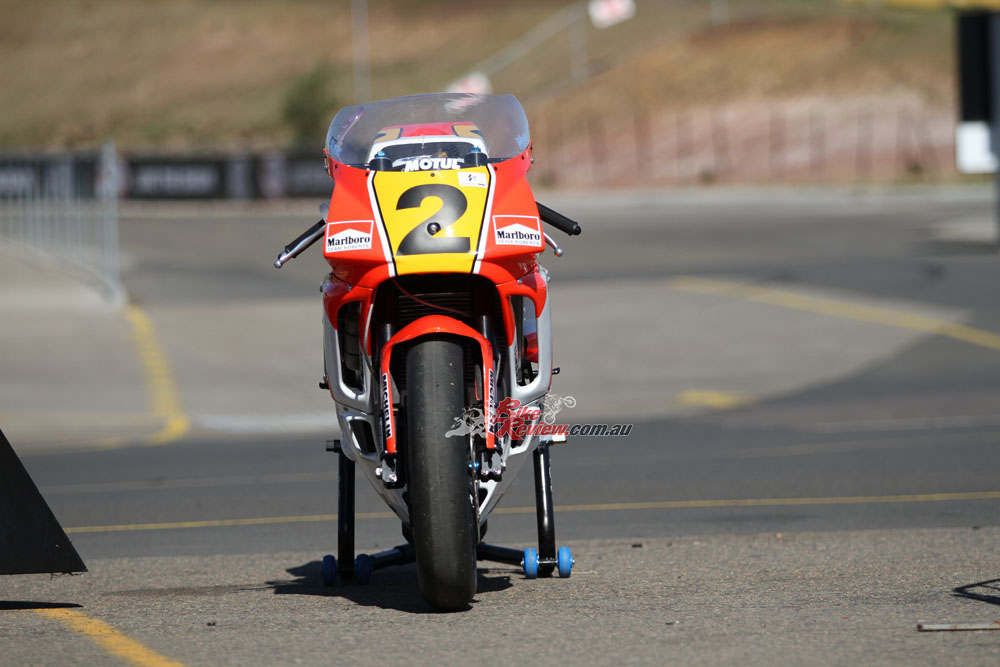 "The brakes are 1990 YZR500 Nissin rotors with Nissin YZR500 calipers, while at the back a captive quick-change set-up Brembo caliper is fitted, along with a YZR500 rotor. As per the Wayne Rainey 1990 bike there is a radial pull AP master-cylinder fitted as well".
The engine is a highly modified RZ500 unit. It has vapour blasted, machined and water-cooled crankcases, RZ Performance crankshaft and conrods, Mitaka pistons and rings, Costin Engineering cylinders with individual power-valve controllers and YZR500-style water jackets, TZR250 3MA SP modified individual cylinder-heads, a Costin Engineering cast clutch cover is used while the actual clutch is a highly modified TZ350 unit. An extended input shaft allows the dry clutch conversion and the oil pump system is removed, with a cast magnesium cover giving the GP look.
An electric water pump is employed and the radiator is a Costin Engineering item, with a TZ250 water bottle used.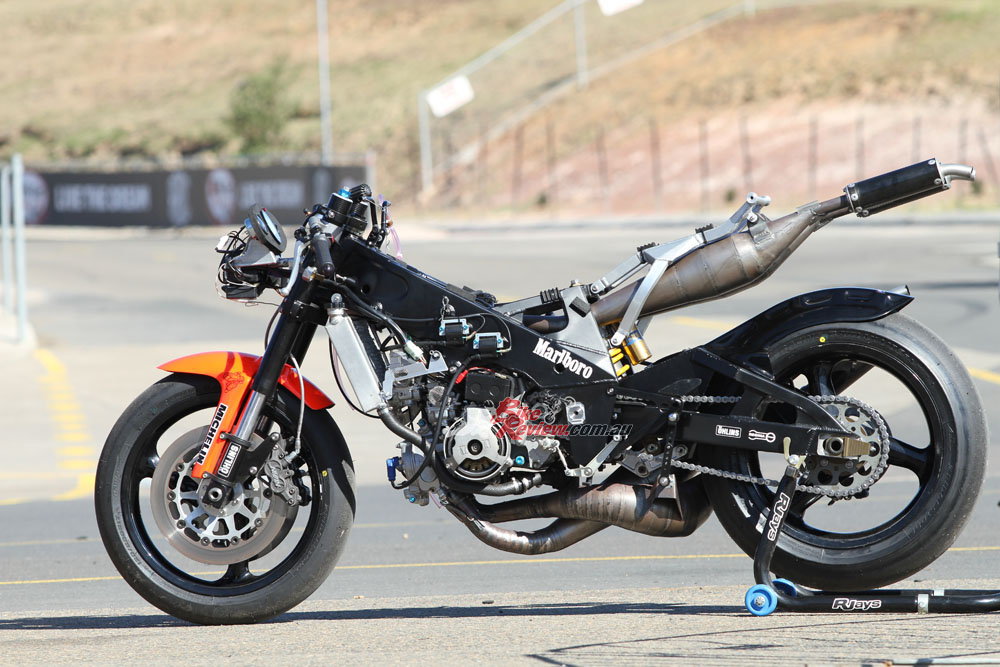 In 1990 Rainey's bike ran steel expansion chambers for most of the season, aside from a few races at the end where titanium items were used only for the top two pipes. In keeping with the original, Costin made four steel expansion chambers, which are stunning. They all have original YZR500 mufflers.
The ignition system is a Costin GP plug-in race system with adjustable ignition curve and power-valve controller. All electrical components are mounted up front as per the real bike.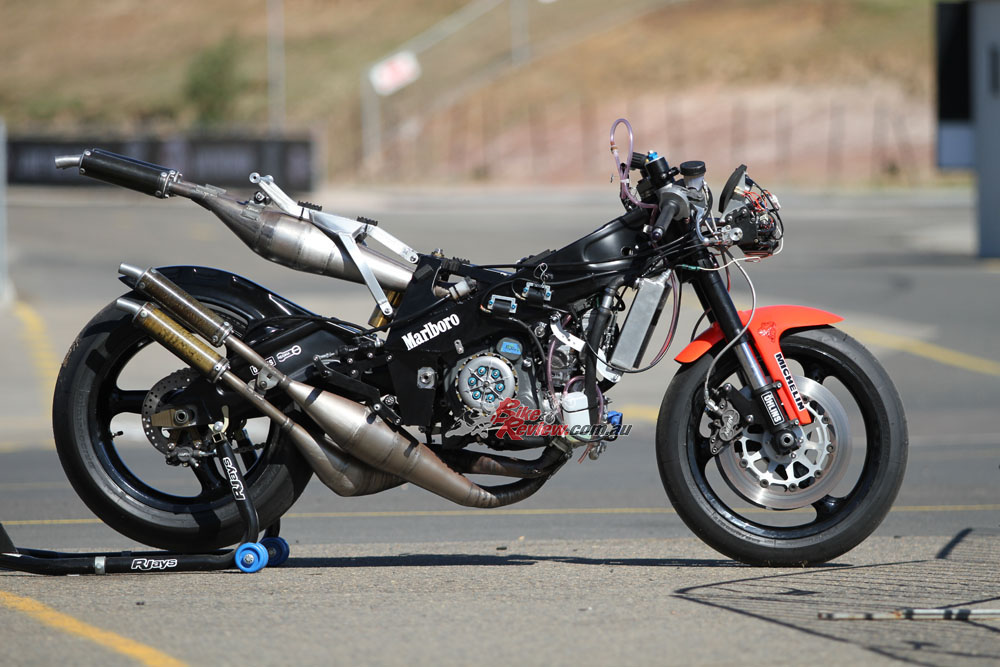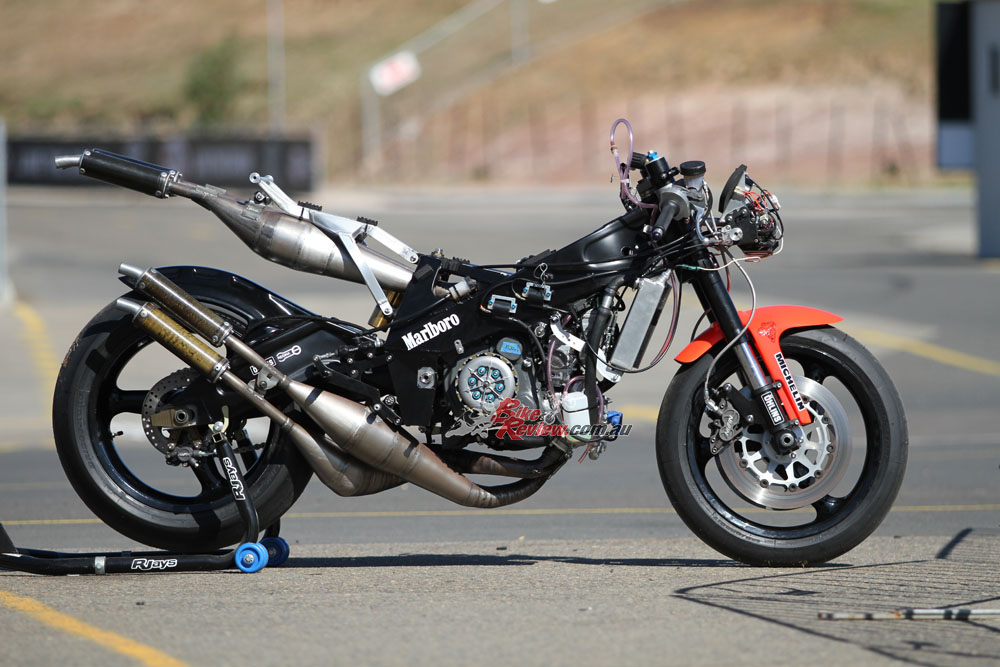 Fuelling is taken care of by four 28mm Mikuni flat slides and the bike runs on pre mix 35:1 Castrol A747. Finishing the bike off is the stunning bodywork, which is original YZR500 kit, painted the traditional colours. I'm sure you agree, the bike sure touches on some great memories of the true GP heroes on the wild 500s, with Wayne Rainey being the master of the YZR500…
---
---
WAYNE RAINEY
In 1988 Wayne Rainey joined Team Roberts Yamaha in the premier 500cc division riding the YZR500. In the 1989 campaign, Rainey finished second overall. From 1990 to 1992, Rainey hit his stride earning three consecutive 500cc crowns for Yamaha. Rainey was well on his way to his fourth-consecutive title in 1993. He was leading the championship points and leading the GP when he suffered his career-ending crash at the Italian Grand Prix in Misano.
He slid into the gravel trap at high speed, breaking his spine against the raked surface designed as a safety feature for car racing. The injury handed the title over to his great rival, Schwantz. Rainey's injuries rendered him permanently paralysed from the chest down.
Rainey has refused to give up racing despite his disability and now races a hand-controlled Superkart in the World SuperKart series based in Northern California. He lives in Monterey, California in a house built overlooking the Mazda Raceway Laguna Seca circuit.
Rainey was inducted into the AMA Motorcycle Hall of Fame in 1999. The FIM named him a Grand Prix Legend in 2000. He was inducted into the International Motorsports Hall of Fame in 2007.
Rainey now organises the MotoAmerica group that run AMA Superbike.
Wayne Rainey 1990 Marlboro Yamaha YZR500 Specifications
---
ENGINE 1985 Yamaha RZ500 V4 two-stroke, bore and stroke 56.65mm x 50.0mm, compression ratio 6.6:1, RZ Performance crankshafts and conrods, vapour blasted stock crankcases converted to water-cooled cases, stock ported and polished cylinders, machined TZR 3MA SP heads, balanced Mitaka forged pistons and rings, factory six-speed cassette-style gearbox with extended input shaft, dry conversion TZ350 clutch, Costin Engineering clutch cover, Costin Engineering magnesium oil pump cover, independent power-valve actuators, Boyseen reeds, four 28mm Mikuni flatslide carburetors, Costin Motorcycle Engineering expansion chambers, YZR500 mufflers, all bolts machined stainless steel or titanium, Costin Engineering radiator, electric water pump, custom black box incorporating programmable CDI ignition, programmable power-valve controller, quad coils, 15/36 gearing.
---
CHASSIS & BODYWORK Costin Motorcycle Engineering replica 1990 YZR500 frame handmade from 6061 billet and sheet alloy, matte black finish, 1990 YZR500 replica swingarm, Ohlins 1990 YZR500 shock with custom linkages and Costin Motorcycle Engineering ride-height adjuster and remote preload adjuster, 43mm Ohlins original YZR500 forks, 1990 YZR500 alloy 3.5 x 17in wheel (f) and 6 x 17in wheel (r), YZR500 1990 Nissin 320mm rotors with four-piston YZR500 1990 calipers (f), 210mm YZR500 rotor with Brembo TZ caliper (r), AP radial master-cylinder, Costin Engineering triple-clamps, braided stainless steel brake lines, titanium bolts, Costin Motorcycle Engineering rear quick wheel-change caliper mount. 1990 YZR500 two-piece 'bars, YZR500-style switches, STACK tacho, TZ Yamaha temp Gauge, Domino GP throttle housing, 1990 YZR500 bodywork, 1990 YZR500 seat, YZR500 replica custom fuel tank, YZR500 front guard, billet alloy fuel cap.
---
PERFORMANCE
105-rear-wheel-horsepower, 125kg wet.
---
---