The International launch for the new Yamaha Ténéré 700 World Raid was held recently in Southern Spain. We were lucky enough to have Mossy there to check it out... Photos: Yamaha
Back in 2019, Yamaha chose to follow a different route with its Ténéré 700 middleweight adventure bike. As bikes in this class are getting ever bigger, more powerful, and complex, the modestly powered Ténéré chooses to stay with a relatively simpler, tech-light design.
The Ténéré 700 was specifically aimed at the adventurer who wanted to journey more along off-road routes. The Yamaha arguably created a new, niche segment within the adventure class, and sold well. Bringing things up to date, and to further that off-road suitability even more, there's a new version of the bike, the upgraded Ténéré 700 World Raid. It joins the standard Ténéré and Ténéré Rally Edition models in the Yamaha line up.
---
Check out our Tenere 700 v Tenere 1200? test here or the launch test of the Ténéré 700 here…
---
Some of the World Raid's key new features are a giveaway to its even greater off-road design-bias. First one is the 20mm longer travel suspension and the extra ground clearance that brings, with the next clear clue coming in the shape of its bigger twin 23-litre pannier style fuel tanks. Joining those are a flatter two-piece seat, new rad guard, stronger bash plate, multi-mode 5in TFT dash, bigger off-road footrests, and an extra ABS braking option.
---
---
To give us the chance to assess just how well those changes help the new 700 suit the role it's been built for, we spent the day riding on a 50/50 mix of road and off-road routes, winding through the beautiful, mountainous Sierra Nevada region of southern Spain. It turned out to be a highly agreeable day, the Ténéré coping admirably well with the task of getting us round the 300km mixed surfaced route. It really is a capable, yet very manageable and highly versatile dual-purpose adventure bike. It might not be perfect, but plenty of the bike's numerous virtues had an influence in helping to despatch the memorable day so easily and enjoyably. 
I absolutely love riding days like this one. With the weather forecast being as good as it was, the route promising to offer just the right mix of manageability and challenge, and the company of other riders likely to add to the reward of it all, I swung my leg over the Ténéré with plenty of optimism.
---
"It might not be perfect, but plenty of the bike's numerous virtues had an influence in helping to despatch the memorable day so easily and enjoyably."
---
Actually, that's stretching things a little, as one of the key considerations I had approaching the bike was how I was going to get on the thing! With its seat height set at a lofty 890mm, there was no way I was just going to casually swing my short, 30in leg over the seat with ease. Luckily for me, I've had quite a bit of experience meeting the challenge of getting aboard taller bikes so I didn't struggle too much in the end. Then because I considered this detail with careful anticipation whenever I was likely to need to place boot on terra-firma, I never had a problem with it once during the long day.
Taller by 15mm than the standard Ténéré model it might be, the slimmer width of the seat helps to compensate. You can easily move further forward on it too, as the front of the seat now runs between the lower slung tanks. That's just not possible on the base model Ténéré, as the height of the fuel tank prevents such repositioning. It's a beneficial arrangement, which gave appreciable front-end grip advantages later during the off-road parts of the ride.
---
---
The standout feature that benefits the new 700 most of all though, and something that was evident right from the first few yards of riding over the hotel's cobbled grounds, all the way through to the end of the 300km day, is that upgraded suspension. It really does have a better-supported, yet plusher, more controlled feel at all times, despatching road, and off-road imperfections well enough to lessen their effect on the bike's trajectory and your contact points. 
The ride to the first off-road section wasn't exactly long enough to test the Yamaha's abilities as a long-range tourer. But even so, the relaxed riding position and surprising level of shelter offered by the 15mm taller, non-adjustable screen, adjacent deflectors, and width of the fuel tanks all bode well for those who like to knock out lots of miles in comfort. Whether the seat can offer a plush enough resting point to take full advantage of the 450-500km fuel range the 700 now has, remains to be seen. But if it can, then reaching more distant locations quickly and easily should be well within the bike's remit.
---
---
Powering the adventure bike in a laudable fashion is the usable, and very useful parallel twin engine. Delivering its drive in a friendly, flexible and easy to manage fashion, the proven motor is very well-suited to its intended role. Some might think the maximum power output of 'just' 72hp is a little modest. In reality, though it might well sound a bit wimpy, the motor actually generates enough extra pace whenever you require it keenly and obediently, without feeling threatening or overwhelming.
That 270-degree crossplane crankshaft, and its associated uneven firing order that helps give the motor its eager throttle response, also provides a lovely off-beat exhaust note. It's an endearing engine, with its versatility underlined by its fitment to several other diverse bikes in the Yamaha range such as the MT-07 and R7.
With the trustworthy chassis, giving predictable steering, progressive braking, and compliant suspension coping so well, when the time did come to leave the road behind, confidence in the T7 continuing to be agreeable was high. I was curious to find out how the bike would feel with its appreciably bigger and wider tanks, but Yamaha's clever designers have managed to negate the effect of their extra bulk and weight well. The twin tanks are mounted lower in the frame, with the fuel pump now positioned inside, and nearer the base of one of them.
---
"Yamaha's clever designers have managed to negate the effect of the extra bulk and weight from the bigger and wider tanks well."
---
Centre of gravity is claimed to be roughly equal to the existing bike, and though the fully-fuelled 220kg World Raid is a considerable 16kg heavier than the current model, I'd only be prepared to comment on just how that extra weight manifests itself when I got the chance to ride the two bikes back-to-back. Because you can move further forward to load the front end in corners over lower-grip corners, I'd wager the new version of the 700 would be likely to feel no less manageable. I couldn't vouch for the effect of the new Ohlins steering damper, as even on a light setting, I never triggered any instability. In saying that, I never have on the current model.
---
---
There's no doubt Yamaha had chosen the off-road routes to suit the strengths of the Ténéré and, more to the point, not have it become too much of a handful. Hard-packed, and very dry, it was pretty easy to navigate what has to be termed a big and weighty adventure bike along them. Some sections weren't without their challenges mind you, and you needed to have your wits about you when tackling some of the steeper, roughly-surfaced, climbs and descents. It was the same story with some of the corners covered in loose shale and finer gravel.
Despite the potential for it to go Pete Tong, as long as you rode with some margin, the Yamaha made pretty easy work of it all. Some may lament the lack of traction control, something Yamaha defends by saying it adds unnecessary cost and complexity. But I found the manners of the engine sufficiently friendly and predictable to control things well enough with the right wrist. 
Making our way through some truly spectacular scenery, it really was a pleasure to ride the bike in this more remote region of Spain. And though civilisation wasn't actually ever far away, it did feel like you were doing a Dakar stage at times. Anyone who knows me, is well aware of my liking for trips like this, and there's no doubt this one was making me feel very happy indeed.
---
---
Everything seemed to be in place to ensure full contentment, with the bike playing a big part in it all. It's almost perfect for an outing of this sort. As I expected, the higher-spec suspension is significantly superior to the current bikes with none of the bottoming out of the rear shock that machine can suffer from. Instead, there's just an impressive action from both that, and the friction-reducing Kashima-coated forks, especially when you're suddenly running into holes, gullies and rocks at speed.
---
"As I expected, the higher-spec suspension is significantly superior to the current bikes with none of the bottoming out of the rear shock that machine can suffer from."
---
Support and control are also excellent under heavy braking and when getting on the power with greater commitment. Though the kit has full adjustment, including an easily-accessible remote preload adjuster on the shock, I was happy enough with its performance not to want to play with any of the settings at any time. The DNA of the current bike may well be very evident in the new one, but the suspension upgrade really does give it a superior feel and level of composure.
The fine throttle control at very low speeds is just as good and useful as it's always been. Off-road it's a huge boon, and together with a light and progressive clutch action, it makes finer speed metering in some of the more challenging off-road sections a lot easier. Though I didn't have call to do it on this bike, I know from experience it's also a bonus in very busy town traffic when progressing very slowly. 
Another improvement over the old bike is the new 5in TFT dash and its numerous features including mobile phone connectivity, and an ICO computer for rally competition. There's plenty of information on offer with the key stuff like the fuel gauge, clock, air temperature, trip meter, and selected ABS modes constantly displayed. Better still, you can select three different ways you want that to be shown with the Explorer, Street, and Raid options altering the visual priority of how it's arranged on the screen.
---
---
But, and it became a bigger but from time to time during the day, changing the settings via a thumbwheel on the right-hand bar switch wasn't always as easy as it should have been. There's a new setting on this bike which allows you to isolate the rear ABS only which I found especially useful and safer off-road thanks to the front still being active and effective.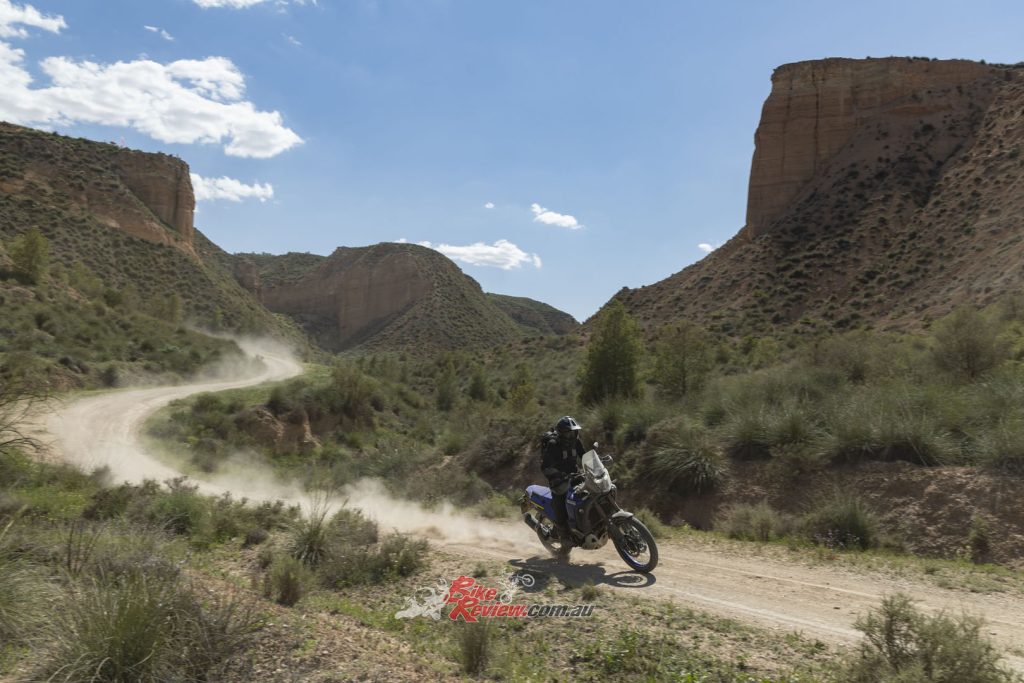 Yet changing back to that setting when you returned to the road and vice-versa, wasn't as slick as it could have been. Worse still, you had to stop the bike to make the change to both this, and other settings, which became irritating. More annoyingly, whenever you switched the bike off, or stopped the engine with the kill switch, the system reverted to the ABS being active on both wheels.
I was told it was a factory policy to have things that way, the thinking being it's safer only to make changes when the bike's stationary. Partial compensation comes via a dash-mounted override button which instantly activates the ABS on both wheels, negating a stop if you go from off-road road to off-road. It can't help when your change is the other way around though.
---
"The rear sub-frame is still welded to the main frame, and the exhaust end can hanger's still attached to that in the same fashion."
---
While I'm moaning, the rear sub-frame is still welded to the main frame, and the exhaust end can hanger's still attached to that in the same fashion. Given it's already a problem on the existing bike, it's an oversight, and something that's can be a lot more expensive and difficult to sort than it would be if those parts were bolted on.
---
---
Luckily, when I view the bike as a whole, I couldn't let those shortcomings affect my real admiration for the new Ténéré 700 World Raid. It had given me the sort of day that will linger long in the memory. In fact, I'd go so far to say the bike's launch ride was one of the most enjoyable I've ever been on. And I've been on a hell of a lot. OK, the riding terrain was excellent and the weather superb, but I do suspect I'd still have a great time on it in places like Wales or the Peak District. For sure if I went there, I'd have to choose appropriate routes to avoid it becoming too much of a handful. In deep mud or over very technical sections, there's no doubt – like any other adventure bike – the Yamaha could be harder to manage.
Very good as it is though, you have to ask the question, is the World Raid worth paying the extra for? Comparing it to the standard Ténéré, the additional £1900 (Australian pricing has yet to be released for the World Raid) you need to spend is a fair old chunk. However, I do think the improved features the new 700 has are significant, and they do justify the higher price tag. If you do mix your road and off-road riding a lot, then you'll appreciate the new suspension every mile you travel over rougher terrain.
---
"If you do mix your road and off-road riding a lot, then you'll appreciate the new suspension every mile you travel over rougher terrain. It really is a lot better…"
---
It really is a lot better, and as any off-road fan knows, quality suspension allows much improved bike control sometimes being the difference between staying onboard or not. The extra ground clearance the taller bike has, allied to the protection offered by the stronger sump guard will be appreciated in the more hostile off-road environment too. The other new features can also justify the higher price with the additional electronics included in the new TFT dash, extra ABS mode, steering damper, and bigger tanks, costing Yamaha more to include.
Now whether you want or need the more expensive World Raid model is another matter for debate. If you only ride on the road, then perhaps you won't appreciate the new bike's features. But every sort of rider will probably value the massive fuel range, and almost certainly the extra wind protection offered by the taller screen, deflectors and tank itself. The new 5in TFT dash is prettier, and carries more information and options to change the way its displayed is a nice touch. Being as compact as it is will mean it's less likely to get damaged in an off-road spill.
Ultimately though, I think one of the most influential factors that will determine how well-suited you'll be to the Yamaha, is its seat height. If like me, you're not blessed with the greatest leg length, you're going to have to take care when you come to a stop. However, with enough care and commitment you'll be fine. I'm certainly glad I managed to get aboard this rewarding machine. I had a great time on it and really can't wait to have another go. Hopefully it'll be for far longer than just a day!
---
---

Tech Talk
Also fitted to other models in the Yamaha range, like the XSR700, MT-07, and R7, the 689cc parallel twin engine underlines its versatility by being well-suited to the new Ténéré. Yamaha has chosen not to get involved in the horsepower race, thinking the 72bhp maximum, and flexibility helped by the 270° crankshaft and its uneven firing order, provides a better option.  
---
---
In a bid to make the bike cheaper and simpler, the 700 is not fitted with either an IMU to give lean-influenced electronic regulation, not does not have any form of traction control. The ABS system how has a third, front only mode to make it more suited to off-road riding, when locking the rear wheel is preferable at times. It's just a pity you need to stop the bike to alter the settings. A dashboard-mounted button does let you select full ABS on the move though.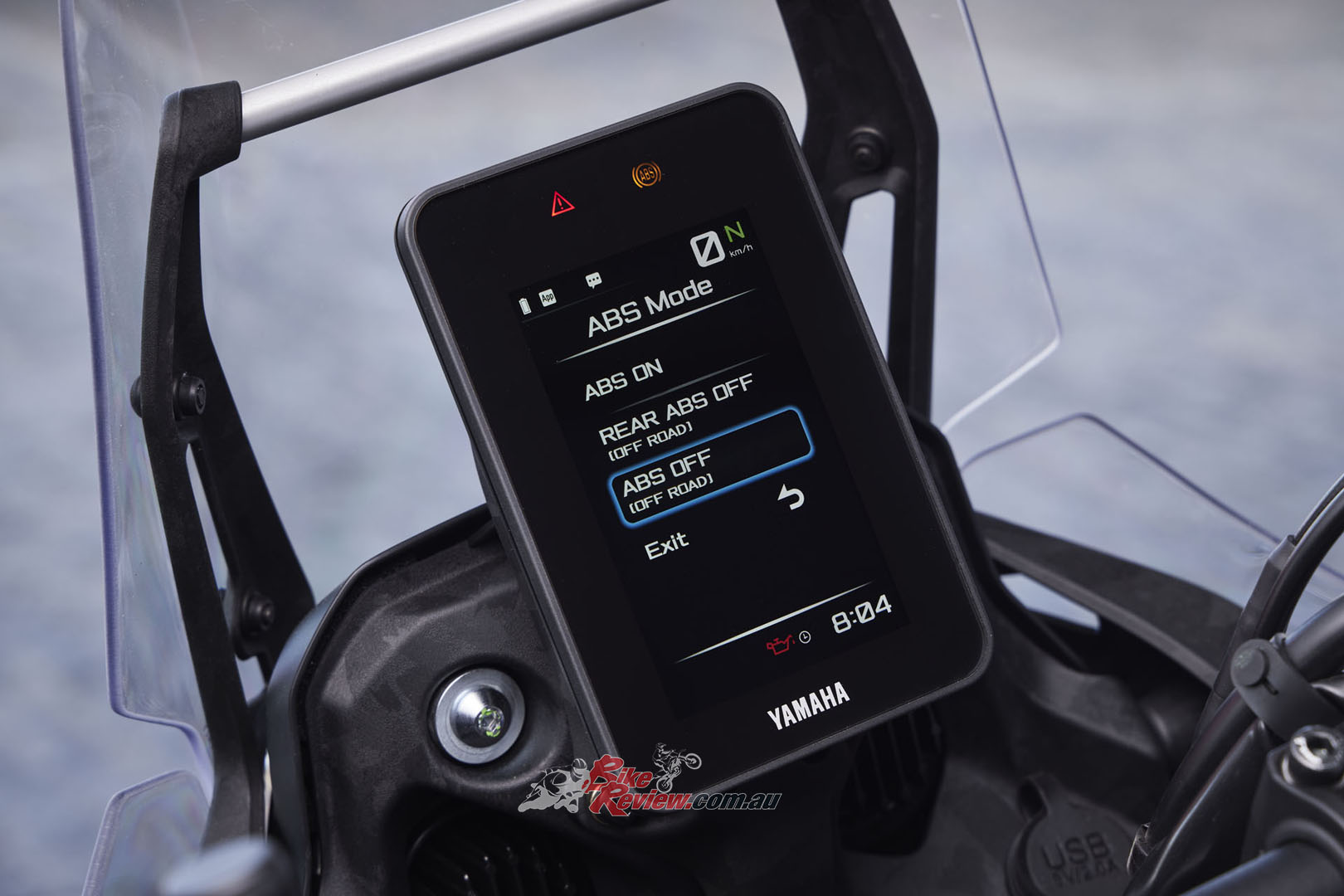 Ultimately a limitation on the current bike when you're riding it harder, especially off-road, the new 20mm longer travel KYB suspension offers appreciably superior performance. The more stiffly sprung 43mm fully-adjustable inverted forks feature higher spec internals, and Kashima coating to reduce stiction. The similarly higher quality, rising-rate rear shock also features a heavier spring and full adjustment, including an easy to reach preload adjuster. Better both on and off-road, the suspension is both more comfortable and controlled.
---
---
Helping to make the adventure bike even more versatile, the reinforced-plastic 23-litre twin tanks offer a massive 450-500km fuel range. Their width offers a wind break for the legs, to aid comfort and the ability to help travel non-stop between fuel stops. Twin filler caps slow down the full filling process, though they are linked so the fuel load will be balanced in time.
---
---
Still welded onto the main frame, seat subframe damage could be an expensive crash repair. A bolt on arrangement would be better, as it would be for the exhaust end-can hanger. Yamaha claims it can be bent back as easily as it's pushed in following a fall. 
A range of accessories including luggage, crash protection, fog lights and centre stands will also be on sale. Three accessory packs – Explorer (alloy panniers, centre stand, heavy-duty sump guard, narrow screen and extender), Adventure (panel guard, front guard, soft panniers, LED fog lights, side stand extender), and Enduro (higher front mudguard, radiator and chain guards, side grip pads, stronger sump guard, chain guard), can also be purchased to make your new Ténéré 700 World Raid even more versatile and capable.
---
Read our KTM 890 Adventure Review here…
---
Closest rival – KTM 890 Adventure R
More costly perhaps, but given its higher-spec, the KTM can be seen as offering greater value than the Ténéré. The 890 is over 30bhp more powerful, and has a greater number of electronic rider aids, including lean-sensitive, switchable traction control, and ABS. Like the Yamaha it's tall, and unless you're an expert, is big and heavy enough to need easier off-road routes. Versatile, and very capable both on and away from the road, it's not quite as simple in design or reliable as the 700.
---
2022 Yamaha Ténéré 700 World Raid Specifications
Price: TBA in Australia
Claimed Power: 54kW[72hp]@9000rpm
Claimed Torque: 68Nm[43ft-lbs]@6500rpm
Wet Weight: 220kg
Fuel capacity: 23L
---
Engine: Liquid-cooled, DOHC, inline-twin, four-stroke, four-valve, 80 x 68.6mm bore x stroke, 689cc, 11.5:1 compression, lightweight one-piece two-into-one exhaust
Gearbox: Six speed
Clutch: Wet, multiple disc
---
Chassis: Tubular steel twin cradle
Rake: 27°
Trail: 104mm
Suspension: 43mm KYB forks, fully adjustable, 230mm travel (f), Fully adjustable KYB rising-rate shock, 220mm travel (r)
Brakes: 282mm rotor(s) (f), twin-piston Brembo calipers and conventional master-cylinder, 245mm rotor (r), single-piston Brembo caliper
Wheels & Tyres: Spoked alloy wheels with Pirelli Scorpion Rally 90/90 – 21in (f), 150/70 – 18in (r)
---
Dimensions 
Wheelbase: 1595mm
Seat height: 890mm
Ground clearance: 255mm
Overall width: 905mm
Overall Length: 2370mm
Overall height: 1490mm
---
Instruments: 5in TFT Dash
---

2022 Yamaha Ténéré 700 World Raid Gallery
---

The Verdict | World Launch: 2022 Yamaha Ténéré 700 World Raid