Seven years after it launched into the Global Market with a thump, the loveable Himalayan is new for 2024. We head to the Himalayan Mountains to test the new 450… Pics: Tom Fossati, RE
Adventure comes in all shapes and forms. For us motorcyclists, it comes on two wheels. The holy grail is a magical place that this bike is named after. Royal Enfield have launched the new Himalayan in the Himalayan Mountains, and we were there to take part… 
The all-new Royal Enfield Himalayan 450 is ready to hit the showroom floors, and you can believe the hype; this new Himalayan is an adventure bike in every sense. The original Himalayan has been available since 2016 (2017 here) and was the first Royal Enfield model to veer away from the traditional Bullet platform. Considering it was developed with the Indian market in mind, it has become hugely popular worldwide, especially in Australia. A trusty steed that can traverse varying terrain, the original Himalayan is celebrated for its low price and lack of intimidation.
---
---
With early teething issues actioned and numerous improvements over the years, the Himalayan has asserted itself as a reliable entry-level adventure tourer, especially among new/learner riders. The most deafening cry from riders was the need for more get up and go, especially for overtaking and longer highway stints, and the all-new Sherpa 450 powerplant is proof that Royal Enfield has heeded the call. And what better place on earth for the global launch of the new Himalayan than the spectacular Himalayan mountains?
---
The original Himalayan has been available since 2016 and was the first Royal Enfield model to veer away from the traditional Bullet platform…
---
'Base Camp' is nestled among the mountains in the Manali Valley, around 2000 metres above sea level, and the atmosphere is ethereal. Festoon lights set the scene, and temporary tents house new Himalayan motorbikes, the engine, chassis, accessories, riding gear/merchandise, food stalls, and a couple of bars. Highly immersive, we are treated to presentations from various Royal Enfield design team members keen to share how the new Himalayan came to fruition. The pedigree of the British design team is first-rate, and their passion is intoxicating.
---
---
Born in the Himalayas, this motorbike is intended to be adaptable to an environment that is constantly changing rather than conquer it. Siddhartha (Sid) Lal, Managing Director of Royal Enfield and CEO of Eicher Motors, has been credited with reviving the Royal Enfield brand since taking the reins in 2000. He is an avid rider and hands-on with each stage of a motorcycle's development. He rode with us all launch, then packed up a bag and headed off for a five day solo adventure ride through the mountains the day we departed. That's dedication from a boss!
---
Read our Himalayan 411 review here…
---
Reflecting on his strong connection to the Himalayas, Sid points to his parents' house in the distance. In describing the new Himalayan's agility and robustness, he uses Bruce Lee as an analogy, and I'm sure this will resonate with anyone who takes this motorcycle for a ride. The Himalayan proves that you don't need a 250kg+ adventure bike with 150Nm to have a good time.
It is surprising and impressive to learn that the new Himalayan has been in pre-production since 2016. English engineers and designers lived with prototype bikes in varying stages, using them for daily commutes and weekend green laning. Factory test riders have also bestowed pro-level punishment on these machines, ensuring both ends of the spectrum are catered to. This is all in addition to the endless hours of testing taking place in the Himalayas.
---
Factory test riders have also bestowed pro-level punishment on these machines, ensuring both ends of the spectrum are catered to…
---
Royal Enfield has managed to retain the ethos of the original Himalayan – capable but not intimidating. Taking everything great about the original bike and building on it, adding nothing without necessity, the contemporary result is pleasing. Appearance-wise, the new Himalayan looks more athletic than its predecessor. The skilfully shaped fuel tank holds 2L more and looks much sleeker than that on the previous model. The front-mounted air intake is higher, improving water crossing capability, and its repositioning resulted in a narrower mid-section.
---
---
The all-new Sherpa 450 engine boasts decent power (40hp from 24hp) and torque gains from the LS 410 fitted in the previous Himalayan (40Nm up from 32Nm). It is accompanied by electronic fuel injection, ride-by-wire throttle, slip and assist clutch and a six-speed gearbox. The single-cylinder is tilted, allowing the front wheel to tuck in neatly, as well as distributing the weight centrally and low.
The improved suspension consists of 43mm SHOWA SFF forks, with preload in one fork and compression in the other. SHOWA rear linkage system with rising rate, Monotube unit with integrated separation piston 200mm travel offering longer travel of 200mm at the front and rear, and ground clearance has increased from 220mm to 230mm. The new Himalayan rolls on a dirt-friendly 21in front wheel and 17in rear wheel. The rear tyre is a 140 instead of the 120 on the old Himalayan, which should improve highway stability.
---
---
A technological step forward is the TRIPPER Dash, which has streamlined the cluster into a single, round 4in TFT display. It contains all necessary information in one small screen, and its shape is reminiscent of the analogue speedo displays associated with the classic style of Royal Enfield motorcycles. The headlamp and integrated taillight are all LED.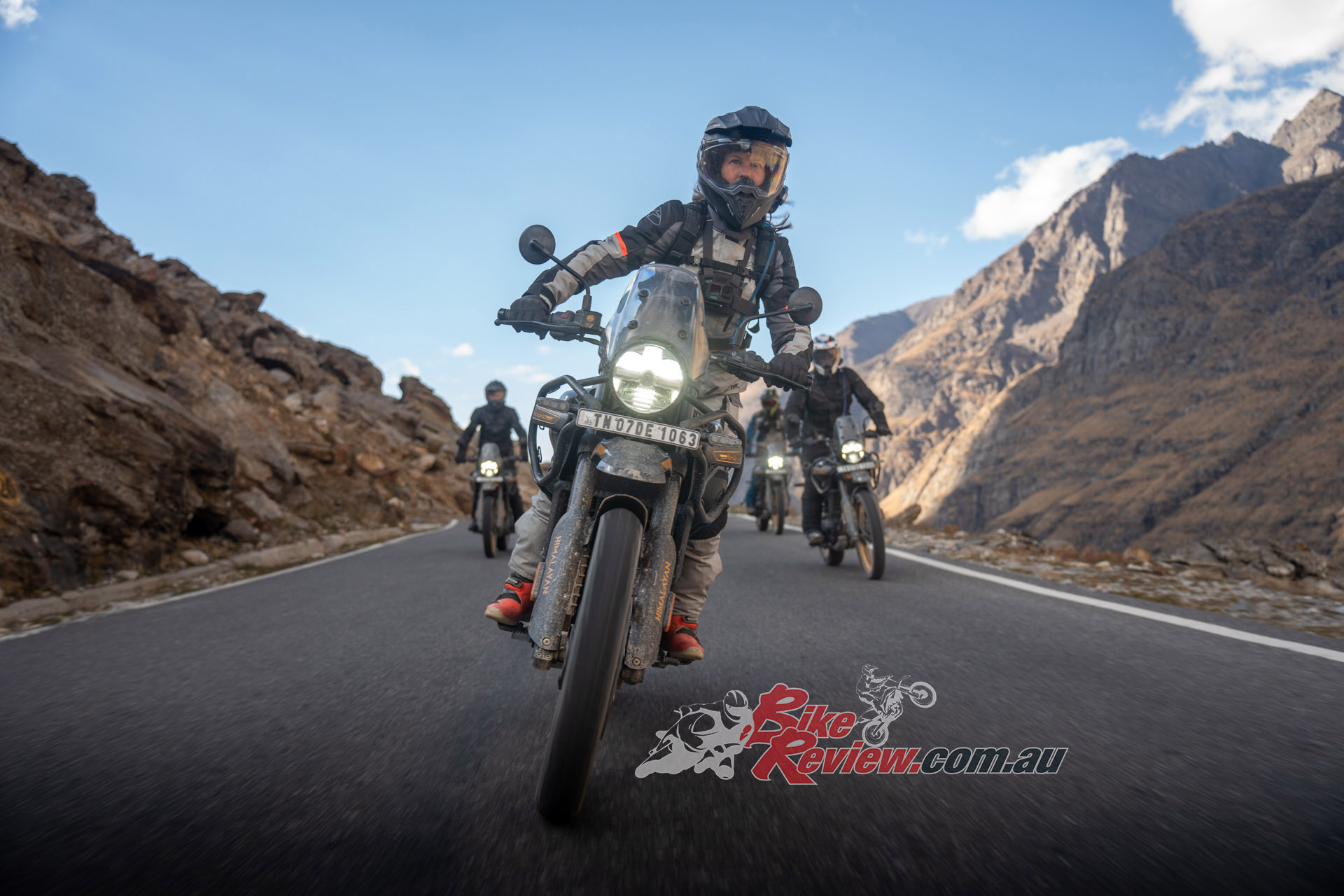 THE RIDE
Day one – Manali to Tindi (276km tarmac and dirt)
Firing up a brand-new Himalayan for the first time became a highly anticipated moment. Until now, we've been teased by the 60-odd brand-new Himalayans lining the stone road at base camp while we filled our bellies with amazing food and our brains with technical information. A simple turn of the ignition key brings the TRIPPER Dash to life, and a push of the starter button fires up the engine.
The navigation kicks into action via the iPhone provided by Royal Enfield, and instructions are clearly audible through my Bluetooth headset. I figure out how to toggle between the navigation and music via the joystick control but decide to stick with navigation and road noise on day one.
---
---
Rolling out of base camp at walking pace brings the Himalayan's well-balanced chassis to my attention. The steering lock is generous, and the mass is centralised well, resulting in impressive low-speed agility. I fit the bike well as a shorter person. It's also an excellent opportunity to test the clutch/throttle/gearbox relationship as we stop/start our way out into the wild unknown. The lightweight clutch operation is sleek, as is the throttle action, and the engine responds instantaneously. The new Himalayan already feels more refined than its predecessor.
Navigating our way through narrow lanes out of town, the terrain immediately varies. There are short sections of bitumen riddled with potholes and covered with white mountain dirt, so narrow we must run right off the edge to avoid oncoming vehicles, and the Himalayan doesn't bat an eyelid. We make our way onto the main road, and things clear up momentarily. The road improves, but now we have multi-directional traffic and animals to contend with.
Lorries are everywhere, and most commuters try to pass them at first opportunity. It seems unbelievable at first, but with each kilometre comes some local wisdom, so we play follow the leader, threading the needle between cars, trucks and cows. With my focus solely on my immediate surroundings, it takes me a while to realise that we are climbing higher and higher up a narrow mountain road, where we reach our first destination, the Grease Moto Club in Sissu.
After taking in the views and enjoying a coffee, we're on our way, climbing higher up the mountain as the Chenab River shrinks below us. The roads really start to deteriorate from here on in, and this is when the Himalayan starts to impress me. The first few sketchy sections implore an element of caution as I'm yet to test its capabilities. But as I clock up kilometres and corners, my confidence grows exponentially.
Large potholes and rocks are easily avoided if I see them soon enough, as the Himalayan has the agility of a snow leopard. Standing and bracing with my knees is enough to settle things if I don't spot hazards in time. The 43mm USD SHOWA Separate Function Forks do a terrific job on a bike this size/weight, as does the SHOWA shock. The CEAT tyres hook up nicely, making dirt corners hugely enjoyable. I feel well connected to the front wheel thanks to the intuitive feedback. By the time we reach Tindi, we've carved up 130km of windy, sketchy roads, and I'm blown away by how little I have fatigued.
---
By the time we reach Tindi, we've carved up 130km of windy, sketchy roads, and I'm blown away by how little I have fatigued.
---
After a riverside snack, it's time to hit the dirt section. With a fun little river crossing early in the piece, it's straight into it. The track is primarily white mountain dust, riddled with well-camouflaged rocks, holes, and some wash-out style jumps. It also wraps itself around the side of a cliff with a sheer drop to the river (surely 100m at times) that would result in certain death if I topple over. This realisation dawned on me when I hit a rock and almost lost the front trying to make a right corner. "Don't look down, you fool", were the words on repeat in my head for the next two corners until I gained some composure and pushed on.
I found the suspension's limitations on several occasions, bucking myself upwards of the handlebars, and I was able to correct my course with the greatest of ease. The Himalayan's narrow midsection gives it a dirtbike feel, as does its weight distribution, and the compliant chassis behaviour tops it off nicely. Removing the rubber inserts from the footpegs for the return dirt section offered better grip.
---
---
The engine's revvy nature and torque character strikes a fantastic compromise between road and off-road riding, as does the six-speed gearbox, resulting in tractable power in all conditions. The road section back to base camp provides an excellent opportunity to put the Himalayan through its paces, and I've gotta say, this is a difficult bike to fault. The brakes perform better than I had hoped, considering there is only a single disc on the front, they are powerful and have good modulation, while the back is strong, both ends have sintered pads. The suspension keeps things beautifully composed through all cornering/braking/accelerating situations.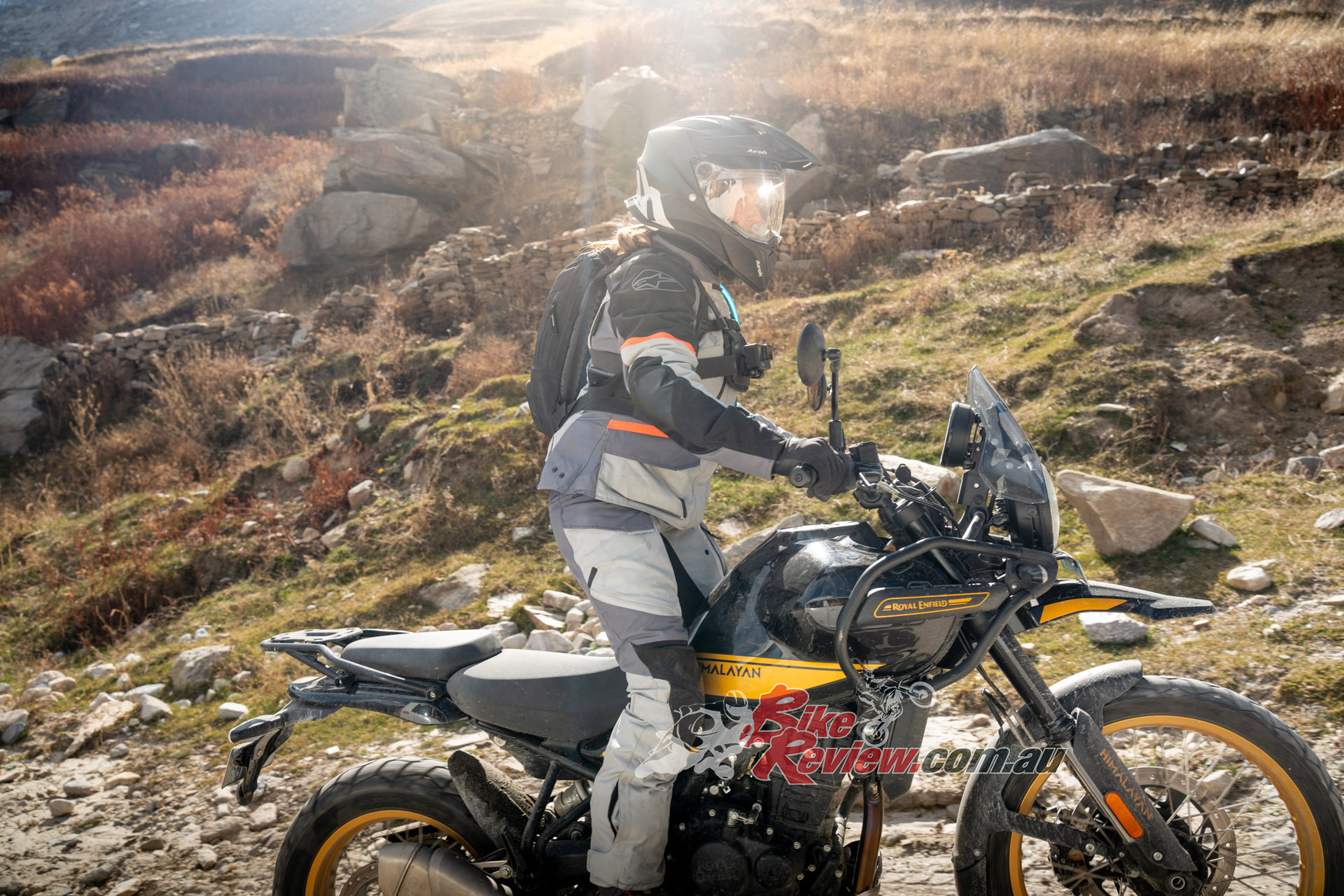 Day two – Manali to Chhatru (112km)
We are travelling much fewer kilometres today, heading in a different direction to the village of Chhatru. By now, the new Himalayan feels like my favourite pair of well-worn boots, and the familiarity breeds confidence. We breeze through countless twisties on broken bitumen roads as I try to take in the high-altitude desert landscape at every opportunity. We veer off what is left of the bitumen and descend a dirt section that leads us to a serene valley. We play trials and enduro here for a couple of hours, with some rocky creek crossings, before stopping for lunch by the river.
Today, I mostly use performance mode with rear ABS switched off. Switching between modes is a simple task via a switch on the right handlebar. It's so simple that it can be tapped accidentally, so it's worth checking the screen now and then to ensure you're in the correct mode. Eco mode might be beneficial if you're riding in torrential rain at sea level, as it knocks off a noticeable amount of power, but performance mode is my go-to.
---
The new Himalayan has the spirit of a proper adventure bike that has been scaled down for accessibility, with a nice sprinkling of technology.
---
Though rare, the few times I can hold the throttle open in sixth gear for an extended period satisfies me that the new Himalayan will be a much more enjoyable highway bike than its predecessor. Where the old bike felt fluffy, the new bike feels crisp, even with the 30 per cent performance deficit we were told to expect due to the altitude, so I'm especially keen to ride a new Himalayan at sea level. The bike isn't the only one showing signs of altitude weariness. Headaches are common among my fellow riders, and we are all getting easily puffed. I even got a nosebleed the morning we were leaving Manali.
The new Himalayan has the spirit of a big bore adventure bike that has been scaled down for accessibility, with a nice sprinkling of technology. It could have more technology, sure, but Royal Enfield has achieved what they set out to do by making the new bike more exciting than its predecessor and are steadfast that this motorcycle remains an approachable option for various riders.
With the original bike's ruggedness intact, the new Himalayan is a well-proportioned, intuitive motorcycle and offers a light-hearted choice for budding adventure riders. We await pricing. We've focussed more on chassis and ergonomics here, due to the altitude deficit, and we look forward to local testing at sea level to fully explore the Sherpa engine.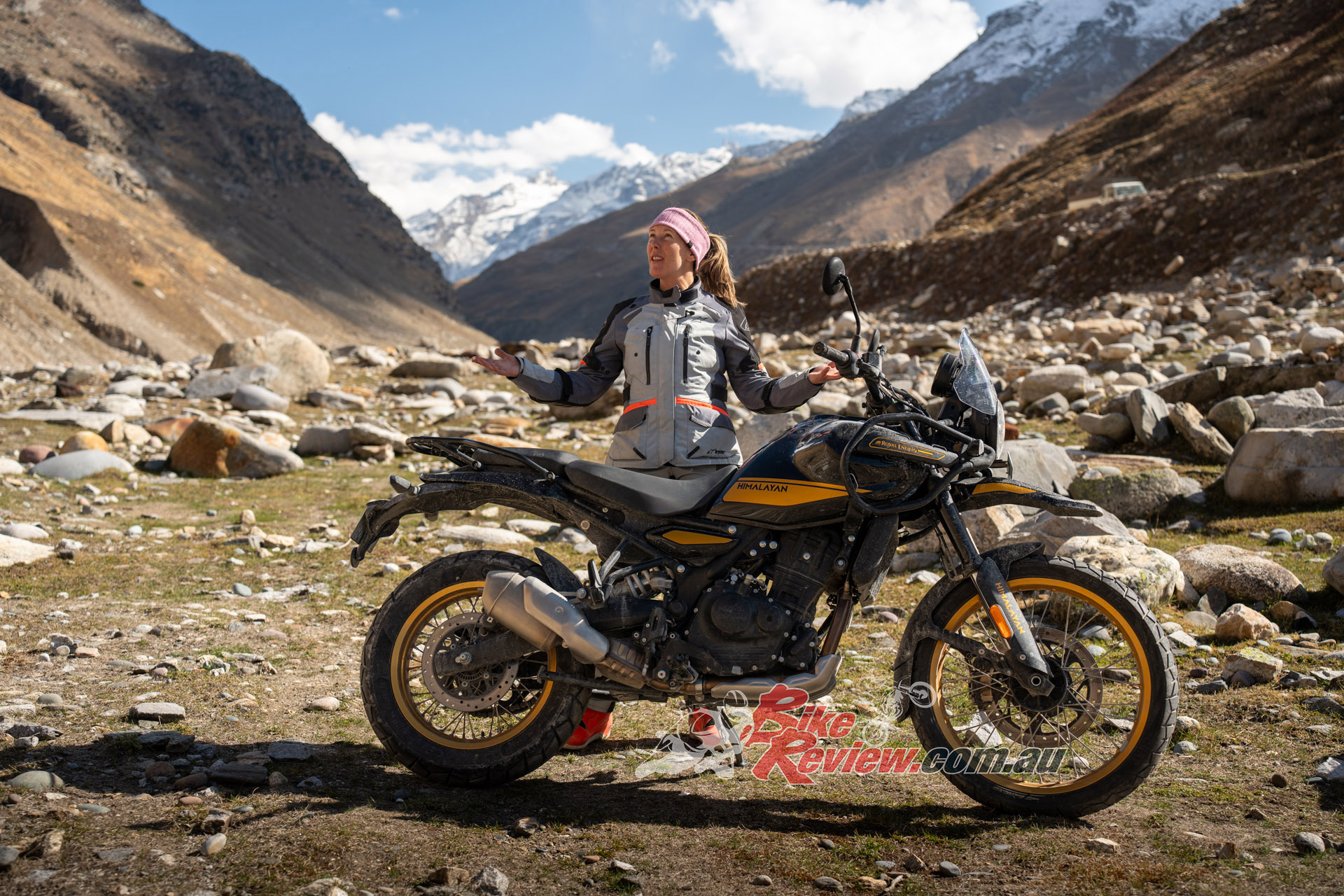 TECH TALK
ENGINE
The all-new Sherpa 450 is a liquid-cooled 452cc single-cylinder engine, DOHC, four-valves. Compared to the LS410, which powered the old Himalayan, the high inertia Sherpa 450 engine enjoys a 65 per cent increase in peak power, 25 per cent increase in peak torque (40Nm@5,500rpm), and 25 per cent increase in max engine speed, and is also 10kg (20 per cent) lighter.
In addition to electronic fuel injection with a 42mm throttle-body, these figures are achieved via a plethora of improved components including, but not limited to, high performance rare earth magnets in the ACG and starter motor, thin wall aluminium castings (thinner and lighter than the LS410), alternator is 418 watts (up 44 per cent from the LS410), forged piston and plated aluminium barrel (lighter), and the dry sump system allows the crank to be positioned very low, so there is no need for an oil sump under the crank. The engine is tuned to provide a generous range of torque, with 89 per cent of torque at 3000rpm.
---
---
The Sherpa 450 engine is a stressed member of the frame, eliminating frame railings and shaving off some chassis mass. The cylinder is angled, which helps keep the mass low and forward. Air intake is high (with paper airfilter), so fuel flows below it, further assisting with mass distribution while making crossing water a fun prospect. The cat box is positioned as low as possible, towards the back.
The power curve is linear from the 1300rpm idle, and when peak power is reached at around 5,500rpm the curve heads in much the same direction on the way back down, rather than the cliff-drop curve on the LS410. Riders can expect to get at least 450km fuel range from a full tank. Our altitude resulted in a 30 per cent loss in power (40hp to 28hp), but it was still noticeably more responsive and powerful than the LS410. Fuelling is via a RbW throttle and 42mm single throttle-body.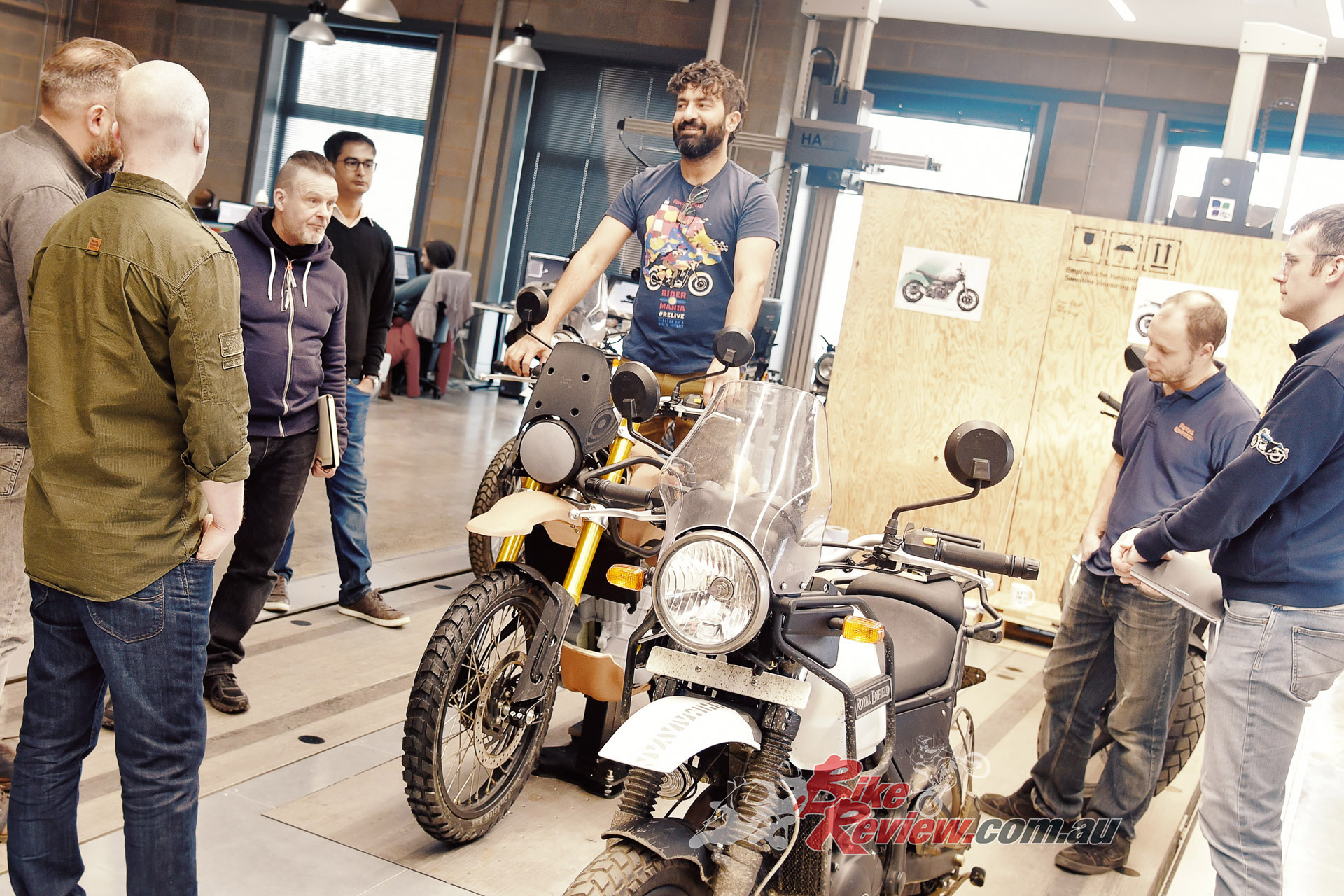 CHASSIS
Steve Everett, lead industrial designer, reflected on how lucky the team were to get an early period without interference while shaping the engine and architecture of the new Himalayan. Royal Enfield's 2015 acquisition of Harris Performance, expert manufacturers of high-performance frames and components for over 40-years, is a testament to their commitment to quality, and the Harris Performance chassis on the new Himalayan consists of a steel twin-spar tubular frame and swingarm. The Himalayan's pleasing handling capability comes from the cooperative relationship between the strong frame and quality suspension package.
---
---
The front of the Himalayan enjoys a set of 43mm upside down SHOWA Separate Function Forks (SFF), with integrated hydraulic bottom control, and 200mm travel. The rear end is kept under control with the help of a SHOWA Linkage system with rising rate, Monotube unit with integrated separation piston, with preload adjustment, and 200mm travel. Brakes consist of a 320mm front disc and a 270mm rear disc, both with an axial floating Bybre caliper, with sintered pads, and are ample for the Himalayan's power and weight. The switchable ABS allows the rear ABS to be disengaged from the rear brake.
Seat heights can be adjusted without compromising suspension thanks to two seat options. The standard seat height is 825mm, and can be raised to 845mm, and the low seat sits at 805mm, and can be adjusted to 825mm. There is also an optional rally seat for serious off-roaders and taller riders.
ELECTRONICS
Phone connectivity is becoming a customer expectation these days. So how does a 120-year-old brand, known for its classic motorcycles and analogue gauges, go to a full digital display? Royal Enfield essentially turned itself into a hardware company in order to develop a simple, elemental solution. Already available on the Meteor 350 and Scram 411 as a complementary pod to the regular dash, it took over 12 iterations until the team settled on the current version of the TRIPPER Dash.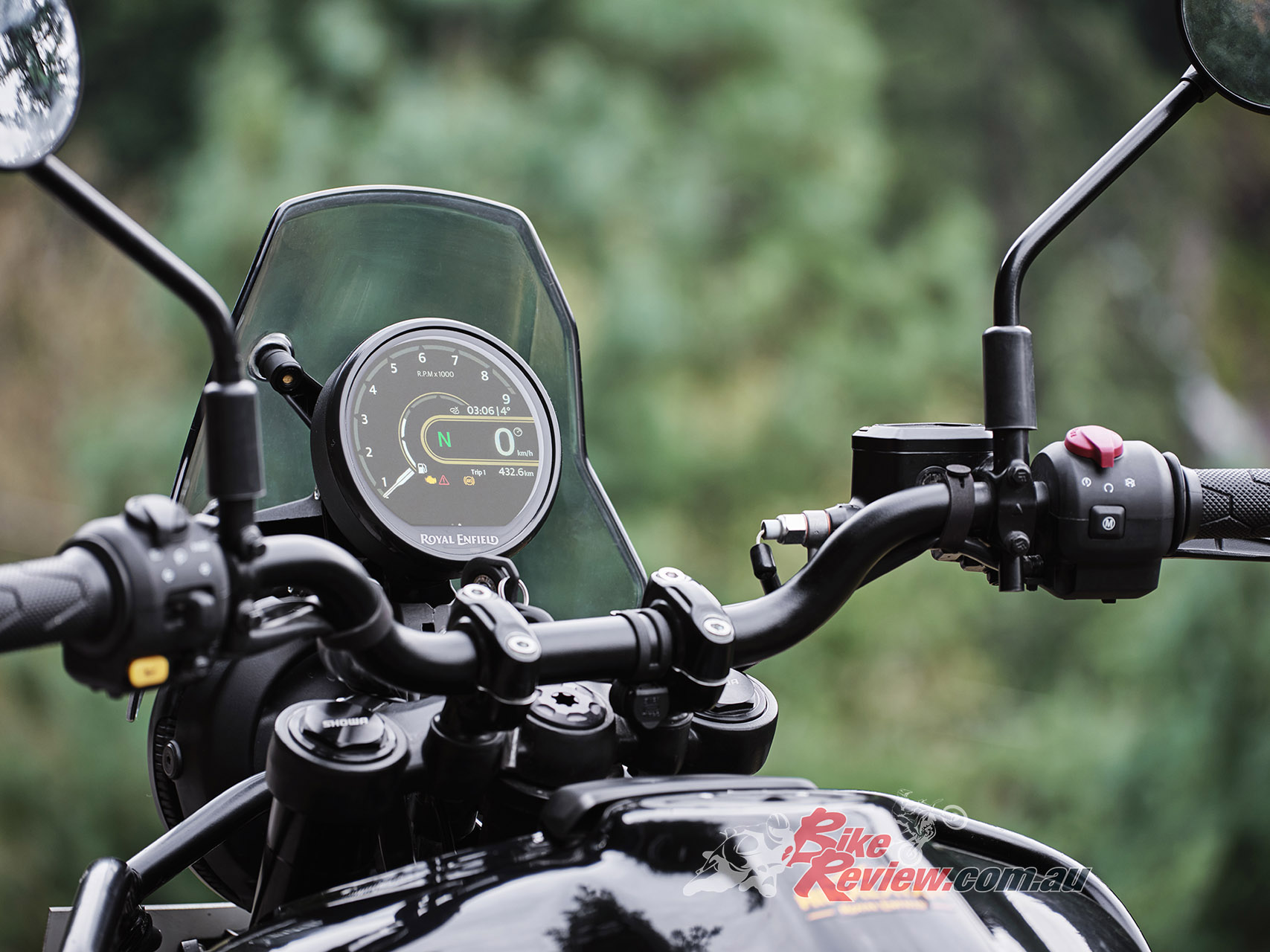 Keeping with an analogue shape, the 4in round TFT display contains full map navigation via Google Maps, and phone connectivity, including music. All functions can be toggled easily via switches on the left handlebar, as well as the joystick control. Its streamlined form ensures minimal distraction from the ride experience. There is also a USB type c charging point below the handlebars. Riders can choose between performance and eco ride modes, performance being unhindered and eco has reduced throttle response, and there is an option to switch off rear ABS in both power modes.
STYLING
The new Himalayan's agility goes hand in hand with its more athletic appearance. It is long and lean, but it still has a rugged seat. The seats are subtly separated, and the front seat flows onto the tank neatly, giving it a gentle hug. The tank preserves an element of robustness from the previous Himalayan.
---
---
Each colour variant has an element of inspiration from the Himalayan region. For example, Kaza Brown contains a glittery fleck like the roadside stones and desert sand, Poppy Blue is inspired by the Himalayan poppy, Himalayan Salt contains pink accents, Hanle Black is fiercely Royal Enfield, with a gorgeous gold fleck in the black paint, and Kamet White replicates snow melting with patches of stone showing, as well a camouflaged snow leopard.
---
---
ACCESSORIES
Accessory options include an adventure screen, headlight grill, black rally handlebar pad, touring mirrors, radiator guard, large engine guards, and a rally seat option for serious off-roaders. Hard luggage options include an adventure top box, adventure box mount, adventure panniers.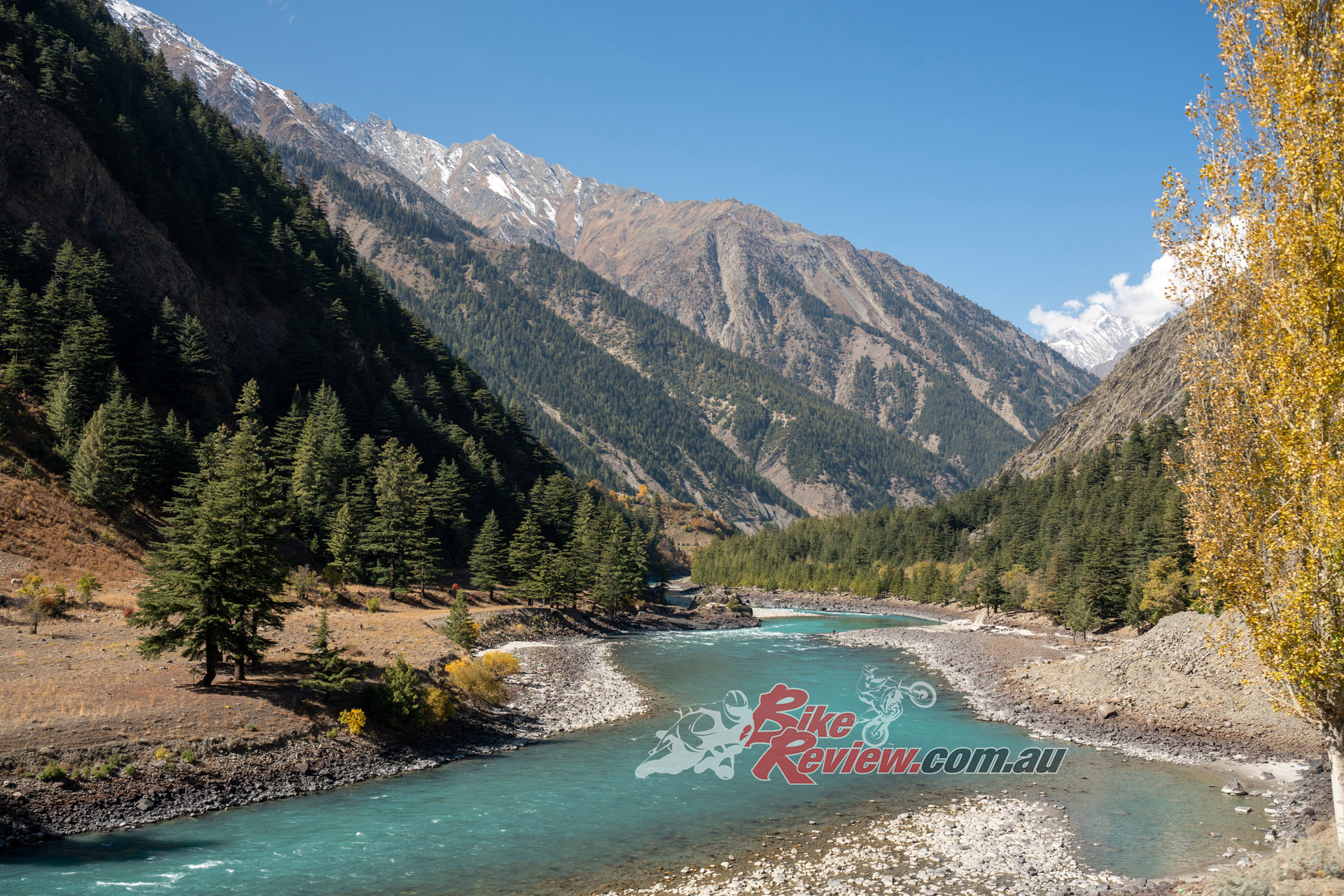 2024 Royal Enfield Himalayan 450 Specifications
Price & Availability: TBA
Warranty: TBA
Colours: Kazza Brown, Poppy Blue, Himalayan Salt, Hanle Black, Kamet White
Claimed Power: 29.44kW(40.2hp)@8000rpm
Claimed Torque: 40Nm@5500rpm
Claimed Fuel Consumption: N/A
Claimed Fuel Range: 400 + KM
Wet Weight: 196kg
Fuel capacity: 17L
---
Engine: Liquid-cooled DOHC single-cylinder four-stroke, four-valve head, 84mm x 81.5mm bore x stroke, 452cc, 11.5:1 compression ratio, EFI with 42mm throttle-body, semi dry sump, wet multi-plate slipper clutch, six-speed gearbox
---
Chassis: Steel twin spar tubular frame and sub-frame.
Rake: N/A mm Trail: N/A mm
Suspension: SHOWA Seperate Function Forks, non-adjustable, 200mm travel (f), SHOWA monoshock, preload adjustable, 200mm travel (r).
Brakes: Single semi-floating 320mm brake rotor, two-piston caliper (f),
Single 270mm rotor, single-piston caliper (r). Dual Channel switchable ABS.
Wheels & Tyres: 90/90 – 21 (f) 140/80 – 17 (r) CEAT adventure tyres, Aluminium Excel spoked tubed wheels (tubeless currently in development).
---
Dimensions:
Wheelbase: 1510mm
Seat height: 825 – 845mm standard (805 – 825mm low option).
Ground clearance: 230mm
Overall width: 852mm
Overall Length: 2245mm
Overall height: 1316
---
Instruments & Equipment: Ride Modes, TFT dash, ABS.
---
Editor's Note: If you are reading this article on any website other than BikeReview.com.au, please report it to BikeReview via our contact page, as it has been stolen or re-published without authority.
---
2024 ROYAL ENFIELD HIMALAYAN LAUNCH GALLERY
---
The Verdict | World Launch: 2024 Royal Enfield Himalayan 450, On & Off Road