Yamaha's MT-07 is a premium learner option that'll thrill even experienced riders... Here's our Yamaha MT-07 LAMS review. Test: Kris Hodgson Photography: Josh Evans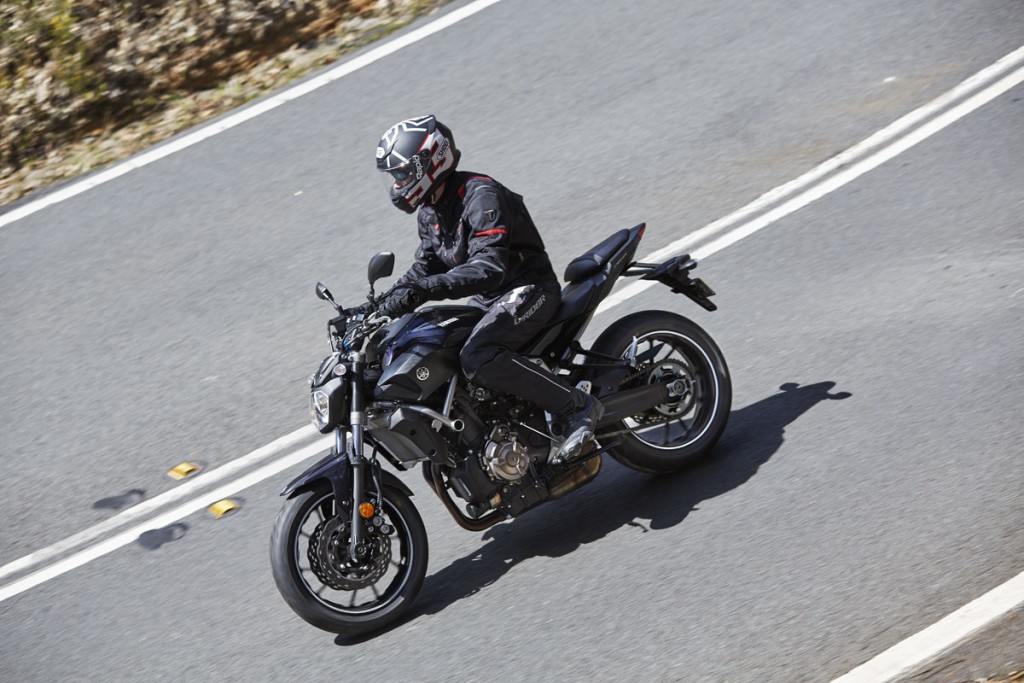 When I heard about Yamaha's MT-07 I was stoked to see what Australia would be receiving, as mid-weight nakedbikes are some of my favourite bikes, in fact when I first got my full licence I bought a Yamaha FZ-06.
According to Sean Goldhawk from Yamaha, the MT-07 is a capable machine that won't be an automatic upgrade as soon as that full licence rolls around and I was intrigued. When you start with an R15 after a couple of years you're well and truly ready for something a bit faster but what about an offering that – granted costs a bit more up front – but has the ability to carry you well into a full licence?
This is where the MT-07 well and truly comes into its own, with larger bike dimensions, great styling, plenty of go and really impressive build quality -the MT-07 is still produced in Japan unlike many of the more cost efficient offerings available from the other Japanese manufacturers.
The MT-07 has been designed specifically for the Australian and New Zealand markets and like it's larger sibling the MT-09 has been designed for rideability and road use, rather than peak power. This was further stressed by Sean Goldhawk who correctly pointed out that peak power figures are rarely a good indication of performance for a road bike, as let's be honest torque plays a larger role, with comfort and control major considerations.
With that said there's still plenty of impressive figures for those who like this kind of stuff, according to Yamaha in its class the MT-07 can boast the best power to weight ratio and the lightest weight, offering 52hp at 179kg wet, with a full tank of fuel and ready to ride. Torque of 57.5Nm as low as 4000rpm is also impressive as is a price tag of $8999 plus on roads.
The crossplane philosophy from the R1 and MT-09 has also been followed with a 270 crank in the inline two-cylinder, with forged pistons, direct plated cylinders and a single-axis balancer and rubber engine mounts help to reduce vibrations.
Whether you're a fan of the current fad of underbelly exhausts will probably colour your opinion of its adoption on this model but from a weight centralisation and heat reduction perspective (especially over underseat exhausts) the benefits are undeniable. Assisting in keeping weight low is the backbone type frame, consisting of high tensile steel tubing and holding the engine as a stressed member, with the tubing visible below the air scoops under the tank.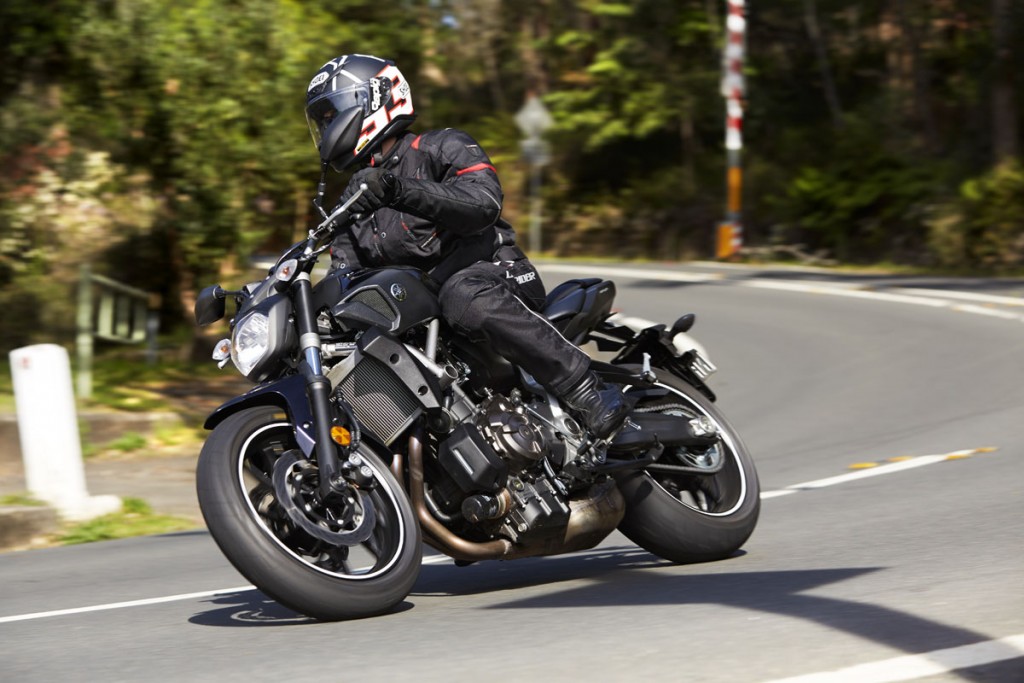 The swingarm is also a sexy asymmetric item that would look as at home aboard a sportsbike as it does on this learner, while a link-type Monocross rear shock and 41mm forks cover suspension duties, although only the rear shock is adjustable.
The front brakes are formidable, with dual four-piston calipers grasping stylish 282mm wave rotors on the front end, while a 245mm wave rotor on the rear is matched with a single-piston Nissin caliper.
Particularly for the price, the MT-07s specs are impressive but let's be honest – a bike needs to look good to catch punter's eyes and the MT-07 is certainly an eye catcher.
The wave rotors are certainly a nice touch, while styling is obviously derived from the MT-09, without being quite so angular or aggressive and – to my eyes – is a bit more proportionate, especially at the front end.
The thin, sporty tail is pleasing on the eyes, while the unusual rider seat is certainly something I haven't seen before but helps give the MT-07 a very thin profile behind the tank.
The air scoops, contoured front guard, minimalist headlight and flowing headers all combine to ensure the bike looks meaningful and cool, while jumping on proves the bike is very thin, with an ideal seat height and good reach to the upright bars. Vision through the mirrors is great, while the dash is easy to read and the front indicators are visible from your perch, meaning you're less likely to leave them on as an inexperienced rider.
Of course the true test is always how a bike will ride and this is often a massive hurdle as a learner, especially if you're not yet all that confident in your abilities, as you'll need to agree to pay a (normally exceptionally large) excess if you drop or damage a bike you want to test ride from a dealer.
With that said, it's well worth trying to get your hands on the MT-07 to see just what I'm raving about because this bike absolutely hammers!
We started off from Darling Harbour and did a few inner city photo stops before heading down the South Coast into the National Park, with the MT-07 proving an exceptional commuter in your typical heavy traffic.
The upright bars aren't so wide as to effect your ability to filter, while providing exceptional control and a real capacity to manoeuvre the bike through tight spaces, with the bike turning on a dime and allowing easy U-turns
To say the bike is agile at low speeds is an understatement but other than to say it would make a perfect inner city commuter it's hard to convey just how good the package is. I can only suggest it has 600cc-like go with 150cc-like weight and handling.
Heading down the Eastern Distributor also proved easy, with plenty of power on tap for navigating through traffic and getting away at the lights, while stability at low speed was really good for filtering when traffic came to a stop in the heavy morning traffic.
The real fun began when we reached the National Park though, where more generous speed limits let us stretch the bike's legs a bit more.
As promised the MT-07 is very torquey which means you aren't having to constantly navigate your way through the gearbox to find that sweet spot of power delivery. In fact torque is available throughout the rev range with plenty of pick up even from right down low in a much too high gear.
The gearbox and torque ensure the bike is very forgiving, meaning you can be exceptionally lazy with your riding when you aren't fanging around.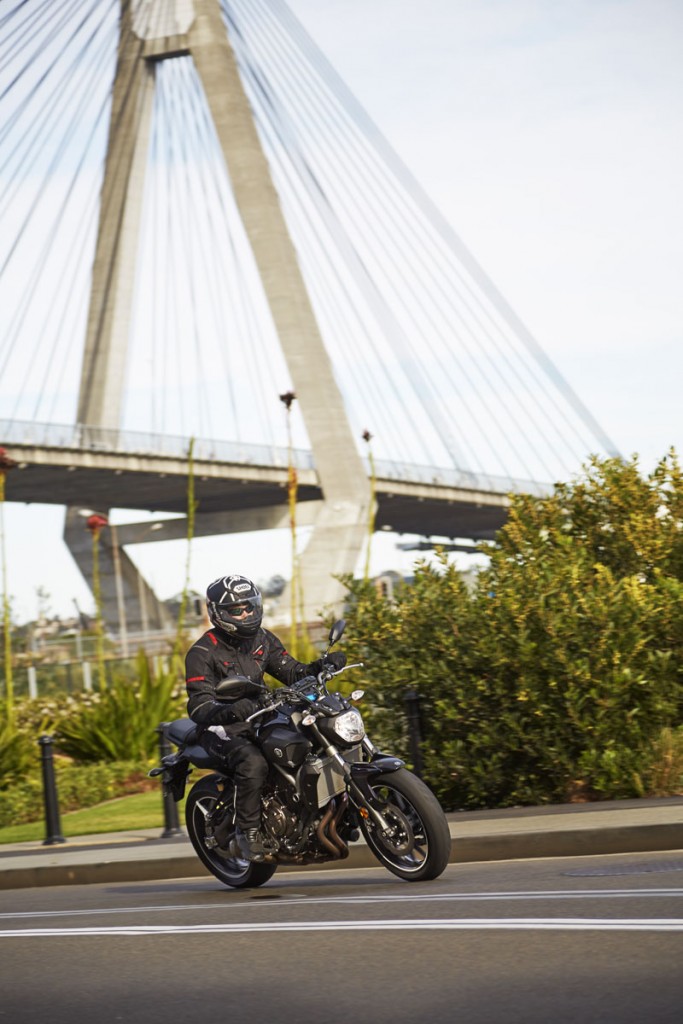 When you are fanging however, the bike is a joy to rev hard as it spools up quickly, with power on tap higher in the rev range to propel you through the twisties, while still remaining confidence inspiring and controllable.
Once the bike is howling along you can really take advantage of the full package – the suspension is exceptional, soaking up poor road surfaces, while transmitting great feedback and confidence to the rider. The suspension is relatively soft and plush but for my 75kg weight in riding gear I wasn't getting any wallow when hard on the gas, or any dive when hitting the anchors hard and was really impressed with the suspensions performance out of the box.
I did prefer the first bike I rode which was fitted with the Bridgestone BattlAx BT023R tyres, compared to the second which had the Michelin Pilot Road 3s, although it may just have been how the rear suspension was adjusted – I just had more confidence and feel through the Bridgestones and the bike seemed to track much better. This was just in the dry however.
For fanging through the twisties I found the MT-07s power delivery both intoxicating as well as controllable, in a weird mix that left me happy to keep pushing harder and quite surprised at the pace I was setting. It's actually hard to think of the MT-07 as a LAMS bike because at no point did I ever feel like the bike was restricted, with no throttle stop to constrain throttle movement, nor any sign of restriction via fuelling.
Revving the bike relatively hard for a twin-cylinder proved that Yamaha has done an exceptional job of keeping vibrations in check, while knocking it down a gear to take advantage of engine braking was an easy method of knocking off speed, with linear deceleration that didn't unsettle the bike in the least.
The brakes were also great, with the front four-piston calipers providing good bite and strong stopping power, while the rear was perfect for low speed control and washing off a bit of speed into corners.
Such was the linear and predictable delivery of power though that I found myself keeping the throttle open through all but the tightest of corners.
Heading back to Sydney I had trouble wiping the grin off my face, even when we hit heavier traffic, with the MT-07 totally surpassing my expectations, which is particularly impressive since I had just ridden its competition a few days earlier at our nakedbike comparo.
Priced at $8,990 plus on road costs the MT-07 is super competitive, with the specs, styling and performance to ensure it's a true winner. I definitely think it's one of the front runner big bore LAMS options currently available and would certainly provide plenty of thrills even for experienced or returning riders.
If you're thinking of getting a LAMS bike or getting back into riding, don't sell yourself short, make sure you try Yamaha's MT-07, you won't be disappointed.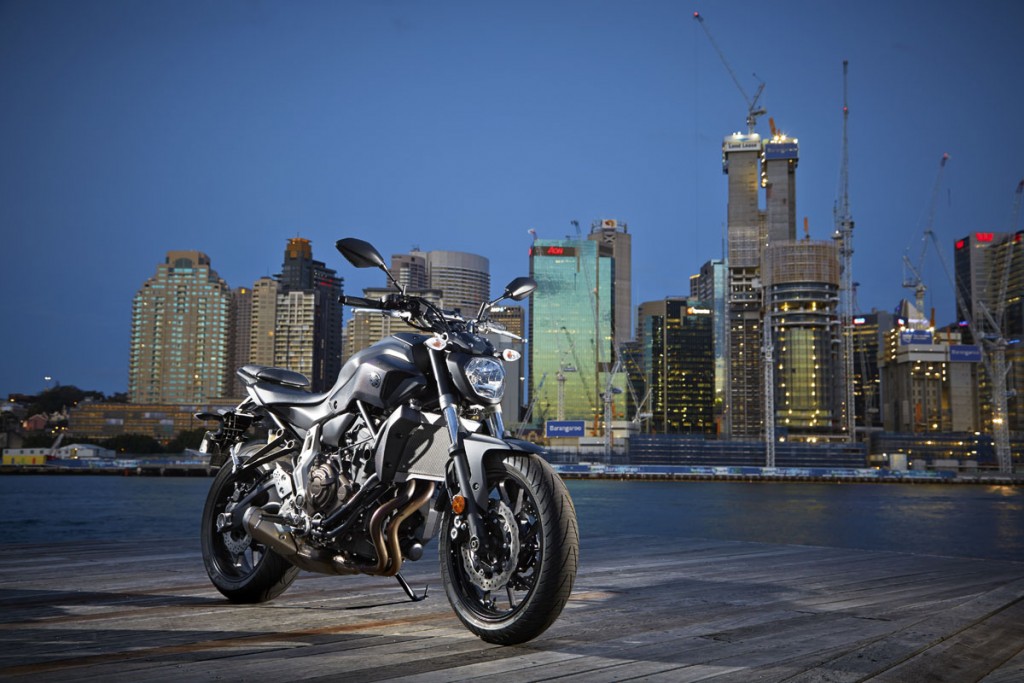 YAMAHA MT-07 SPECIFICATIONS
WARRANTY: Two year/unlimited kilometre
COLOURS: Competition White, Matt Grey, Deep Armour, Racing Red
CLAIMED POWER: 38.3Kw[52.1hp]@8000rpm
CLAIMED TORQUE: 57.5Nm[42.5ft-lbs]@4000rpm
CLAIMED WEIGHT: 179kg wet
FUEL CAPACITY: 14L
ENGINE: Liquid-cooled, DOHC, inline-twin, four-stroke, four-valve, 78 x 68.6mm bore x stroke, 655cc, 11.0:1 compression, lightweight one-piece two-into-one exhaust
GEARBOX: Six speed
CLUTCH: Wet, multiple disc
CHASSIS: High tensile steel tubing backbone-type frame, asymmetrical steel swingarm
SUSPENSION: 41mm front forks, 130mm travel, adjustable link-type Monocross rear shock
BRAKES: Dual 282mm front wave rotors, four-piston calipers, single 245mm rear wave rotor, single-piston Nissin caliper
WHEELS & TYRES: Lightweight cast aluminium 10-spoke, Bridgestone BattlAx BT023R or Michelin Pilot 3, 120/70-ZR17, 180/55-ZR17
DIMENSIONS: Seat height: 805mm, Overall height: 1090mm, Overall length: 2085mm Wheelbase: 1400mm
INSTRUMENTS: Bar mounted LED display