Review: 2016 Kawasaki Ninja H2 – Street, Track, Drags
Street, strip and track test on the mighty Ninja H2... Here's our full 2016 Kawasaki H2 review. Test: Jeff Ware Photography: Heather Ware
The River Mark has been used for special, history changing projects at Kawasaki since the 1890s and was approved for use on the H2… This bike is special. Very special. Very few Ninja H2s came into Australia – and all of them are sold. It's a real shame, as I want one badly after being given the opportunity by Kawasaki Australia to test the H2.
Before I headed to Kawasaki HQ I familiarised myself with the bike by reading the technical information in the press kit that was couriered to me by Kawasaki Japan the eve of the bike's world unveiling. Thankfully, the electronics, although comprehensive, are basic in operation so easy to use.
Kawasaki got it right with a basic traction control set-up for the user with just four settings to choose from (I used Mode 1 mostly), and a single step setting for engine brake reduction, it is all too easy to operate. As is the launch control, which has three modes to choose from.The quickshifter only shifts up, with no autoblip downshift.
No too much to learn aside from how to navigate the fantastic 'Man Machine' dash, as named by Kawasaki. The plan was a decent road ride out past Western Sydney, then an afternoon at Western Sydney International Dragway for test runs, speed runs and a shoot. Later I would head to Wakefield Park for some laps.
2016 Kawasaki Ninja H2 – The Ride
I hop on and familiarise myself with the bike. I'm surprised just how comfortable it is. It feels like a ZX-10R in a way, with a more upright riding position and a wider seat. As bulky as it looks, the H2 does not feel big when I sit on it. Everything falls to hand perfectly.
I fire the bike up like any other Kawasaki and it idles away very smoothly at 1000rpm. The dash is fantastic – large and readable not like the typical sportsbike unit. The tacho is huge and the digital LCD screen large. It shows speed, trip, boost, KTRC setting, gear, KENG and KQS on.
I grab first, ease out the clutch with a few more revs than usual, and get on with it.
After negotiating heavy traffic for an hour, where the Ninja H2 just behaved like any normal EFI bike, albeit with a snappy throttle, I'm finally able to let loose. The first time I take the revs above 6000rpm I'm on the M4 freeway and holy crap do I get a shock. I've ridden plenty of 200-horsepower bikes but none accelerate like this. It is the way the power builds, the way the torque is on tap, that gives the sense of 'pull'.
The sound of the supercharger is fantastic – the exhaust note, well, very lame! From 6000rpm to 8500rpm is a blur. I'm not game to take it further on the road when I have WSID at my disposal later…
I exit the freeway and find some country roads for a bit of fun. It looks like it would not get around a turn but the Ninja H2 is a very, very capable cornerer. With similar geometry to the ZX-10R, the H2 has the handling performance of a sportsbike and I'm really surprised at how it feels as I carve up some backcountry roads. The brakes are sensational – despite 330mm rotors and the best monoblock Brembo calipers available, the brakes are not overkill.
They are pulling up a very heavy bike (a ZX-10R is 208kg wet on the scales, some 20kg less than the dry H2 weight), so are just right. The brilliant KYB forks are something special and a standout to me – equally as much as that acceleration.
The forks have a completely different feel to any I have used. They are compliant; offer good spring support but on the brakes are sensational, particularly braking into a turn. The feel on offer from the front end is brilliant.
Change of direction is fast and direct, while support and compliance at the back is outstanding. The bike feels flat and balanced whether on the gas, the brakes, carrying rolling speed… it is planted and balanced. On most country roads you would be hard pressed to keep up with it on a ZX-10R or ZX14. And on the straight bits, forget it!
On the racetrack this machine truly surprises me. I rode it back to back with the 2016 ZX-10R at the World Press Debut held by Kawasaki Australia at Wakefield Park. On the H2 I lapped a fair bit slower than on the 10R, around 1:08s on the H2 verses 1:03s on the ZX-10R, however, I could have pushed another second out of it but did not want to risk it. The H2 accelerated quicker than the 10R but lacked the outright top end of the superbike and obviously the agility.
The H2 is, however, an incredibly good handling bike and the size of the machine is completely disguised by the sensational geometry, brakes and suspension. It can be thrown into a corner with aggression and steers fast and accurate both on and off the brakes.
In the turn the H2 sits on its side effortlessly with no sign of stand up and great front end feel. Off turns there is some very slight lag, which is electronic, then it fires off like a cannon! The KTRAC is brilliant and was popping all the way around Wakefield as I twisted the throttle open hard. I was stunned by the fantastic track performance of the H2.
The quickshift is smooth and accurate and clutch action also smooth and progressive. I did not touch the engine braking settings, I left it standard, and was happy with that.I try the different modes but go back to mode 1. I figure if I am going to ride the fastest production bike in the world, I want to ride it as fast as it can be not dummed down…
I leave the corners and head for longer, 100km/h zones in rural Western Sydney. The bike is comfortable, fast, and smooth and does everything right. Honestly, you could ride it around Australia…
Eager to explore the engine above 6000-8000rpm, I head to the drag strip and change into my full leathers, which were waiting for me at the strip.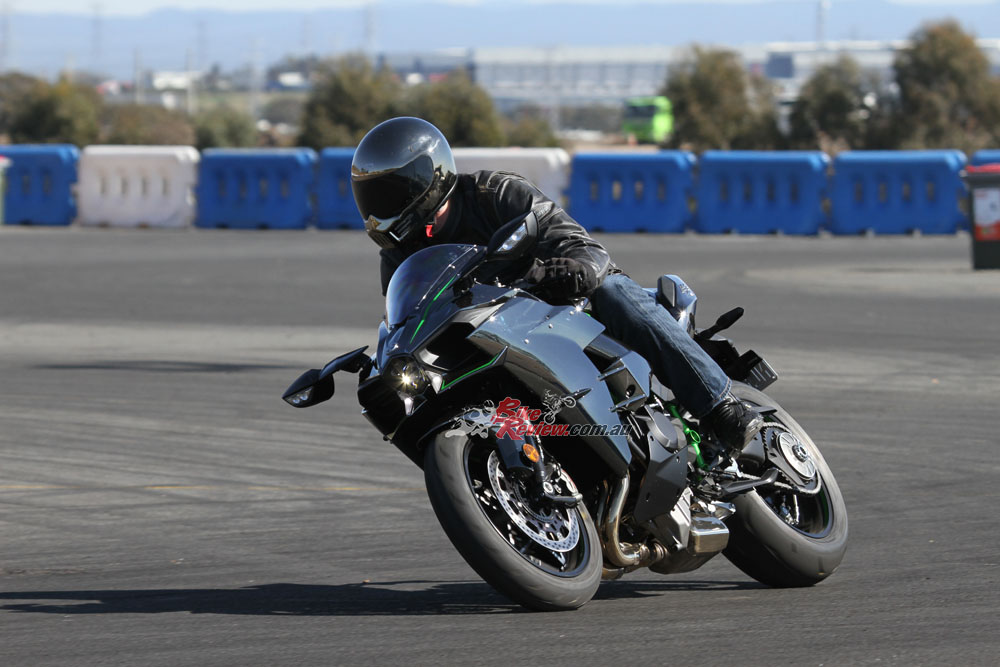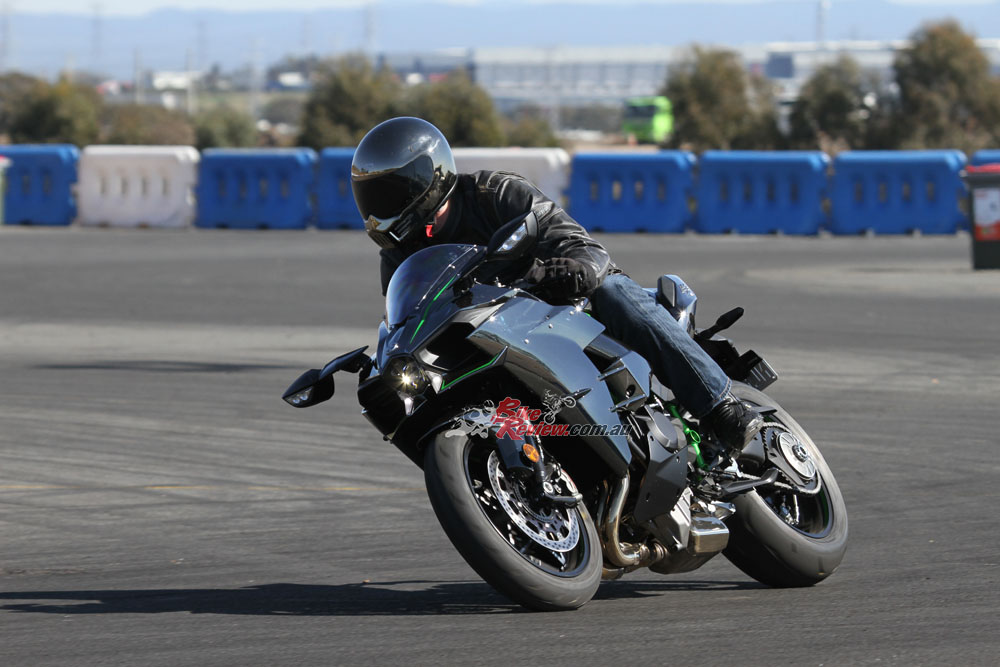 I head to the start line as soon as I get changed. For the first run I take off normally, just like I would from a set of lights on the road. I tuck down, short shift from first to second at 6000rpm, then from second to third at 8000rpm, and then I open it up in third. The tacho screams to 12,000rpm. I click up to fourth and the bike just keeps puling hard. I grab fifth at 10,000rpm and hold it flat before having to brake heavily. Phew. Man. This is quick…
I head back for another run. This time I launch harder. I shift at 10,000rpm to second. I do the same to third then fourth. I grab fifth briefly before braking very hard on the ABS. Holy shit. This is one fast bike…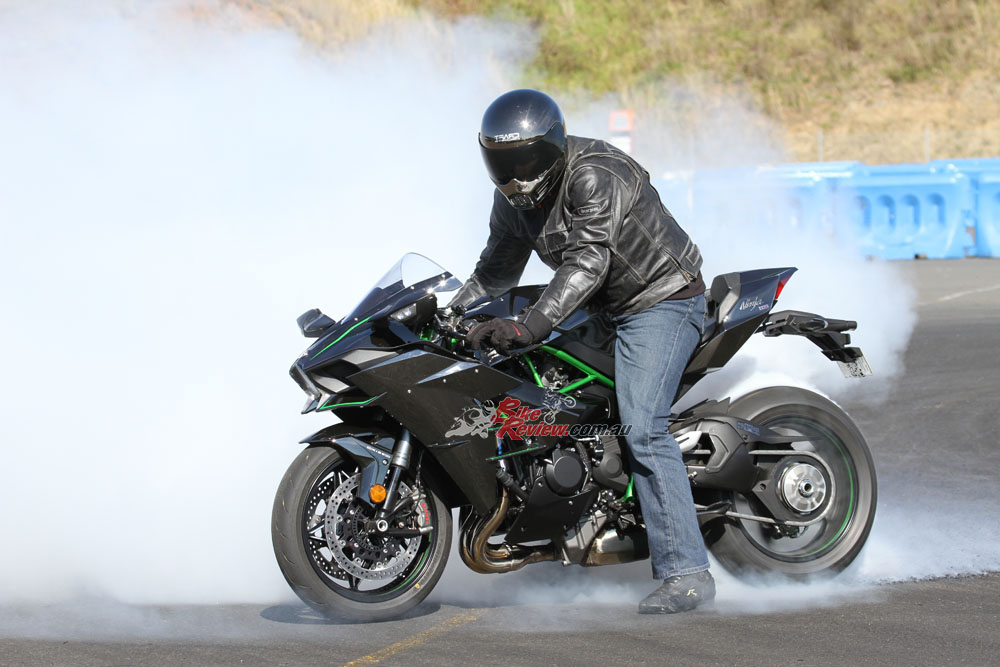 After another dozen runs, maxing out at around the 260km/h mark before having to brake, I head off to do some wheelies for the photos and of course a burnout. This meant turning off the KTRC. Wow. Did the Ninja H2 get wild? I do a few gentle second gear wheelies for the camera – it is effortless, just open the throttle basically.
I then have a bit of fun making smoke. The Ninja H2 lights up under acceleration in first gear, then spins through the next three gears, shredding the near new tyre. Wow…
I head back to the strip to try a few runs without the KTRC on. I forgot about the launch control sadly…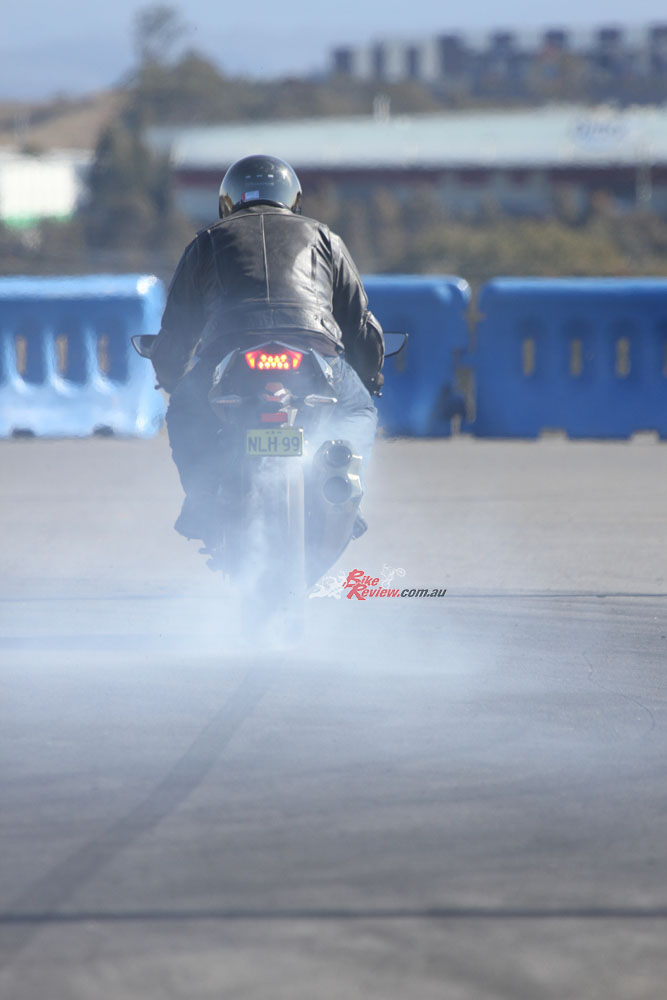 I dial up 8000rpm and launch hard. The Bridgestone hooks up on the prepped surface and the bike launches like nothing else. Head on the tank. Second gear and I can't go full throttle as the front is lifting. Third gear it is still starting to come up. Surely it won't in fourth so I snick fourth and snap the throttle to 100 pr cent. The front wheel launches skyward and I have to hit the rear brake while keeping the throttle on. I glance at the dash – 225km/h. On one wheel…
No production bike in the world will ever do that stock standard…
Surprisingly, this bike is not expensive. At $33,000 + ORC, it is on par with an up spec Ducati, MV or Harley. For what you are getting and the exclusivity of it, I would have expected to pay around $50k happily… and $100k for the H2R. What Kawasaki have done here is sacrifice profit to reach their faithful hardcore green blooded fans and make this bike within reach (yes it is a big reach but not impossible) to the average Joe. That is cool.

2016 Kawasaki Ninja H2 – Engine
The 998cc, 16-valve powerplant is all new, not a revamped ZX-10R unit, despite the obvious similarities and identical dimensions of 76 x 55mm. Supercharged engines like these generate a lot of heat and put huge demand on parts such as bearings, so the H2 lump was designed to put up with up to twice as much stress as a conventionally aspirated engine. Pistons are cast, rather than forged, to cope better with very high temperatures, and have flat tops to reduce compression to under 9:1.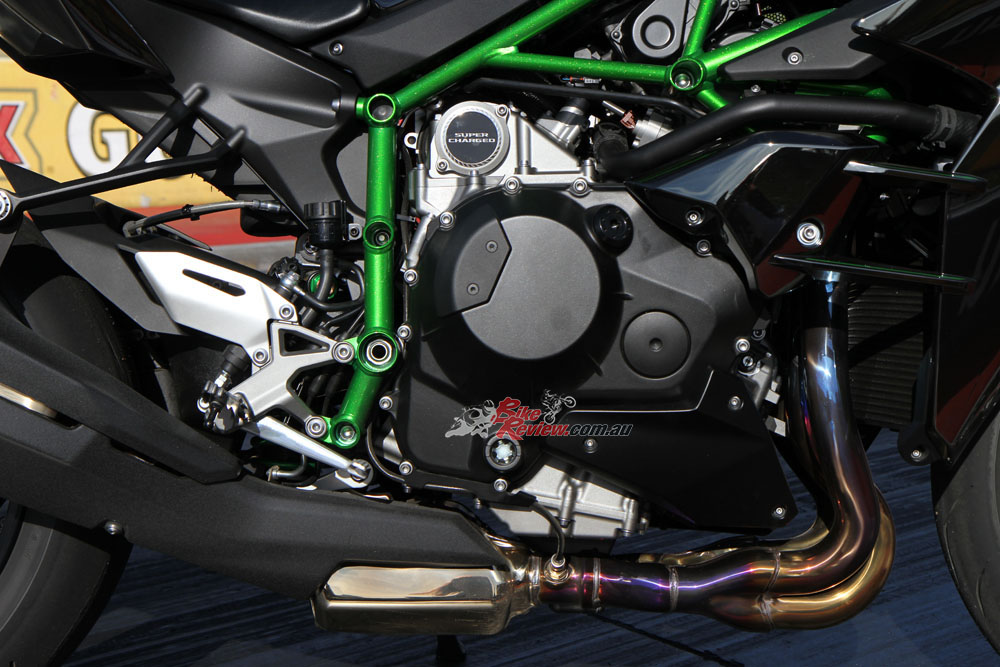 The all-important supercharger was designed specifically for this job at specialist divisions within the huge Kawasaki group of companies. It turns at 9.2 times the speed of the crankshaft, so at the maximum it's spinning at roughly 130,000rpm and cramming lots of mixture into the engine's combustion chambers. It's located behind the cylinders, generates 2.4 times atmospheric pressure and feeds a rigid aluminium airbox.
To withstand the extreme heat of the supercharged combustion the exhaust valves are made from two materials, Inconel and steel, that are friction-welded together at their centres. Kawasaki insists that the H2 can't be converted to H2R specification, though that might not prevent people trying.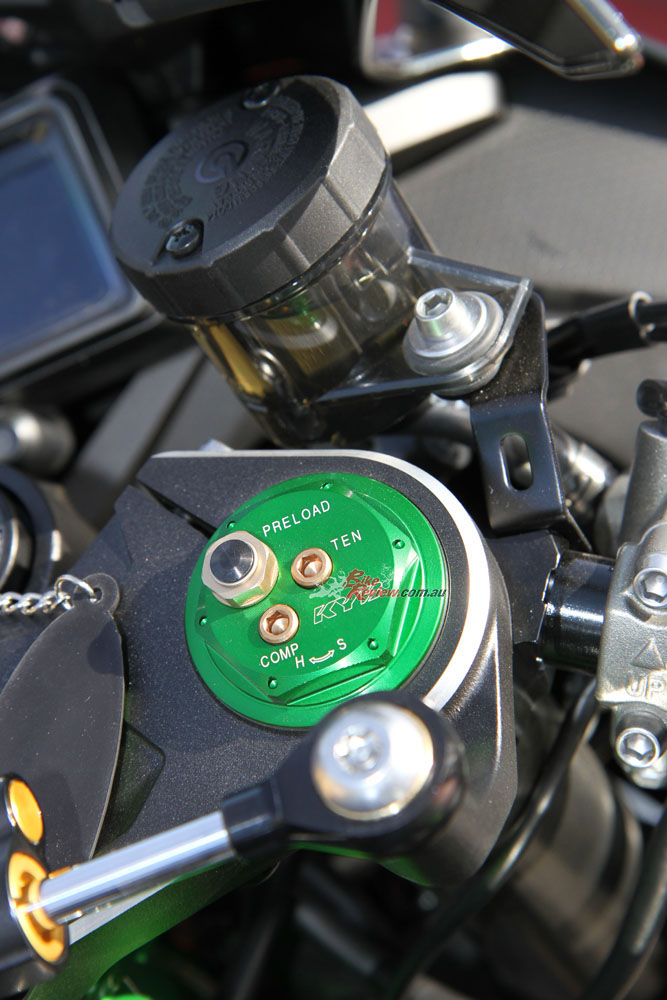 2016 Kawasaki Ninja H2 – Chassis
The tubular steel frame is unlike anything that Kawasaki has built before. The steel tubes are of differing dimensions, laser cut to ensure accuracy, partially hand-welded and finished in metalflake Kawasaki green. The firm says this frame design was chosen, instead of the familiar aluminium beam layout, because it allows a little flex, which improves stability at very high speed.
The layout also allows engine heat to escape and gives room for the H2's single air duct from the fairing nose. The rear sub-frame is aluminium, as is the single-sided swingarm, chosen to allow room on the right side for the exhaust's silencer.
Inevitably the Ninja H2 is heavier than a conventional superbike, with a kerb weight of 238kg but it gives away nothing at all in trickness. There's no skimping with the cycle parts. Suspension is by KYB, including 43mm forks with Air-Oil Separate cartridges, developed in motocross. Brakes are a blend of 330mm discs and Brembo radial calipers, with a revised version of the ZX-10R's race ABS.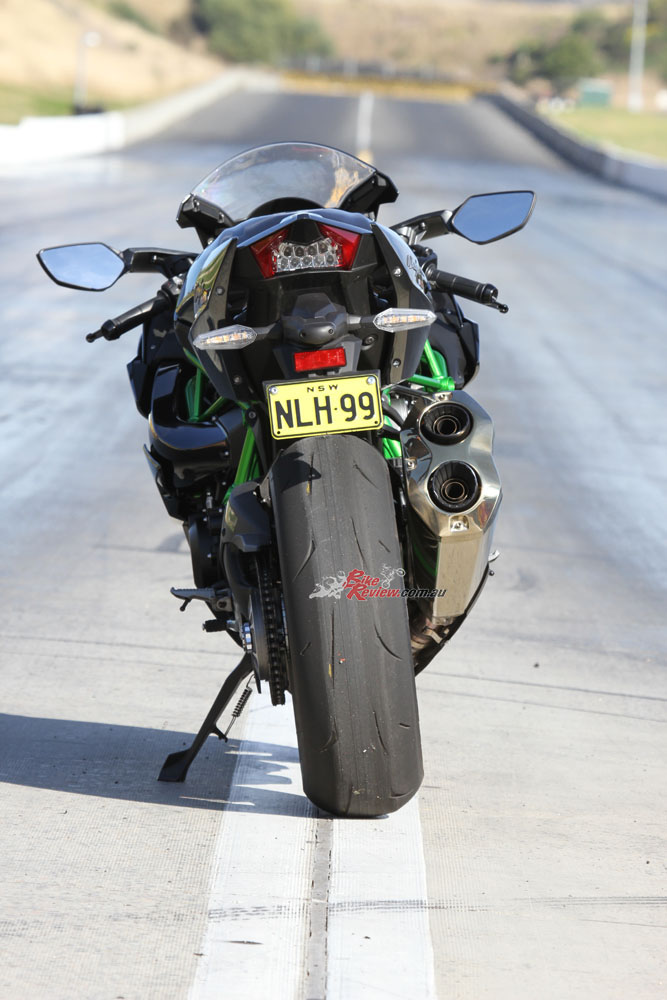 2016 Kawasaki Ninja H2 – Styling
Assistance from Kawasaki's Aerospace Company was enlisted in creating the aerodynamically sculpted bodywork to ensure maximum aerodynamic efficiency.
When viewed from the side, the Ninja H2 does not seem to have the aggressive forward-canted stance of most modern supersport models as such a posture would create drag that would hinder top speed. Instead, the stance is very neutral, almost flat – like a Formula 1 car – to make the body as aerodynamically sleek as possible.
The aerodynamically shaped upper cowl uses lips and lines to help direct airflow over its surface, while the upper cowl positions the Ram Air intakes in the most efficient position. The cowl itself is formed from lightweight CFRP and is designed to afford wind protection at ultra-high speed – its tall screen is designed to help create a wind-free pocket for the rider.
The compact side cowls were designed to assist with heat dissipation, while the rear cowl has an extremely compact three-piece design. The centre portion is taller; creating an aerodynamic form that helps smooth airflow as it passes the rider. Wind is also able to pass between the centre and side-pieces, reducing air resistance.
Two-blade wings are featured on the side cowls. These wings also feature winglets and further add to the downforce generated by the chin spoiler and upper wings. Design of the upper cowl incorporates a chin spoiler.
A star-pattern five-spoke wheel design were also developed based on analysis and testing to determine the optimum rigidity balance for ultra-high speed performance, with the analysis technology used in their development coming from World Superbike.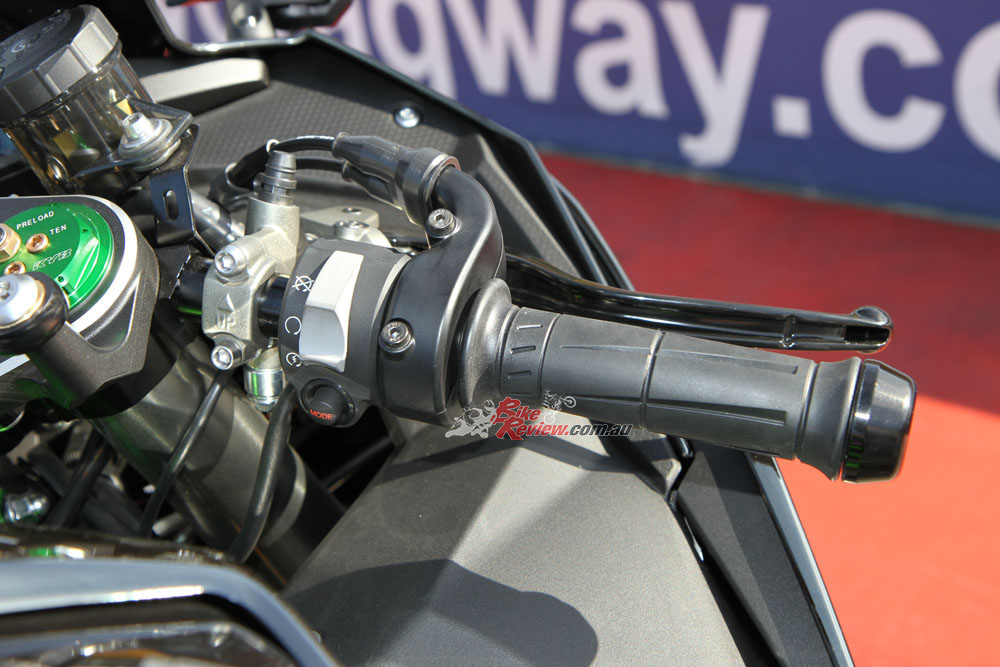 2016 Kawasaki Ninja H2 – Electronics
The Ninja H2 comes with a host of rider aids for safety and performance. KTRC (Kawasaki TRaction Control) – The KTRC system used on the Ninja H2 combines the best elements of Kawasaki's earlier traction control systems. Riders can choose from three modes, each offering a progressively greater level of intrusion. Each mode has three rider-selectable levels, adding more or less intrusion (rider preferences for each mode are programmable for on-the-move selection), for a total of nine possible settings. Riders may also elect to turn the system off.
Mode 1 is for the circuit, Mode 2 for the street, and Mode 3 for wet pavement conditions. A Rain Mode is also available. Rain Mode can be turned on and off independently from KTRC. Activating Rain Mode sets KTRC to Mode 3+, and also limits power output, torque and response. Similar to a Low Power setting, maximum engine output is less than 50% of full, with a milder throttle response.
KEBC (Kawasaki Engine Brake Control) – The KEBC system allows riders to select the amount of engine braking they prefer. When KEBC is activated (by selecting "LIGHT" in the KEBC settings), the engine braking effect is reduced, providing less interference when riding on the circuit.
KQS (Kawasaki Quick Shifter) – Complementing the engine's strong power and the dog-ring transmission, a contactless-type quick shifter enables quick upshifts for seamless acceleration.
KIBS (Kawasaki Intelligent anti-lock Brake System) – Kawasaki's supersport-style ABS is standard equipment on the Ninja H2. This is the same base system used on the Ninja ZX-10R, with programming and settings revised to suit the performance parameters of the Ninja H2.
High-precision brake pressure control enables the system to avoid reduced brake performance due to excessive pressure drops, allows lever feel to be maintained when KIBS is active, and ensures ABS pulses feel smooth (not heavy). High-precision brake pressure control also offers a number of sport riding benefits:1. Rear lift suppression. 2. Minimal kickback during operation. 3. Accounting for back-torque.
Electronic Ohlins steering damper – Unlike a mechanical steering damper the damping characteristics are changed electronically according to vehicle speed, and the degree of acceleration or deceleration. At low speeds, the settings were chosen such that damping does not interfere with the bike's intrinsic lightweight handling. At high speeds, damping increases to provide enhanced stability.
KLCM – Kawasaki Launch Control Management. Gives three modes to choose from that progressively launch the bike harder. All three levels allow the rider to launch from a standstill at full throttle.
2016 KAWASAKI H2 Specifications
Kawasaki.com.au
Price: $33,000 + ORC
Warranty: Two-years unlimited km
Claimed Power: 147kW[200hp]@11000rpm – 207hp with ram-air)
Claimed Torque: 133.5Nm[98ft-lbs]@10500rpm
Wet weight: 238kg
Fuel Capacity: 17L
Engine: Liquid-cooled, transverse-four, DOHC, 16 valves, 998cc, 76 x 55mm bore x stroke, 8.5:1 compression ratio, dual injection 50mm throttle-bodies, Kawasaki supercharger, KTRC, KLCM, KEBC, QKS,
Gearbox: Six-speed with quickshift
Clutch: Wet multi-plate slipper
Chassis: Laser cut, hand welded, tubular steel frame, aluminium rear sub-frame and single-sided swingarm
Rake: 24.5 (25.1), Trail: 103mm (108mm)
Suspension: 43mm KYB AOS-II USD forks, adjustable preload, compression and rebound damping, 120mm spring travel, KYB Uni-Trak mono-shock, adjustable preload, high and low-speed compression and rebound damping, 135mm wheel travel,
Brakes: KIBS, dual 330mm rotors, Brembo radial four-piston calipers, single rear 250mm rotor, twin-piston caliper
Wheels & Tyres: Cast aluminium star-pattern five-spoke wheels, 120/70 x 17in, 200/55 x 17in, Bridgestone Battlax RS10FG
Dimensions
Wheelbase: 1450mm
Ground clearance: 130mm
Seat height: 825mm (830mm)
Overall height: 1160mm
Overall length: 2070mm
Overall width: 770mm
Instruments: Full LCD display
2016 Kawasaki Ninja H2 Gallery
The Verdict | Review: 2016 Kawasaki Ninja H2 – Street, Track, Drags
The fastest, craziest, most fun performance bike on the road!