Review: 2016 Honda CBR500R
Honda restyle their CBR500R for an even more attractive LAMS option. Here's our 2016 CBR500R review. Test by Kris Hodgson, Jeff Ware Photography by Kris Hodgson, David H.
Styling may be subjective but Honda's 2016 CBR500R is right on the money in the Black/Candy Energy Orange if you ask me, with sporty lines and that incredibly deep candy orange paintwork – I even had a few people ask me if it was Lamborghini orange!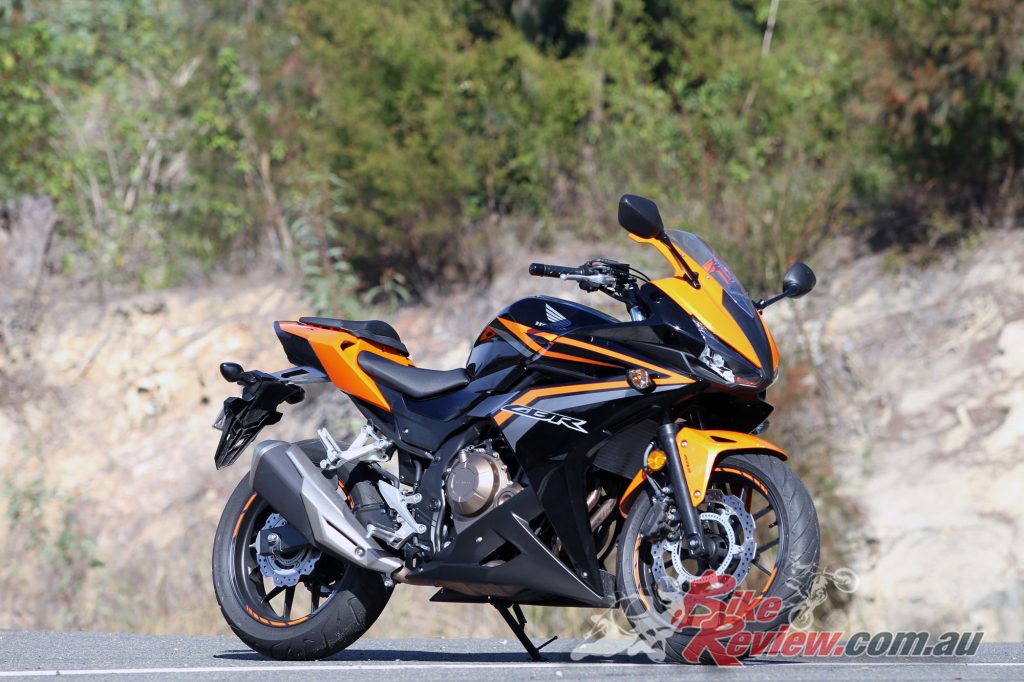 In fact I haven't had a chance to ride the Honda's 500cc twins before, including the 2013 CBR500R which Jeff tested, unlike the single cylinder CBR250R, and CBR300R and CB300F, all of which I've had plenty of opportunities to test in the past.
So what sets the CBR500R apart? Firstly it's that little bit larger and closer to mid-range sportsbike (600cc) size, which can only help your street cred, while still sporting the original powerplant with a claimed 47hp. That's a fair bit stronger than the CBR300R's 30hp, while torque is likewise considerably stronger.
There's obviously the much sportier styling, plus 41mm forks with preload adjustability to match the rear Pro-Link shock's nine-point preload adjustability, while levers are adjustable and the exhaust has been redesigned for better weight distribution and exhaust note. The mirror vision is great too, with easy adjustment.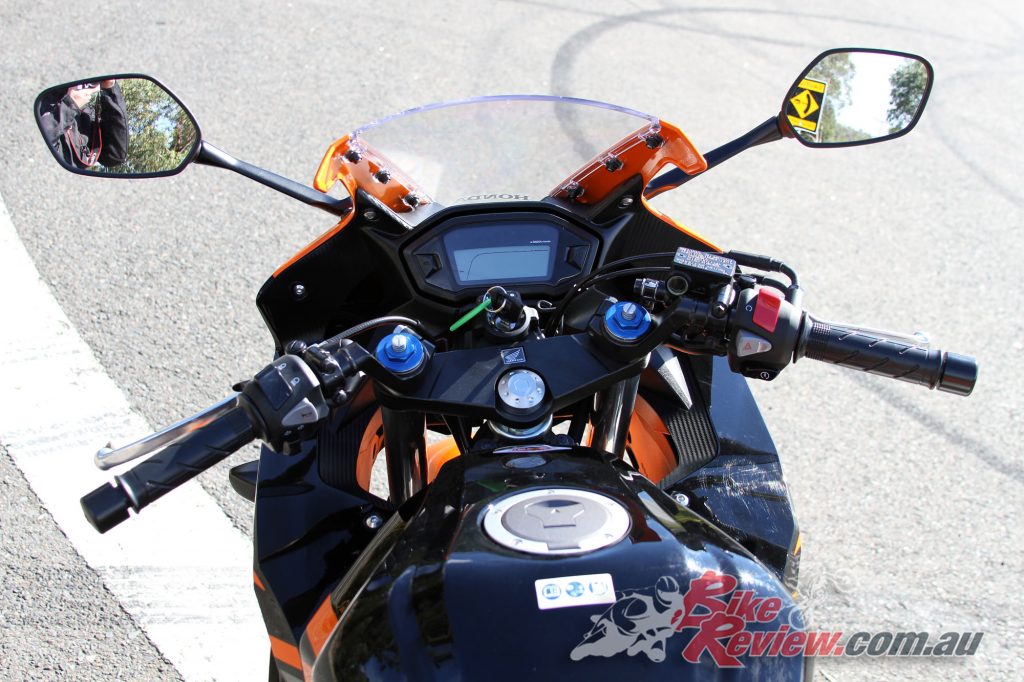 Jumping on board you'll discover that while the styling is sporty, Honda have maintained the more upright seating position and 'bar reach, which offer a more neutral and less forward-committed feel to the bike, and you'll really need to tuck in to get behind the screen at highway speeds.
A few other points I noted straight up were the single front disc brake, which on these slightly larger LAMS machines need to be well matched to the machine to offer good braking performance, as well as the very low seat height while on board the bike. That said my legs were not cramped on the 'pegs, which include rubber grips.
Oh and there's a hazard light switch on the right switchblock and the CBR500R includes the HISS system (Honda Ignition Security System), which immobilises the bike if the right key is not present for additional security and theft deterrent.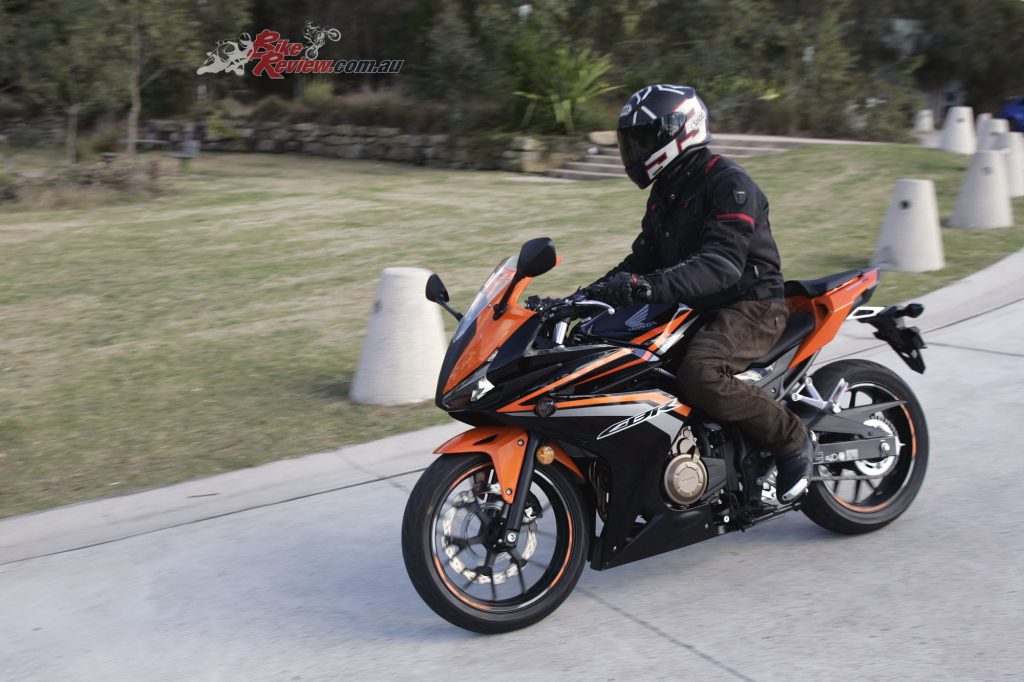 After delivery my first test ride on board the CBR500R saw some really varied conditions, although thankfully it was an unusually warm, dry day for the middle of winter! Heading off through traffic the Honda is light, low and torquey. You won't be needing to rev the CBR500R to any extremes either with great low to mid-range grunt.
The gearbox is also smooth, meaning switching between gears is a positive experience, especially with a nice light clutch action that ensures any rider will be able to ride for long distances, even in heavy commuting traffic without strain.
Whether you want to rev the bike hard, enjoy the mid-range torque or just cruise along just above the lugging point is also totally up to you. There's great enjoyment to be had higher in the rev range, from 6500rpm onwards, while the mid-range allows you to power along with great torque on hand. Even letting the revs fall low isn't an issue if you're just cruising around, with good pull from very low in the rev range, without any lugging.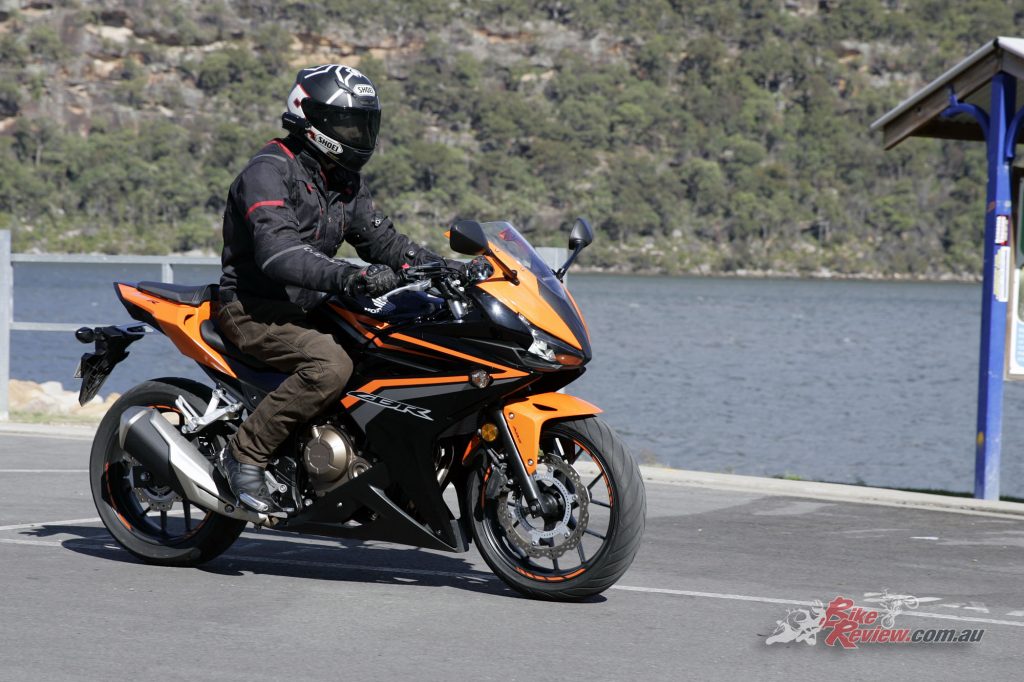 The suspension is well sorted, even just left at stock settings as we received the bike, with terrific front end feel and very good rear end bump absorption. Naturally on normal roads the CBR500R's manners are terrific, but the real question is what the bike is like through the twisties and I'm happy to report it's a well balanced package.
The front end is the standout and with preload adjustability, there's room for adjustment to suit your weight. Likewise the rear shock has adjustable preload, with front end feel and confidence very inspiring and handling even our poor road conditions with ease, partially helped no doubt be the less aggressive riding stance which doesn't put undue weight on the wrists or towards the front of the bike. I do weigh in around the 70kg mark however, as a point of comparison.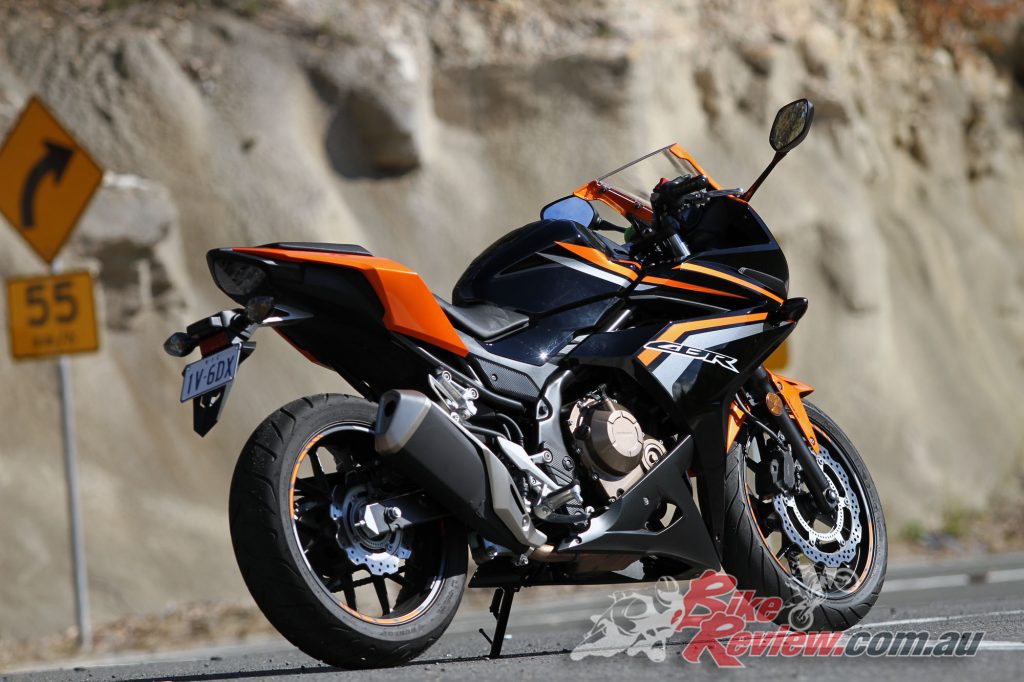 The rear is also well sorted and provides good traction, and even some of the more massive bumps were taken in the bike's stride. On occasion when the rear was overwhelmed over a particularly large bump, which the front wouldn't even twitch for, I'd be pushed slightly up out of the seat before coming down on the broad seat comfortably and without a fuss. There was no massive kickback, just smooth suspension action.
The front brake was also a standout with the single wave rotor and Nissin caliper providing impressive stopping power, particularly considering the bike weighs in at 197kg, that's full capacity weight that's being easily drawn to a halt by a single two-piston caliper, granted on a larger 320mm rotor.

The rear on the other hand was quite wooden, which may just have been due to previous heavy use and glazing of the pads. If you were really pushing that second disc brake on the front might join your wish list, but it's unnecessary on the road.
Grip and feel through the Dunlop Sportmax D222 tyres was also commendable, although conditions remained dry throughout the testing period.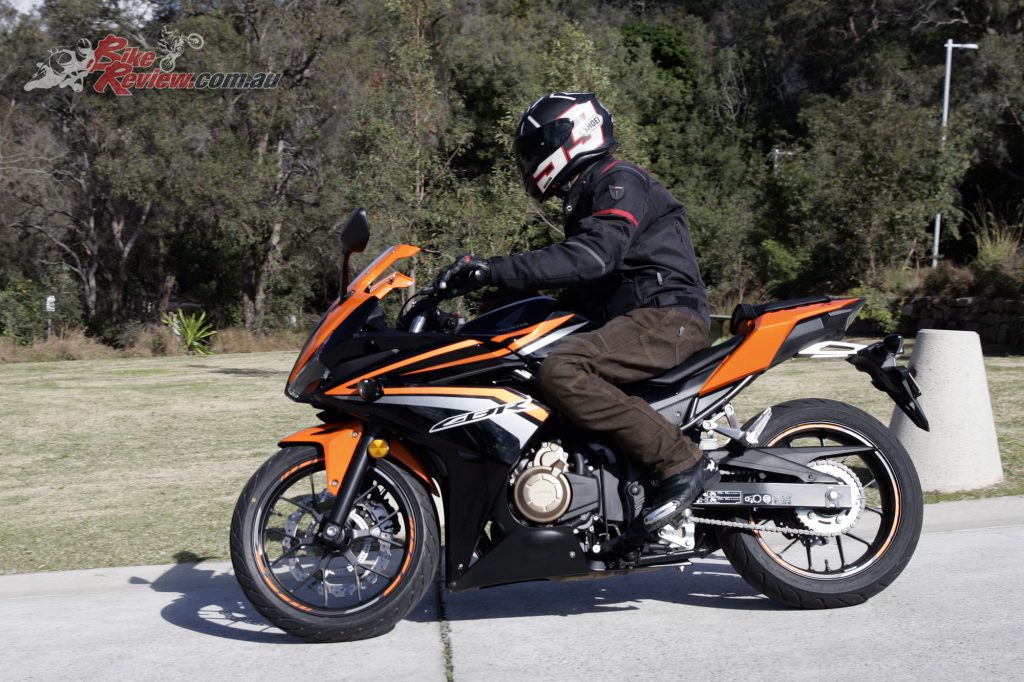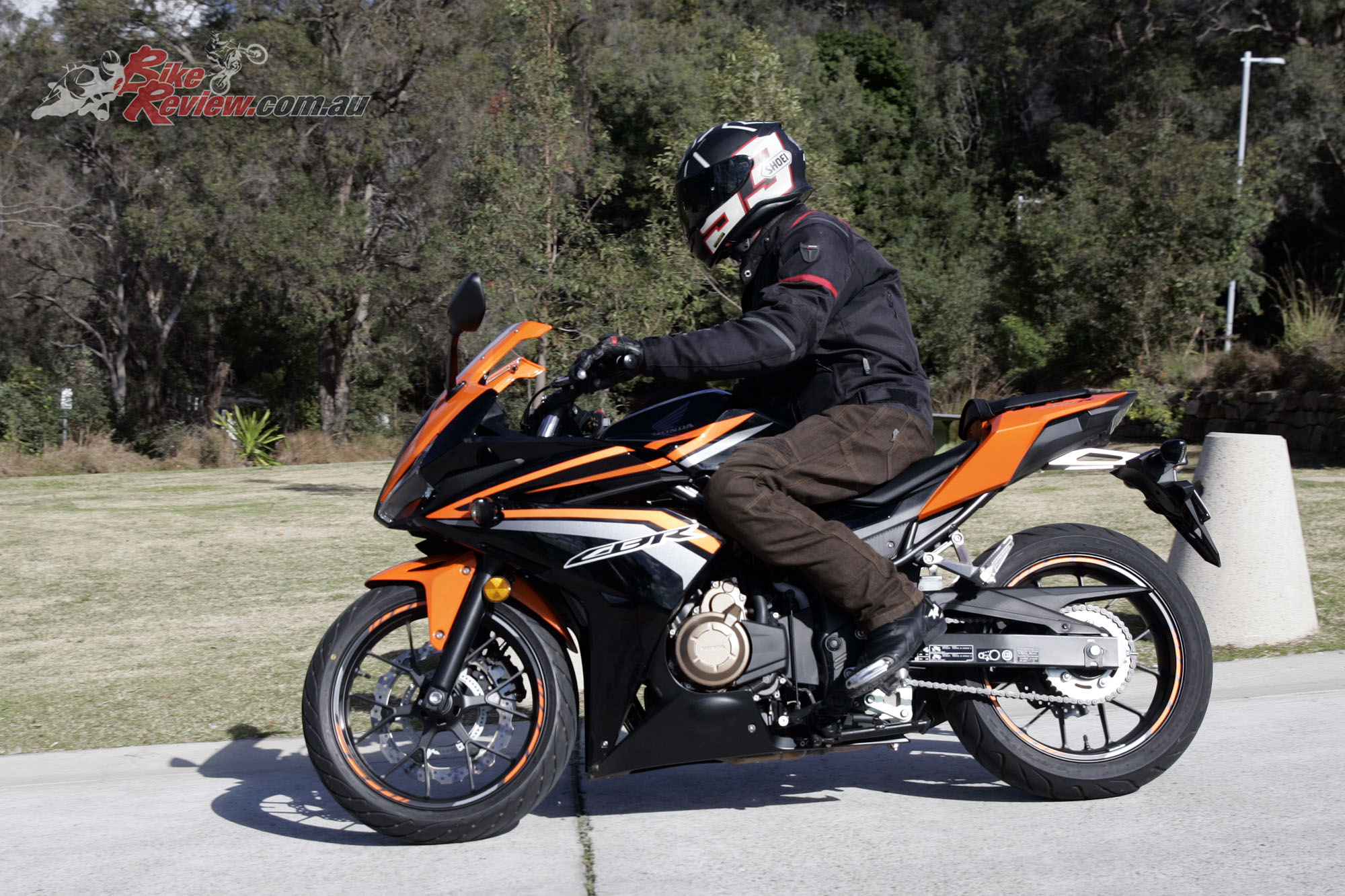 Naturally as a slightly larger and heavier machine the CBR500R is going to be that little bit harder to handle than say Honda's 300cc LAMS offerings, but there's really not much in it and with that low seat height and great ergonomics I'd really encourage anyone looking to try the Honda CBR500R out.
The bike has impeccable manners and is a really impressive package, in fact out of the faired (sportsbike styled) LAMS machines, it would be my number one choice, especially in this colour scheme.

KRIS'S GEAR: 
Shoei NXR Helmet | DriRider Vortex Sport Jacket | DriRider Rapid Jeans | XPD XP3-S Boots 
CBR500R SECOND OPINION – KRIS

Aside from the hard as a plank seat it had I became a fan of the CBR500R from the moment I rode the bike at the press launch in 2013. The eager, torquey and linear engine and typical Honda easy going nature of the bike made it great fun to ride and I was surprised at the quality of the bike considering the price point and the fact it was not assembled in Japan.
The CBR500R went on to become Australia's top selling sportsbike, however, I would argue that aside from full fairings this really is not a sportsbike – but for marketing purposes it has been categorised as one, along with many others that, let's face it, are never going to win any Superbike or Supersport races! Sports commuter or Sports lifestyle is more like it.
For 2016 there have been a few updates to the CBR500R, such as LED lighting, revised gearbox internals for smoother shifting, a revised exhaust for a better note (more on that in a moment) and a few other things that Kris has explained in the tech breakout. Overall though, just small tweaks to improve the bike – the biggest of which being the stunning styling and graphics.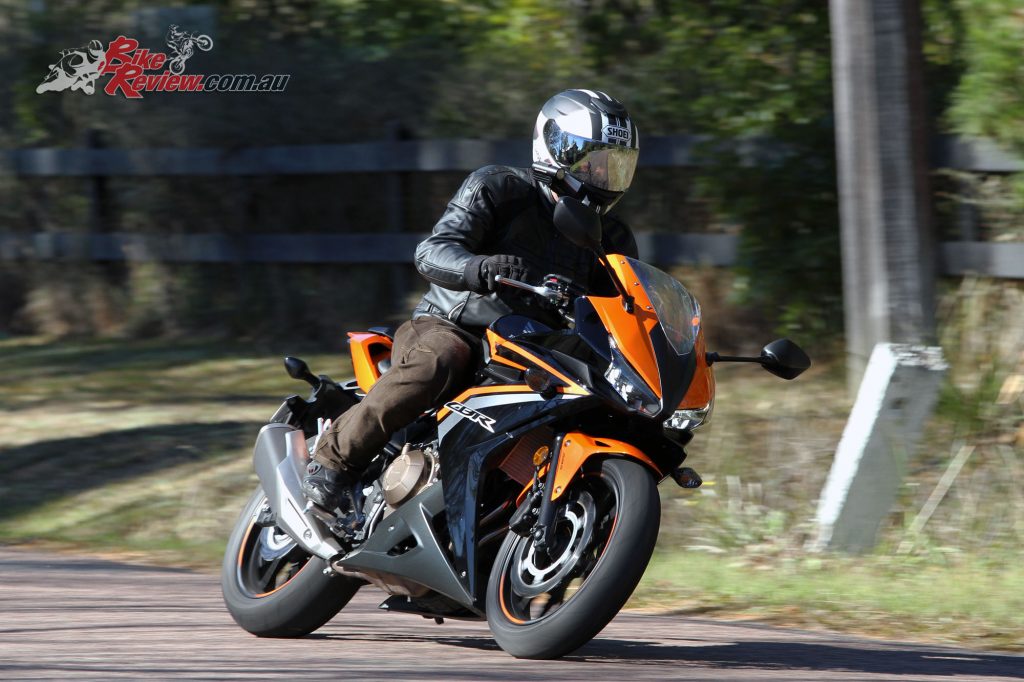 After spending a few days living with the 2016 model I am as impressed as ever with this bike and would definitely park one in the garage. The engine remains that eager, fun twin it was and the gearbox is smooth in shift, as I found it in 2013 to be honest.
Fuelling is good and power delivery linear and predictable. The new exhaust, which Honda claim to have a better note, is actually the quietest pipe I think I've ever heard and makes the twin sound like an air compressor – it'd have to go if I owned the bike. The new lights are fantastic and the seat has improved.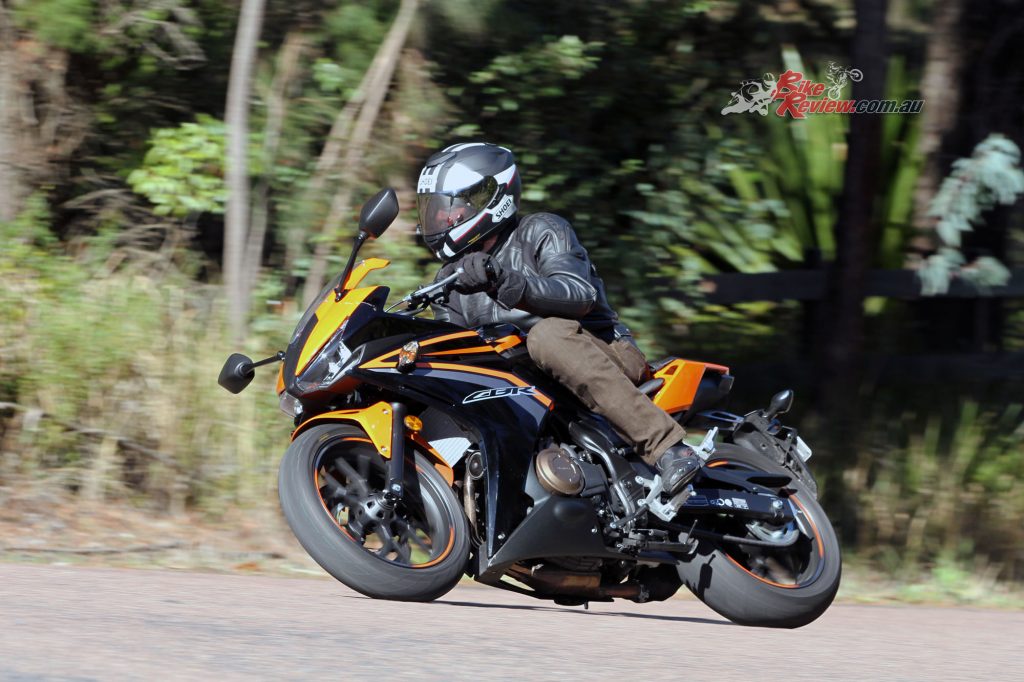 The bike comes with Dunlop Sportmax D222 tyres, which offer good feel, feedback and grip and the brakes are just right – not too savage on initial bite but powerful and progressive. I found the suspension on the commuter side of sports, however, I would not change it as with limited ground clearance (pegs touch very easily) you won't push the suspension too hard with sporty riding anyway and you will appreciate the ride over the rougher roads.
I had plenty of comments thrown at me about the looks of the bike and even had a mate of a mate buy one after seeing this orange colour scheme.
A top little bike that suits the experienced rider after an all-rounder or the a learner rider gaining experience. Well worth the effort to test ride one if you are in the market. Jeff Ware.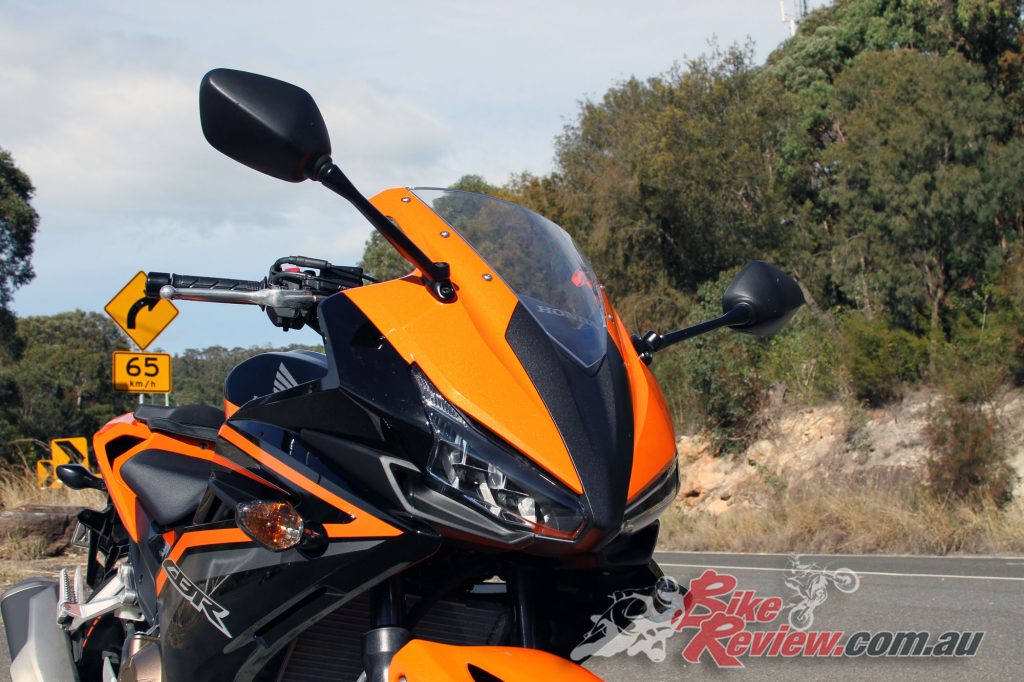 Tech Talk – 2016 Honda CBR500R
The 2016 Honda CBR500R has seen a large overhaul in the bike's styling bringing the bike more in-line with their CBR600RR and CBR1000RR machines, particularly with the inclusion of LED headlights, helping visibility both for the rider and the rider and bike's visibility themselves.
The candy orange paintwork on the model tested is particularly noteworthy and received many compliments, with stickers helping carry the theme through the tank – under the clear coat, while high quality stickers over the fairings are removable but compliment the fairing lines well.
The fuel tank has also seen an increase in capacity of 1L, up from 15.7 to 16.7L, with mileage an impressive 200km per 7L during our testing, with a few more frequent fuel stops when we assumed the fuel indicator was broken… apparently not!


The 41mm front forks also now benefit from preload adjustment in both forks, which is a more premium feature in the LAMS market, along with a few smaller details like the hinged fuel cap for easy refills and adjustable brake lever, saving the need to buy adjustable levers.
The seat has also been revised and offers a broad comfortable perch at the low seat height of 785mm. Both rider and pillion 'pegs are also smaller items, with the rider 'pegs benefiting from rubber grips and offering good feel, although you don't need to lean the CBR500R over a great deal to get a toe or the hero blobs touching down.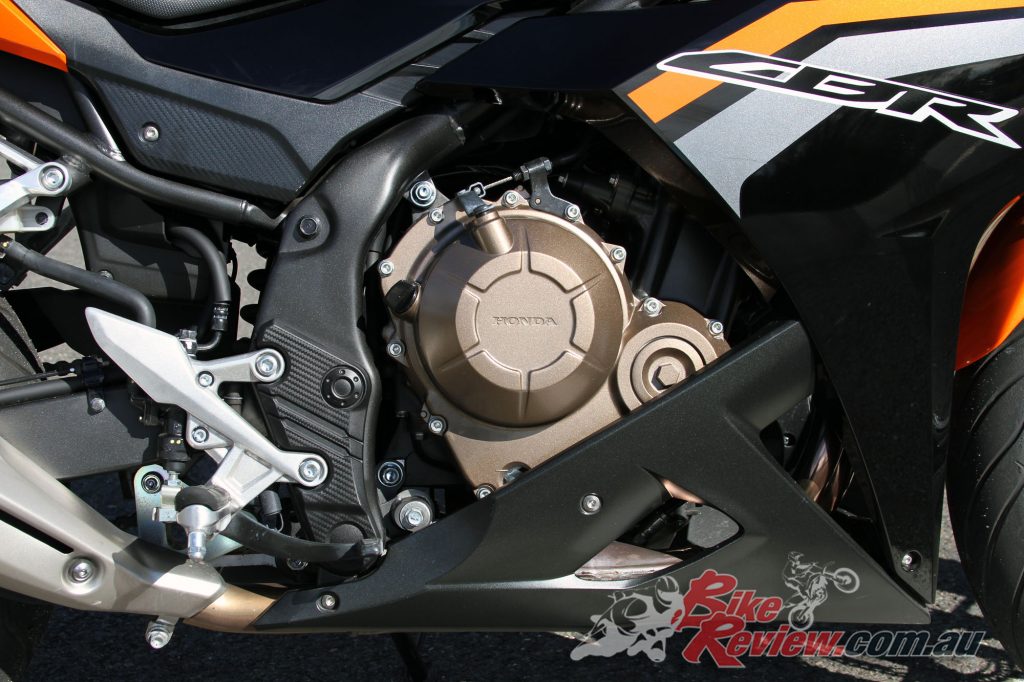 The gearbox has also been revised using the same gear change arm structure and mechanism as found on the CBR600RR and CBR1000RR, offering a smoother change mechanism.
SPECIFICATIONS: 2016 Honda CBR500R
Price: $7,999 + ORC
Warranty: Two year/unlimited kilometre
Colours: Millennium Red, Pearl Metalloid White, Black/Candy Energy Orange, Matte Gunpowder Black Metallic
Claimed power: 37kW[49.6]@8500rpm
Claimed torque: 43Nm[31.7 ft-lbs]@7000rpm
Wet weight: 194kg
Fuel Capacity: 16.7L
Engine: Liquid-cooled, parallel twin, DOHC, eight-valve, 67 x 66.8mm bore x stroke, 471cc, 10.7:1, PGM-FI, six-speed, chain final drive
Chassis: 35mm diameter steel diamond-tube, steel square pipe swingarm, Wheel base: 1410mm, Seat height: 785mm
Suspension: 41mm conventional telescopic forks, Prolink rear monoshock,nine-stage preload adjuster
Brakes: Single 320mm front wave rotor, two-piston caliper, 240mm rear wave rotor, one-piston caliper
Wheels & Tyres: Cast aluminium wheels, Dunlop D222Fs Front: 120/70 – ZR17 Rear: 160/60 – ZR17
Instruments: Digital multifunction dash.
2016 Honda CBR500R Gallery