Review: 2016 Yamaha MT-03
Yamaha's MT-03 is the new 300cc nakedbike LAMS unit in the market and it's a ripper! Here's our 2016 Yamaha MT-03 review. Test & Photography by Kris Hodgson, David Hodgson
Yamaha's new MT-03 isn't a machine to be confused with their older no longer produced 660cc single-cylinder LAMS offering which shared the name, but is a new machine based on their highly successful YZF-R3 which was introduced in 2015.
The R3 took the LAMS category by storm, offering a sporty, user friendly and stylish option in the more affordable and lower capacity end of the LAMS market, while Yamaha's MT-07 covered the larger capacity, more premium end of the spectrum.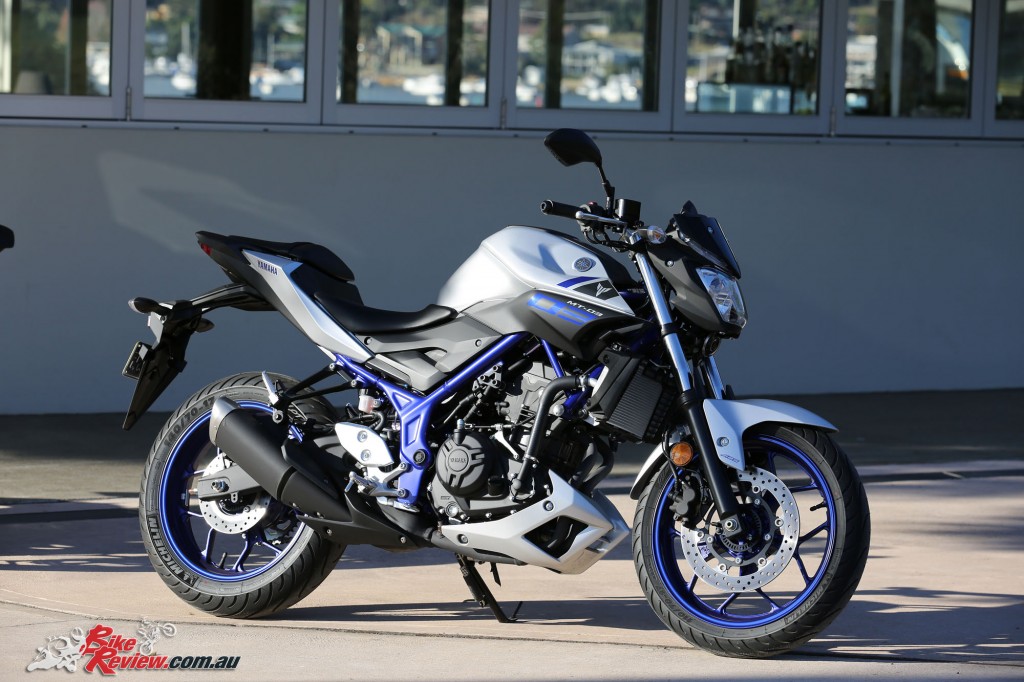 In 2016 Yamaha have expanded their 321cc parallel-twin engined range to include the MT-03, ensuring that learner riders are able to choose a machine that matches their preferred bike type. It's a decision that makes sense when you consider that Yamaha's MT range also includes the MT-07 (LAMS) and HO (non LAMS), MT-09 triple-cylinder, and the up-coming MT-10, offering a great pathway as riders seek larger capacity machines.
But it all starts with a LAMS machine, and as has been recognised – providing a great machine while learning is a sure way of creating loyal motorcyclists.
The MT-03 is powered by a 321cc parallel-twin with a claimed output of 42bhp, which is available at 10,750rpm, while torque peaks at 29.6Nm at 9000rpm. Keeping in mind these machines need to stay below the required power to weight ratio, these are pretty impressive figures for a 300cc machine, especially when you jump on board and realise just how well tuned the engine is. In fact I found you could easily hold second gear till around 80km/h, which is nearing the redline if you were looking for a quick take off, or sitting in that top end power through the slower corners. You can read about the full technical details on the MT-03's powerplant in the engine breakout.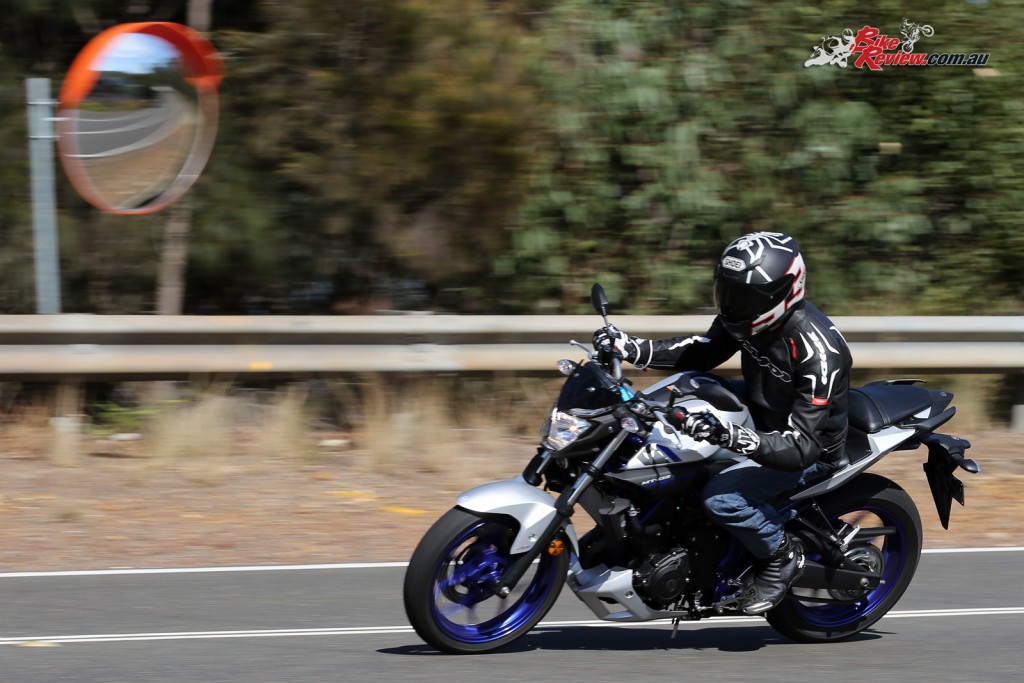 First gear is relatively short and you can rev the bike pretty hard without any fear of upsetting the bike or losing control, as an inexperienced rider. The super smooth gearbox allows for easy upshifts and moving into second and onwards you find power remains linear right up until you get to the top end, where the fun is to be had. Engine braking is also nice and smooth which is a definite advantage over a V-twin, allowing for aggressive downshifting to take advantage of your engine braking, even from the relatively high revs the bike is happy running around at.
That linear power offers great control and an easy ride, whether you're learning or just commuting, while the strong top end ensures you can still have fun through the twisties on the weekend. It's the best of both worlds for a LAMS machine.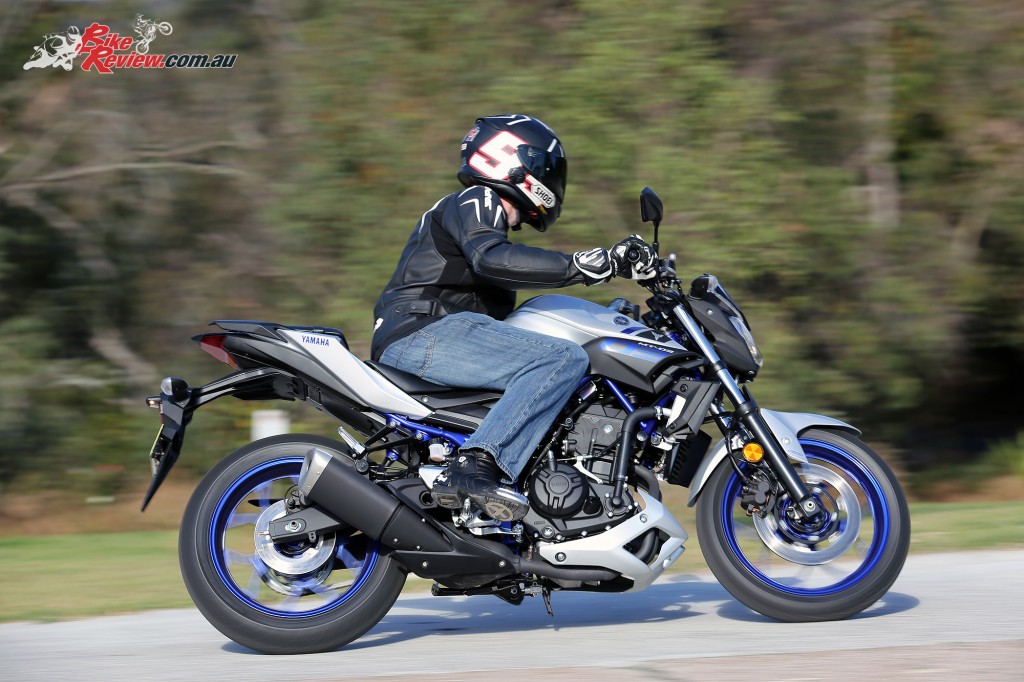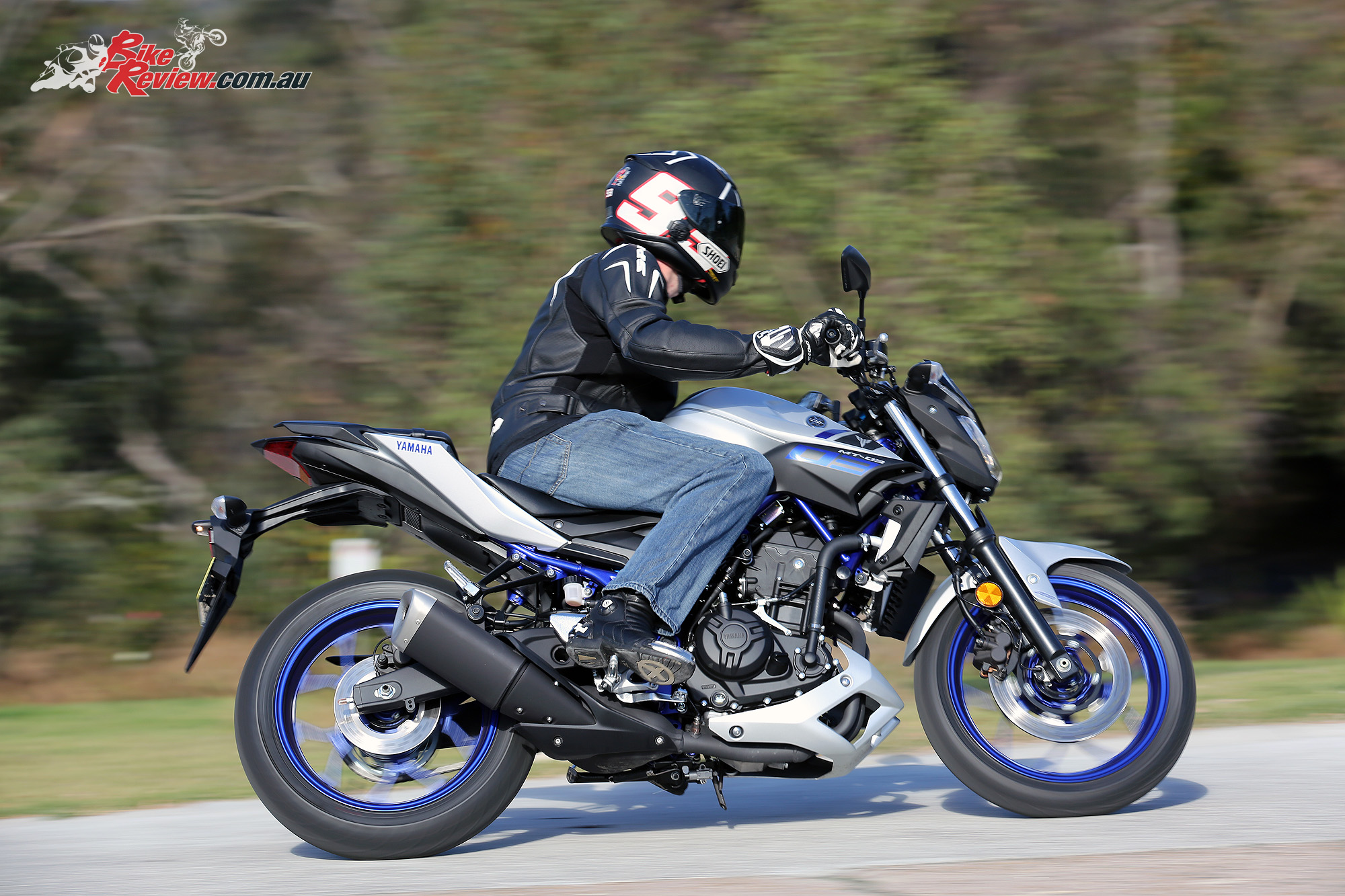 The bike's ergonomics have also been designed for a relaxed and upright riding position, with an easy reach to the 'bars and 'pegs, as well as good vision over the front of the bike, with the instrumentation all within eye sight, along with your front indicators, meaning it's easy to notice if you've left an indicator on.
It's super natural jumping on board for my 180cm frame and 70kg weight, with a low seat height and simple styling that's sure to appeal to any nakedbike fan. Stopping flat footed is easy, and the bike feels nice and light, at low speeds, as well as when wheeling the bike around, with good weight distribution.

The MT-03 is equipped with 41mm forks on the front end, non-adjustable, with a single 298mm front rotor and two-piston caliper offering strong stopping power for the 168kg- wet, motorcycle, with a single piston rear caliper grasping a 220mm rotor. ABS comes as standard – a must in my mind for any LAMS machine these days, and the rear Monocross shock is preload adjustable, allowing for different weight riders – to an extent.
Wheels are cast 10-spoke aluminum items with hollow axles, helping minimise weight and are stylishly colour matched to the lightweight frame. Yamaha also boasts the swingarm is a lengthy item, sharing the same wheelbase to swingarm ratio as the 2014 YZF-R1.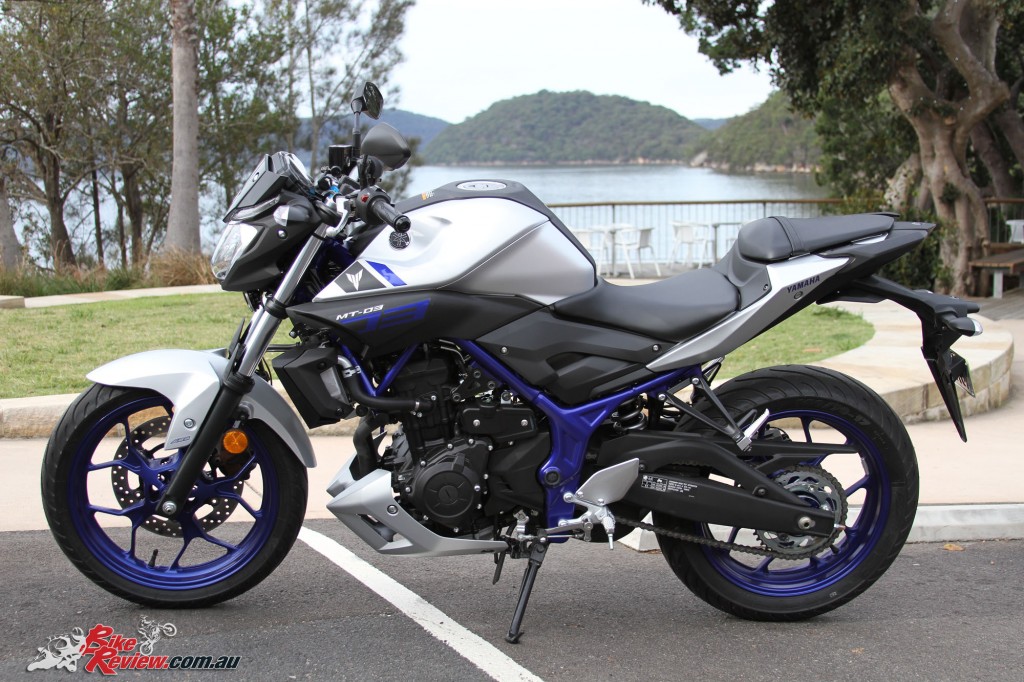 In layman's terms this means the MT-03 has good stability, but is still an agile machine. The suspension is basic but does a good job over the majority of surfaces. It's soft enough for regular Australian roads, while still giving good feedback and feel when you're out for a sporty ride. For my 70kg weight, without adjusting the rear preload I was impressed with the suspensions performance, especially for the price point.
It'll swallow most road inconsistencies in it's stride, remaining settled, while still offering a relatively firm ride when you're hooning through your favourite set of corners. It's a combination which can be hard to achieve on machines with limited or no suspension adjustability, but which Yamaha have really nailed, no doubt thanks to their success with the R3.
Equally the brakes are a good combination. You won't easily be locking up the wheels, even though the ABS is there for that eventuality, and there's good feel, with the rear ideal for trailing through corners or in traffic for additional control. Brake and clutch levers are non-adjustable as you'd expect, so if you're not comfortable with the standard span a set of adjustable aftermarket jobbies will do the job. I'm a Large glove though and found reach good.
The clutch also offers a light and easy action and I didn't really have to think about it all that much – excessive feathering wasn't required at any point. The smooth gearbox offers positive gear changes and there was no false neutrals or issues getting the bike into (or out of) neutral at a stop.
The seat is also a two-piece unit, with a comfortable main seat and a relatively tall pillion perch, with a reasonable reach to the pillion pegs. The standard grab rails are also a great detail, meaning your pillion has something to grab onto, or you've got a good location for strapping on a bag. There's also enough power for running around two up, although the pillions weight is going to have a noticeable effect on the bike's performance and acceleration. You certainly won't have any dramas on the freeway at 110km/h with someone on the back cruising along.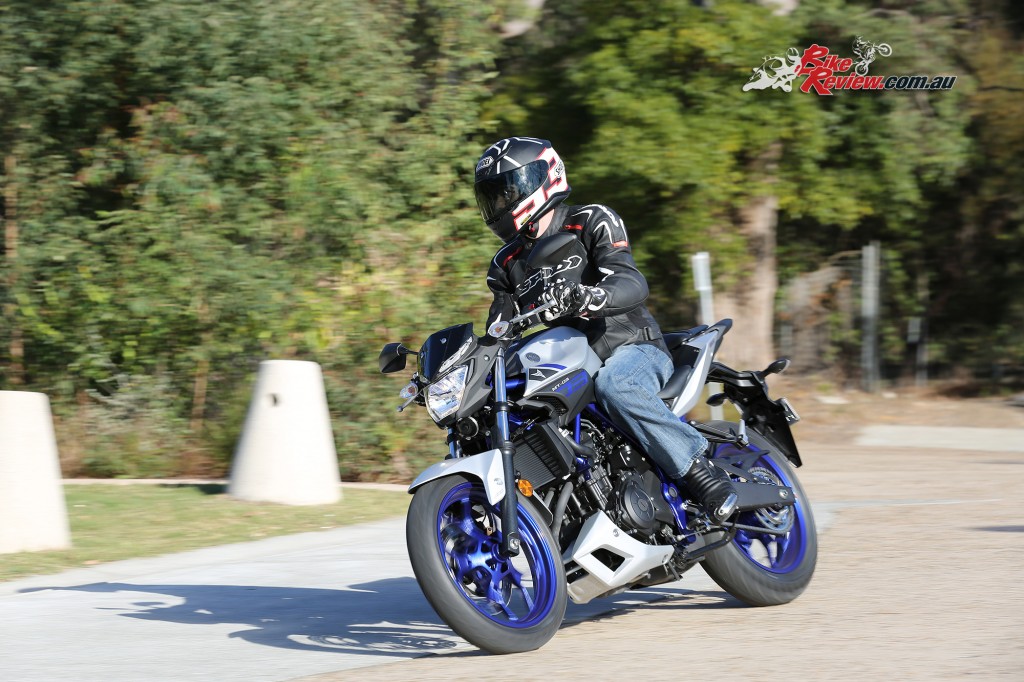 The one point I did note was that wind on the freeway was irritating at 110km/h, and the mini-cowl that cleans up the upper headlight area isn't large enough to really provide any wind protection, and a screen would definitely help the situation, especially heading into winter!
So after a few weeks of taking the Yamaha MT-03 through my regular commutes and a few good test runs, what's the verdict? To me the MT-03 is a great package, it's everything you want in a LAMS machine for a few years as you expand your skills, while still being well and truly capable of some fun, thanks to that strong top end.
It's an exceptional value motorcycle at $5,699 plus On-Road Costs, with great finish quality and features that's going to make it tough competition in the 300cc LAMS nakedbike market, with the three paint schemes available – Racing Red, Midnight Black and Race Blu offering some great colour options. I certainly wish this kind of machine had been available when I was doing my L's and P's.
YAMAHA MT-03 SECOND OPINION

The MT-03 is a visually appealing package in its silver and blue colour scheme, with the blue wheels really complementing the up to date naked bike styling. Visually it has people wondering what size engine it has, though the single disc brake on the front end and compact stature tends to suggest it is a smaller bike.
It is aimed fairly and squarely at LAMS or newer riders, with the added bonus that an older person returning to riding could quite happily own one and be satisfied unless they wanted to carry a pillion extensively. It is also very light and maneuverable. As such, it makes an excellent commuter, so adding to its versatility. Finish on all the visible components is very good for an entry level bike.
At 90kg all kitted up, and being of 'mature' age, I found the relatively simple suspension effective in all but the roughest road conditions. Remember this is an entry level bike, so no fully adjustable suspenders. Road surface joins are handled well with no jolting either end.
The bike steers well once you have some speed up. In traffic at low speed I found that the front end is very light, oscillating around the steering stem, taking some getting used to. I'm sure this is probably a personal thing. Basically the bike goes where it is pointed with little fuss.
Uphill with the power well and truly on, it is a delight to swing through bends and zip between corners, and the same follows downhill. Ground clearance is very good, though I'm sure an enthusiastic teenager could easily have their boots scraping in no time. It is very easy to have fun on the MT-03, especially in the twisty bits.

The controls are light and provide good feedback. The clutch and brake levers are nicely sized to suit a range of hand sizes and reach. The blinkers, horn, and starter are all well positioned and fall readily to hand. The rear vision mirrors are acceptable, but like most mirrors these days, provide you with a nice view of your elbows.
The clutch take-up was progressive, and moving off from standstill requires a reasonable number of revs to get the bike moving, and to keep up with traffic requires even more revs. However, a quick getaway and keeping in front of traffic is easily possible, it just requires upwards of 7,000rpm through the gears. Seeing the bike is redlining at 12,000rpm, this is not a problem. Fuelling is also excellent.
The front brake is relatively powerful, able to be well modulated, as is the rear, which is not too powerful or ineffective, just right for newer or returning riders. Using both brakes provides good stopping power and distances. The dashboard is simple and gives all the information required. The inclusion of a gear indicator is very welcome. The ABS light takes a while to extinguish on start-up as the system calibrates, but soon turns off.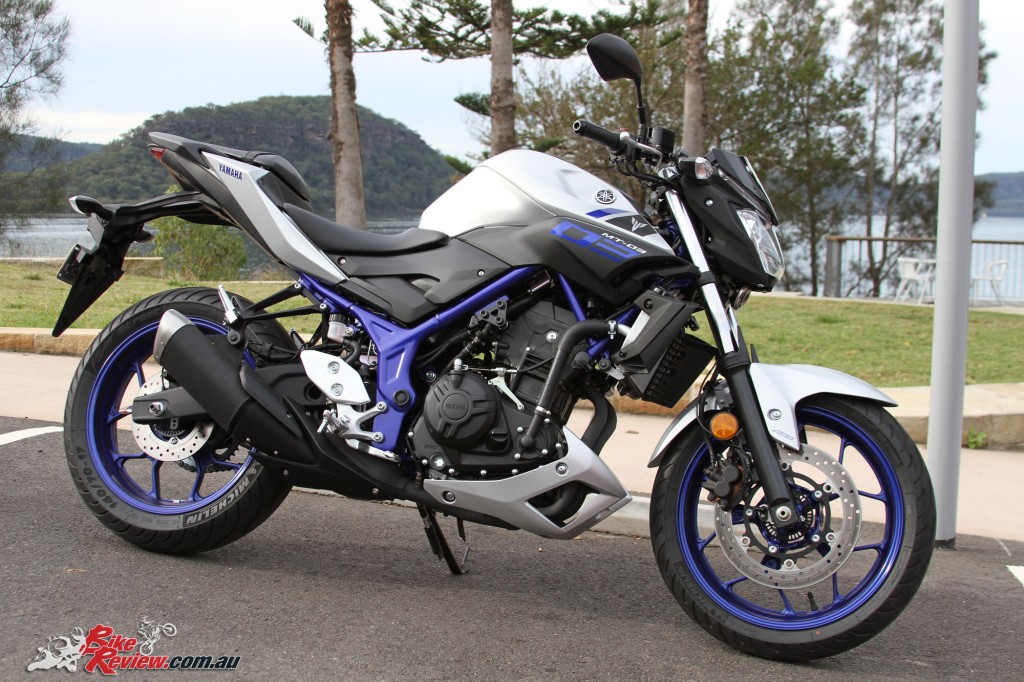 The seat is on the lowish side for a modern bike, and does not appear that thick or cushioned. But no questions on comfort, it handled several hours in the saddle without upsetting my older body. With a reasonable reach to the 'bars allied with lower set foot 'pegs, it provides a riding position that is surprisingly comfortable.
The handlebars are set at just the right height and width to provide a good arm bend and shoulder position, enabling longer rides to be undertaken. At no time did I notice loading on the hands or wrists, and the vibration free nature of the engine ensures no vibes affect your extremities. Even in stop start traffic, the hands and wrists are not subject to pressure.
In moving the bike around, the low weight of the bike is evident. It is not top heavy, so easy to move and thread into tight parking spots or an overcrowded garage.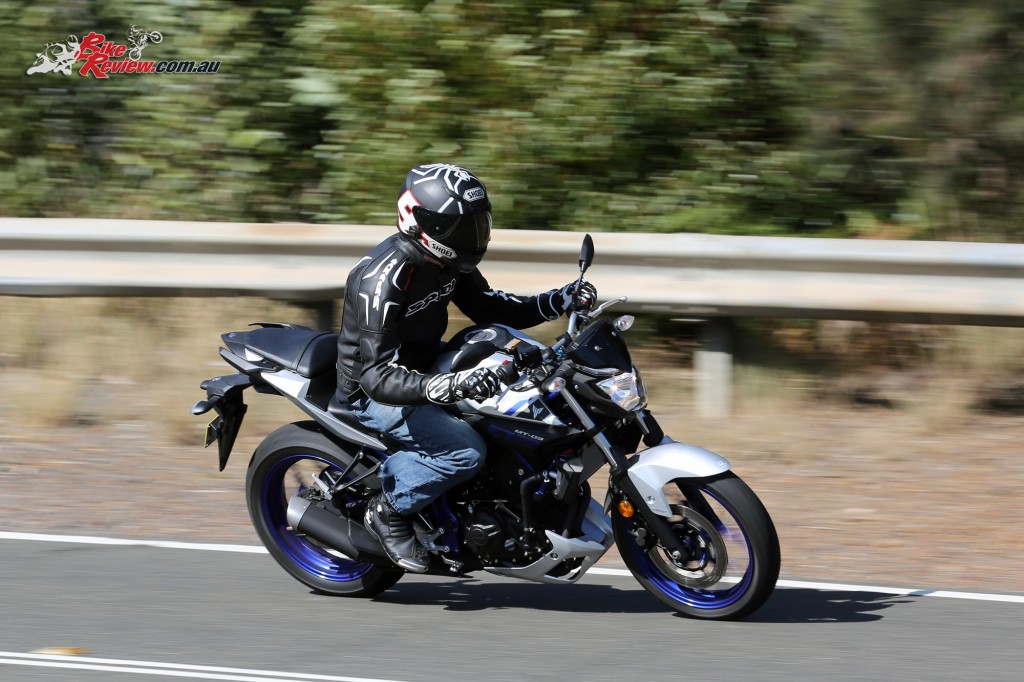 The engine is a nice little unit. Revs, and lots of them, keep you moving and provide ample performance as they rise past 7,000. In the upper reaches of the rev range – above 10,000, the little bike is really alive and singing. Linear through the rev range, the power keeps on coming. But remember this is a 300cc twin, so power is relative.
Having said that, performance is more than acceptable for an entry level bike, or stylish commuter. Fuelling is excellent as mentioned and short, crisp changes are the go both up and down the gearbox, with just a snick on the gear lever required.
Yamaha have made the MT-03 an enjoyable entry level bike. One suitable for commuting and also returning riders. It has ample performance and handling in any of these fields.
Go on, have a ride on one if you don't link engine size to fun factor. You'll be surprised. – David H.

ENGINE
Powering the MT-03 is the same engine found in the YZF-R3, a 321cc inline-twin with an 180° crank for its easy revving nature, with DOHC and four-valves per cylinder. Power is an impressive 42hp at 10750rpm, with 29.6Nm of torque at 9000rpm, aided by compact multi-cone combustion chamber design and a downdraft throttle-body with narrow angle (12° IN and 12.75° EX) 26mm IN and 22.5mm EX valves.
The twin uses an offset cylinder design, reducing frictional losses, with DiaSil cylinders, with the aluminium design including 20 per cent silicon for friction resistance and heat dissipation, while reducing weight. This also allows the use of low tension piston-rings to reduce horsepower losses. Forged aluminium pistons reduce weight, with lightweight rigid carburised con rods offering finer tolerances than standard rods.
A lightweight primary balancer also does a great job throughout the rev range at reducing vibrations and engine noise, with the engine mounted by two front rubber mounts and three rigid mounts rear. Progressive throttle pulleys also do a great job in smoothing power delivery and ensuring control, giving a more carburetor-like feel.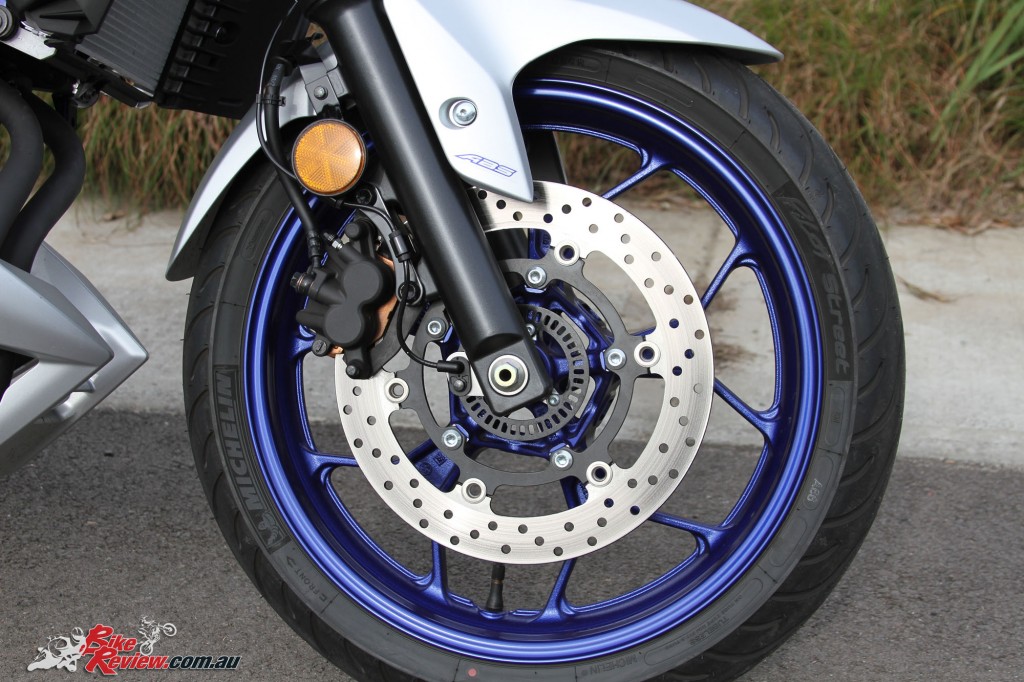 CHASSIS
The Yamaha MT-03 uses a steel diamond-type frame, which is electro-deposition coated to prevent corrosion, with a long pressed-steel asymmetric swingarm with hollow axle, following in the R1s footsteps and ensuring stable handling, sharing the R1's swingarm to wheelbase ratio.
Suspension is 41mm forks, with 130mm of travel and without adjustability. The rear Monocross shock offers 125mm of travel and is preload adjustable, as well as being mounted directly to the swingarm. Wheels are 17in 10-spoke lightweight aluminium items with hollow hubs for further weight saving, with a 298mm front rotor and two-piston caliper, while the rear is a single-piston caliper grasping a 220mm rotor.
Weight distribution is also almost 50:50 front to rear, with a fully fueled curb weight of 168kg.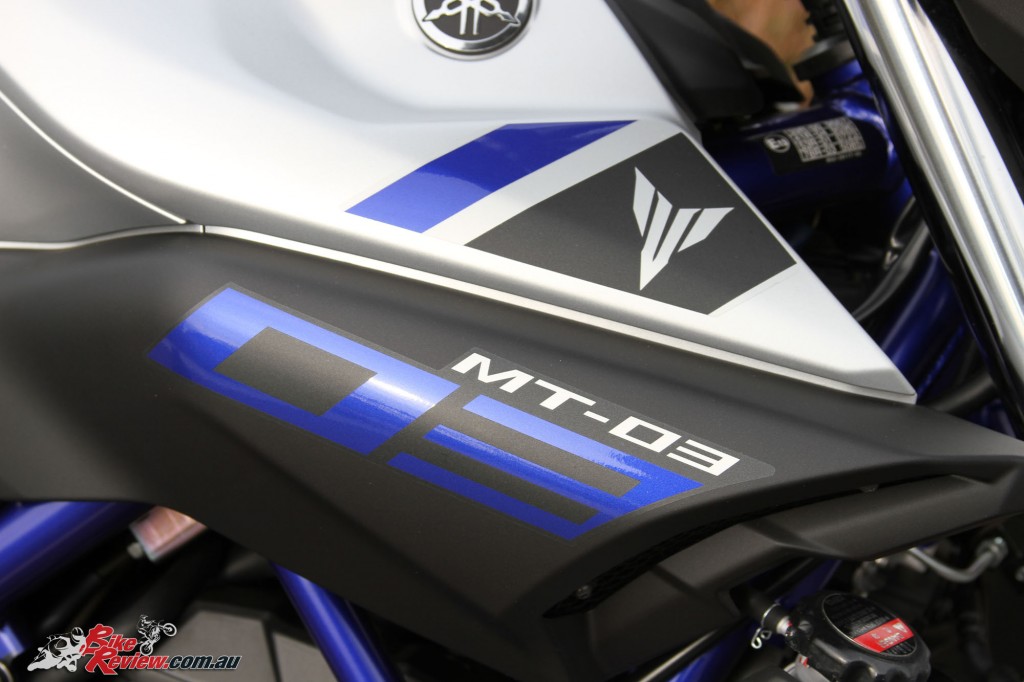 STYLING & ELECTRONICS
The Yamaha MT-03 comes standard with ABS, with the digital display providing a gear indicator, shift light, oil change warning light, and ABS lamp, while the tachometer is analogue.
The taillight is an LED unit, with a low seat height of 780mm and the tank capacity is 14L.
Styling is simple, with the engine and the diamond frame exposed, with the Racing Blu model featuring colour matched wheels and frame in metallic blue. Details like the belly pan and exhaust shrouds ensure a clean look, along with the aggressive air scoops.
The visible tank is actually covers, making tank damage less likely, while the tail is a streamlined unit, with a separate pillion seat and standard grab rails.
SPECIFICATIONS: 2016 Yamaha MT-03

yamaha-motor.com.au
Price:  $5,699 + ORC
Warranty: Two-year, Unlimited kilometre
Colours: Racing Red, Midnight Black, Race Blu
Claimed power: 30.9kW[42bhp]@10750rpm
Claimed torque: 29.6Nm[21.8ft-lbs]@9000rpm
Wet weight: 168kg
Fuel capacity: 14L
Engine: Liquid-cooled, DOHC, inline twin-cylinder, eight-valve four-stroke, 68 x 44.1mm bore x stroke, 321cc, 11.2:1 compression, TCI ignition
Gearbox: Six-speed
Clutch: Wet multiplate clutch
Chassis: Diamond steel tube frame, Rake: 25°, Trail: 95mm
Suspension: 41mm forks, 130mm travel, Monocross rear shock, preload adjustable
Brakes: ABS, single 298mm rotor, dual-piston caliper, single 220mm rear rotor, single-piston caliper
Wheels & Tyres: Cast aluminium 10-spoke, 110/70 ­– 17, 140/70 – 17
Dimensions:
Wheelbase: 1380mm
Seat height: 780mm
Overall height: 1035mm
Overall width: 745mm
Instruments: Multifunction display, analogue tachometer