Yamaha's XSR700 is powered by the MT-07 twin and offers awesome performance in an easily modified machine. Here's our review! Test by Kris Hodgson, Photography by Kris Hodgson, Sam Kimber
I hadn't done all that much research into the Yamaha XSR700 before it was delivered for testing, with most of the attention going to the XSR900 which arrived soon after.
Taking the XSR700 through my local roads though the first question that came to mind was, 'Is this a LAMS machine? Surely not.' The next thought was that the XSR700 is pretty awesome whether it is a LAMS bike or not.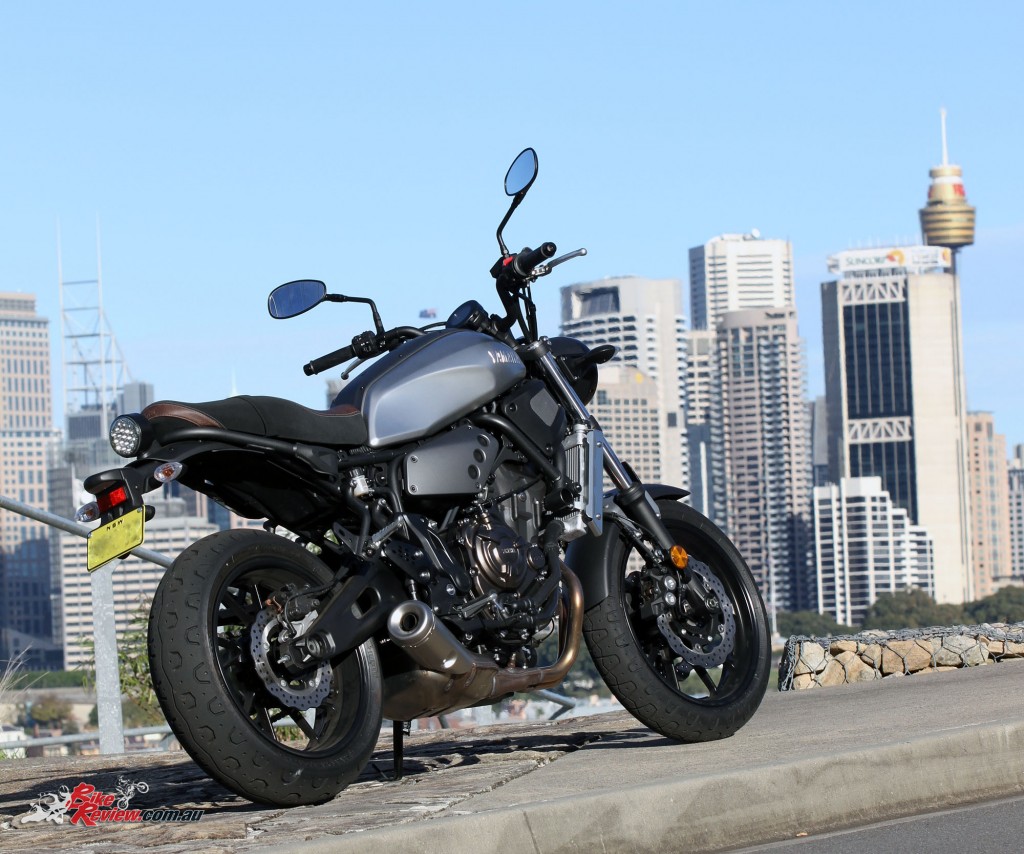 A quick word with Yamaha Motor Australia's Sean Goldhawk confirmed that the XSR700 is in fact a LAMS machine, using the same powerplant as the Yamaha MT-07 (LA), with a custom version of the bike to be displayed at Throttle Roll.
The first thing most other people I've talked to about this bike have said is that it's aimed at hipsters, which is normally an area I'm not all that into. I see the XSR700 though and I'm thinking, new headlight, new taillight, plenty of carbon, LED indicators, and an aftermarket exhaust and it would be one wicked looking machine. That's not that many modifications…
I'm putting it somewhere between the cruiser/nakedbike categories personally and like the looks, partially because I see a lot of modification potential and partially because everything I wouldn't change I already really like.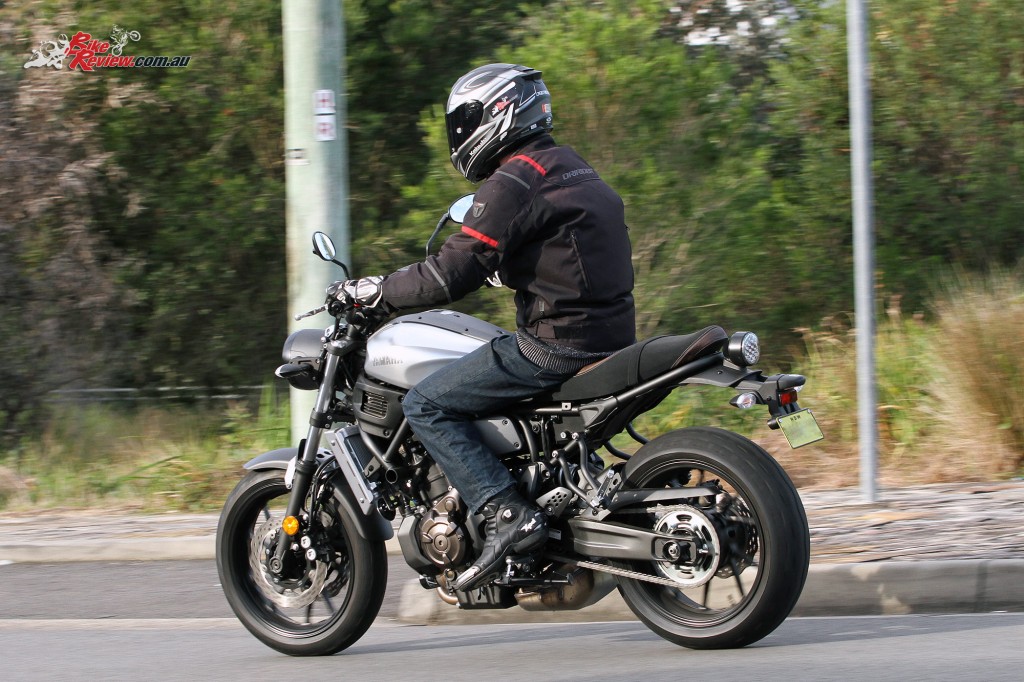 Yamaha's MT-07 is one of the LAMS options that has impressed me the most and they've done an exceptional job in ensuring what makes riding the MT-07 so great has transferred over to the XSR700. It doesn't have the MT-07's killer styling straight out of the box, but there's something there I really like – maybe modification potential?
First up the XSR700 engine is the liquid cooled 655cc parallel-twin including that 270-degree crank, from the MT-07LA, which means you've got about as much power as the Australian LAMS regulations will allow within the power to weight ratio requirements.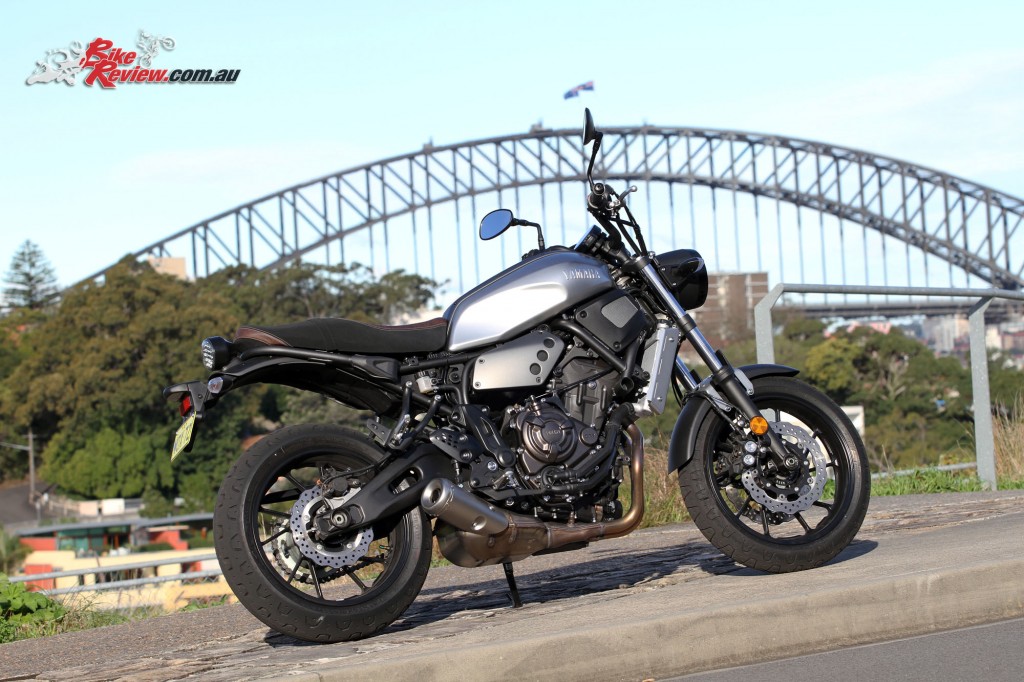 It's not just about maximum power or torque as a new rider however, with the XSR700 featuring great torque from right down low that allows for easy commuting, even at an absolute crawl, or quickly develops into a responsive and fun mid-range, with strong top end power, redlining at 10,000rpm.
I'll be honest, through the local twisties I wasn't setting any records, but I could run the XSR700 through strings of corners with a little bit of throttle control and a hint of brakes here and there effortlessly, while having an absolute hoot. Another rider on an MT-07 behind me seemed to be enjoying the pace too, and after giving him a few overtaking opportunities if he wanted to push the boundaries further, settled in to have a shadow for much of my circuit.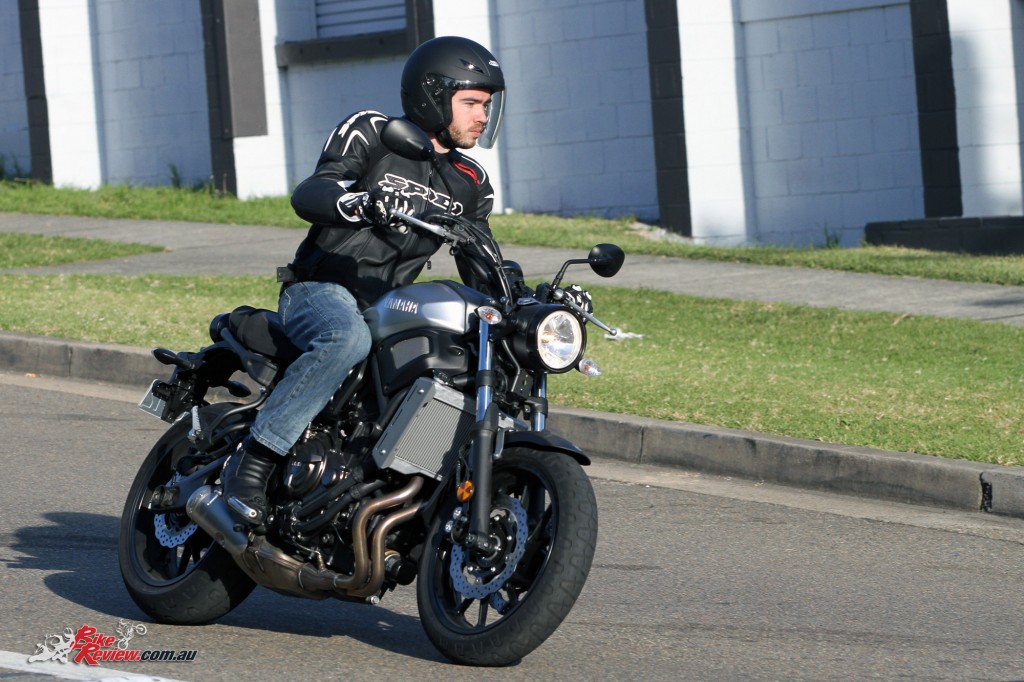 Of course part of what makes the package so good is naturally the chassis, with non-adjustable USD forks and a single rear shock offering a smooth ride. Jumping on the first thing you'll notice is the suspension settling, with the sag set pretty much spot on for my 70kg weight. The only time I really ever felt that initial softness was as I came to a stop using mainly the front brakes, and even then it was barely noticeable.
For regular riding the XSR700 easily absorbs road irregularities and provides great feel to the rider, both front and rear, with the rear the first to get upset over really poor surfaces, but still offering confidence and good tracking.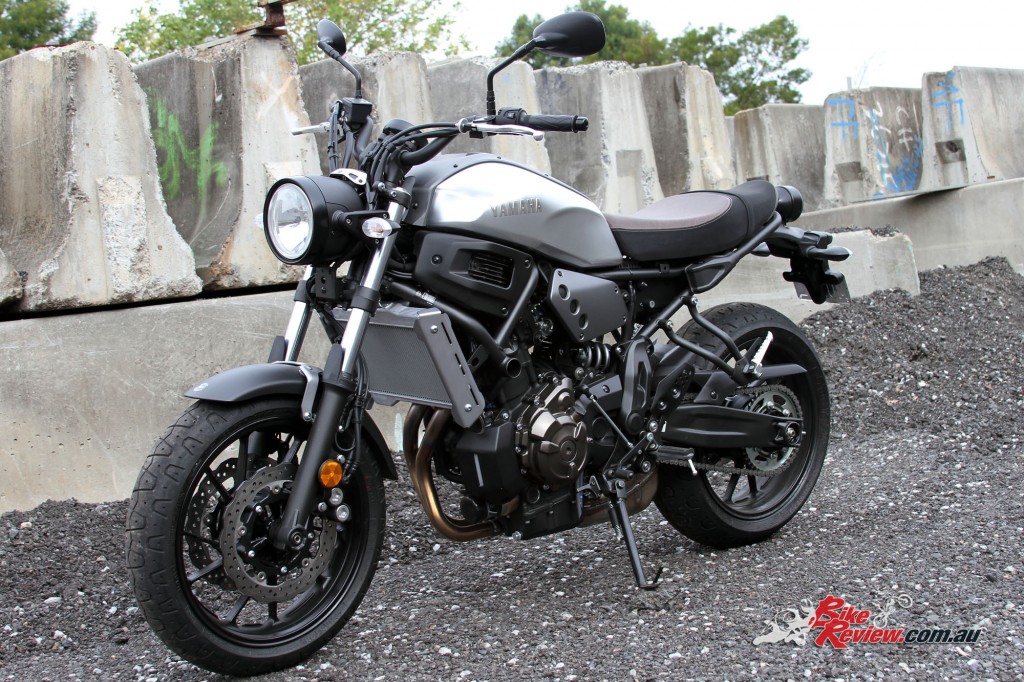 Having a bit more of a fang I was honestly surprised at how well the XSR700 performed when ridden fast but smooth, with the bike's suspension offering a very sporty ride – no wallowing, good bump absorption and absolute stability, especially with the bike leant over. In fact with the bike on its side it would hold a cornering line like it was on rails, while any corrections, like for a decreasing radius turn were easy, requiring very little input. Part of this is no doubt thanks to the Pirelli Phantom Sportscomp tyres, which offered great dry weather performance, for the entire period of testing.
I did also do some two up rides and while the XSR700 remains enjoyable at regular riding speeds, with a full extra rider's weight the low speed suspension performance has more noticeable wallowing as you take off and a lot more dive on the brakes. It's still capable, and once you're moving rides comfortably and well, but at 140kg-plus rider and pillion weight you're losing that nice one-up handling.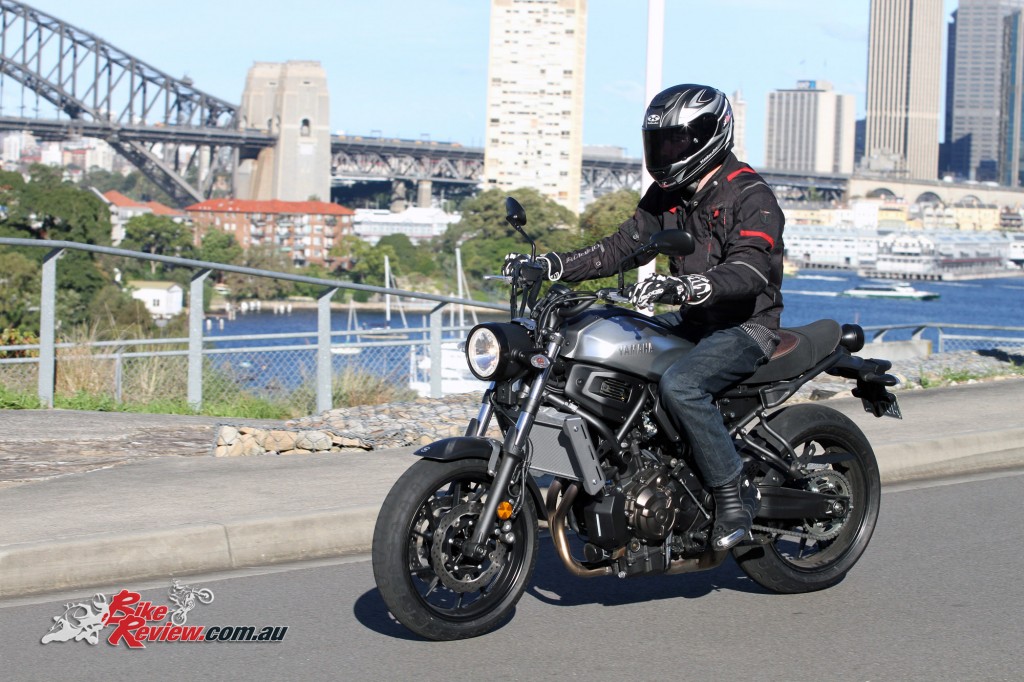 The frame itself is a modified version of the MT-07's high tensile steel tubing backbone-type frame, while the rear sub-frame is a bolt-on section, designed to allow for easy modification. The short 530mm swingarm is also the same item as that found on the MT-07 and is a stylish asymmetrical item.
Brakes are another strong point for the XSR700, with double 282mm front rotors with Yamaha four-piston calipers, and a 245mm rear wave rotor with Nissin rear caliper. The front brakes are ideally suited to the more relaxed XSR700, trading off some bite for good modulation and stopping power, ensuring even heavy braking brings you to a rapid, balanced halt.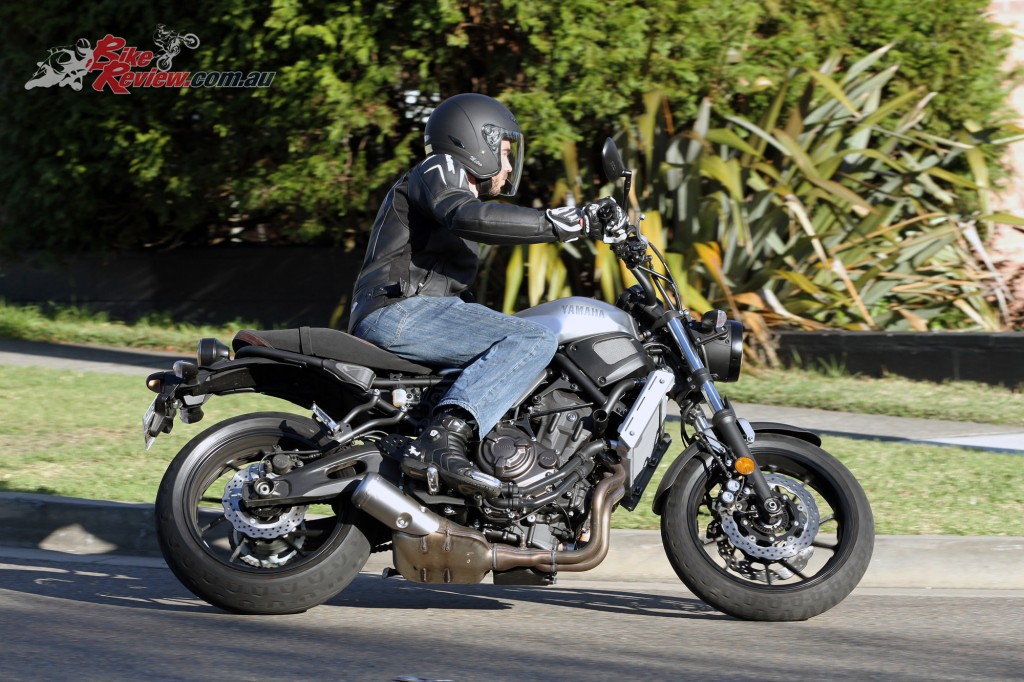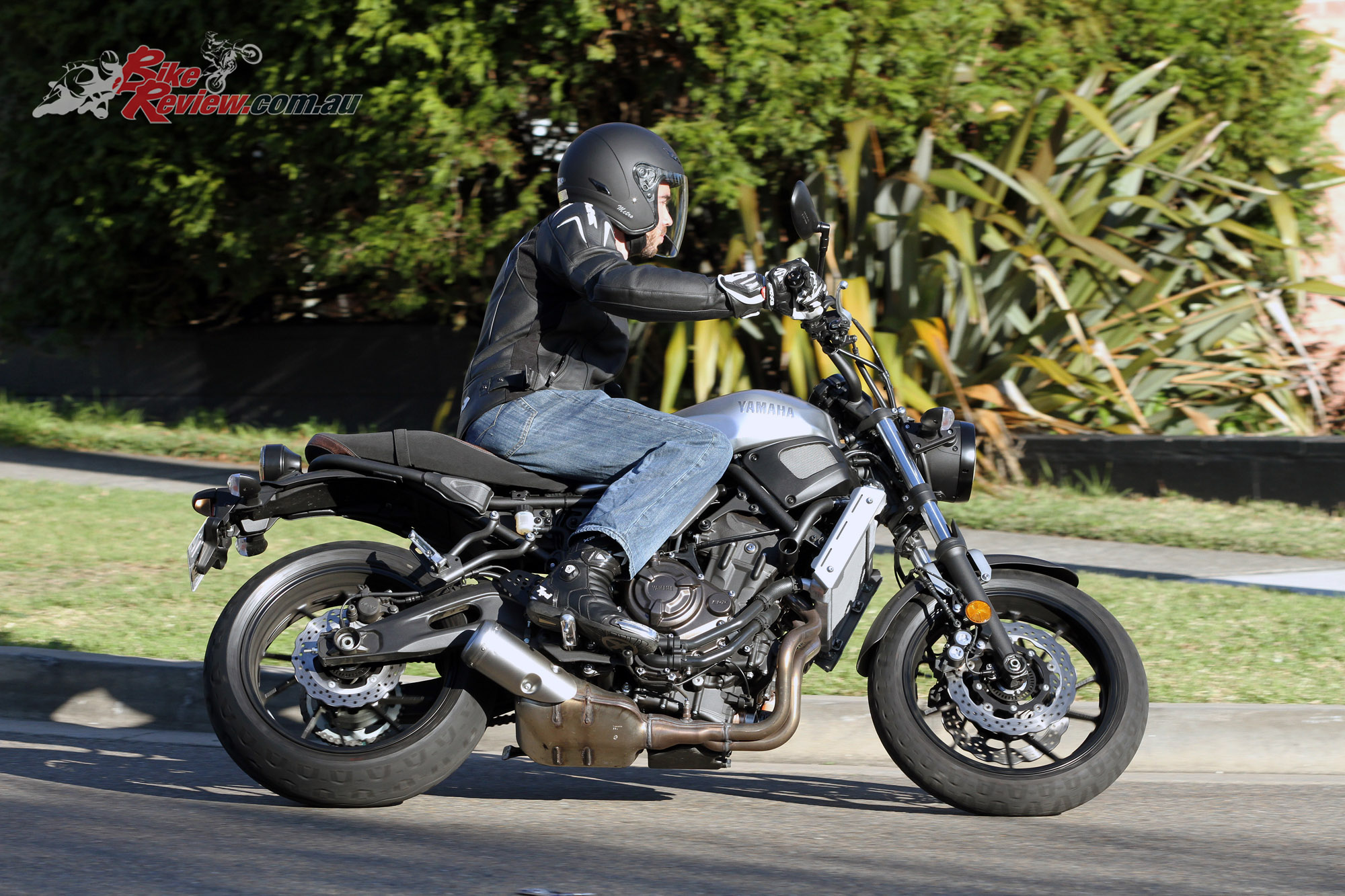 The rear brake also offers better modulation, which is good for low speed control, while the engine braking will happily supplement your stopping needs if you're happy to knock the bike down through its six-speed gearbox aggressively, and offers linear deceleration, that would certainly produce a more exhilarating note with a custom exhaust.
ABS is also standard on the XSR700, which I consider a good move on Yamaha's part, as purchasing a bike as a Learner I can remember a time when I'd have tried to save the money that adding ABS would add to the purchase price and it's just a little peace of mind for you as a rider, and all those worrying about you being on two wheels. With the Pirelli Phantom tyres fitted and relatively dry weather there weren't any situations I could even get a twitch out of the ABS either, and these aren't tyres that would need upgrading just for the sake of it.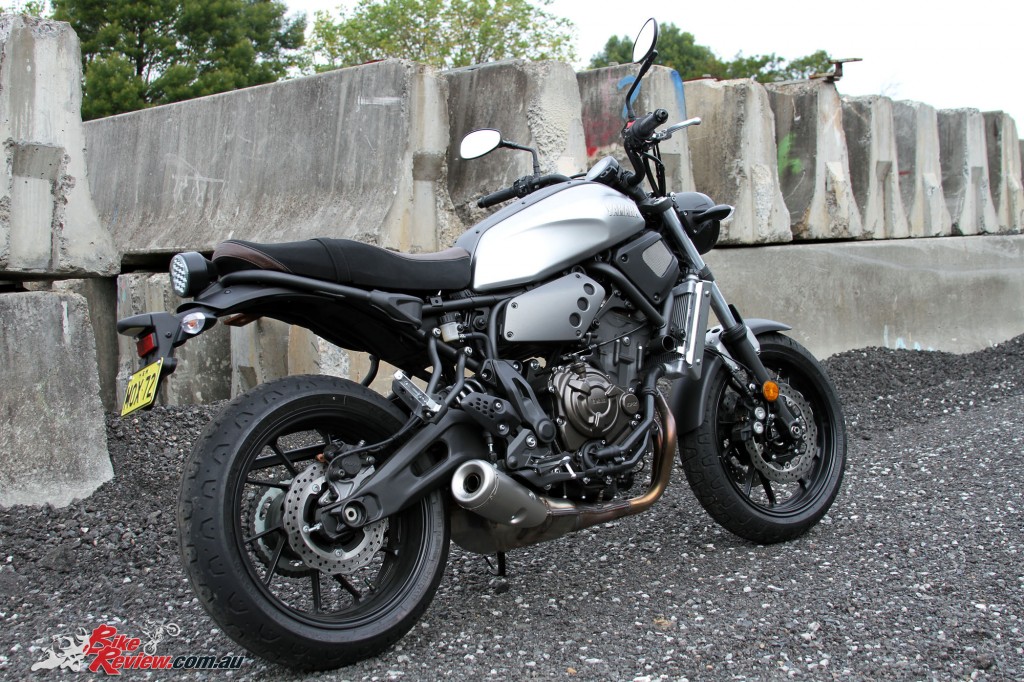 Ergonomics were also another standout, and as a daily sportsbike rider I sometimes find the taller nakedbike 'bars less comfortable, however on the XSR700 the rubber mounted 'bars offer a comfortable reach to the basic controls, including flasher and starter switch button. I did notice just how rubber mounted those bars are when I was moving bikes in my garage and grabbed them with the steering lock on, only to find the 'bars themselves moved. What this does mean however is that vibrations are negligible while riding.

The footpegs are also well positioned for my more leggy proportions at 180cm, allowing easy gripping with my knees when cornering as well as allowing me to easily put my weight through the pegs, whether that was to help reduce the effect of a particularly large bump I couldn't avoid, or so I could shift my weight around coming into a corner.
The instrumentation is another nice piece of kit, featuring a full digital multifunction display, with the tacho running around the top side of the round display, with speed and gear also clearly displayed, along with a fuel gauge. The seating position does mean that I had to glance down to effectively see the full display, however the warning lights across the top mean it's unlikely you'll leave an indicator on for too long.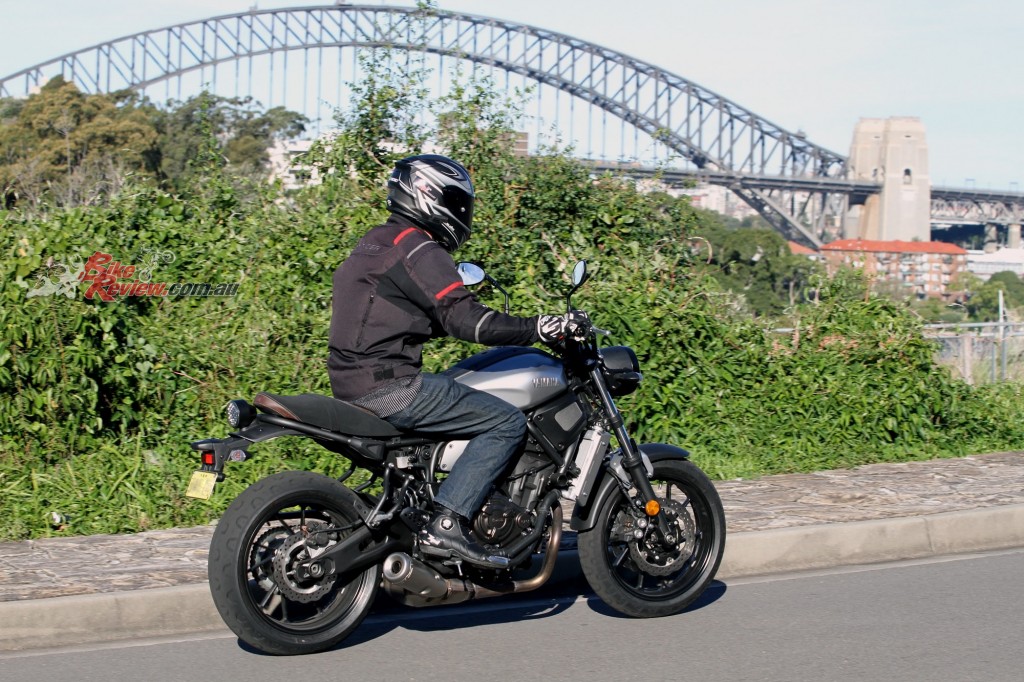 Overall I was exceptionally impressed with Yamaha's new XSR700, it's not as aggressively styled as the MT-07 but offers a more relaxed but still sporty machine with plenty of room for modification and personalisation. It's more than capable of keeping up with any LAMS offering or at any vaguely legal speeds and is a great combination of comfort, handling and performance.
Like the MT-07 the XSR700 also benefits from being one of the few LAMS machines I don't consider to be a bike that needs upgrading on a full licence, if you're the kind of rider who isn't after maximum power or performance. Yes it's that good!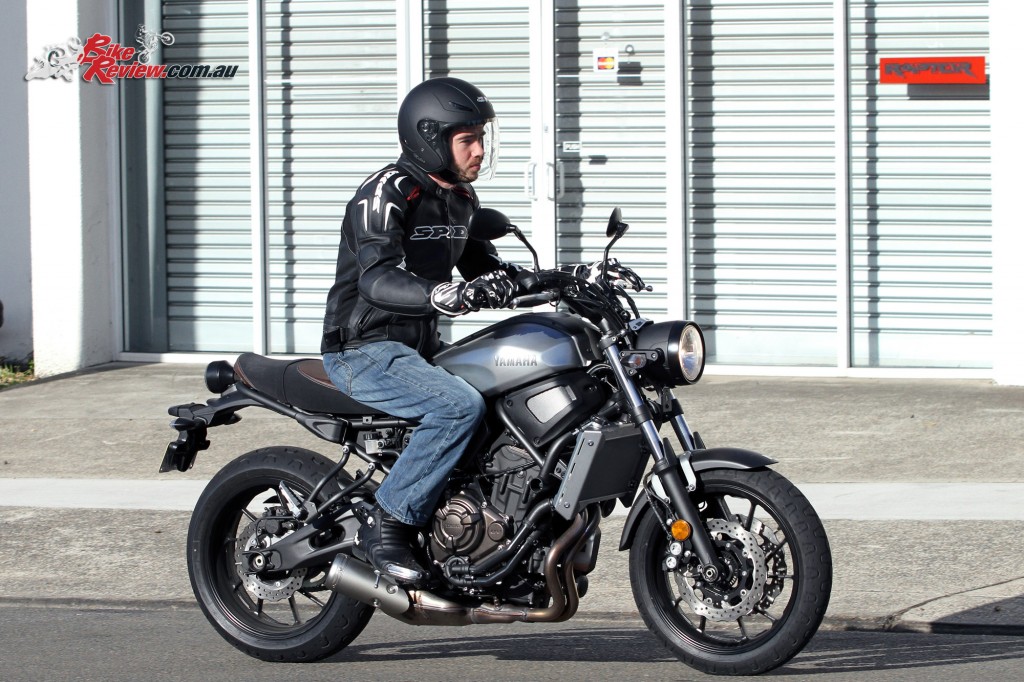 GEAR: 
Kabuto RT-33 Helmet | RXT Metro Helmet | Spidi Track Leather Jacket | Five RFX1 Gloves | XPD XP3-S Boots 
2016 Yamaha XSR700 LAMS Specifications
Warranty: Two year/unlimited kilometre
Colours: Forest Green, Garage Metal
Claimed Power: 38.3Kw[52.1hp]
Claimed Torque: 57.5Nm[42.5ft-lbs]
Claimed Weight: 186kg wet
Fuel Capacity: 14L
Engine: Liquid-cooled, DOHC, inline-twin, four-stroke, four-valve, 78 x 68.6mm bore x stroke, 655cc, 11.0:1 compression, lightweight one-piece two-into-one exhaust
Gearbox: Six speed
Clutch: Wet, multiple disc
Chassis: High tensile steel tubing backbone-type frame, asymmetrical steel swingarm
Suspension: 41mm front forks, 130mm travel, adjustable link-type Monocross rear shock, 130mm travel
Brakes: Dual 282mm front wave rotors, four-piston calipers, single 245mm rear wave rotor, single-piston Nissin caliper
Wheels & Tyres: Lightweight cast aluminium 10-spoke, Pirelli Phantom Sportscomp, 120/70-ZR17, 180/55-ZR17
DIMENSIONS:
Seat height: 815mm,
Overall height: 1130mm,
Overall length: 2075mm
Wheelbase: 1405mm
Instruments: Bar mounted LED display