We had the opportunity to ride and photograph Dave's immaculate Triumph Thruxton TFC. Check out what he's done with the bike below... Words & Photos: Zane Dobie
Dave Reid is selling his ultra rare customised TFC… Check out our feature on it. Triumph Thruxton's, ever since their arrival in 2004, have been the epitome of classic styling and modern handling. The top of the line is the super rare Triumph Factory Custom…
---
Check out our other custom bike features here…
---
Interested in buying Dave's TFC? Email Dave Reid here…
Ever since Triumph brought out the updated Thruxton 1200 R in 2016, I have been infatuated with the design, powerhouse and look of the bike, everything about it screamed authentic British motoring which soon proved that it eliminated that horrid classic British reliability.
---
---
I wasn't even old enough to ride on the road the first time I saw the 2016 Thruxton, I just couldn't believe that something as new as that could look as good as it did. I counted the money in my bank account and was swiftly overcome with depression at the fact I was $18,600 away from buying one.
---
Check out Zane's review of the Bonneville T120 here…
---
I have yet to actually ride a Thruxton. I rode the Bonneville T120 (which is the tamer and more historic version of the Thruxton) after its major update and fell in-love with the thumping 1200cc oil-cooled twin. The way the power came on and the modern twists Triumph graced it with like electronic throttle-bodies just cemented my love for most of the 1200 Triumph range.
This brings us to the ultra-cool and uber-rare Thruxton TFC that Dave Reid owns. As Jeff said in his feature of Dave's RE Continental 650, our jaws were on the floor when we rocked up the photo spot to see two of the cleanest and tastefully presented motorcycles we had seen. You can read Jeff's full write up on Dave's Royal Enfield Continental GT in the link below, but sitting next to it was something that had me in awe of the build quality and styling.
---
Read our feature on Dave's custom RE Continental 650 GT here…
---
The Triumph Thruxton TFC is an ultra-limited edition motorcycle released in 2019. TFC standing for Triumph Factory Custom, each model released under the TFC range was limited to just 750 motorcycles worldwide. Obviously, Australia got a minimal number of those.
---
---
Starting out with the powerplant, Triumph upped the power output from 96hp on the Thruxton 1200R to a whopping 106hp@6750hp out of that thumping twin. The torque was also upped from 111.9Nm to 115Nm@4850rpm. It wasn't just an engine remap, Triumph threw a light-weight crank, high comp pistons, an updated cam profile and updated balance shaft, these combined with the TFC clutch and rare-earth alternator all allow for lighter moving parts in and around the engine.
Triumph smashed it out of the park with an Ohlins NIX30 USD fork, these 43mm tubes are fully adjustable. The spectacular carbon-fibre bodywork is almost overshadowed by these gorgeous fully adjustable RSU's at the back. Those signature gold Ohlins piggyback reservoirs do more than create an awesome ride, they just look spectacular. 
---
---
They also shed a bit of weight through the usage of a magnesium cam cover, thinner engine covers, aluminium engine cradle, a light-weight battery and, of-course, that stunning carbon-fibre bodywork. From the factory, this bike is much more than just a Thruxton with a special badge and limited edition paint, it's a ground up customisation backed by millions in R&D.
---
---
What use is a fast bike without insane brakes? Of course Triumph added high specification four-piston radial monobloc calipers with twin floating Brembo discs at the front and a single twin piston caliper at the rear. Those beautiful spoked wheels are wrapped in aggressive Metzeler RACETEC RR hoops from the factory!
---
---
Dave came about buying this bike around two years ago, picking it up for a bit more than they were new. Consider how limited these bikes were new a price tag of $31,700 for a brand new limited edition bike really does not sound bad at all. In his ownership, Dave has put some cash into more modifications to make this an even crazier bike.
---
When asked why he choose the Triumph Thruxton TFC, he simply replied "I've just always wanted a bike like this. It's a rare and beautiful machine."
---
When asked why he choose the Triumph Thruxton TFC, he simply replied "I've just always wanted a bike like this. It's a rare and beautiful machine." He's not wrong, it's simply stunning in so many different ways and Dave constantly seems to make his bikes look like they never get ridden, even though he assured me he does. 
"The internals of the engine are all standard but the bike was taken to DNK Tuneworks for a tune after fitting SF Sprint filters, Verex Big Bore headers and an Aella crankcase breather to help allow for less pressure buildup in the engine.
---
---
"After DNK Tuneworks did their magic on the stock ECU, just tuning via the OBD we squeezed out approximately 120hp at the wheel." Seriously impressive numbers considering the TFC already has that increase in power from the factory over the 1200R.
---
---
Pretty much perfect off the showroom floor, the only other thing Dave has changed about the TFC is that he changed all of the bolts he could to Titanium and added an anti-gravity battery which tips the scale at 900grams lighter than stock, not that Triumph didn't shed enough weight off already but when in Rome I suppose?
---
---
Despite not a whole lot being changed on the bike, these high-tier and high-quality parts all add up in the end. Dave calculates that on-top of the cost of the bike, he has sunk $10,000 into it over the course of two years.
Jeff started up the insanely cool Thruxton and the stock Vance & Hines mufflers let out the loudest rumble. This is not a quiet bike by any stretch of the imagination, but it's not a harsh sound like certain V-twins. Jeff took off down the road and you could hear the revs echoing through Parramatta Park as he wound the throttle on.
Jeff's Quick Spin
The fist thing I noticed as I hopped on Dave's TFC was how light it felt compared to a standard Thruxton. Straight off the stand, I could tell the difference. It's still a big chunk of bike, but it's definitely lighter. Firing the beast into life, I'm met with a meaty and intimidating sound. Two seriously big, angry pistons ready to shoot through their cylinder-head!
---
---
Heading out of Parra Park, the suspension feels firm and racey, the steering light and the Metzeler's really add to the sporty character. I go for a quick spin around the area and the thing that comes to mind more than anything is that Dave's bike feels like a racebike. You'd have to have racing experience to understand where I'm coming from but when a bike is lightened from the fasters to the crankshaft, and runs high comp and big cc, it takes on a whole new level of liveliness and this TFC has that personality. It's fast, really fast, with the front wheel skyward when the throttle is cracked.
---
---
The brakes are fantastic – one finger to pull up a huge bike, with intimate feel. Fuelling is spot-on, the clutch is pretty heavy but the gearbox smooth and the riding position is exciting. Overall, just as I expected, the TFC, with Dave's magic touch, is the ultimate Triumph roadbike. What a beast!
---
---
I'm sure Jeff was struggling to hang on with his injured wrists because man do these things have some buck to them. It's one of those bikes that makes everyone turn their heads as it rides down the road, it's seriously such a good looking and sounding bike. My photos don't do it justice!
---
---
"All the work I've done to the bike was worth it in the end, I can't see anything I would change in the near future…" said Dave "When my son Alex is old enough to ride it, he will be the next owner of it."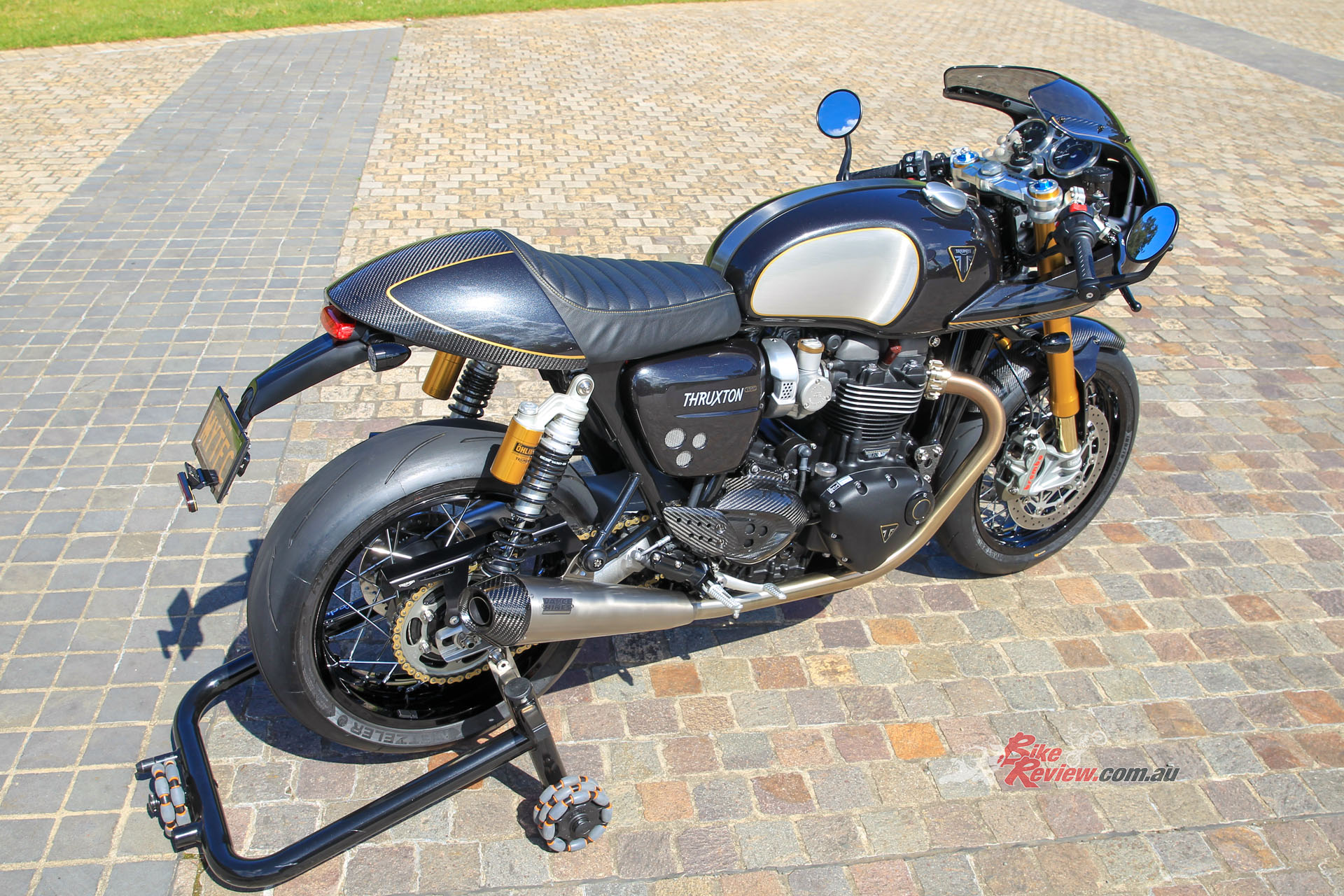 Custom Triumph Thruxton TFC Specifications
Engine:  Liquid-cooled, SOHC parallel twin four-stroke with 270-degree firing angle, 1200cc, 97.6 x 80mm bore x stroke, 12.5:1 compression, DNK Tuneworks Tune, Aella Crankcase Breather, SF Sprit filters, Verex Big Bore headers, Titanium Vance and Hines mufflers with carbon fibre caps, anti-gravity battery. TFC factory goodies. Gearbox: Six-speed constant mesh Clutch: Wet multi-plate slipper clutch, cable actuation.
---
Chassis: Tubular steel cradle, alloy anodised swingarm Rake: 22.8° Trail: 92mm. Suspension: 43mm Öhlins upside-down NIX30 front forks, fully adjustable (f), Twin Öhlins RSU's, rebound and preload adjustable (r). Brakes: 2x 310mm discs Brembo with four-piston M50 monobloc calipers (f), 220mm disc with Nissin twin piston caliper (r) Wheels & Tyres: 32 spoke rim 3.50 x 17in, 32 spoke rim 5 x 17in, Metzeler Racetec RR 120/70-17, 160/60-17. Titanium fasteners throughout.
---
Performance: 173kg (dry), around 120hp (at the wheel).
---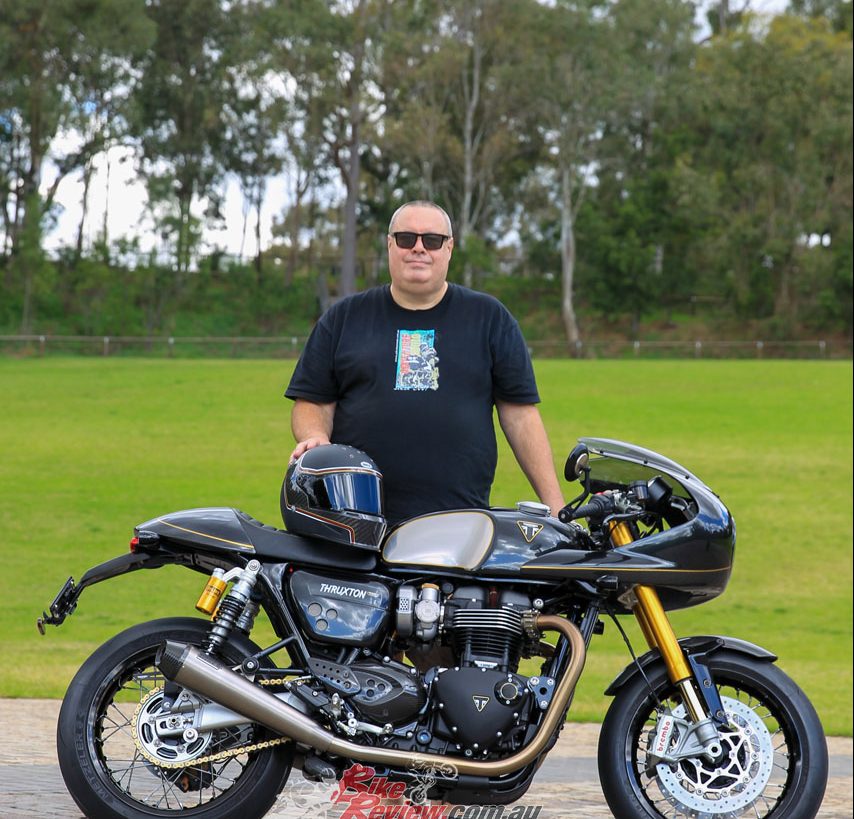 Dave's Custom Triumph Thruxton TFC Gallery
---

---

---
Editor's Note: If you are reading this article on any website other than BikeReview.com.au, please report it to BikeReview via our contact page, as it has been stolen or re-published without authority.
---