Editorial, with Jeff Ware...
G'day,
I don't know about you but I had a well-earned break over Christmas.
Unfortunately, there was no riding for me, I was rehabilitating my knee – I had a full knee reconstruction after snapping it testing the 2017 Husqvarna range, which you can read all about. Fortunately, it was after lunch and I'd been able to ride the 250 and 300 TE two-strokes and the 250, 350, 450 FE four-strokes a few times each. The only bike I missed was the 501, which would have only frightened the boots off me anyway.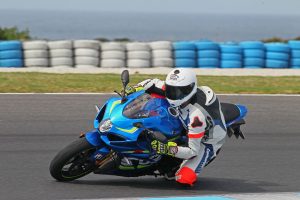 I was back on a bike mid Feb riding the Kawasaki Z650L and Ninja 650 on the street followed by a day at Phillip Island where I attended the World Launch of the Suzuki GSX-R1000R. That took weeks to recover from and so with all the nice 2017 models on the horizon, I'm devastated. I just got invited to the KTM 2017 Adventure range launch but will not be able to ride those big guns.
Anyway, aside from a household of six (and two dogs) to keep me very busy, I had my RC Tamiya Hornet 30th Anniversary Edition car that I really enjoy and a few RC choppers, so I played with them. I also made some more progress on my Aprilia RS250 Harada Replica restoration. I made a big dent in that job last Christmas when Tim came over for a week or so and we rebuilt the engine and started assembling the chassis. Can't believe I haven't done much to it since.
It is 80 per cent complete but the 20 per cent remaining is a lot of hard work. Unlike my GSX-R750F restoration, the RS needs to be done on a very tight budget. This means I've let go of the idea I had of an immaculate, pristine paint RS250 with highly polished alloy and draped in loads of carbon-fibre, with an Arrow exhaust system and trick bits all over it. Yep, I originally wanted to build the boy racer special I never could afford, then wobble around on it with my 41-year-old gut flanking the fuel tank and me a full 35kg more than I was when I owned my last RS250 back in 1999.
Now I am going for the more practical restoration, the daily or weekly rider. I'm not going to be so fussy with the paint, I'm going to buy a few decals to replace the damaged ones and aside from that, polish up the panels as they are still in original colours and look OK. The tank is dark blue and needs to be sprayed black so that will be a home job. I'll fork out for a new screen and get the seat repaired but I'm going to compromise all the way. I want to be able to afford the job and to enjoy riding it. I'm going to rego it and use it and I can't wait.
Luckily for me I have my BEARS F3 championship winning bike, the RS250 with the SXV550 engine I built for the 2009 and 2011 seasons. So, I'll pinch the shock, forks and wheels from that as it is only a display bike now. The wheels have new Pirelli SC2 tyres fitted as well, a further bonus. Pipes are the big thing missing. I'd love a set but will make do with the standard jobbies and keep an eye out on eBay for a set of stingers at some point.
Of course, the beer fridge and couch were only a few feet away for when I required a break. It never takes much arm twisting there!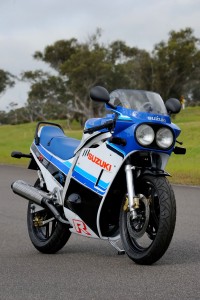 By the way I've sold the mighty 1985 GSX-R750F and I'm considering selling the Aprilia after a bit of fun on it. As a dad of four I'm thinking whether I should have this money just sitting there under sheets, when there are so many other priorities financially. However, aside from it being hard to let them go I also know how much I will regret it down the line if I can't replace them even if I can afford to… I did it with my RD250C and my TZ250 5KE and couldn't even tell you where the money went. Could have been school fees, shopping, bills or house stuff. I'd love those bikes back, or at the very least something to show for them going… Hmm… Oh, and did I mention I bought an immaculate Australian delivered two-owner RG500? More on that next month!
Cheers,
Jeff.