Ever wondered how to get cracking in adventure riding and off-roading? RideADV have the perfect rides to get you started having fun, safely, with back-up... Words & Pics: KH, BikeReview
When Chris from Yamaha suggested I tag along on a RideADV Introduction to Adventure Riding course on our WR250R, it took me all of one millisecond to say yes. Run by Greg Yager, RideADV offer courses from their Dural HQ and provide the perfect starting point for the uninitiated off-road rider. Here's what we did on the weekend run…
This isn't your carpark beginner learning affair either, riders of varied levels of experience are certainly welcome and able to learn a lot. This is basically a curated and supported ride – like you'd do with some mates if you knew what you were doing, but with professional support and support vehicles.
If you're out riding on deserted dirt roads, or tackling tougher rides, not going alone is a big consideration and being prepared for something going wrong is also important. RideADV takes most of the worry out of trying out adventure riding and unfamiliar conditions by ensuring you've got the best support possible. All you need to worry about is riding.
All this comes at a super competitive price as Yamaha Motor Australia are partners with RideADV as part of the bLU cRU initiative, with this course setting you back just $190, with a BBQ dinner on the Saturday night included and your other meals and accommodation at your own expense, although camping for the truly adventurous can help keep the costs down. RideADV also offer their specially modified WR250R machines as loan bikes for those who don't own something appropriate so there's no excuses for not giving it a try!
Each of these introductory courses differs too, the one I did was a ride from Dural up to Stockton Beach, an afternoon of sand and beach riding, then the following day was back via the Watagans and St Albans.  Talking to some of the more seasoned hands, previous events have had more challenging dirt sections, but I found this an ideal mix.
The support vehicles also on this trip will take a bag from each person, meaning you can ride unencumbered, with the special focus of the nightly chat after a hard days riding varying with each ride, giving everyone an opportunity to learn something new whether they are a returning rider, or totally new, with Greg and the RideADV crew happy to answer questions at any time.
Overall I highly recommend looking up RideADV, they run these courses, as well as a range of courses and events around Australia, including the WR250R Rally and are a professional, highly organised team, which creates a friendly, inviting atmosphere with great mateship.
Different rider types and machines are catered for and there's really nothing to worry about, like I said, you just turn up and have a great time. You'll meet plenty of riders with similar interests and maybe even find someone to ride with!
Here's a look at what the two days consisted of:
Day 1 – Dural to Stockton Beach/Anna Bay, via Gosford
Arriving at Dural on Saturday you sign up and get an introduction from Greg, who wasn't riding this time due to an injury, but obviously chomping at the bit about being car-bound. On the road there was two support vehicles, one with a trailer for camping gear and bags, the other with a bike trailer with a backup machine. Not all rides will have the backup bike, if they are all hired, but Greg covers all the bases when he can. Then there's a lead and sweep rider, with the 'corner-man' system used, where the rider behind the lead is left at each turn (or anywhere ambiguous as to which way to go), and then re-joins when the sweep passes.
This ensures no-one gets lost and if there's any dramas the sweep or support vehicles can step in. If you're thinking about getting adventurous on your own, the RideADV course will also demonstrate the kind of preparation needed for more serious efforts and the team have plenty of stories to share about when things go wrong.
We did the picturesque route out of Sydney, which gave everyone an opportunity to learn the corner man system, with a quick stop at Pie in the Sky for a coffee before heading on to Stockton Beach. There were a few stretches on the highway where it was necessary, with the pace set so everyone could keep up regardless of their machine. Stops like at Pie in the Sky gave the opportunity for questions and advice from the RideADV team.
Arriving up at Anna Bay we stuffed our faces at the local club with some great grub, before checking in or setting up camp at the Birubi Beach Holiday Park.
Then it was time to head to the entrance to the beach, where Greg gave a run down on sand riding, from pressures, to general riding tips and telling those a bit more proficient not to rub it in too much. Time to put it all to the test, via the beach entrance road, which was basically the softest and deepest section.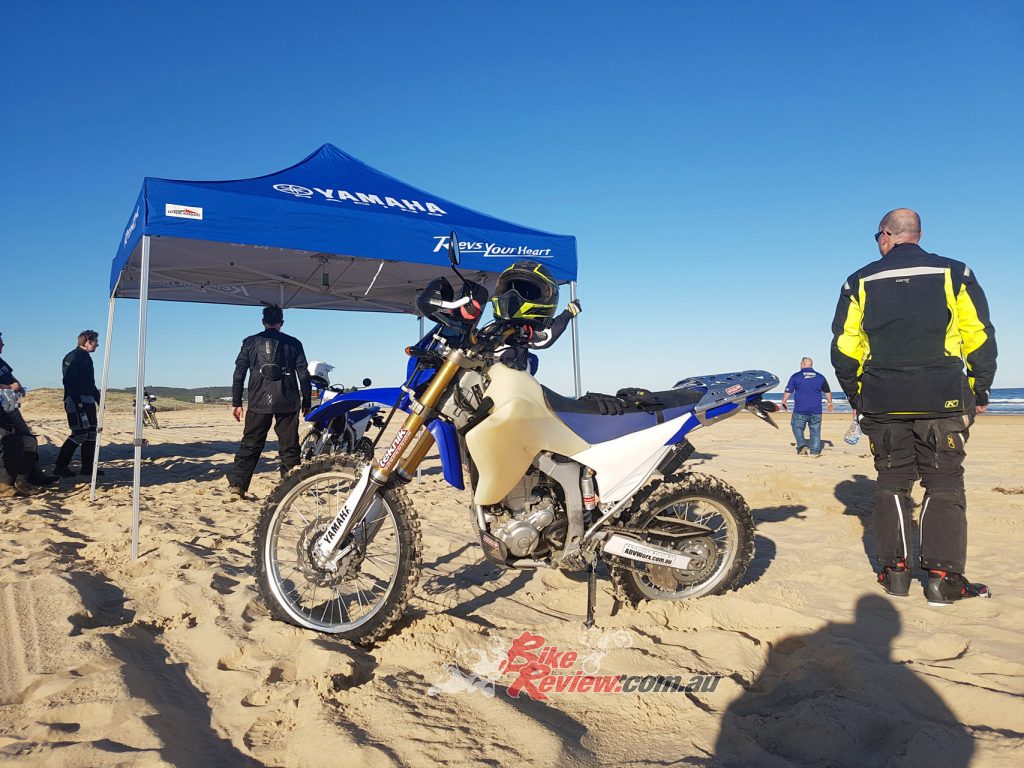 Trying to keep the momentum going on stock Trail WIng tyres proved a bit more difficult than expected and a few crashes later I was down at the beach where the more solid sand offered an easier place to get moving. It's worth mentioning here, that had I just tried to head out on the beach alone I'd have been going home disappointed.
But with the advice from Greg I was heading in the right direction, and with some other riders in a similar situation it made for a fun learning experience, especially to get down to the beach where things got a bit easier.  It's a great sense of accomplishment when you get it all working.
Spending the afternoon sand riding up and down the beach is an unforgettable experience and one that I think I could now do solo – on something like the WR250R – having done the Introduction to Adventure Riding course, although I'd probably want another rider to tag along to be safe and to have the Bridgestone E50s on that we just got for the bike.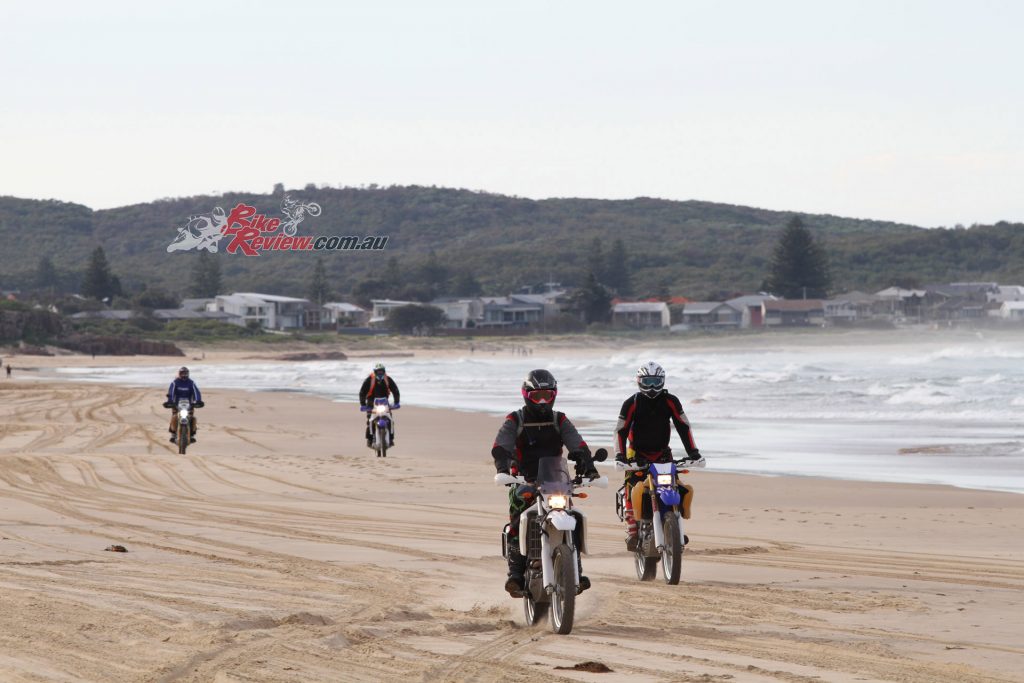 After a couple of hours at Stockton Beach, which included eventually getting up to riding in the more challenging softer sand, Greg and the team packed up and it was back to the cabin or tent before dinner.
Dinner was a great BBQ and an interesting discussion of luggage, with Greg and Chicken (the chief sweep, who Greg introduced as Australia's #1 sweep!) sharing some of their wisdom on these topics and answering questions.
Having a few beers to relax after a full day of riding was a great way to cap off the day, especially the stories about Greg and Chicken's adventures, which are many and generally worthy of a laugh, if not a bit of astonishment. I made it an early one being exhausted and knowing there was another full day to come.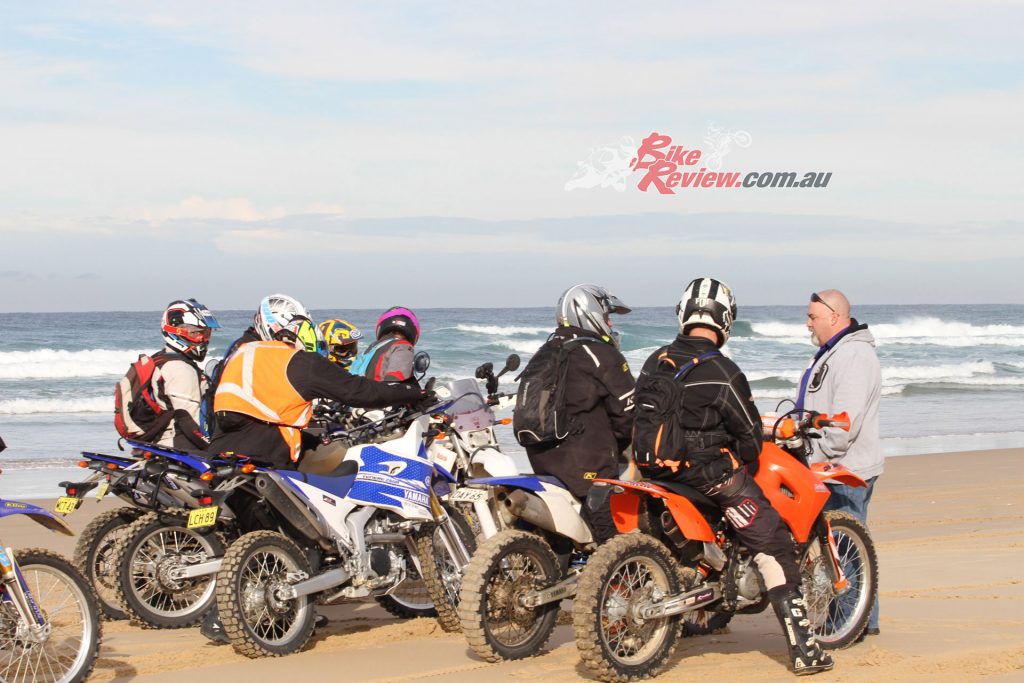 Day 2 – Stockton Beach to Dural via Watagan Mountains, Kulnura, St Albans
Waking up in a chilly Anna Bay everyone met in town with the more proficient riders doing a full run down the beach to the exit at the opposite end and meeting everyone else at Maccas once that was complete. Where we'd entered the beach the day before was the easy end, with the opposite end requiring riding up some quite steep hills to get out, which wasn't for me yet.
Greg kindly drove me down the beach so I could get photos of the morning riders, which also gave me a chance to have a good chat about RideADV, which he runs alongside ADVWorx, a shop specialising in working on and decking out adventure bikes to handle anything that will be thrown at them, with a long history of working with WR250Rs.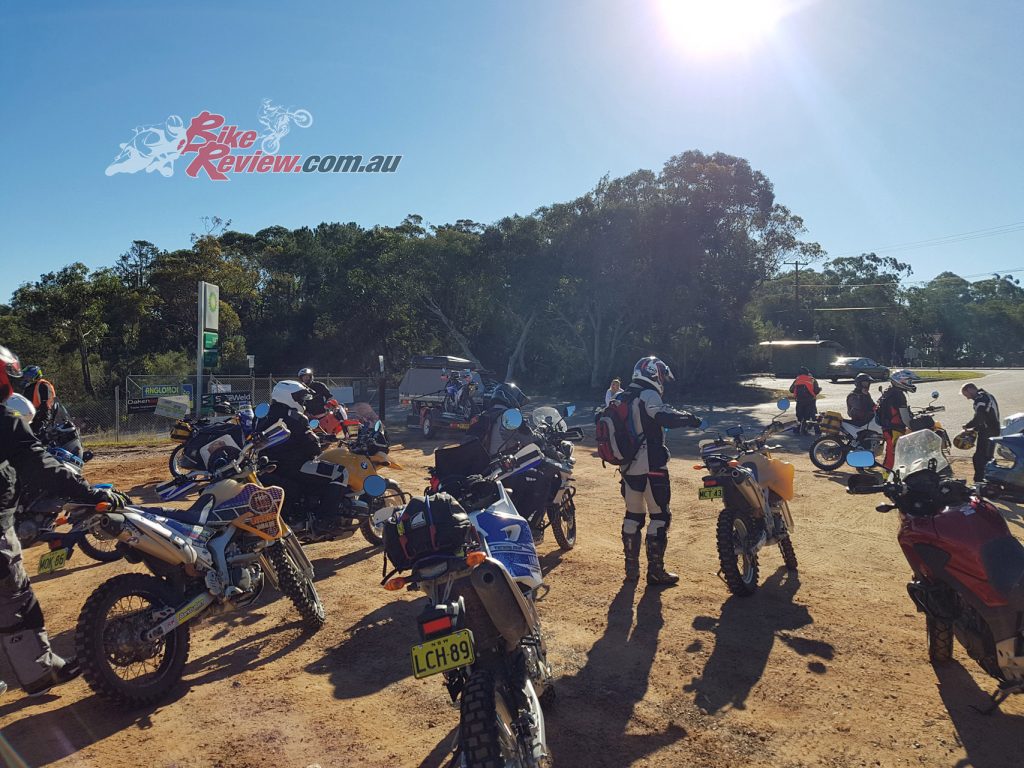 Greg was also happy to share that Yamaha Motor Australia (YMA) is a big supporter, and that he picks the sponsors very carefully, with all those involved being brands that he personally uses as part of his business and recommends to customers. Anything Greg's recommending has been thoroughly tested and put through the harshest of conditions to get his seal of approval, with brands like Barkbusters, AdventureMoto, Teknik, Pirelli, Tyres for Bikes, and bLu cRU on that list, alongside YMA.
This isn't a full time gig either with Greg obviously running RideADV with his team due to the passion he has for adventure riding, and getting people involved, which was well summed up by his suggestion to people on his loan bikes to 'ride them like you stole them.'
With the beach run done, and some pictures under my belt, it was time for the trip back to Dural in Sydney via the Watagans, Jerrys Café and St Albans, making for a good mix of road and unsealed roads, which particularly to me gave some great ideas for future rides – something I'd been struggling to find info on!
Stopping at Jerrys Café for lunch gave time for a recharge, before heading to St Albans and doing the dirt back to Wisemans Ferry, gave plenty of unsealed roads on Day 2 and was a great way to head back into Sydney, taking some of the more interesting routes that I'd normally avoid on a road bike.
This provided plenty of opportunity to practice my riding on unsealed roads, and starting on the more challenging sand really helped make the ride back more enjoyable, having learnt a lot at Stockton Beach – including that unsealed gravel roads are nothing compared to sand!
Arriving back in Dural with the sun setting the beers were broken out yet again to top off another great day of riding, with the trip a roaring success and an amazing introduction to adventure riding, although being on the Project WR250R certainly helped as it's an amazing little machine.
Overall I highly recommend checking out RideADV or dropping in and having a chat with Greg, whether you're looking to get your own bike sorted for some proper adventure riding, or want to take part in a course, he's the guy to talk to in Sydney and even lacking an adventure bike isn't an excuse. You can hire one out for an event and see if that's what you want to invest in long term.
Pricing is super competitive and you just can't go wrong in my opinion.
See https://www.rideadv.com.au for the calendar and lots more information.
RideADV Introduction to Adventure Riding Gallery
The Verdict | Education: RideADV Introduction to Adventure Riding