Ralph Hudson recently has his 284.361mph record approved at the FIM awards in Andorra on November 27, here's how he got there! Words by John Nutting, Images by Jean Turner, Team Akatiff
World motorcycle speed records don't come tougher than when you're sitting atop the machine at almost 300mph. But that's what Californian Ralph Hudson has achieved on his Suzuki. John Nutting reports on events last August in Bolivia
The world's motorcycle speed record doesn't make the headlines these days. Perhaps it's the huge cost of building sophisticated streamliners and taking them to far flung places like the Bonneville Salt Flats in the USA that has diluted the mystery of being faster than anyone else on two wheels.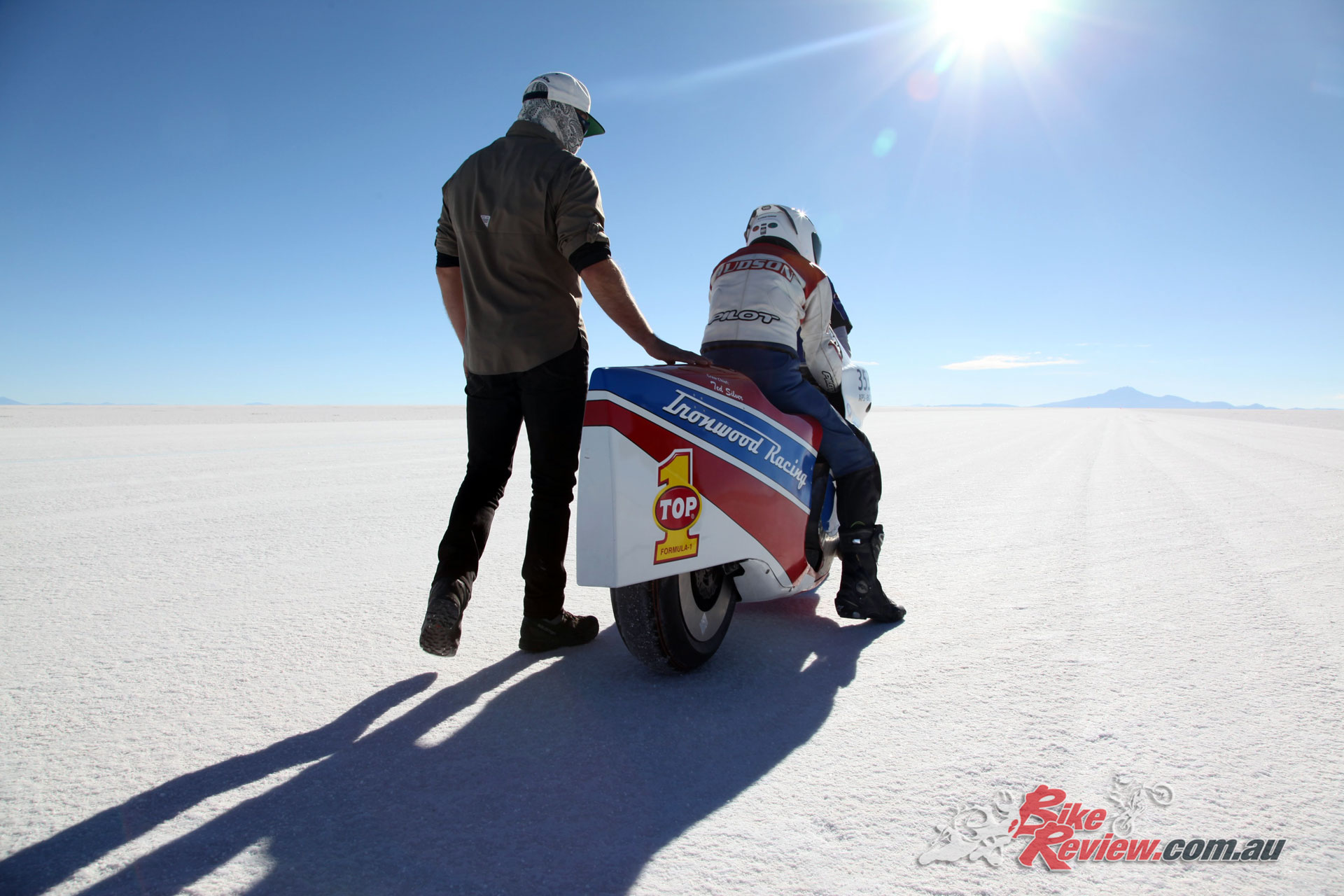 It's been seven years since the official world record was raised to 376mph with the Ack Attack streamliner piloted by Rocky Robinson, and since then the salt conditions at Bonneville have conspired against any successful attempts.
Fully-enclosed streamliners like the Ack Attack built by Mike Akatiff are difficult machines to master even when conditions are good, and the learning curve for those teams outside the US hot-rod community is even more steep, as illustrated last year when the Triumph-powered machine ridden by Guy Martin managed just 274mph.
But there's another breed of riders who are pushing the outer limits of conventional motorcycles. On both sides of the Atlantic they use modified road bikes and compete to be the fastest at places like Elvington airfield in Yorkshire and in the USA on airfields and dry lakes like El Mirage, in California.
In the UK, the highest speed recorded for a motorcycle was the 264.1mph achieved in 2014 by Becci Ellis riding a turbocharged Suzuki Hybusa built by her husband Mike. It was measured at the end of a standing-start mile at Elvington during the filming of a television program so didn't qualify for a record.
But it was timed on the equipment used by Straightliners, which organises regular speed events. At the recent Elvington meeting in September the highest average speed for the standing mile was the 213.9mph clocked by Ken Dunn on his turbocharged Kawasaki ZX-12R, a record for the UK.
Because Ken set off from a standstill suggests that his terminal speed must have been approaching or exceeding 260mph.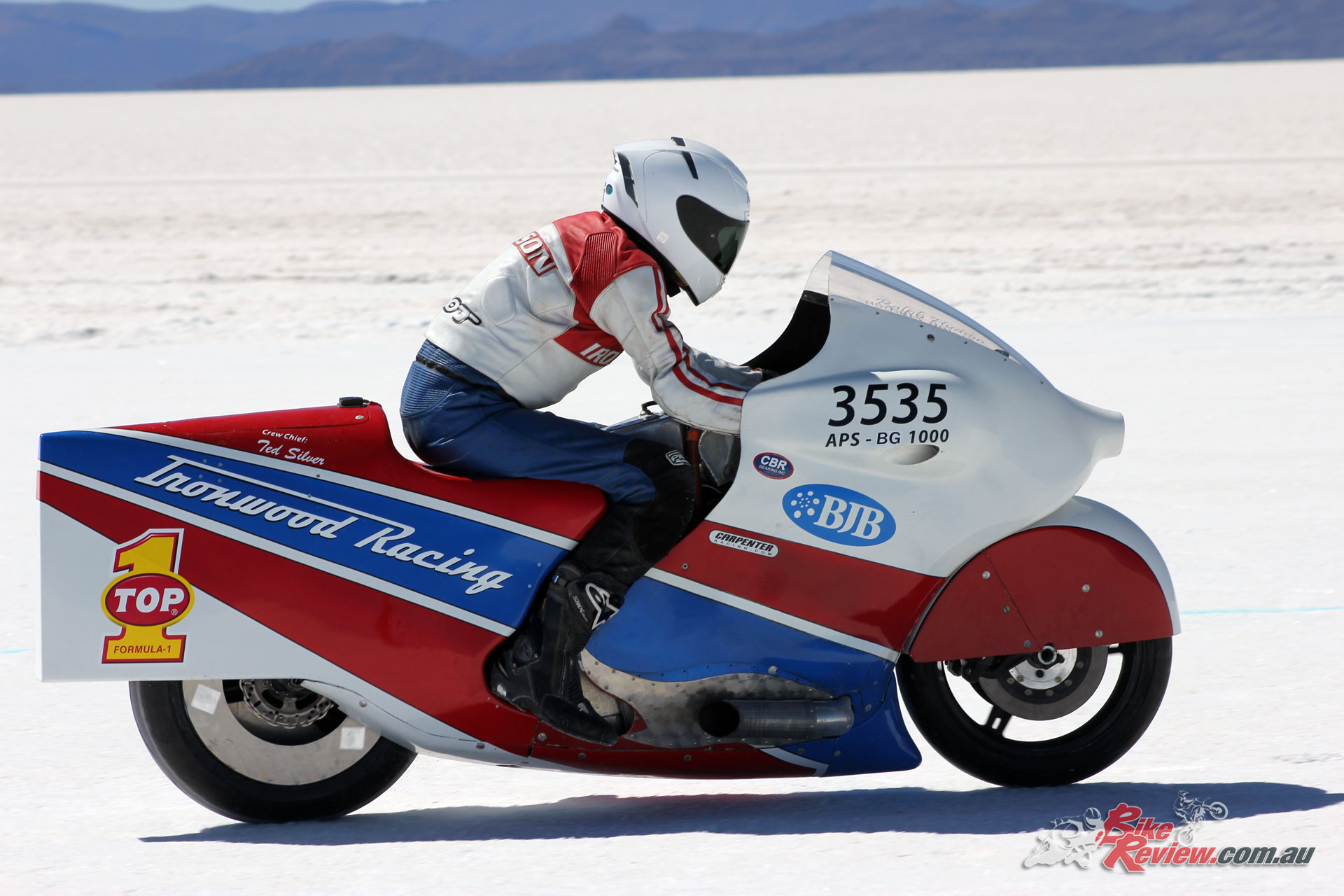 The Need for Speed
Imagine then what it must be like to ride at almost 290mph, and average that speed over a full mile. That's what Ralph Hudson, a speed freak from California, achieved early in August on a turbocharged Suzuki in an attempt to clinch the world record for partially-streamlined motorcycles, according the to the rules of the Fédération Internationale de Motocyclisme (FIM).
At that speed you're travelling at four-and-three-quarter miles a minute. Unlike streamliners in which the rider is squeezed into an enclosed and protective cockpit, feet extended forward, you're sitting conventionally on the bike. Tucked into the tightest of racing crouches, you're blasted by a wind tearing at every ripple of your leathers. The slightest twitch can knock several mph from your speed, or worse.
The prospect of losing control doesn't bear consideration. But it's happened, and often enough to be more than an ever-present worry about the reliability of the machine or changes in wind speeds. Hayabusa rider Bill Warner, who in 2013 briefly clocked 311mph at the former air base at Loring in Maine, died two years later after crashing in an attempt to clock 300mph at the end of a standing-start mile.
Ralph Hudson 
Hudson's speed, which is to be ratified as a world record by the FIM, was achieved on the world's largest salt lake, in Bolivia, 12,000 feet up in the Andes, during the Top 1 Top of the World Speed Trials. It was the culmination of almost a decade of development of his Suzuki by Hudson, the boss of a Hollywood firm that fabricates mechanical props and effects, mostly for museums and theme parks.
A member of the California racing community, Hudson has been racing his Suzuki at Bonneville and at the El Mirage dry lake north of Los Angeles since 2009, when he returned to bikes after a lapse of more than three decades during which he brought up his family.
In his last year at high school in 1969, Hudson had started out at a Kawasaki shop and drag raced a 500 two-stroke triple. He first went to Bonneville two-years later and took three records. "I thought it was easy! My best speed was 131 mph." he recalls.
During his time away from bikes he thought about ways of going faster, and his skills with fabricating props came in handy. In 2009 he bought a Suzuki GSX-R1000 dating from 2003 and started work modifying it for speed records.
"I had an idea about streamlining that I carried in my head for 33 years," says Hudson. "In 2009, after a discussion with another road racer who also wanted to get into the 200mph club at Bonneville, I decided I'd better try to build the bodywork, before I got to be too old. It worked! With a completely stock bike inside my bodywork, the bike went 210 mph, bettering the existing record of 207mph."
He then wondered if he could get a 750 to top 200mph, and with a GSX-R750 engine in the machine clocked 211mph in 2010, followed a year later using a 600 Suzuki engine to clock 202mph.
With improvements to the aerodynamics using the stock 1000cc engine, in 2012 Hudson lifted the partially-streamlined record at Bonneville to 239mph. But more power was needed so the Suzuki engine was turbocharged.
"I had expected great speeds at Bonneville but on my first serious attempt, I crashed the bike at 218 mph," says Hudson, who suffered shoulder injuries in the spill. No speed attempts were made in 2014 and 2015 because Bonneville speed week had been cancelled due to weather-related issues.
"2016 was better, but the bike would start wobbling at 235 mph, and I couldn't get a decent pass. We did go slightly faster than the existing record, but 239.97mph was not nearly what I had hoped."
During this period Hudson was also racing at the El Mirage events, using a 1.3-mile strip on the dry lake. "At the end of 2016, on the second day of a two-day meet at El Mirage, the traction was good and the bike went 266 mph, the fastest run there by a motorcycle of any size – ever. The previous fastest speed was 252 mph, set on a 1650cc bike. That was a good day!"
Despite his successes, Hudson admits to not being good at asking for sponsorship. Ironwood Racing, which is emblazoned on the side of his bikes, is his own company. "I don't have any major sponsors," says Hudson. "Carpenter Racing does my engine work at cost, but that's about it. CBR bearings give me ceramic wheel bearings at no cost."
Racing the Uyuni Salt Lake – Bolivia
Late last year USA-based oil company Top 1 planned the support of an attempt by Mike Akatiff's Ack Attack team to raise the streamliner two-wheel record above 400mph, and identified the salt lake at Uyuni where more than 15 miles of pristine salt was available. Hudson was delighted to be invited with four other racers to join the group, seeing it as the best opportunity to go even faster with better salt conditions.
A complex logistical plan was put in place to ship containers of not just machines and support equipment the 5,000 miles, but the necessary kit for preparing the dry lake's surface. Adding to the challenges were the thin air, with pressure some 40 per cent less than at sea level, low temperatures of around 50 deg F and limited daylight hours.
For the Bolivians it was a big deal, who led by the country's president Evo Morales rolled out the carpet to the teams with dancing and partying. But several days passed before the containers arrived and work could start on speed records. For the Ack Attack team it turned out to be fruitless, and despite at one point entering the timing mile at 378mph, the streamliner suffered turbocharger and brake problems that couldn't be corrected by the time the team were due to leave.
It wasn't plain sailing for Ralph Hudson and his Suzuki either. After a single run at 274mph, which had been enough to beat the record set at 266mph set by colleague Al Lamb on a turbocharged Honda CBR1000, Hudson's Suzuki started overheating. During the journey from the US the water pump had frozen, so Hudson spent a lot of time sorting that out using a pump from a spare engine, then on the next run the clutch burnt out, clogging the oil filter with debris.
At the best of times, reaching speeds approaching 300mph demands a special range of engineering and riding skills. But on salt and at high altitude, there are additional problems to surmount.
The power of Hudson's machine is increased with turbocharging and on the dynamometer at near sea level in California the maximum recorded was 420bhp, but 12,000 feet higher at Uyuni the air pressure measured was just 0.8 bar, or 11.2 psi, so even with forced induction the power would have been reduced.
Although air drag is cut by the lower pressure, stability of the machine at speed is provided by the aerodynamic slipperiness of the bodywork and a wheelbase elongated by about six inches. Key to preventing weave, says Hudson, is to keep the centre of mass behind the centre of pressure by the positioning of weights, and careful design of the rear fin.
To qualify for an international speed record in the partially-streamlined category the FIM requires that the wheels must be visible for 180 degrees of the circumference at the front and 135 degrees at the rear. The fin mustn't be higher than 150mm above the seat base and 400mm behind the rear tyre.
The rider must also be visible from both sides and above, apart from the hands and forearms, without using transparent body work.
For the record attempts, the FIM also requires that two runs be made in opposite directions over the measured mile within two hours, an average of the two figures being used.
Because the gearing is so high, and Hudson's Suzuki engine uses the stock gearbox and primary drive, it takes a while to get moving from a standstill. "The launch is painfully slow," he says, even with a push from the team. But once up to speed, Ralph reckons that each run took about 90 seconds, with the mile being covered in almost 12.5 seconds.
Tyres are "the big concern" at elevated speeds, says Hudson. "I used Dunlop road race tyres and had better luck with slicks than the treaded tires. The tyres tended to crack, down inside the grooves of the treaded versions. I never lost any tread, but found the defects after the runs.
"It was very cold even during the day. Race tyres that normally feel a bit gummy, felt like hard plastic. You couldn't get your fingernails into them at all. We didn't have electricity for tyre warmers until the last couple of days. The tyres still felt slightly warm, even after the second leg of the record run."
With so much distance available, the engine is being held at maximum power for several minutes, and that's uppermost in your mind, says Hudson.
"Near the end of the high speed runs, I'm often talking to the engine, inside my helmet, thinking, 'Come on, don't blow, you can make it, almost there, come on!' That last mile, with the engine at red line, just screaming, is the longest mile of your life," he says. "So many things can go wrong, you just hope that any glitches will be minor ones, that won't slow you down, or at least not much."
Braking from such high speeds isn't a problem though. "Not on a course this long," says Hudson. "The timing lights are between miles 7 and 8 and the course was groomed by Mike Cook for seven more miles to let the Ack Attack slow down. The sit-on bikes don't have any trouble stopping with minimal braking in three to four miles."
Even so, Hudson uses carbon fibre front discs and pads supplied by Lamb Component in Upland, California, which are necessary on the airfield courses when there is less than mile to stop from 260mph plus.
After the first 274mph run at Uyuni, Hudson made changes to the bike. "On Monday we re-geared it," Hudson said. "I thought everything was going to be great, but we did a run of only 266mph. It wasn't faster than the existing record, which Al Lamb set on the Sunday, so I was pretty disappointed. We found that a line that shows how much boost the turbo is making had disconnected."
The final afternoon on the Monday turned into a head-to-head between Hudson and Lamb, both having set qualifying speeds.
"We made our next run and I was not feeling very hopeful after it turned out to be only 281," Hudson told photographer Jean Turner. "And Al had just run a 285. I had a pretty good run, stayed in it and we actually went 289 on the return. So the average came out to 284.361mph. Al's first run was 285 but his return was 272. So his average was lower, but only by a couple miles an hour. So it was extremely close!
"Having logged a run at 289 mph, with this setup, I firmly believe that 300mph is well within the realm of possibility. I'm 66 and having the best success of my racing life."
Ralph Hudson had the 284.361mph record approved at the FIM awards presented in Andorra on November 27. Looks like Ralph will be returning to the salt flats at Uyuni next year!