Need a touring style jacket that's flexible enough for dual-sport and adventure riding? Look no further than the DRIRIDER RallyCross Pro 3…
If you're new to adventure riding or dual-sports you may still be getting used to the fact that even on a cold day you can go from cold to overheating with some off-road exertion at the tip of a hat, with the DRIRIDER RallyCross Pro 3 designed to do it all with no fuss – minus the overheating.
Needing touring protection from wind, cold and rain is a big enough ask, but add the good breathability and more adventure/off-road orientated features and you're asking for some very disparate goals all in the one piece of kit.
With the RallyCross Pro 3 you get a 600D polyester and Ripstop Cordura outer, including 1000D stretch mesh panels, with PU external armour on the shoulders and elbows and backed by CE armour and a hi-density back protector.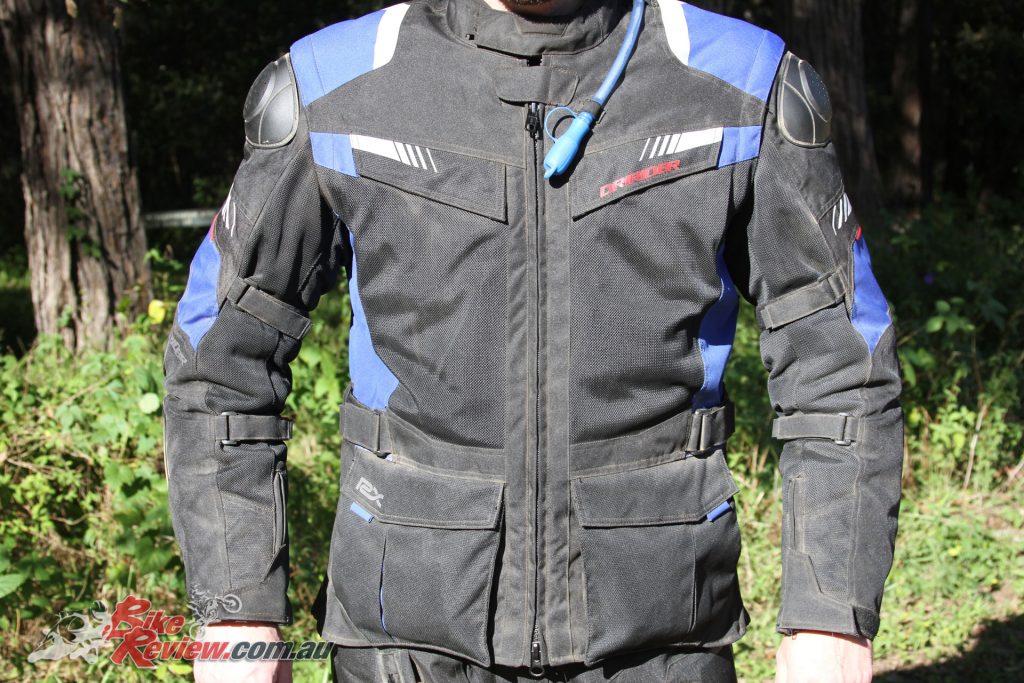 This combines to offer touring levels of protection from the elements with more off-road orientated armour, bringing you the best of both worlds. That mesh offers airflow, meaning the RallyCross Pro 3 is suitable for all weather use, especially taking into account the zip off the arms. If you're wearing off-road armour under this jacket there's also much less of a concern about the level of protection this leaves you with, which is a further win.
A waterproof and thermal liner are removable and integral to the jacket's all season viability, as the waterproof liner provides wind protection for the mesh sections, and zips in with Velcro connectors onto hoops in the out jacket wrist area. The thermal liner then zips in inside the waterproof liner, giving good options about how many layers you need.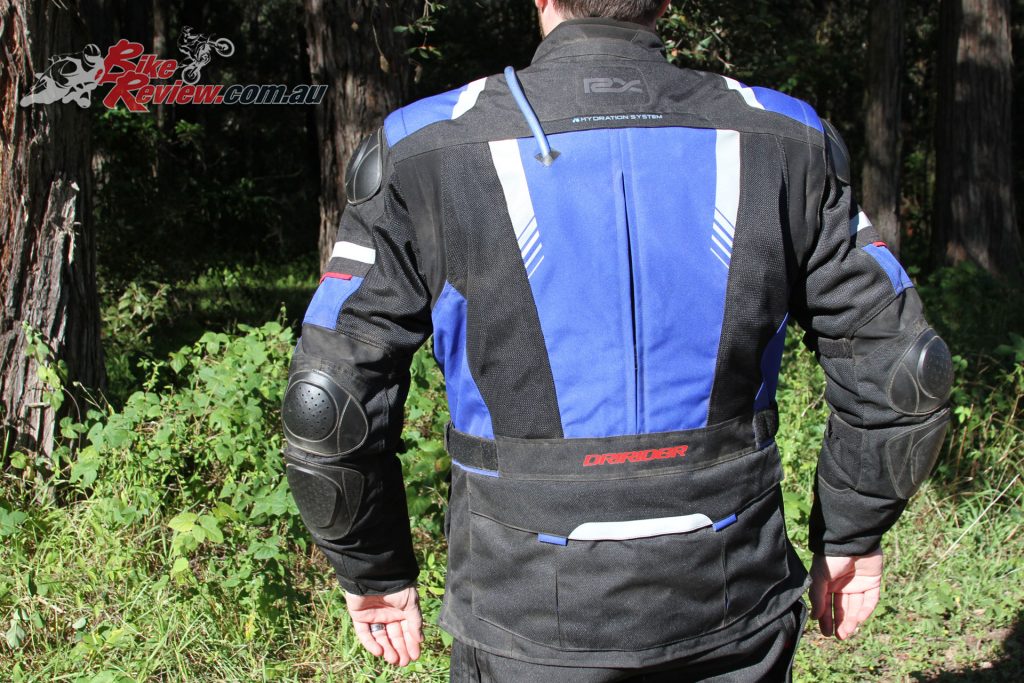 The RallyCross Pro 3 jacket was also warm enough for those single-digit mornings without bothering with anything more than a regular layer underneath – with all the liners in – while stripping those layers out as the day warms or you get to more challenging terrain is a quick job.
There's also extensive pockets, with two lower and two higher chest pockets, as well as hand warmers behind the lower pockets, making for secure storage with the Velcro closure pockets, and an easy place to warm your hands, or store simple items, although I kept my valuable in the Velcro pockets to ensure they didn't go anywhere.
There's also a massive rear pocket, making plenty of room for additional bits and pieces, while keeping everything out of the way while riding. Also on the back is the included 'hydration pocket' and bladder, which allows for easy drinks on the run, while that hydration pocket is waterproof, meaning a leak isn't a worry – something I accidentally tested by not connecting the bladder to the drinking tube properly! Grabbing a drink however is as easy as feeding the tube up under the helmet chin area.
Obviously the full bladder adds a fair bit of weight to the jacket, but you can leave it empty if you don't need the hydration on the run, and the inclusion is a great feature, being totally ready for some serious adventure riding. The bladder hangs within a special pocket with a horizontal zip and two two clips, while there's an additional zip on the rear of the jacket that allows the jacket to expand out… maybe for airflow, maybe for more room for the bladder, I'm not 100% sure on that one.
As far as adjustability you've got zips and a Velcro strap at each wrist, giving a good ability to get the wrists closed up if you're wearing short gloves, while a full gauntlet will go straight over the top.
Along the arms you've also got two straps to cinch the arms tighter if it gets really cold, again with Velcro and plenty of room for adjustment. This is joined by a waist adjuster as well, again with Velcro straps, and I wore it loose for most of my riding, however I really appreciate the extra adjustability, as when it's truly cold, that'll make all the difference.
The neck adjusters consist of two Velcro straps as well, and I did find these a little tight when fully closed and moving around on the bike a lot if I had any layers on underneath, but I did do them right up for the longer touring sections without issue.
Overall I've been highly impressed with the DRIRIDER RallyCross Pro 3 jacket, which offers a great touring jacket, but with the ability to be run as a dual-sport or adventure jacket with ease. That also bodes well for when the temperature rises in Summer, while the plethora of pockets, good adjustability and great fit all exceed expectations.
This isn't the lightest jacket, as you'd expect, with the liner and bladder in (and full), however riding in the RallyCross Pro 3 across two full days of adventure riding I was never uncomfortable, even when it came to some more challenging sand riding.
The flexibility is a real standout, especially with those removable sleeves and this is a do-it all jacket, which is competitively priced at $419.95 RRP, when you consider that also includes the bladder system, and the overall package.
Check out your local DRIRIDER stockist to check out the RallyCross Pro3 Jacket, or see the DRIRIDER website at https://www.dririder.com.au/ for the full range and to find your local stockist. The DRIRIDER RallyCross Pro 3 jacket comes in sizes Small to 8XL in Black, with Black Grey available in Small to 6XL, and Black Blue (as tested) in Medium to 4XL. Replacement water bladders can also be purchased for $29.95. Matching DRIRIDER RallyCross Pro 3 pants are also available for $249.95 RRP.
DRIRIDER RallyCross Pro 3 Jacket features
600D Polyester, 600D Ripstop Cordura, 100D 4-way stretch & abrasion resistant mesh
PU external armour (shoulders, elbows)
CE armour, high density back protector
Detachable waterproof liner
Detachable thermal liner
Zip-off sleeves
Hydration Pocket with included bladder
Arm & wait adjusters
Stretch comfort panels
Refletive for night time visibility
Connection zip for pants
The Verdict | Gear Review: 2019 DRIRIDER RallyCross Pro 3 Jacket
Need a touring style jacket that's flexible enough for dual-sport and adventure riding? Look no further than the DRIRIDER RallyCross Pro 3… Here is our review.