We fit a full set of red HEL braided brake lines to our long term Daytona 675R, here's the verdict:
Hel Performance brake lines are a great option for upgrading stock rubber lines and are all produced in-house in Britain on their Star Micronics CNC machines.
This includes the stainless steel banjo fittings, banjo bolts, ferrules and braided fluoropolymer lines. The stainless steel fittings are full swaged to the lines, enabling them to be lighter than reusable fittings while providing a high quality seal, enabling the Hel performance lifetime warranty.
Buying in Australia from Hel Performance Australia you get the same high quality product, however it is assembled here, with the option to have custom lines made to suit any application, whether that's due to a longer swingarm, taller or repositioned bars, or any number of other modifications.
For most applications fitting the Hel Performance lines is a simple job of draining the brake fluid, then replacing the lines, before refilling the brake fluid and bleeding your lines to ensure no air is caught in the process.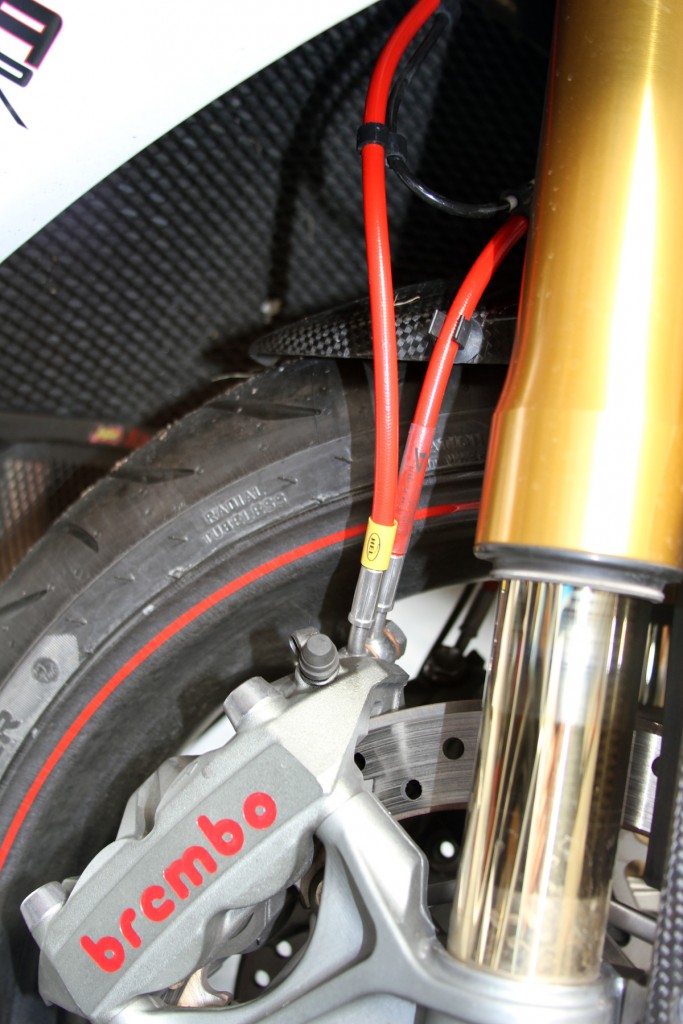 In this case the Hel Performance brake lines were added to a 2013 Triumph Daytona 675R, which comes with braided lines as standard, but which received a set of red Hel Performance lines to match the bike's detailing and to ensure the lines used where the absolute best quality available.
It also meant the lines needed to be connected to the ABS system, which makes is a more complicated job than on bikes without ABS.
HEL Performance Braided Lines Verdict
The result is eye-catching brake lines, with optimal performance in all conditions. Braking performance did improve over the previous standard lines, however this is keeping in mind the brake lines received all new fluid, and the difference between moving from standard rubber to braided Hel Performance will be far greater and more noticeable.
If you're noticing braking performance dropping off, becoming or just generally being spongy, or feel isn't great at the lever then consider doing a full upgrade to Hel Performance stainless steel braided lines, with the Hel Performance brake pads now also available.
You won't be disappointed!
Special Thanks:
Hel Performance Australia
helperformance.com.au