DNA release new airfilter for 2020 Triumph 900 lineup
DNA have just released their new high performance airfilter for the Triumph Tiger 900 lineup. DNA claim that fitting this new airfilter to a 2020 Triumph Tiger 900 will increase airflow by 21.58 per cent. The performance airfilter is on sale now for $136.50 RRP.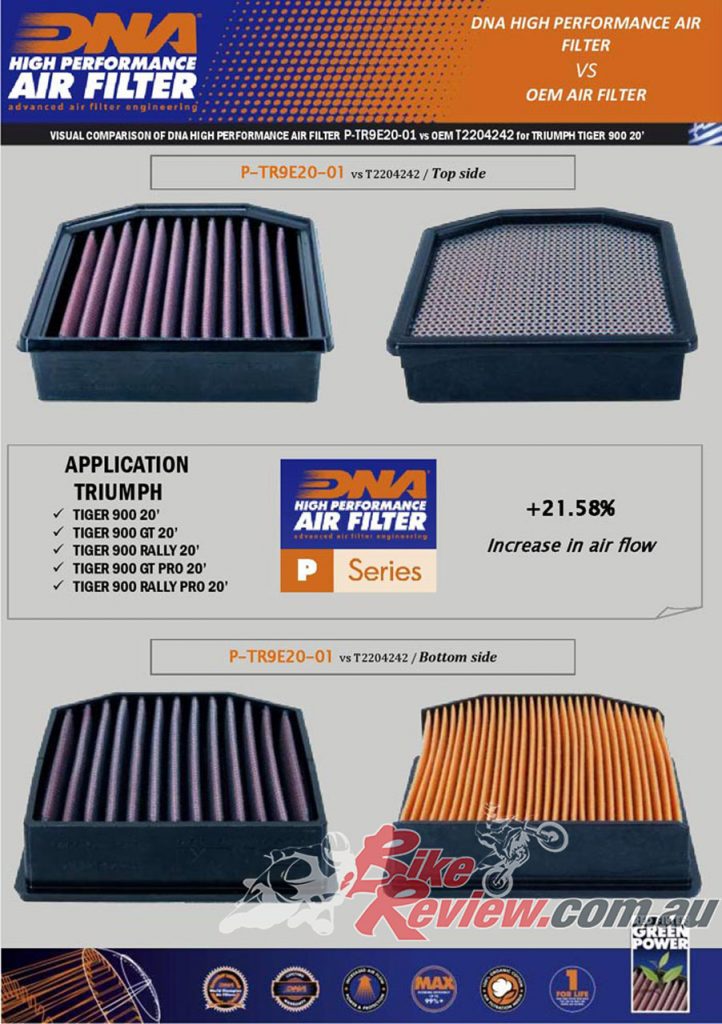 This filter features DNA's advanced FCd1 (Full Contour design), part of their secret formula into making their airfilters more effective. With a relatively straightforward Installation of this filter; simply follow the installation instructions included in the Triumph workshop manual with no extra steps compared to a normal service.
The filtering is extremely high at 98-99 per cent filtering efficiency, with four layers of DNA Cotton and the air flow of this new filter set is +21.58 per cent more than the stock filters. Designed for road and off road use the new filter is on sale now for an RRP of $136.50 and can be purchased here or you can ask for the part number P-TR6E20-0 at your local auto parts store or motorcycle shop.
---
---
DNA Airflow vs Stock Triumph Airflow
– DNA airfilters' flow: 183.70 CFM
(Cubic feet per minute) @1,5"H2O corrected @ 25degrees Celsius
– TRIUMPH stock filters' flow: 151.10 CFM
(Cubic feet per minute) @1,5"H2O corrected @ 25ºC
---
---
Check out our DNA airfilter installation and testing features here…