Ninja Weapon! 2021 Kawasaki Ninja ZX-10R & ZX-10RR, Video
The Ninja ZX-10R has won both riders' and manufacturers' titles for six consecutive years in WorldSBK, the pinnacle production road racing series. For the 2021 models, that high level of track performance has been elevated yet further with new ZX-10R & ZX-10RR models.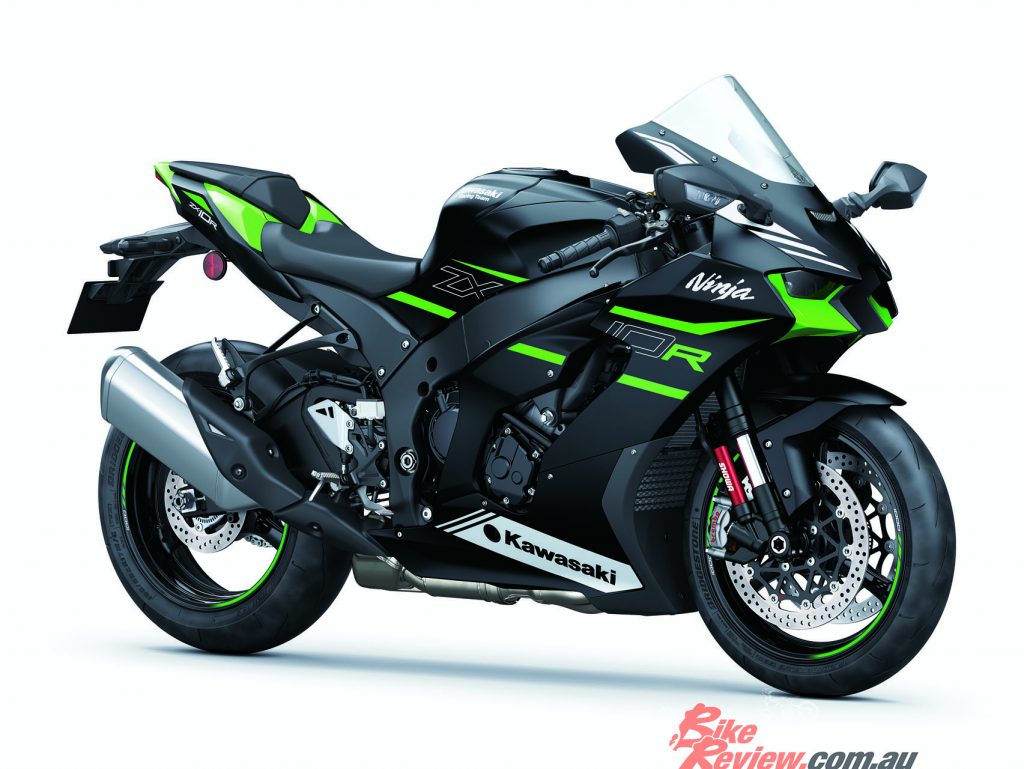 The new ZX-10R and ZX-10RR have undergone an array of updates and refinements, with the ZX-10R now having cruise control, optional heated grips, a taller screen and repositioned handlebars and all-new aerodynamics. Geometry has been modified and there is a new TFT dash with BT connectivity.
---
---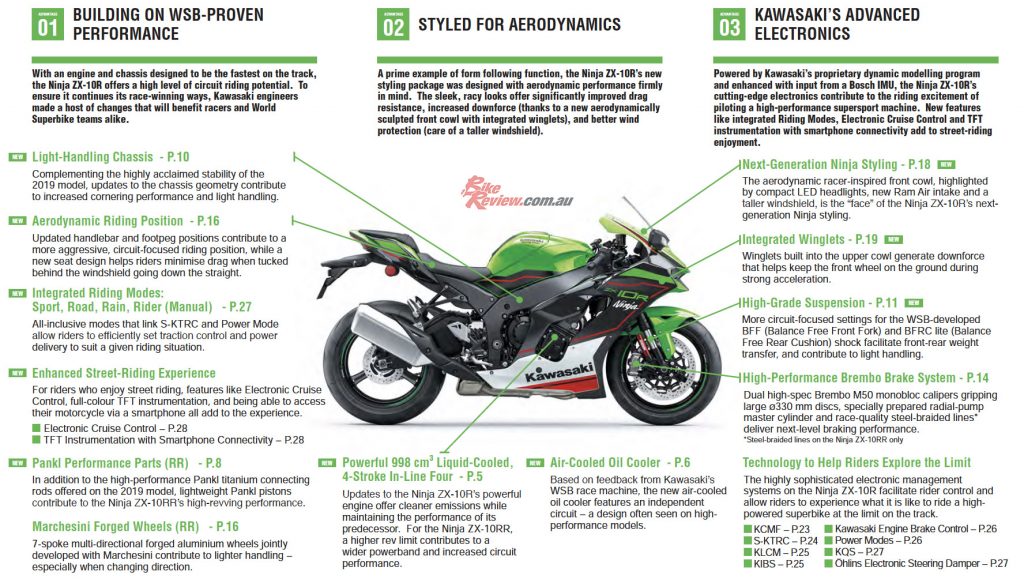 ---
The 998 cm3, liquid-cooled, four-stroke, inline four, DOHC engine benefits from feedback based on the Superbike World Championship machine in the form of a new air-cooled oil cooler and cylinder-head changes, with both bikes high-lift cam ready. Peak power is 203hp with the race exhaust fitted, while the engine now meets the strict Euro 5 emissions requirements.
The new air-cooled oil cooler is a design often seen on high-performance models. Rather than routing coolant from the radiator to the oil cooler and back to the engine, the new oil cooler is air-cooled and has an independent circuit. Oil is routed from the left lower crankcase to the oil cooler, where it is cooled, then returned on the right side. The increased cooling performance contributes to engine performance at all rpm.
As for the limited-production Ninja ZX-10RR (500 machines worldwide), it benefits from new lightweight pistons to complement its Titanium connecting rods, both designed by Pankl. Also, a higher rev limit (400rpm more) further strengthens the potential of the base model. It also has Marchesini forged alloy wheels, a single seat and stainless steel braided brake lines.
---
---
Designed with advanced aerodynamics, a new upper cowl with built-in winglets and compact headlights both improves aerodynamic performance and introduces next-generation Ninja styling. Furthermore, chassis geometry has been updated in order to improve upon the Ninja ZX-10R's cornering performance and nimble handling. Suspension settings have been optimised to match. The swingarm pivot is 1mm lower, which enables better rear suspension action during corner exits.
---
---
A longer wheelbase (1440mm to 1450mm) care of a 2mm greater fork offset and an 8mm longer swingarm offers even greater overall stability – already a strength of the previous model. The revised fork offset results in a shorter trail, which facilitates changing direction, especially in the off-throttle phase of the corner (after tip-in, before apex).
Finally, the addition of new features like Electronic Cruise Control and TFT colour instrumentation with smartphone connectivity makes it possible to enjoy sport riding in a wider range of situations.
---
---
Colours and models available in Australia: Price TBC:
Ninja ZX-10R (ZX1002LMFAN) – Flat Ebony – BK
Ninja ZX-10R (ZX1002LMFAN) – Lime Green with Ebony and Pearl Blizzard White – GN1
Ninja ZX-10RR (ZX1002NMFNN) – Ebony – GN1


---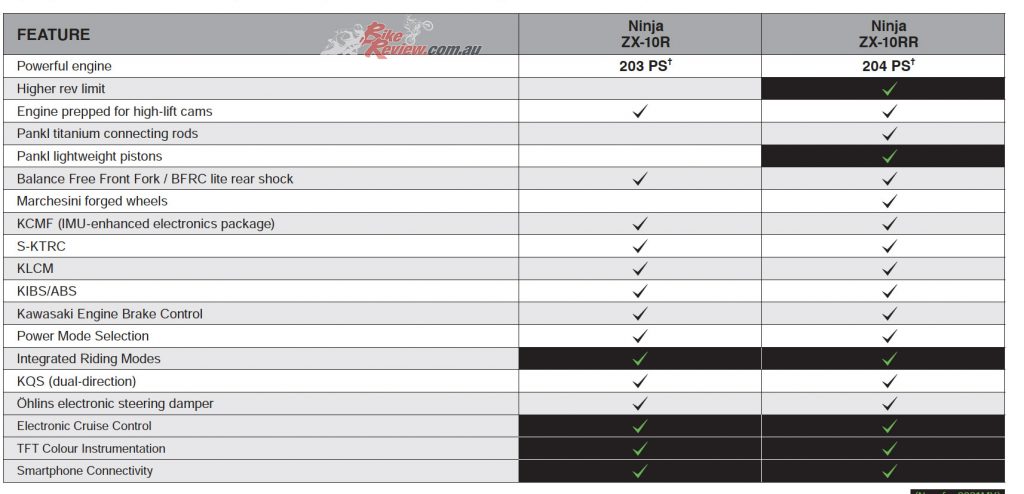 The LED headlights use direct projection units from Mitsubishi – the first use of their luminous optical modules on a motorcycle. The LED headlights are bright, compact and lightweight, weighing 1200g (compared to 1650g for the halogen units on the previous model).
---
---
The Ram Air intake – a Ninja supersport trademark – has a new shape and is more compact than that of the previous model, but the design of cowl directs air toward the intake so its efficiency is unchanged. Winglets built into the upper cowl generate downforce that helps keep the front wheel on the ground on corner exits and during strong acceleration.
LED-type rear turn signals complete the all-LED lighting package for all markets while slots incorporated in the new tail cowl design contribute to the aerodynamic styling.
---
---
---