Taka and Kyoko put the Cardo FREECOM 4+ Duo communications system to the test. The system has full smartphone connectivity, voice commands, intercom and radio...
Kyoko and Taka had been searching for a quality, easy to use Arai fitment friendly comms system so the could communicate during group rides, and use the various functions when riding solo. The Cardo FREECOM 4+ Duo was a good choice. Check it out…
I had been looking for a long time for a suitable communication system and could not decide between brands, prices and functionality appeal, so when our Editor organised the Cardo, it made my mind up for me easily! My wife Kyoko rides a CB300R and I ride an MT-10 and sometimes we go riding together. I know, don't we want to escape each other's voices when we ride? Maybe we are crazy, or we still want to argue while riding! I am not sure, but we decided to set the FREECOM 4 up anyway!
I was happy with the collaboration Cardo have with JDL speakers, which are fantastic quality. I also wanted the voice commands and control wheel, to make life much easier for navigating the system. The FREECOM does not have the same Mesh function as the PACKTALK BOLD and is limited to four people but that is enough for me, and I am happy with the pricing of the FREECOM 4+ Duo.
---
---
I like the voice command system and it works most of the time, sometimes I have to repeat myself as I have a Japanese accent, and it takes a little time to remember and learn the commads, but it is a good system, just about as good as Siri is on an iPhone. Not having to use my hands for a lot of the commands means I can concentrate on riding.
---
---
Although the voice commands will call radio, radio stations, connected phone music such as on YouTube or Spotify or iTunes, operate Siri and Google and volume/mute, call back etc, the hand operation is still quite simple to use and intuitive particularly with the click and scroll wheel system, othe the three click buttons that can be felt through a glove (these could be bigger though).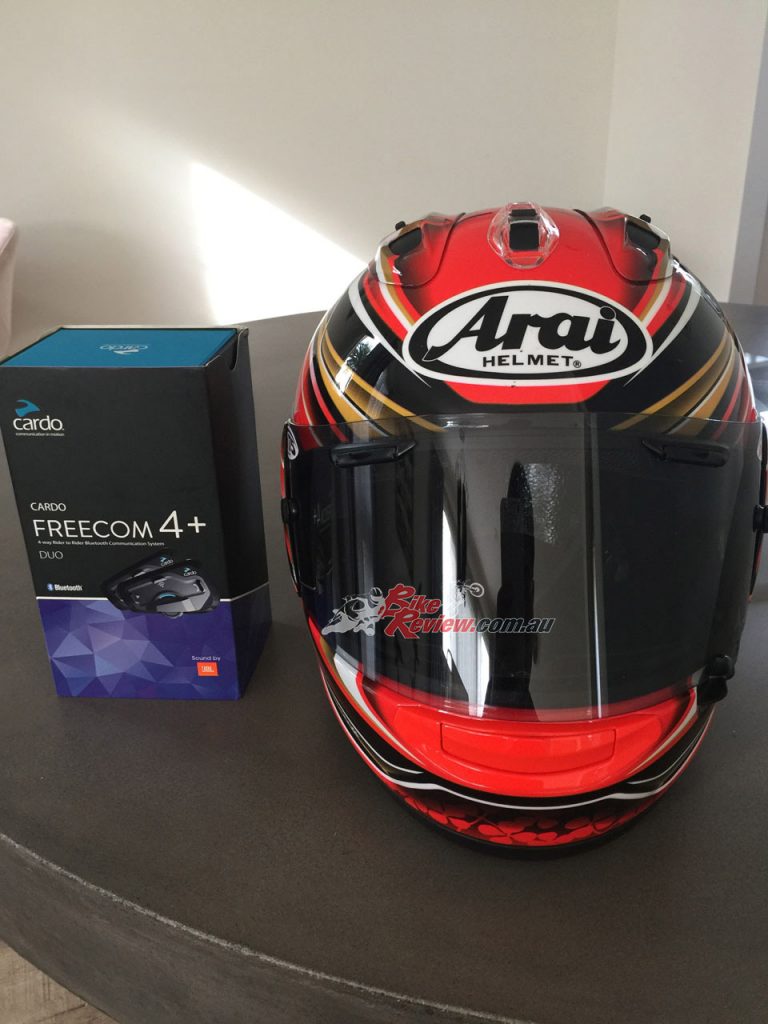 I can't compare the speakers to other systems as this is my first comms set-up but I am very happy with them, there is a good sound and auto volume based on wind noise, and even at over 110km/h the music and or speaking is very clear. Also, during testing, asking the person on the other end if my voice is clear, it is and even in high wind, so the microphone is great quality.
---
---
In terms of the intercom system, at 500m there is still a good connection and at times we have had more distance. The only issue we have experienced over the testing period has been some lag when talking in a group. Often you 'just' miss hearing the first word or sometimes only the first letter and we got used to it after some experience.
Overall, we rate this product very highly and it has made a positive impact on our riding experience either when riding solo or in groups and I highly recommend the Cardo system.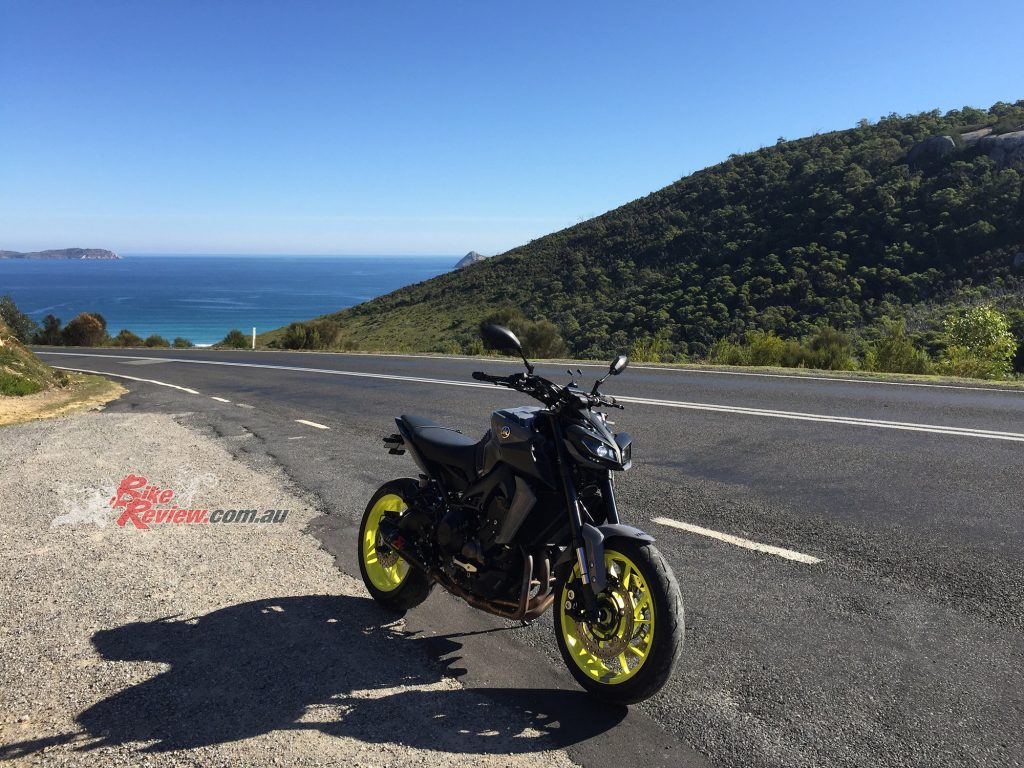 ---
Cardo Tech Talk
Cardo actually started off with 'Scala' products and you might be familiar with the name 'Scala Rider', as they were pioneers in Bluetooth headsets for early mobile phones starting back in 2003. Now I don't know about anyone else, but I'm still thinking Nokia 3310s when I think back to 2003 and the most advanced feature on that was being able to play snake.
Dynamic Mesh Communications (DMC) is essentially a proprietary system which can replace Bluetooth and offers significant advantages in doing so, including being able to network 15 riders as well as bridging rider groups (each containing 15), with longer range, flexible interconnections between riders and a generally far more intelligent and dynamic overall system. This can offer a total effective range of 8km, while Cardo also boast that the system benefits the more riders connecting, effectively boosting signal strength.
In layman's terms, Bluetooth creates a chain, which means several riders can be connected and effectively pass signals to riders further along the chain who aren't directly with range of each other. DMC does a similar kind of thing, without the rigid chain, and with better range. The only disadvantage as it stands is that DMC is not an industry standard, so to take advantage you need one of Cardo's top-end communication units (the Packtalk Bold or Packtalk Slim), as does anyone else connected.
Depending whether you buy a single or dual unit, there's a varying premium for this feature, while naturally everyone else needs a capable unit to connect. Otherwise you're back to good ole Bluetooth, with these units naturally containing all the same technology as in the Freecom + line.
Obviously for organised riding groups who do a lot of miles, this will be an obvious choice, as you'll probably all be on the same page, and can co-ordinate your purchases so you can all use DMC. Plus buying a dual kit to share is better value… so there's that too. For the less organised among us, it's essentially an investment in future proofing. Cardo is the big name in motorcycle comms and let's be honest this is the direction this tech is heading, so this could well be the next industry standard.
Another big change is JBL partnering with Cardo to provide the sound, with Ilia explaining that this is more than a new set of earphones/speakers being plugged in that you stick on your helmet. There's a fair bit of technology and software involved in ensuring the hardware does the job, and retro-fit kits are also available for older units, with the software update-able as well. How big a benefit you'll get depends on the unit you're upgrading, but you're not going to be left out in the cold with an older unit.
'Sound by JBL' comes standard on the Packtalk Bold and Packtalk Slim comm systems, as well as the Freecom 4+. For those looking at the Freecom 2+ and Freecom 1+ units you'll get the HD and Slim speakers instead.
The Cardo range features the full-spec Packtalk options, which share the same price but have the full profile Bold option, or the lowest profile 'Slim' which just has a reduced range as a result (to 1.2km). Both feature DMC. Both include the Natural Voice Operation which basically allows full voice control of your unit, as well as being compatible with both Siri and OK Google.
The Freecom range includes the Freecom 4+ with sound by JBL, 'Natural Voice Operation' and connects 1-4 riders. The Freecom 2+ features regular sound and will network 1-2 riders at 500m, while the Freecom 1+ is designed for a rider who prefers their solitude, or just needs to chat with their passenger. At the time of testing the Freecom 4+ is $429.95 RRP for the single kit, and $749.95 RRP for the dual-kit. The Freecom 1+ is $229.95 for the single unit, with the kit containing two $429.95 RRP.
All the units are IP67 Waterproof, which Cardo mention as a matter of pride as it's something most of their competitors can't match, as well as featuring auto-volume, which varies volume to match ambient noise (in other words high wind noise at high speeds), and a 13-hour talk time which could potentially last a week, maybe two of commuting between charges, depending on distance. Range varies as described above, but the Packtalk Bold boasts the greatest range potential of 1.6km.
All units are controllable via the Cardo Connect app, to make life a little easier with the nitty gritty settings, alongside charge while riding, and thanks to your phone can offer GPS, mobile conferencing, and music streaming, plus connectivity to two Bluetooth devices and any other Bluetooth headset, FM radio, VOX, and music sharing.
Head into your local Cardo stockist for more information, or check out the Cardo website – www.cardosystems.com.
---
The Verdict | Product Review: Cardo Freecom 4+ Duo System