Jeff has been using his Aeroblade-5 all year and is impressed. Here is the Ed's 12-month review...
Lightweight and built with Japanese quality and development, the Aeroblade 5 is a stylish option worth considering for those in the sub-$500 price bracket after an all-rounder road based lid. Jeff has been wearing his for 12-months and is impressed with the helmet considering the amount of miles he does…

12-Month Review – JW.

I've been wearing my Aeroblade-5 all year and last Xmas break as well, so I've had the chance to spend many ride hours in it in all conditions in all four seasons. I've used it for cruising, touring, track riding and sports riding in that time and I've just handed it to my brother, Nick, who wears it daily on his commute to University, a 200km round trip, and he is also impressed with the lid.
After meeting the Kabuto team at the launch we attended last year  and gaining an insiders insight into the development of the Aeroblade-5, I had a good understanding of the design and reasoning behind its features when I started wearing it in January, right in the peak of Summer.
The lightweight is the immediate standout feature and was an ongoing top highlight of living with an Aeroblade-5. Long rides are less fatiguing as are long stints on open highway, something I do a lot of living 100km from Sydney City. At first, the lightweight made me feel less secure than usual, but I soon accepted the technology and got used to it. It is definitely a strange feeling at first as you feel like there is very little on your head!
Vision is good, no blind spots, fit in terms of shell size and shape for me is fine, although my lid has a small gap at the back of my skull where I can fit the width of a finger in, yet I would not be able to go down a size. The cheek foam padding is really soft, something I would prefer was not the case, as I like the security of firm fitting padding around my cheeks, and the stability it provides.
It means the cheek support and fit/stability I normally have is not there, particularly at high speeds with strong wind force, the helmet will rotate forward slightly. The foam needs to be more dense and a tighter fit. The soft foam makes the helmet super comfy, so at low speeds and around town I found I could wear the helmet all day, but at open road speeds this became a negative.
The liner is washable and removable, as is the norm for a helmet these days and I did wash it a few time but I had some issues with the rear securing clips popping out, which is a quality issue.
Ventilation is good but more would be nice, with larger or more vents welcome in our hot Aussie summer. Kabuto chose to limit noise over ventilation for the markets where open road riding is common, however, the helmet is not super quiet anyhow, so I would have preferred more vents.
Visor quality is great, with the quick-release and fitment system one of the best and easiest in the business. The centre-latch visor fastening system takes a while to get used to and does require a bit of a push but it is worth it from a safety point of view.
The double D ring chin strap is just what it should be, simple and secure, but I would like more padding around the strap area. It is well positioned and when tight gives a good sense of security.
Wear and tear on the shell has been really impressive, my lid has no marks or scratches at all despite being Matte Black. The finish is tough and durable and I've cleaned it many times, always just using warm water with a cloth or the Kabuto helmet cleaning kit I got.
I can't give exact miles traveled in the Aeroblade-5, or hours, but I've had a busy year and worn it on many of the tests, plus during a lot of my own personal riding. It is now still going strong as mentioned, so we will give an update again in six-months once Nicholas has spent half a year in it.
Overall, I rate the Aeroblade-5 as a great helmet that offers a lot of technology and safety for the price, that has some outstanding features such as the shell construction and weight, yet could be slightly improved with revisions to the inside of the helmet, particularly for our market. The positives far outweigh the negative, so the negatives would not be deal breakers for me. In the sub-$500 range, the Kabuto Aeroblade-5 sits at the pointy end and is fantastic value.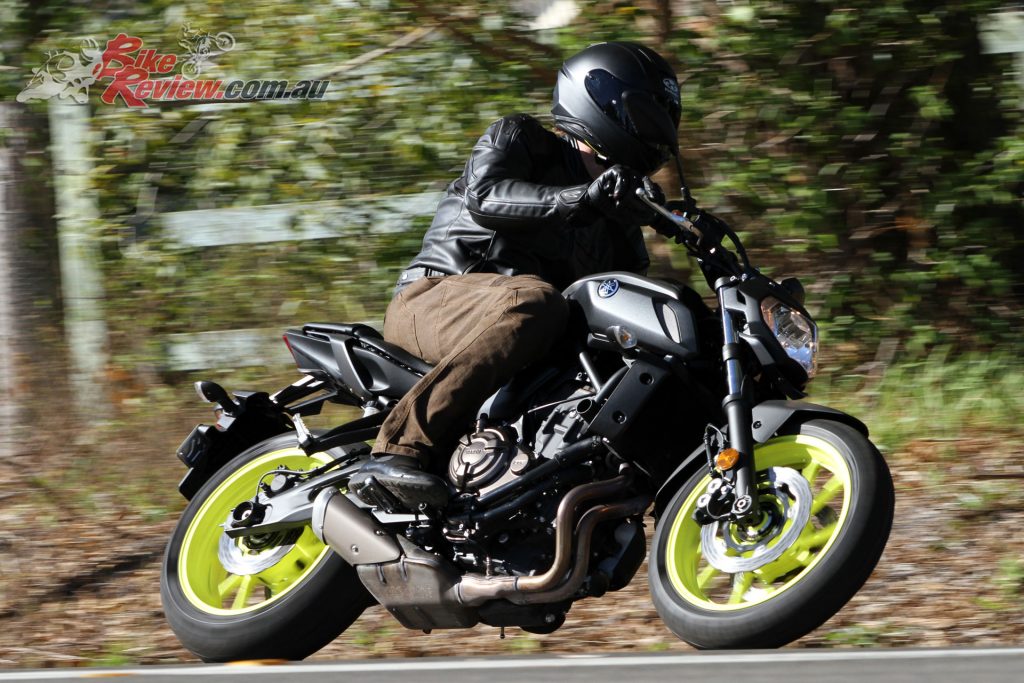 TECHNICAL INFORMATION
The Aeroblade-5 helmet still features the A.C.T. EVO ­shell, a combination of high-tensile and high-modulus fibres sandwiched between hyper glass fibre, with the layers and resin combinations designed for each specific helmet, to ensure optimal protection.
Also featured is the Dual Density Impact Absorption Liner, with Kabuto using Finite Element Method design, along with wind tunnel testing, and Computational Fluid Dynamics means optimal aerodynamics on the Aeroblade-5, which in turn helps reduce buffeting, strain and resistance with doing head checks, and is often forgotten when done right, but far more noticeable when issues arise.
One of the big changes for the Aeroblade-5 is moving to four shell sizes, where the Aerbolade 3 only had two, which means a more compact and lighter shell across the range, instead of the more 'one size fits all' approach, where internals make up the difference.
There's still six actual helmet sizes with XS, S, M, L, XL and XXL, however where the XS, S and M shared a shell, as did the L, XL and XXL, there's now a specific shell for the XS/S, M, L, and XL/XXL groups. The biggest benefit here will no doubt be to those looking for a XS and Small helmet, and those who wear a L. Overall Kabuto say this means a smaller, thinner helmet.
There's also been revisions to the visor system, which is designed to take a Pinlock (anti-fog screen), with a new two-pivot ratchet system on the super easy to remove and replace visor, as well as a 3D molded shield design. The rubber trim has also been redesigned to offer a better seal, which ties into the new centre-lock system, in the middle of the screen.
Internals are all removable, washable and replaceable, with detachable ear caps, slits for glasses, and a breath guard and wind shutter (for the chin) which can help keep wind from bouncing up off your chest or the screen into the helmet via under the chin, or your breath from fogging up the visor.
Naturally you've also got an effective venting system with forehead and chin vents that can be closed, with a wake stabiliser also incorporated into the design.
The Kabuto Aeroblade 5 is available now in all good motorcycle stores from $429.95 RRP for the Matt Black, and $479.95 RRP for graphics, in sizes XS to XXL. See MotoNational.com.au or Kabuto.com.au for more information.
Kabuto Aeroblade 5 features:
ACT Evo Shell (Advanced Composite Technology)
Dual Density Impact Absorption Liner
Wake Stabilizer (Patented)
Aerodynamic Ventilation System
Center Locking Self Adjusting Visor
Glasses Friendly
Pinlock Ready
Compact, Four Shell Sizes
Coolmax Removable Inner Cheek Pads, Strap Cover And Crown Liner
Detachable Ear Cap Liner
ECE E9 Approved
The Verdict | Product Review: Kabuto Aeroblade-5, 12-month test