Ventura has been the leader in luggage racks for motorcycles for years now, Si recently installed one on his KTM 1290 Super Duke R. Check out what he thought of the easy install....
There's not much in life that's as reliable as a Ventura rack, so when I got the KTM it was a no-brainer as to what rack to fit. As always, Kenma had the latest KTM 1290 Ventura rack in stock and ready to go, so it was here in as long as it took old mate the postie to drop it off.
While I was at it, I also added the pillion grab handle accessory to the kit as the missus was getting fed up of sitting on a gate-post-like-seat and only having the fat bloke in front of her to grab, slip down onto his seat and head butt every time I braked. She was very convincing about me getting it.
---
---
The kit comes neatly package with simple to follow instructions, apart from one little detail that a numb-nut like me would miss, and that is the fact that the bolts included are slightly different sizes, but just enough difference that it punches a lovely little crease into the bar if you get the wrong one in the wrong hole, so just be aware of that.
---
---
On this model, it is just a simple process of removing the two bolts on each side of the pillion seat and bolting on the two side runners. This then leave the two uprights ready to accept either the rack or the pillion grab rail. Simple, huh? Mind you, on the KTM model, the grab rail does look like some old school stunt bike wheelie bar, but it keeps her happy so I'm cool with that.
---
---
The rack mounting method allows for the rack to be mounted either forward or backwards depending on whether you have a pillion or not. The reversed rack method the luggage bag is above the pillion seat keeping the weight forward and improving the handling that would otherwise be slightly messed up with a fully loaded bag handing way off the back of the bike.
---
---
The bag itself is epic! The 40L has enough space and pockets for just about everything I could possibly want to take away with me and as always it feels robust, thick walled, with a soft red lining to keep everything nice and clean and tidy. The bag itself is not 100 per cent waterproof in a proper downpour, so the rain proof cover is also a must.
There's not much more to say than the obvious, Ventura always have, and always will be, the best soft case aftermarket racking systems you can get for a bike as far as I'm concerned. Well designed and made to a high standard. So unless you are going for hard case panniers, get yourself a Ventura rack!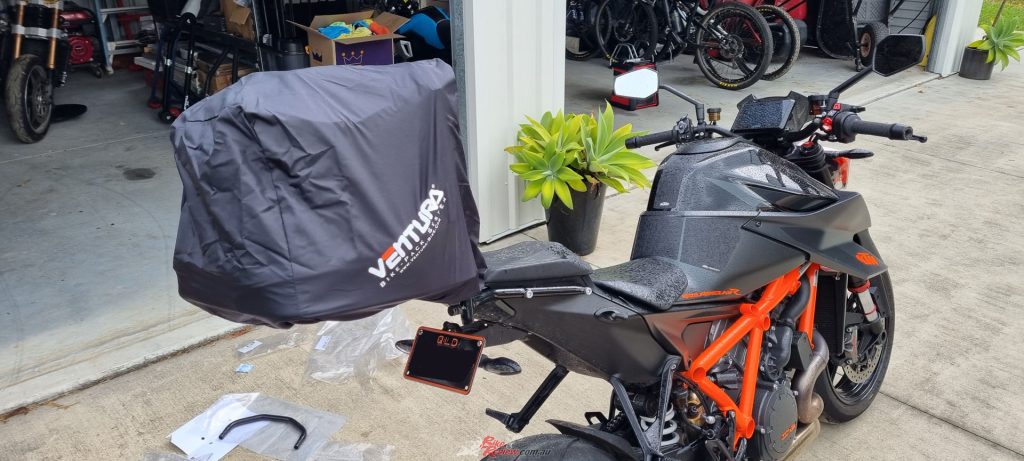 Tech and Pricing
Once fitted with L-Brackets, the 1290 Super Duke R will accommodate a range of luggage options via the Astro Top Box, Sport Rack, Pack Rack, Grab Handle or EVO Rack. The Ventura system allows up to 102 litres of luggage carrying capacity with two Aero-Spadas zipped together.
The EVO range features the all-new adjustable EVO Rack, with sleek styling as it has no high "loop" to better match the lines of any motorcycle it is fitted to. Compatible with all Ventura L-Brackets, EVO features the new adjustable mounting system allowing the EVO Rack to be mounted in four positions on the same bike to better match the bike and the rider's preference.
Ventura say that their rack system ensures that the load won't shift, even during hard riding while the positioning offers excellent stability. Positioning the load directly behind the rider gives a claimed greater manoeuvrability in traffic – and less wind resistance on the open road compared to traditional pannier systems.
See below for pricing options, you can check out the full range for the KTM 1290 Super Duke R here, or check it out at selected motorcycle stores.
---
EVO Rack Kits and Pricing
EVO-12 sports Kit RRP $399.00 Part # KT021EV10
EVO-22 Jet Stream Kit  RRP $439.00 Part #KT021EV22
EVO-40 Sports Touring Kit RRP $489.00 Part # KT021EV40
EVO-60 Jet Stream Kit RRP $579.00 Part # KT021EV60


---
Pack Frame Touring Kits and Pricing
Aero-Spada 51L Touring Kit RRP $489.00  Part # KT0210651
Rally-Euro 44-56L Touring Kit RRP $459.00 Part # KT0210656
Mistral 47L Touring Kit RRP $559.00 Part # KT0211247
---
Astro Top Box
Astro TOP BOX Complete Kit RRP $379.00 Part # KT0211432
---
Editor's Note: If you are reading this article on any website other than BikeReview.com.au, please report it to BikeReview via our contact page, as it has been stolen or re-published without authority. 
---
The Verdict | Product Review: Ventura Luggage System For KTM 1290 Super Duke