With the super-naked category hotting up more than ever, KTM were overdue in updating the 'Beast'... We head to Portugal to see what the 2020 Super Duke R is all about. Review: Roland Brown Pics: Marco Campelli, Sebas Romero
The Super Duke has long stood for nakedbike performance and aggression, stretching back past the first 1290 "Beast" of 2014 all the way to 2005, when the original 990 Super Duke stormed onto the scene with its front wheel in the air…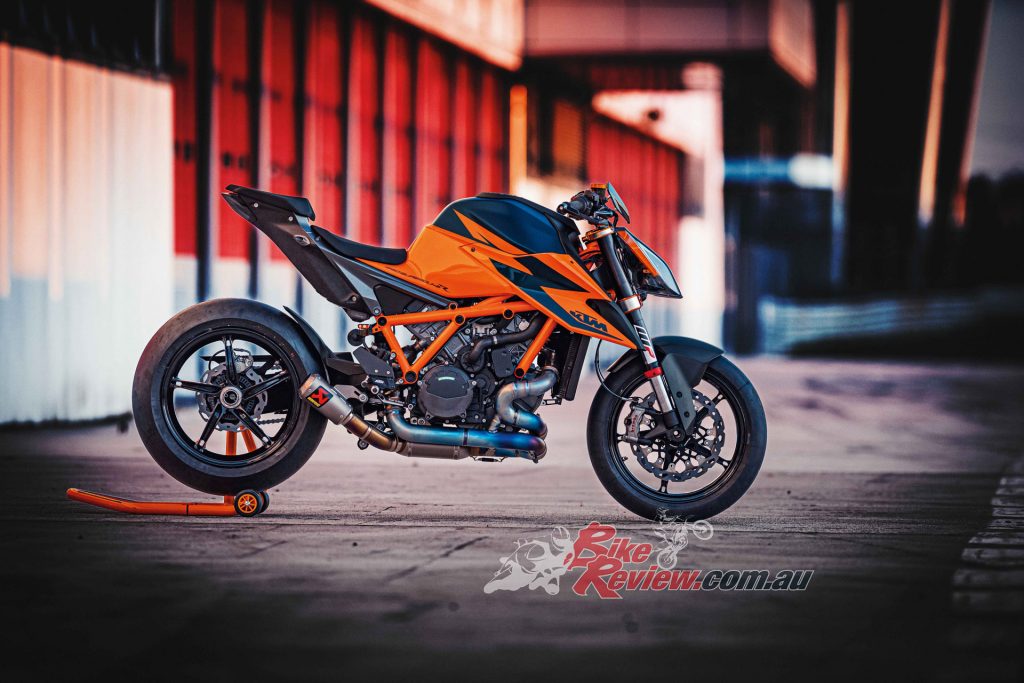 A string of updates has kept the KTM competitive since then but, with rivals including Kawasaki's Z H2 this year, the hyper-naked knife fight has never been more viciously fought.
---
---
Sounds like ideal timing for the launch of a revamped 1290 Super Duke R – nicknamed "Beast 3.0" by KTM, and intended to improve the Austrian challenger on both road and track. Check out our review of the previous model here. Riding it at the swooping Portimao circuit and superb surrounding roads of the Algarve region of southern Portugal gave an ideal chance to check out the changes.
The engine isn't the main story of this model update but KTM have made plenty of tweaks. The intake system is revamped with a single intake at the centre of the insect-like nose, instead of one on each side. This adds some ram-air effect and feeds a bigger airbox, which in turn supplies new top-mounted injectors.
---
---
Many internal parts and the crankcases are lightened, saving almost a kilo throughout the engine. The new exhaust also saves a similar amount despite having larger-diameter pipes and an additional catalyser. Hiding much of it below the engine means the silencer looks respectably trim too.
Maximum power output is increased by 3hp to 177hp at 9500rpm, but in many ways the Super Duke's more important figures are its near-unchanged torque peak of 140Nm, and the fact that the DOHC, eight-valve lump kicks out over 100Nm from just 3500rpm.
---
---
As before it's a gloriously flexible powerplant, which ever of the three engine modes (Sport, Street and reduced-output Rain) is selected. A tweak of the throttle sends the bike leaping forward with a muted growl from the silencer, yet the response is as refined as it is strong, and even very low rev running is smooth and civilised.
On those near-deserted roads that made the Super Duke wonderfully exhilarating and effortlessly rapid. KTM's lead rider wasn't hanging about, and I could tip the bike into blind turns in pursuit, knowing that even from 4000rpm or below it would rocket out again, responding immaculately to the throttle and revving smoothly and hard while I hung on tight and flicked though the revised gearbox with the aid of the flawless shifter.
---
---
What it wouldn't have done, without the optional Track Pack fitted, was pull a wheelie. Thankfully all the launch bikes were kitted out with that, so turning off the anti-wheelie was easy. Most also wore a variety of other Power Parts including an Akrapovic slip-on silencer.
That engine flexibility was also handy on the Portimao track, where the bike was happy to take most turns a gear higher than I might have expected, and fired out of the Turn One right-hander in fourth where most bikes would require another downshift. It was seriously motoring just before that, too – indicating almost 270km/h in top while I chinned the tank trying to prevent my head from being removed from my shoulders by the wind.
---
---
Wind pressure might become an issue at times because the Super Duke provides very little protection even by nakedbike standards. Some launch bikes were fitted with an accessory screen for the road ride but even this barely covers the instrument panel. A gym membership will be a useful extra for riders who are planning longer trips and don't fancy KTM's more protective Super Duke GT alternative.
The R-bike's refreshed styling is even more sharply aggressive than before, and intended to add some downforce. The riding position is slightly sportier, with the handlebar set lower and further forward. That was helpful on track and also seemed a good compromise on the street, still giving a comfortably upright position for slower-speed riding.
---
---
There's some adjustability in the handlebar, and plenty of other neat touches. The riding position is fairly roomy, and the footrests can be adjusted. You can even fine-tune the gearlever throw, and quickly reverse the shift pattern.
Less helpfully, the bigger airbox cuts fuel capacity from 18 to 16 litres. At least that should still mean a range of getting on for 200km, given that the KTM claimed to be averaging almost 7l/100km despite plenty of throttle abuse. The TFT screen is new and improved, part of an electronics update that includes revamped and more easily used switchgear plus latest-generation Bosch traction control and cornering ABS.
---
---
The Super Duke's chassis changes far more than a first glance at the retained layout of tubular steel frame and aluminium swing-arm might suggest. That frame features larger-diameter tubes and uses the engine as a stressed member for the first time, which results in a whopping 200 per cent increase in torsional rigidity along with a 2kg weight saving.
A rear sub-frame of cast aluminium and carbon-fibre replaces the old steel tubes, saving another 1.5kg. The engine is held higher in the frame, which KTM say aids handling and gives a 5mm higher pivot for the single-sided swing-arm, which is redesigned and 15 per cent stiffer.
---
---
Rear suspension action is also completely reworked, now incorporating a rising-rate linkage below the WP shock. This allows the remote-reservoir unit to have a longer action, while reducing rear wheel travel from 156 to 140mm. Up front, the 48mm WP Apex forks give an unchanged 125mm while now allowing adjustment of preload as well as damping.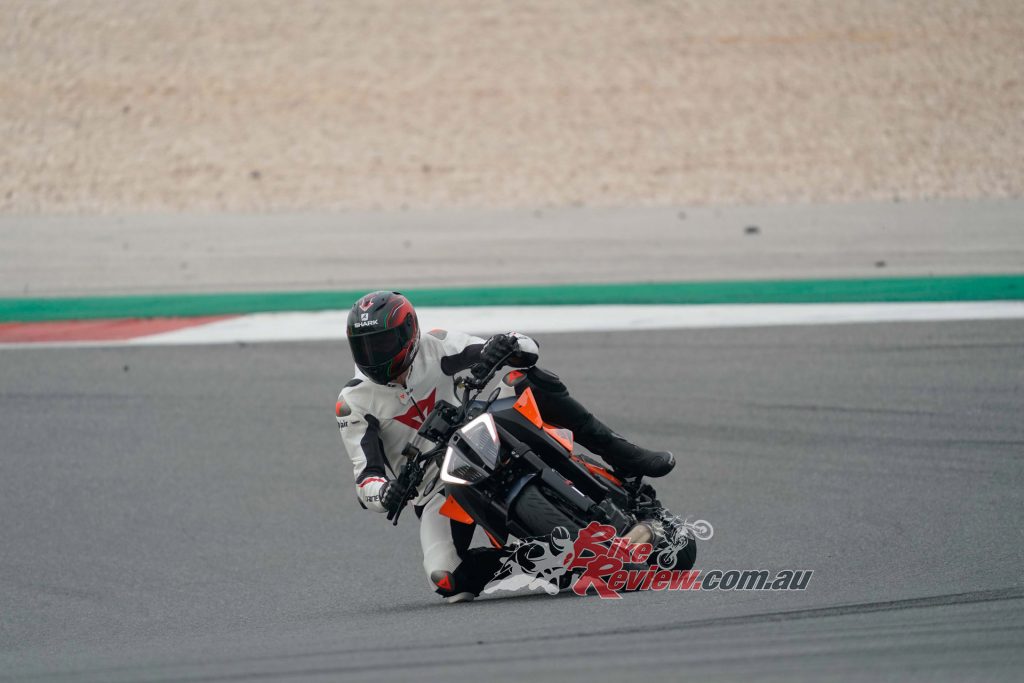 Steering geometry is also tweaked, and wheelbase increased by 15mm to 1497mm, but it's the rear-end changes that make most difference. The Super Duke always handled fine on the road and it's now better still, feeling a little more sporty and composed, and steering with impeccable accuracy even when its pilot is putting plenty of body weight through the bars.
---
---
A couple of times, when I hit a big bump at speed and felt a jolt through the seat, I wondered whether the outgoing model would have soaked it up slightly better. But I'm not sure about that, and most of the time the rider quality was fine, and the seat felt impressively comfortable. (A semi-active option would be nice, but at least the forks feature handy plastic damping knobs at the top of each leg, and the shock has a remote preload adjuster.)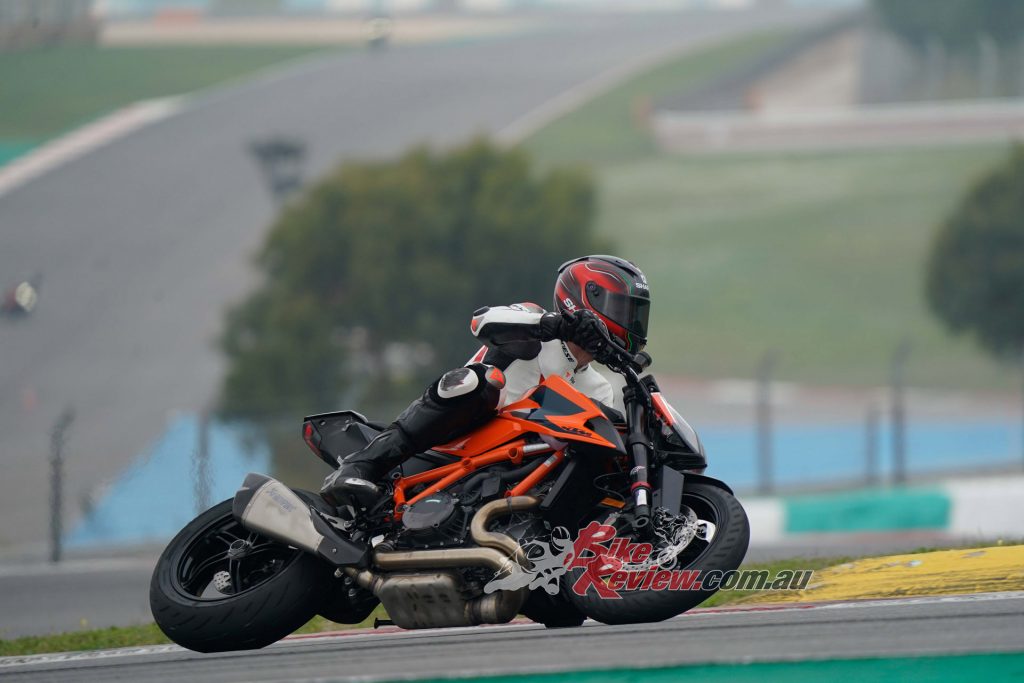 And on track the new Super Duke's advantage very quickly became clear. The previous model worked OK but was held back by all that rear suspension travel, tending to squat under power and feel a bit loose and wobbly, especially with a tall or heavy rider on board.
---
---
One lap of Portimao was all it took to confirm that this latest Super Duke has no such issues. Entering turns, and when braking with the full force of Brembo's potent Stylema calipers, its chassis felt subtly more controlled, aided by that stiffer frame and probably also by the WP forks' revised cartridge design.
And on corner exits the KTM was transformed. It no longer sat down under acceleration but stayed taut – holding its line much better, transmitting all that torque to its sticky, 200-section Bridgestone S22 much more efficiently, and generally making the bike both quicker and more enjoyable to ride.
---
---
Better still was the Super Duke kitted-out with full Akro system, WP race suspension and Bridgestone slicks, on which we got one wide-eyed and hugely entertaining session. Louder, firmer, sharper and doubtless quicker still, it steered superbly and confirmed that the beefed-up frame can handle even more grunt and force than the stock bike provides.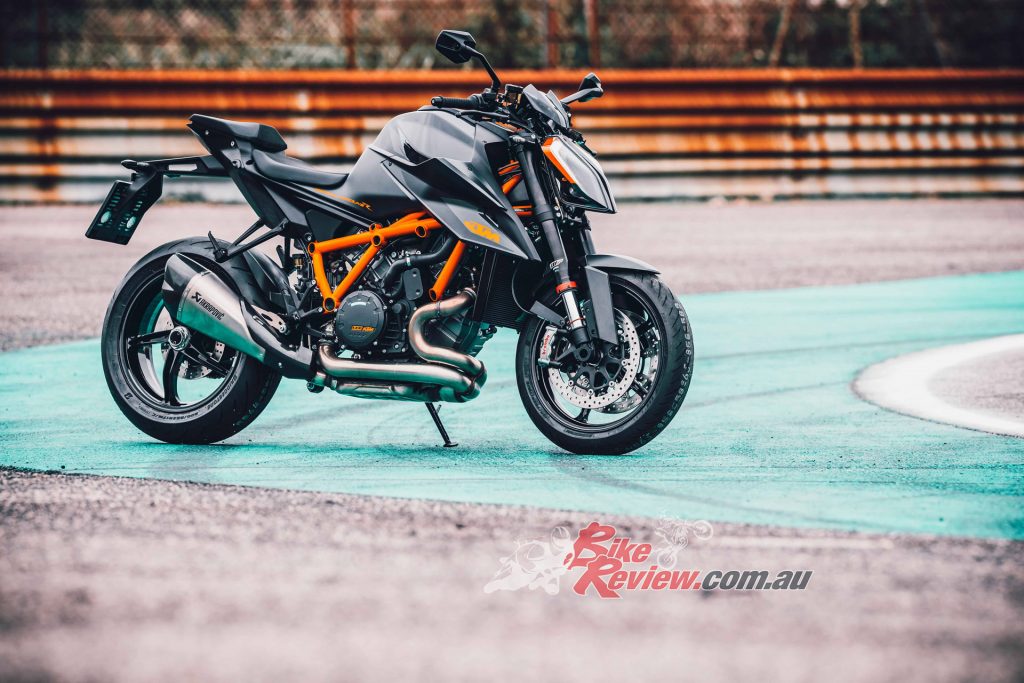 Back in the real world the KTM looks competitively priced in EU although things are slightly complicated because, although keyless ignition and cruise control are standard fitment, the base price doesn't include the quick-shifter or Track Pack that allows you to disable the anti-wheelie and adjust traction control levels through nine levels. We have no Aussie pricing or spec yet…
---
---
Both seem almost obligatory in this class (a shifter is standard fitment on the 790 Duke, after all) and add roughly five per cent to the base price before you get properly stuck into the PowerParts accessory list. Even with shifter and Track Pack included the Super Duke costs less than the Tuono V4 1100 Factory and Streetfighter V4…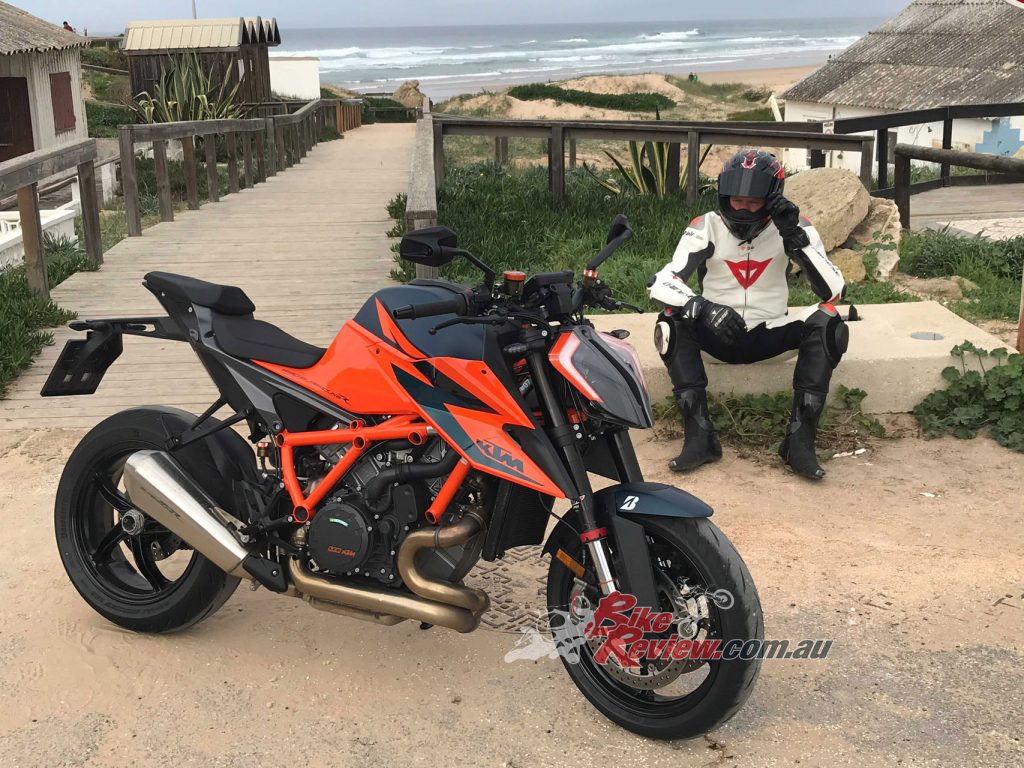 More to the point, the opposition is facing a distinctly improved 1290 Super Duke R – one with marginally more grunt and refinement than before, and a chassis that is notably stiffer and better controlled. Whether the Austrian contender is the best of the hyper-naked bunch remains to be seen. What's for sure is that KTM is bringing a seriously sharp knife to the fight.
Our full Aussie road test of the 2020 KTM 1290 Super Duke R is on the way…
Here's the official KTM Promo Video…
---
---
2020 KTM 1290 Super Duke R Specifications
Price: $TBA  – available late April
Colours: Orange or Black
Claimed Power: 132kW[177hp]@9500rpm
Claimed Torque: 140Nm[104lbs-ft]@8000rpm
Semi Wet Weight: 198kg without fuel
Fuel capacity: 16L
---
Engine: Liquid-cooled 75-degree, 1301cc, DOHC 8-valve four-stroke. Bore x stroke 108mm x 71mm, 56mm throttle-bodies, Keihin EFI, 13.5:1 compression
Gearbox: Six-speed, optional quickshifter
Clutch: Wet multi-plate slipper, hydraulic actuation
---
Chassis: Tubular steel cradle frame/trellis with carbon-fibre sub-frame and alloy swingarm
Rake: 25.2°
Trail: 106mm
Suspension: WP APEX 48mm forks, three-way adjustability, 125mm travel, WP shock, three-way adjustability, 140mm travel
Brakes: Bembo 320mm rotors (f), Brembo Stylema calipers and Brembo master-cylinder, 240mm rotor (r), Brembo two-piston caliper, Cornering ABS
Wheels & Tyres: Cast alloy, 120/70 – 17 and 200/55 – 17 Bridgestone S22 tyres
---
Dimensions
Wheelbase: 1497mm
Seat height: 835mm
Ground clearance: 160mm
Overall width: N/A
Overall Length: N/A
Overall height: N/A
Instruments: TFT
---
---
2020 KTM 1290 Super Duke R Gallery
---
---
The Verdict | Review: World Launch, 2020 KTM 1290 Super Duke R