Simon Harris takes the 2020 KTM 790 Duke for a ride through the hills followed by an arvo on the exclusive Ascari Race Resort... Review: Simon Harris Photography: BR
KTM's 790 Duke is a hooligan's holy grail that has been conceived to dominate the mid-weight naked sportsbike segment. It goes. It stops. It looks sharp. It has refined electronics and features. And it has almost gravity defying cornering capability. It will continue to sell alongside the new 890 here in OZ. Here's our 2020 KTM 790 Duke review, straight from Ascari…
I have been super lucky to have ridden the new 790 Duke on both road and track during the recent Metzeler M9 RR tyre launch, and I can say, hand on heart, that this bike is outstanding. It was only after the actual riding experience that I learned what KTM had been up to in the design and execution of the 790, and they have delivered alchemy here.
---
---
The bike has such a natural ease to it that you can hop on and feel immediately comfortable and highly confident, without really realising it. It is simply a pleasure to ride. The manner in which each of the design elements work hand in glove, subtly but with great sophistication, is probably why this bike just feels so good. It is this feeling, between bike and rider, where you get a sensation of contact between tyre and road and an inherent understanding of the underlying dynamics, that KTM have nailed.
The bike has a lot of features that I was not able to trial as there simply was not the time. In this case, the machine was stock in terms of any adjustments and factory defaults for road riding, at least in terms of the motorcycle electronics. This was a requirement as there was a range of riders queuing to let fly on 790 and certainly made sense at the time.
---
---
My first ride was off into the beautiful Andalucian Hills in Spain, in a group with five other riders and our guide. A quick tap on the starter after the encouraging "ready to race" message on the TFT display and the engine was bubbling away smoothly in a manner that did not feel or sound like a typical parallel twin. The DOHC P2 engine configuration was selected for compactness, rigidity and lightness and features a bunch of innovations for KTM engine design, including the horizontally split crankcase and multi-part camshafts.
THE RIDE
Clutch lever in with gentle pressure and toe down to engage first gear and it just slots in… smooth and noiseless. Definitely a slick transmission that is light and precise going both up and down ratios. After dealing with some snarly roadworks traffic, we ventured off to start riding some of the twisty back roads that traverse the mountains, where the bike characteristics could be better sampled. The 799cc motor has plenty of torque available, from almost no revs, and provides a seamless flow of drive that allows you to be both nonchalant in approach, or precise and determined.
Either way, the engine responds with faultless ride by wire control and travels smoothly through the rev range. On the more open roads, it quickly becomes apparent how nimble the bike is due to light weight, ergonomics and balance. The super narrow profile allows the bike to pivot with little actual effort through any combination of counter-steering or shifting more weight to the inside 'peg.
---
---
Ergonomics for road riding are excellent and I really didn't notice the lack of fairing as the seating, footpeg and handlebar arrangement has a tendency to pull your torso forward a little, reducing the effect of wind. The mirrors are effective, so less craning required and the light feeling of the controls and roomy seat provide little stress, all of which allow you greater concentration on the riding experience. After two hours in the saddle, even this collection of aching joints didn't feel particularly fatigued or numb. The way that KTM have ironed out engine vibration is also a boon. The smoothness is provided by two balancer shafts to oppose the movement of the pistons – one running off the crankshaft and another in the cylinder-head.
The Duke features WP suspension all round, including steering damper, that has been tuned for road riding and its associated pitfalls in terms of varying road conditions and surfaces. The forks use one leg for compression damping control, the other for rebound damping. The rear suspension unit has been incorporated into the swingarm in a way that allows for progressive operation without additional linkages. Even when deliberately aiming at road acne, the ride proved to be pretty comfortable, with well controlled damping.
---
---
Steering angle is 66 degrees, with 98mm trail and a 1475mm wheelbase. The engine is placed well forward to allow for a long swingarm and a well positioned centre of gravity. KTM claim to have designed rigidity and flex into each major chassis component to ensure an overall sensation that offers both stability and rapid and precise turn response.
The second part of the test was on the exciting and exclusive Ascari Race Resort circuit, which is a complex set of corners and undulations that are strung together by short straights. In terms of the Duke, this is its ideal hunting ground and, in the hands of talented riders, has the potential to destroy bikes with twice the horsepower.
---
---
With the freedom and safety to explore the limits of my own personal fears on the KTM, I was rewarded with an exhilarating experience that built as each lap went by – more lean, later on the brakes, earlier on the throttle, more aggressive on the turn-in. These are things you can do because the Duke makes it so wonderfully easy. Almost without effort, just having the will is enough.
The engine roared through to its 105hp peak, and subsequent rev limiter if you weren't quick enough, without hesitation in whatever gear it was (I wasn't really looking at the dash to be honest) and the front tyre, aided superbly by wheelie control, constantly skimmed the tarmac during acceleration. Being a "naked", the whole feeling of speed is further enhanced and very intoxicating. Approaching corners, you could leave braking late as the twin disc fronts are well capable, basically reef the bike down then lift it early and power out. Equally, you can opt for a more graceful and flowing approach. Whatever your poison, the bike is up to the task and will comply.
After the track session ended, it was then that I realised how superbly the various rider aids come together on this bike. The electronics, sensors and control systems work so sublimely and in such unison that you are completely unaware. Euphoria abetted by blissful ignorance. KTM have come a long way with the Duke series and have really burnt the midnight oil in making this mid-weight contender an absolute weapon on road and track, with a host of smarts that are designed to enhance your riding and help keep you safe.
---
---
The list of value-add components, sophisticated design and engineering is worth far more than the price tag, I reckon. Not only that, the package works so well that irrespective of your riding ability, the Duke has aces up its sleeve that will certainly impress. Wow man, gimmesumodat.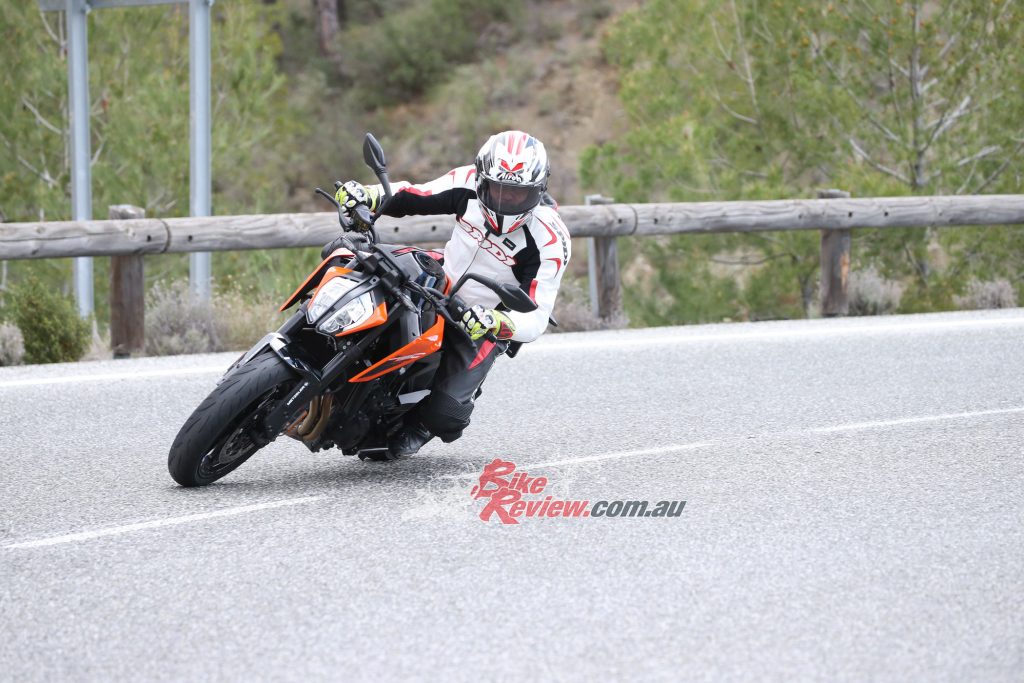 TECH TALK
KTM have provided a state-of-the-art electronics package with the standard Duke. Key to this are electronic systems that compensate for lean. Lean angle sensing for the ABS, traction, back-torque and wheelie control systems is provided by a set of sensors that continuously provide data in five-axes of motion.
---
---
This includes longitudinal, vertical and lateral acceleration, roll (lean) and yaw (twist) around the bike centre of gravity. The continuous data feed is used by the microprocessors to constantly adjust the level of intervention as necessary. The millisecond response and fine granularity of adjustment make intervention virtually imperceptible to the rider. Additional factors, such as tyre size information is also part of how the system responds to data input.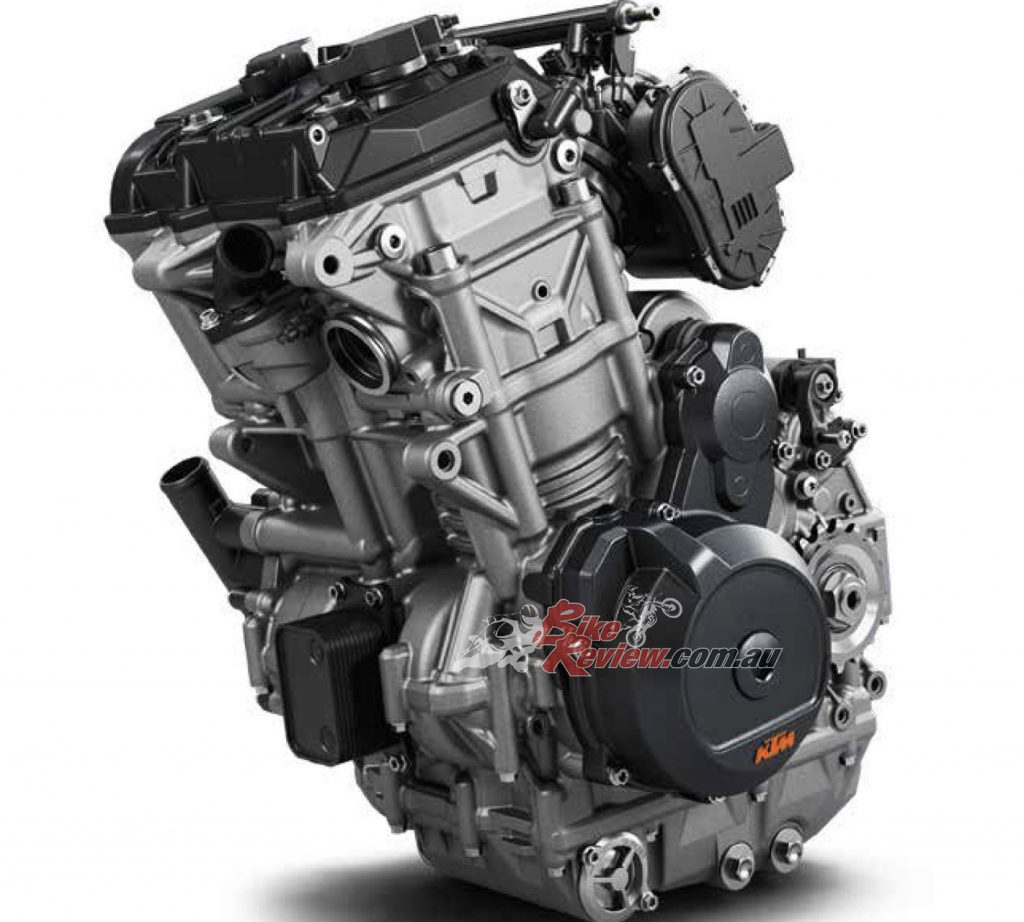 The ABS adjusts in response to the reducing available traction / contact patch as the bike lean angle increases. ABS for the rear wheel can be switched off entirely (Supermoto ABS) to allow the bike to be backed into corners through rear wheel lock-up without affecting overall ABS safety at the front end.
Motorcycle traction control (MTC) has nine levels of intervention in track mode, plus there are three other pre-set modes for road and rain riding. In a manner opposite to MTC, back-torque control / motorcycle slip regulation (MSR), in conjunction with the power assisted slipper clutch (PASC), prevents rear wheel bounce and chatter under extreme braking or premature down-shifting at high RPM by precisely adjusting the throttle butterflies to increase engine speed as required. Additionally, the Quickshifter+ system allows gear changes without throttling off or using the clutch and automatically rev matches on down-shifts.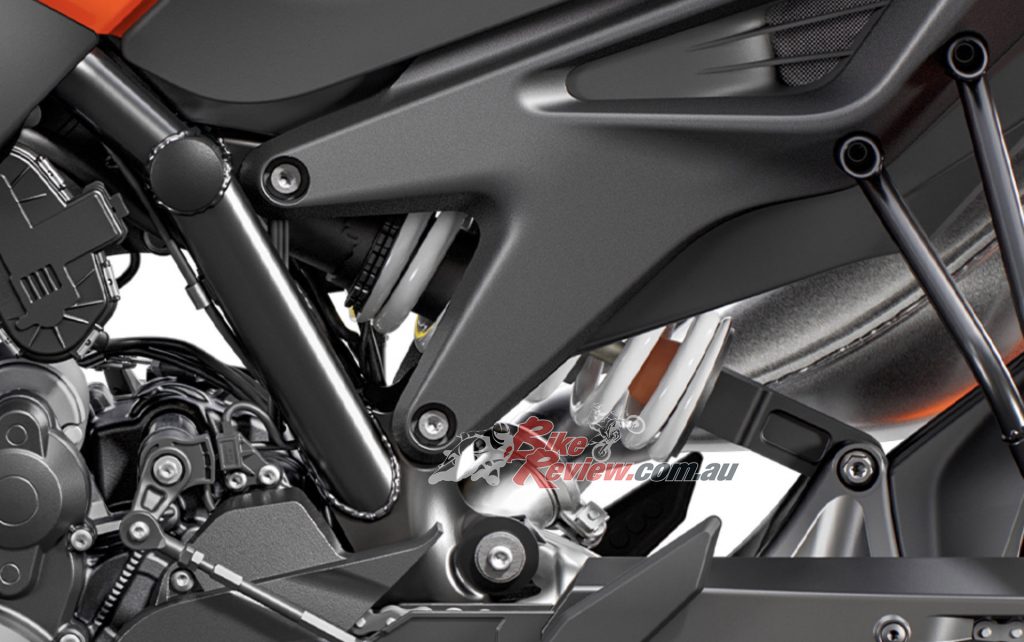 As is becoming more the custom in a world dominated by mobile phone overuse, the Duke has a range of nifty connectivity options that will allow your streaming tunes to be interrupted so you can take a call while sideways gassing out of a corner with back wheel smoking and front wheel grasping for the sun.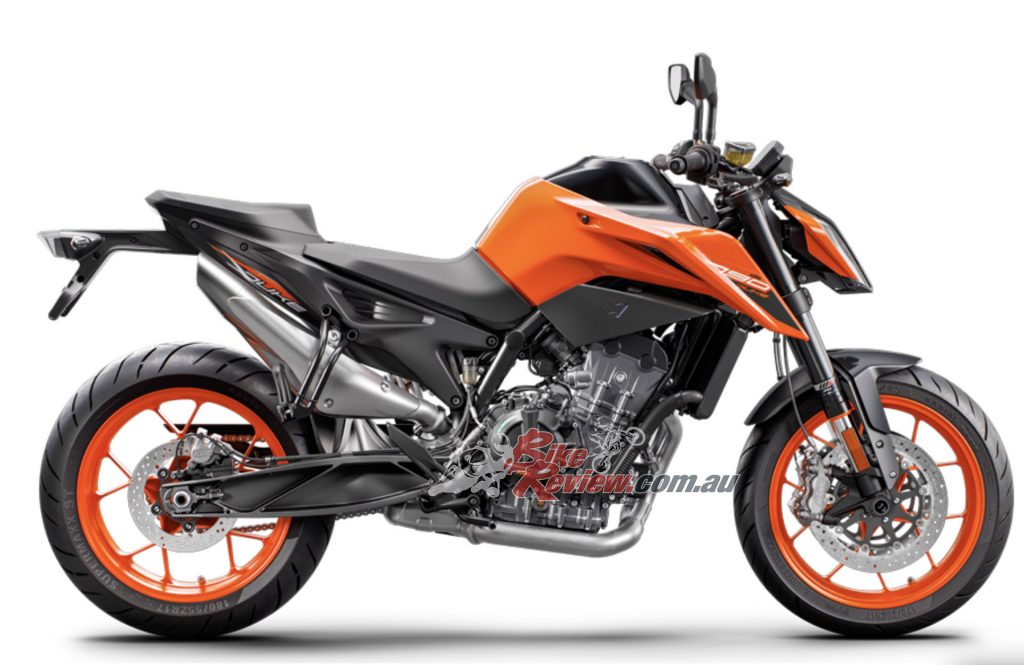 2020 KTM 790 Duke Specifications
Price: $14,995 + ORC
Claimed Power: 77kW[105hp]@9000rpm
Claimed Torque: 86Nm[63ft-lbs]@8000rpm
Dry Weight: 169kg
Fuel capacity: 14L
---
Engine: Parallel twin-cylinder liquid-cooled DOHC fours-stroke with dual balancer shafts, 42mm Dell'Orto DKK throttle bodies and Bosch EMS with RBW, electric start
Gearbox: Six-speed with QS as tested
Clutch: Wet multi-plate, cable actuation, PASC
---
Chassis: Chrome-moly steel tube with engine as stressed member, cast aluminium sub-frame
Rake: 66°
Trail: 98mm
Suspension: 43mm fully adjustable inverted WP forks, 140mm travel, WP fully adjustable shock, 150mm travel.
Brakes: 300mm twin front rotors with four-piston radial-mount calipers, radial master-cylinder, 240mm rear rotor with two-piston caliper.
Wheels & Tyres: 3.5 x 17in and 5.50x17in alloy wheels, 120/70-17, 180/55-17 Metzeler M9 RR as tested.
---
Dimensions
Wheelbase: 1475mm
Seat height: 825mm
Ground clearance: 186mm
Overall width: N/A
Overall Length: N/A
Overall height: N/A
Instruments: Multifunction LCD display.
---
---
The Verdict | Quick Test: 2020 KTM 790 Duke
Simon Harris takes the 2020 KTM 790 Duke for a ride through the hills foloowed by an arvo on the exclusive Ascari Race Resort…