Paul gets back to basics and enjoys a few weeks on and off road on the 2019 Ural Ranger Sahara... Review: Paul Bailey Photography: Heather Ware
Ural motorcycles have been around a very long time, since World War II actually, when IMZ-Ural acquired the BMW R71 design in 1940. A lot has changed in the World since the Second World War. Countries that were enemies are now trading partners, the invention of the internet has shrunk the World to a little tiny ball and there are no secrets anymore… and the Ural motorcycle? It has evolved and been refined but thankfully still has that old fashioned back to basics spirit that has lasted 80-years…
Transport has taken massive leaps over the decades and vehicles have become technological works of madness and design. ABS, traction control, launch control, data logging, quick-shifting both up and down the gears, slipper clutches, linked braking systems, performance modes from rain to track, RbW throttle and the list goes on…
Once you actually sit down and think about what the modern vehicle has these days it's simply amazing. There is no doubt that many of these aids are a benefit for many riders on our roads. But are they all really necessary? Do they take away from the riding experience? Do simpler designs and ideals mean you are getting less for your money? Or are you being involved in a rawer form of motorcycling? Does it give you less or more satisfaction when riding?
These are the questions and debates that have gone on since the very first motorcycle was superseded by the next new model. So how does the Ural motorcycle sidecar range fit into this age of modern extremes? Does it have a place in our modern lives? Absolutely! Riding it is refreshing and takes you back to ground roots motorcycling, basic wind in your face freedom, and I've really enjoyed riding it…
Ural motorcycles from the very early days were about building strong, tough outfits that could be used in some of the worst environments possible. They are an iconic brand in Russia and Europe but not that well known in other parts of the World. The Ural is now being seen in countries like ours and is being promoted in a serious manner. The importers here in Australia are very serious about the promotion and sales of the Ural sidecar. Their belief in the brand is refreshing and passionate; they really do love the brand and what it means to own a Ural…
You can read my 2018 Ural Ranger review here and watch the video here. This year the model I have been testing the last few weeks is the Sahara version of the 2019 Ranger model, with some extra parts thrown in for the longer ride. To look at the outfit at first glance you would think it just came off the set of an Indiana Jones movie and you wouldn't be mistaken in thinking it was a WWII restoration.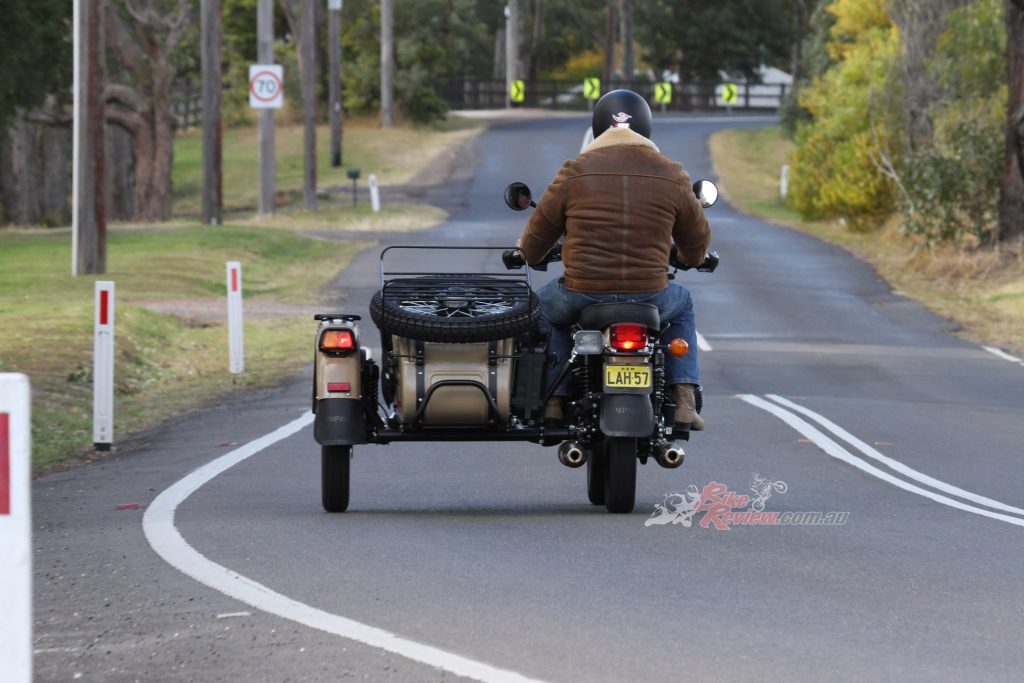 This is the essence of what Ural is about. Build a motorcycle outfit that will stand the test of time but make it modern enough for our roads and lifestyle so it can be enjoyed by all sorts of riders. It is a very functional machine that has simple components that add up to make the whole bike. The engine is the simple tried and proven boxer twin motor, it's essentially a BMW copy that was done back in WWII, it's evolved over the years growing in capacity, now 749cc, and it has Keihin fuel injection for the first time this year, which is a nice improvement over the previous years.
This year also sees larger finning on the barrels and cylinder-heads for better cooling, revised porting and a new cylinder-honing technique used for improved run-in and longevity. The cylinder-head covers are redesigned and the pistons are cast from aluminium silica alloy and have Teflon coated skirts, a hard-anodised crown and top ring groove and feature a phosphate coated gudgeon pin and improved high-tech piston rings. The lubrication system has been revised as well, with improved pick-up and oil capacity increased to 2.6L. The gearbox is still a four-speed but that is totally adequate for the power and torque curve of the engine. The Keihin EFI system improves throttle position and reduces emissions.
Even with the weight of the sidecar the motor is quite happy pulling the machine along the road. Cruising speed is 110 to 120km/h, it has a reserve of power that matches other traffic and can accelerate past other vehicles comfortably. You can't lane split, so no need to stay ahead off the lights. Adopting a relaxed approach to riding is the way to enjoy the Sahara and you can't rush on it…
Stability on the motorway is good for what the outfit is, sidecars are not a motorcycle, they don't turn corners like a motorcycle and they don't track like a motorcycle. There is some instability in the wind but aside from that it's a stable and smooth ride. A sidecar has different dynamics that need to be understood before belting down the motorway at speed. You don't have to be fearful of the outfit but it does need respect. Once you understand this and ride the outfit for what it is intended for it's a great deal of fun and enjoyment, particularly this newly refined 2019 model.
Out of town and on the country roads, the Sahara is at home. It rides the bumps well with the Sachs suspension and is stable and sure footed through the turns. Braking power is great thanks to high specification Brembo calipers and NG rotors, with decent feel and power to pull up 335kg plus rider. The fuelling is smooth and the engine feels more refined. Off road, the Sahara is a ball, and can tackle anything. It's just amazing what this thing can do! It'd be a fantastic bike to go away camping on and having reverse in the bush is really good for those times the track tightens up and you can't turn around…
Passenger room and comfort is top notch and the pillion perch is not huge but it is big enough, with grab rails and rubber covered pillion 'pegs. The screen is a good size and the seating position relaxed, roomy and upright.
The Ranger Sahara is absolutely loaded with features. The unusual things that you don't get with a normal motorcycle are the fun things, like reverse gear, a park brake, interchangeable wheels (all three hubs are the same now and the wheels are now stronger and from a new supplier), plus a full spare wheel, a fuel jerry can, a shovel, a tool kit that is good enough to do some serious work with, extra spotlights on the sidecar, extra protective cages for the lights, heavy duty footsteps on the sidecar and guard, IMZ leading link fork for better control, adjustable Sachs shocks for both front, rear and sidecar wheel. Pretty impressive…
Carrying capacity is enormous, with a whopping 83L of space in the boot plus there is the sidecar, normally meant for an adult or child but it is again another massive storage area. Remember too, the Ural is registered to carry three people – the maximum permissible weight is 600kg. Fuel capacity is 19L, that will get you about 300km before you need to fill up on 95 or 98 Octane fuel. Reserve is a large 3.8L, more if you have the jerry can full.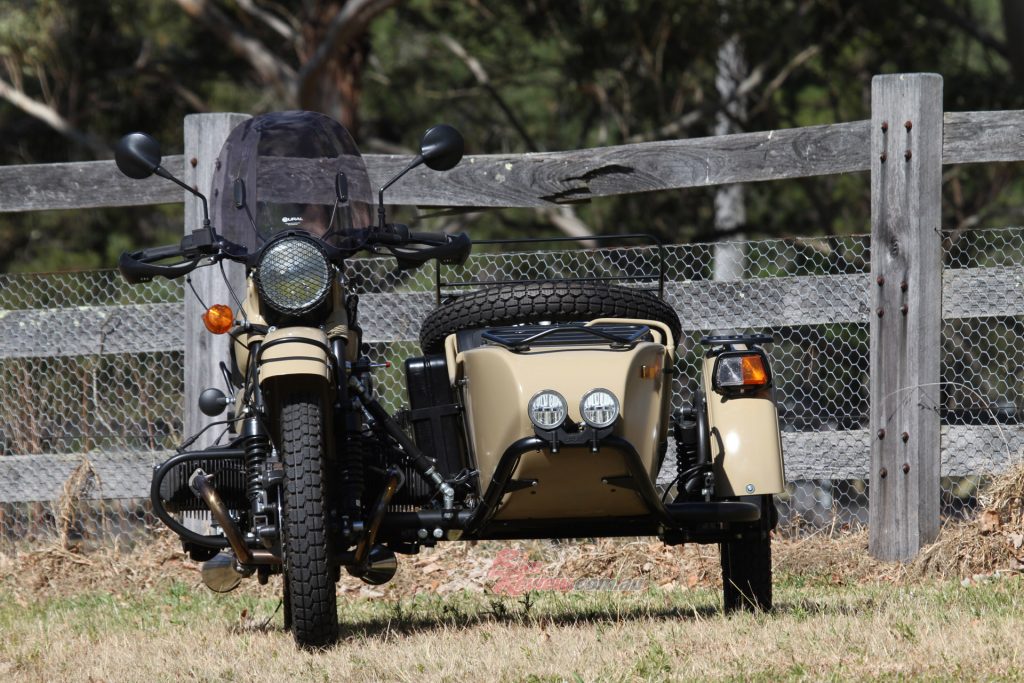 The Ural has an impressive Brembo four-piston calliper with 295mm rotor on the front wheel. There is a single piston calliper with a 256mm rotor at the rear and the sidecar wheel has a two-piston Brembo with a 245mm rotor. Tyres on this bike were the optional Heidenau 4.00 x 19in, a copy of the Pirelli MT30 of years gone by – the stock tyre is the Duro road tyre. The tyres are capable in all terrain but are a very open tread that with its high blocks felt a bit squirmy on some roads, excellent on the dirt though.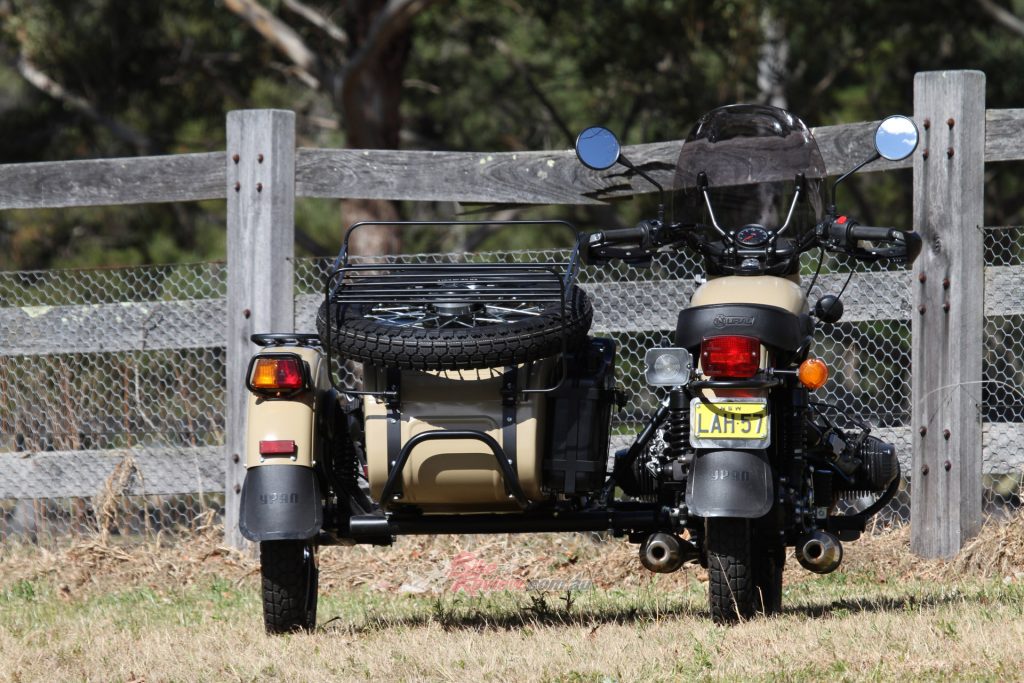 Reverse gear is so simple to use, you just come to stop, put the bike in neutral with the clutch disengaged, and reach down with your right hand to the lever above and slightly to the front of your rider footpeg and simply move the lever backwards. You are now in reverse and ready to go. It's so comforting to have the reverse gear; it takes all the worry out of where to park. Simple and easy to use. To select forward gear it is just the same procedure but you push the lever forward. You never really have to put your feet down at all when riding the bike, not until you have parked it for the day.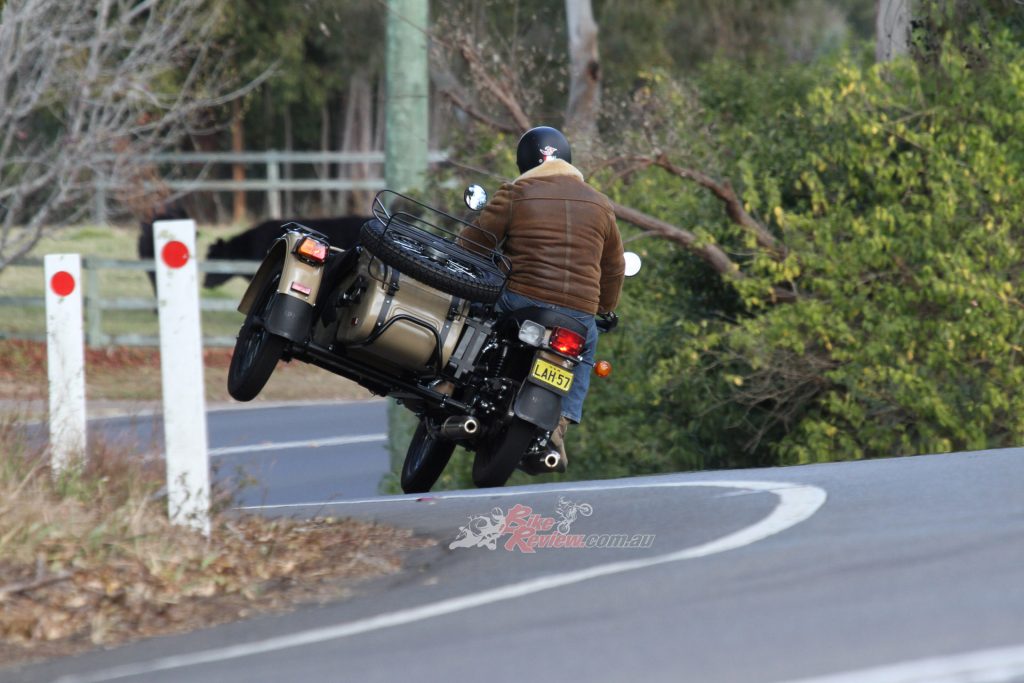 So, do I like the Ural sidecar? Yes. Is it fun? Yep! Is it a bike I'd own now? Not yet, but it's on my list for the future. It'd suit anyone that wants to enjoy a simpler type of motorcycle that needs or wants a sidecar. A person that wants the adventure and ability to travel with a friend or two and a stack of gear… The price is a premium but the value is there, this is a bike that does everything a car can and still gives you the thrill and freedom of motorcycling…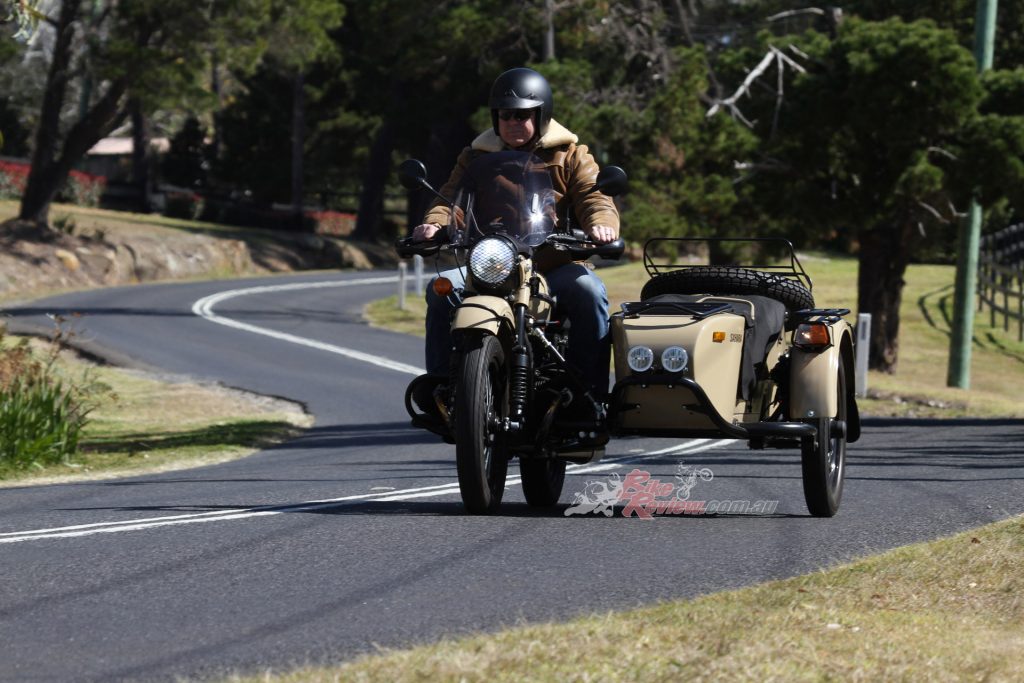 Standard Ranger Accessories
LED Sidecar Fog Lights
Front Sidecar Bumper
Sidecar Power Outlet
Sidecar Tonneau Cover
Fuel Tank w/ Built-In Storage
Jerry Can
Folding Utility Shovel
Luggage Rack
Universal Spare Wheel (Fits All 3 Positions)
Off-Road Package ($1800 RRP)
LED Headlight
Ural Rider Screen
Sidecar Light Guards
Sidecar Nose Rack
Fender Rack
Hand Guards
Rear Sidecar Bumper
Headlight Rock Guard
2019 Ural Ranger Sahara Sidecar
Price: from $27,490 RRP + ORC
Warranty: Two-year, unlimited kilometre
Claimed power: 41hp@5500rpm
Claimed torque: 56.9Nm(42ft-lbs)@4300rpm
Dry weight:  335kg
Fuel capacity: 19L
Engine: Air-cooled, four stroke, OHV two-cylinder boxer, 749cc, Keihin EFI, 8.6:1 compression, electric start, kick start
Clutch: Dry double disc
Gearbox: Four forward, one reverse, shaft drive
Chassis: Double loop steel tube
Seat height: 785mm
Length: 1700mm
Ground clearance: 172mm
Max load: 600kg
Suspension: IMZ Leading link forks with Sachs shock, Double sided swinging arm with Sachs shocks
Brakes: 295mm front NG rotor, Brembo four-piston caliper, 256mm NG rear rotor, HB caliper, 245mm sidecar rotor, Brembo caliper
Wheels & Tyres: 4.00 – 19in tyres, three cross-spoked alloy wheels plus reserve wheel
Instruments: Analogue speedo, with digital display
Cruising speed: 115km/h
2019 Ural Ranger Sahara Gallery
The Verdict | Review: 2019 Ural Ranger Sahara