The legendary BMW GS just got a whole lot of major updates for 2024. We head to the World Launch in Malaga, Spain, to test it in wet, dry, tarmac and off-road conditions... Photos: BMW Motorrad
Nick was stoked to get the call-up for the 2024 BMW R 1300 GS International launch, as it is an iconic model that's always on his adventure radar. Riding the most updated version through some of the world's most stunning adventure terrain was thrilling.
The 2024 R 1300 GS stands out as the latest gem in the BMW GS series, packing a lighter frame, more power, and a compact design that outshines its predecessors. Right from the factory, it's decked out with top-notch equipment options, a fresh style, and a tonne of customisable add-ons.
---
For full technical details by variant, and for Aussie pricing on all models, check out our detailed localised R 1300 GS post here…
---
So, whether you're eyeing the GS, GS Trophy, GS Triple Black, or the GS Option 719, there's a perfect match for your taste. The R 1300 GS is the epitome of the GS legacy. It balances a modest weight with a robust 107kW, 149Nm Boxer engine and a hefty 1300cc displacement, securing its top spot in the large touring enduro category.
---
New R 1300 GS Model Variants
---
Flying in from Sydney, I landed in the vibrant energy of Malaga, Spain, after a 32-hour journey. The mission? To conquer the BMW R 1300 GS across the stunning Spanish terrain. The jet lag tried to bring me down, but the excitement of the up-coming ride was the perfect antidote, pushing me to soak up every moment. Our home base? La Zambra, right in the heart of Fuengirola. With around 60 bikes on site, this place was a sight for sore eyes after such a long trip. The cold beer was decent, too.
---
---
For the tech geeks in the group, a deep-dive tech session on the first afternoon with the BMW experts unveiled the secrets of the R 1300 GS. The next morning was when things kicked into high gear. We had a two-part ride day lined up. First up, a photo journey through the winding roads, showing off the GS in all its glory. Then, we hit the dirt for some Enduro Park action, followed by an uphill trek to one of the most stunning views I've ever laid eyes on.
---
---
But it wasn't all easy riding. Rain turned our journey into a slippery challenge, navigating oil-slicked farm roads and really putting our skills and the GS's mettle to the test. The last day, finally, was all about the test riding. Unfortunately, the weather gods weren't too kind to us, and we must have had the most depressing weather the region had ever seen.
---
---
It was that kind of drizzle that just soaked everything, backed up traffic, and managed to obscure the beautiful landscape with nearly 100 per cent fog and cloud cover. Regardless, we managed to push out a few hundred kilometres, and even in the weather, it was still a blast. After that, we smashed a quick lunch and were back on the plane by sundown!
ON ROAD
Hitting the road on the BMW R 1300 GS standard model, it is immediately apparent that this bike is special. I'm 197cm, and I've got to say, the R 1300 GS is a pretty good fit for a rider my size. The handlebars are a bit forward, which is great for tall riders like me, but I also heard some shorter journalists saying they found it comfortable, too.
Accessing the rear brake and gear selector is easy, even with my big adventure boots on. There are lots of seat options for the R 1300 GS. Mine has the standard comfort seat, perfect for my height and preference. And for shorter riders, there are options to lower the seat a bit too.
---
I'm 197cm, and I've got to say, the R 1300 GS is a pretty good fit for a rider my size…
---
That 1300cc engine? Smooth as silk. You don't feel like downshifting to overtake? No worries, the power and torque is right there, even at low revs. Just grab a handful of throttle in any gear, and you're good to go. There's nothing quite like a big engine for smooth power all the way through the rev range.
---
---
The throttle is smooth, controlled, and the big boxer responsive. It isn't all smooth sailing though. The quickshifter and gearbox have their quirky moments. First to second is very clunky, and false neutrals are regular on my test bike… Hopefully BMW can address this problem quickly.
I can feel the difference when switching through the modes. The clutch is lighter than expected, making for easy take-offs. Paired with the hill start, it should make tricky starts a breeze (I didn't get a chance to test this out, but I'm looking forward to trying it in some more challenging situations back home).
---
---
The shift to a lighter, more compact frame makes a world of difference, especially when navigating through the tight twisties. Gone is the old tube-steel chassis, replaced with a steel-pressed shell, while the sub-frame boasts some sturdy cast aluminium. It's a balance of strength and lightness, and I can really feel it. The Metzeler TOURANCE hoops on the stock model are great, too, offering good dry and wet grip and light yet stable handling.
When it comes to handling the tight corners, the R 1300 GS is on point, agile and responsive. The brakes, with 310mm twin rotors at the front and a 285mm rotor at the back, are more than up to the task of stopping this big bike quickly. At first, I had doubts because it's such a heavy bike, but they do the job brilliantly. I am on the standard GS version first up, which comes with all the top-notch brake tech, and it has made me feel really secure during the ride, even when braking hard in the wet.
---
"When it comes to handling the tight corners, the R 1300 GS is on point, agile and responsive…"
---
I love the wide-set handlebars on the new GS. The give the bike a motard vibe, which is an excellent surprise for a bike this size. And it means that even when I am really pushing it through the sharper corners, the ride stays comfy. Despite its hefty 1300cc size, the bike handles lean angles like a champ, never giving me trouble with the centre-stand touching-down or the footpegs scraping.
This new GS isn't exactly a featherweight at 237kg, it's still 12kg lighter than last year's model. The overall suspension support is on the softer side for me, even for an adventure bike, with the front using a lot of travel over road undulations and both ends overly soft for me at 110kg. Still, it is clear the bike has a lot of versatility, ready to adapt to whatever riding style you throw at it, and when we get it back, I'll set it up better for my weight and height (197cm).
---
---
The variety of Riding Modes and electronic aids is a godsend, especially with the weather being as unpredictable as it is for us. The traction control keeps things steady, even on the slipperiest of roads. Getting everything setup right without a BMW tech in sight was a head-scratcher. It left me feeling lost in the sea of tech. The slightly redesigned BMW switchgear took a while to get used to, but once I did, it was smooth sailing, making adjustments on the fly a breeze.
I spend time switching between Road, Dynamic, and Rain modes. The bike really feels different in each mode. In Road mode, everything is comfortable and smooth, perfect for longer commutes or freeway rides. In Dynamic mode, the bike feels like a beast, with real attitude. Rain mode, while not as exciting, gives a boost in confidence when the rain starts pouring down.
I get too enthusiastic coming out of a corner and feel the rear start to slide, but the traction control is right there to keep things in check. A big machine, yet it handles conditions like this with total finesse. Overall, a good road machine, which we will fully test here once it arrives in Q2, 2024.
OFF-ROAD
Taking the BMW R 1300 GS Trophy version this time and heading off-road, switching it into Enduro mode, I'm struck by how easily the bike transforms, showcasing its versatility and capability on the dirt. It feels like it is in its element. This beast came decked out with chunky knobby Metzeler KAROO 4 tyres, cross-spoked wheels, a taller seat, and radiator guards.
Decked out in Racing Blue Metallic, my ride was also kitted with Shift Assist, Dynamic Suspension Adjustment, Enduro Pro mode, and the same sports brakes as the road variant. The Trophy also comes with the Enduro Package, which throws in some extra crash protection bars, big fat footpegs, and off-road billet clutch and brake levers.
Being a taller rider, the bike's ergonomics generally fit well for me off-road. However, I do find myself wishing for higher handlebars during the extended standing sections. It's a slight drawback compared to previous models, but it's okay, a set of bar riders will fix that. On the bright side, the adventure variant of the R 1300 GS nails it with wider and sturdier footpegs, and the gearshift and brake levers are optimally positioned for off-road action, contributing to a comfortable and controlled ride on the dirt.
---
---
This beast's off-road ABS and traction control systems are nothing short of brilliant. In Enduro mode, they provide the proper support, instilling confidence without dampening the off-road craziness. It's a significant piece of tech that is an intuitive and responsive system. It understands the demands of off-road terrain. The Metzeler KAROO 4 tyres are brilliant and contribute to the off-road ability.
As I flip it into Enduro Pro mode, the bike softened and transformed completely. With generous ground clearance, I don't bottom the bike out, even in the rock garden. The dynamic suspension electronics are seriously impressive; they do a fantastic job of adapting to whatever terrain you're tackling…
---
---
Standing up on it – although I find the 'bar height a bit of a challenge as mentioned – the position leaves me feeling totally in control. The tank dimensions allow for a good bit of lower-body steering, and I can really feel what's happening through those massive 'pegs. Plus, with the rear brake lever is adjusted specifically for standing, so there's plenty of control and feel in heavy adventure boots.
---
"The dynamic suspension electronics are seriously impressive; they do a fantastic job of adapting to whatever terrain you're tackling…"
---
Just like I said about the road variant, the clutch on the 1300 is top-notch. And while with 1300cc you don't really need to worry about slow speed clutch control – this bike's pretty much a tractor that'll chug through anything – having that light clutch action still makes for easy operation. I can manage it with just one or two fingers, even while navigating some of the slower, trickier spots.
---
---
Handling-wise off-road, the R 1300 GS Trophy holds its own on the dirt. Despite its weight, it feels well-distributed and balanced, even in the more technical sections. The GS is sure-footed, agile and manageable even in the tighter, steep technical sections of our ride. The suspension setup is tailor-made for off-road adventures. While it needs some tweaking to suit my preferences, it's clear that this bike is up for a wide variety of terrain and riding styles.
The traction control is very refined, and quickly and efficiently manages any potential slides, providing a safety net for a confident and enjoyable off-road ride but still allowing fast progress or good drive when needed or wanted. One of the highlights for me is how the Enduro modes handle sliding. They let me get just sideways enough to really enjoy the slippery terrain, and then, ever so subtly, they'd straighten the bike out. It's like the bike's way of giving you a little nudge, reminding you to respect both its limits and your own… But allowing you to steer with the back like you need to on the GS.
---
---
At times, the mint quality of the GS plays on my mind, creating a mental barrier that held me back from pushing it past its full potential. Riding such a well-crafted machine, you can't help but want to take care of it. It's a common challenge but also speaks volumes about BMW's attention to detail and commitment to quality. They've created a bike that's not just fun to ride but also commands a certain level of respect.
There really isn't much to fault on the GS after my two quick spins. It's a premium bike that certainly offers some serious tech and capability. As usual, I'm impressed with what BMW Motorrad has managed to produce from what was already a class-leading adventure tourer. We plan on doing a more thorough review over a week of testing once the bike is in our hands here at home, where we can truly do the hard yards in Aussie conditions. Overall, it is an awesome update to the Adventure King.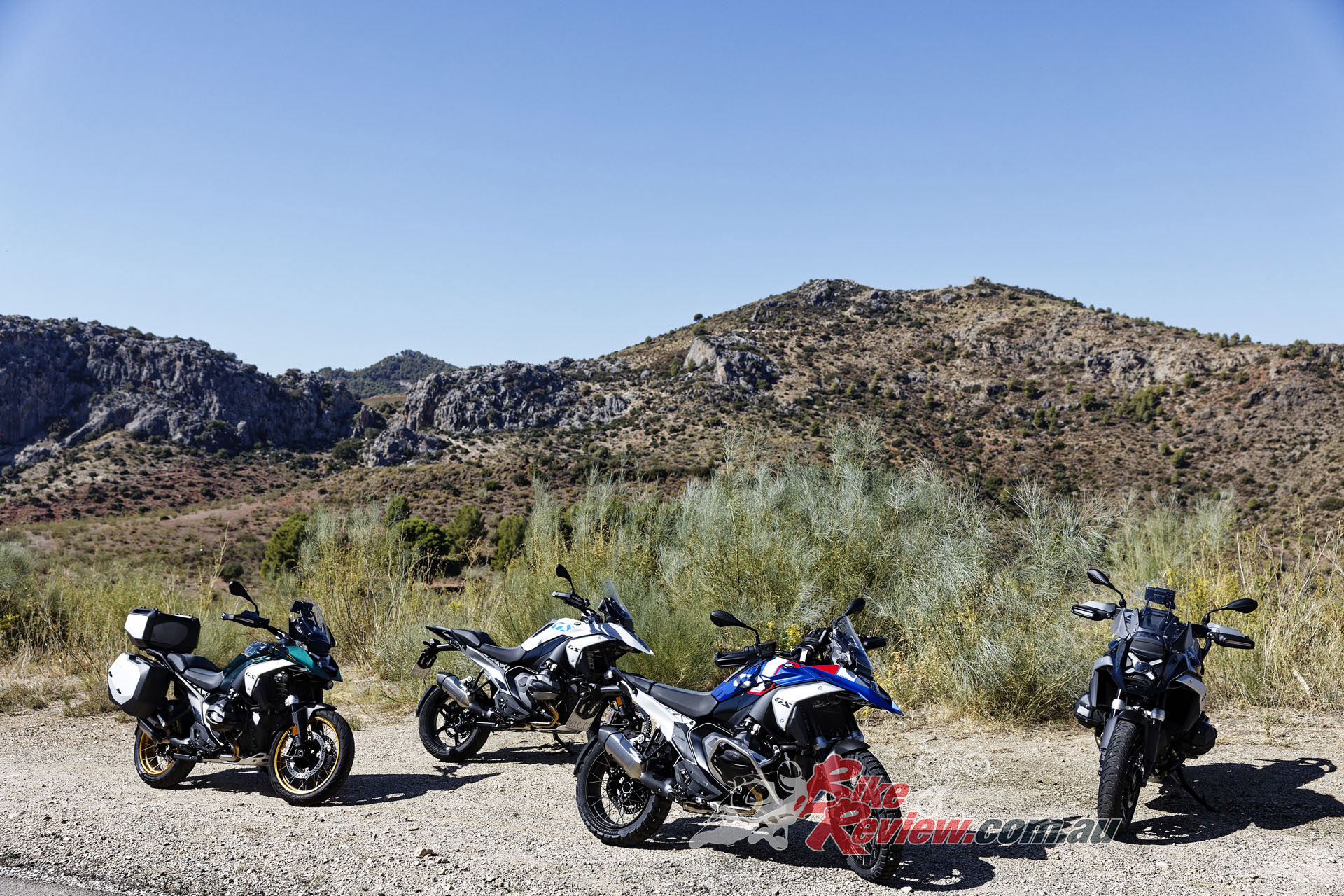 TECH TALK
The BMW R 1300 GS is powered by an air/liquid-cooled four-stroke flat twin engine. This powerplant generates 107kW (145hp)@7750rpm. The maximum torque is 149Nm@6500rpm. It is the most powerful BMW boxer engine ever produced by the factory.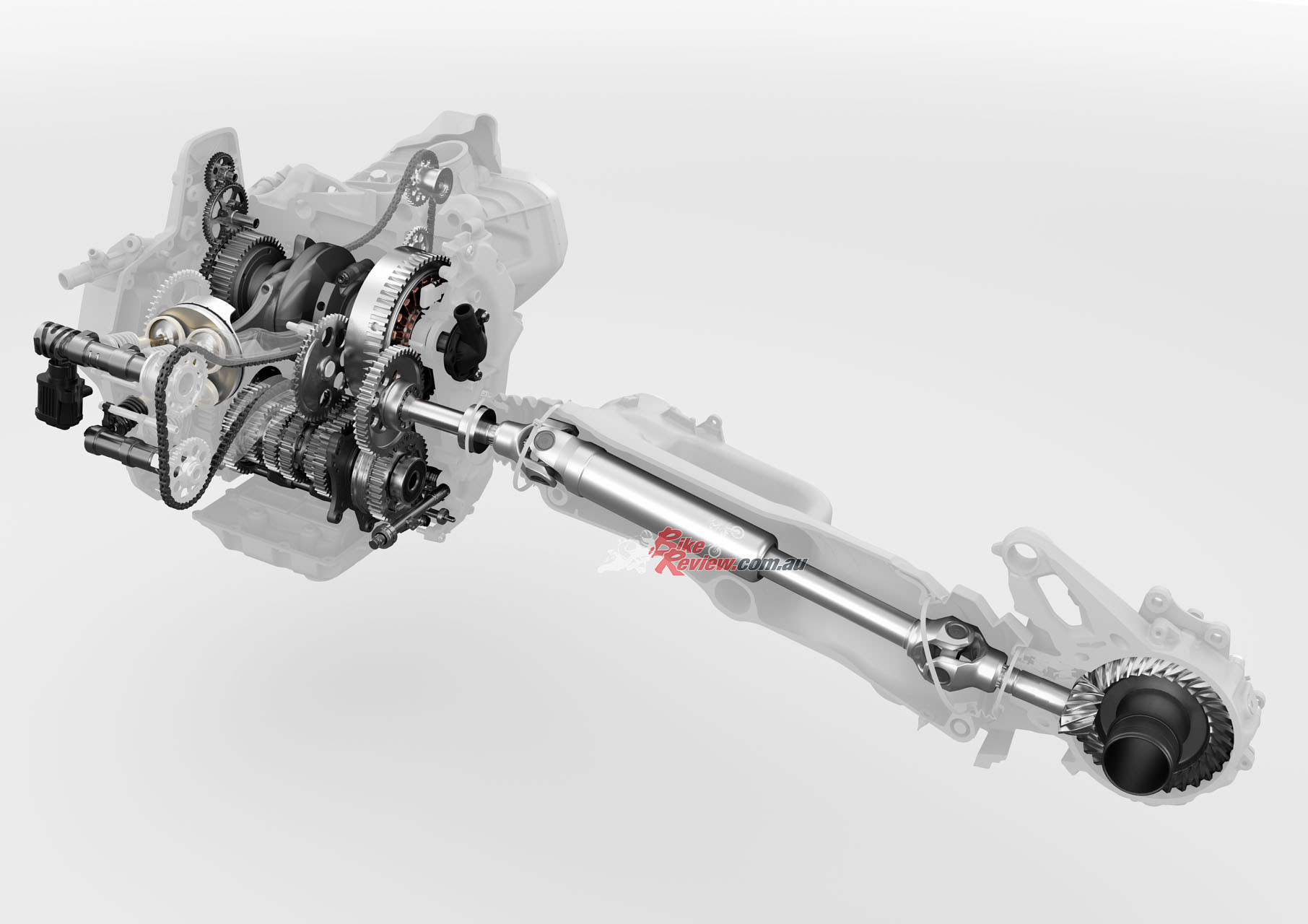 Equipped with BMW's ShiftCam technology, the engine optimises valve timing and lift for varying riding conditions. This results in improved performance, efficiency, and reduced emissions, aligning with modern environmental standards. The engine has a displacement of 1300cc and operates with a high compression ratio of 13.3:1.
---
---
The engine's internal dimensions are a bore of 106.5mm and a stroke of 73mm. The fuel system of the R 1300 GS is capable of adapting to varying fuel qualities ranging from 91 to 98 ROZ/RON. However, super unleaded 95 ROZ/RON is recommended. On the efficiency front, BMW claim the R 1300 GS fuel economy at 4.8L/100km, according to the WMTC standards. Power is transmitted to the rear wheel through a claw-shifted six-speed gearbox. The bike features a wet clutch system, enhanced with anti-hopping capabilities and hydraulic actuation.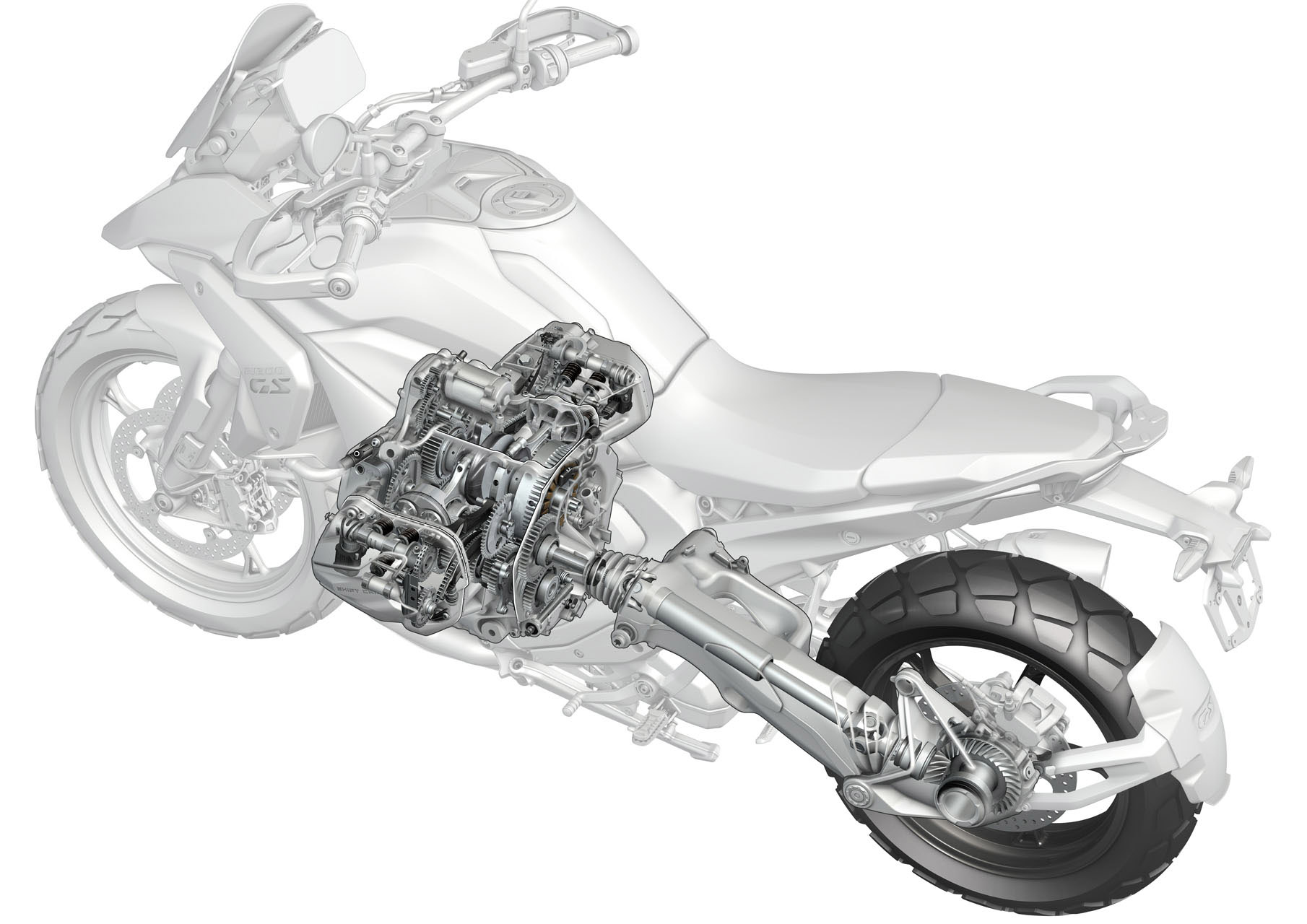 The R 1300 GS utilises a cardan drive system for final drive duties. This system is renowned for its durability and low maintenance requirements, contributing to the overall practicality and reliability of the motorcycle, according to BMW. Furthermore, the Dynamic Traction Control (DTC) system is integrated into the drivetrain, providing an additional layer of safety and performance optimisation.
---
---
CHASSIS
The two-part frame design, which comprises a main frame and a rear sub-frame bolted together, provides a sturdy foundation that co-supports the engine, contributing to the bike's overall stability and handling precision according to BMW.
---
---
The front suspension features BMW's signature EVO-Telelever system, which is designed to decouple the handlebar tilting from the central shock absorber through a flex element. This innovative design results in enhanced road feedback and reduced dive during braking. With a generous 190mm of travel, the front suspension is well-equipped to handle diverse terrain.
At the rear, the EVO-Paralever system takes centre stage, incorporating a cast aluminium single-sided swingarm and transversally connected swingarm bearings. The central WAD (Weight Adjusted Damping) spring strut is fully adjustable for spring preload, providing 200mm of travel and enabling riders to tailor the bike's response to their riding style and the demands of the terrain.
---
---
The R 1300 GS boasts a lengthy wheelbase of 1,518mm, paired with a caster of 112mm and a steering head angle of 63.8 degrees. These dimensions contribute to the bike's stable and confident handling, particularly at high speeds and when navigating tight corners.
---
---
Rolling on aluminium cast wheels, with a 3.00 x 19in rim up front and a 4.50 x 17in rim at the rear, the bike is fitted with 120/70 R19 and 170/60 R17 Metzeler TOURANCE tyres, respectively. This wheel and tyre combination ensures a good balance between on-road stability and off-road agility.
---
---
The braking system is no less impressive, featuring twin 310mm semi-floating brake discs and four-piston radial brake calipers at the front and a single 285mm disc with a 2-piston floating caliper at the rear. Coupled with BMW Motorrad's Full Integral ABS Pro, which is optimised for lean angles, the R 1300 GS offers exceptional braking performance and safety, regardless of the riding conditions.
At a road-ready, fully fuelled weight of 237kg, the bike maintains a commendable balance between robustness and agility. The permissible total weight stands at 465kg, providing a substantial payload capacity of 228kg, ensuring riders can pack all necessary gear for their adventures.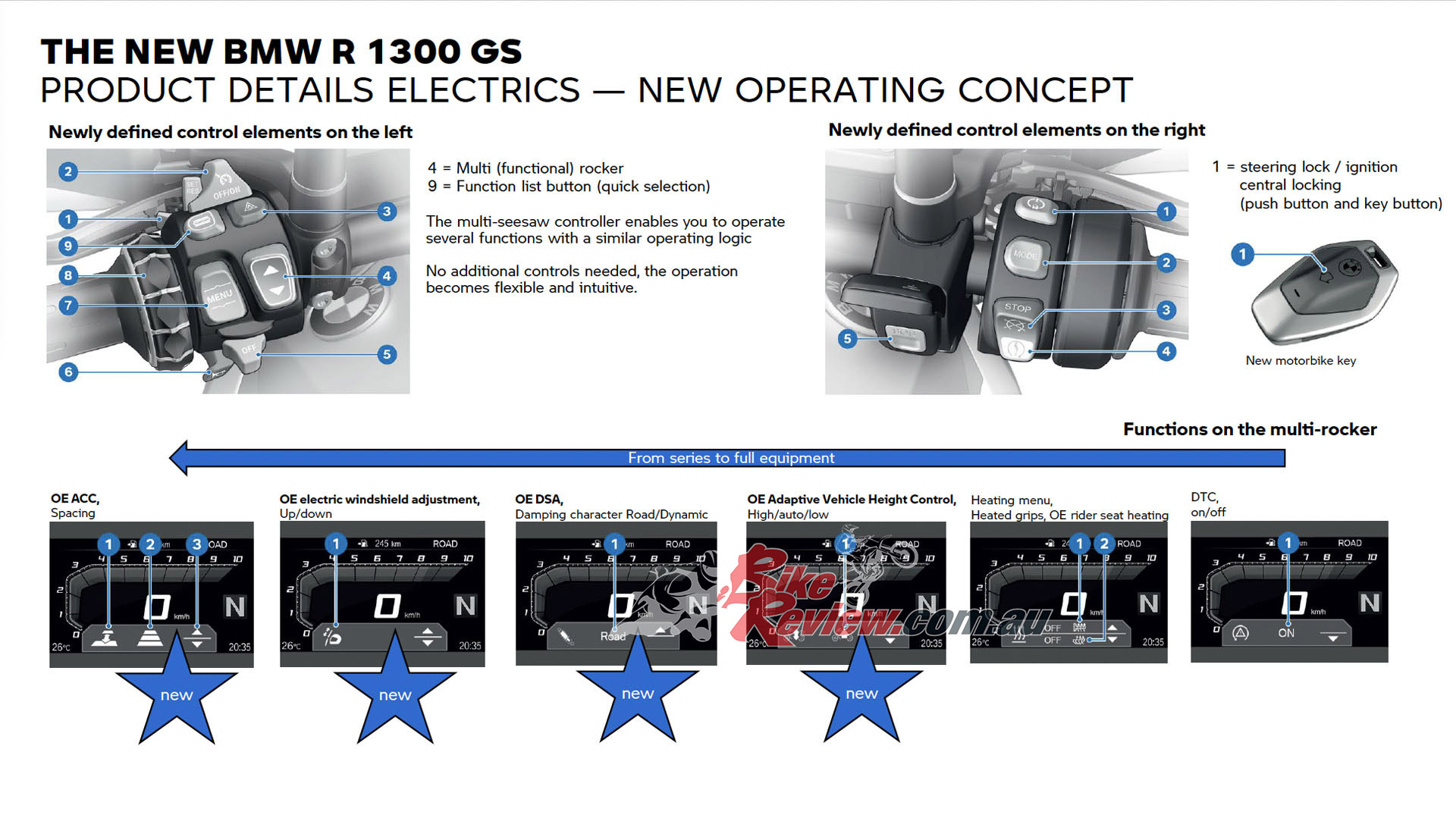 ELECTRONICS
Riding Modes and Assistance Systems:
The R 1300 GS now comes standard with four riding modes: "Rain", "Road", "Eco", and the off-road-oriented "Enduro". Each mode adjusts the bike's characteristics to suit different riding conditions and preferences. The "Eco" mode, in particular, optimises fuel consumption for maximum range, supported by an efficiency indicator on the TFT colour screen. For those seeking an even more tailored experience, the optional "Riding Modes Pro" package adds "Dynamic", "Dynamic Pro", and "Enduro Pro", along with the ability to pre-select and switch between modes on the go.
Innovative Technology for Safety and Comfort:
The bike's innovative Riding Assistant package includes Active Cruise Control (ACC), Front Collision Warning (FCW), and Lane Change Warning (SWW), enhancing safety across various riding scenarios. The ACC system, using radar technology, helps maintain a safe following distance, while FCW provides alerts and brake intervention if a potential hazard is detected. SWW assists in safe lane changes, increasing situational awareness.
---
---
Advanced Electronics for an Optimal Ride:
The motorcycle features state-of-the-art lighting, connectivity, and convenience features. The full LED headlamp with an optional "Headlight Pro" feature adapts the light beam to the bike's lean angle, ensuring excellent road illumination. The 6.5-inch full-color TFT screen, paired with the BMW Motorrad Multi-Controller, provides easy access to vehicle functions and settings.
The R 1300 GS is also equipped with Engine Drag Torque Control (MSR) as standard, enhancing stability during coasting or downshifting, with the control response varying across riding modes. Hill Start Control (HSC) is another standard feature, facilitating convenient hill starts.
---
---
Connectivity and Convenience:
Riders can enjoy heated grips, a 12-volt on-board power socket, and a USB-A socket for device charging, along with a ventilated smartphone charging compartment. A lightweight lithium-ion battery contributes to the bike's performance and agility.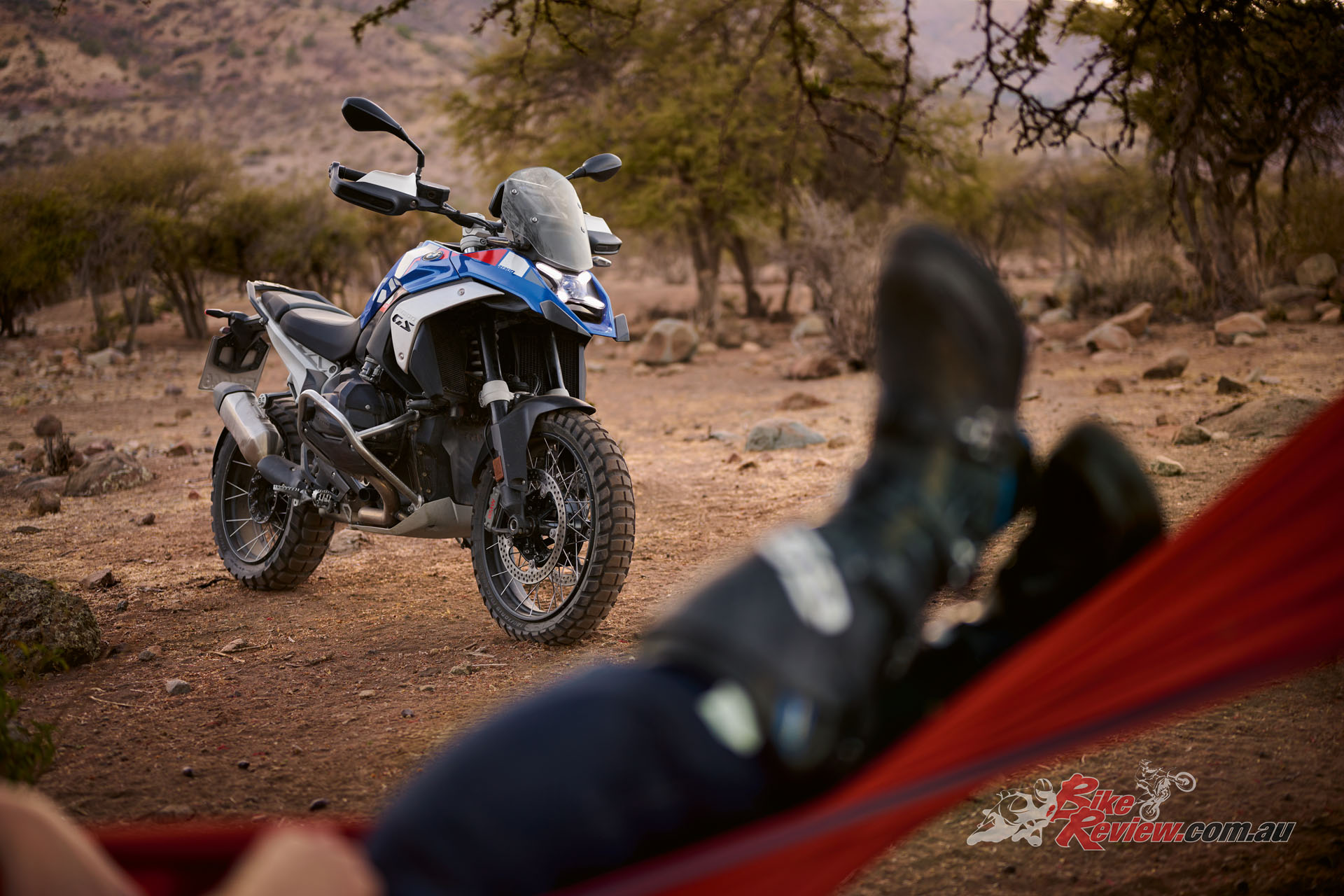 2024 BMW R 1300 GS Specifications
Price: From $26,000 + ORC
Warranty: Five-years unlimited km
Colours: Light White, Racing Blue Metallic, Black Storm Metallic, Aurelius Green Metallic
Claimed Power: 107kW(145 hp)@7,750rpm
Claimed Torque: 149Nm@6,500rpm
Claimed Fuel Consumption: N/A
Wet Weight: 237kg
Fuel capacity: 19L
---
Engine: Air/liquid-cooled four-stroke flat twin engine with double overhead and chain driven camshafts (BMW ShiftCam) and balance gear wheels, 1300cc, 13.3:1 compression, 106.5 x 73mm bore x stroke, Electronic fuel injection, wet sump, six-speed gearbox, wet anti-hopping clutch, hydraulic actuation.
---
Chassis: Two-part alloy frame, engine as stressed element
Rake: 63.8mm Trail: 112mm
Suspension: EVO-Telelever, central shock absorber (f) with 200mm travel, EVO-Paralever, cast aluminium single-sided swingarm, transversal connected swingarm bearings, central WAD spring strut, spring preload fully adjustable, central shock absorber with 190mm travel (r)
Brakes: Twin semi-floating 310mm brake rotors, four-piston radial brake calipers (f),
Single 285mm rotor, two-piston floating caliper (r).
Wheels & Tyres: 120/70R19 (f) 170/60R17 (r) Metzeler TOURANCE, Aluminium cast wheels (spoked with Metzeler KAROO 4 on Trophy).
---
Dimensions:
Wheelbase: N/A
Seat height: 850mm
Ground clearance: N/A
Overall width: 1000mm
Overall Length: 2,212mm
Overall height: N/A
---
Instruments & Equipment: 6.5-inch full-colour TFT screen, Riding Modes, LED Lighting, RDC, Keyless Ride, Dynamic Cruise Control (DCC) with brake function, Dynamic Traction Control DTC, standard fitment engine drag torque control (MSR), dynamic brake assist (DBC) and ride-off assistant (HSC).
2024 BMW R 1300 GS Launch Gallery
---
Editor's Note: If you are reading this article on any website other than BikeReview.com.au, please report it to BikeReview via our contact page, as it has been stolen or re-published without authority.
---
The Verdict | World Launch: 2024 BMW R 1300 GS