We take a look at the full touring spec Tracer 900 GT, which offers a host of additional standard features for those after the full kit straight from the factory. Here's our full review...
Yamaha's popular Tracer 900 arrives in GT form once again in 2019, having seen massive success that saw them sell out in 2018. As a result the price has crept up, with 2018 pricing being a bit of a steal and 2019 pricing more of a reflection of the extras on offer.
Having spent a month over Christmas with the regular Tracer 900 I'd come away impressed – you can check out my full review here: 2019 Yamaha Tracer 900 Review. The Tracer 900 isn't perfect, but it's a damn good machine and exceptional value.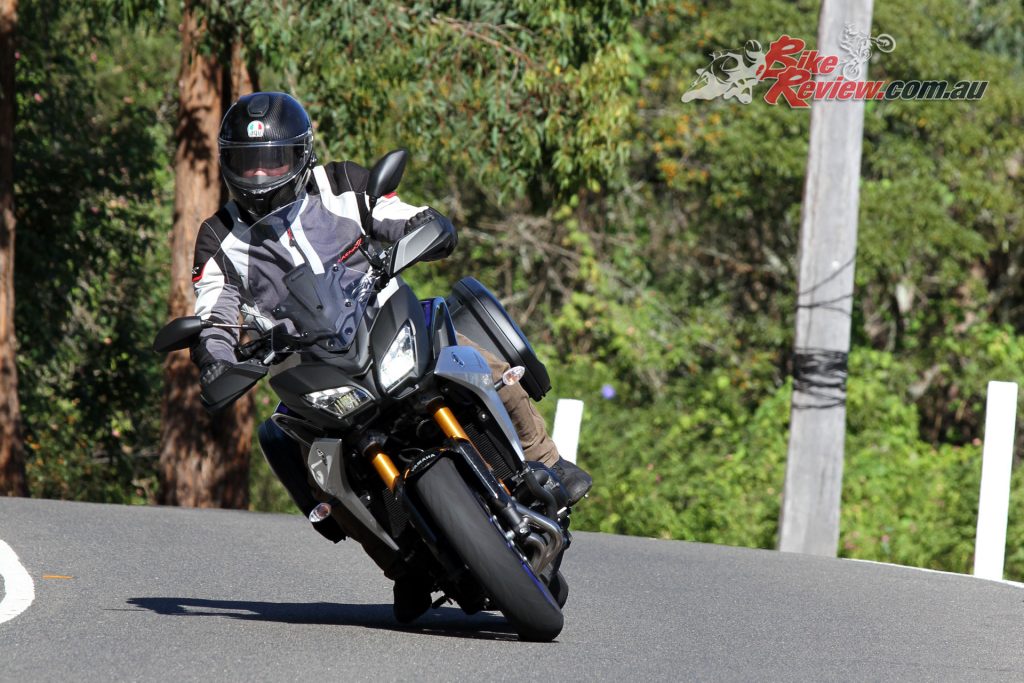 On the Tracer 900 GT the sports-touring aspect is taken to a new level with the inclusion of standard fitment 20L hard panniers in matte black, cruise control, heated grips, a quickshifter, fully adjustable forks, an higher spec' rear shock with external preload adjuster and a TFT display. Oh and the 'Midnight Black' colour scheme, which pays a bit of homage to the various SP model colour-schemes in its own way, with blue highlights and silver feature panels on the Midnight Black.
On paper it's a well spec'd machine ready to take it to the standard Tracer 900, but the price is also $18,199 RRP + ORC, which adds a further $1200 premium on to the 2018 GT premium of $1500 for a total of $2700 more than the Tracer 900. Of course the panniers, mounts, heated grips, etc all quickly add up to that figure, but it does move the Tracer 900 GT into a different price bracket.
On the Tracer 900 GT you are getting many of the same features as the standard version of course, starting with that awesome MT-09 based 847cc triple-cylinder, which produces 114hp alongside a lovely triple burble, and the accompanying 87.5Nm of torque. That means exceptional acceleration with that typical triple RBW character – fast revving and a great throttle connection.
Particularly in the Tracer 900 the engine is a bit more refined – without the heavy flywheel effect of the Niken – and with three usable modes. A-mode offers full power, while Standard was what I defaulted back to when the going got rough, as a little less throttle sensitivity was appreciated. On the MT-09 SP on the other hand I stuck to the softer power delivery all the time, as on anything except billiard smooth roads the throttle was too sensitive and instant.
It's still the same 'off-its-chops' powerplant, however it's a lot more usable for everyday touring and sports-touring is you ask me, and it's an immensely rewarding engine to aggressively downshift into corners, with a great sound track despite a minimal belly-mounted exhaust.
Apart from ride modes, you also benefit from traction control with three settings and a quickshifter, which works more effectively as the revs rise. Brakes are likewise good performers, with four-piston calipers and 298mm front rotors, backed by ABS, while the rear features a 245mm rotor and single-piston caliper.
Where the standard edition has dual displays, the GT features a colour TFT item but remains simple and uncluttered. Speed and gear are visible at a glance, there's a nice big fuel gauge, a tachometer reading across the top, and Mode, TCS, trip meters and heated grip setting are displayed.
A wheel control on the right switchblock is also an exceptional piece of tech and takes care of most of the control for the TFT display, push it in to pick an item, or roll it up or down to change settings.
Refreshingly simple and it just works. Modes are controlled by a button where a flasher would normally be so everything's accessible on the move. Traction control is on the left switchblock, with a toggle that'll display on the screen, then a set button, with easy adjustment possible. It'll also work to maintain your speed even on downhill sections which is ideal, but does have a minimum speed requirement, as well as needing fourth gear minimum, if you're scratching your head over it not activating.
The Tracer 900 is a tall machine, with an 845mm seat height on the lowest setting, with a big front-end, large tank area and plentiful wind protection thanks to the adjustable screen. With that said I found it surprisingly well balanced for pushing around the garage, while that weight falls away once moving.
227kg is the total weight on the road with an 18L tank of fuel, while the 'bars are wide and offer a relaxed upright seating position, with a slightly sporty reach to the 'pegs. Moving the seat up to the higher setting will however offer a bit more leg room.
A generous pillion perch offers a similar amount of room to the rider, with the panniers well positioned not to interfere with the pillion's legs. Grab rails offer an easy handhold. Overall I found the Tracer 900 GT comfortable, especially for long rides, while everyday commuting, even in heavy traffic wouldn't faze this bike.
Now a big difference on the Tracer 900 GT is the inclusion of fully adjustable forks, which in gold really give the up-spec feel to the machine, while the rear shock is preload and rebound adjustable, and as a big quality of life addition also includes a remote preload adjuster, making for easy adjustment when it comes to luggage and pillion additions.
When we got the Tracer 900 GT the suspension set-up was super soft, think lounge-chair like comfort, which just swallowed up inconsistencies and would be great for relaxed straight line touring. This was quite a change from the standard Tracer 900, which is far sportier.
Despite being super comfortable, this original set-up was really lacking in front-end feel, and could be quite resistant on turn-in into some corners and also had a fair bit of dive if you really put the front brakes to use. Part of that and the wallowing came down to the fact there was a significant difference in preload between the two forks, with the top adjusters showing a significantly different number of rings on each. The rear external preload adjuster also came in handy here, with the bike squatting a bit two-up, leading to me adding some preload.
With this said the Tracer 900 GT is a sports tourer and we spent a week trying to get that suspension set-up in a way which really outshone the standard Tracer 900 for an all-round ride. The end result was a significantly more taught ride than when the bike arrived, with better front-end feel and overall handling comparable to the standard model.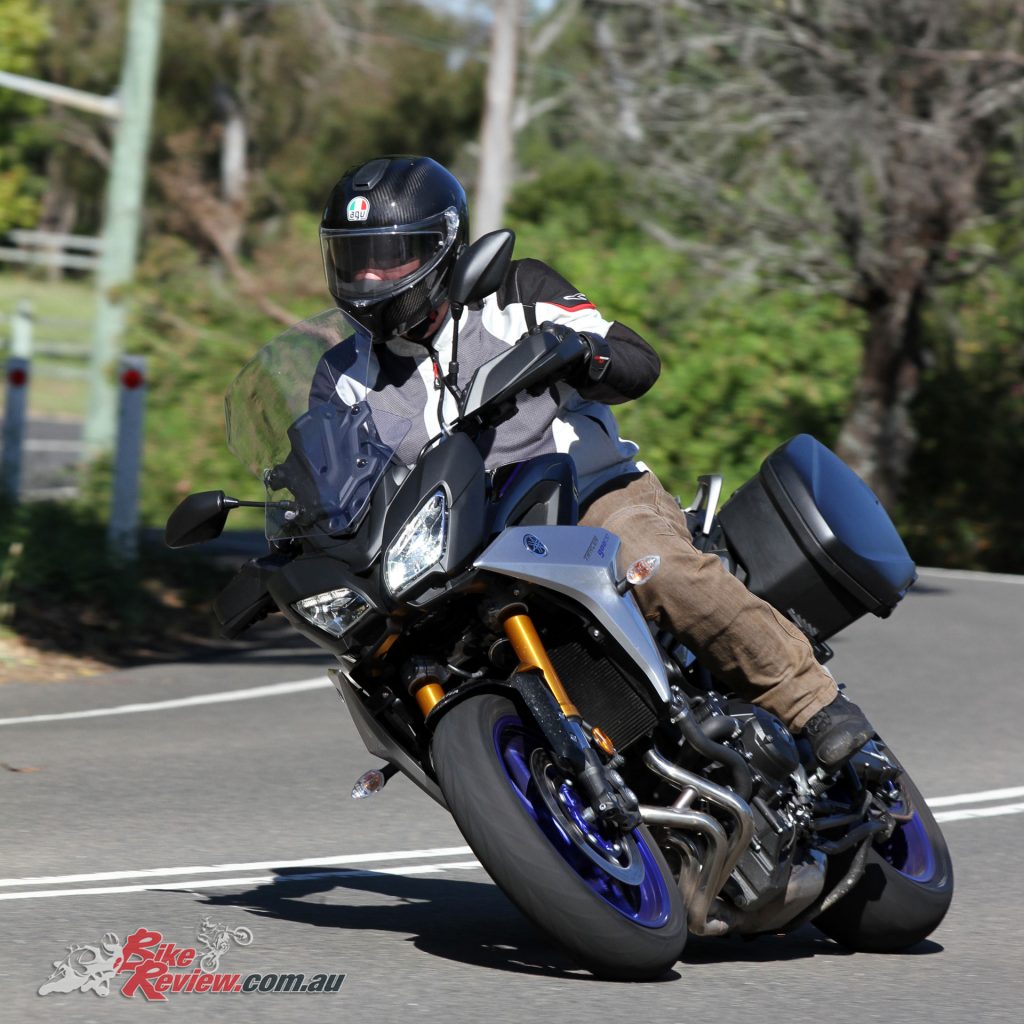 On the smoother twisties the Tracer 900 GT ended up in much better form, but there was some sections, particularly where we did photos and the road was quite rough in parts, or with tight turning points on really uneven surfaces, that the bike was still more of a handful than expected, and not as balanced as would have been ideal between the front and the rear.
Overall I can't really say the suspension was an improvement over the standard model from my experience with the bike. Had the original set-up had front-end feel it could have been forgiven as a very touring orientated (soft) set-up, but that simply wasn't the case. For a model which is also praised as being a big improvement on the suspension side of things compared to the Tracer 900 – from a sporty perspective that just wasn't noticeable.
Suspension woes aside, the Tracer 900 is a great machine and the GT adds a whole host of extras for some more moolah. Would I buy the GT? If I saw the suspension improvements everyone raved about, maybe, as that's an important part of the premium pricing, as it stands I'd go the standard Tracer 900, but that's also a testament to how great the standard version is.

2019 YAMAHA TRACER 900 GT SPECIFICATIONS
PRICE: $18,199 RRP plus on road costs.
Warranty: Two-year, unlimited kilometre
Colours: Midnight Black
Claimed power: 85.8 kW [115bhp]@11000rpm
Claimed torque: 87.5 Nm [64.5ft-lbs]@8500rpm
Wet weight: 227kg
Fuel capacity: 18L
Engine: Liquid-cooled, crossplane triple, 12-valve four stroke, 78 x 59.1mm bore x stroke, 847cc, 11.5:1 compression, fuel injected with selectable three engine modes, traction control three levels
Gearbox: Six speed, constant mesh.
Clutch: wet plate, multiple disc, assist & slipper
Chassis: "Control filled" diecast aluminium diamond frame
Suspension: 41mm KYB upside down fork, fully adjustable, KYB shock with remote preload adjuster, full adjustable
Brakes: ABS : Front dual 298mm rotors with four pot radially mounted calipers, rear single 245mm rear rotor with a single pot caliper.
Wheels: Cast multispoke, 3.50 x 17in, 5.50 x 17in, Dunlop Sportmax D222, 120/70ZR17, 180/55ZR17
DIMENSIONS:
Overall length: 2160mm
Width: 850mm
Wheelbase: 1500mm
Seat height: Adjustable – 850 to 865mm
Ground clearance: 135mm
Instruments: TFT display
GT Extras: Quick Shift System (QSS), Cruise Control, Midnight Black special GT colour scheme, 20-litre matt black hard-shell panniers, heated grips, (fully adjustable forks, remote preload adjuster on rear, as already mentioned)
2019 YAMAHA TRACER 900 GT GALLERY
The Verdict | Review: 2019 Yamaha Tracer 900 GT