The Harley-Davidson Breakout 114 is more than just a show bike. It has performance and handling to match the stance. We put it to the test... Review: Jeff Ware Photography: Heather Ware
The Harley Breakout 114 features the mighty Milwaukee-Eight motor and is based on the new Softail platform. With a 240 rear tyre and raked out front end the Breakout is made to look tough. As we found out though, it is more than just an expensive show bike…
Back in August last year, in the middle of the COVID-19 restrictions, I spent a few weeks on the Breakout and loved it. You can check out my Breakout 114 Video Review here. What I liked about the 114 was that it has the performance to match the looks and, despite a big fat rear hoop, it handles pretty well in the corners considering that rear-end style. It remains unchanged for 2021 aside from colours, which are listed in spec's.
The Breakout 114 isn't cheap, let's get that out of the way, but if you can afford it what you definitely get for your money is high quality and good fun. For me, a cruiser that lays big black lines out of turns is a most definitely a fun cruiser and the 114 does that with ease. I have ridden the previous version with the smaller engine, but the optional big motor is now the standard powerplant, which is awesome!
---
---
For me, the best part of the Breakout 114 is the fun factor, hands down. This machine made me grin every ride and even thinking about it now, as I write up my review, I'm smiling as I remember the details of the bike and the rides I had on it over the test period. Not bad, considering my background in road racing and sportsbikes…
---
---
Whether cruising in the sunshine and taking in the sites or having a bit of a crack through the local hills, it was all enjoyable on the Breakout. The only time I found the bike a chore was in city traffic but that was a hard one to gauge as it was during COVID-19 restrictions and there was less traffic than usual…
With a lazy 34º rake and 145mm trail, plus the long 1695mm wheelbase, the Breakout is ultra stable. The 130-section front tyre and 240-section rear certainly don't lend themselves to rapid turn-in or the corner speeds of, say, a Softail Standard or even a big Road Glide, however, those wide 'bars and the ultra low seat help to get the 300-plug-kilo beast flicked into a turn with surprising agility.
---
---
You have to be prepared to wrestle with it. I found the slower turns, such as urban roundabouts and tighter city corners to be the most difficult, with the big 49mm forks, heavy wheel, heavy triple-clamps etc all contributing. When trying to balance the bike, clutch slip the tall first gear and use a bit of rear brake, keeping the heavy machine from dropping on its side is hard work. I often felt like I was about to drop it. However, as soon as speeds are about 20km/h or so, it's all easy work.
---
---
The Breakout has 115mm of ground clearance and cornering clearance is, as expected, very limiting. In fact, it is the limiting factor in the hills but once you learn to slow it down and pick your lines, you can focus on slow mid corner speed and a fast exit to take advantage of that M8 power!
---
---
Just remember, like with any cruiser, if you run wide and run out of ground clearance, the next stop on your arse or in the bushes so take the time to get to know the cornering clearance limitations, which are 26.8º of lean angle on both sides, the 'pegs fold up. If you watch my video review by clicking on the above mentioned link, you will see some onboard footage through my local hills.
With a 32/66 final ratio and wide, tall gears plus peak torque of 155Nm at just 3000rpm, the M8 engine is never working hard. There is torque on tap anywhere and the throttle response is great. Fuel mapping is smooth and the gearbox, although clunky in shift, is positive and well spaced.
---
---
The M8 114 is a cracker of an engine. It hasn't got VRod acceleration in the heavy Breakout but it is close and it revs well. I enjoyed riding it between 3000 and 5200rpm where it was really thrilling! The rev limiter hits somewhere around 5,300rpm, and it hits pretty hard, but riding between 4000 and 5000rpm it is a lot of fun – arm stretching fun! If you don't want to rev it, it will happily run around below 2000rpm, even in high gears, and if you roll the throttle on it will pull smoothly and sweetly from low down the range. Top gear at 120km/h sees 2000rpm up. Very versatile…
---
---
The Michelin Scorcher rear tyre really hooks up well when that 114 power is put to it. I had no big slides or spinning like you get on some of the powerful sports and nakedbikes. With the weight of the Breakout and the huge footprint of the 240, you get all of that glorious 114 power to the ground.
---
---
In terms of finish and fit, the quality of the Breakout is amazing. The paint is unbelievably good, the chrome is beautiful quality everywhere, the seat, switches, wheels, every component is a neat fit and looks good, even the fasters are top quality… Speaking of the seat, the pillion perch is not so generous. It's ok for shot trips but that is about it. With only 86mm of rear travel the Breakout 114 doesn't ride the bumps too well and the rear of the seat is where the shock goes!
Rider comfort is good, with the seat the only limiting factor. I found I could do an hour or so before I'd get a sore tail bone and have to stop. A softer seat option or custom seat would help there. Not that you will get too much further with only a 13.2L fuel tank and 5.6L/100km (a realistic range of 200km!).
I ran the rear preload on 4 and I'm 95kg. That gave better support over the bumps and helped sharpen the handling just a tad. Just be careful that you don't burn your knuckles when you adjust the preload with a hot engine, like I did!
---
---
Speaking of the brakes, if you jam both brakes on hard at the same time (the front is a 300mm/four-pot set-up) the Breakout stops incredibly well for a heavy bike with only a single front rotor. Still, despite the styling negative of one, I'd prefer an extra front rotor for the increased stopping power it would provide. The front brake, when used alone, will eventually fade if you push it too far.
---
---
The suspension at both ends is, by cruiser standards, firm and well supported on the spring and damping, if a little too firm on the high speed (sharp bump) compression at both ends so if I was an owner I'd have that addressed by a suspension specialist. So around town and on the smooth corners, there is nice support and handling but over the bumpy roads, you get the big jolts…
The clutch is fantastic. Take-up is only around 10mm off the grip, it's very smooth and not overly heavy by Harley standards, which added to the pleasant riding experience, along with the comfortable footpeg/rear brake/gear lever positioning. The switchgear is all standard Harley stuff, while the compact dash, although neat and stylish, is quite hard to read as it is very dark – however, it is easy to navigate the few options of display available via the toggle button on the left switch block.
---
---
Overall I rate the Breakout 114 highly for what it is – an urban cruiser. I pushed the bike further, out to the countryside and through the hills, on many occasions, and it was just a good out there as it is in the 'burbs. It's not just a poser bike, it has real performance and if you are after something that looks good, has the muscle and you can afford to pay the premium price, then the Breakout 114 could be a good option for you… With 2021 HD range announcements happening now, you might grab s 2020 bargain soon, although thanks to 2020 and COVID-19, I'd expect delays in 2021 models arriving here…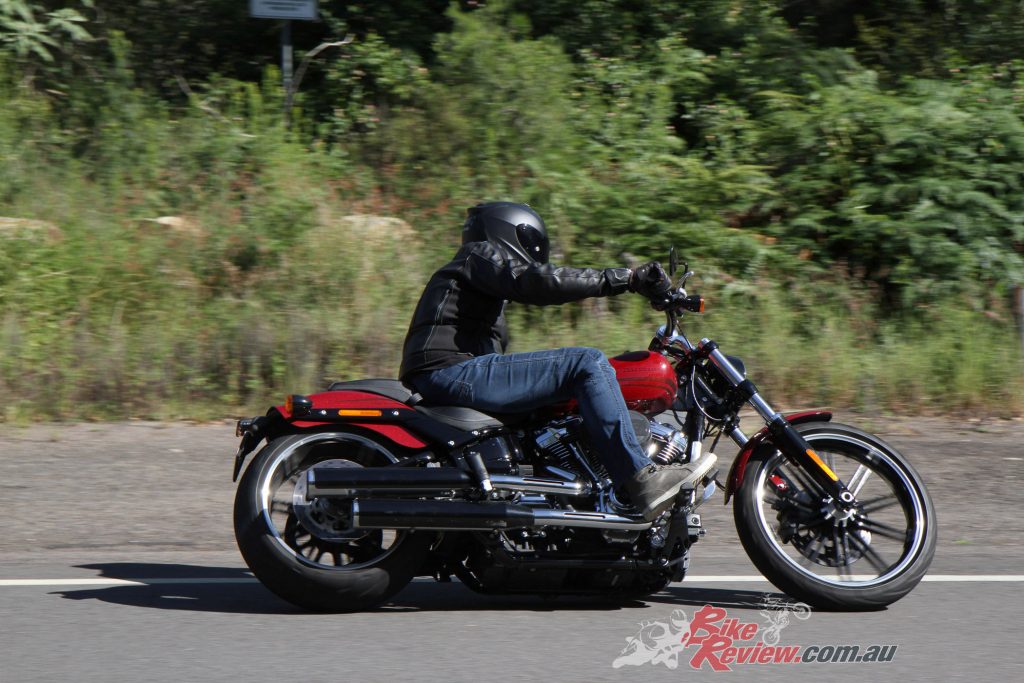 For the full range of options and pricing on the Breakout 114, including information on upgrades and customisation as well as finance, visit Harley-Davidson Australia's Breakout 114 site section here.
2021 Harley Davidson FXBRS Breakout 114 Specifications
Price: From $34,250 Ride Away
Colours: Vivid Black, Gauntlet Grey Metallic, Midnight Crimson, Snake Venom
Warranty: Two-years unlimited km
Service: 1600km then every 8000km
Claimed Fuel Consumption: 5.6L/100km
Claimed Power: N/A
Claimed Torque: 155Nm[114lbs-ft]@3000rpm
Wet Weight: 305kg
Fuel capacity: 13.2L
---
Engine: Air-cooled Milwaukee-Eight 114 V-Twin, 1868cc (114 cu. in.), 102 x 114mm bore x stroke, 10.5:1 compression ratio, ESPFI, two-into-two exhaust
Gearbox: Primary drive: 34/46. Six-speed ratios – 1st: 9.311, 6.454, 4.793, 3.882, 3.307, 6th: 2.79 Final Belt 32/66
Clutch: Wet multi-plate, cable actuation
---
Chassis: Mild steel tubular frame, rectangular section backbone, stamped – cast and forged junctions, MiG welded, alloy fender supports
Rake: 34°
Trail: 145mm
Suspension: 43mm inverted forks, 130mm travel, Monoshock rear end with remote preload adjustment, 86mm travel.
Brakes: 300mm rotor, Four-piston fixed caliper (f), 292mm rotor, two-piston floating caliper (r), ABS
Wheels & Tyres: Machined alloy wheels, 130/60 – 21in (f), 240/40 – 18in (r), Michelin Scorcher II
---
DIMENSIONS
Wheelbase: 1695mm
Seat height: 665mm
Ground clearance: 115mm
Overall Length: 2370mm
Instruments: Multi-function analogue and digital LCD displays, handlebar mounted
---
---
2020/2021 Harley-Davidson Breakout 114 Gallery
---
---
The Verdict | Review, 2020/2021 Harley-Davidson FXBRS Breakout 114
The Harley Breakout 114 features the mighty Milwaukee-Eight motor and is based on the new Softail chassis package. With a fat 240-section rear tyre, a 21-inch front wheel and a raked out front end the Breakout looks tough. As we find out, it has to go to match that look…