We head to the Southern Highlands NSW on a range of cruisers to put the Metzeler CRUISETEC to the ultimate test on road and track… Review: Jeff Ware Action Photography: HalfLight (Nick Edards)
I've embraced all forms of motorcycling since I started BikeReview (I even bought a Royal Enfield). To be honest, I really am enjoying it. So, when the invitation came to test the new CRUISETEC performance cruiser tyre from Metzeler, it was just my thing.
Most of you regular readers know my background ­– one that is a life immersed in a passion for competing in road racing and building or modifying and publishing magazines about everything high performance on two wheels. It definitely ensured the sportsbike and performance tag has stuck. I'll be forever known as the 'Rapid Bikes' guy. I get it every day here with BikeReview readers, trust me.
But that's cool with me as performance is still my thing deep down – even on, err, cruisers… Yes, that is the beauty of performance. It's a relative term that can be applied to all forms of two wheeled motorised fun machines. You just need an open mind and a throttle hand. And grip.

Well over 30 per cent of the global motorcycle market is taken up by cruiser sales and there is a new breed of cruising now, a niche within a niche. Call it muscle cruising, performance cruising, whatever you like but cruisers are much more than naked lounge chairs with long lazy gears, wide 'bars and stuff all suspension travel these days. Some have impressive brakes, exciting power deliver, sportier suspension and a few even have half decent ground clearance (by cruiser standards).
So, assuming you own a cruiser, what is the single biggest improvement you can make to your bike? Or to any bike? If you answered tyres, you get a smiley stamp. Well done.
Tyres, grip, handling… confidence, performance, fun. We've always had plenty of options in the sportsbike and nakedbike segment but cruiser riders have had to compromise with tyres designed for comfort, mileage or in some cases, pure aesthetic appeal.
Enter the Metzeler CRUISTEC. A tyre developed to improve the handling characteristics of old and new cruisers, designed with stability, cornering and grip in mind over comfort and mileage.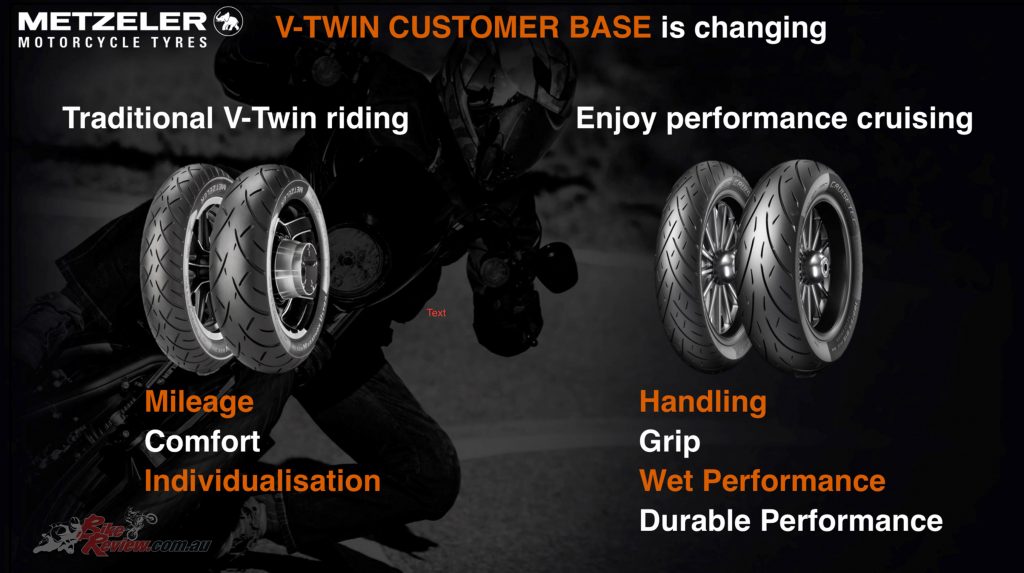 To test the new hoops out, I headed south for a day on the road and one on the track on a wide range of bikes: We had at our disposal a Harley Fat Bob, Sport Glide, Street Glide, FXDRS and FXDR, Yamaha Bolt, Honda Goldwing, a couple of Indian Scouts and an Indian Chieftain. They all went back with much smaller footpegs and thinner exhaust pipes. None were crashed and we were all smiling at the end of the launch. We had grip. We had fun!

Both days were icy. There were weather warnings on the news about a front coming through and the worst hit area of Australia was exactly where we were heading, the Southern Highlands. However, in the end the extreme conditions meant we were all able to really thoroughly test the tyres in every situation other than high temperature, which will have to wait for Summer. I'll be keen to test a set at The Farm, the ultimate tyre testing ground.
I jumped on a Scout first, a bike I enjoy but one that probably has the least ground clearance of all the sportier cruisers. As we left a bike shop in Sydney, I was scraping the footpegs at the very first roundabout 200m up the road. It was shock to me as we were literally crawling. After that point I really had to reset my brain and get on with the ride.
What that first roundabout told me, though, was how typically Metzeler good these are in cold conditions over a broad range of temperature. It was around 5ºC and the tyres were new. I also almost immediately felt the same rolling feel, steering and side grip feeling as the SPORTEC and ROADTEC family. More so the SPORTEC.
The route then headed highway, country road, twisty road, crappy bumpy mountain roads then highway again. The following day was all track testing…

On the highway the CRUISETEC gives a nice rolling feel. The front doesn't track smaller irregularities and there is no weaving or wandering. The rear tyre offers touring tyre comfort, not quite the plush cushioning of a traditional cruiser tyre, so those concrete corrugations to get a little jolting through the spine on something with almost no rear travel, like the Scout I was on.
The big Chieftain on the highway was much smoother but the rear tyre still felt stiffer than a traditional cruiser tyre.
The more open flowing corners are where a cruiser can sometimes struggle, when you don't commit to full lean or upright, just hovering on the shoulder of some of the tyres. With the CRUISETEC, I found I could take the sweepers so much sportier and with confidence on the cruisers as the tyre is progressive and holds the lean at any angle from upright to full lean.
There is zero bump steer, either, it just makes the bike track through the corner on rails, which with limited ground clearance is a big plus. It allows much easier sudden line changes if required (to avoid something or correct a turn-in miscalculation) I've previously not experienced on a cruiser until riding one with CRUISETEC fitted.
On the power hard off these turns, there is no sidewall pumping and no stand-up. Really impressive, making the ride more enjoyable and less of a battle against bad geometry, which is often the case riding a cruiser.
We headed up a super tight tourist route that is mostly first and second gear on these bikes. Initial turn-in is what is important on this road. You really only get one shot at each corner and with a drop off on one side and rock wall on the other, the limiting ground clearance of a cruiser is a nightmare if you make a mistake in the first part of the turn.
Thankfully the CRUISETEC really sharpens up the turn-in process, meaning once I knew the clearance limitations I could turn swiftly with confidence, on or off the brakes, in cold conditions and still with good feel and grip. I'm the kind of rider that is confident if I have good front feel and then I'm off like a rat up a drainpipe and that is how the CRUISETEC made me feel. I only had a few small front-end tucks on the track but nothing on the road…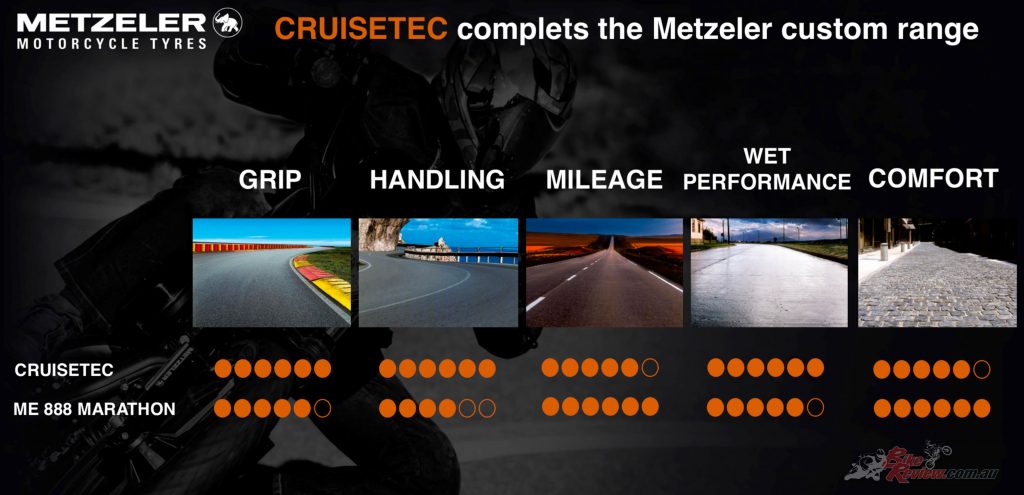 The high silica content ensured there were no slides over many damp patches encountered mid corner throughout the ride. Not even a small wiggle.
On the very bumpy Kangaroo Valley Rd, which is one of the worst roads in NSW, being almost entirely potholes and repairs, the ride on the Scout was agony on the tailbone and spine. At this point, the plush ride of a traditional cruising cruiser tyre would have been appreciated, as the stiffness of the sidewall or general sporty construction of the CRUISTEC, combined with the almost zero travel, really was hell.
In this instance, it was a combo of both, but a sportsbike on a sports tyre would have been much more comfortable there simply due to suspension travel… So, there is a reasonable comfort compromise there but honestly, the handling benefits far out do the comfort deficit compared to an old cruiser hoop.
Out of the bad section, we hit a more open flowing area for a fast fun race between me and a few colleagues. We passed the lead rider and took off at our own pace but as we didn't know where to go it was short lived. Still, in that time we learned a lot by pushing the tyre to the limit and as you will see in my review video, we were not mucking around.
The verdict is that there was as much grip there as on say a sports-tourer wearing ROADTEC or SPORTEC M3 or M5s. These CRUISETEC hoops stick like glue and handle very well. The three of us have over 30-years racing experience between us and it was like the cruiser grand prix. I came third but at least I was on the podium!
The next day on track was another story. As usual it turns into a race but this time I made sure I showed them the way, even if it took multiple laps to get past each time. We all had loads of fun and it was not at all what I expected or could ever have imagined doing on a cruiser.
I knew the bike to have was the Yamaha Bolt and I was right but after a few rides on that the keys were hot property. I also tried the FXDR and FXDRS, which were OK but sooo heavy. A few of the more traditional cruisers were good though, just great fun trying to put a lap together with all the patience in the world. You basically have to be really reserved on the throttle as any kind of corner speed sees the bikes run out of ground clearance and there are plenty of walls around Marulan to steer well clear of.
The CRUISETEC performed amazingly on a cool track temp of around 8-10ºC. I had no rear slides at all and only front loses, mostly due to sheer weight of these monsters trying to push forward rather than turn into a corner on the brakes.
Edge grip is fantastic, with good feel and the sidewall construction is supportive on track ­– an impressive feat on these heavy bikes.
At the end of the day we did some water testing versus the stock Michelins on one of the bikes. I was being purposefully hand fisted and as you will see in the video, the Michelin OEM tyre let go and spun up then stepped sideways, while the Metzeler CRUISETEC didn't move even 1mm. Again, impressive…
Overall, I rate the CRUISTEC highly in terms of handling and grip in cooler conditions. How will they go mileage-wise and in summer? We will find out down the road but going by the ROADTEC and SPORTEC mileage will be impressive.

I have done lots of testing on the SPORTEC family in summer over the years and they do lose edge grip in the heat but we are talking extremes. No cruiser will ever work the edge of a tyre like a sportsbike or sports tourer, so I can't see an issue there either.
If you have a cruiser or tourer and want a performance upgrade next time your tyres are due to be replaced, I'd definitely give these a try. You'll be happy with the results. Pricing is TBA.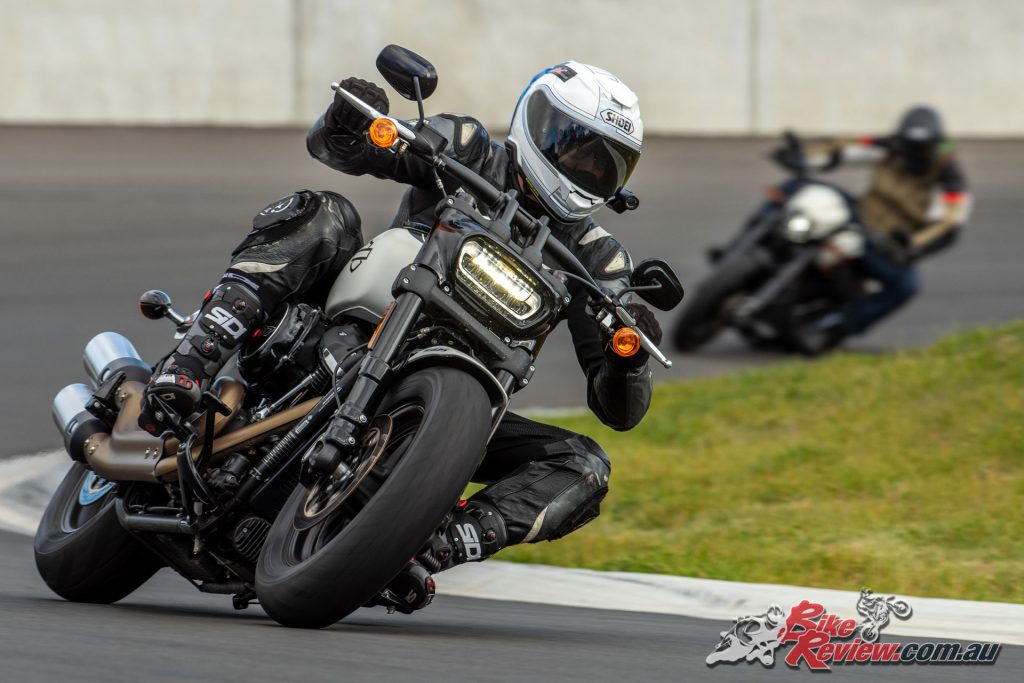 METZELER CRUISETEC –  THE TYRE
The CRUISETEC tyre is a high silica content tyre and has a performance-oriented profile with a much higher curvature than a traditional cruiser tyre. The tyre is somewhere between a triangular and square construction, similar in feeling to that of the fantastic ROADTEC, SPORTEC M3 or even M5 Interact.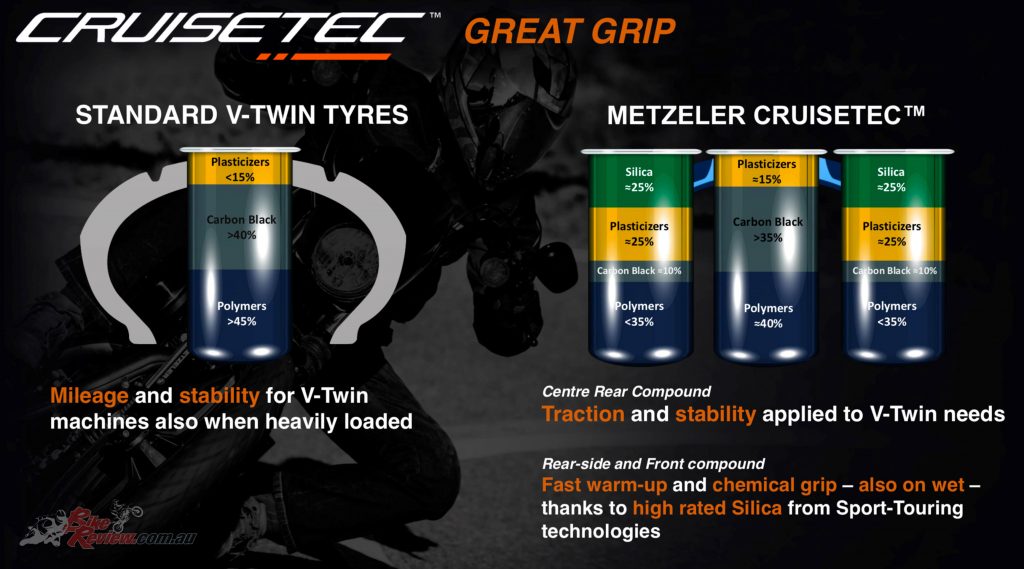 The rear is dual-compound, with the central area made up of 40 per cent carbon black, giving the high mileage, strength and stability needed for these heavy and torquey machines. That central strip makes up for 80 per cent of the tyre footprint while upright. The shoulder compound contains more silica and plasticizers to give high grip and stability when cornering.
At the front, a single compound is used, which is very close to the compound on the shoulders of the rear tyre, with a slightly higher silica per centage of 25 per cent (the rear is 20 per cent), ensuring fast warm up, good chemical grip in wet and dry and sporty tyre front feel for the rider. High silica content also gives great wet weather and cold weather grip.

The CRUISETEC tread pattern was designed using Metzeler engineers extensive experience with sports touring tyres used in a wide and often extreme range of conditions in all corners of the World.
The front tread pattern features alternated diverging grooves crossing the central section and are designed to give braking stability and efficiency while still offering great water evacuation. The tyre also compliments ABS systems by offering high levels of grip, while general cruiser tyres often lock up very early in the braking process, activating ABS prematurely, which can be very annoying…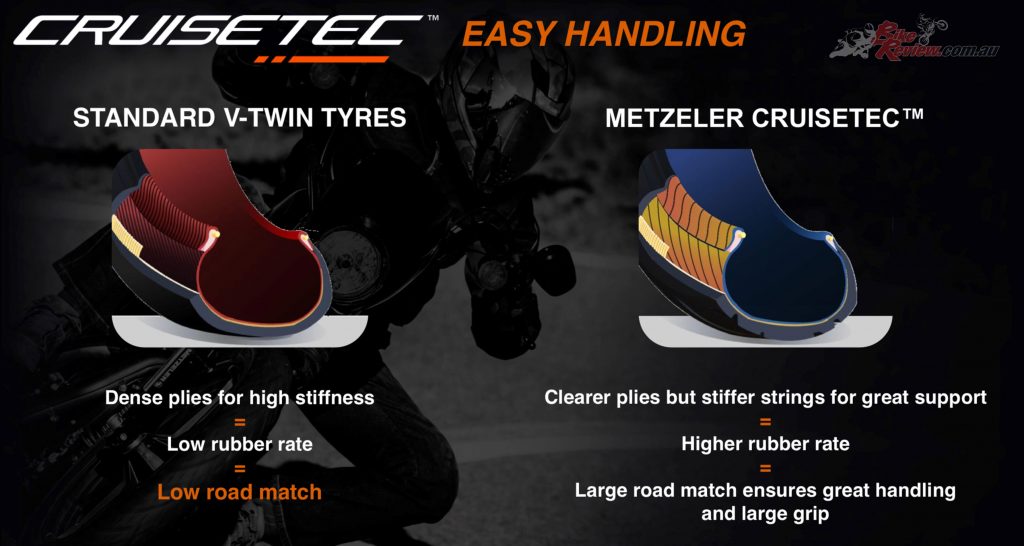 The shorter transversal grooves help warm-up and mechanical grip.
At the rear, the tread pattern is completely engineered for performance cruiser riding. The long grooves don't cross the central section, leaving a larger footprint for wear and the acceleration and loads a large heavy cruise produces. Wet weather performance is not completely compromised at the rear when upright, as the front tyre evacuates water ahead of the rear tyre.
The tyre construction features both radial and cross-ply elements coupled with either bias or 0º steel belts. The CRUISTEC features a stiffer carcass and belt cords than a standard tyre in the cruiser segment. The design has wider plys to allow room for more structural rubber, particularly on the side wall, with the aim of not compromising comfort too much.
Profile-wise the CRUISETEC tyre ventures into a much more sports touring area than a traditional cruiser tyre, which compromises footprint during cornering by being constructed to provide a large footprint at upright, and low pressure on the tread area due to footprint, for comfort while highway riding, thus reducing the footprint when leaned over. This gets worse as the tyre wears, basically squaring off the tyre as the central section broadens.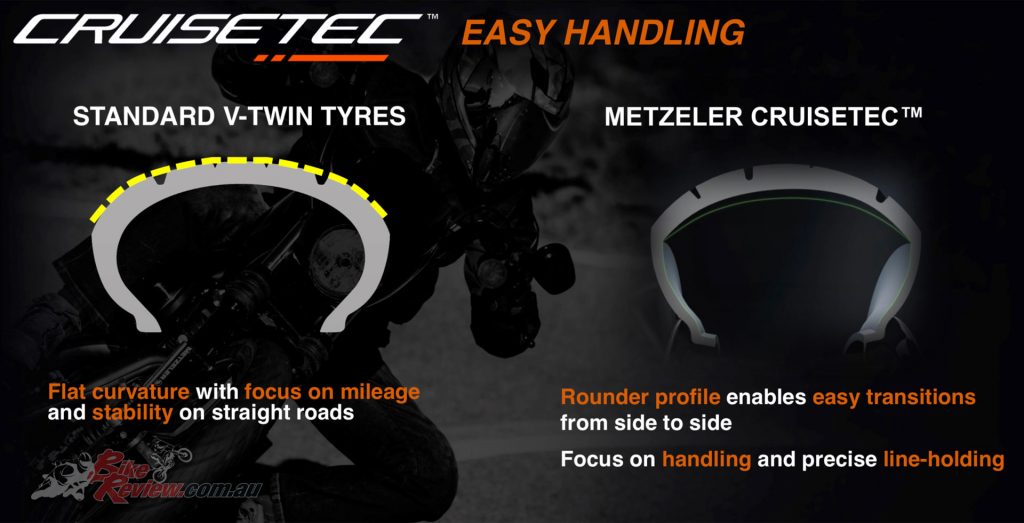 The Metzeler multi-radius technology already tried and tested in the sports touring segment is implemented in the CRUISETEC, the first time in a cruiser tyre, giving an increase in grip and handling thanks to a large footprint.
The shoulder on the CRUISETEC is around 20 per cent lower than a traditional cruiser tyre, meaning when leaned over to 25 degrees, the theoretical footprint is reduced by less than 10 per cent compared to 20 per cent for an average square construction cruiser tyre. In other words, there is more rubber on the road leaned over.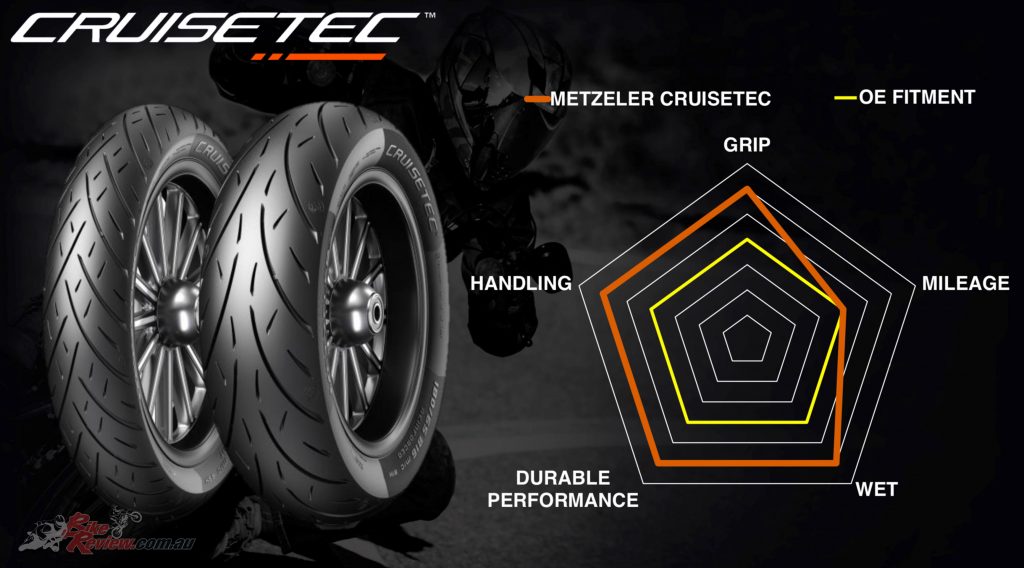 Metzeler CruiseTec Tyre Sizes – Pricing TBA
Metzeler CruiseTec Fronts
MT90-B16 TL 72H
130/90-B16 TL REINF 73H
150/80-16 TL 71H
130/80-B17 TL 65H
130/70-R18 TL 63H
130/60-B19 TL 61H
100/90-19 TL 57H
120/70-ZR19 TL (60W)
110/90-19 TL 62H
MH90-21 TL 54H
120/70-B21 REINF TL 68H
Metzeler CruiseTec Rears
MU85-B16 TL 77H
180/65-B16 REINF TL 81H
150/80-B16 REINF TL 77H
130/90-B16 REINF TL 73H
180/70-B16 TL 77H
180/60-R16 REINF TL 80H
MT90-16 TL 74H
200/55-R16 TL 77H
160/70-B17 REINF TL 79V
200/55-R17 TL 78V
180/55-B18 REINF TL 80H
240/40-VR18 TL (79V)
180/55-ZR18 TL (74W)
150/70-B18 REINF TL 76H
260/40-VR18 TL (84V)
The Verdict | Tyre Test: Metzeler CRUISETEC 2019 – Road and Track