Aprilia's top-spec superbike gets Ohlins semi-active suspension for 2020. Our man Al got Corona-Air semi-infective flights to Rome to try it out around Vallelunga circuit... Review: Alan Dowds Pics: Aprilia
Fairly major updates last year saw the Aprilia RSV4 1100 Factory taken to the next level. Check out our launch report from Mugello here. For this year, the addition of Ohlins Smart EC 2.0 semi-active suspension bring the RSV4 up to spec with the competition…
2020 – it's been a proper shitter of a year all round, I think we can agree. And just when things look like they're about to get a bit better, they seem to get even crapper again within minutes. So I probably shouldn't be too surprised as I stand in a pit garage at Vallelunga circuit near Rome, watching a small river flowing down pit lane as biblical – biblical – rain chucks it down. The gurgling drains seem to be laughing in our faces as a full line-up of slick-shod 217bhp Aprilia superbikes stand waiting with my name on them. Thanks, 2020. Good job.
It was all looking so good a couple of weeks before. Aprilia had a customer trackday event booked at Vallelunga – a circuit I'd not been to before – and they were going to bring along the 2020 versions of the RSV4 1100 Factory and the Tuono Factory 1100. Did I fancy hopping on a BA flight, getting some early autumn sunshine and heat into my bones, and checking out the latest superbike tech round a track? I didn't need asking twice. But my dreams have been dashed – it's looking like a total washout, glum technicians going through the motions of tyre warmers and fuel top-ups as the rain gets heavier and heavier…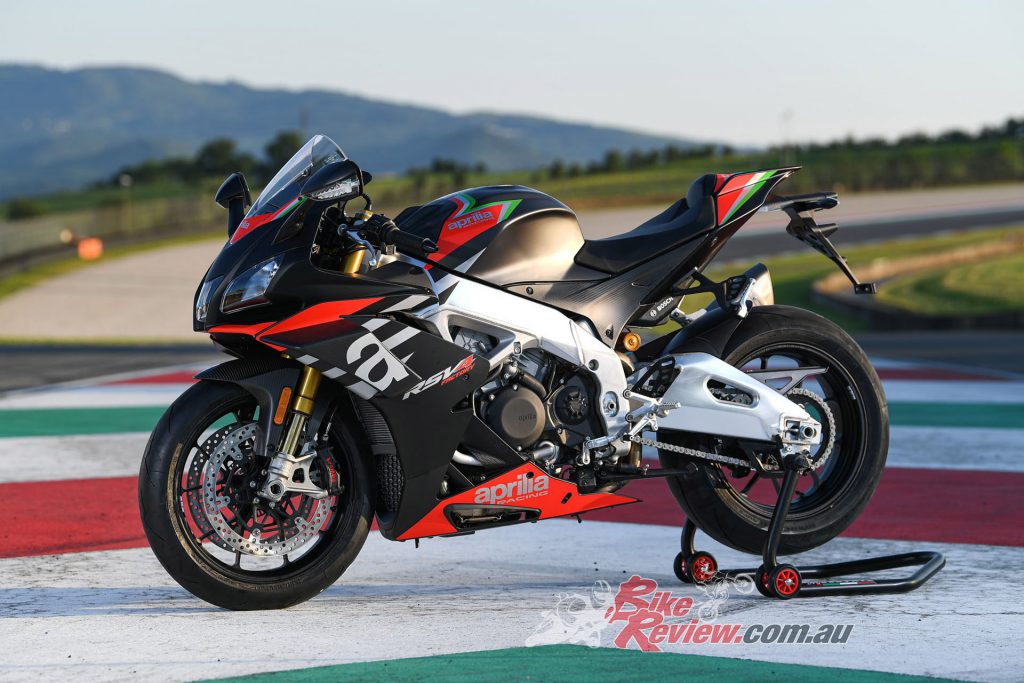 Some manufacturers would just close the doors and go home, but the Aprilia guys are made of sterner stuff, and top PR man Fabio is busy on the phone, haggling for some race wet tyres from a local dealer. Within the hour, we have one RSV4 kitted up with Dunlop rain rubber, tyre warmers on to get the buggers up to Gas Mark 9 asap, and things are looking much, much more encouraging.
---
---
The headline for this 2020 update is new Ohlins Smart EC 2.0 semi-active suspension. This is the latest version of the Swedish firm's electronically-adjustable kit, which has a more user-friendly interface, first launched on the Ducati Panigale V4S a couple of years ago. It's also appeared on the Yamaha R1M, the 2020 Honda Fireblade, and was the highlight update on Aprilia's own Tuono V4 1100 Factory last year.
---
---
It seemed a little strange that Aprilia would launch the first version of its big-bore RSV4 1100 Factory with normal mechanically-adjustable suspension last year. But the Noale outfit said they wouldn't fit it unless they could show that it improved lap times. For 2020, they say that's now the case, and Aprilia's top-spec superbike now gets the flashy semi-active kit bolted on.
---
---
Back in Vallelunga pitlane, and it's not looking like there will be many improved lap times today. The rain has eased off a little though, and with the Dunlop wets done to a turn, I head out for a tentative 15-minute session, as much to see how the track goes as anything else.
Weirdly is the answer. Vallelunga starts off well, with a nice fast flowing section after the pit exit, then there's a couple of nice turns before it all goes a bit 'go-kart' track in the infield. A series of staggeringly-slow hairpins, with car-polished asphalt patches puts me on high alert, as I tiptoe round, eager not to throw the thing up the road, but trying to go fast enough to keep some heat in the wets.
---
---
It's a stressful tightrope to walk – but the RSV4 makes it as easy as can be. The techs have dialled in suitable traction and ABS settings for the wet tyres and soaked track, and that electronic safety net, plus the smooth throttle response and predictable low-down grunt, lets me concentrate for the moment on the track layout as much as anything else. After a few laps, I've got that just about nailed in my head – though it's still hard to believe just how slow the nadgery hairpins in the middle of the track are. You're genuinely on the verge of dipping the clutch in first gear just to get round turn 12, and it's difficult to get into a decent groove.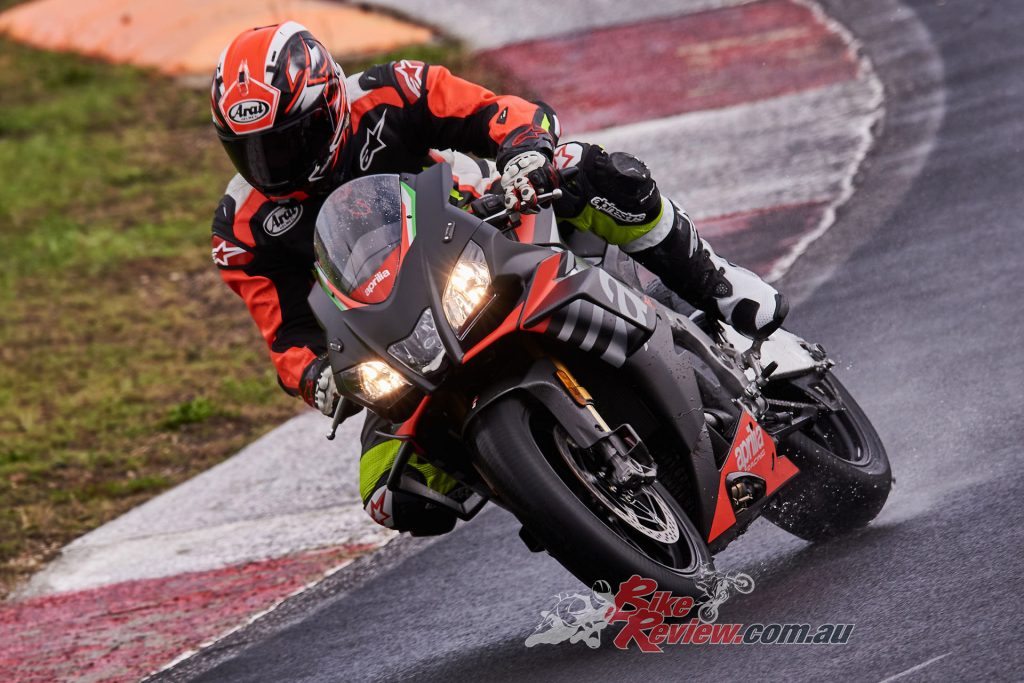 The chequered flag comes out, and we pass a dreary grey lunchtime with a bowl of warming pasta, and another look over the RSV4. I was at the 2019 launch in Mugello (a 37 degree smorgasbord of sun, heat, sticky asphalt and that legendary track), and much of the 2020 bike is as you were. That same stupendous 217bhp engine battered me round Mugello like a rocket, with the hot Brembo Stylema calipers and 330mm front discs giving brick-wall stopping.
---
---
The electronics were well up to the task though – easy to control on the fly with the alloy flippers and joystick, and with a clear, top-notch colour dash to navigate it all. Aprilia was a real early adopter of high-end rider aids with its APRC system, and that really shows nowadays.
It's the chassis which delights the most though: Aprilia's been honing that compact, adjustable aluminium frame and honking great swingarm since 2008, and it's a package that brings out the best in your riding. The Ohlins electronic suspension updates and Bold New GraphicsTM for 2020 are the cherry on top, putting it on par with the competition.
---
---
Back to Vallelunga, and the dreams of a baking hot Mugello fade away as I jump on the bike for another session. The weather's eased off a little, with what we Scots would call 'smirr' drifting across the track rather than the genuine monsoon of earlier. Like the apocryphal Eskimos and their snow, Glaswegians have a lot of words for rain, and smirr is near the bottom of the scale – merely a light misting of atomised water forming across your visor. The standing water and small streams across the track have gone, and with the track clearer in my head, I can have a bit more of a go.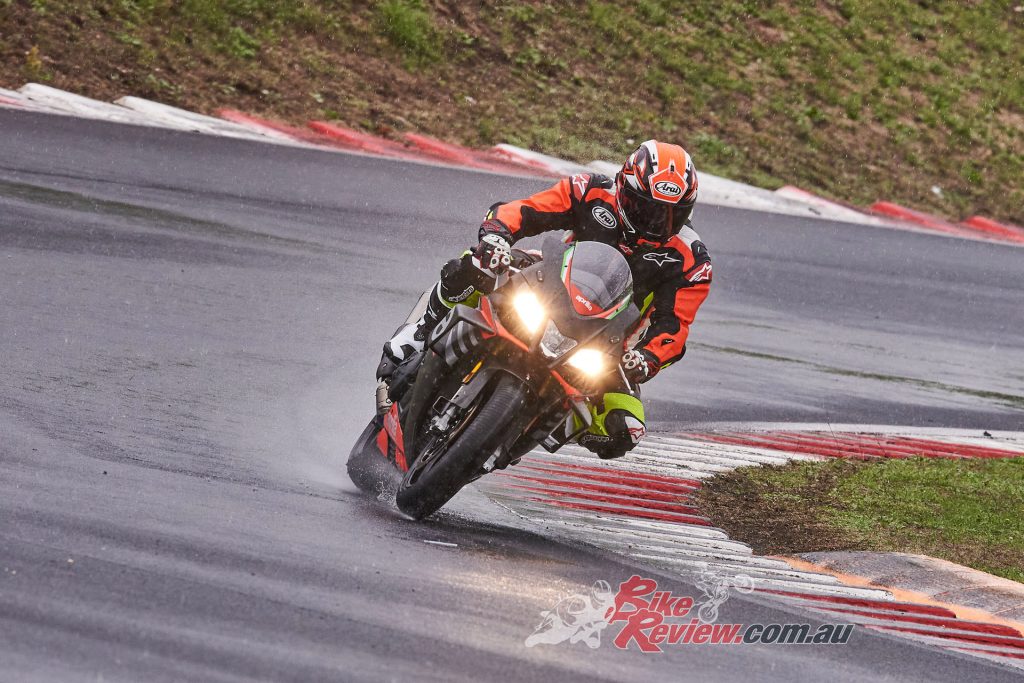 As ever when riding with wets for the first time in a while, my road-riding brain freaks out at just how hard you can brake and accelerate with them. Keep it in a straight line as much as possible, and you'll get some proper speed up down the fast sections here. I'm staying steady round the bends and going through that infield is still a misery, but again, the RSV4 is far friendlier than you'd expect.
---
---
The suspension is compliant and soft-edged, yet never feels like it's not in total control. The Brembo brakes can be finely modulated, even though they're a million miles off proper operating temperature, and once you adapt to the radical profile of the race wets, the steering is natural and accurate.
---
---
The engine is your pal here as well. I'm short-shifting much of the time, the superb quickshifter working like a dream, and using the midrange. That's a beefy dose of low-down torque on this big-bore 1100 V-four of course, and it's really satisfying driving out of a bend. The two fast straights let me delve briefly into the upper reaches of the power too, and fond memories of the stonking drive at Mugello flood back.
---
---
Aprilia's long been considered the most 'Japanese' of the Italian brands, and it's fair to say that the new RSV4 continues that – it's as easy and accessible as a comfy old Japanese four, rather than the sometimes-fickle experience typified by its more fiery Latin competitors.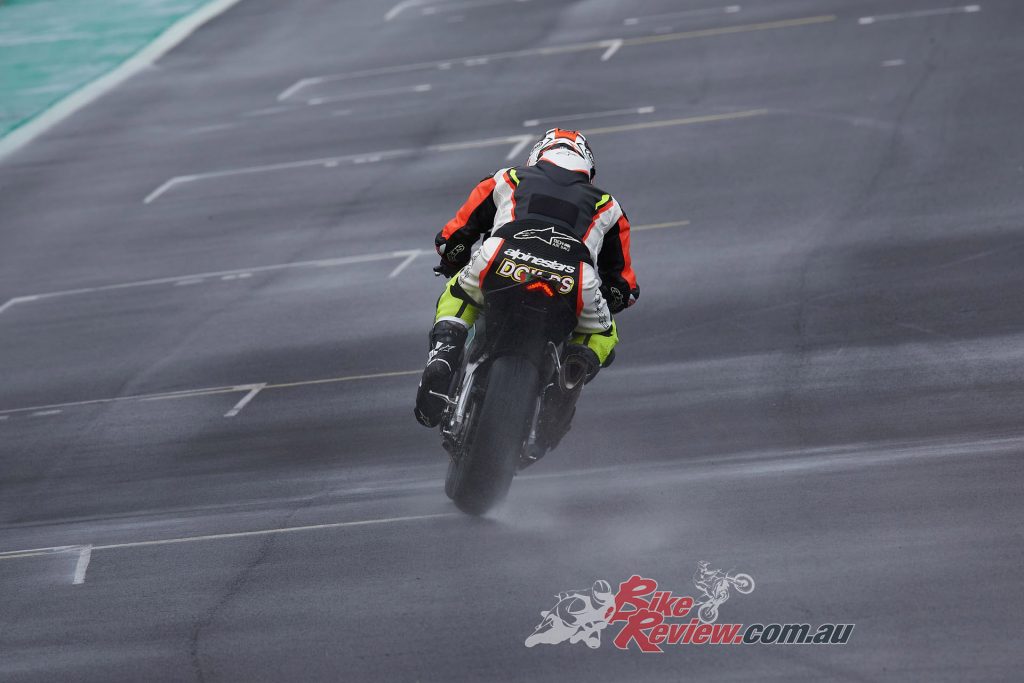 The day's nearly over (most other folk have buggered off and the paddock has turned back into a fashionably COVID-spec ghost town. But I get one more session on the RSV4, and this time it's better than ever. A dry line is starting to appear, the wet tyres are definitely keeping some heat in them, and I start to push on a bit harder, braking later, hitting the power sooner and leaning more and more. I'm having a proper ball – and then the gods of track riding stop smiling on me.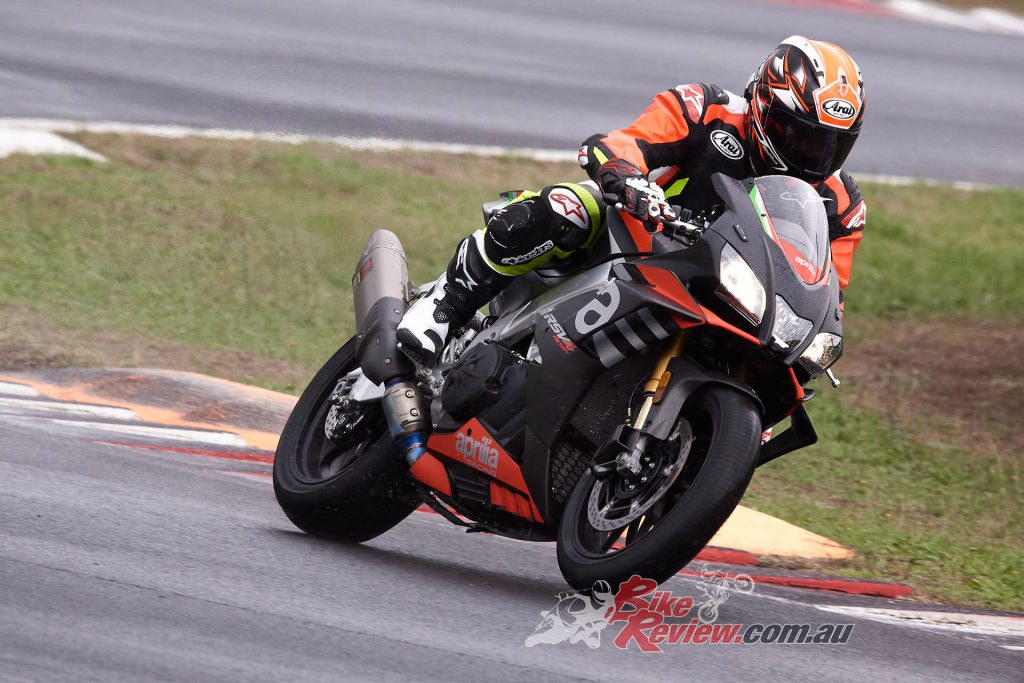 I'm on the way round turn seven, high up in second gear, hoiking her over an extra couple of degrees, and the world suddenly slides out from under me. It's a modest lowside as I lose the back, but the poor RSV4 slides off the asphalt, digs into the gravel and flips over, ending the day on a medium-cosmetic-damage low note. Bah. I'm undamaged, pride apart of course, and my airbag suit hasn't even gone off. More than well enough for the recovery-trailer-of-shame back to the pits.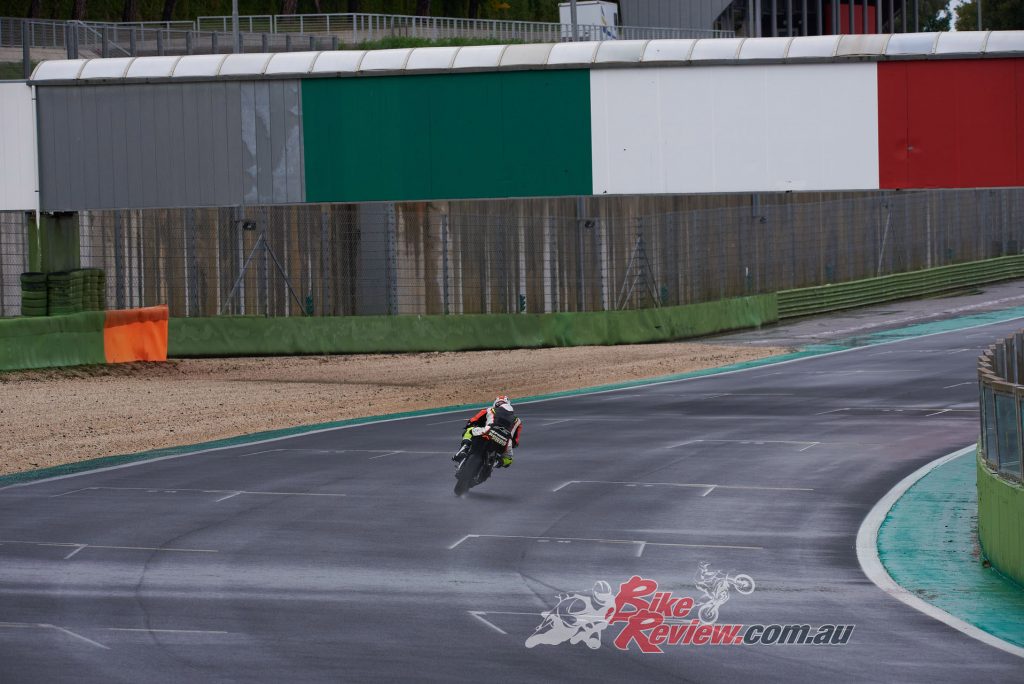 Changed out of my scuffed leathers and sheepish apologies made to the Aprilia folks for my error, I finish off my notes on the day. Of course, the rain means I've only got to sample a subset of the RSV4's enormous capabilities. But it's also underlined the other side to the Aprilia's skills. It would have been easy for the Noale firm to build a 217bhp 1100cc superbike that's stunning round a baking hot Mugello – which they've certainly done. But to make that bike also work a treat at a soaked, 10-degree Vallelunga is just as impressive.
---
---
The EC2.0 Ohlins semi-active suspension puts the Aprilia up at the top of the specs tree and also makes it a better road bike. That storming 65° V-four motor makes for a much more compact machine, and if you're looking for a genuine connoisseur's track and fast road superbike, it really is a top contender…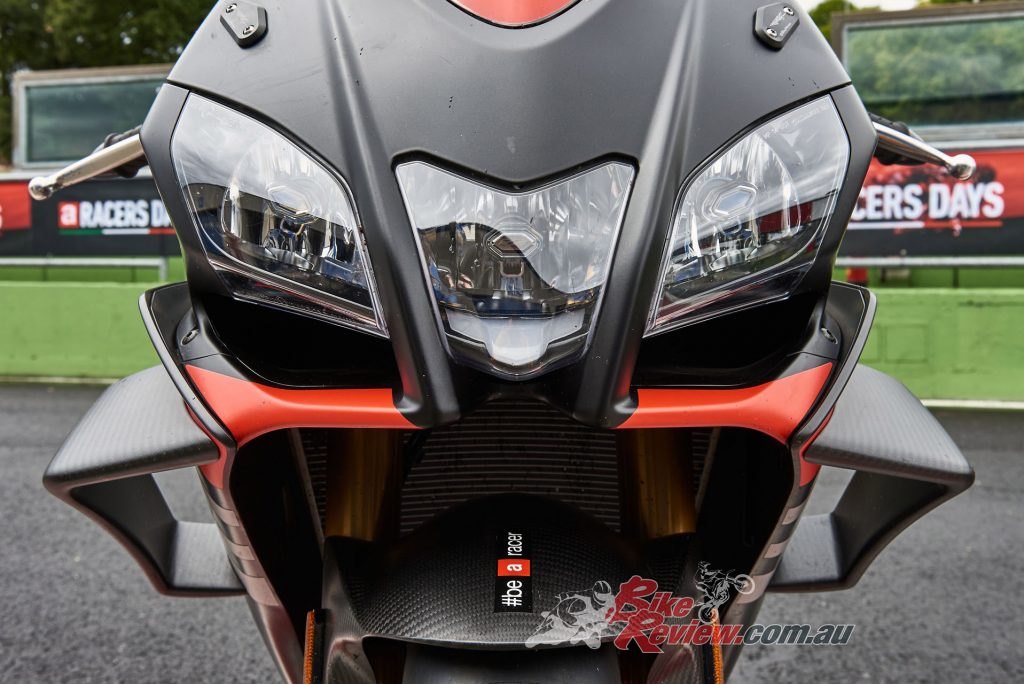 ---
---
TECH TALK 2020 RSV4 1100 FACTORY
Engine
Aprilia bumped up the capacity of the RSV4's 65° 16v DOHC V-four lump to 1,077cc last year, matching the firm's Tuono 1100. The RSV4 has the same 81mm bore/52.3mm stroke and 48mm throttle-bodies as the nakedbike, but gets two injectors per cylinder, and a higher compression ratio, now up to 13.6:1. You also get more revs – peak power is made 2,200rpm higher than the Tuono at 13,200rpm – and more power, up from 175hp to 217hp.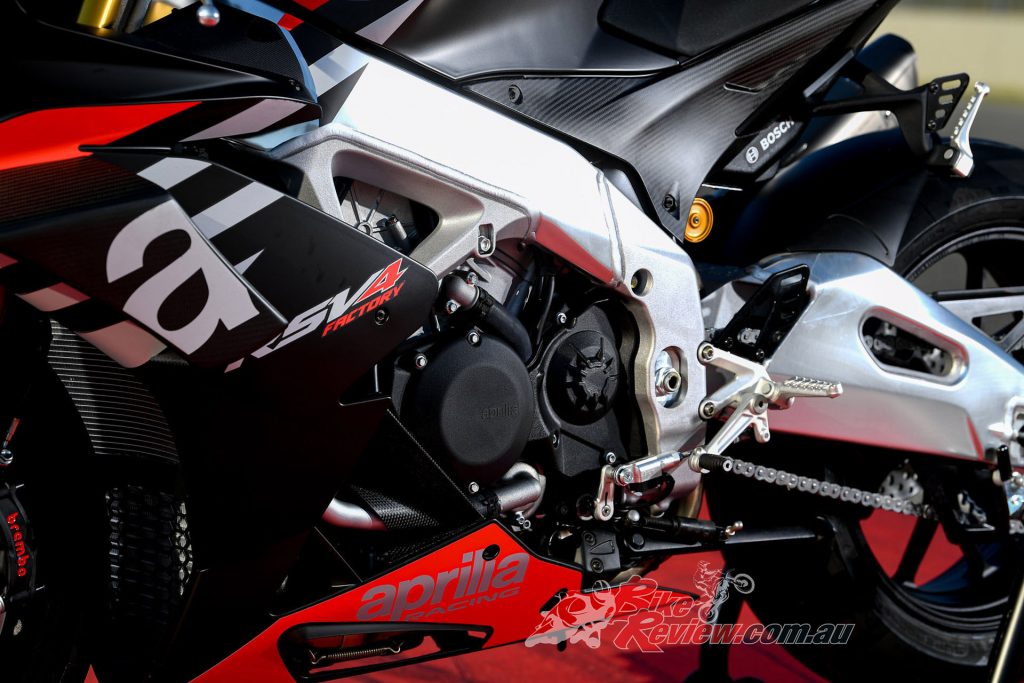 Frame
Fully-adjustable frame, with adjustable steering head geometry, engine mount position and swingarm pivot point. We're guessing most owners won't be needing that for the perfect Sunday blast setup – but it is pretty cool.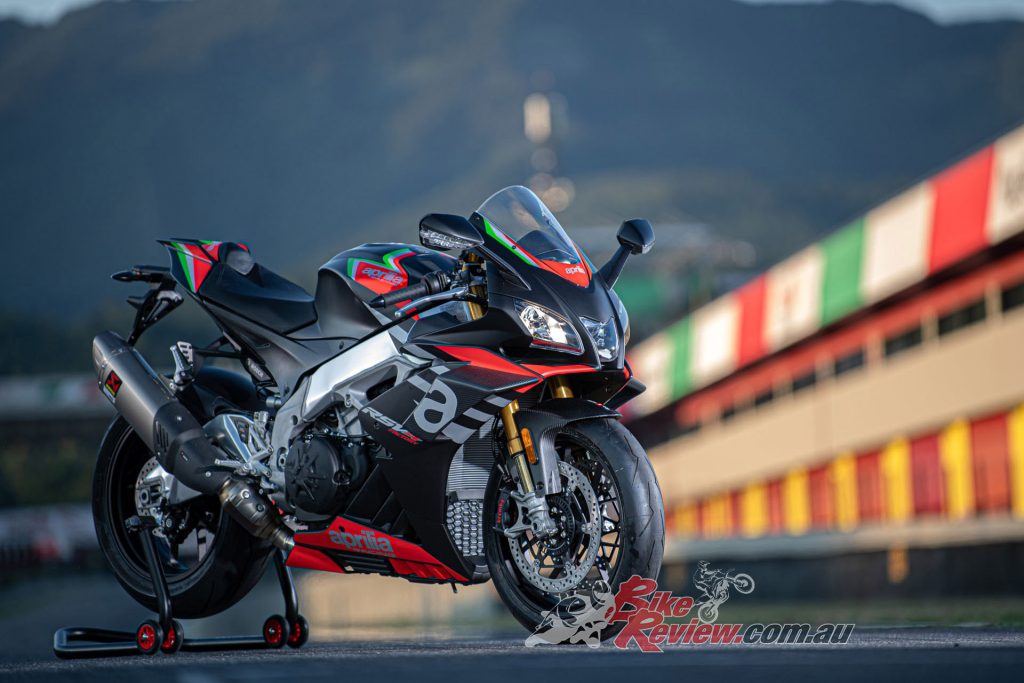 Suspension
Aprilia said it wouldn't fit semi-active suspension to its superbike until it could prove it improved lap times – and now it does. The Ohlins Smart EC2.0 setup is the one seen on Ducati's V4S and the Honda Fireblade, and uses a so-called 'Objective Based Tuning interface' rather than simply giving you numbers to adjust. There are three semi-active 'A' settings, including a 'slick' mode and three manual 'M' presets available to click through on the fly.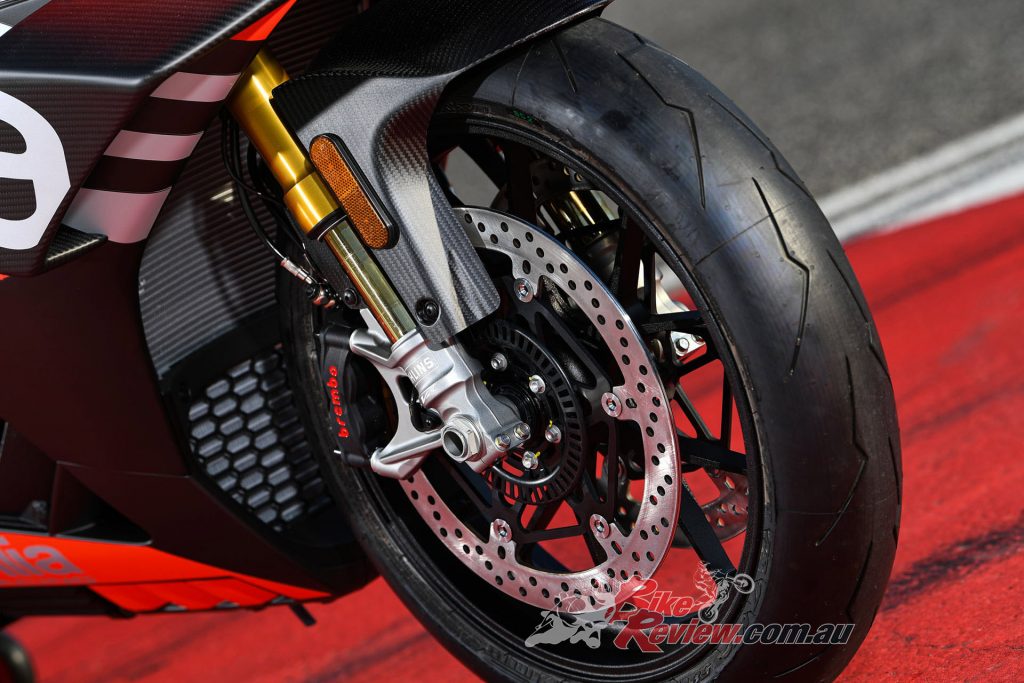 Swingarm
Gorgeous braced aluminium mega-arm is super-stiff.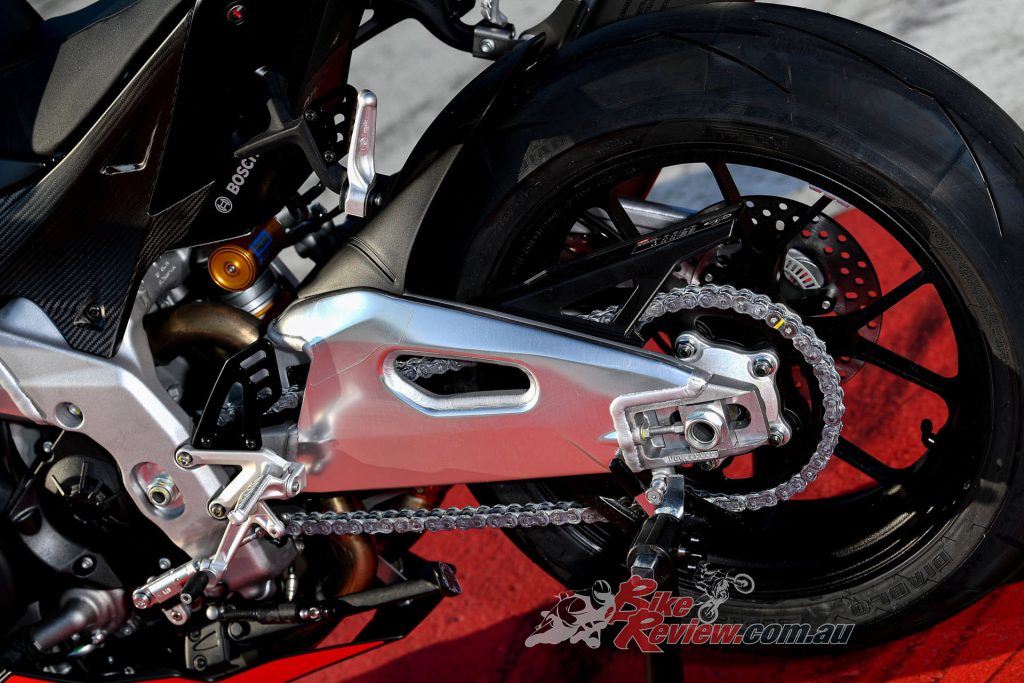 Brakes
We're used to seeing the latest Brembo Stylema calipers now, but they are still awesome stoppers. 330mm discs up front, and unless you are some sort of anti-style loon, you must fit the optional carbon air cooling ducts too.
---
---
Electronics
Aprilia's APRC setup was amongst the first fully-integrated rider aids packages, and it's still at the top of the tree, despite no updates other than the suspension control for 2020. Traction, ABS, engine braking, power delivery and wheelie control can all be fiddled with easily via the clever mini-joystick on the switchgear, and there are three power modes. It's a fettler's delight and super-easy to use once you get into it.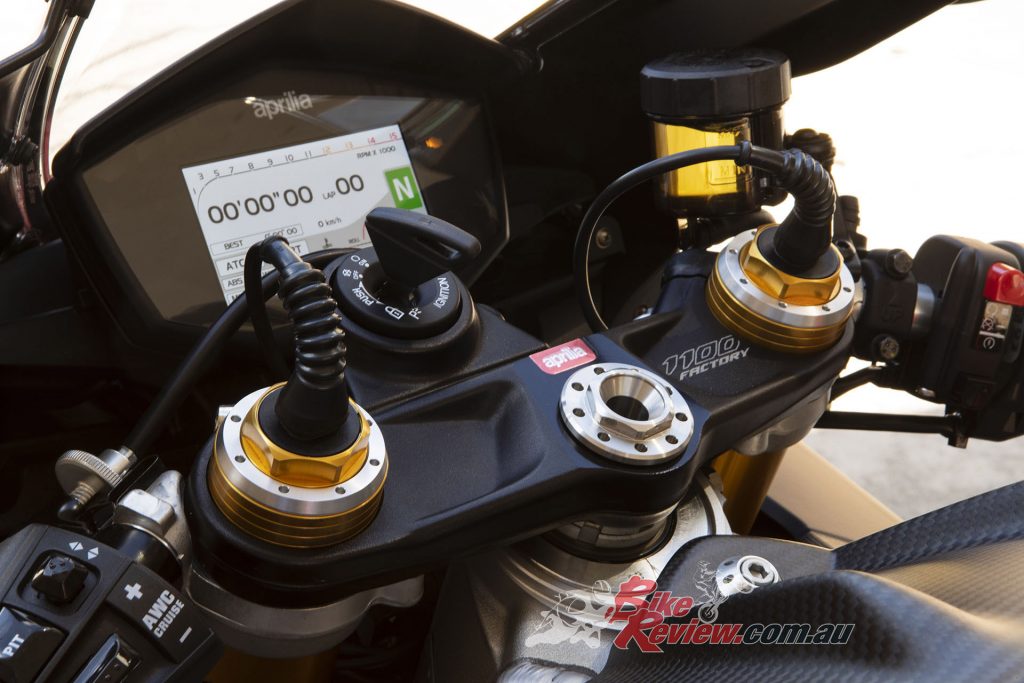 Aero management
Carbon front fairing wings give 8kg extra downforce at 300km/h, which is a bit less than claimed by the competition, but still helps with high-speed stability and braking.
---
---
2020 Aprilia RSV4 1100 Factory Specifications
Price: $38,690 R/A (approx)
Claimed Power: 160kW[217hp]@13,200rpm
Claimed Torque: 120Nm[89lbs-ft]@11,000rpm
Wet Weight: 199kg
Fuel capacity: 18.5L
---
Engine: Liquid-cooled 65-degree V4 16-valve DOHC, 1078cc, 81 x 52.3mm bore x stroke, 13.6:1 compression ratio, 48mm throttle-bodies, Marelli injection, two-into-one exhaust
Gearbox: Six-speed cassette type, quickshifter
Clutch: Wet multiplate slipper clutch, cable actuation
---
Chassis: Aluminium frame and swingarm
Rake: 24.5°
Trail: 103.8mm
Suspension: 43mm Ohlins forks, Ohlins EC2.0 semi-active control, Ohlins monoshock with Ohlins Smart EC2.0 semi-active control.
Brakes: 330mm rotor(s) (f),  Brembo Stylema monobloc calipers, Brembo master-cylinders, 220mm rotor (r), twin-piston Brembo caliper
Wheels & Tyres: Forged alloy 3.50 x 17in, 6.00 x 17in, Pirelli Diablo Supercorsa SC1 tyres, 120/70-17in, 200/55-17in
---
DIMENSIONS
Wheelbase: 14239mm
Seat height: 851mm
Ground clearance: N/A
Overall width: N/A
Overall Length: N/A
Overall height: N/A
Equipment: APRC (Aprilia Performance Ride Control) IMU-based traction control and cornering ABS, with wheelie control, launch control etc, all individually adjustable, and three pre-set riding modes. Cruise control, TFT colour dash, up/down quickshifter, pitlane speed limiter.
---

---
2020 Aprilia RSV4 1100 Factory Gallery
The Verdict | Review: 2020 Aprilia RSV4 1100 Factory