Yamaha have updated the YZF-R1 & R1M with styling, suspension, electronics and engine work. We head to SMSP for some track time... Review: Jeff Ware Photography: iKapture & Colin Chan
In 2015 the current generation YZF-R1 and YZF-R1M models were launched to the World's press at the iconic SMSP Raceway here in Australia. After the first then second generations of the crossplane crankshaft R1, which never really set the tracks on fire like the previous (and now sought after) screamer models did, it was crucial that Yamaha came up with something special to regain the status that the mighty R1 had enjoyed since it blew our minds in 1998 (if you were around you would remember the first time you laid eyes on an R1)… Yamaha didn't disappoint with the new generation bike. Back to a slim, compact, agile superbike – modern styling and up-to-date electronics, all now updated for 2020…
Litre sportsbikes are nowhere near as popular as they once were thanks to the fun police and the price. For most manufacturers, though, their 1000cc or superbike class models are, thankfully, still their premium and most celebrated models and the YZF-R1 remains Yamaha's pride and joy – a chance for them to showcase engineering, electronic and race-bred wizardry. And they do it well…
I recently attended the Australian launch of the new models. It was held at a Yamaha R Series ride day, with half a dozen 2020 R1s on hand and the opportunity to do some sessions. It was a good chance to run through the additional electronics, get a feel for the revised suspension and brakes and see how the engine stacks up now that is is Euro 5 compliant…
The only changes to the engine seem to me on paper to be for environmental reasons – Cat converters (four of them) moved closer towards the exhaust ports/headers so they get hotter quicker and burn more poison earlier, a more restrictive muffler, injectors moved and with fewer holes, revised camshaft profiles and rocker arm/valve acceleration ratio for improved efficiency and full cable-less RbW to give the software engineers complete control over how much juice is burned versus how much juice the rider wants to burn. So nothing too major engine-wise but still a cracker of a motor…
What Yamaha have managed to do though is to meet Euro 5 while maintaining the same output as before, which is a massive feat for them. It still has the same power and with a full system fitted it will be way, way more powerful so they have done right by the racers and track punters out there… While being forced to choke the engine to meet the strict laws, Yamaha have been able to retain performance and being a bolt-on part owners can liberate that inline-four exhaust and enjoy the spoils of 2020…
In the chassis department, the standard model KYB forks are revised internally and the overall set-up is softer, designed to improve feedback and feel for the average YZF-R1 rider, with the same treatment out the back. The brakes have new pad material. The bodywork is a semi redesign, mainly around the front, and looks fantastic. The electronics package is upped, now including Brake Control and Engine Brake Management to take the rider aids up to a total of seven. The mighty R1M now wears the incredible Ohlins NPX gas ERS forks up the front and a revised Ohlins ERS shock at the back and bodywork is all carbon-fibre – check out the tech breakout below for the full info…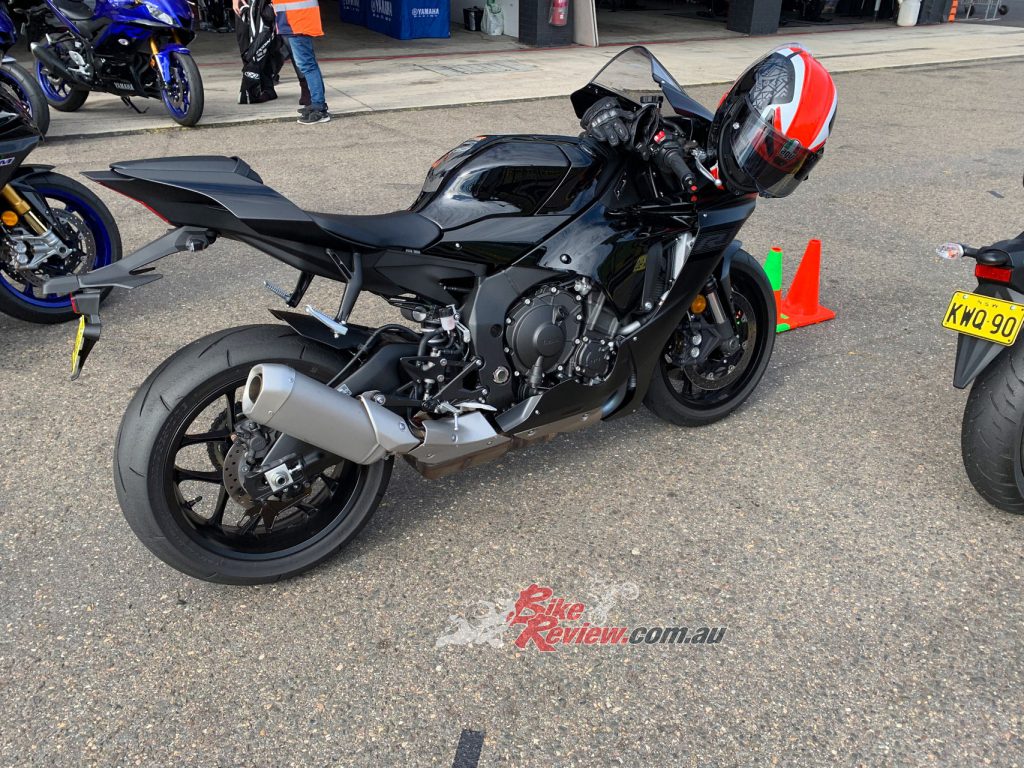 The Ride

The ergonomics (rider triangle) remain unchanged. Also, the frame, wheels, sub-frame and geometry all stay as per previous model so there is not a huge difference in riding the new models. You can have a read of my 2015 reviews for Road and Track here. One problem I had with the previous model that was a common issue at the World Launch for any taller riders, was trying to lock-on to the tank properly for braking and cornering, meaning I was fatiguing faster than usual and also finding it difficult under hard braking into the hairpins. I also felt the brakes were not quite up to scratch…
Rolling out of pit lane on the all-new YZF-R1, those two areas are front of mind. I am not 100 per cent sure of the exact changes to the fuel tank/seat/bar area, however, the 2020 model for me proves to be easier to hang on to and lock-on to than the outgoing one. I can hardly see any difference with the fuel tank sides, so can't completely explain the improvement, but even braking for T2 for the first time, the bike feels different to sit on and hang off…
I'm riding a stock R1 with OEM Bridgestone RS11 street tyres and stock suspension settings. Before I even get any heat into the hoops or start to push it is clear that the suspension is soft and that the electronics are intrusive. I ride on and decided to use the session as an 'out of the crate' stock test.
With warm rubber I up the pace. The bike is in Mode A, with Full Power, and the all-new completely RbW throttle is super snappy on initial opening. It is unnerving and making me think I'm about to get flicked over the top… With the soft suspension as well, opening the throttle unsettles the balance of the bike and that sudden kick is exaggerated. The traction control is then kicking in and dulling everything down. It's making for frustrating progress. I slow up and the bike feels OK for a few laps at an average track day pace. After a more laps I decide to come in to try again with a different set-up for the electronics and the suspension before I can fully test the bike.
Heading out for my second session, I change to Mode B, Full Power, and reduce TCS intervention. I am sharing the bike, so unable to make suspension changes, but with the smoother throttle and me having more control of the rear wheel slip I can keep the bike tracking much nicer than before and I'm loving the way it drives hard off turns. With the RS11 tyres half worn already, this session is my best opportunity to really have a crack on the bike so I put my head down for some quick laps.
Engine-wise, there is little to tell between the previous model and this one, at least for me anyway, aside from some extra oomph off the slower corners, it feels very similar and I'd have to ride the two models back-to-back to feel the extra grunt in the middle. The R1 is blindingly fast but in a smooth progressive way thanks to that glorious CP4, an engine that just wants to keep on giving. Top-end is still stunning – 197hp helps. I'm getting well over 285km/h into T1 and tucking in is easier with the revised bodywork. I can hide on the chute now, while on the 2015 I was hanging out in the breeze at high speed and could not quite fit in.
The quickshifter is smooth and precise. Back-shifting for the hairpins, the engine braking control keeps the back stable while still helping pull the heavy bike up, while into the fast turns it is rolling in with the entry speed of a two-stroke. I am really impressed with the system. And this is where I need all the help I can get stopping the bike because as the laps go on the front brake ever is coming further and further back. The brakes are vague, weak and into turns nine and two, there have been a few times I almost didn't get the R1 stopped. Decent lines, fluid, race pads and maybe a master-cylinder upgrade should be high on the list for track riders… or it could be electronics. BC1 or BC2 issues where neither is right…
The tyres are an improvement on the old ones and are starting to scream enough as I head out for my third session. The TCS and slide control (SCS) is really working hard, particularly around Corporate Hill – a long, off camber fast turn at SMSP. What is impressing me is that I am not having to ride any differently, at all, to how I was riding when the rubber was new. The electronics as a package are doing an excellent job at keeping me and the bike on the track not the grass. The slide control is the most fun, the back slides out around Corporate Hill and also onto the chute but the system just lets it hang a bit and as you keep the throttle pinned it all just comes back inline. Great for ride day punters.
I was able to push on fairly hard on the bike on the worn RS11s, however, there was one thing that was holding me back and taking my confidence away – those front brakes. As mentioned, each session, the lever was back all the way to the grip by the end and there was excessive travel after just a few laps. It is a shame really, as the rest of the bike is as stunning as ever and the changes have refined the other areas of the machine…
Riding The 2020 R1M
The R1M does almost everything right. It is identical to the R1 aside from Ohlins ERS and carbon-fibre bodywork and comes at an $8450 premium. The rear has been refined and the forks are now NPX Gas pressurised forks. The suspension is truly next level stuff, as I found out.
On a rear tyre that is on the way out, I set the CP4 to Mode B, Full Power, TCS on the second least intrusive setting. The engine is the same, the ergo's as well, but as soon as I roll into T2 for the out lap I felt I was on a very different machine to the stocker. The M has a 200-section rear tyre, which will change the steering characteristics (usually the 190s are better) but aside from that all of the awesomeness comes down the that drool-worthy ERS…
On already warm tyres, I am straight into it on the R1M. By turn three I'm comfortable, like I have been on the bike all day. I love the reverse quickshifter and the way the forks keep the bike stable and tracking over the few bumps into the fast turn four entry is incredible. Plenty of support while I brake and lean but still absorbing the bumps in a way only top spec Ohlins ERS can. Flicking the bike left for five, I am able to hold a tight line here, where the standard model was squatting and pushing the front wide. On the gas hard up the hill, the rear pumping of the R1 is not there on the M. Instead, it hooks up the 200-section hoop and drives to the crest of the hill, the front wheel in inch off the deck.
Braking deep into seven, the fade and lack of power of the front brakes gives me a heart stopping moment where I think I am not going to get into the corner but the feel and grip from the front-end gives me the confidence to check it in there. No dramas and again, superb stomp off the corner. Around Corparate Hill I get a nice slide, the left side of the rear tyre is totally shagged, so the back hangs out. The electronics control it and I love it – so much fun. In fact, I stay out for another 10-minutes just to lay blackies there and look at them next lap around…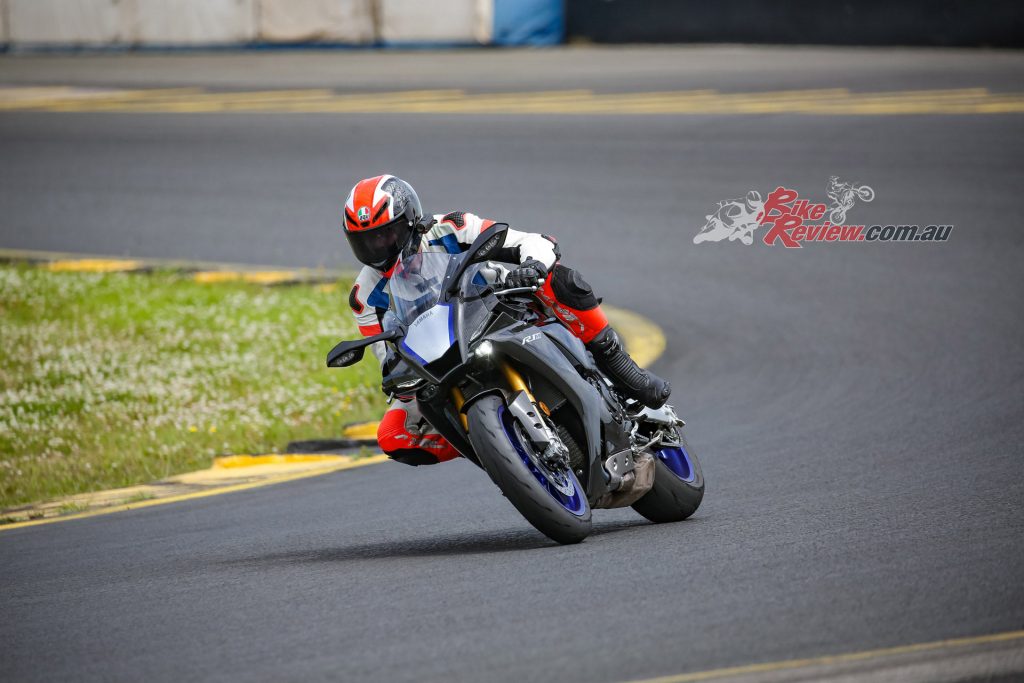 My session finishes and I have a chat to Steve Martin in the pits. Steve suggests trying what he did with rear anti-squat and he makes some changes to the shock in the ERS menu. I head back out in the next session and the bike, which is already good, is now handling as close to perfect as I have ever experienced for an out of the crate litre sportsbike – on road tyres and flogged ones at that!
For me personally, if I could afford it, I'd go for the M any day of the week over the stock R1 but in saying that, I am yet to ride the stock 2020 set-up properly at the track. I'll save that for the New Year when we get our test bike and head to our proving ground. For now I will keep dreaming about the R1M… those forks are so god damn sexy…
---
Tech Talk
Engine:
The new 2020 R1M and R1 come equipped with the next generation of Yamaha's unique 998cc inline four-cylinder crossplane crankshaft engine for refined performance. Returning features such as titanium fracture-split connecting rods and offset cylinders contribute to a responsive and potent character, while the cylinder-head, fuel injectors, finger-follower rocker arms, and camshaft profiles are new for 2020.
An all-new Accelerator Position Sensor with Grip (APSG) ride-by-wire system featuring Yamaha's Chip Controlled Throttle (YCC-T) eliminates throttle cables and reduces weight while providing smoother throttle operation.
Augmented Electronics Package for More Rider Control
The most technologically advanced electronics package in Yamaha's supersport lineup complements the evolutionary engine of the new 2020 R1M and R1. Yamaha's proprietary six-axis Inertial Measurement Unit (IMU) continues to be the key feature of the package, and processes real-time vehicle attitude and wheel speed data for new Brake Control (BC) technology that gives riders the option to choose between two intervention modes for enhanced braking control. Riders can select a BC1 setting for enhanced upright, straight-line braking, or a BC2 setting for enhanced braking into corners, where intervention timing grows faster the deeper the lean angle becomes.
A new Engine Brake Management (EBM) system also allows the rider to select between three levels of engine braking force to suit their individual preference or riding situation on the road or track. Both the BC and EBM settings are adjustable through onboard Yamaha Ride Control (YRC) and Yamaha's Y-TRAC smartphone (Android only) and tablet app (Android and iOS).
Enhanced Suspension Performance
Premium Öhlins Electronic Racing Suspension (ERS) has been a staple of the R1M's chassis performance, and a new NPX pressurised front fork with a gas cylinder built into the front fork axle bracket, along with revised rear shock settings to complement the performance of the front fork, are features of the new 2020 model. With rider adjustability options through YRC settings and Y-TRAC, the new Öhlins ERS suspension package takes the R1M to the next level of performance.
The 2020 YZF-R1 also receives suspension performance enhancements courtesy of a new KYB front fork with a new internal shim stack design, and a KYB rear shock with revised internal settings. Together, the changes result in smoother suspension dampening paired with an improved feeling of contact and grip with the street or track surface.
Advanced Bodywork with Next Generation R-Series Design
Redesigned bodywork contributes to higher-quality performance and a more comfortable rider fit. The new design creates a 5.3% increase in aerodynamic efficiency while reducing wind noise and pressure on the rider when in a tucked position, and improved comfort comes from smoother side sections where the rider's legs contact the bike. The 2020 R1M also receives a new carbon fibre tail cowl to accompany the existing carbon-fibre passenger seat cowl.
New lightweight, compact LED twin headlights optimise illumination for both the low and high beam, and combine with the redesigned body styling to create a new front face symbolising the next-generation of R-Series design.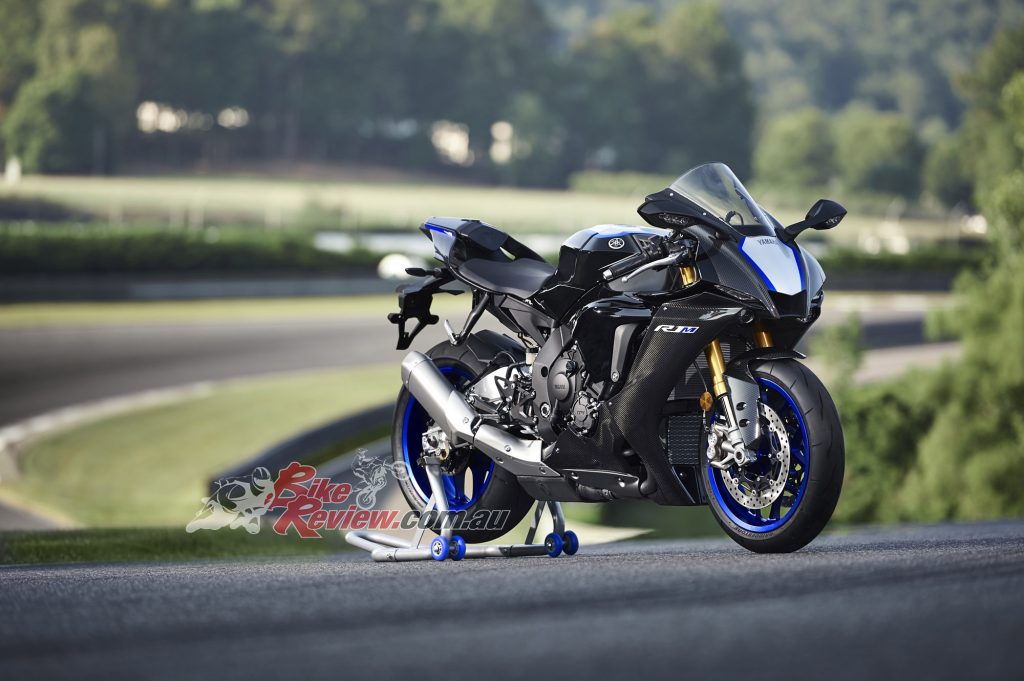 New Features:
Redesigned cylinder-head, fuel injectors, finger-follower rocker arms, and camshaft profiles
APSG ride-by-wire system with YCC-T
Brake Control (BC) and Engine Brake Management (EBM) for a total of seven electronic control rider aids
Öhlins ERS NPX front fork with integrated gas cylinder and optimised rear shock settings (R1M)
KYB upside-down front fork with new internal shim stack design (R1)
Optimised settings for linked-type Monocross KYB rear shock (R1)
Next-generation R-Series redesigned bodywork with outstanding aerodynamic efficiency
Carbon fibre tail cowl (R1M)
Bridgestone RS11 Battlax Racing Street tyres with updated tread design
New front brake pad friction material for excellent control while braking
Engine
Compact combustion chamber and large-diameter intake/exhaust valves (intake 33mm, exhaust 26.5mm)
Twin-injector fuel injection
Forged aluminium bridge-box pistons
Titanium fracture-split (FS) connecting rods
Offset cylinders
Crank inertial moment engineered to achieve linear throttle response
4-2-1 midship muffler with two variable exhaust routes (based on rpm)
A&S clutch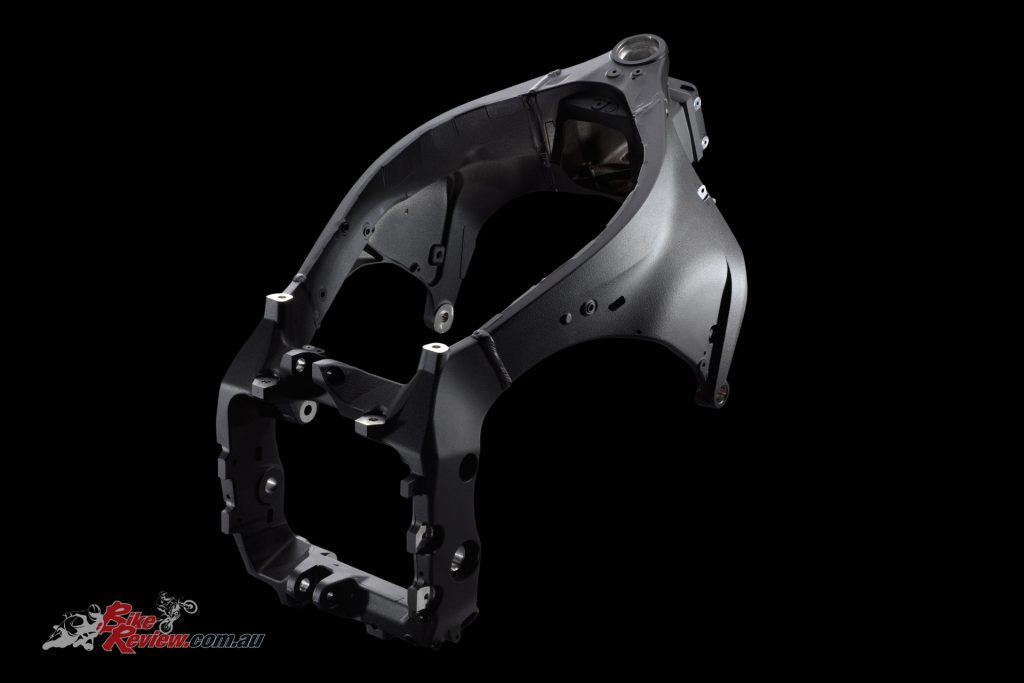 Chassis
Aluminium Deltabox frame
Forced air intake
Aluminium fuel tank with 17.0 litre capacity
Cast magnesium wheels
320mm front brake discs and four-piston monobloc calipers
Öhlins Electronic Racing Suspension (ERS) (R1M only)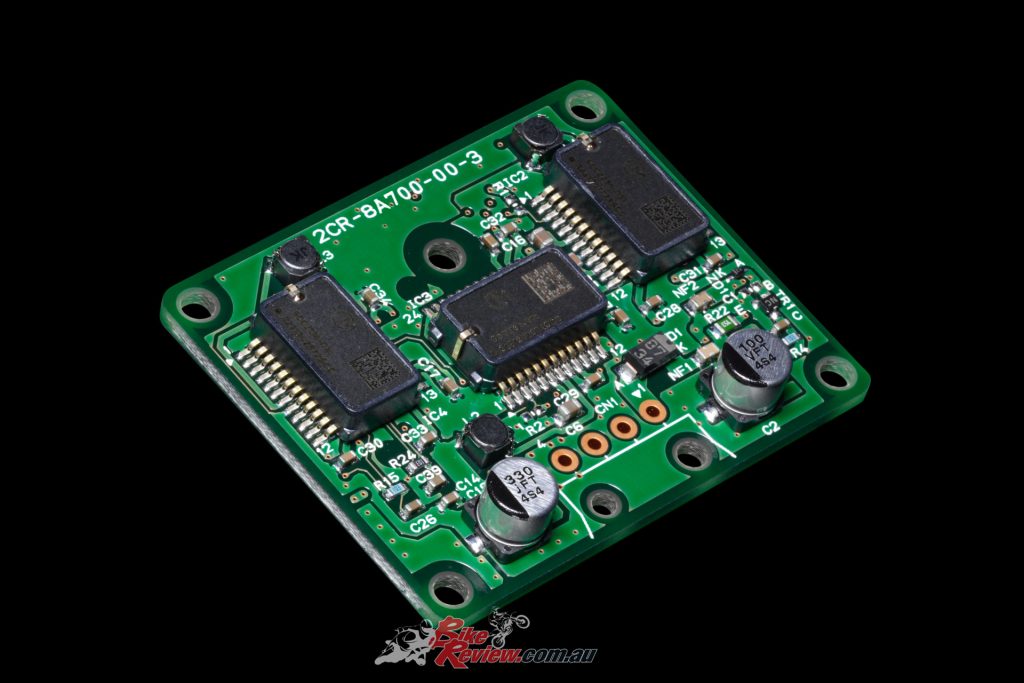 Electronics
Six-axis Inertial Measurement Unit (IMU) for three-dimensional vehicle attitude detection
Yamaha Ride Control (YRC) technology
Traction Control System (TCS)
Slide Control System (SCS)
Lift control system (LIF)
Launch Control System (LCS)
Quick Shift System (QSS) with upshift and downshift function
Power mode selection system (PWR)
Electronic Racing Suspension (ERS) (R1M only)
Digital thin-film transistor (TFT) liquid crystal display
Communication Control Unit (CCU) (standard equipment for R1M, optional accessory for R1)
SPECIFICATIONS: 

2020 Yamaha YZF-R1 (M spec's in brackets)
Price: $26,399 ($34,849) Ride Away.
Warranty: Two-years unlimited km
Colours: Yamaha Blue and Midnight Black (Icon Performance)
Claimed power: 147kW[197hp]@13500rpm
Claimed torque: 112Nm[83ft-lbs]@11500rpm
Wet weight: 201kg (202kg)
---
Engine: Liquid-cooled, four-stroke, crossplane forward-inclined parallel four-cylinder, four-valve per cylinder, DOHC, 79 x 50.8mm bore x stroke, 998cc, 13.0:1 compression, banking sensitive TCS/SCS, LIF, LCS, QSS, PWR power modes, YCC-I, YCC-T, six-axis IMU, (CCU), magnesium oil pan, titanium four-into-two-into-one exhaust
Gearbox: Constant mesh, six-speed, quickshifter bi-directional QS
Clutch: Assist and Slipper clutch, wet, multiple-disc
---
Chassis: Aluminium Deltabox frame, aluminium upward-truss swingarm, magnesium sub-frame, Rake: 24, Trail: 102mm
Suspension: 43mm KYB fully adjustable telescopic forks, KYB rear shock, (Ohlins Electronic Racing Suspension forks and rear shock)
Brakes: Banking sensitive Racing ABS, dual 320mm front rotors, dual monobloc four-piston calipers, 220mm rear rotor, single-piston pin-slide caliper
Wheels & tyres: Cast magnesium 10-spoke wheels, 120/70 – 17 (f), 190/55 – 17 (r) (200/55 ZR17), Bridgestone RS11 Battlax
---
Dimensions:
Seat height: 860mm
Overall height: 1165mm
Overall length: 2055mm
Width: 690mm
Wheelbase: 1405mm
INSTRUMENTS: TFT LCD display
---
*This article and all content in it, including watermarked images, remains Copyright JP Media PL and cannot be reproduced, replicated, quoted in any form or section for publication online, for social media use or in print without the permission of the author and publisher.
---
The Verdict | Launch Report: 2020 Yamaha YZF-R1 & R1M