We take a quick spin on the 2020 Energica Ribelle super-naked electric bike and discover the future is not so bad... Review: Alan Dowds Photography: Jesus Robledo, Energica
Rides on completely new electric superbikes are a bit like buses – you wait ages for one, then two come at once… I'd schlepped all the way to Valencia for a pretty fancy gig – a spin on the Energica Ego Corsa MotoE race bike, which you can read about here. But as a bit of a warm-up, the good guys at Energica had lined up a ride on some of the firm's road bikes beforehand. A tasty aperitif for the main meal ahead, if you like, taking in a blatt around the mountain roads behind Valencia and up towards the Chera-Sot de Chera national park.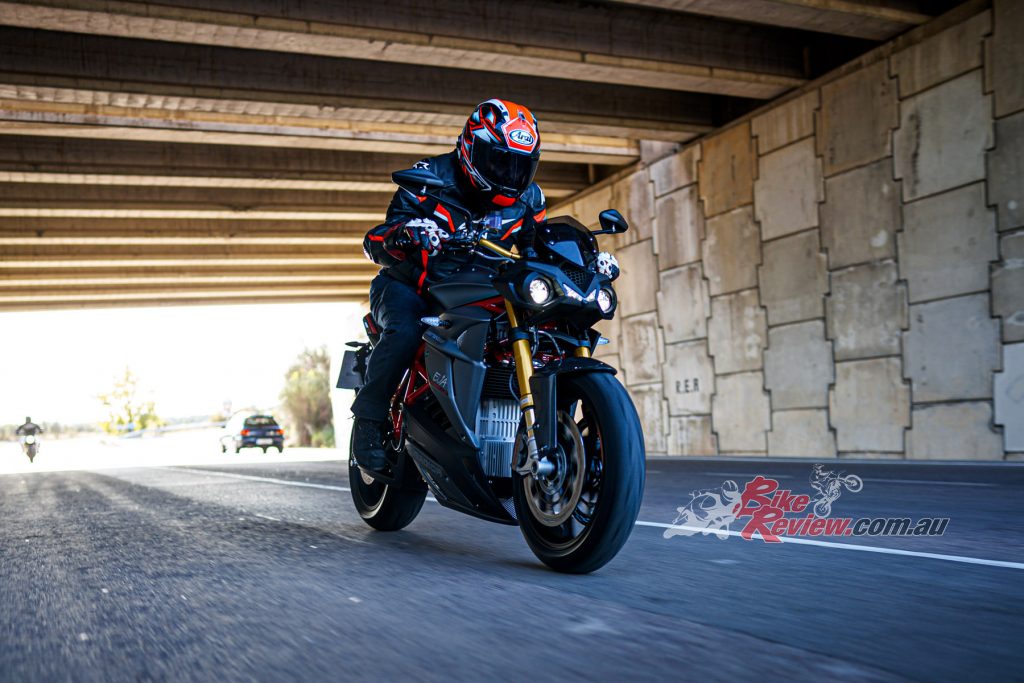 I've been round this block a few times of course, so I knew to get my gloves onto my chosen bike early doors, before the other journos grabbed all the best stuff. This time, my target was the Eva Ribelle – a new-for-2020 electric streetfighter, based on Energica's high-performance engine and chassis package. That means, for 2020, a 21kW/h battery pack, a 145hp peak power output and some tasty Brembo and Pirelli chassis kit – plus optional Öhlins on my bike.
What you can't see are the usual two elephants in the electric bike room of course – the weight, and the torque. Both are, like the aforementioned pachyderm, fairly enormous: 270kg and 215Nm (159ft -lbs). Will they overshadow the rest of the spec?
Not at first, no. We get an idiot's guide to electric bikes from the nice Energica tech's, which was just what was needed on this early, chilly start. The most obvious pitfall is the fact the thing doesn't make any noise when it's live. So if you leave the keyless 'ignition' turned on and kill-switch on 'GO', any touch on the throttle makes it leap forward. Apparently the firm has had a few accidents already from unwary hands tweaking parked-up machines' throttles. That warning over, we're shown a neat trick though – the Ribelle has a slow-speed reverse mode, making parking up and manoeuvring a breeze. I jump on, do a three-point turn out of my parking space, and set off behind the Energica guide rider.
I'm not completely sold on the Energica's bug-eyed looks, but once aboard, the first impressions are good. I've ridden a few electric bikes over the years, so am used to the sound and feel. There's no gear pedal or clutch lever of course, and the exhaust note is replaced by a rollercoaster-like turbine whine from the powertrain. The instant drive from the throttle is also textbook stuff. Electric motors can produce peak torque at zero revs, so as soon as you open the 'gas', you go. There's a choice of power modes – Urban, Rain, Eco and Sport, and though I've (obviously!) gone for 'Sport', the power mapping is fairly progressive, with easy slow-speed control.
The seat is a little high for my stumpy 172cm frame, but I can easily get a foot down when we stop at some lights. 'Bars are wide and flat, and there's a nice premium feel to the controls – as you'd expect on a $40K bike. The full colour Cobo dash is proper trick, and once you work out the slightly non-intuitive menu, you can scroll through the ABS, traction, 'engine' braking and even the heated grips – all easily adjusted from the switchgear.
Valencia is an amazing MotoGP/F1 level race track – but out the back there's a crappy old mix of industrial units, poorly-surfaced service roads and mini-roundabouts before you get into the hills. Add in the chilly asphalt at this time in the morning, and I'm super-careful for the first couple of miles. You can feel the weight of course, especially at slow speeds, but it doesn't get in the way too much. There's no ungainly flopping over into a turn, and while it feels long and low, it's in a good way, more like a Triumph Rocket III or a Diavel, rather than a hefty Harley.
We've left the industrial estate behind now, and as the road opens up, the lead rider starts to shovel in the coals. Coming out of a slow bend, a decent, clear straight appears, and I slam the twistgrip open to the stop… Bugger me, this thing's strong. It launches like one of those stupidly-named  roller coasters you get in expensive theme parks, properly catapulting me at the scenery like no petrol bike I've ridden. Imagine the hammer-blow power of a supercharged Kawasaki H2 or a turbo Hayabusa coming on boost, but delivered much sooner than you can imagine. It's relentless too – again, the physics of electric motors means the torque produced is fairly constant regardless of revs, so my eyeballs are pushed back into my skull with proper falling-off-a-cliff acceleration. The long, low chassis feel and low-slung forward-biased battery pack no doubt helps too, keeping the front end down and super-stable as the speedo numbers flicker past.
The good news lasts for most of the short straight, then I'm seized by mild panic as I arrive at what seems like a decent braking point, going a little too fast. We're heading into the next turn pretty hot, and I have to give the front Brembos a pretty savage squeeze. Now, I know we have a high-end set-up here, with 330mm rotors, one-piece cast monoblock Brembo calipers and a radial master-cylinder. But you can feel how much work they're having to do, as this 350kg of man/machine missile barrels towards a Spanish ditch. A deep breath, hold, and we're through, and back onto the power for more of that addictive acceleration.
---
---
For the next 10km, the lead rider is having fun, clearly, and it's just as much of a hoot keeping up with him. The Ribelle continues to impress underneath me – sure, it's a big bus, and there's a lot of weight transfer when on and off the gas and brakes. The optional Öhlins suspension on this bike does its best to cope, but ye cannae change the laws of physics cap'n, and while the Energica does have Enterprise-spec warp drive on the way out of corners, she needs careful handling elsewhere. The Pirelli Diablo Rosso III tyres are spot-on as ever, and while the Ribelle has the dual safety nets of ABS and traction control, I don't feel like they'll be needed this morning, on the dry-but-cold Spanish asphalt. That's partly down to the good rubber, but also because the 'throttle' response is so good. My mate's an electronic engineer and reckons it would be a simple enough task for a decent designer to make a good control loop between a twistgrip and electric motor. Easy or not, the Energica boda have managed it for sure: you always feel a direct connection from your wrist to the rear tyre.
It's time to head back for today's main course now – the Ego Corsa MotoE race bikes are fully charged and waiting for us back at the track. And as we trundle back through the Valencia entrance gates, I'm pretty impressed with the Ribelle. Sure, it's a lot of cash, and the range downsides of electric bikes are well-known – even this cutting-edge machine only lasts less than 200km if you're riding fast on highways, with a claimed 400km range around town. But Energica has prioritised fast charging tech, and the Ribelle's 21.5kW battery gains around 6km of urban range for every minute of charging.
However, even as a pure dynamic experience, the Ribelle is a strong contender. As we said earlier, the weight and torque makes it more like a big power cruiser than a sharp hyper-naked: you're not getting a BMW S 1000 R or a KTM Super Duke 1290 with an extension cord here. But if you like the idea of something different, want a big, mega-grunty nakedbike, and have access to easy fast-charging in your daily riding environment, then it's definitely worth a look.
2020 Energica Eva Ribelle Specifications
Price: From $23,400 EU ($37,400 AUD)
Claimed Power: 107kW[145hp] Claimed Torque: 215Nm [159 ft-lbs] Weight: 270kg
Engine: Permanent magnet 300V AC motor, oil-cooled, direct drive. Speed limited to 200km/h
Battery: 21kW
Range: 400km (city), 230km (combined), 180km (extra-urban)
---
Chassis: Tubular steel trellis frame, cast alloy swingarm
Rake: N/A°
Trail: N/A mm
Suspension: Marzocchi 43mm USD forks, fully adjustable, Bitubo rear monoshock, preload/rebound adjustable. Optional Öhlins forks/shock.
Brakes: 330mm rotors (f), Brembo four-piston monoblock radial-mount calipers and Brembo master-cylinder, 20mm rotor (r),Brembo caliper
Wheels & Tyres: Cast aluminium wheels, Pirelli Diablo Rosso III 120/70-17, 180/55-17
---
DIMENSIONS
Wheelbase: 1465mm
Seat height: 790mm
Overall width: 870mm
Overall Length: 2140mm
Overall height: 1166mm
Rider Aids: Cobo colour LCD dash, built-in GPS and Bluetooth. Six-level traction control, ABS
---
The Verdict | Review: 2020 Energica Eva Ribelle super-naked electric bike