The Royal Enfield Bullet Trials 500 Works Replica pays homage to Johnny Brittain's trials success in the mid 1950s. With only 150 units coming to Australia, the 500 could a be real collectable... Review: Jack Maguire Images: Heather, Jack
The past couple of weeks onboard Royal Enfield's 2020 Bullet Trials 500 Works Replica has certainly been an experience. Clocking up roughly 900km both on the road and off the road, doing the daily commute, cruising around and fanging it on the backroads…
Testing the 500 Trials, I dug down to my grassroots as a young lad hooning small dirt bikes around and racing flat track on the weekends by taking the Bullet off the assuring safety and comfort of the tarmac and on to the dirt tracks. Royal Enfield explores their heritage in trials championships with this machine – a homage to Johnny Britain's success on a Royal Enfield in the International Six Day Trial and Scottish Six Day Trial in the early 1950s. It's not a dirt bike, though… it's just a replica…
---
Before I get started on what it's like to ride, I should firstly express how beautiful I think this bike looks. Royal Enfield hit the nail right on the head with this one when it comes to the design. The finish is brilliant, with silver bodywork that really pops in the sunlight and contrasts with the Postie-red frame. The overall look is very classic – the round headlamp, spoked wheels and an insane amount of chrome, it really does turn heads and attract attention.
The amount of people that stopped just to talk about the bike as I was parked on the street or at the servo was crazy – this bike is a compliment magnet if I've ever seen one, everyone loves it. Speaking of servo stops, it averaged approximately 3.5L/100km, making this one very efficient machine.
---
---
The bike is moderate in size, not too big yet not too small, and my 185cm frame fits well and I'm comfortable on this motorcycle. With a ground clearance of 135mm, there is plenty for most of the riding you'll likely be doing. It weighs in with a wet weight of 192kg, which is on the heavier side, however I never noticed the weight to be an issue at all. It sits securely on the side stand, which is easy to reach and kick out, and it has a centre-stand to make maintenance easier.
---
---
This bike is as basic and raw as a new bike can get, which isn't a bad thing at all. Halogen lighting all around, a basic analogue dash that features a speedometer, odometer, high beam indicator, neutral indicator and signal indicator, a low-fuel warning light ­­– not even a fuel gauge or tachometer – an ABS warning light, check engine light and very minimal electronics in general.
Being so basic and so raw means that there is not much adjustability, however the bike is set up to be comfortable and cruisey and it does a great job of being just that, so there isn't any need to change that so long as you are not going to go to far off a smooth dirt road.
---
---
There isn't even a steering lock on this motorcycle, which I was disappointed to see, as a steering lock would improve the security on this motorcycle and could deter some potential thieves.
It's a wonderful thing to be able to experience the 'glory days' of motorcycling wrapped up in the safety and reliability of a brand new motorcycle. Royal Enfield manages to capture the purity of early motorcycling while making sure that their motorcycle is as safe and as efficient as any modern motorcycle, and they do this by working EFI and ABS into the bike.
But I say enough talking about the bike, what is it like to ride?
THE RIDE
Swinging my leg over the Bullet, I plant my backside on the seat and it is surprisingly comfortable. Starting the Royal Enfield up takes a few attempts with the starter, but comes to life with a slow idle and a very old school sounding putt-putt exhaust note. To start off, I was quite unfamiliar with the ergonomics – which are very relaxed, but it didn't take long before I found myself at home.
All the controls are super easy to reach, levers and pedals, and the handlebar position and reach feels great. The mirrors provide plenty of vision, when they want to stay in place – which is never, by the way, as they are constantly moving due to the vibrations or wind!
When putting along and particularly at high revs there are a lot of vibrations through the handlebars, largely due to the single-cylinder motor, but I didn't find it to be too much of an issue. You'll notice these vibrations a lot on the freeway, where the Bullet falls short anyway…
The bike struggles to break 100km/h on some uphill stretches of freeway but some good pace can be made on the flat and downhill sections. The Bullet Trials doesn't feel too stable on the freeway either, constantly being pushed around by the wind and I found myself holding on for dear life.
Best to stick to the back roads and cruising around town to get the most out of this motorcycle. I enjoyed this bike most when I was just cruising about. With a power to weight ratio of 110kW/t I should say that the Bullet Trials is certainly no speed demon and you won't be winning any traffic-light GPs with this one, but it doesn't mean that it isn't an enjoyable ride.
The motor is nice and torquey down low, overall gearing is quite short, with first gear going up to about 30km/h, second to about 60km/h, third to 90km/h, fourth to 110km/h and fifth for anything above that, each shift with a mechanical and raw clunk to it but no shift problems or false neutrals.
Taking the 500 Trials around the twisites, there isn't a whole lot of response from the 'pegs and you control most of the cornering through the handlebars, but it's an easy bike to carve around the corners and have a smooth run on. Suspension set-up is quite soft in the rear making it a comfortable bike to ride about on, with not much dive on the front suspension either. Weight distribution feels centralised, and overall the package is fairly neutral and forgiving in the corners.
Brakes wise, they are good, with not too much initial bite but and not too much power but are comfortable to use and great for learners. You can experience some wobble when getting hard on the brakes, possibly due to the Bullet's skinny tyres, but that was never an issue. The bike feels otherwise stable over some of the bumpiest roads, with minor movement from the front on occasion.
---
---
The tyres fitted are an off-brand set, however, I found grip to be plentiful even when I was pushing it to the limits and they work OK in wet weather, with some liveliness from the rear on the drive out but it was easily manageable. While the tyres did a good job for most of the duration of riding this machine, I don't think I would be too comfortable slamming the brakes on in the wet without ABS as back-up.
Downshifting hard will cause the rear-end to lock up, even with a big rev, and the tyre will slide about even in the dry, which is something to keep noted for those inclined to get a bit ham fisted.
The bullet turns in with ease thanks to those skinny tyres, being weary not to tip it over too far as getting caught up on the fixed 'pegs is a recipe for disaster. It's an easy bike to flick in and out of the line, just being mindful of the somewhat limited lean angle of this motorcycle. You can hold the throttle throughout most of the corner, and try make the most of the Bullet's torquey motor and get on the gas hard again nice and early on the drive out. It's top fun…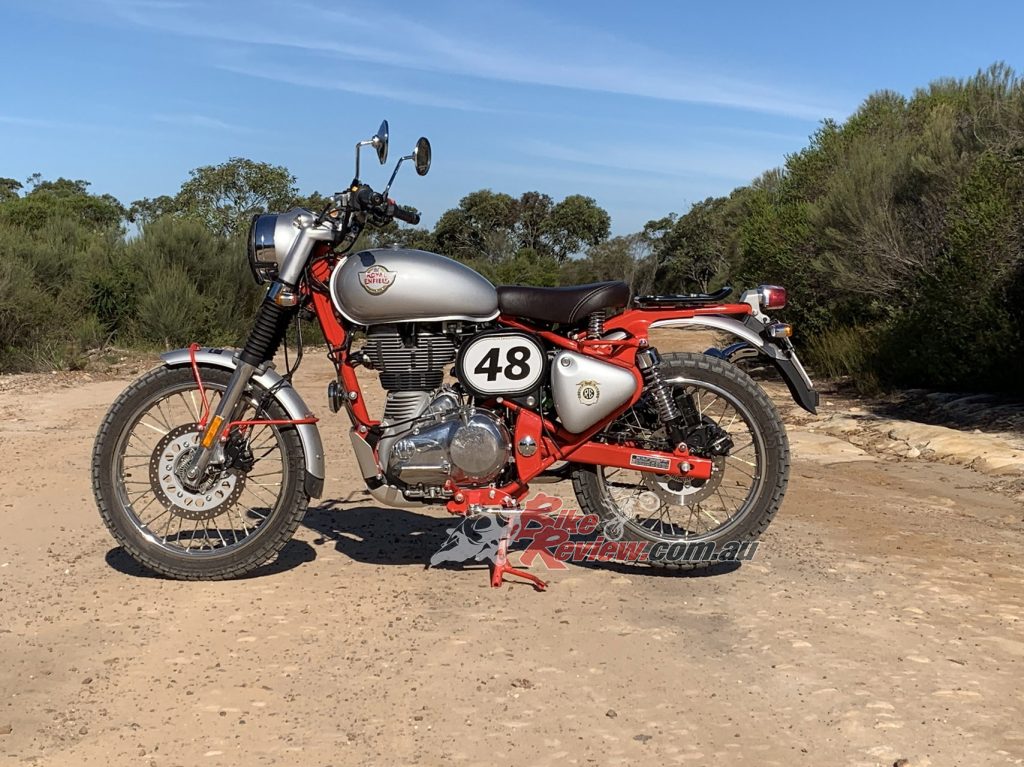 Fuelling on the 500 Trials is good for most of the range but it tends to bog down a bit when you hold the throttle open fully. I found myself using just over half the throttle most of the time, where I found acceleration to be its best. Power delivery is punchy through the low-end, with mid-range and top-end power being more linear.
---
---
Off road, the Bullet 500 Trials Works Replica proved that it certainly is not an off-road machine, despite it's trials heritage and distinct off-road looks. It's not a Himalayan by any means. I did some limited dirt road and low speed trail riding but the bike had a few issues. The vibrations off road caused a main fuse to blow, no big deal, but more of a big deal were broken rear spokes leading to a virtually collapsed rear wheel. So keep that in mind, this is a road bike and should only be enjoyed on smooth dirt roads or on tarmac.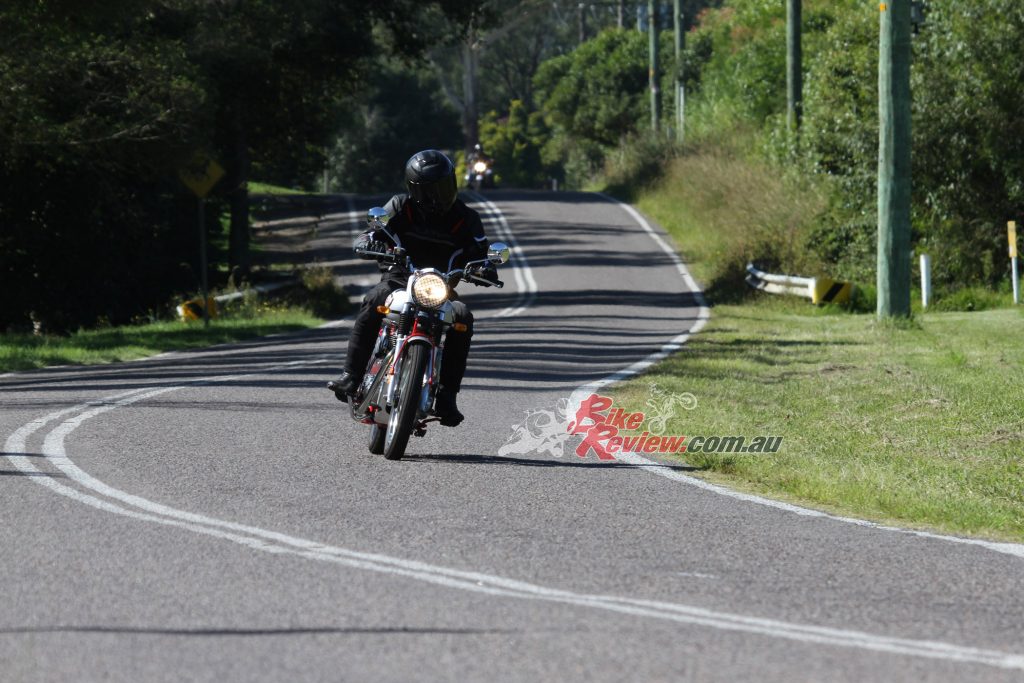 For a machine designed to pay homage to a trials legend, it's a disappointing result for an otherwise good machine. I can see how a customer could be misled into buying this to off-road it, because it certainly looks the part and the fact that Royal Enfield markets this machine with images of it tackling the toughest of trails could really confuse a customer and lead to an overall poor experience.
As long as you keep this machine on the road though, I doubt it will fail you. I rode around for two weeks clocking up nearly approximately 900km and in that time spent on the road, it did not fail me once. It was only the few miles after the wheel issue that it did. Royal Enfield as a brand has grown a lot from the days of constant oil-leaks and blown motors, and despite using essentially the same motor that they did over 20-years ago, the Bullet was surprising reliable in that regard.
---
---
CONCLUSION
This bike was a great bike to live with and a fun daily ride. It isn't exactly the bike to buy if you want to go fast, but it's a great option for those who want a stylish daily or something to put around town on. At $9,190 ride away, it's a little pricey for the performance that you get, but you are paying more for the exclusivity, style and looks than anything else. For those looking for something with better performance in every aspect and at the same price point, look to Royal Enfield's 650 Twins, the Continental GT and Interceptor. Check out our reviews on those machines here.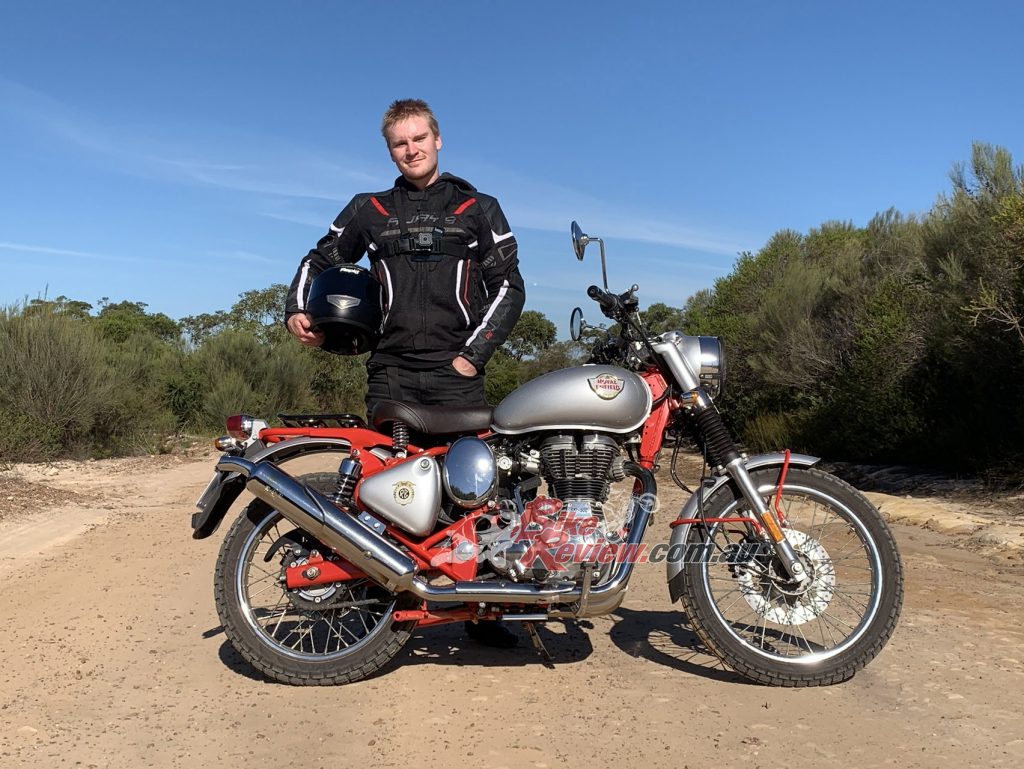 ---
---
2020 Royal Enfield Bullet Trials 500 Works Replica Tech Breakout
The motor used in Royal Enfield's Bullet Trials 500 is a long standing motor, to be discontinued this year, used in many generations of the Bullet, now with EFI incorporated to bring it up to date. The all-aluminium, 499cc, single-cylinder, four-stoke, twin spark, air-cooled engine with a 84mm x 90mm bore x stroke produces 20.3kW at 5250rpm and 41.3Nm at 4000rpm. The Bullet features both electric and kick start. The Bullet Trials 500 Works Replica has a five-speed constant mesh transmission, with a wet, multi-plate clutch that is cable actuated.
---
---
The single downtube frame uses the engine as a stressed member. Front suspension features conventional telescopic forks with 130mm of travel and twin gas charged shock absorbers with 80mm of travel at the rear, remote reservoirs and preload adjustment.
The Bullet sits on 19 inch spoked wheels at the front and 18in at the back, with block treaded CEAT PROGRIPP 90/90-19in tyre at the front and a 110/80-18in at the rear. Front brakes feature a single 280mm disc with a two-piston caliper and ABS, with the rear being a single 240mm disc with a single caliper and ABS.
---
---
The Bullet has a total height of 1123mm and a length of 2080mm, a seat height of 800mm and ground clearance of 135mm. The Bullet weighs in at 192kg wet and has a fuel capacity of 13.5L. Halogen lighting is featured in the simple, round headlamp, indicators, and tail/brake light.
---
---
2020 Royal Enfield Bullet Trials 500 Works Replica Specifications
Price: $9,190R/A
Claimed Power: 20.3kW@5250rpm
Claimed Torque: 41.3Nm@4000rpm
Wet Weight: 192kg
Fuel Capacity: 13.5L
---
Engine: 499cc, single cylinder, four-stoke, twin spark, air-cooled
Gearbox: Five-speed constant mesh
Clutch: Wet, multi-plate
---
Chassis: Single downtube, steel
Suspension: Telescopic forks, 130mm travel, Twin shocks, preload adjustable, 80mm travel
Brakes: 280mm disc, two-piston caliper (f), 240mm disc, single caliper (r), ABS
Wheels & Tyres: Chrome spoked wheels, CEAT PROGRIPP 90/90-19in (f), 110/80-18in (r)
---
Dimension
Seat height: 800mm
Ground clearance: 135mm
Overall width: 805mm
Overall length: 2080mm
Overall height: 1123mm
Instruments: Analogue dash w/ speedometer, odometer
---
---
2020 Royal Enfield Bullet 500 Trials Works Replica Gallery
---
---
The Verdict | Review: 2020 Royal Enfield Bullet Trials 500 Works Replica
The Bullet certainly is a stylish machine and a real head turner. It serves as a great daily commute or an easy weekend ride, however it was disappointing to see it fall short off-road.