The 2020 Yamaha YZF-R3 surprises, with great handling, good power and sleek looks. Could this be the ultimate small-capacity, entry level sportsbike for learners? Jack gets intimate with the YZF-R3... Review: Jack Maguire Photography: Heather Ware
These days it's easy to skip over small capacity LAMS bikes, like the 2020 Yamaha YZF-R3, and never take another look back, labelling these bikes as 'too slow'. But what if you're limited LAMS bikes, and you want a seriously competitive sport-oriented motorcycle?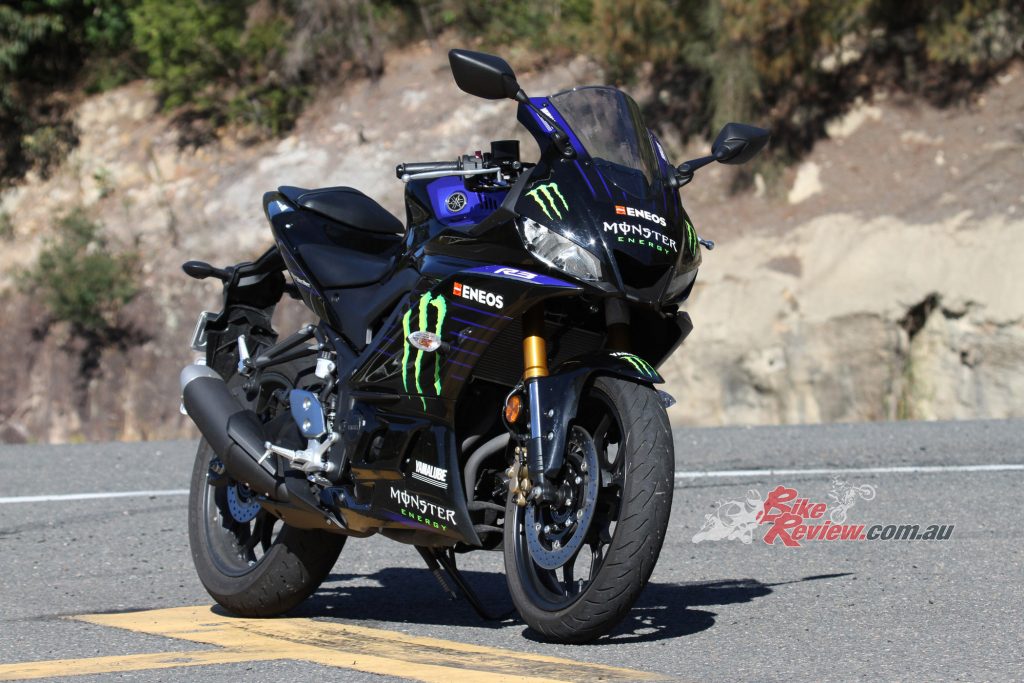 There have been no changes to the R3 since Jeff tested the bike last year (check out his Video Review), however, I'm testing the machine as a younger LAMS rider that never got to experience to brutish proper sportsbike 250s and 400s of the 1990s and early 2000s.
Those 50 to 70hp weapons in race-bred sub 150kg chassis must have been awesome but for me and my generation, the R3, Ninja 400 and the like are our small capacity sportsbikes, so a review from my perspective was needed!
There are not a whole lot of fully-faired sport style motorcycles in the learner approved market, and even then, most of these bikes will only fall into the small capacity category with the exception of a few. Yamaha's YZF-R3 is one of these small capacity motorcycles on the market today.
The YZF-R3 certainly is a mean and aggressive looking machine; sharp lines and a design that brings it closer to the design of the big boy litre bikes. We received the R3 in the Monster Energy livery, which adds stickers and race decals to make it look like it belongs on a track. The paintwork is also great on the R3, painted in mostly black but with a stunning blue colour on the tank that really pops.
---
---
When sitting on the YZF-R3 you'll notice that the ergonomics feel upright and comfortable like many of the other learner sportsbikes. While it isn't the sportiest riding position, it allows for great control over the bike and is the perfect riding position to have on an entry level sportsbike. Unlike larger displacement sportsbikes, you can happily sit on the R3 for a full day with little complaint, and it is surprisingly comfortable and uncramped for my 183cm frame.
The user interface and dash is brilliant, particularly for a small learner bike. The LCD display is packed with features such as a shift light, fuel consumption average, water temperature, oil change trip meter on-top of all of the usual features such as speedometer, tachometer, clock, etc.
It's a really easy dash to use and view as well, with the speedometer values quite large and impossible to miss and a simple and largely sized tachometer above.
The handlebar controls are really easy to reach and use and the mirrors are stable, providing plenty of vision. The R3 even has hazard-warning lights, which I think is a great feature to implement.
Another fantastic feature of the 2020 Yamaha YZF-R3 is LED lighting all around. The LED headlamp provides a plentiful amount of lighting and is far superior to old-school halogen bulbs. There are also LED indicators and taillight, which can be well seen in all lighting.
THE RIDE
The YZF-R3's motor is one of the standout features of this machine. The parallel twin, 321cc unit churns out 30.9kW (41.4hp) and puts 29.6Nm of torque to the ground. With the R3 weighing in at only 167kg wet, this makes for a fun and surprisingly quick learner machine. Revving all the way up to 13 grand and with gearing on the taller side, the mid range and top-end power of the YZF-R3 is astonishing and overall is really at the top of it's game in the small displacement sportsbike category.
---
---
Even at high RPM, there doesn't feel as though there is any vibration and if there is, it's likely too little to notice. Not to mention the exhaust note, which even though limited by emissions standards, can still scream when you give it the beans, and has a hint of a sexy gurgle on deceleration. No complaints with the clutch either, it worked great and the friction point was really easy to find. Gearbox was smooth and the sound of the gearbox in particular was absolutely awesome.
---
---

Chassis-wise, the YZF-R3 is an absolute pleasure to ride, regardless of whether you are thrashing it or taking a cruisey ride, largely due to it's awesome chassis. The 37mm KYB upside-down forks help a lot of braking and cornering particularly when you're riding hard and the rear suspension, which features preload adjustability, is stiff and certainly sporty however not too stiff to compromise on comfort. Despite being so lightweight, the YZF-R3 surprises with how stable it is over some of the bumpiest sections of road and will make light-work of any tight, technical twisties you might encounter.
While the chassis and motor are brilliant, the same can't be said for the brakes. Now don't get me wrong, the brakes are good but they could be better. A single disc up the front can get quite hot and can lead to some brake fade if you're pushing the bike, which is something you don't want on a sportsbike and it would be nice to see dual front discs added in the future.
Rear brake had good power and was plentiful for the riding I did, also didn't notice any brake fade on the rear, and proved great for low speed manoeuvring.This bike also comes standard with ABS making it a great learner option that inspires some confidence in the rider. 
---
---
The same could be said for the tyres, which were OK for the most part however could be grippier. These budget Dunlop tyres do perform OK in dry conditions and you can really crank the bike over with no problems at all, and do an admirable job of gripping up under hard braking and trailing, however, they are not as nice as pure sports rubber. In the wet they can get a little slippery however and the best option might be to opt for some grippier tyres.
The YZF-R3 utilises all of these components to create a serious sport riding experience that should not be underestimated. Fuelling is smooth and responsive, leaning the bike into a corner with ease using inputs from the footpegs and the handlebars, and thanks to the lightweight package and punchy motor, you can get on the gas really early throughout the corner for a speedy exit.
It's a forgiving machine that has clearly been designed for riders less knowledgable, so anyone with some experience can take the R3 to town and really use all of what the bike has (not on public roads, of course 😉 ).
The YZF-R3 also handles 2UP riding, with enough grunt to keep a good pace, and there is that preload adjustability in the rear if any adjustments need to be made to account for the passenger. With two people on a small sportsbike like this, it can start to feel a little bit cramped and  if you're looking for a comfortable journey then I'd advise against doing any long 2UP trips on this bike.
---
---
What if you want to daily the 2020 Yamaha YZF-R3? Well, go nuts. This thing is as good of a commuter/daily ride as it is an entry level sports weapon. I daily a 2016 Honda CBR300R, so I'm no stranger to the concept of commuting on a small capacity sportsbike.
However, if I was given the choice as to which I would rather ride everyday, I would take the R3 any day of the week. It has the grunt and fun factor, combined with an extremely responsive and good-handling chassis, packed with modern-day features and safety into a comfortable, lightweight package of proven Yamaha reliability.
The YZF-R3  only cost about $15 on average for a full tank of PULP, and also averaged approximately 3.5L/100km, which makes this seriously efficient and again proves to me that it would make a perfect commuter machine. Its sporty nature is really just a bonus for me.
If I were to own and daily an R3, I would make some changes to the brakes with braided lines, better pads and performance brake fluid and swap out the tyres for something grippier like Bridgestone's Battlax S21 hoops that I run on my CBR300R, which give a good balance between longevity and all-season performance. Other then that, the 2020 YZF-R3 is an amazing machine that I can't really fault.
---
---
The 2020 YZF-R3 is available starting from $7,799 Ride Away for standard colours, with the Special Edition Monster energy colour scheme at $7,899 Ride Away. Yamaha Australia is also offering customers $500 off on standard colour models, so now is a better time than ever to consider making one of these machines your own. The only real competition with the YZF-R3 in 2020 is the Kawasaki Ninja 400, starting at approx. $7,152 Ride Away for the base model.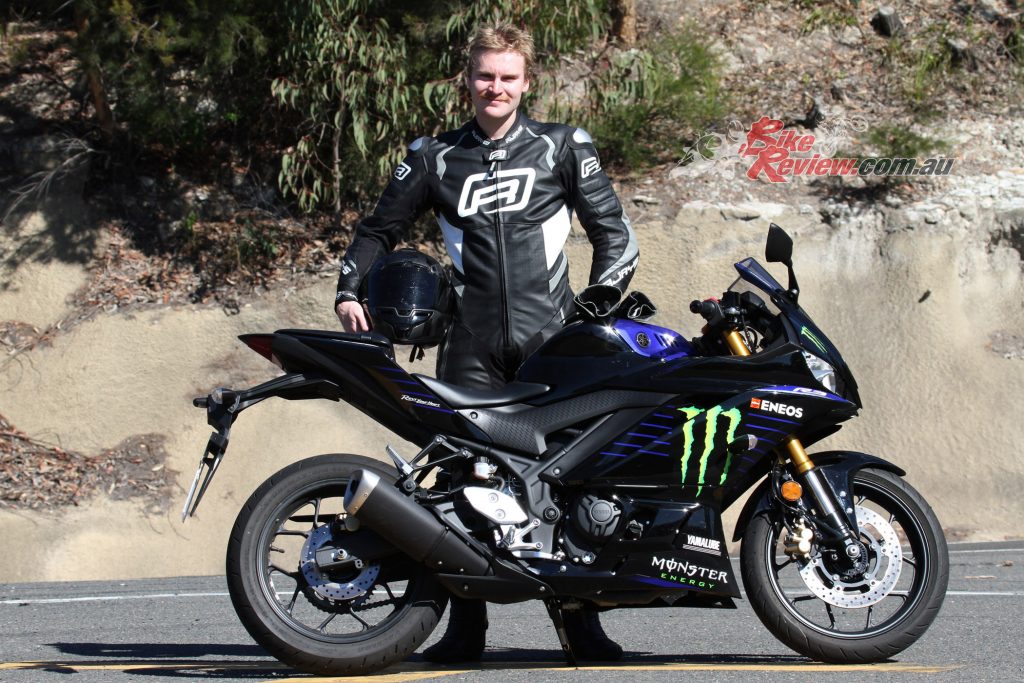 ---
---
We have a full feature and track test on the official Yamaha Racing YZF-R3 coming!

---
2020 Yamaha YZF-R3 Tech Talk
Yamaha's 321cc liquid-cooled, inline twin -cylinder engine delivers broad power and performance throughout the rpm range. With a 180-degree crank design and integrated counter-balancer, the layout minimises vibrations for a smooth, refined engine character.
With a compression ratio of 11.2:1, double overhead cams (DOHC) and four-valve cylinder-heads, the 2020 Yamaha YZF-R3 motor is designed for quick revving performance and high-rpm efficiency to deliver an exciting ride with a broad spread of power.
A downdraft induction fuel injection system provides easy starting, excellent fuel economy, and responsive performance. Yamaha's unique DiASil—a high-silicon aluminium alloy engine block is used to ensure excellent heat dissipation, with an innovative offset cylinder design that reduces horsepower loss and improves both power and fuel efficiency.
Forged aluminium pistons—the same technology used for the YZF-R1 and YZF-R6—means lighter weight and excellent strength at higher temperatures, ensuring reliability at higher rpm. The short muffler design features modern styling and helps to centralise mass, improving agility.
The YZF-R3 features an inverted fork with optimised spring and damping settings, significantly improving fork rigidity, front-end feedback and control feel. The design also includes a YZR-M1-inspired top clamp for improved supersports style.
---
---
The single-shock design further centralises mass and is tuned to strike a balance between ride comfort and sporty performance, for capability across a wide range of uses, from urban commuting to track days. It's also adjustable for spring preload, to account for passengers or cargo.
The 298mm floating-mount front disc is featured, supported by a 220mm rear disc. The YZF-R3 ABS model also features an antilock braking system.
Stylish 10-spoke cast aluminium wheels minimise unsprung weight for improved suspension responsiveness and refined handling.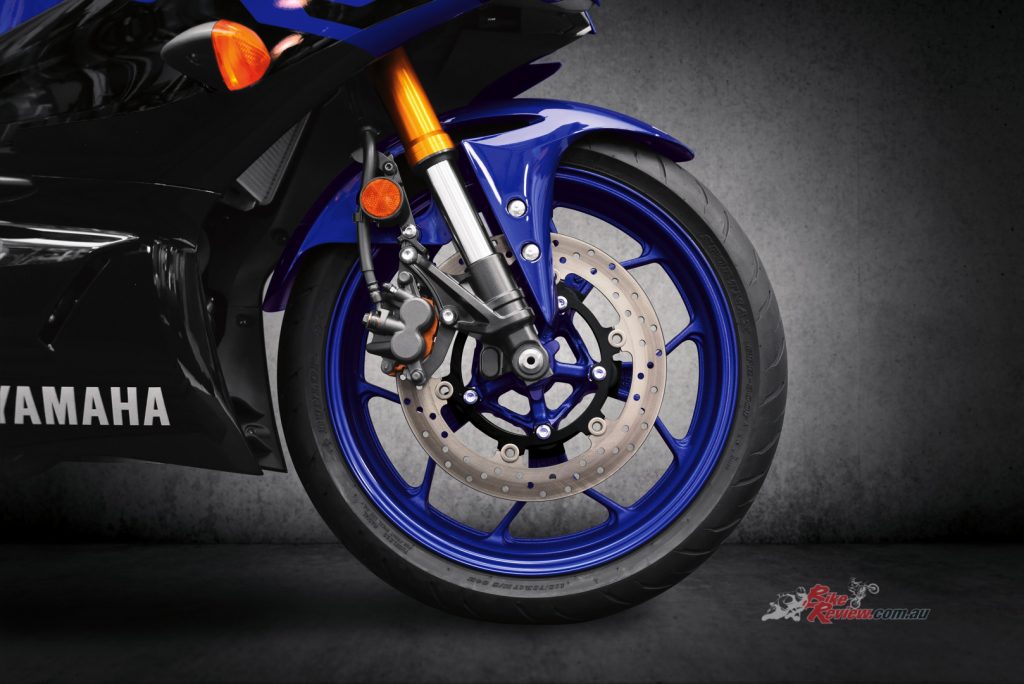 Thanks to the engine placement and overall machine dimensions, the YZF-R3 features a near 50/50 front/rear weight distribution for enhanced performance.
The R3's aggressive design continues the legendary styling born from the YZR-M1 MotoGP machine and improves overall aerodynamics at high speeds, too. The R3 features compact LED headlights with a central air duct that maximises cooling airflow for the engine.
LED elements are used for both the taillight unit and headlights.
---
---
The compact multi-function meter informs the rider of gear position, fuel capacity, real time and average fuel economy, water temp, clock and an oil change trip meter.
---
---
2020 Yamaha YZF-R3 Specifications
Price: $7,799 (Standard – but $7,299 until end of June 2020) – $7,899 (Monster) R/A
Colours: Icon Blue, Matt Silver, Power Black, Special Edition Monster Energy
Claimed power: 30.9kW [41.4hp]@10000rpm
Claimed torque: 29.6Nm [21.8ft-lbs]@9000rpm
Wet weight: 167kg
Fuel capacity: 14L
---
Engine: Liquid-cooled, DOHC, inline twin-cylinder, eight-valve four stroke, 68 x 44.1mm bore x stroke, 321cc, 11.2:1 compression, TCI ignition,
Gearbox: Six speed, constant mesh
Clutch: Wet multi-disc
---
Chassis: Steel diamond-type tubular frame, long steel asymmetric swingarm
Rake: 25°
Trail: 95mm
Suspension: 37mm KYB USD forks, 129.5mm travel, Monocross shock, preload adjustable, 124.5mm travel
Brakes: ABS, single 298mm floating rotor, two-piston caliper (f), single 220mm rear rotor, single-piston caliper (r)
Wheels & Tyres: Cast aluminium 10-spoke, Dunlop Sportmax GPR-300 , 110/70–17in (f), 140/70–17in (r)
---
DIMENSIONS:
Wheelbase: 1380mm
Ground clearance: 160mm
Seat height: 780mm
Overall height: 1140mm
Overall length: 2090mm
Overall width: 730mm
Instruments: Full digital multi-function display
---
---
2020 Yamaha YZF-R3 Gallery
---
---
The Verdict. | Review: 2020 Yamaha YZF-R3, Monster Energy Edition
Are you in the market for a LAMS machine that you can daily and has some edge? The 2020 YZF-R3 delivers brilliant performance, with a great chassis and good motor, you just can't go wrong here.