Aprilia were so keen to get this beast here they air freighted four RS 660s to Australia. Simon headed to Melbourne to cover the launch... Review: Simon Harris Photography: Freestyle Photography
The Aprilia RS 660 is a bike full of addictive torque and grunt from the parallel twin, topped off with all of Aprilia's greatest technology. Combine all of this with a beautifully designed appearance and you have got yourself a motorcycle that exceeds expectations.
Back in the days when the good citizens of Australia lived in a country that allowed them the freedom to choose to smoke without having half their wages being stolen for the privilege, brand loyalty with cigarettes was a thing. It would be very difficult to get a smoker to change brands without enormous reluctance and protest.
---
---
Motorcycles can be similar in that they, too, are bloody addictive and to change brand loyalty might require a red-hot poker to the eye. Personally, after having attended the Australian launch of Aprilia's new RS 660 machine and ridden it over the course of two days, I had an epiphany and am open to the idea of changing motorcycle brand, it was that good.
---
Check out our world launch report for full technical info on the RS 660… 
---
Aprilia has done extensive homework in their market analysis and ensuing product development to create a motorcycle that, in a holistic sense, rivals or outguns its competition in several crucial areas. If you were to consider an amalgam of total mass, accessible and useable engine power, chassis response, cutting edge rider aid technologies and ergonomics as a form of holy grail, then Aprilia has designed and built an altar for you.
John Hansen, Aprilia's local tech guru and all-round cool guy, gave us a briefing on the technical side of the RS. The bike has an absolute class leading package of electronics, based on the latest generation Continental 6-axis inertial measurement unit (IMU), that provides the ability to monitor and respond to dynamic movement of the motorcycle in real-time.
---
"Although the test bikes were a mere 600-odd km old in terms of running in, they were supremely smooth in throttle control, engine response and gearbox actuation"…
---
For example, lean sensitive ABS, traction control, mitigation of front wheel lift on acceleration and rear wheel lift on deceleration etc. The IMU is not only far more compact than previous iterations, but has additional inputs for an even larger array of software controlled black magic to further improve your safety and speed.
---
---
The heart of the matter, of course, is the engine and, although it is identical in crankshaft configuration to the RSV V4, it is not the same engine with a cylinder bank lopped off. It is a new 659cc parallel twin design that applies many of the engineering finesses that have been tested and refined in the RSV V4.
---
---
The cylinder firing is 270 crankshaft degrees apart, which equates to the engine characteristics of a 90-degree V-twin – smooth and torquey. 80 per cent of the torque is available from 4000rpm, which for a mid-sized parallel twin engine is quite remarkable and it feels it, with a very user-friendly nature that does not baulk at all at low rpm operation or sloppy throttle control.
100hp for a parallel twin of this capacity is a new phenomenon. As an example of detail and refinement in engine design, the inlet manifold lengths differ to compensate for the air box pressure at the point that each cylinder fires – pretty crazy and neat at the same time.
---
John assured me that the Aprilia engineers are at the top of the game when it comes to embracing technology while finding every nook and cranny of performance maximisation, even to the extent of profiling the throttle butterfly shafts for a minimal but measurable performance improvement.
---
---
The chassis is centred on an aluminium twin-spar frame that is progressively beefy up toward the steering head. The engine is integral to the chassis and provides the necessary connections for the rear end of the machine, including the long swingarm and elegant rear suspension mounting that does not require the complexities of an additional linkage.
---
---
Due to the narrow engine configuration, Aprilia have been able to keep the frame to its narrowest, bringing the footpegs inward to the point where they are noticeably lower than an R6 but can still enable similar, aggressive lean angles before touching down. The gear shift is a short throw while the clutch was light and easily understood, making for effortless use of the gearbox. The bike has an up/down quick-shift control that works smoothly on up-changes.
---
---
The quick-shift can be configured for reverse shift if the racing pipe and software is installed. Incidentally, one of the four bikes had the Akrapovic pipe and race software. I can only attest to it being louder, with the pipe itself looking distinctly more of an add-on than the standard with a very sweet looking underslung, twin-outlet unit. Apparently this setup does provide an additional, however, undisclosed power increase. Sadly I didn't get the chance to ride the bike.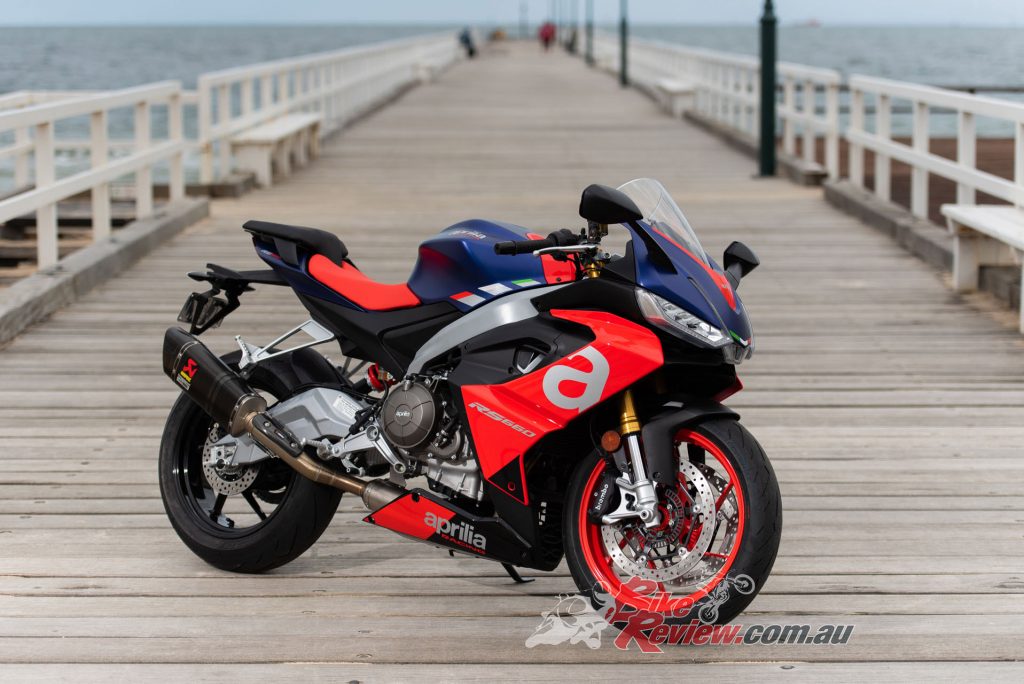 Riding at town speeds is a breeze on the RS. It can certainly act as a docile, but still a very eye-catching commuter, with very forgiving manners. Manoeuvring is easy on the light and nimble RS, that has ergonomics on its side for stable control at low speed; especially with Commute mode dialled in on the multi-map bike management system. A more metered throttle response is available in this mode, with earlier intervention of ABS and anti-wheelie mitigation etc.
---
---
The next mode, Dynamic has a more aggressive power delivery, but still retains front / back wheel down control. I did have concerns that the front brake ABS was over-reacting due to the anti-rear wheel lift control as I knew intrinsically that I could brake harder than being allowed. It felt as though the brake pads were badly glazed – pull on the lever as much as you want, without any difference in braking.
After consultation with John, we placed the bike in Individual mode, which allows full control over ABS, wheelie, traction, stoppie control etc. We dialled down just about everything to minimum or off completely and the result was a different bike altogether, with ultra-strong brakes and completely unrestrained engine response.
As an interface between rider and bike, there is a TFT screen and selection controls mounted to the handlebars, which are positioned slightly above the top yoke. From the display, you can see all manner of ride information that changes on riding mode. You can change mode on the fly as well as engage handy cruise control when needed.
---
---
In Individual mode, you can select the intervention level of each rider aid (ABS, traction control etc). For Akropovic equipped race-spec bikes, there are additional track oriented modes that focus on lap time more than anything else. Although some of the functions are complex in theory, the Aprilia software dudes have made accessibility to the settings quite easy to comprehend.
---
---
The lights are full LED, with optional running lights and lean angle activated cornering lights, which is more than just cool but highlights some of the thought put into the overall bike experience. If you are into smart-phone apps, the Aprilia MIA app is an offering also that provides a level of data logging and navigation, among other cool things. Check it out…
Day two saw most of us, but not all, arise bright eyed to experience a mixture of city, motorway and rural road riding that highlighted the balance of power, mass and chassis of the RS 660 extremely well. Nothing we rode on was completely dry, which was a shame, but it allowed us all to really feel the bike interface with the road. I had not ridden the back roads of the Yarra valley before, but following Dale McBride's excellent lead, we were soon becoming familiar with the feel of the bike and tyres in very variable conditions and road surfaces.
---
---
There is no doubt that the RS 660 chassis is stiff and stable but also nimble due to the narrowness of design and, for want of a better word, its "feel-good" sensation. It simply does feel good and allows you to compensate if you over-cook a corner entry or become overly zealous on corner exit without causing you undue panic or fuss by way of excessive weight or power, etc. Whatever you do, the chassis seems to have something in store to make up for a braking mistake, or unexpected change of line.
The engine is there for you too, with instantly available gusto and fine throttle control that rewards with predictable acceleration. It must be said that the stock exhaust note is quite intoxicating, without being assaulting. None of the journos on hand, despite a large differential in body mass, altered the factory suspension settings on the KYB forks and shock because there really was no need to.
---
"None of the journos on hand, despite a large differential in body mass, altered the factory suspension settings on the KYB forks and shock because there really was no need to"…
---
When your time comes, there are settings available to dial in the handling to your preference. It may need stiffening up within the settings for track day work or even dry grippy road work. The dual layered fairing is wind tunnel tested for effectiveness and helps direct air around the rider as well as through critical areas around the engine to assist in maintaining temps of the very high compression motor.
Being a rider that prefers manageable power and easy handling, I can say that the combination of characteristics that Aprilia have managed to combine in the RS 660 is something to definitely consider if you want a bike for all seasons.
---
The sheer riding pleasure, sophistication, alluring looks and excellent performance of the bike will certainly bring accolades that, I reckon, are easily justified. A 35kW LAMS version is available, but I would wait out my provisional licence to get the full monty, for sure as you would be missing out on that amazing feeling of 100hp and 67Nm. You can find an Aprilia dealership near you by clicking here.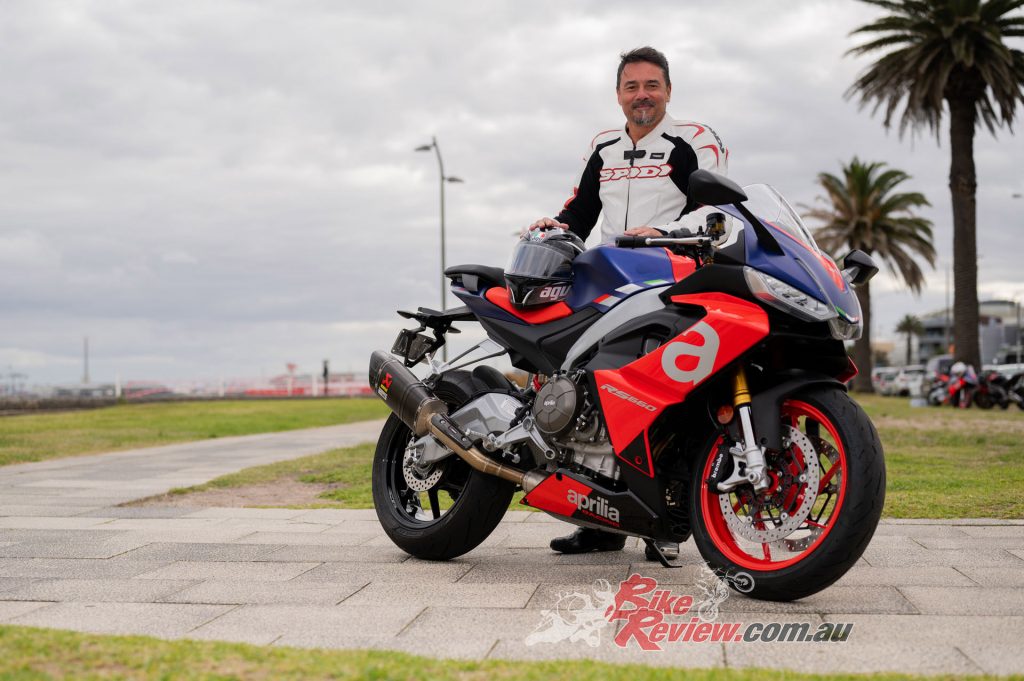 ---
2021 Aprilia RS 660 Specifications
aprilia.com.au
Price: $18,490 + ORC
Claimed Power: 73.5kW[100hp]@10,500rpm
Claimed Torque: 67Nm[50lbs-ft]@8,500rpm
Wet Weight: 183kg (169kg dry)
Fuel capacity: 15L
---
Engine: Parallel twin-cylinder forward facing, four-stroke, 270-degree, eight-valve DOHC, liquid-cooled, chain driven cams, 81 x 63.9mm bore x stroke, 659cc, 13.5:1 compression, two-into-one exhaust, ram air, twin 48mm throttle-bodies, RbW throttle and EMS.
Gearbox: Six-speed with AQS up and down. Clutch: Wet multi-plate with mechanical slipper, cable.
---
Chassis: Dual beam alloy frame with removable alloy sub-frame
Rake: 24.1° Trail: 104mm
Suspension: Kayaba 41mm inverted forks, preload and rebound adjustable, 120mm travel, alloy asymmetric swingarm, monoshock with spring preload and rebound adjustability, 130mm travel
Brakes: 320mm rotors (f), Brembo radial-mount four 32mm piston calipers and radial pump master-cylinder, stainless braided lines, ABS, 220mm rotor (r), Brembo twin 34mm piston caliper, ABS
Wheels & Tyres: Cast alloy six-spoke, 17 x 3.50in (f), 17 x 5.50in (r), 120/70 – 17, 180/55 – 17 Pirelli Diablo Rosso Corsa II tyres.
---
Dimensions
Wheelbase: 1370mm
Seat height: 820mm
Ground clearance: N/A
Overall width: N/A
Overall Length: N/A
Overall height: N/A
---
Instruments & Electronics: TFT display, Six axis IMU, APRC pack: AWC (wheelie control), ATC (traction control), AEB (engine brake control), AEM (power maps), ACC (cruise control), Cornering ABS.
---
2021 Aprilia RS 660 Australian Launch Gallery
---
---
The Verdict | Review: 2021 Aprilia RS 660, Aussie Launch