The 650cc - 900cc class, now considered middleweight, has some strong offerings on showroom floors. The 752S is the first for Benelli in a long time. How does it stack up? Review: Jeff Ware Photography: HMC Photography.
In 1972 Benelli S.p.A launched an Alejandro de Tomaso led creation, the 750 Sei. It was the first inline six-cylinder motorcycle in the world, a bike that was radical and destined to become a legend. Now, five decades later, the next Benelli 750 has arrived in a new chapter.
The two motorcycles really could not be any more different. The 750 Sei was pure superbike excess for the era, powered by what was essentially a Honda 500/4 with two additional pots added on, the Sei revved to 9000rpm with its 56 x 50.6mm bore x stroke but made a moderate 76hp. Despite a porky weight of 255kg wet, the Sei had an impressive top speed of over 200km/h. However, the mighty Z1 had hit the roads that same year and was lighter, faster, more powerful and cheaper!
---
---
As exciting as the de Tomaso era was for Benelli motorcycles, in the late 1980s production sadly stopped and it wasn't the first and would not be the last time Benelli changed hands. In the mid 1990s Andrea Merloni bought the rights to Benelli from de Tomaso and by 2002, the Tornado Tre 900 was here. I remember testing this amazing motorcycle for Two Wheels, where I was Staff Journalist. Here I was, early 20s, testing this then extremely expensive bike at SMSP and I got taken out by a person crossing the track in the middle of turn two! Ouch…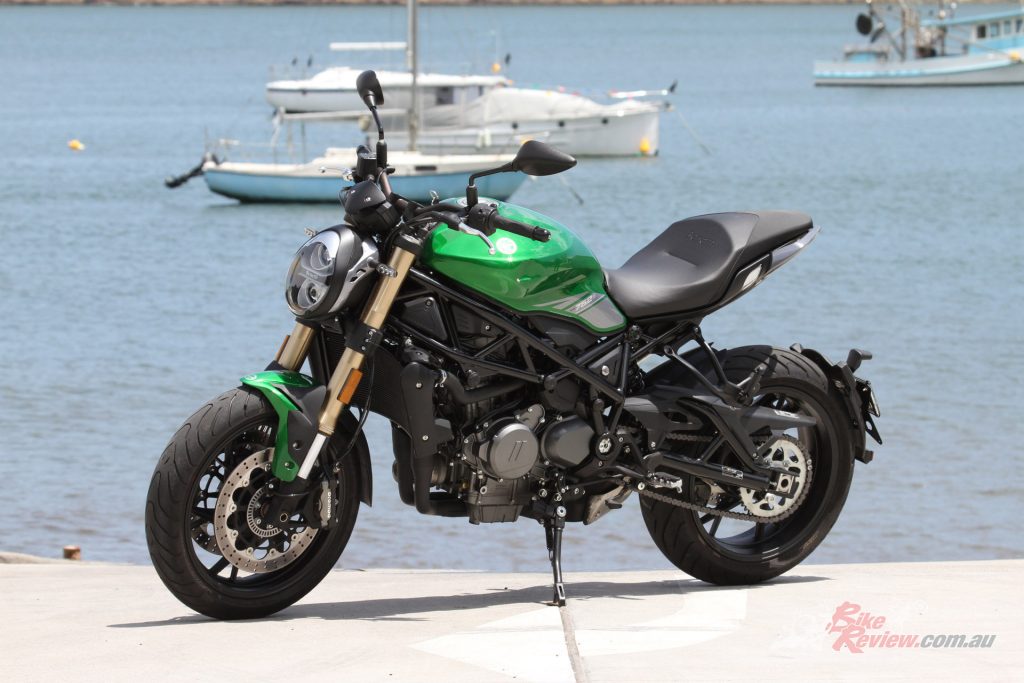 In yet another chapter of the turbulent history of this prestigious brand (remember, it goes back to 1911, with the first Benelli motorcycle revealed in 1919), Chinese giant, Qianjiang Motorcycle, purchased the brand in 2005. Founded in 1985, QJ is one of the largest motorcycle manufacturers in China and has over 10,000 employees. The Benelli brand is one of 10 QJ subsidiaries, part of the Geely Group.
---
The 88 x 62mm bore x stroke, 11.5:1 compression ratio and engine appearance and design reveals the 752S motor is fundamentally an 1130 (135hp/80ft-lb monster) triple with one cylinder lopped off…
---
Focussing on the smaller and middleweight capacity class until recently, we've seen models here in Australia such as the BN600, TNT 899, TNT 135, TRK502 range, Leoncino range and the 502C cruiser. QJ Benelli's, as they are now known, are developed in Italy and manufactured in China under the guidance of Stefano Michelotti…
---
---
We had a long term Leoncino and have reviewed all of the Benelli models that have come to Australia from the QJ factory. Prior to that, with Rapid Bikes, we tested all the models back to the Tornado 900. I clearly remember a period, well over a decade ago, when every Benelli press bike we had went back in a trailer, broken down. In the mid 2000s, the fuelling was poor, the bikes extremely unreliable and the quality not much good. However, when they were sorted they were magical machines…
---
This QJ Benelli era has brought with it, in the past five years, reliability and a lot more refinement than what was coming out of Italy
---
This QJ Benelli era has brought with it, in the past five years, reliability and a lot more refinement than what was coming out of Italy. Yes, the bikes are a far cry from cutting edge and border on basic commuters, but they are fun, engaging, well priced mostly, and stylish. Our Leoncino was caned mercilessly for a year and never once let us down. The only thing we wanted? More Go. More grunt. Power wheelies… So when we heard about the 752S, we were really excited.
Powered by a parallel twin-cylinder four-valve, DOHC liquid-cooled engine, and looking every bit as cool and stylish as a Benelli should, and definitely the best looking QJ Benelli so far, the 752S is an all-new bike. However, the 88 x 62mm bore x stroke, 11.5:1 compression ratio and engine appearance and design reveals the 752S motor is fundamentally an 1130 (135hp/80ft-lb monster) triple with one cylinder lopped off, well, you know what I mean!
---
---
I have to admit I was a bit disappointed when I saw the output figures of the engine, 56kW[76hp]@8500rpm (exactly the same as the first Benelli 750 Sei in 1972) and 67Nm[49ft-lbs]@6500rpm. With 220-odd KG to cart around, my idea of a crazy fast big 'Leoncino' looked like it was fading away… When you look at the competition in this crowded category, the 752S is down. GSX-S750, 114hp. KTM 790 Duke, 105hp. Monster, 111hp. CB650R, 94hp… etc.
---
---
Only the MT-07HO and SV650X are similar but are much lighter, with 75hp and 179kg… and 75hp and 198kg ready to ride. Perhaps the LAMS approved XSR700 is closer. With most of the category less expensive than the 752S, and the 752S not LAMS approved, I could not help but think that this may not be the winner that Benelli fans were all hoping for… However, the specification of the chassis impressive me, with a trellis frame, LED lighting, Brembo brakes, a TFT dash, Marzocchi forks (adjustable), KYB shock (preload only) and Pirelli tyres just to name a few things. It's a neat package with decent spec, but lacks electronic aids.
---
---
THE RIDE
I have to admit I went into the test with those figures in mind and not expecting too much. I was right about the power-to-weight ratio, the 752S is slow, in fact, I am not convinced it is much faster than the Leoncino or 502C, however, where the 752S more than made up for lack of go was with brilliant handling. After spending a few weeks on the bike, I'm convinced this is one of the best handling bikes in its middleweight naked class, mostly thanks to the communicative front-end and engaging, lively nature of the geometry. Despite the weight, the bike is sporty and fun and not hard work.
The bumpy country style roads are not the perfect hunting ground for the 752S, where the heavy swingarm and wheels can react slowly to the bumps, meaning a series of, particularly high-speed compression jolts, can 'build up' and the suspension won't recover by the next one. But the ride is still OK and comfy enough and countryside cruising is not out of the question. Touring, or long days on rough roads, on the other hand, would be a chore – at least here in Australia.
---
---
The overall package is a good compromise, though, as once you arrive at your favourite scratching road and the curves smooth out, the 752S really shines. Steering is stable, very stable, yet despite the weight of this bike, it is flickable thanks to the wide 'bars. Corner entry is accurate, on or off the brakes, and there is no chassis stand-up on the brakes or when hitting mid corner bumps.
---
---
Ground clearance is ample and the bike is neutral and predictable from upright through to full lean, with no sudden fall on its side. Once there, it will happily sit at full lean and track through the apex, unless you need to change lines, in which case it will happily respond – again, on or off the brakes. Even on long downhill sections, it is good. Some bikes just don't feel right when riding fast on the 'way down' and only feel good on the gas on the 'way up'… Not the 752S.
I really liked the rider triangle. At 187cm I fit the bike OK and particularly liked the position when scratching through the hills. I rode the bike a lot just around the place, to the shops, to the beach and not just up the hills. Mike Cameron had the bike for a while and, like me, found that it grew on him but took a few days. This means that anyone test riding one from a dealer won't get the full impression that the 752S can leave. So if that is you, try and convince the dealer to let you take it for a long test.
Braking is impressive, with a serious Brembo package up front – dual 320mm rotors and four-piston calipers, while out the back there is a Brembo caliper and oversized 260mm disc. The master-cylinder is conventional, but the package is impressive with great feedback at the fingertips and good power. The front brakes do, however, need a decent squeeze and the weight of the bike is highlighted when the braking really gets serious… One thing I really dislike is the ugly black mudguard brace covering half of those gorgeous gold Brembo calipers… Ugh!
---
---
The 752S is hard work around town, as mentioned, with a grabby clutch, notchy gearbox and inconsistent fuelling. It will get you around, of course, but is not such a refined bike so would not be an ideal daily rider. In saying that, the Leoncino is similar in those areas and I rode that around daily for a year, often with a grin… The weight of the 752S is felt the most at low speed of course, so lane filtering, stopping at lights, U-turns and so forth, plus moving it around parking.
---
---
General things like mirrors are OK although the stylish shape does compromise the view. The seat is soft enough for about two hours yet firm enough for good feedback. Vibrations are minimal considering the engine design, and the headlight is good at night without being amazing. The TFT dash is a neat touch, however, it does lack the features of other TFT displays and looks a bit old school to me.
---
---
Back to the engine. Like the bike, the engine takes time to endear itself to you. In fact, it wasn't until I experienced a particular section of road at a fast pace that I began to understand the motor and how to use it properly. Using lots of corner speed and keeping the slow revving twin in the mid to upper rev range, with lazy gear shifts and no pointless overreving, was where it all sort of came together and worked. It feels so old fashioned and there is almost no feeling of acceleration, yet you can go fast on the bike. However, Benelli really need to build something a bit more punchy to win hearts…
Overall I have to admit, I really grew to like the 752S, but not as much as I liked the much more lively, engaging and fun Leoncino. If Benelli can put the 752S on a weight-loss diet and give it a quicker revving, more powerful engine, the bike will be a class leader if that handling is retained. At a premium price, I'm not convinced the bike will be as popular as it should be, but time will tell. At the end of the day, it is nice to see QJ Benelli venturing into the larger capacity models and I hope this is a sign of things to come… You can find your local Benelli dealer here...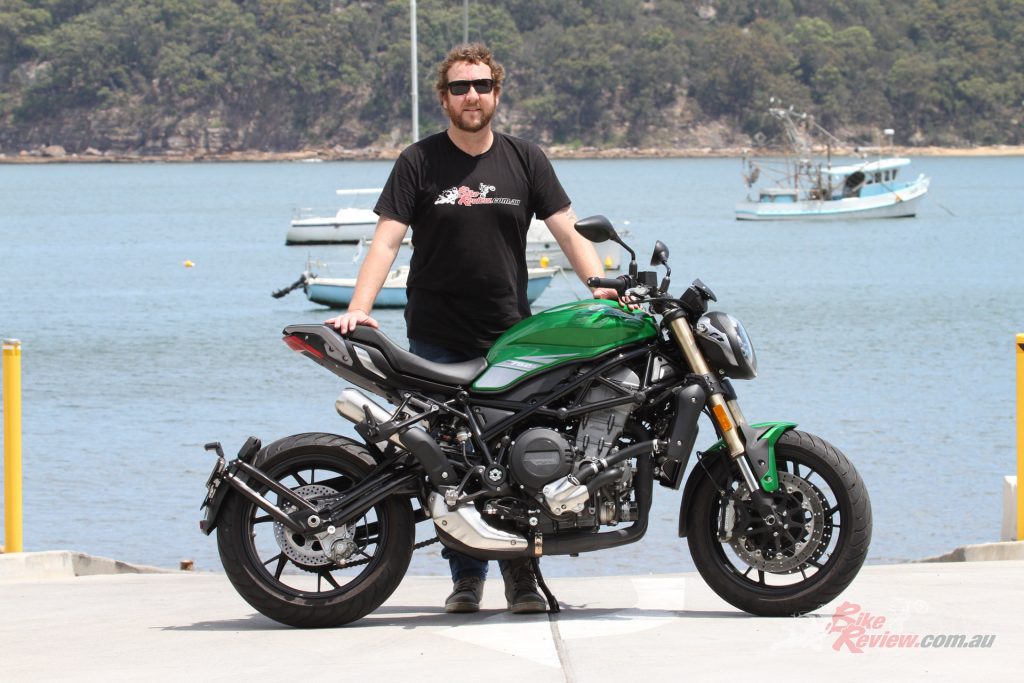 2020/2021 Benelli 752S Nakedbike
Price: $12,990 Ride Away, two-years unlimited km warranty
Claimed Power: 56kW[76hp]@8500rpm
Claimed Torque: 67Nm[49ft-lbs]@6500rpm
Dry Weight: 220kg
Fuel capacity: 14.5L
---
Engine: Liquid-cooled, DOHC, two-cylinder parallel liquid-cooled fuel-injected four-stroke, bore x stroke 88 x 62mm, 11.5:1 compression ratio, 37mm throttle-bodies, TLI ECU, Euro4, two-into-one exhaust Gearbox: six-speed Clutch: wet multi-plate, cable actuation.
---
Chassis: Tubular steel trellis frame and swingarm.
Rake: N/A
Trail: N/A
Suspension: 50mm Marzocchi forks, full adjustability, 130mm travel, KYB shock, preload adjustability, 60mm travel
Brakes: Brembo 320mm rotors (f), dual four-piston Brembo calipers and conventional master-cylinder, 260mm rotor (r), single piston caliper, ABS.
Wheels & Tyres: Cast alloy, 3.50 x 17in (f), 5.50 x 17in (r), Pirelli Angel GT 120/70 – 17 and 180/55 – 17in tyres.
---
Dimensions
Wheelbase: 1460mm
Seat height: 810mm
Ground clearance: N/A
Overall width: N/A
Overall Length: 2130mm
Overall height: 1100mm
---
Instruments: TFT Dash
---
---
Benelli 752S Gallery
---
---
The Verdict | Review: 2021 Benelli 752S nakedbike