The long awaited CFMOTO 700CL-X has landed in Australia. Simon has been lapping his LGA TT course on the Heritage and loving every mile... Review: Simon Harris Photography: Heather Ware
Having spent some time recently riding the 700CL-X from CFMOTO, you can't help but feel that they are really kicking some goals. Each model that I have come across impresses on many levels and has definitely surpassed any notion of cheap and nasty manufacturer.
CFMOTO's core values are continual improvement, innovation and quality and these have helped it build a strong reputation globally for quality manufacturing. As a brand, it is certainly picking up pace here in the land of OZ.
---
Check out all of our CFMOTO reviews here…
---
The 700CL-X range, which the company debuted at EICMA 2019, is finally making it to our shores. First is the Heritage model, as ridden here, with the Sport soon to follow. I must admit that when I first got whiff of having a crack on the CL-X.
I immediately researched it and was pretty blown away by its appeal. CFMOTO's alliance with KISKA design and KTM is really paying dividends, as evidenced by their current range of models. The pictures, as is often the case, can't quite do justice to seeing something in the metal and, boy, is this motorcycle a sweet looking machine.
---
---
A design amalgam with echoes of cafe race, bobber, flat tracker and '80s musclebike that is enhanced with some very modern styling cues that not only delight the eye but also delivers a very purposeful stance. Several people made comments to me directly on how eye-catching it is. CFMOTO has really put in some hard yards to create a machine that will impress discerning customers – it seems that all parts have been made with deep customer scrutiny in mind. From headlight to taillight, you won't find any hallmarks of cheap and nasty here. 
I rode the NK650 in 2014, which was a bit of a surprise package in LAMs form at that time. The 180⁰ parallel twin engine was originally a Kawasaki design, however, in the ensuing years, CFMOTO heavily redeveloped it. The latest all-new engine include not only a capacity increase, but also split connecting rods and forged pistons that offer greater strength and reduced inertial mass.
---
---
The compact but hearty 693cc powerplant delivers 55kW (13kW up from LAMs 650 version) / 68Nm (74hp / 50ft-lbs) and is a good match for the 196kg wet weight. The motor is very flexible in nature, with fuss-free power available from around 3000rpm to the far side of the tacho without lurching, snatch or hesitation – thank you Bosch EFI system and ride-by-wire throttle. The exhaust note from the stubby, low-slung can is relatively tame when putting about suburbia, but opens up nicely in chorus with a throaty induction roar when the throttles are wide and the cylinders are gulping in the air.
For my size (170cm in riding boots), the CL-X Heritage is very comfortable. The ergonomics are good and although I kind of instinctively flail around looking for rear-set foot hardware, the mid-set 'pegs become quickly familiar. CF offers a slightly thicker seat option for taller riders. Speaking of seats, the rustic brown faux leather on the test bike is as comfortable as it is pleasing to look at. Classy.
---
---
Spread forward over the satin finish tank and you get to a nice set of 'bars that include good quality hardware – span adjustable levers both sides and simple but sturdy switch-block controls, including cruise control and dual power modes as standard. A bit more feel on the indicator switch, however, would be good as the merest nudge activates it.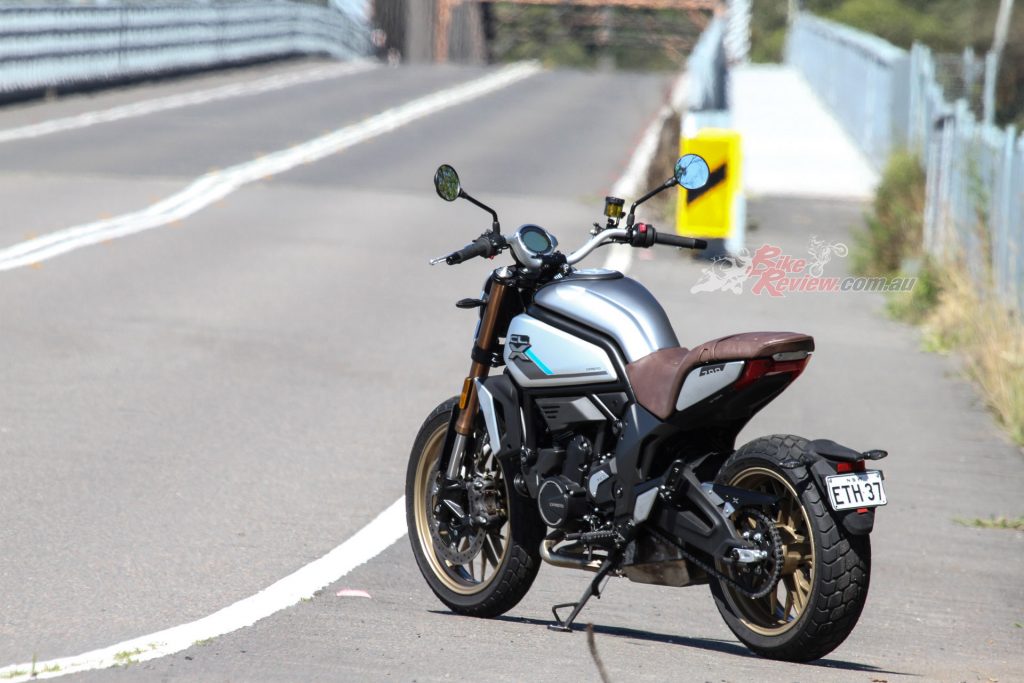 In the midst is a single clock LCD dash that provides an easy to use interface for the usual information – odo, trip, temp, time and so on. There is nothing particularly fancy here, which I reckon is really part of the appeal of the machine – simple but sophisticated fun.
---
---
The fuel gauge is a bit questionable as it stays "high" for an extended period before plummeting into the reserve load quite surprisingly. Not wanting to be caught pushing a bike, I refuelled not long after the gauge began flashing at me to refill but could not get more than 9 litres into the 13 litre tank.
---
---
Ahead of the dash is a very funky LED headlight with a daytime running halo lamp that accentuates the "X" brand. All lighting is LED based, with the headlight auto-adjusting to ambient lighting conditions. Incidentally, you will find the "X" theme everywhere on this bike; subtle but prominent.
The bike rides on KYB suspension, with 150mm travel at both ends. Beefy 41mm fork set up front with adjustable preload and compression damping in each leg, respectively. The rear is a simple cantilever arrangement that features preload and compression damping adjustment.
---
"The 700CL-X has plenty of positive attributes and is a responsive, charming, mid-capacity motorcycle"…
---
As the factory is usually right when it comes to good settings for the majority of riders, coupled with the actual behaviour of the bike during riding, there was no need to alter anything from standard. If I were to carry a pillion, an increase in rear preload would have been required, however, my wife was a bit perturbed by the size of the pillion accommodation and the idea of bum in the breeze above that back tyre. Oh well, that works for me!
---
---
The welded tubular steel frame and aluminium swingarm keep the suspension and engine fastened and aligned, and provides a lithe but stable platform. These are nicely exposed to the eye also. The front wheel is an 18in item and despite this, the bike has an abundantly light feel in the steering.
---
The application of Pirelli MT60 RS tyres is a show of commitment from the factory that not only remains in step with the flat-tracker aspect but also roll around the radius consistently and provide excellent grip once the big tyre blocks are warmed up a little. Spanish J.Juan brakes fill the centres of the wheels, however, a single disc up front may be a tad under-specced. ABS finishes the safety package.
---
---
It might be cliche to say hopping on and riding off is instantly familiar and comforting, but it really is. Pinky promise. The sheer ease of manoeuvring the bike out of the driveway, featherlight clutch to gently click up the gears as you apply the linear drive is just so pleasant.
---
"The steering remains super light and totally neutral, thereby giving a sensation of intuitive steering with the bike following your eyes"…
---
At the time of my stint, the freedom to move about the country as a free person, or lack thereof, had me confined to my local council area. This is okay, as it features every road type imaginable and I found myself visiting its extremities as I put a few miles on the clock.
As is usual for me, and convenient, I first head out to my fave set of nearby corners to get a feel for the bike on the lean. The road is pretty smooth here and provides a mix of medium speed corners, left and right. Downhill one way, up the next. Lather, rinse, repeat.
---
You can feel when the tyres are not quite ready, which is feedback you want as much of as possible, as the front gives a feeling of wanting to go slightly wide from your theoretical line. Once down the hill, back up and relatively confident theres nothing obscuring your path, it's time to start leaning in on the broad 'pegs a little more.
The steering remains super light and totally neutral, thereby giving a sensation of intuitive steering with the bike following your eyes. Soon, you forget that you are not on the stickiest of rubber, but it matters not as the bike really tracks true and changes direction very easily – just relax on the 'bars and allow the chassis to respond naturally. Ground clearance is pretty good, but you soon start touching down. It could definitely go further over than the 'pegs allow, but this is still exhilarating.
---
---
Opening the throttle wide on exit has the engine rapidly climbing the tacho and building speed with gusto. On straight up acceleration, the front end unloads and skims the road surface as you squirt through the first two gears. Give it a slight pull on the 'bars in first and the front will arc upward. 
The engine has two modes of operation, with "Eco" really dulling the power delivery at all but the widest of throttles. This is good for relaxed commuting or fuel conservation, but otherwise makes the plot a bit lacklustre. Taking the CL-X onto the motorway allowed use of the cruise control, which works well and is simple to operate.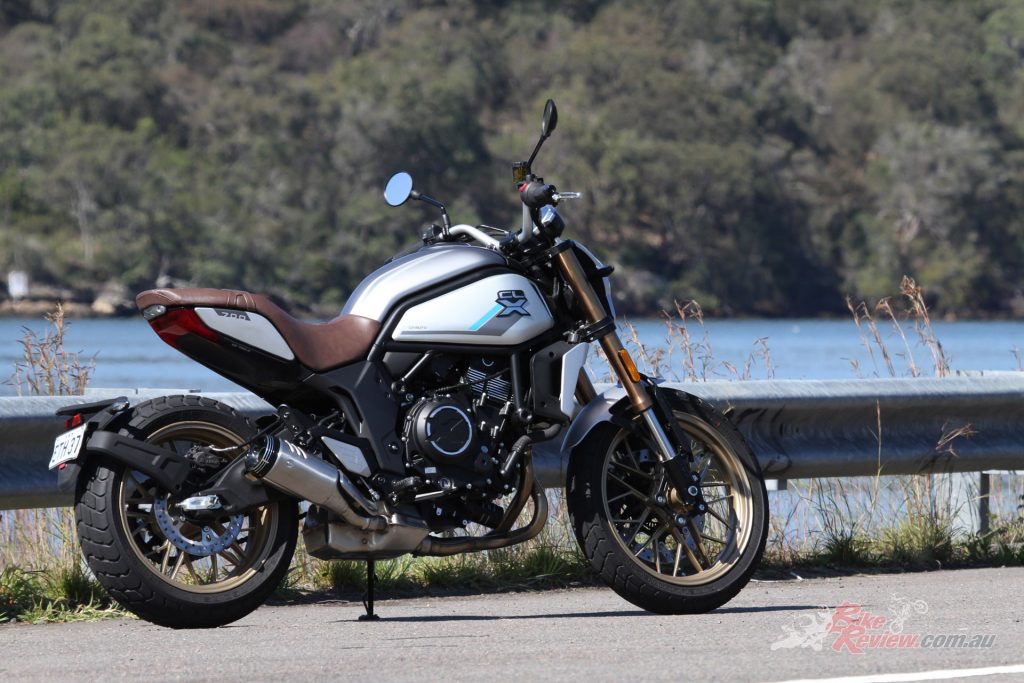 It felt strangely exciting to motor along at speed using one's hands as sails to control direction – look mum, no hands! I wonder if that is legal. Is anything? The bike will go all day at highway speeds, and you have a fair patch of seat on which to writhe about, but wind fatigue will eventually bite a little. Perhaps more so for taller riders.
---
---
On bumpier roads, the bike continues to impress with the ability of the suspension to absorb all but the most heinous of bumps and corrugations without getting particularly out of sorts or quickly recovering in terms of suspension control and line. This would likely be improved with the bike a bit more loaded up than my 70kg.
---
"The front brake, I feel, could be improved in effectiveness. It works and hauls up, no doubt, but there is too much lever pressure required which hampers feel and sensitive modulation"…
---
Altering direction as needed to avoid potholes is pretty easy, at least at moderate speed. As you increase the tempo, the stability tightens a bit, but never to the point of not feeling that you can turn it. The road opened up on my jaunt due to recent back burning, and with better sighting, upping the pace and setting your lines ahead is easy to do. If you have to, using the front brake (moderately) mid-corner does not overly stand the bike up and provides a good defence if you experience the unexpected.
The 700CL-X has plenty of positive attributes and is a responsive, charming, mid-capacity motorcycle. Its exploitable and engaging performance, nimble handling and willing nature really make it an interesting proposition. The bike's form and function certainly outweigh its price tag and it definitely belongs in the same league as its more established rivalry.
---
In my opinion, from an aesthetic perspective, it is way ahead. CFMOTO has really impressed me with its build quality and attention to detail in the CL-X and I look forward to more of the same. Remember, the CL-X comes in at well under 10 grand, ride away, and scores a three year warranty to boot.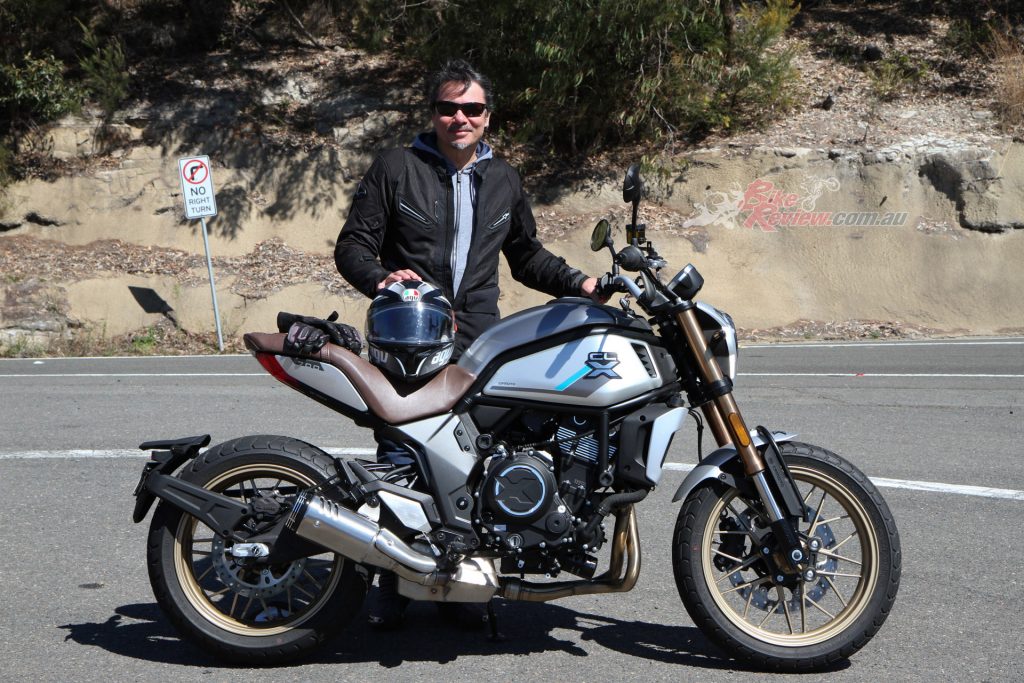 Note: The test bike came with a couple of optional extras, including a sidestand foot, radiator guard and metal chain guard.
---
Tech Talk
The 700CL-X's performance amounts to an increase of 18hp (13kW) and 6Nm over CFMOTO's existing 649cc LAMS-based parallel twin found in the two 650NK variants as well as the 650MT and 650GT. The hike in capacity for the 693cc engine over the 649cc unit has been achieved by a 3mm increase in stroke, and other technical highlights for the updated powerplant include Bosch fuel-injection, split connecting rods, a slipper clutch, and forged pistons for strength and reduced weight and inertia. This in turn lifts the power output to 73hp@8500rpm and 68Nm@6500rpm.
The 700CL-X tracks on 18-inch front and 17-inch rear wheels, mated to Pirelli MT60 dual-purpose tyres. Suspension is by KYB including a fully adjustable upside-down 41mm fork as well as a monoshock rear with rebound and preload adjustment. Travel front and rear is 150mm.
---
The newly designed split frame weighs just 16.5kg while a 6.7kg aluminium alloy swingarm give the 700CL-X Heritage a dry weight of just 183kg. This ensures a high power-to-weight ratio, responsive handling and precise control.
The 700CL-X features a J.Juan braking system and Continental ABS. This comprises of a single large 320mm disc with J.Juan four-piston radial-mount caliper and a 260mm rear disc with twin-piston caliper. The choice of a only a single front disc is a strange choice in the scheme of 2021 models, but the size of the disc and low centre of gravity make for a great combo.
---
---
When it comes to styling, CFMOTO seem to of hit the nail on the head with the entire 700CL-X range, each have their own theme but they all fall into the retro category.The smooth body lines come together for a fresh take on classic style. The 700CL-X is marked by the retro-inspired round headlight, fuel tank aluminium side panels, leather feel seat, multi-spoke alloy wheels and Pirelli tyres. CFMOTO say the modern X elements of the 700CL-X Heritage break convention by integrating classic design aesthetics.
The LED headlight of the 700CL-X features a self-adaptive assist system, which can be automatically turned on or off according to the ambient brightness. It also features a daytime-running light and auto-cancelling turn signals. The retro-style round headlight and embedded tail-light proudly display the recognisable features of the 700CL-X. The accessories catalogue includes two seats – in brown and black trim – that have 825mm reach, while other customisation treats include bar-end mirrors, radiator protection and soft panniers. 
Something the CFMOTO isn't short of and something that Chinese manufacturers seem to have an advantage over other bikes in the price range is electronics. The 700CL-X features a round 75mm retro classic-style LCD dash which provides simple and real riding information. The on-board computer has two on-the-fly riding modes: Economy and Sport. In addition, the 700CL-X is equipped with cruise control – a segment first – as well as a USB charging input.
The ride by wire system ensures that the 700CL-X has an accurate and safe cruise control system, it also ensures the rider can choose their assists profiles to suit their liking.
---
2021 CFMOTO 700CL-X Heritage Specifications

Price: From $9,490 rideaway
Colours: Coal Grey or Twilight Blue
Warranty: Three year warranty
Claimed Power: 55kW@8500rpm
Claimed Torque: 67Nm@6500rpm
Wet/Dry Weight: 196kg
Fuel capacity: 13.5L
---
Engine: Liquid-cooled DOHC four-valves-per-cylinder four-stroke parallel twin, 692cc, 11.6:11 compression ratio, 83 mm x 64 mm bore x stroke, Bosch EFI with Ride by wire system, six-speed gearbox, wet multi-plate slipper clutch, RbW throttle, EFI.
---
Chassis:Tubular steel frame with aluminium alloy swingarm
Suspension: 41mm KYB upside-down fork, fully adjustable, 150mm travel, KYB shock with preload and compression adjustment, 150mm travel.
Brakes: 320mm rotor (f), radial-mount J.Juan caliper and conventional master-cylinder, 260mm rotor (r), floating type J.Juan caliper, ABS.
Wheels & Tyres: MT 60 RS 110/80 R18 (Pirelli), MT 60 RS 180/55 R17 (Pirelli)
---
DIMENSIONS
Wheelbase: 1435mm
Seat height: 800mm
Ground clearance: 160mm
Overall width: 860mm
Overall Length: 2100mm
Overall height: 1150mm
---
Electronics: Round 75mm retro classic-style LCD, Economy and Sport modes,cruise control, USB charging input, TCS and ABS
---
The Verdict | Review: 2021 CFMOTO 700CL-X Heritage