The 2022 Moto Guzzi V9 Bobber Centenario celebrates 100 years of this iconic brand and is only available this year. We take the revised Bobber and put it to the test... Photography: HMC Photography
With a bigger motor giving a boost in power and torque, along with chassis, styling and electronic updates, the Moto Guzzi V9 Bobber has a lot to give, particularly in the stunning Centenario Edition, available now for $19,330 R/A and only for this year… 
The Special Anniversary model v9 Bobber released to celebrate 100 years of Guzzi comes with special green Otto cilindri (check out our test of the iconic V8 Grand Prix bike here) front guard and aluminium side covers, anniversary badges and logos, a special seat and alloy silver fuel tank.
---
---
The Bobber comes with fat 16in wheels and tyres, with a 150-section rear and a 130-section front. It also has lots of blacked out areas in true Bobber fashion, along with flat handlebars and a lower front-end compared to the V7, which also has larger wheels. There are plenty of updates, as you can read about in the tech breakout below, the biggest of course being the engine upgrade.
---
---
The last time I rode a Moto Guzzi was way back in 2015. It was a review I did on the 2015 V7 Stone, and it was a bike I really enjoyed a lot. The Stone was a fun little bike but one of the slowest motorcycles I can remember riding! So the current upgrade to the bigger motor is more than welcome.
---
The transverse twin in the V9 Bobber is from the V85 TT (read our TT Travel review here). It's a re-tuned version of the engine, designed to provide maximum accessible torque, and puts out 47.8kW@6800rpm and 73Nm@5000rpm, with over 80 per cent available at just 3000rpm.
---
---
The V9 Bobber is a stylish little cruiser that looks even more special in the Centenario colours. It's a premium product that is still made in Italy and that shows, which will help some owners to justify the high price tag (you could almost buy an Interceptor and a Continental GT for the same price and they are very similarly decked out). Everywhere you look on the V9 you see quality workmanship, great finish and typical Italian style that really demands attention. It's a stunner, that is for sure.
The V9 is a great little cruiser. I spent two weeks using it as my daily ride, plus snuck in a full day loop from my place on the Central Coast, down through the Old Pac and over to Palm Beach via the National Parks. The ride was four hours return and just over 300km the way I went, and what surprised me was the comfort level of the V9. There are no other Bobber styled cruisers I can think of that I could spend that long on with only a few stretches. At 187cm tall, the V9 Bobber ergonomics suit me well.
It's a small bike. Despite the hefty weight of 210kg ready to roll, the V9 feels like a smaller machine, particularly for a cruiser. The tank is narrow and the positioning of the engine, with the cylinders in front of your legs, means that there is no impact there with the ride position. The 'bars are fairly wide and flat but with a low 785mm seat height and mid-mount footpegs the reach is natural and the rider triangle roomy and relaxed, even the stand is easy to reach.
---
---
My only gripe is the short distance between the gearlever end and the footpeg, it's crazy short. I have average sized feet (11) and I struggled to change gears. Speaking of which, the gearlever doesn't return from second gear if there is torque load on the gearbox. It's a pain in the neck and pretty dangerous. You have to roll off and shift twice…
---
---
The switches are all good quality Guzzi kit, the mode button is on the left hand block and the right has the start/kill switch and start. It's a basic setup, easy to use but I found the dash a bit hard to navigate. There isn't a lot of info there and there is no fuel gauge! Data includes a clock, ambient temp, odo, trip, average fuel, hour meter, traction control and average speed. It's an old school LCD display. Incidentally, fuel consumption was exceptional at 3.7L/100 and over 240km between low fuel warning each time. That's less than the claimed 4.9L/100km… and a possible range close to 400km from 15L.
The engine is a gem, with more character than just about anything out there in 2022, even a nice yet quiet exhaust note. It's such an engaging twin, that takes time to appreciate like most things Moto Guzzi, but once you get bitten by the Guzzi bug, you're done and dusted. from idle it engages, with a swagger and a neat note. The fuelling is smooth and pickup off idle is strong. From 3500rpm there is a real kick and the 853cc 90-degree twin makes the V9 Bobber a fun ride.
---
"It's not going to win any drag races, but it is perfectly suited to the rest of the bike and is one of those engines that is quicker than it feels."
---
It's not going to win any drag races, but it is perfectly suited to the rest of the bike and is one of those engines that is quicker than it feels. It fools you… How it would be with a pillion and or luggage, I'm not sure, I wasn't able to get Heather out for a spin, the small pillion seat and lack of grab rail not so inviting, plus there is no storage at all under either seat for even phones or wallets.
---
---
Clutch action is light and smooth, fuelling good and the gearbox is mostly slick aside from that sticky second gear return issue mentioned. There is quite a lot of engine braking on offer, which does promote a little torque reaction from the crank and the shaft drive, but nothing to worry about.
Vibrations are a constant, particularly through the bars and therefore the mirrors (at all times) but they are low frequency and the occasional hand stretch against the grips helped keep the pins and needles away. I call it it character, the motor is just letting you know it's there! On the freeway, it ticks along at just 2000rpm@110km/h, it really is never working too hard…
The V9 Bobber handles exceptionally well for a cruiser, in fact, I'd say it is best in class when compared to the other Bobbers out there. This comes down to the suspension set-up. This is a rare cruiser that can handle the big bumps more like a traditional nakedbike. The 40mm conventional forks are just about spot on and offer great support on hard braking and on the smooth stuff while going for it, while also giving a plush ride on bumpy roads and urban streets.
---
---
While at the back, the twin shocks are also just right for the application and aside from a few mm more preload, I did not tough them. Considering the unsprung weight of the shaft drive and rear wheel, they do an exceptional job, with only the slightest kick back when really pushing forward.
---
---
Steering is quick and reasonably accurate, despite that fat front tyre making itself known, as well as the wide rear. This is one are where style overrides sense with a bobber, but they do look good. Of course, 16in both ends, narrower rubber and dual front rotors would be ideal, but then it wouldn't be a bobber!
Because of the wide bars, the V9 Bobber can be flicked through the twisties with ease.
You can feel the stable geometry and the wide rubber but with a little extra body English, it responds really well, only limited by ground clearance when the footpeg hero blobs touch down quite early on. Those D404 Dunlops are not my favourite tyre, either, as they follow road irregularities, cause a weave on the highways and tend to overheat and get a bit loose in the twisties. There could be better options out there, I'm not sure.
Stopping the V9 Bobber is not a problem. There is only the one front rotor but the Bobber has an oversized (260mm) rear rotor and good Brembo calipers. They need a decent squeeze and don't expect MotoGP feel, but they get the job done and there is ABS to back you up. At the back there is also traction control, which was on L1 for my test and I did not notice whether it intervened at any time.
Overall I loved the V9 Bobber, it really grew on me and the heart of the bike, that transverse pushrod V-twin, is such a gem. It's the beating heart of the bike and really gives out the sense that the machine is alive. The V9 Bobber is quirky, niche, endearing and very much a fun bike. I suggest you go and try one if you are in the market for a cruiser or a nakedbike, but try and get a decent ride not a short spin around the block as they are just too left field and you need some time to 'get it'… The price is high but if it's what you want, you may be happy to pay the premium.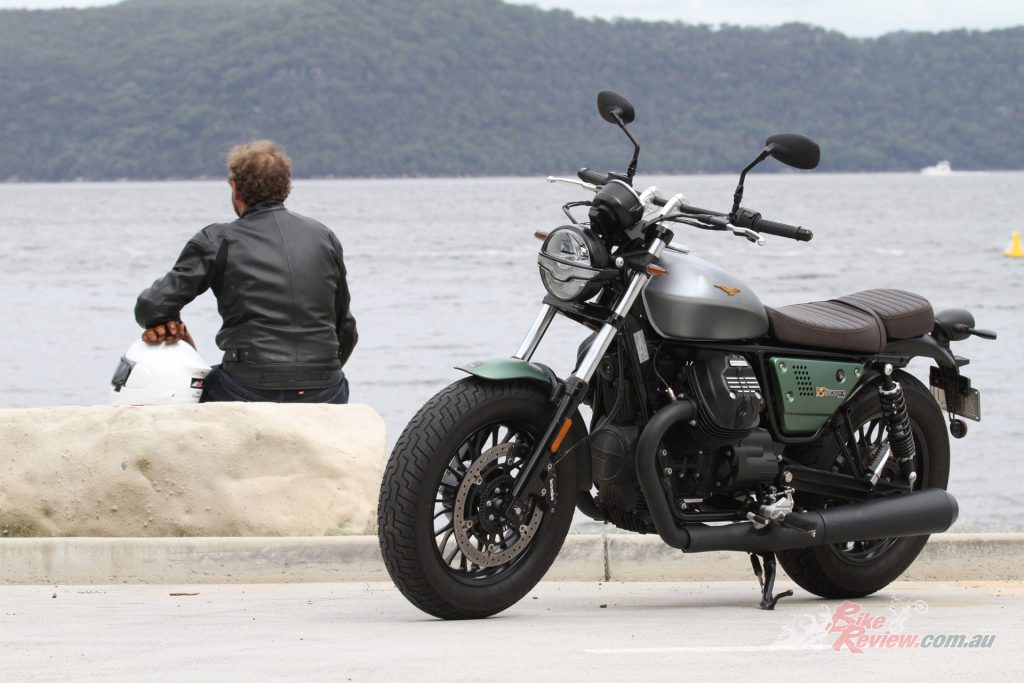 Moto Guzzi V9 Bobber Tech
The Moto Guzzi V9 has been a popular bike in the Guzzi range since its release back in 2016. For 2021/22 they have updated the model with a new frame, new engine seen in the V85 TT, new colour schemes and new ergonomics.
The powerhouse of the V9 is the 90° transversal, air-cooled V-twin using pushrod and rockers with two valves per cylinder (intake cylinders in titanium). With a bore and stroke of 84 x 77mm, the V9 remains at 853cc. Moto Guzzi say this is their most advanced engine yet and is able to deliver a maximum power of 47.8kW@6800rpm and a healthy 73Nm@5000rpm . The unit now has greater torque at low and medium rpm thanks to revised pushrods and cams as well as adapting more tech to the V-twin.
---
---
Rubber mounted footpegs reduce vibrations and are new for 2022. In addition to ABS, the adjustable MGCT traction control system, which can be manually disabled, also comes standard on the 2022 model.
---
The 2022 V9 Bobber has a new seat with a minimalist design while the aluminium side panels and the short front mudguard are also new. The updated model also boasts a new digital instrument cluster and a full LED lighting system that includes the brand new front headlight with DRL. Moto Guzzi MIA, the multimedia system that lets you connect the bike to your smart phone, is available as an accessory.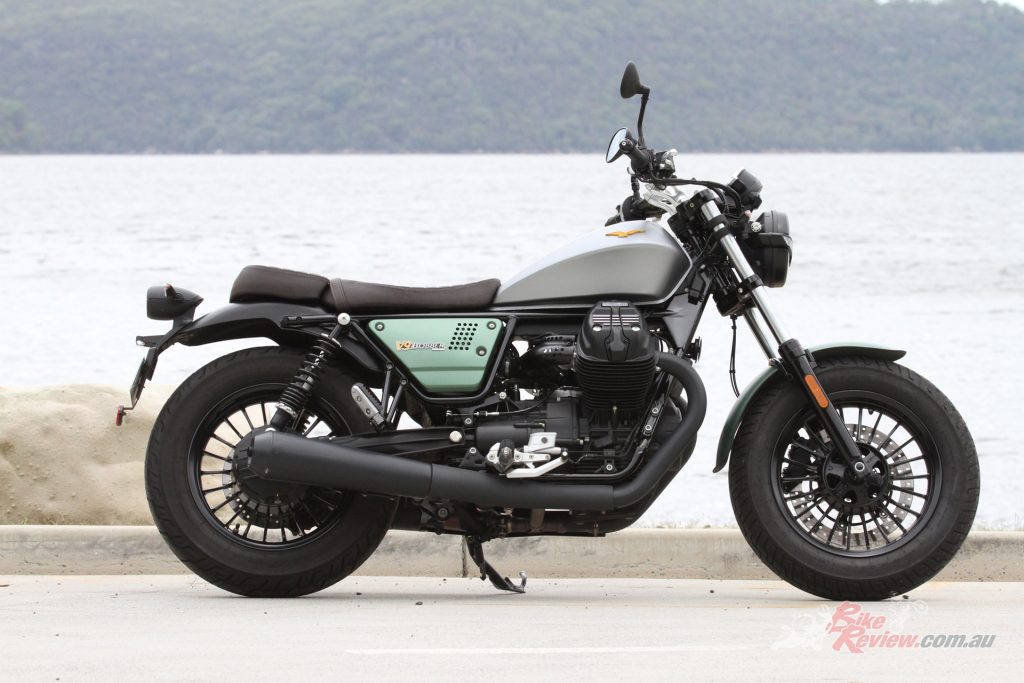 The new frame has been created to ensure riders feel in control at all times. Suspension at the front is sorted by 40mm hydraulic telescopic forks, while the rear is a dual swingarm setup with two adjustable shocks, spring preload only. Braking is sorted by a single 320mm stainless steel floating discs with four piston Brembo radial-mounted calipers  and a 260mm stainless steel disc, twin-pistons floating caliper at the rear.
---

2022 Moto Guzzi V9 Bobber Centenario Specifications
Price: $19,330 rideaway
Colours: Nero Essenziale
Kerb weight: 210kg
Fuel capacity: 15L
Power: 47.8kW@6800rpm
Torque: 73Nm@5000rpm
---
Engine: 853cc four stroke, Transversal 90 degree V-twin, 2-valves per cylinder, 84 x 77mm bore x stroke, 10.5:1 compression, EFI 52mm single throttle body, Ride by wire.
Gearbox: Six-speed, shaft drive
Clutch: Dry single disc
---
Frame: Steel tubular
Suspension: 40mm hydraulic telescopic fork. Dual swingarm with two adjustable shocks for spring preload.
Brakes: 320mm stainless steel floating discs Brembo radial-mounted four piston calipers, single 260mm rear brake twin-piston caliper.
Wheels & Tyres: Aluminium 130/90-16, 150/80-16
---
Dimensions:
Wheelbase: N/A
Seat height: 785mm
Ground clearance: N/A
---
Instruments: LCD Dash
---

The Verdict | Review: 2022 Moto-Guzzi V9 Bobber Centenario