With new styling, an electronics suite and highly developed engine and chassis updates, how good is the new 'Busa? We escape from lockdown to find out... Review: Jeff Ware Pics: HMC Photography
If you are old enough to remember the first Hayabusa and the impact it made back in 1999, you will understand why it has only needed two updates in 22 years. A restyle, bigger motor, ABS and colours over time but now Suzuki have gone all-out and the result is astonishing…
The Hayabusa clips the apex of the fast, bumpy, second-gear corner, the weight keeping the bike planted like no other sportsbike, revised suspension soaking up every millimetre of imperfection in the surface. The front S22 is hooked up like it's glued to the road. The rear hoop is fighting for traction, an impossible battle between 190-horsepower and a few stones and tar. Spin, grip, spin, grip… the engine is howling and my kneeslider is skimming the white line…
---
"The front wheel launches in the air as the 190-section Bridgestone finally gets enough rubber on the road to defeat the might on the most powerful inline-four it is ever likely to battle"…
---
As the 'Busa and I climb out of the turn I open the throttle to 100 per cent and tuck in tight. Grip, spin, grip, spin… the front wheel launches in the air as the 190-section Bridgestone finally gets enough rubber on the road to defeat the might on the most powerful inline-four it is ever likely to battle, just as I snick third via the best production quickshifter I have sampled yet. I pull my weight forward, dab the rear brake and the front settles back to earth smoother than an A380 landing…
Launched in 1999, the Suzuki GSX1300R is The Boss of the Hyperbike class. When it arrived it took speed and power to the next level by adding handling, making the Hayabusa the first genuine Hyper Sportsbike. But if we really want to trace the roots of the 'Busa back to where, when and why it is so special, we need to look at the very first Suzuki RG250, the WE1 of 1983. Why? Because this was the first alloy framed production bike to come out of Japan. Etsuo Yokouchi led the project and soon after the amazing GSX-R400 arrived. We were seeing GP technology hit the streets…
---
---
The GSX-R400 was 18 per cent lighter than the nearest rival, so Yokouchi-San figured if it was possible to do that with the 400, it will be with a 750, and then we had the incredible GSX-R750F of 1985, the bike that changed the four-stroke world forever. But it was the bike that followed that set us lucky riders up for what we have today in the Gen III Hayabusa. It was something never seen before…
---
---
For in 1986, a machine rolled out that was so far above and beyond what anyone had ever seen that it started a high-speed horsepower war that is still going. That bike was Great Grandfather of the Hayabusa, the GSXR1100 HyperSports, with 137hp and an ultra-lightweight chassis. In 1993, the heavier but more powerful WP version came along. This could be considered the Grandpa of the 'Busa, as it was the first water-cooler GSX-R1100, and continued until 1998…
---
---
It was then that the Hayabusa blew everyone away. I still remember the first time I saw one. I was living in Japan at the time and a mate of mine, ex 500GP rider Toshi Arakaki, was testing one for the magazine Big Machine. He later raced one in the Suzuka 8-Hours, as did Shawn Giles. Wild!
My uncle ended up buying one brand new, in red and black. He previously owned a ZZR1100 from new, but the Hayabusa completely destroyed the ZZR on every level. I did ride my Uncle's Hayabusa a few years later but it wasn't the first one I ever rode. The very first time was in 2000, and it was a friend's bike. I was racing ASBK at Winton and he was there to help in the pits. He had ridden from Sydney and let me ride the bike from our hotel to the circuit on the Saturday morning.
---
"I will never forget that first Hayabusa ride – the sun was in my eyes, it was freezing cold, and I had never been so fast in my entire life"…
---
I will never forget that first Hayabusa ride – the sun was in my eyes, it was freezing cold, and I had never been so fast in my entire life. It was the start of a long love affair with the machine. I've had three long termers, which I modified in various ways with Suzuki Motorcycles Australia, and I've ridden well over 100,000km on the model over the years, and I've ridden 500hp turbocharged Hayabusas! I have a soft spot for the turbo ones, as we ran one on the cover of our very first magazine, Moto, back in 2004, and featured many more in Rapid Bikes over the years. Hayabusas have supported my family in some way when I think about it!
---
---
I also attended the World Launch of the Gen II, held at Road America circuit, as well as at a drag strip, in the States. The Aussie ABS launch was awesome, Suzuki Australia let us all loose on the drag strip at Willowbank and we had a drag shoot-out. I came second to Alex Gobert, it was all a good laugh!
One memorable trip was what I called the Devil's Run, 666km west and back in 24-hours to Cobar. What a ride that was! Heather and I also toured around Europe on a Hayabusa in 2007 for a month or so… It was the perfect bike for the no speed limit autobahns! But eventually the then cutting edge Hyperbike would age, and over the past few years there has been a few colour updates and that is about it. There were rumours that the Hayabusa would be discontinued but I never believed that..
---
---
THE RIDE
I turn around, pull over and chat to Heather, who had been filming video and just picked up her other camera as she heard the 'Busa howling, turning around and clicking off the wheelie shot as I came past. "Should you be riding like that around here?" she smiled… "Honestly, it was an accident. This experience can only happen on a Hayabusa, no joke, it's madness when it gets wound up"…
The engine has been refined and despite sharing the internal geometry and capacity of the Gen II, every single component has been tweaked for 2022. The same goes for the chassis… Click the link below to read the huge tech article on the bike, with all of the 2022 changes.
---
Read our comprehensive Tech Article on the 2022 Suzuki Hayabusa here.
---
---
The bike feels totally familiar to this Hayabusa fan, in fact, if I didn't look down, I could almost be fooled into thinking I'm on the previous model, this is, oddly, despite the new riding position. It's a position that is as close to perfect for a road bike as I've ever experienced. I'm 187cm tall and everything is exactly where it should be for me. The handlebars are 12mm closer now, which makes a big difference when entering corners, giving better control over weight shifting, and better front communication.
---
---
The footpeg/seat combo feels the same to me, the tank possibly narrower but I can't be 100 per cent sure. It's a good position for touring and scratching and the levers, switches and controls are standard Suzuki gear and super intuitive. The screen seems taller than before, while the mirrors are smaller and not the easiest to see clearly through. They are vibe free but an odd shape…
We shoot the rest of the cornering shots. Limited by COVID-19 restrictions, with four kids arguing in the family wagon, we opt for a couple of hairpin corners close to our home. One of them is a first gear switchback that is very hard to get right. I've been riding this road since 1992, and count on one hand the amount of times I've been able to get this particular corner spot-on.
---
"I felt so comfortable and confident on the 'Busa, particularly with the planted front-end, that I had my knee down on the second pass"…
---
Today is one of those days, and amazingly, it's on a huge bike. I feel so comfortable and confident on the 'Busa, particularly with the planted front-end, that I have my knee down on the second pass, scraping the 'pegs all the way around. I could not do that on my own previous two Hayabusas…
---
---
The previous models handled superbly for what they were but this is that bit more polished and refined in every part of the cornering process, and somehow more stable AND agile at the same time. There are no surprises from turn-in, to how progressively the bike leans all the way to full lean angle, and it changes line at will, more like a Supersport bike than a Hyperbike. Trust me, the cornering does not match the looks of the bike at all. Sportsbike riders would be shocked if they had a spin on this…
---
---
The brakes contribute to that confidence. Straight-line stopping power is strong, with more force and feel than before and definitely more stability, partly thanks to the reverse-shift of the quickshifter and the Engine Brake Control (I had it OFF most of the time, which gave maximum engine braking), and thanks to the Suzuki Intelligent Ride System and Motion Track Brake System, giving optimum brake performance and tyre grip in upright and leaned over situations when braking. Power and initial bite are good, although a Brembo master-cylinder would be nice. When I do ride with the TC switched off at one point, I do feel the brakes are more powerful, however, that may have been my imagination not S.I.R.S.
Aside from when I have the Busa spinning and monoing, when I have it all switched off, I do the shoot in SDMS C, which I use a lot during the test period, and the bike just feels so easy to ride. In B Mode, the throttle is choppy and when running into a corner with a closed throttle, there is a flat-spot and delay in engine response when the throttle is re-opened. I'd say there is a software issue there. I only experience the problem a few times in A Mode.
---
At low speed, even doing the U-turns on off-camber hills, with the Low RPM Assist and Hill Hold Control, along with the 5mm lower seat and 50/50 balance of the bike, it's all just made so easy for the rider… Plenty of steering lock is available, too, and the levers are well placed and span adjustable for added user adjustment.
---
---
Stopping and starting, little things stand out, such as the ease of reaching and flicking down the sidestand, the single push starter button, and even the running temperature, I'm not cooking on the bike despite full leathers. The refinements stand out all over the place. It is like an all-new bike.
The dash is a work of art, it truly is, with analogue-styled tacho and speedo and a small TFT screen in the centre. I find the TFT is easy to navigate, settings are quickly accessible and it looks good, however, in the name of modernisation, I would prefer a large TFT only display, with BT connectivity to my Cardo Comms system and my iPhone. But that is just me… I find it difficult to read the dials at a glance and as for the TFT, I need to be pulled over and stopped to navigate through it, there is just so much in there available… Again though, the access is intuitive and very easy to learn quickly.
---
---
The next day I head out on a big test loop. It's lockdown and I stick to my LGA, which fortunately covers about a 260km area. The 'Busa gets me through the suburbs quietly. It's smooth and an impressively easy commuter. It's hard to believe just how fast the bike is. How many supercars do you know of that can blend in quietly during morning peak hour? The Hayabusa is the ultimate street sleeper, although the deep raspy idle does hint of what is hiding under the bodywork… The active speed limiter is cool, set to 70km/h, I can't lost my licence for speeding on my way out of town…
Gliding onto the motorway at what feels like just above idle in top gear, the Hayabusa gets me to 110km/h (3,500rpm) in a blink, without even breathing on the throttle. I arm the cruise control to test it for the first time and settle in for a 40km motorway test run. The bike is much more of a protective pocket from wind blast than it was before.
---
It's a  quiet and comfortable place behind the screen. The engine is smooth, vibe free and running like a Swiss clock. However, I start to notice some surging or hunting. Ten or so minutes in and this is making me feel a little sea sick to be honest… I try the Cruise on different SDMS modes and at plus and minus 10km/h but it returns. There may be a mapping issue that needs to be ironed out.
Another thing I notice is that once cruise is active, scrolling through the dash is not possible, as the same button controls the speed in cruise, so you can't check range, consumption or any of the info you might want to see while touring. It really is a strange oversight…
---
---
On C Mode and with cruise off, the Hayabusa is absolute rolling comfort on the highway, at least is is or me. I've ridden the Gen II from Sydney to Melbourne multiple times in one hit with only fuel stops and I could see myself doing it in even more comfort on the Gen III. Remember, this is a sportsbike, but just a huge one, that happens to be one of the best touring bikes ever produced…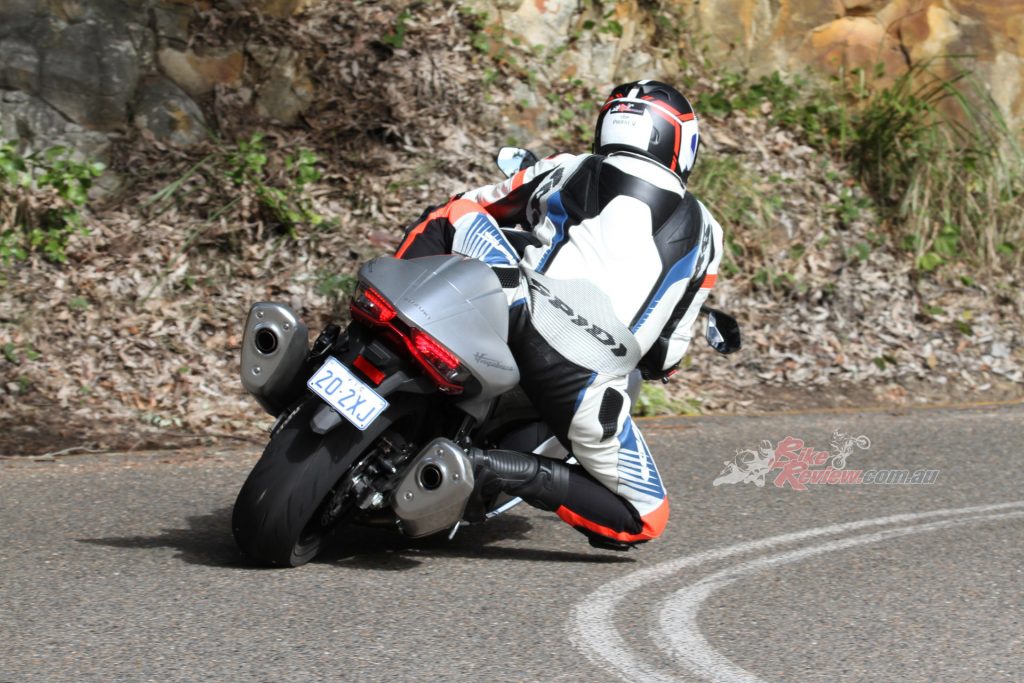 Off the motorway, I hit my favourite test road for a run through tight and technical twisties, fast and flowing roads and some bumpy country sections as well. I switch to A Mode, up the TC a step due to the road surface, and make my way north. As I flick the Busa from full lean to full lean, the S22s already warm, the ride just keeps getting better. A heavy bike, on amazing suspension, with modern grippy rubber, is something else…
---
"A heavy bike, on amazing suspension, with modern grippy rubber, is something else"…
---
Where a sportsbike chatters and tries to either break your back or bounce off the road, the Hayabusa glides. Where a nakedbike tries to blow you off the back, the Hayabusa draws you closer. By the time I get to the end of the section, I'm thinking it has been resurfaced. I head down and back for another go and realise it hasn't been. I just can't feel bumps on the big bird. The suspension is simply incredibly on every level. Supportive on smooth roads, silky smooth on rough roads. It's almost as if it is electronic.
It only gets better as I enter full-blown Hyperbike territory. Dual lanes, 90km/h advisory sweepers (chuck a 2 in front) and clear road ahead. The next 20km I enter that world where everything slows down the faster you go. A place where the the road turns into a tunnel and deafening wind noise becomes silent. Very few bikes get you there. The Hayabusa does it the quickest.
---
A place where the the road turns into a tunnel and deafening wind noise becomes silent…
---
Head on the tank, throttle pinned, I can feel every millisecond being filled with rider aid technology, keeping the Hayabusa and I tracking true, wheels inline, rear wheel driving and front not tucking through full lean, full throttle top gear sweepers. Basically, the S.I.R.S is keeping me and the bike in one piece. Trusting the technology and entering the Hyperbike zone is something I can't fully explain but many of you would have experienced it. The new Gen III takes that experience to the next level.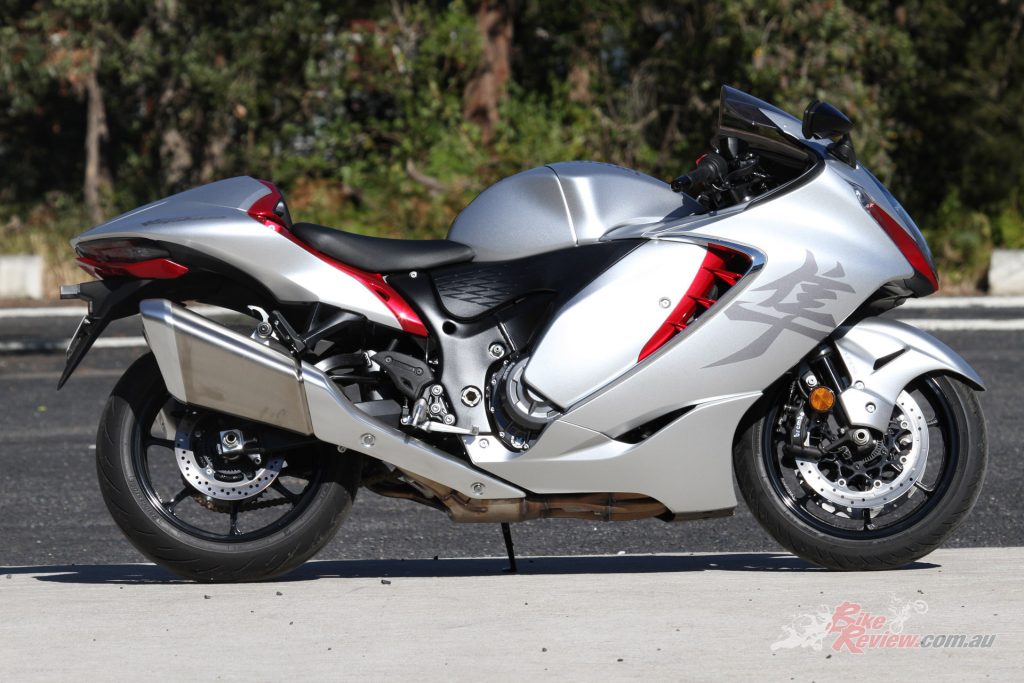 I stop for a break and admire the Hayabusa for a while. From 5000rpm onwards, it is so, so quick. The bottom-end and mid-range is supposed to be improved but I can't tell, I'd need to ride the Gen II back-to-back with the Gen III. It feels a little softer and more controlled to me, in all of the SDMS Modes, until the top-end of the rev range. However, with TC Off, Power on 1, it is mega, mega fast and feels more aggressive and builds revs quicker than ever before….
---
---
I spend the rest of the day playing with the electronics, making up a few User Modes, testing each SDMS while swapping individual settings, but to be honest, the Suzuki presets are very good and unless there is some specific thing you need to change, such as less engine braking or to turn the TC off, most of the time you will choose an SDMS Mode.
---
I find a quiet spot to play with the Launch Control. It's a blast and easy to use. It's armed via the start button and there are three levels, 4000rpm, 6000rpm and 8000rpm. Once armed, you keep it pinned and concentrate on clutch feel and feed to get the ultimate launch. If you overheat the system, or try to do more than a few launches in a row, it won't progress from Mode selection for a few minutes, in order to let the clutch and engine cool down. It's great fun, but don't get busted!
I am blown away by the Gen III Hayabusa and I am so glad it isn't a completely redesigned motorcycle. When you have this much naturally aspirated grunt, power, and refinement, you don't need a supercharger or a turbo or another 200cc… The Hayabusa was almost perfect when it was released 22-years ago, and when something is so good, it would be crazy to try and redesign it. The refinements made are from decades of experience and feedback on the bike, and it shows. Everything is better, from the handling to the engine, the electronics to the styling, but somehow it is still the same…
---
There are some great accessories available for the 2022 Hayabusa, click here to shop…
---
SPECIFICATIONS, 2022 Suzuki GSX1300R Hayabusa
Price: $27,690 Ride Away. With high demand and limited supply, reservations for this highly anticipated motorcycle are exclusively online via Suzuki's the Build and Order feature. 
Colours: Glass Sparkle Black / Candy Burnt Gold and Metallic Matte Sword Silver / Candy Daring Red
Warranty: Two-Years unlimited km
Top Speed: 299km/h (electronically limited)
Claimed Power: 140kW[188hp]@9700rpm
Claimed Torque: 150Nm[110ft-lbs]@7000rpm
Fuel Capacity: 20L
---
Engine: Liquid-cooled DOHC inline four-cylinder, 16-valve four stroke, TSCC, bore and stroke: 81 x 65mm, displacement: 1340cc, compression ratio: 12.5:1, Suzuki Side Feeder Injector EFI, 43mm throttle-bodies, ram air, four-into-two-into-one-into-two, stainless steel, cat converter, stainless steel tapered mufflers. Gearbox: Six speed, constant mesh Clutch: Wet multi-plate, hydraulic actuation
Final drive: O-ring chain
---
Chassis: Twin spar alloy, steel sub-frame
Rake: 23 degrees Trail: 89.9mm
Suspension: Fully adjustable 43mm KYB inverted forks, DLC (Diamond Like Coating), 120mm travel, fully adjustable KYB shock, 140mm travel
Brakes: ABS, dual 320mm rotors with four-piston radial-mount Brembo Stylema calipers, conventional master-cylinder, single 260mm rotor with single-piston Brembo caliper
Wheels & Tyres: Alloy seven-spoke, 3.50 x 17in, Bridgestone 120/70 ­– 17, 6.00 x 17in, Bridgestone 190/50 – 17 S22.
---
Dimensions:
Wheelbase: 1480mm
Ground clearance: 120mm
Seat height: 800mm
Overall height: 1165mm
Overall length: 2180mm
Overall width: 735mm
Weight: 264kg
---
Instruments & Electronics: Analogue style gauges and TFT central display. S.I.R.S, SDMS, Bosch IMU, Quick Shift, Engine Brake Control, Traction Control, Launch Control, Cruise Control, Active Speed Limiter, Cornering ABS, Lift Control, Hill Hold, Low RPM Assist, Emergency Stop Signal.
---
The Verdict | Review: 2022 Suzuki GSX1300R Hayabusa
It was already an amazing motorcycle and now that Suzuki have brought the Hayabusa into the modern era, it truly is the ultimate street sportsbike. We test out the new electronics and chassis upgrades over a wide range of conditions on Australian roads…