Is the Road Glide Special all about big miles, relaxing on cruise and taking in the scenery? I thought so, until I reached the hills and realised what a versatile motorcycle this big beast is... Review: Jeff Ware Photography: HMC Photography
Rolling into HD HQ in Sydney on the Breakout 114, to swap it for a stint on the 2020 Road Glide Special, I have to admit I was looking forward to ditching the back breaking Breakout. I was keen for something a little more Business Class. Not long later, I was flying in style…
The FLTRXS Road Glide Special comes in at $39,250 Ride Away or $39,750 as tested and has been a class hit since it was introduced four years ago. With power to match the menace, loads of creature comforts and plenty of style, the bike is popular. Now with RDRS (Reflex Defensive Rider System) standard here in Australia, the Road Glide Special is even more, err, special…
---
---
Powered by the stunning Milwaukee-Eight 114 V-Twin, with 120ft-lbs of torque and long, wide gears, the RGS is fast, flowing and fun to ride. It is also extremely well equipped with a multi-language multi-function analogue and digital full colour TFT display, handlebar mounted controls, central screen, Boom Box 6.5GT audio system with GPS and touchscreen, charging port in fairing, LED lighting all around, Cruise, Cornering ABS, Traction Control, Hill Hold, Torque Slip Control and more…
You can find out more about the RDRS here. In short, it is a full blown safety pack with cornering ABS and cornering TC and lots of other features. To find out the difference between Road Glide versions, click here, and you can also read about 2021 upgrades.
---
---
After a quick chat to Marcus at HD, who was manning the fort so to speak during COVID-19 restrictions, I headed off on the trip home, almost alone on the road as most people had to stay home. It was my very first ride on a Road Glide and by the first stop, which was for a quick lunch, I was seriously impressed with the bike. How could near on 400kg feel so easy?
---
---
As I social distanced and downed a Big Mac, I looked over the 'upsized' Big Mac Meal of motorcycles. The paint, machining, welds, fit and finish is stunning. The size is enormous and the bike is intimidating. Looking at it parked there I couldn't understand how it handled so well…
---
With cruise set to $1.20 and some old school deep house cranked to full noise, I headed in the direction of home…
---
Sure, it was hard to ride in the initial low speed light traffic, some start and stop and so on, however, it was only the weight that made ultra low speed balancing tricky. Linked brakes don't help there either. But over the speed of 15km/h, the Road Glide Special is easy work. A light clutch, smooth throttle and commanding ride position help.
As soon as I reach the open road, I have to admit, I was feeling pretty good on the Road Glide Special. The effortless way the engine ticks over and has pulling power from low rpm, the tall gearing and super smooth ride is just so good on the motorway. With cruise set to $1.20 and some old school deep house cranked to full noise, I headed in the direction of home, but with a detour planned…
---
---
After a half hour experiencing the luxury of the RGS on the motorway I indicated left and peeled off for the local twisties. It was late arvo and I had the road to myself. I began easing into it but before long I was carrying more corner speed than I had on just about any other HD and definitely more than on many other ultra tourers.
---
---
The Road Glide Special has 32º of lean angle, big wide' bars and a foot position that allows the use of 'peg/board inputs. This, combined with the narrow rubber and firm suspension, makes the bike an accurate and enjoyable cornering machine. It really is a laugh and must look crazy!
Through sweeping turns, getting the RGS from full lean, up and over, onto the other side for a direction change isn't as hard as it should be for a big bike. And there is no sudden fall, or stand-up, the bike is linear throughout direction change and settles quickly once at full lean angle.
---
A six-pack and bottle of vino easily fits in one pannier. With my laptop and camera in the other side, the Road Glide Special had become my rolling office!
---
The boards skim the road smoothly, letting you know you are on the limit, but watch your boots – my foot was reefed off the board once when my heel gripped the tarmac. It could have been a disaster as I wasn't 'cruising' at the time. Something to be aware of for those like me that are used to normal 'pegs.
---
---
The braking package is brilliant. Two stoppers up front and a big one on the rear. The Road Glide Special tips the scales at 387kg wet and the front rotors are only 300mm, small by most standards, while the rear, also 300mm, is huge for a back rotor of any other class.
---
---
But with the four-piston calipers up front, help of the intelligent ABS system, the braking performance is a highlight, and not just in a straight line. Into turns, halfway around turns, in the wet or dry, the Road Glide stops with power, feel and amazing mechanical grip.
So as you can tell, by the first day I was impressed with the handling and the engine, which surprised me given the category of the bike. I soon rolled into my home town and decided a few amber ales and a glass or two of red was just what I needed while I read the owner's manual.
I then discovered one of my fave features, a six-pack and bottle of vino easily fits in one pannier. With my laptop and camera in the other side, the Road Glide Special had become my rolling office!
---
---
When I pulled up in my driveway, music blaring, Heather and the kids were just hopping out of our people mover. "Oh my gosh, you've become one of them!" smiled the pillion in a million… The kids went nuts and reckon it was the coolest bike they had ever seen and as it was my fourth HD back-to-back they said this one was the best Harley yet! Future customers?
---
---
Over the next few days I used the RGS as my daily ride. The bike is hard work to live with daily, as you would expect. The panniers are handy but the sheer size of the bike limits lane filtering, general traffic negotiating and parking options.
---
---
I also worried about the bike getting damaged by a low speed drop, a car parking or someone sitting on it (the attention this bike gets from the public is insane, some will love it, I found it annoying) or playing with the switches.
The first chance I got to take a day away from the desk, I jumped on the Road Glide Special, with no plan or destination, just a full tank of fuel. When I arrived at the on ramps to the M1 Motorway, I chose to head north. With cruise set to $1.15 and some cool tunes on I sat back and took the scenery in. I needed a break form the world and this was the perfect way to do it.
---
---
The Road Glide Special is comfortable, at least for me, with an easy going rider triangle. I like the bend of the handlebars myself, with elbows in and slightly dropped. The only thing I'd like is some forward mounted highway 'pegs, an easy fix… It'd be nice if the screen was adjustable and taller for cruising and the rear suspension is quite jolting on the high speed compression bumps (such as joins in the concrete on the highway), so the ride is not as plush as some big tourers. However, the compromise is the good handling and I for one am happy to put up with the bumps…
---
---
Before I knew it I had done over 300km in one stint, aside from stopping to take a photo. When I called Heather to tell her I was in Port Macquarie, she almost dropped her phone! A quick Red Bull and fuel top up (18.5L) at the servo and I was on my way home. Next stop, Beresfield, a 240km stint. No sweat. A stretch and another drink, a quick look over the bike and I was away.
---
---
I continued on south down the M1, feeling a million bucks after having all those miles to clear my mind (a pretty cluttered place). Port to my hometown is 360km. I didn't quite push it that far, topping up 25km from home. I'm sure I could have made it but it was dark and I was getting tired…
---
---
I arrived home and parked the RGS in the shed. I soon cracked a beer and sat back, admiring the bike and listening to it tick as it cooled down, just like I was. It was one of the best tasting beers I remember. The day had not been overly long compared to the many interstate rides I've done over the years but I didn't rush, barely sped, sat back and chilled.
I had enjoyed a side of motorcycling that was just not part of my life with 23-years of road racing and publishing sportsbike magazines before BikeReview was born. I see myself doing more of this in the future and can appreciate every inch of the Road Glide Special.
If you are after a big twin tourer and want to enjoy some proper cornering, this is a cracker of an option for you. To find your local Harley dealership, click here…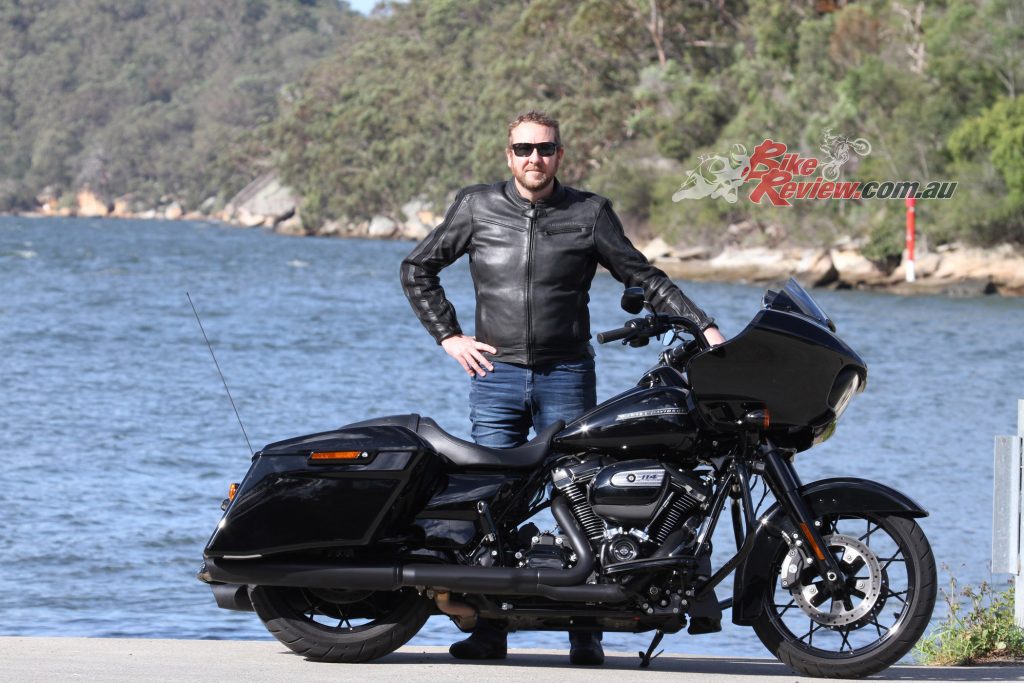 ---
---
2020/21 Harley-Davidson FLTRXS Road Glide Special Specifications
Price: From $39,250 Ride Away ($39,750 as tested)
Colours: Vivid Black (chrome), Billiard Teal (chrome), Midnight Crimson (chrome), Billiard Red/Vivid Black (chrome), Snake Venom (chrome), Vivid Black (black as tested), Billiard Teal (black), River Rock Grey Denim (black), Midnight Crimson (black), Billiard Red/Vivid Black (black), Snake Venom (black).
Warranty: Two-years unlimited km
Service: 1600km then every 8000km
Claimed Fuel Consumption: 6.1L/100km (approx 350km range)
Claimed Power: N/A
Claimed Torque: 163Nm[120lbs-ft]@3000rpm
Wet Weight: 387kg
Fuel capacity: 22.7L
---
Engine: Air-cooled Milwaukee-Eight 114 V-Twin, 1868cc (114 cu. in.), 102 x 114mm bore x stroke, 10.5:1 compression ratio, ESPFI, two-into-one-into-two exhaust
Gearbox: Primary drive: 34/46. Six-speed ratios – 1st: 9.593, 6.65, 4.938, 4.0, 3.407, 6th: 2.875 Final Belt 32/68 Clutch: Wet multi-plate, cable actuation
---
Chassis: Mild steel; tubular frame; two-piece stamped and welded backbone; cast and forged junctions; twin downtubes; bolt-on rear frame with forged fender supports; MIG welded.
Rake: 26° Trail: 173mm
Suspension: 49mm dual bending valve forks, 117mm travel, premium low hand-adjustable, 54mm travel.
Brakes: 300mm rotors, Four-piston fixed calipers (f), 300mm rotor, two-piston floating caliper (r), ABS
Wheels & Tyres: Machined alloy wheels, 130/60 – 19in (f), 180/55 – 18in (r), Dunlop
---
DIMENSIONS
Wheelbase: 1625mm
Seat height: 695mm
Ground clearance: 130mm
Overall Length: 2430mm
Overall Width: 990mm
Overall Height: 1325mm
Lean Angle: 32º/31º
---
Instruments: Multi-language multi-function analogue and digital full colour TFT display, handlebar mounted controls, Central Screen, Boom Box 6.5GT audio system with GPS and touchscreen, charging port in fairing, LED lighting all around.
---
---
The Verdict | Review: Harley-Davidson FLTRXS Road Glide Special