The SSV OzPOD is an Australian designed, developed and built electric utility moped that has the potential to change the delivery and light transportation industry… Photography: Heather Ware
Whether you shop online or not, delivery vehicles play a huge part in daily life. In fact, without them, life as we know and often take for granted would come to a screaming halt. Think your food, goods, stationary, clothes, gas supply, rubbish collection…
But it is not only delivery vehicles and drivers/riders that need reliably, purpose-built wheels. The emergency services and military, which rely on special vehicles to keep us safe and, ultimately, alive, rely on transportation more than most. The wheels of specialised delivery and emergency vehicles literally make the world go around as we know it…
---
A heavy duty, high tech electric three-wheeled moped that could well revolutionise urban and rural delivery and emergency response transportation…
---
Most specialised delivery and emergency services vehicles are adapted from existing cars, trucks, bikes, or things like mobility scooters, and developed into something that gets the job done, but not much more. Rarely do we see, aside from in military and industrial applications, a vehicle purpose built for the job at hand. Australia Post will take delivery of their first 50 OzPODS from early 2022.
Enter the Stealth Special Vehicles OzPOD, designed and built right here in Australia and about to become a common sight for all Australians… It is a heavy duty, high tech electric three-wheeled moped that could well revolutionise urban and rural delivery and emergency response transportation, all while being greener than a fuel vehicle and very low maintenance. And before you think this is a beefed-up mobility scooter, read on. Think of it more of a Gold Wing compared to a CT110…
---
In a chat with Alan Cathcart early in 2021, where we discussed the amazing Drydale V8 750, after I published a story on the 1000, Alan let slip that Ian Drysdale had a very special project on the boil in his Melbourne engineering shop that was unlike anything I had seen. I was more than intrigued and had to know more. A few days later, I got the email from AC that Ian was prepared to talk to me about the project and, incredibly, allow me to have an exclusive test. I could not get on a plane fast enough and by late April I was on my way…
---
---
I had met Ian when I featured and shot his V8, and I admire his engineering and incredible enthusiasm for doing things differently and mostly better than anyone has done them before. This project, which has been five years in the making for Ian and business partner, Stealth Electric Bikes founder and CEO, John Karambalis, has finally made it to this unit I tested, the first pre-production model. The pair have sunk over $2M AUD and 10,000-hours into development and creation of the OzPOD. And, after riding it, it was clear to me that every cent and minute was fully utilised to refine this amazing electric vehicle.
WHAT IS THE OzPOD?
The SSV OzPOD is an electric utility vehicle. It's not a motorcycle, but it is designed to be familiar to motorcyclists, both sidecar and trike riders, while being quick to learn for those more familiar with four wheels. The OzPOD is proudly Australia designed, built, and developed, and it will continue to be manufactured right here in Australia.
---
The OzPOD is proudly Australia designed, built, and developed, and it will continue to be manufactured right here in Australia…
---
This is a vehicle with huge potential, think postal and courier delivery, urban firefighting, weed spraying, security and policing, ambulance and first aid urban response, hot and cold food delivery, racetrack marshal and medic transport, factory and grounds maintenance transportation, airport transportation, the list is endless. It is designed to fit on a footpath, is no wider than, for example, a postie bike with fully loaded panniers, and it is highly manoeuvrable, as I found out, and has a a huge range.
Powered by a 5kW 50V (14kWh LiPo battery details unknown but they are supplied to SSV's design) electric motor designed specifically for the OzPOD to supply huge amounts of torque for on road, off road and steep inclines, via a conventional twist throttle, the top speed is an impressive 50km/h, with a button operated footpath speed limiter as well, with the final single speed ratio being 16.0:1, via a gearset made inhouse using compound helical gears. Think super strong! And it can be charged via a standard household 10A 240V socket.
---
---
The aluminium high-load capacity wheels are custom made for the OzPOD and are large, at 15in x 3.75, meaning full sized heavy-duty 15in x 4.00in tubeless tyres can be fitted. Smartly, the three wheels are interchangeable. So, with the final ratio and the 15in tyres, the OzPOD still accelerated swiftly to the 50km/h (electronically limited) top speed, yet will, incredibly, easily climb a 30 per cent incline with a whopping 250kg payload of rider plus 150kg cargo. Yes, this is a steam train! In fact, and I tested it, the OzPOD will stop, start, and safely complete a three-point turn on that 30 per cent incline…
---
---
But not only is that tried, tested and highly purposeful powertrain impressive to say the least, the chassis of the OzPOD is of equal (if not superior and powertrain upgrade ready for years to come) superiority over anything that is similar to this vehicle that is currently available. The chassis is developed with years of chassis testing and manufacturing experience by Ian and John, both in the motorcycle and bicycle industry, with a knowledge base and hands on experience level that very few engineers in the world could share. This gave SSV a huge starting point but, as an all-new class of vehicle, years of testing was still needed. It has paid off…
The powder coated frame is made from 1.6mm steel sheet, with 6mm plate steel gusseting in crucial areas identified during development. There are two swingarms, and the triple-clamps are machined and built in-house, along with the frame and swingarms. Geometry details are not available, but the use of a steering damper is not required, yet the steering is responsive while maintaining stability. Clearly a lot of testing done in the area. Turning circle is very tight…
The forks are 43mm conventional items with many modifications internally until the correct spring and damping rates were achieved. At the back of the OzPOD, there are super heavy-duty custom coil-over shocks for the semi-independent suspension system and huge payload. Footboards are steel with drainage and plenty of grip and room.
---
---
One of, if not the most, impressive feature of the OzPOD are the incredible brakes. Trust me, this machine stops like a supercar! With one 310mm front rotor and dual 280mm rear rotors, this three-wheeler has four big brakes being squeezed by dual circuit three-piston calipers. There is a conventional radial 14mm front master-cylinder and lever on the right handlebar, the same to operate the rear brakes on the left handlebar, and a footbrake similar to a car brake pedal that operates a split master-cylinder.
---
Trust me, stopping is not an issue. It is incredible. There is also a handbrake for backup as well as electrically operated auto brake system for stop/start delivery safety. For added safety, there is an anti-tip system that kills drive to the rear if it is detected that the inside wheel has left the ground.
---
---
The handlebars and controls are all motorcycle-like in familiarity and designed and developed in-house. Mirrors are truck style and vibe free. It is easy to see behind, either with the mirrors, via a head-check between the seat and roof, or via the reverse camera (there is also a reverse beeper to warn pedestrians that you are reversing). Reverse is easy to actuate via a switch, while starting/powering up the OzPOD is done by tapping a wrist fob to a receiver near the dash. This secure system kills power whenever a driver hops off to deliver something. It can also be used to lock and unlock the side pods and rear door. A great system.
---
---
The instruments are from an OEM supplier, as are the LED lights and handlebar switches, but it is the bodywork that is most impressive. Designed in-house by Ian, John and team, the main rear body was created using Roto-Moulding (by the same company that makes Safari Tanks) using a bucks designed and made in-house at SSV. The front guard is simply ABS plastic, but the rear unit is polyethylene, while the canopy is aluminium framing with tinted shatterproof plastic for weather protection. Seating is on a sprung full-sized all-weather lumbar support bucket style seat giving all-day comfort, while helping keep the operator in place.
And comfortable it is. Having spent a few hours riding the OzPOD around the outer suburbs of Melbourne, I can vouch for that soft, supportive seat and natural rider/driver triangle. Being an ex-courier myself (several years in vans and on bikes prior to my journalism career starting in 2001), I can appreciate how important comfort is, not only for fatigue but also for physical well-being.
---
---
The handlebar position, foot position(s) and overall ergonomics of the OzPOD feel fantastic. Easy and quick to hop on and off, great vision, a straight back, lots of isolation from bumps and a relaxed yet commanding reach to the handlebars. The seat is also high, so you get a fantastic view of the traffic ahead, at least the same as on an averaged sized bike.
That riding position also locks you in securely for cornering purposes, should you suddenly need to take evasive action. I purposely executed several very quick, sharp turns on the OzPOD to test the anti-roll (which works perfectly) and not once did I feel I was about to be ejected! There is also huge grip in the front tyre, weight on the front-end and therefore a little resistance in the bars through corners, which means as you turn (right to go right, left to go left, just like in a car, on a quad or a trike), you can support your upper body with the handlebars.
Speaking of the front-end, Ian's years of motorcycle design experience has come into play here, because the OzPOD has, surprisingly, a communicative front-end that has a similar feel and feedback to a well set-up motorcycle front-end, and it was something that gave me a lot more confidence and control than I've experienced on any other three-wheeler I've ridden. Renowned road-race sidecar builder and racer Neville Hazelman was consulted on the steering geometry. Bike riders will know what I mean as soon as they turn the OzPOD into a corner or even trail brake the front brakes into a turn. You can feel the front tyre grip through your arms, feet, and arse!
---
---
Out the back, of course, there is more grip than you could ever budge and the back of the OzPOD is planted on the ground like a loaded Mac truck. All control and feel comes from the front half of the vehicle and a fabulous job has been done there. It feels safe, stable, and predictable. Nothing seems to upset the OzPOD. I hit speed humps at 50km/h, tried to go around roundabouts on two wheels, raced through esses, and always, it stuck to the road and went exactly where I pointed it. I think it would take a hurricane to tip the OzPOD over!
---
The uses for the OzPOD are almost limitless, and it was all thought up, designed and made real, right here in Australia!
---
Undulating or corrugated surfaces are not a problem. Riding at low speed using the speed limiter on footpaths, the OzPOD easily fits on the actual pathway, is stable off the ramps onto roads for crossing intersections and the auto brake when stopped works well. Delivering mail or pamphlets would be comfortable and easy on the OzPOD, so long as you could reach the mailbox, which seems to me like it is very close to as easy as it is on a motorcycle.
On grass the OzPOD is stable and soft ground is no match for the Hulk-like power and torque of the 5kW engine. I ascended and descended some very steep inclines and did a three-point-turn on a grass hill, as well as rode along the side of the hill, all without any hint of tipping or of engine struggle on the climb. This is a huge advantage over most EVs out there, most of them stop at the very sight of a hill! On the way downhill, the OzPOD is equally impressive, stable, and controllable.
---
---
The throttle action of the OzPOD is silky smooth, as refined as the LiveWire One, which is about as refined as a throttle, whether fuel or EV, can be. It's smooth on opening and there is no abrupt instantaneous torque and acceleration as might be expected from a low geared 5kW engine, rather progressive, smooth but zippy (enough to make me smile anyway) response, and stability in motion at any constant throttle opening. Impressive stuff and important to a pilot doing a long stop start shift for the day. Choppy power is tiring power!
---
---
Reversing is easy, simply activate reverse and back you go at a controllable slow pace. There is a reverse camera, otherwise known as a back facing camera for safety, and a warning beep. The mirrors are huge and vibe free, plus head-check, as mentioned, are easy to do. Much easier than on a bike or in a car, so that is a big safety tick.
---
---
Suspension action feels surprisingly bike-like. Using conventional forks is, I believe, a genius stroke as this immediately offers a sense of familiarity to any operator who has some motorcycle experience. The semi-independent rear suspension, while ultra-heavy duty to accommodate the payload, does admirably in soaking up bumps and as the vehicle is narrow, being no more than 1m at the rear, side-to-side rocking/movement is minimal.
As mentioned, the braking system is incredibly good. I used rear brake through corners, simply because I am used to doing that on scooter and on motorcycles. Whether it was doing anything or not to the handling, it did give me familiar feel. The front brakes alone are powerful, yet with ultra-progressive modulation and feel at the fingertips, while standing on the foot-pedal will see the OzPOD stop like an F1 car – hold onto those eyeballs! And try as I might, it would not lock the tyres, another safety tick…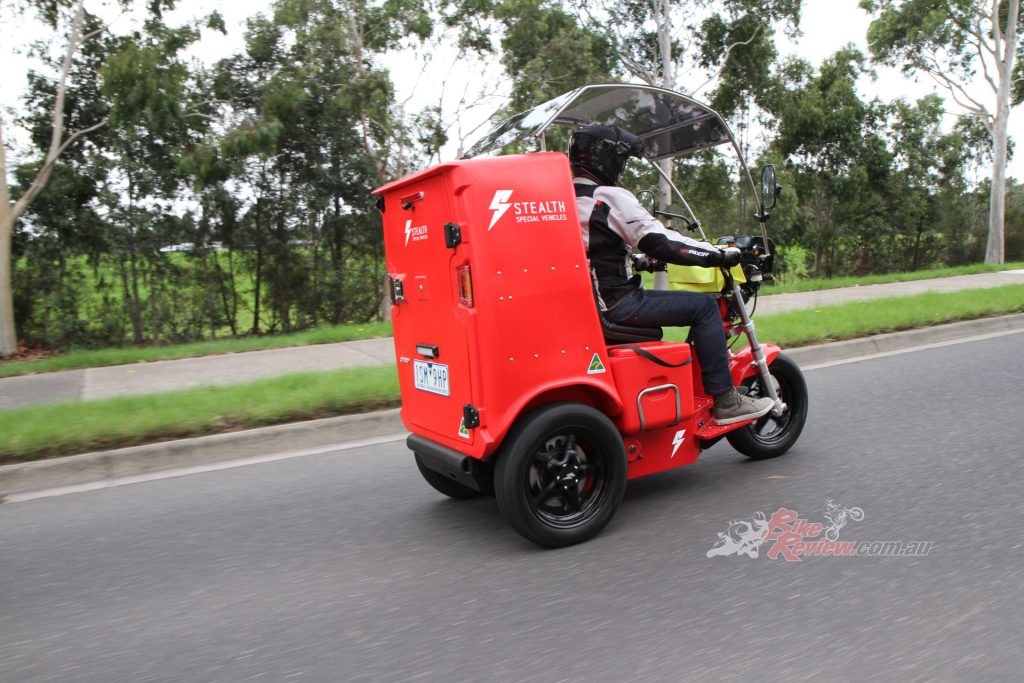 Overall, I found the SSV OzPOD to be loads of fun, mainly because of its cornering capability, incredible brakes, and zippy drive. It is comfy, feels robust and unbreakable, solid, safe and secure and ergonomically friendly. Only a month of 8-hour days in the seat delivering or responding would tell me what it is like out in the real world, but for my short ride and based on my 20-years this year of full-time bike testing, I am confident it is a very, very good thing.
With almost 680L of easily accessible storage space, the potential for a 150L fluid tank, plus heated and or refrigerated compartments for food delivery, the uses for the OzPOD are almost limitless, and it was all thought up, designed and made real, right here in Australia!
SPECIFICATIONS Stealth Special Vehicles OzPOD
DRIVE – 50V 5kW continuous rating, 120km range, regenerative braking (8 hours stop start cycle for deliveries also), 50km/h top speed, single speed 16.0:1 final ratio, 14kWh batteries.
---
CHASSIS – 1.6mm steel sheeting frame, fabricated steel swingarms, machined alloy triple-clamps, 43mm forks, custom coil-over rear dampers, 15in alloy wheels, three-piston calipers, four rotors, sprung seat.
---
DIMENSIONS – L 2150mm x W1000mm x H 1900mm
---
Stealth Special Vehicles OzPOD Gallery
---